Need a cozy recipe for these chilly nights? Try this cranberry chicken meatloaf! I love this comforting main dish, and it's easy to throw together. Picture a mash-up of meatloaf, chicken burgers, and thanksgiving – all blended into one yummy meal. It's a fall favorite!
Note: This recipe was first published in 2015 and has been updated in 2022 with new photos and additional information.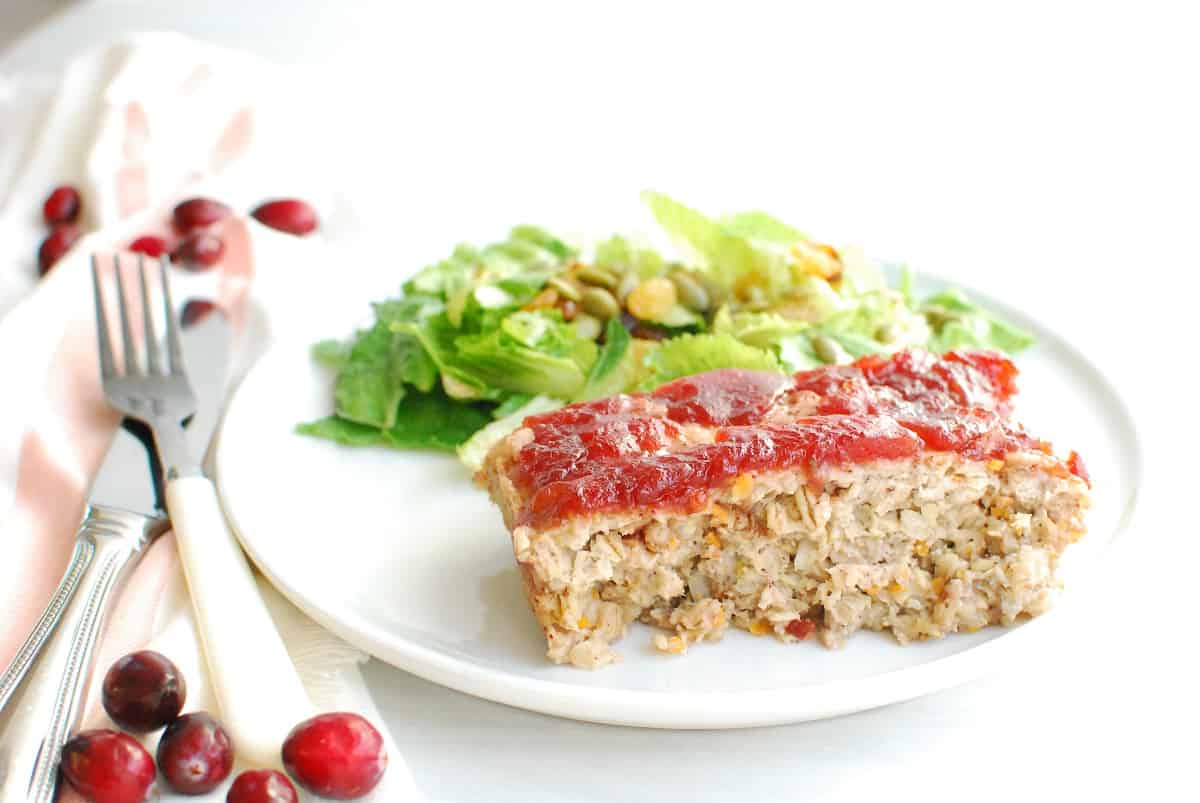 Ingredients
Here's a photo of everything you'll need to make this recipe, along with selected ingredient notes: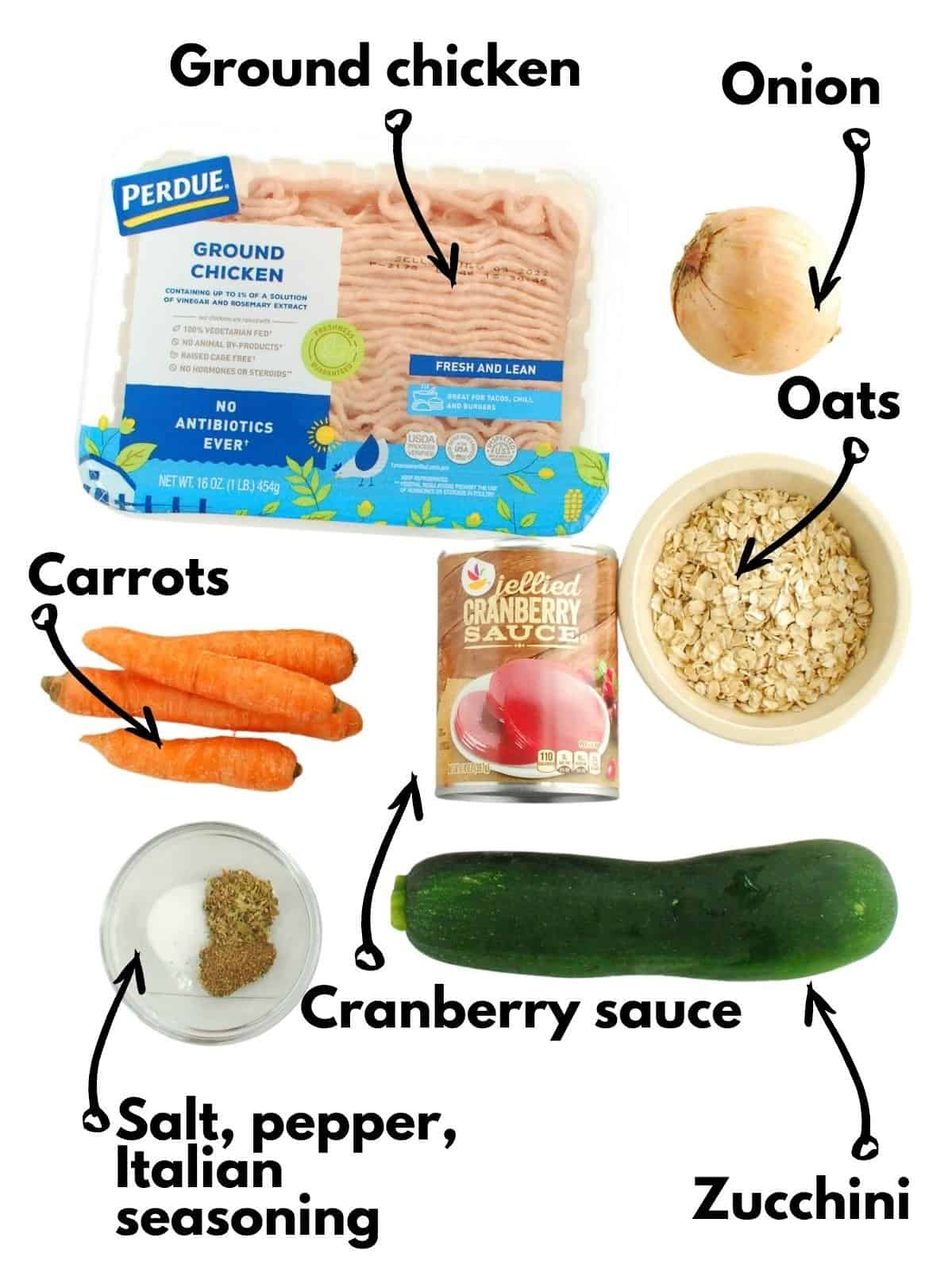 Rolled oats – Surprising in meatloaf, huh?! I also use oats in my mini Halloween meatloaves, and for good reason. They're a great binder and a higher fiber option than breadcrumbs. That said, if you don't have rolled oats on hand, feel free to substitute breadcrumbs.
Cranberry sauce – Yep, you're standard can of jellied or whole berry cranberry sauce! If you'd prefer, you can use a homemade cranberry sauce. This is actually a great way to use up leftover homemade sauce after Thanksgiving. I like using my lower-sugar cranberry sauce recipe when I have it on hand, but most nights, I'm looking for quick and easy, and the canned stuff is perfect for that.
Instructions
You'll find the full recipe amounts and instructions in the recipe card at the bottom of the post, but here's a helpful overview with photos. While this recipe does take a bit of time to bake, the prep is fairly simple.
Start by taking your onion, zucchini, and carrots, and roughly chopping them. Toss them into the small bowl of a food processor.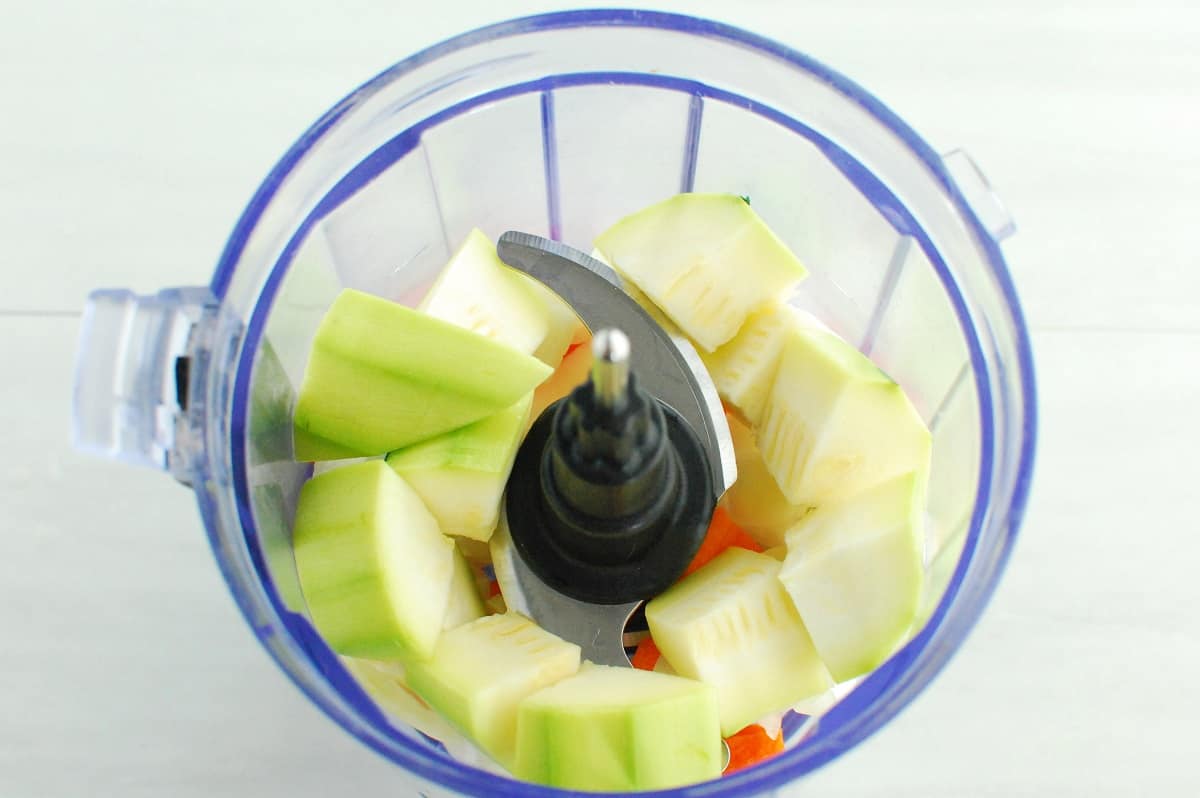 Pulse them in the food processor a few times to shred them. They'll look like this: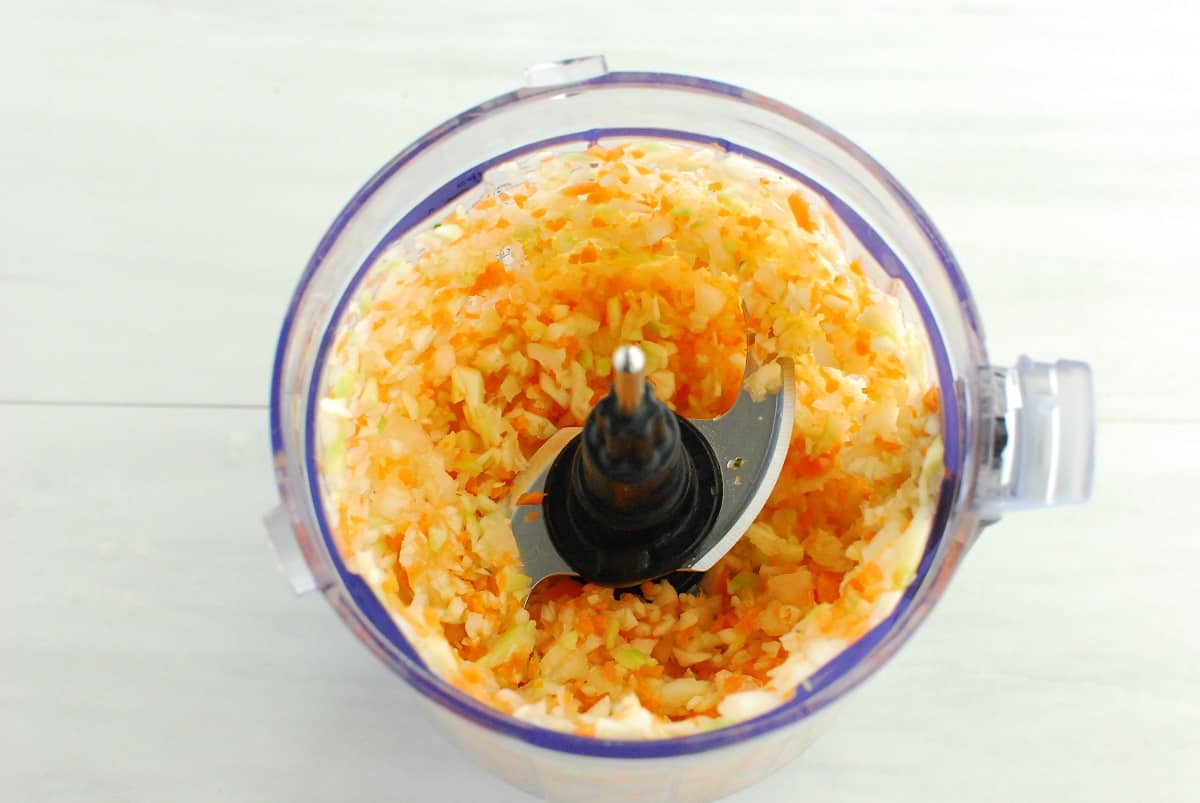 Then pour that into a small bowl lined with a few layers of paper towels or a clean kitchen towel.
You want to let that sit for about five minutes, then squeeze out as much moisture as possible. (Don't worry if you can't get it all, or even if you forget this step – it's OK and you'll drain excess moisture later too).
Now mix the veggies with all the rest of the meatloaf ingredients – your chicken, oats, Italian seasoning, salt, pepper, and half the can of cranberry sauce.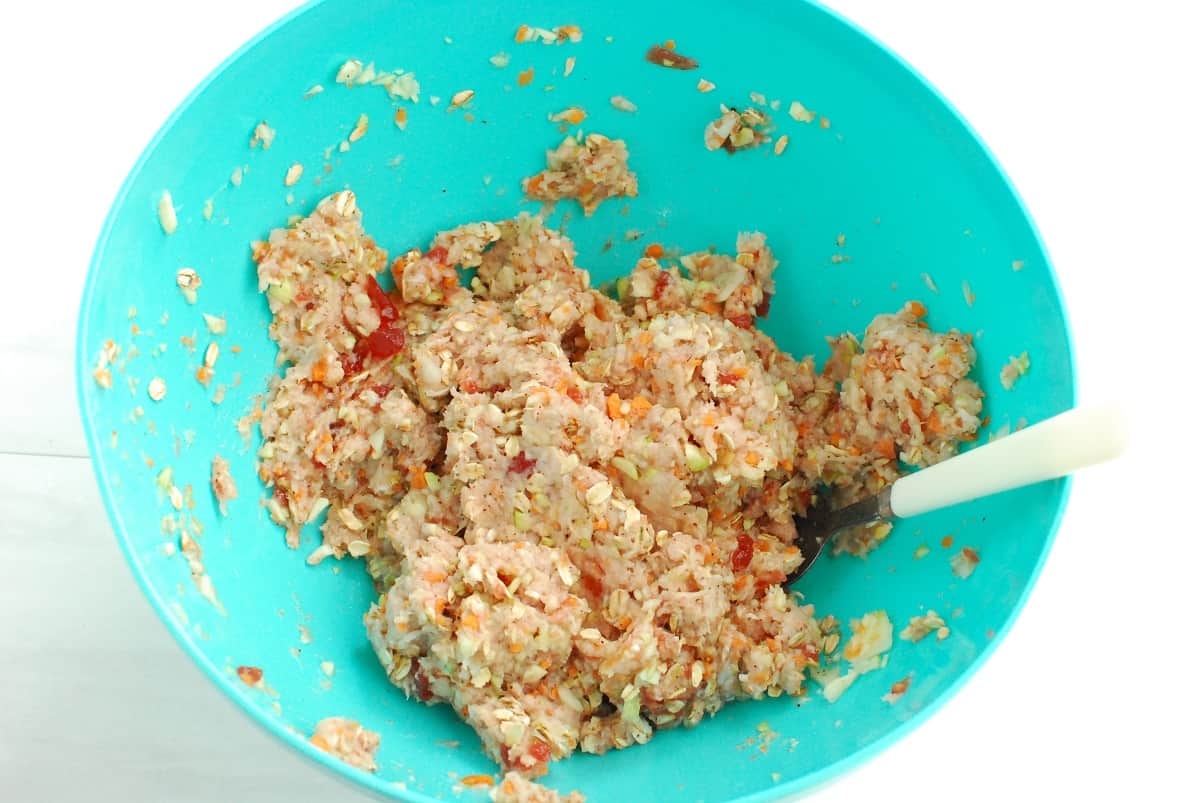 Press that into a greased loaf pan.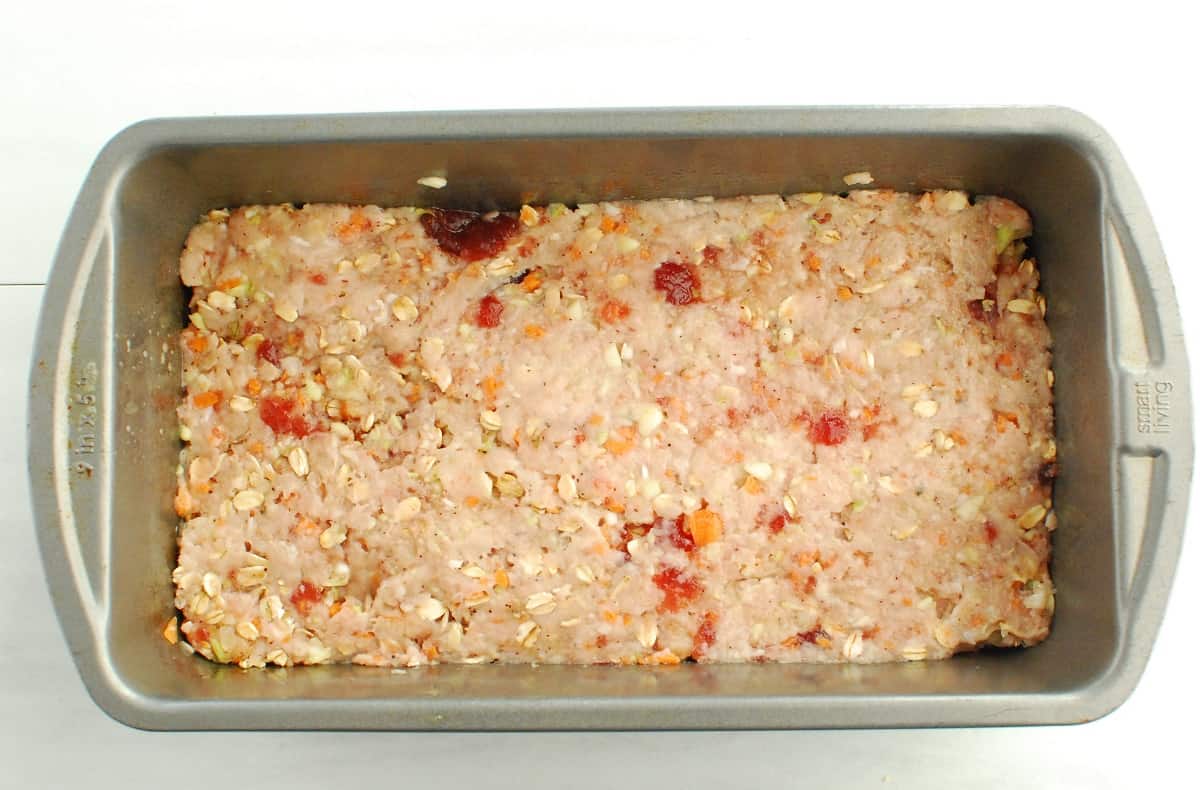 Bake that for about 30 minutes, then remove from the oven and drain off any excess liquid. I typically just hold the loaf pan and tilt it towards a bowl to drain. This is somewhat unavoidable for this recipe, as the veggies continue to release some moisture during cooking.
Now spread the rest of the can of cranberry sauce on top, and return to the oven for another 15 minutes or so (until it reaches an internal temperature of at least 165 degrees F).
You can slice in the pan or wait until it's removed to slice. To remove, use a a slotted spatula (I find a fish spatula actually works really well), letting excess liquid drip back into the pan.
Who's ready to dig in?! My favorite way to serve this is alongside some type of potato as well as a green salad.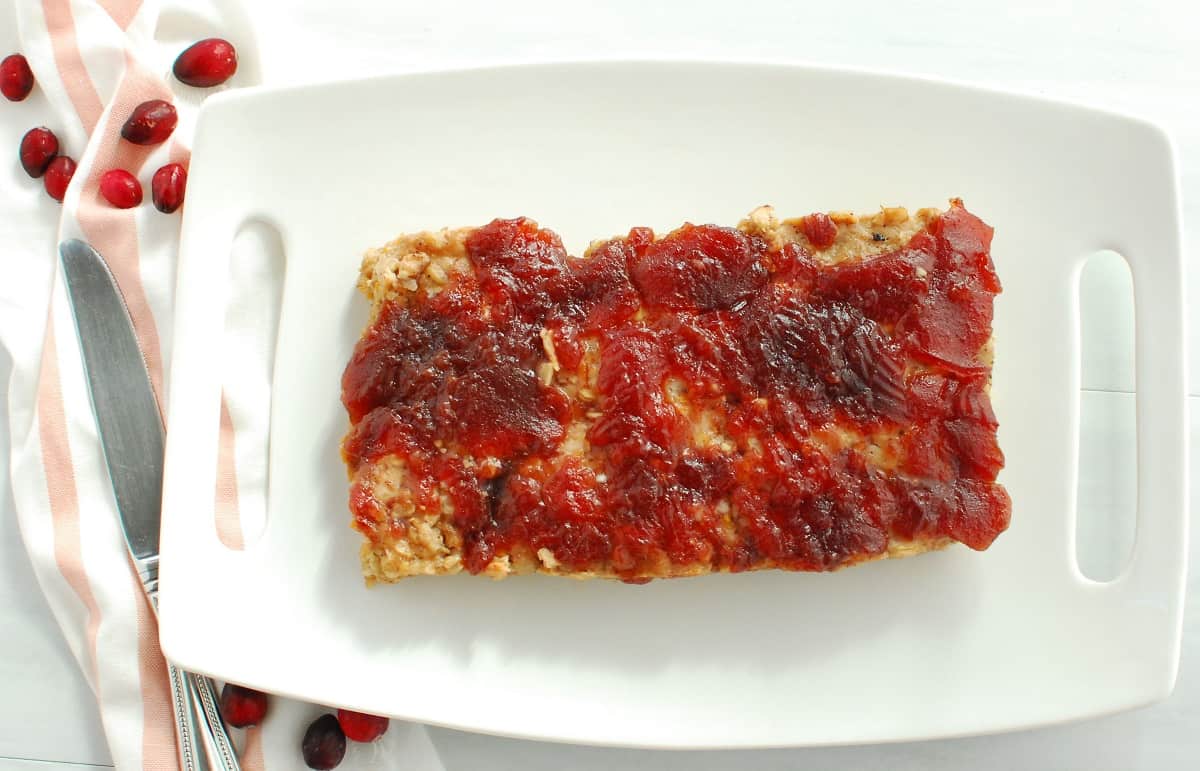 Recipe FAQ
Here are some questions that may arise as you're preparing this recipe:
Can you use homemade cranberry sauce to top meatloaf?
Yes. This would be a great way to use up leftover homemade cranberry sauce! It's also a nice way to cut down on the added sugar compared to jarred sauce.
Can you substitute ground turkey for ground chicken in meatloaf?
Yes, feel free to use one pound of ground turkey in place of one pound of ground chicken if you prefer.
How do you know when meatloaf is cooked?
It is best to check the temperature with a meat thermometer to determine doneness. For chicken meatloaf, you should cook until the internal temperature reaches 165 degrees F.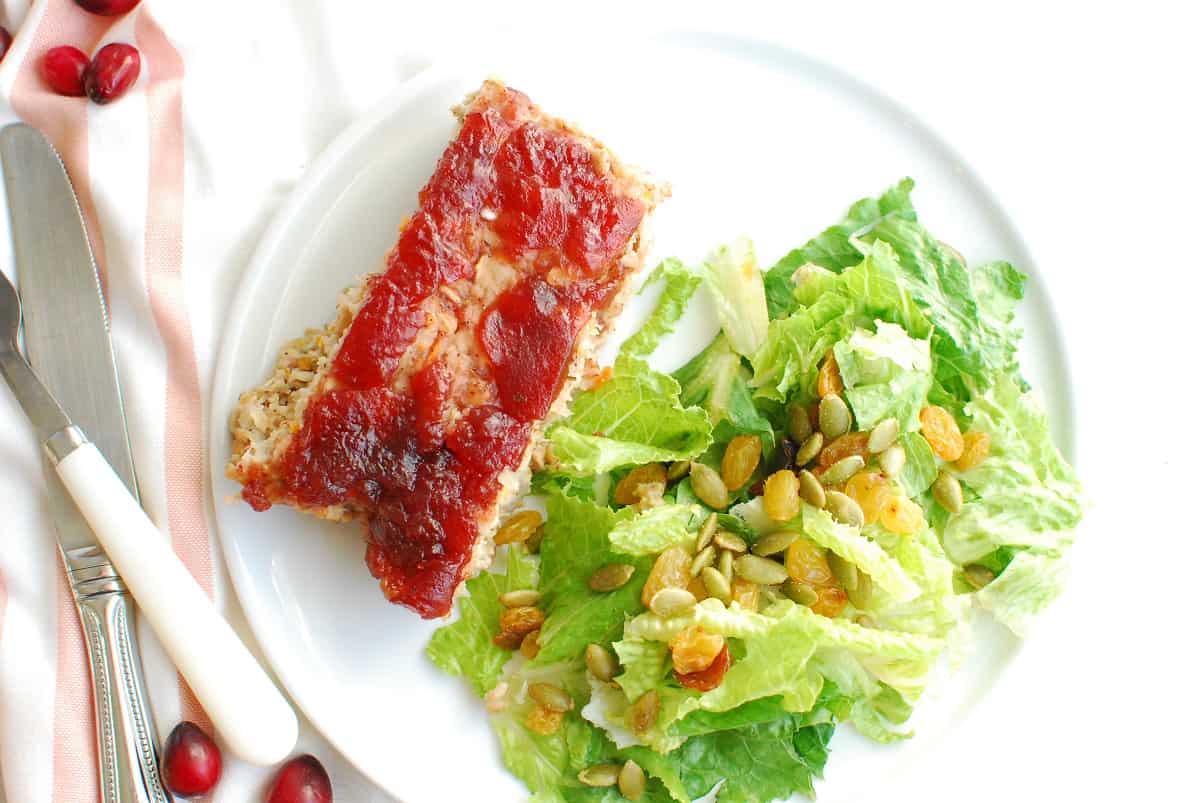 More Meatloaf Recipes
Love a good hunk of meat? Try some of these other tasty meatloaf recipes:
I hope you enjoy this cranberry chicken meatloaf. It was one of the very first recipes I shared here on the blog, and I still love it to this day. If you get a chance to try it, feel free to leave a recipe rating or comment below.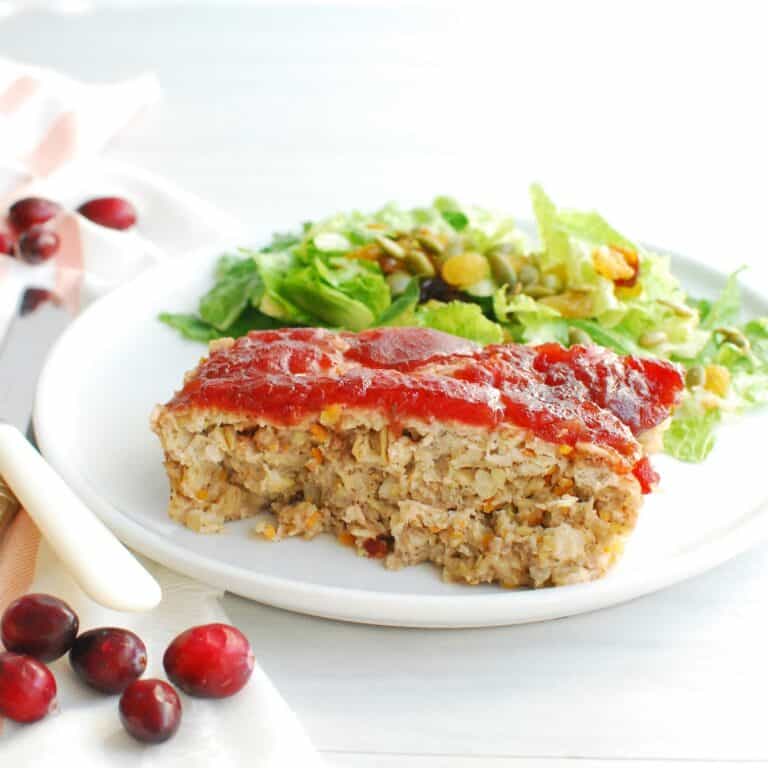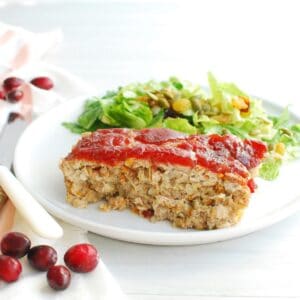 Cranberry Chicken Meatloaf
This cranberry chicken meatloaf is a perfect cozy main dish – and even sneaks some veggies inside!
Ingredients
½

small onion, roughly chopped

½

small zucchini, peeled and roughly chopped

½

cup

roughly chopped carrots

1

lb

ground chicken

½

cup

rolled oats

½

tsp

Italian seasoning

¼

tsp

salt

¼

tsp

pepper

14

ounce

can cranberry sauce, divided in half

(jellied or whole berry)
Instructions
Preheat the oven to 350 degrees F. Spray a loaf pan with cooking spray and set aside for now.

Add the onion, zucchini, and carrots to a small food processor bowl. Pulse a few times until veggies are shredded.

Place the veggies in a bowl lined with a clean kitchen towel or a few layers of paper towel. Let sit for about 5 minutes, then squeeze out as much excess moisture as possible.

In a large bowl, combine the veggies, ground chicken, oats, Italian seasoning, salt, pepper, and half of the can of cranberry sauce. Mix well, then press the mixture into the loaf pan.

Place the loaf pan in the oven and bake for 30 minutes. Remove and drain off excess liquid (the veggies will release some as they cook). Spread the remaining half of the cranberry sauce on top of the meatloaf, and return to the oven to continue cooking for approximately 15 minutes, or until the internal temperature of the meatloaf reaches 165 degrees F.

When meatloaf is done, remove from the loaf pan using a slotted spatula to allow any excess liquid to drain off. Enjoy!
Notes
Nutrition analysis (approximate per serving): 299 calories, 8 g fat, 2 g saturated fat, 200 mg sodium, 40 g carbohydrate, 2.5 g fiber, 26 g sugar, 18 g protein, Vitamin D: 0%, Calcium: 2%, Iron: 9%, Potassium: 13%
Nutrition
Share: What's your favorite kind of meatloaf? Are you a traditionalist with ketchup, or do you love outside-the-box preparations?
Feel free to pin this post to save for later!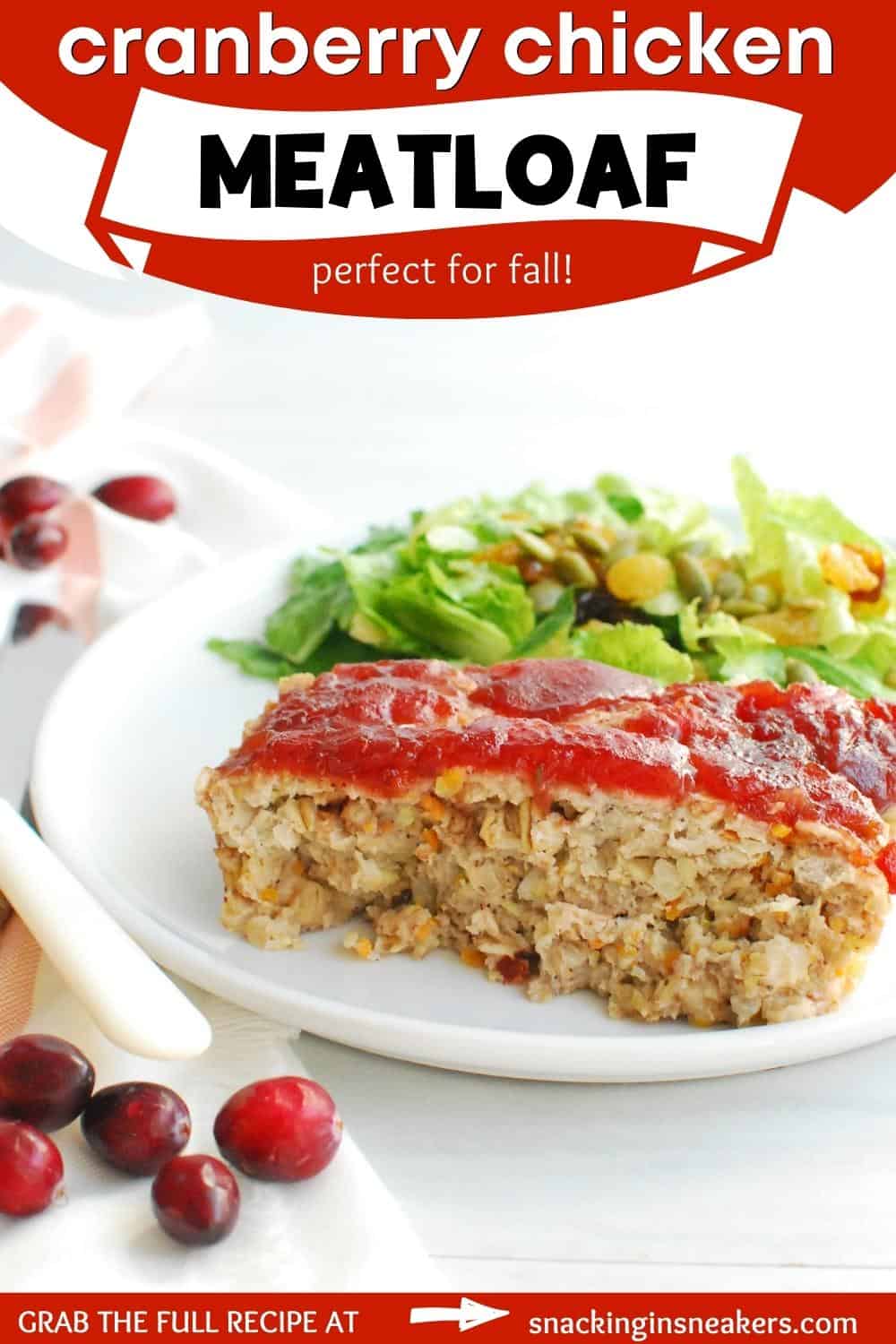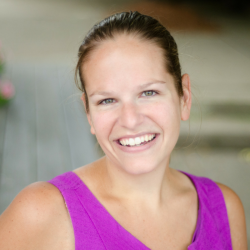 Latest posts by Chrissy Carroll
(see all)