I never was a big fan of meatloaf growing up, but have taken a liking to it in the past few years. There's something comforting about such an easy-to-throw-together, one-pot main dish.
I've experimented with all different types of meatloaf recipes, from beef to turkey to chicken. I'm sure I'll be sharing multiple types on here as time goes on, but today I wanted to share one of my very favorites because it's so different than most other recipes out there – cranberry chicken meatloaf.
It's like a mix between meatloaf, chicken burgers, and thanksgiving. All blended into one yummy meal.
I know, it sounds a little strange. Cranberry sauce on meatloaf? But I promise, it's tasty.
Plus, it's pretty healthy for a few reasons:
Using chicken cuts back on the calorie and fat content
The recipe adds some shredded veggies into the mix (every little bit helps!)
Using oats is a higher-fiber healthier alternative to breadcrumbs
It's completely free of the top 8 allergens! (Great for families with food allergies or other mamas out there like me who are trying to work our way through breastfeeding a baby with food intolerences).
If you were so inclined, you could totally make a healthier homemade cranberry sauce to go in this (the store-bought kind does have a lot of added sugar) – but that's really the only component of the dish that's not super healthy, so it doesn't bother me much to use the jarred store stuff to save time.
When I make this, I also whip up some mashed potatoes to go along with it. While I'm dairy-free, I do a garlic & olive oil mashed potato recipe: peel and boil some white potatoes; drain and mash; then add some minced garlic, chicken stock & olive oil until it reaches a consistency and taste you desire. Yum!
Then just add a veggie of your choice the rest of your plate and you've got a balanced meal that the whole family will love.
Give it a try, then head on back here and let me know your thoughts!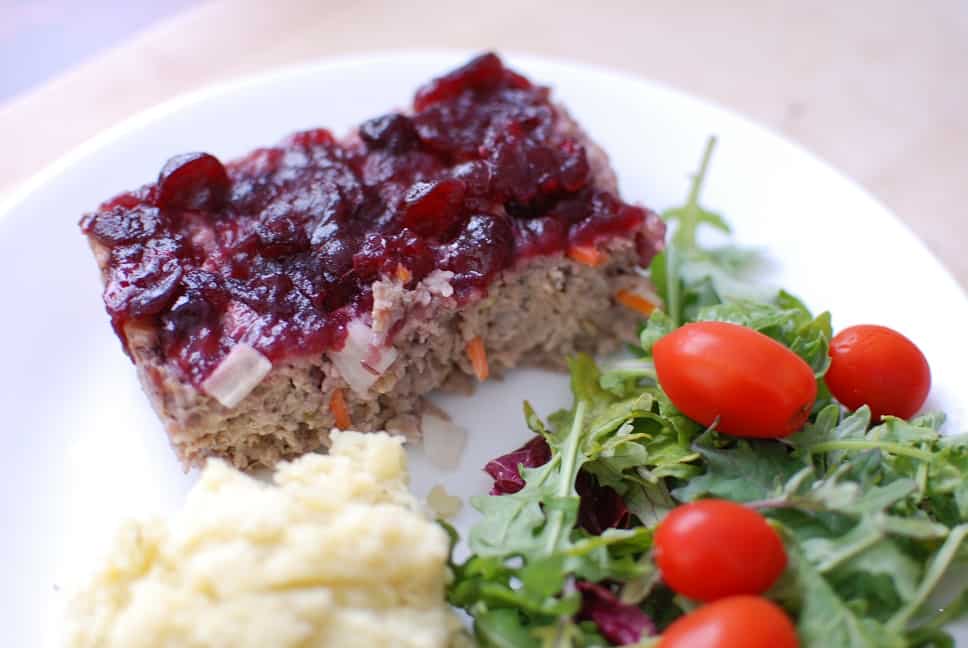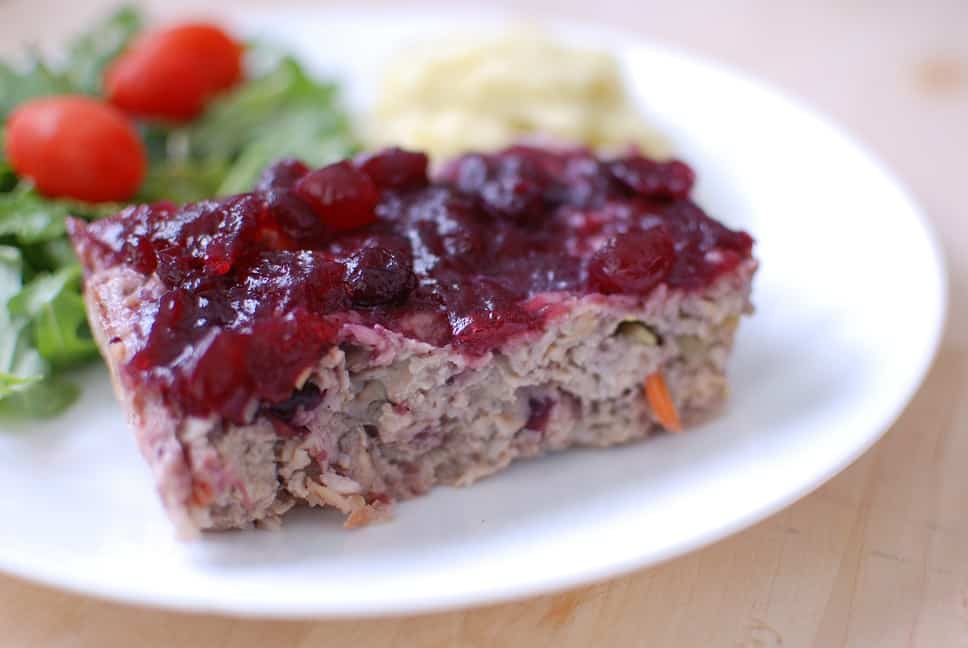 Allergy Free Cranberry Chicken Meatloaf
Makes 4-6 servings
Ingredients:
1 lb ground chicken
1/2 cup rolled oats
1/4 cup applesauce
1/2 a medium onion, chopped
1/2 of a small zucchini, shredded or finely chopped*
1/3 cup shredded carrots
1/2 tsp Italian seasoning
1/4 tsp black pepper
1/4 tsp salt
1 can cranberry sauce, divided in two
*If you have time, it helps to lightly salt the shredded zucchini, let it sit between a few paper towels for 10 minutes, and then squeeze out any excess liquid. This will help reduce excess moisture so that you probably don't have to drain off any extra liquid. If you don't have time, though, it certainly doesn't ruin the dish or anything – I usually just toss it in there and then drain off excess moisture as mentioned if needed.
Directions:
Mix all ingredients together including half of the can of cranberry sauce.
Place in loaf pan and bake for about 25 minutes at 350.
Take out of oven and drain off any excess liquid that may have accumulated. (I just tilt it into the sink or blot with a few paper towels if needed).
Top with remaining cranberry sauce and bake an additional 10-15 minutes, or until internal temperature reaches 165 F. Enjoy!
Share with me: What's your favorite kind of meatloaf? Are you a beef & ketchup traditionalist or do you go outside the box?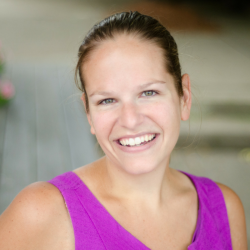 Latest posts by Chrissy Carroll
(see all)