Looking for a fun Halloween-themed dinner to make this month? Try these spooky mini mummy meatloaves! With a combination of ground beef and baby bella mushrooms, this Halloween meatloaf is filling, delicious, and festive!
Disclosure: This post is sponsored by Monterey Mushrooms. As always, all opinions are my own.
Halloween mealtime fun
If you know me personally, you know that I'm super into the holiday season. I'm talking November 1st, my Christmas decorations are up and I've got "Up on the Housetop" by the Jackson 5 blasting. My old roommate once told me it looked like the holiday section of Sears exploded all over our apartment (LOL).
This year, as much as I love Christmas, I'm also trying really hard to not wish away the month of October and all the fun that comes along with Halloween. My kiddo adores Halloween, so I'm trying to embrace it this month. That's how these mini Halloween mummy meatloaves came to life – a way to celebrate with my son.
Whether you want to make them on Halloween night itself or you want to do some fun spooky dinners leading up to the big day, this makes a fun dinner for both kids and adults.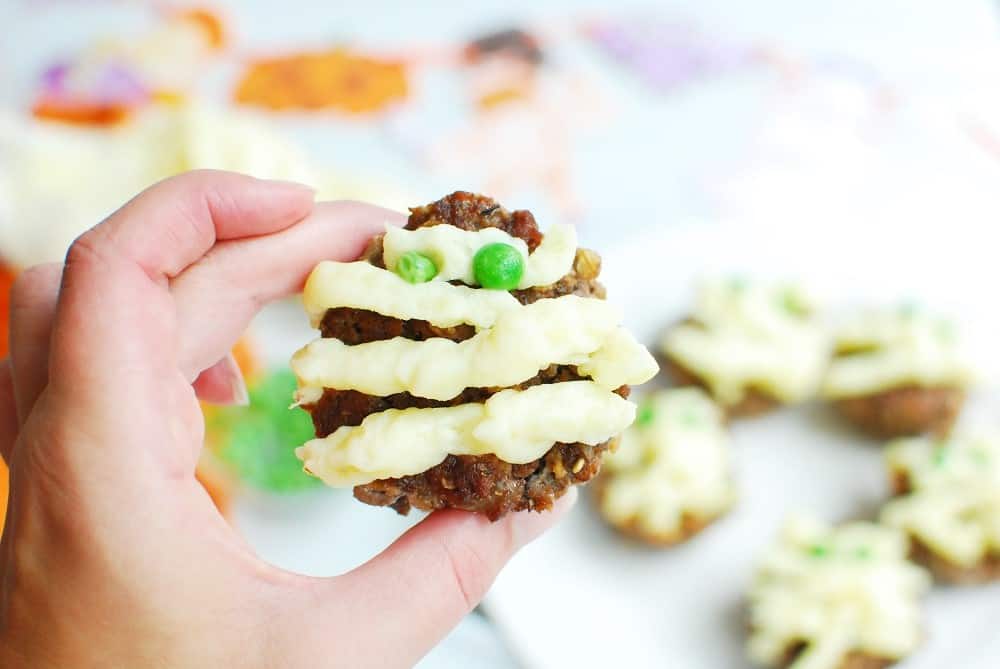 How to make mini mummy meatloaves
If you're anything like me, you're probably going to scroll down to the bottom of this recipe, see the semi-long instruction list, and immediately halt. But y'all, I promise this is not a difficult meal to make. It's actually really simple, there's just a few different moving parts. Let me break it down for you.
Step 1: Sauté your mushrooms and onions.
You're going to start by quickly cooking up some Monterey Mushrooms baby bella mushrooms and onion, as that will help build the flavor profile of the meatloaf and lead to the best texture.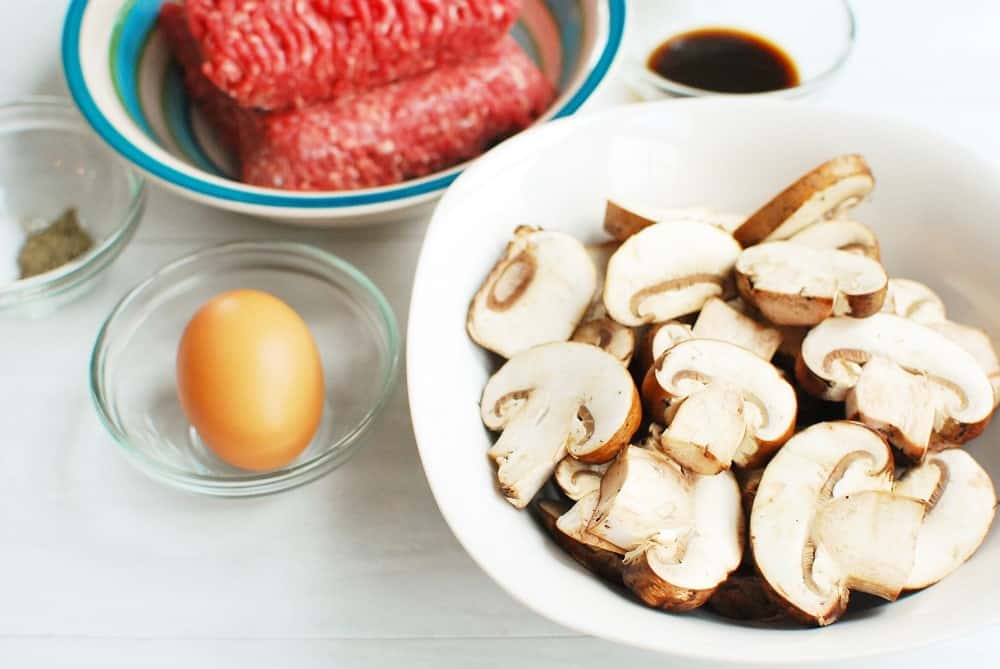 To do this, just finely chop your mushrooms and onion (either by hand or in a food processor), and then cook them in a little olive oil for 5 minutes. So far, so good, right?
Step 2: Make your meatloaf.
Next, you'll assemble your mini Halloween meatloaf. Here's what you need for that:
Mushroom/onion mixture you just whipped up
Ground beef
Egg
Oats (or breadcrumbs)
BBQ sauce (or ketchup)
Worcestershire
Salt
Pepper
You'll just mix all these up in a big bowl to start. As you can see above, this recipe is pretty flexible. If you don't have oats on hand, you can substitute breadcrumbs or even boxed stuffing mix. If you don't have BBQ sauce, you can use ketchup or tomato sauce. Missing Worcestershire? Just skip it!
Once you've mixed everything up, divide it up equally into your 12 count muffin tin. Press the filling down into each one.
Then bake that for about 20 minutes or so. I recommend using a meat thermometer to test the temperature as this will give you the most accuracy ensuring the beef is cooked through. You want to make sure it hits 165 degrees.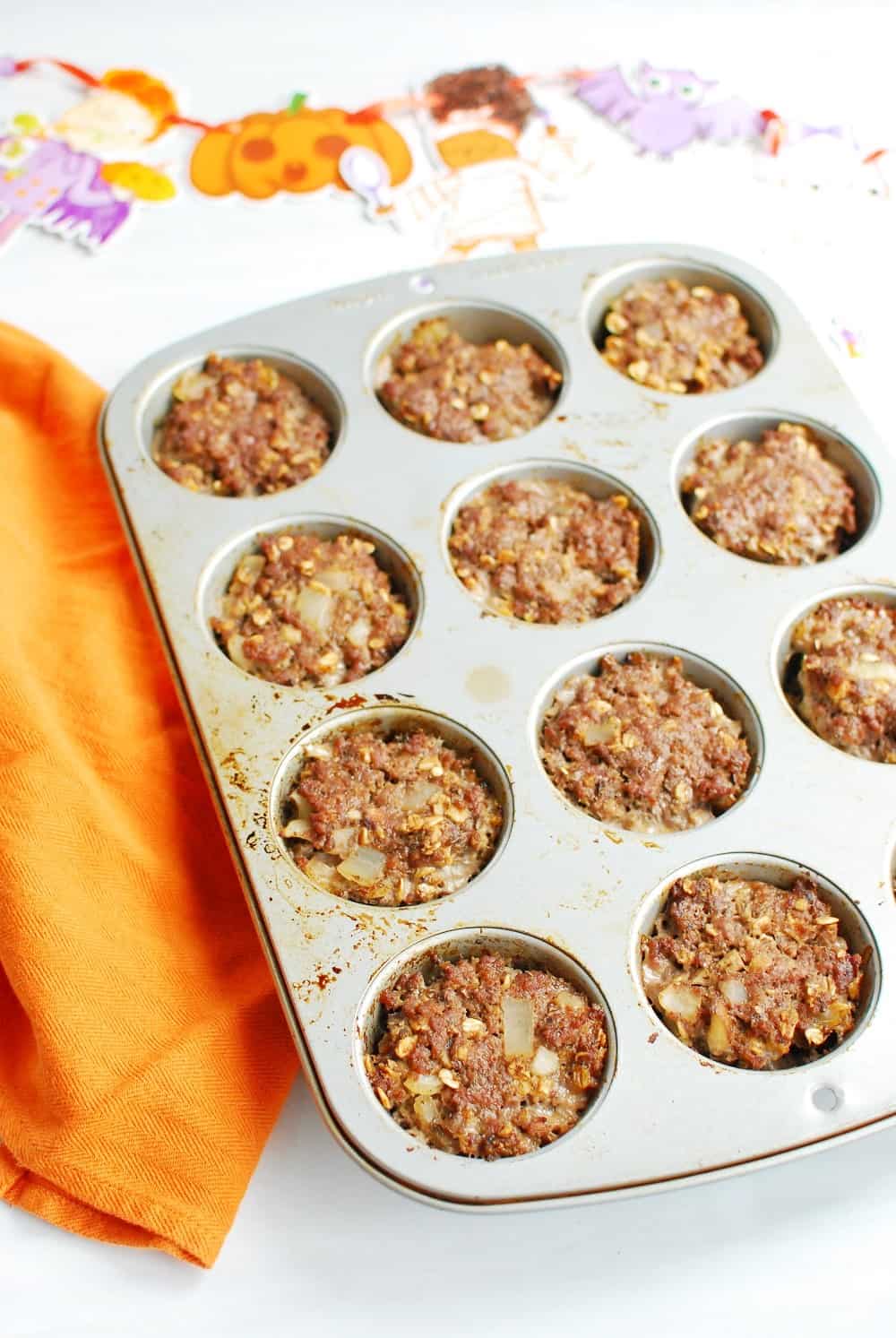 Step 3: While your meatloaf is cooking, make your mashed potatoes.
You'll use mashed potatoes to create the fun little mummy wrapping on the tops of these Halloween meatloaves. You can do this one of two ways:
a) use a boxed mashed potato mix for a quick fix
b) make homemade mashed potatoes – and I've included an easy healthy recipe for them here
Keep in mind the amount of potatoes I've included below is meant to be enough for all the toppings – but if you want extra to serve alongside, you'll need to double the batch.
To make the homemade mashed potatoes as I did, here's what you'll need:
Yukon gold potatoes
Butter
Salt
Plain Greek yogurt
Milk
You'll boil up the potatoes until they're tender, then mash 'em up with the rest of those ingredients. Easy peasy!
Step 4: Assemble!
The last step is simple to assemble them into the little mummies. Put the mashed potato filling into a gallon size zip top bag, and then cut off a corner of the bag. This will let you pipe it out in strips on top of the mini meatloaves.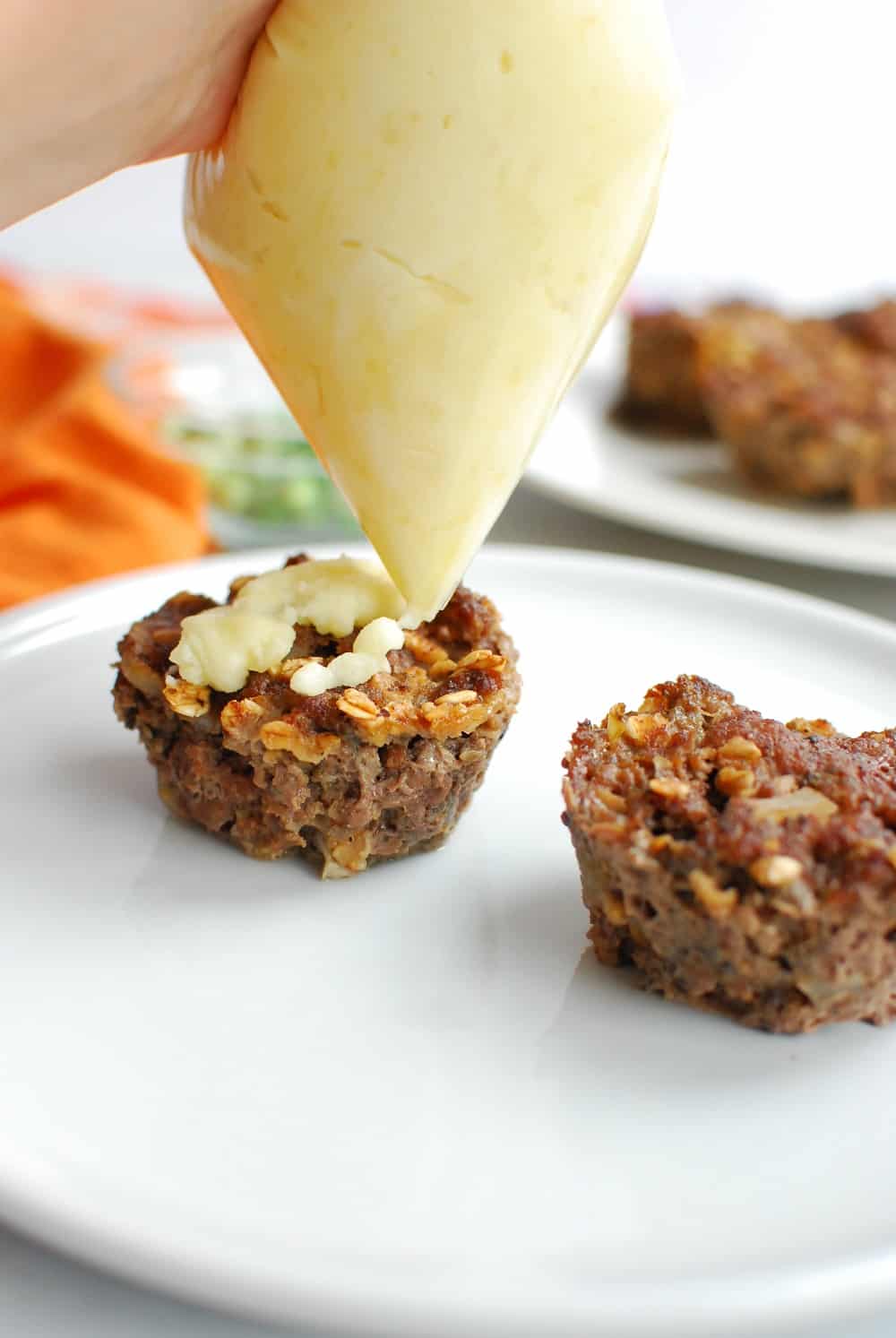 Once that's done, you can add two peas (or corn kernels) to each as "eyes". And that's it!
I personally think these look adorable. My husband was poking fun at me saying they look like a Pinterest fail, haha. He was joking that I should just spread mashed potatoes all over and call it a "ghost". Hence this text message exchange from day 1 to day 2…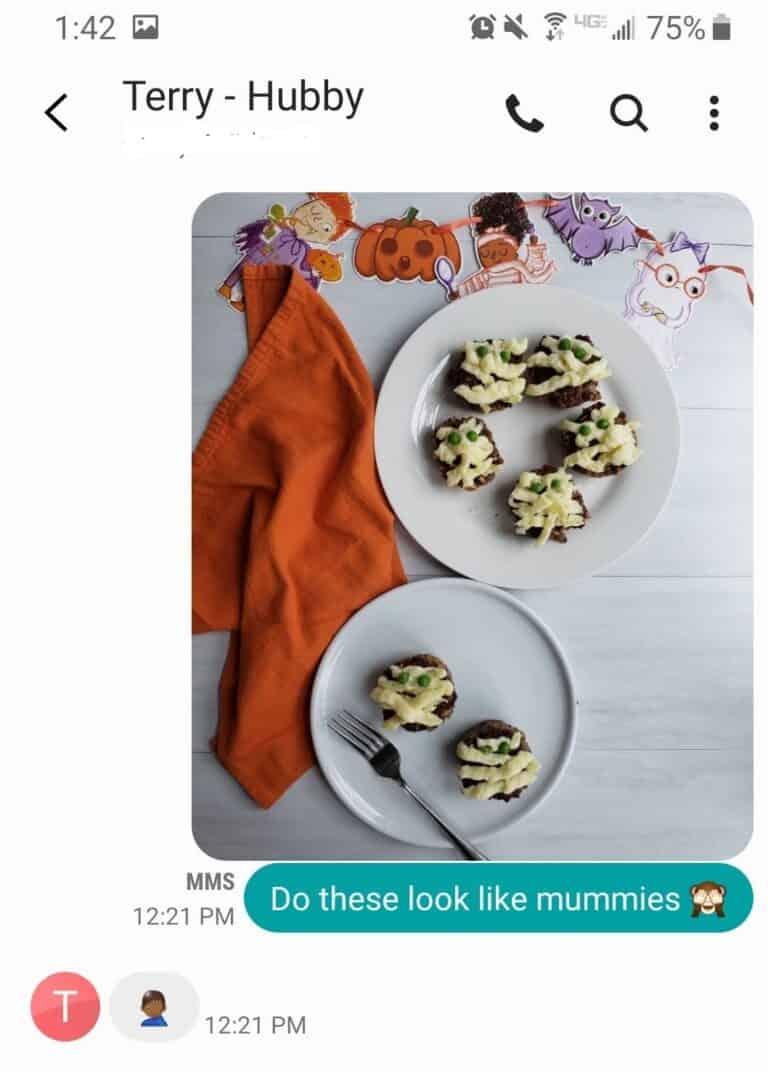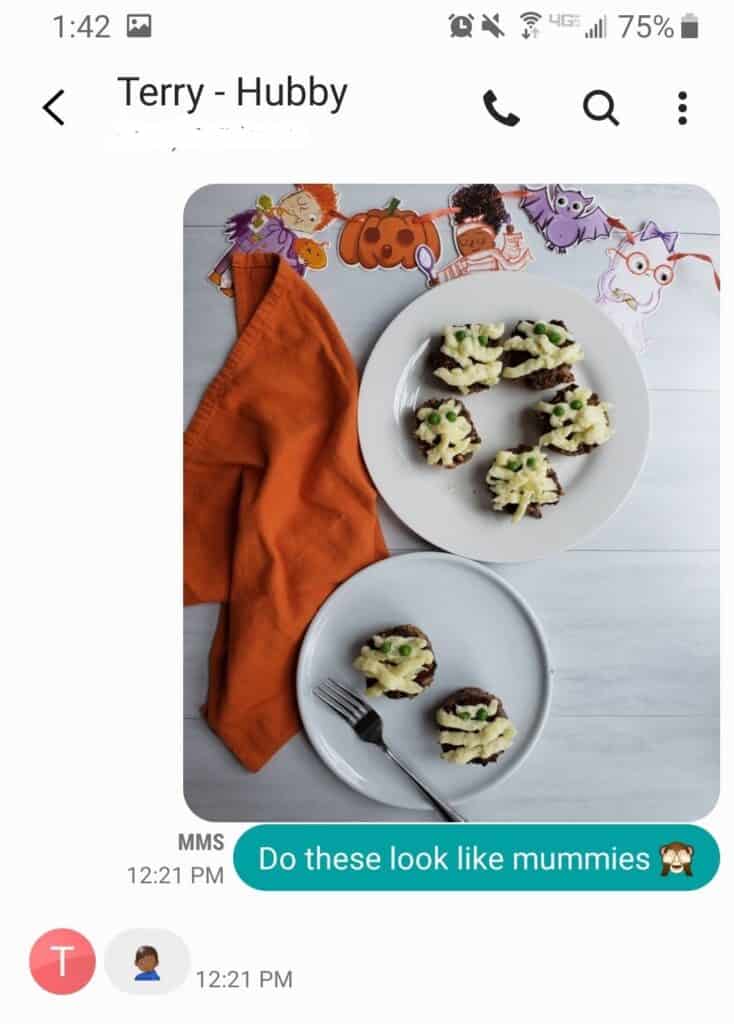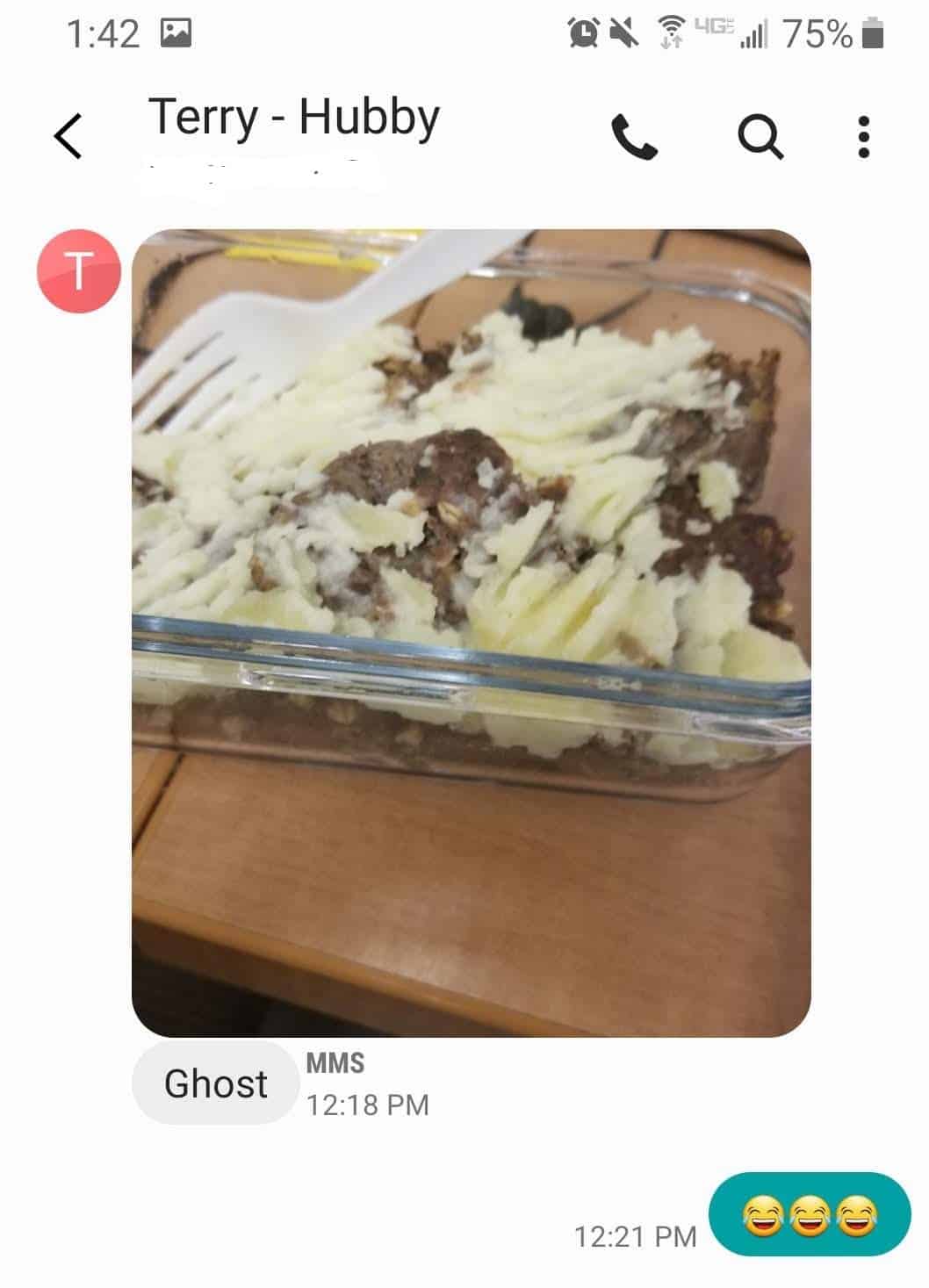 Don't worry moms, these don't have to be "perfect" for your kids to love them! 😉 My son thought they were super cool.
See, that whole process doesn't seem so bad, right? Like I said, this sounds like a crazy long recipe but since you make the potatoes while the meatloaf is cooking, it actually all comes together relatively quickly. And then you have this cute Halloween dinner!
Why add mushrooms to meatloaf?
You might be thinking to yourself "hmmm, mushrooms in meatloaf – that's a little untraditional." But it's seriously the best!
Mushrooms – like these Monterey Mushrooms baby bella mushrooms – offer several benefits when they're mixed into a meat-based dish like this Halloween meatloaf:
It stretches your meat a bit father so you end up with more to serve (and hopefully some for leftovers, yum!).
You'll end up with fewer calories in the same size serving of meatloaf, since some of the volume is now made up of low-calorie vegetables.
It adds moisture to keep a tender texture – no dry meatloaf here!
You and your kiddos are able to build more veggies into your meal – definitely a winner for moms.
You can find Monterey Mushrooms at a lot of major supermarkets – definitely pick some up to make this dish!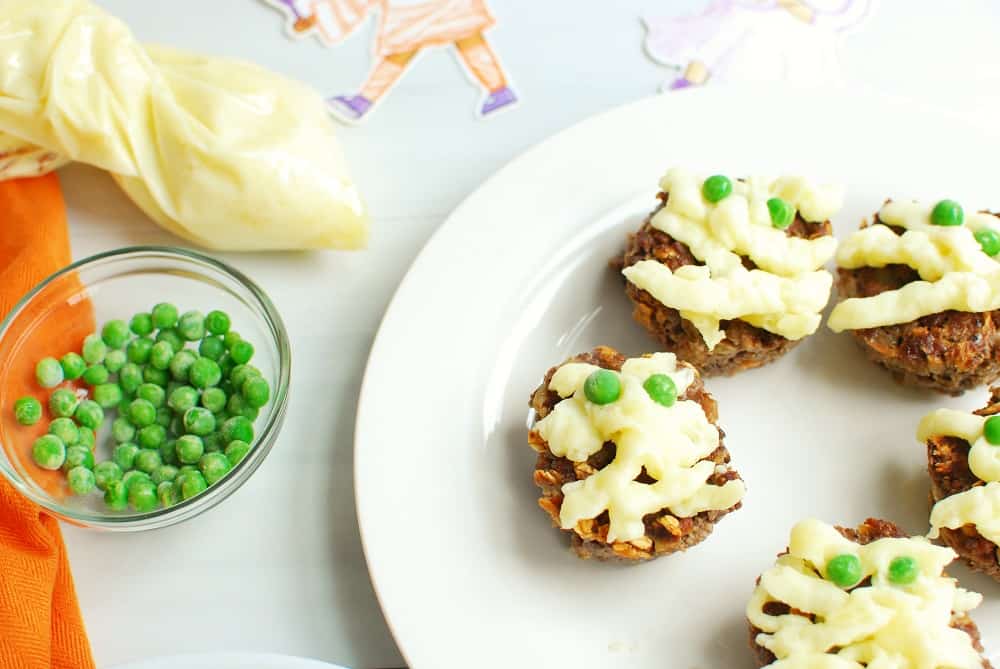 Why I love this dish for active folks
Who doesn't love comfort food recipes like this that are actually pretty balanced and filling?! Each of these cute mummy meatloaves clocks in at just about 200 calories with 16 grams of protein.
Serve up 1-2 of these per person along with a side salad or easy frozen vegetable and you've got a healthy, balanced meal.
They also reheat really well, so you can grab one for a quick protein-packed snack or you can save them for lunches later in the week.
I hope you (and your kiddos) enjoy these mini Hallween mummy meatloaves! If you get a chance to try them, be sure to leave a recipe rating or comment below.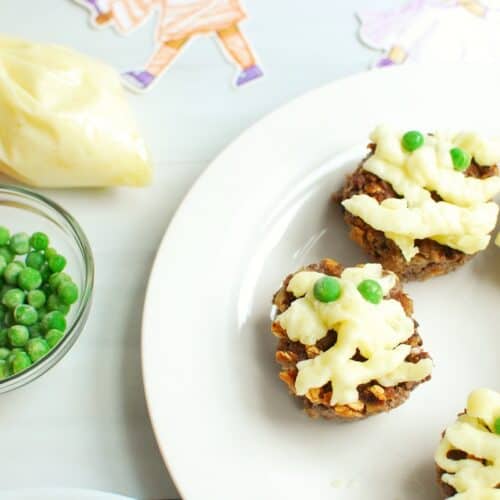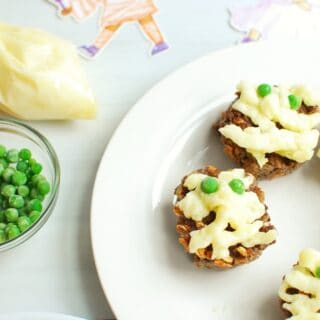 Mini Halloween Mummy Meatloaves
These mini Halloween mummy meatloaves make a spooky dinner that's kid-friendly and delicious!
Ingredients
For mini meatloaves:
1

tbsp

olive oil

1/2

cup

chopped onion

8

ounces

baby bella mushrooms, finely chopped

1 1/4

lb

90/10 ground beef

1

egg

2/3

cup

rolled oats

1/4

cup

BBQ sauce

(or ketchup)

1

tbsp

worcestershire

1/2

tsp

salt

1/4

tsp

pepper
For mashed potato topping (if making homemade):
1

pound

Yukon gold potatoes

(approximately 2-3 potatoes)

1

tbsp

butter

1/8

tsp

salt

1/3

cup

plain Greek yogurt

2

tbsp

1% milk
Additional topping ingredients:
1/4

cup

of peas

(or corn)
Instructions
To make mini meatloaves:
Heat the olive oil in a skillet over medium heat. Sauté the onion and mushroom for about 5 minutes, until tender. Remove from heat and set aside for now.

Preheat oven to 350 degrees. Grease a muffin tin with a little olive oil or cooking spray, and set aside.

Combine the beef, egg, oats, BBQ sauce, Worcestershire, salt, pepper, and mushroom/egg mixture in a large bowl. Divide equally in the muffin tin, pressing down.

Cook in the oven at 350 degrees for about 20-25 minutes, or until they hit an internal temperature of 165 degrees. Remove from oven and let cool for 5-10 minutes before removing.
To make mashed potato topping:
Meanwhile, as the meatloaf cooks, prepare your mashed potatoes (either boxed or homemade).

If making the homemade mashed potatoes, peel and chop the potatoes into one-inch chunks. Place in a pot and fill with water until potatoes are just covered.

Place on the stovetop over medium heat. Bring to a boil, and cook for about 15 minutes, until potatoes are tender and can be easily pierced with a fork. Turn off heat.

Drain water from the pot, and place the pot with the cooked potatoes back on the stovetop. Add the butter and allow to just sit (without heat) for a few minutes until the butter has melted.

Start to mash the potatoes with a potato masher or the back of a fork. Add the salt, yogurt, and milk, and continue to mash until the potatoes reach your desired texture.
To assemble:
Scoop the mashed potato into a large ziptop bag and cut off one corner (or use a pastry bag if you have one). Pipe potato filling onto mini meatloaves to make it look like a mummy's wrapping.

Add two peas or corn kernels for eyes. Enjoy!
Notes
Notes:
Don't try to remove the meatloaf from the muffin tin right away; let it cool for 5-10 minutes first. This will prevent it from crumbling and falling apart.
If you want, you can use foil liners in your muffin tin to make it quick and easy to remove the mini meatloaves.
Nutrition facts (approximate per mini mummy meatloaf):
202 calories, 8 g fat, 3 g saturated fat, 270 mg sodium, 15.5 g carbohydrate, 2 g fiber, 3.5 g sugar, 16 g protein, Vitamin A: 2%, Vitamin C: 9%, Calcium: 3%, Iron: 11%
Nutrition
Share: Have you ever tried a mushroom and beef meatloaf? If you made these mini mummy meatloaves, what did you think?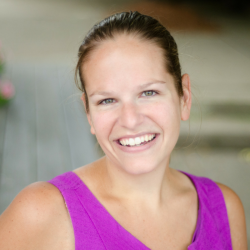 Latest posts by Chrissy Carroll
(see all)