Start your morning with delicious and nutritious almond flour banana muffins!  Using almond flour instead of traditional flour adds more healthy fats and fiber, and minimally sweetening with just a few tablespoons of honey means less added sugar per muffin.  The result is a satisfying sweet addition to your breakfast or snack time.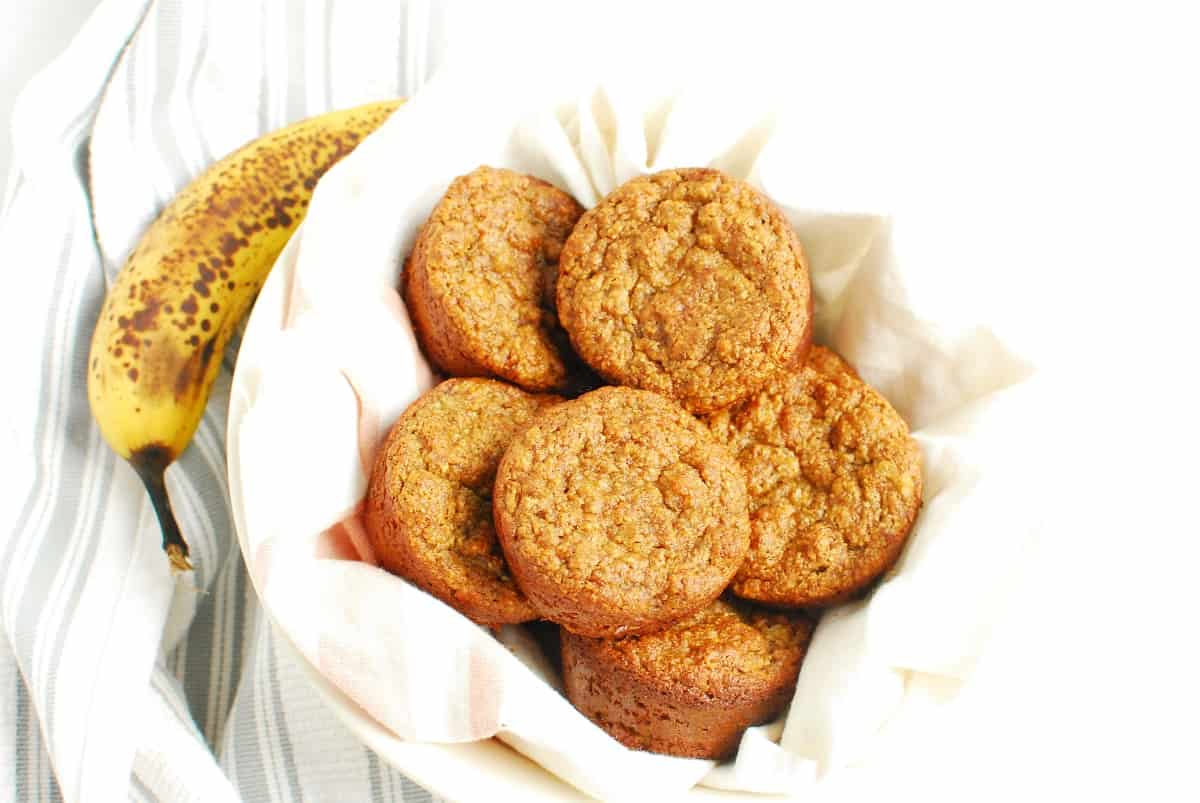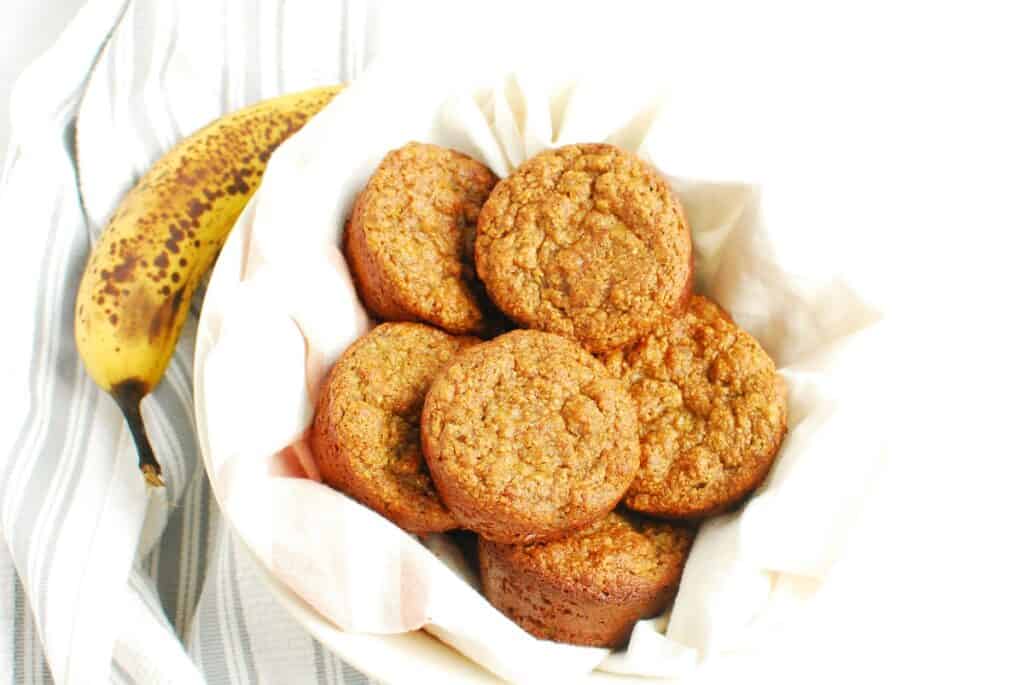 Ingredients
Here are the ingredients you'll need for this recipe, along with selected ingredient notes: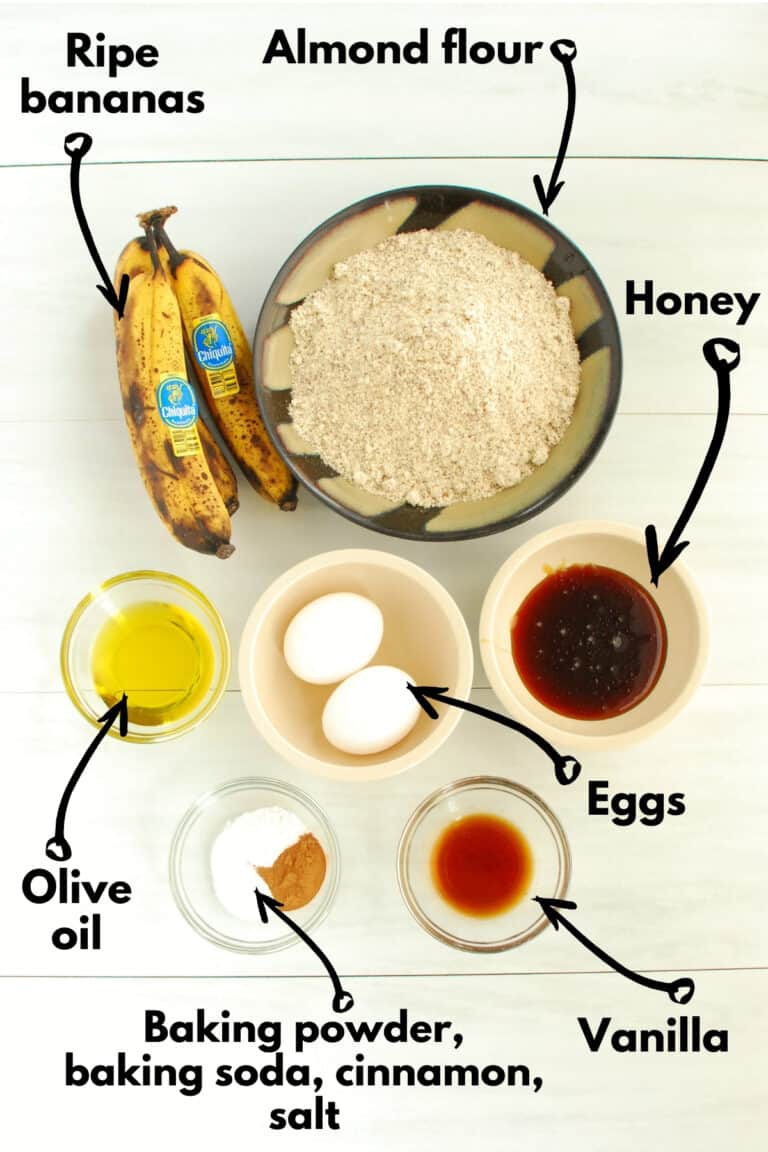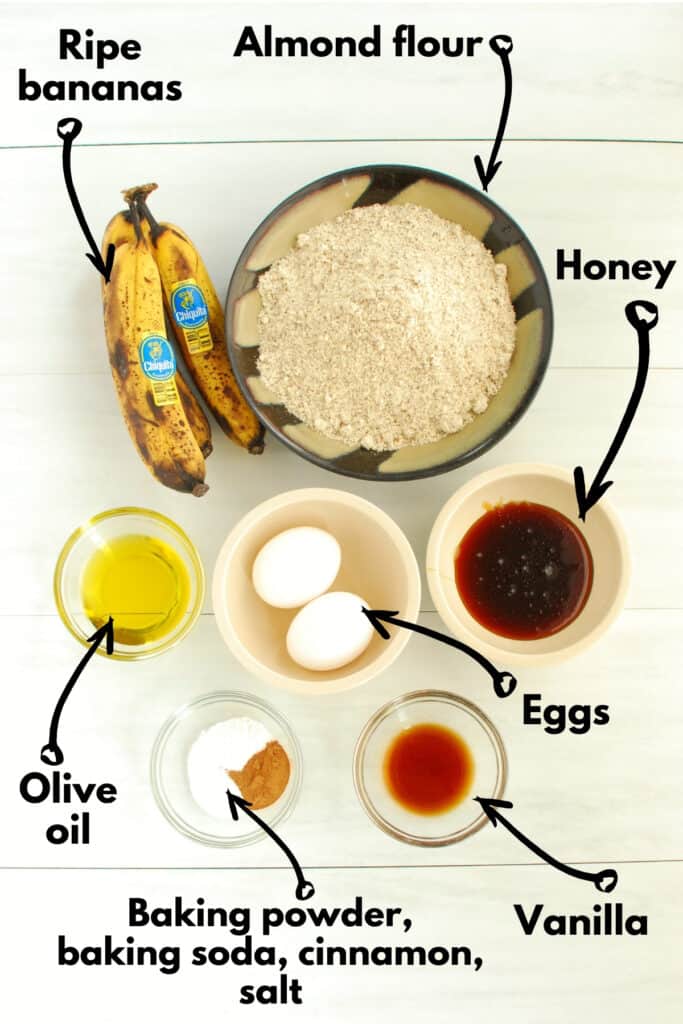 Bananas – As you can see in the photo, you want very ripe bananas for this recipe. Using very ripe bananas ensures that more of the starches in the fruit have converted to sugar, which will help sweeten the recipe (along with the minimal honey that's added).
Honey – You can use any type of honey for this recipe. The day that I made these for photos, I used a very dark and robust wildflower honey. If you use a lighter honey, the muffins may look a little lighter when baked.
Almond Flour – You can use either raw almond flour or blanched almond flour for this recipe (I used raw almond flour). The only difference is that raw almond flour is made with the skins of the almonds, while blanched almond flour has had the skins removed. Raw almond flour is a bit heartier, while blanched almond flour has a slightly finer texture. Again, use whatever you have on hand or prefer!
Step by Step Instructions
You'll find full instructions in the recipe card at the bottom of this post, but here's a helpful overview with photos.
Start by mashing your bananas in a bowl, then mix in the honey, olive oil, eggs, and vanilla. Your batter will look like this: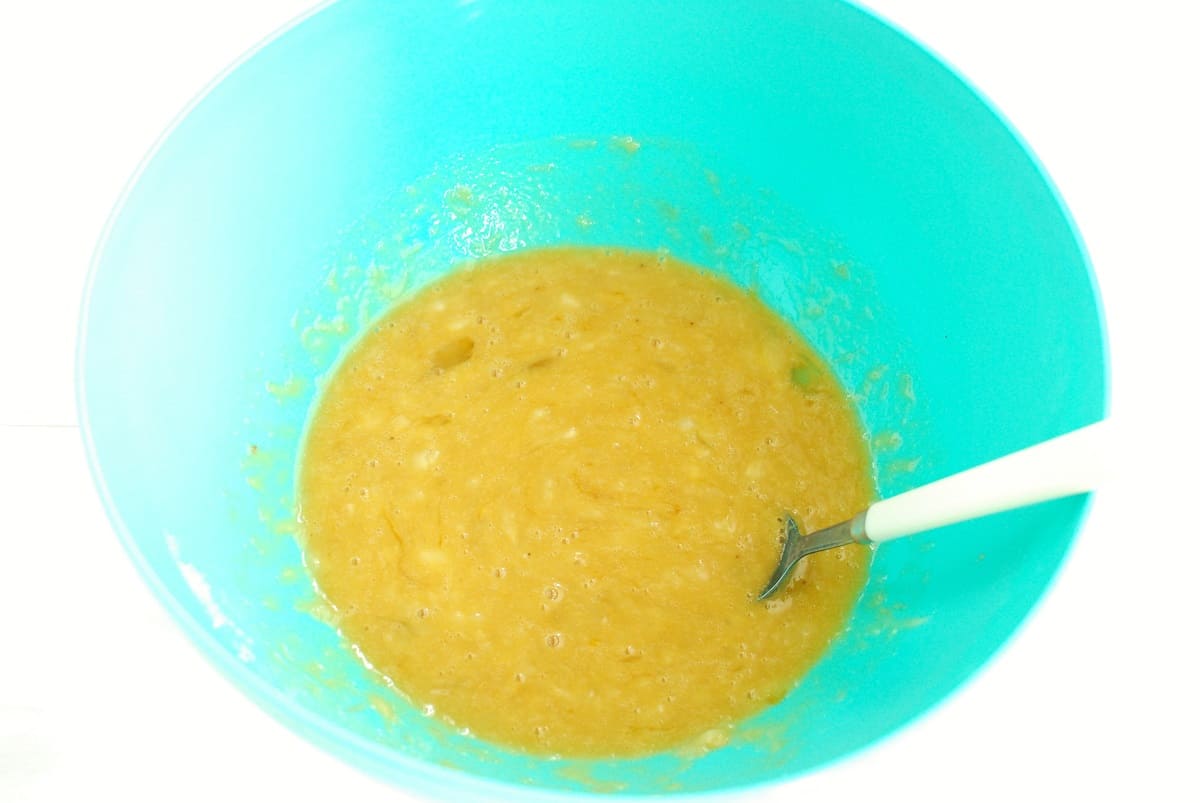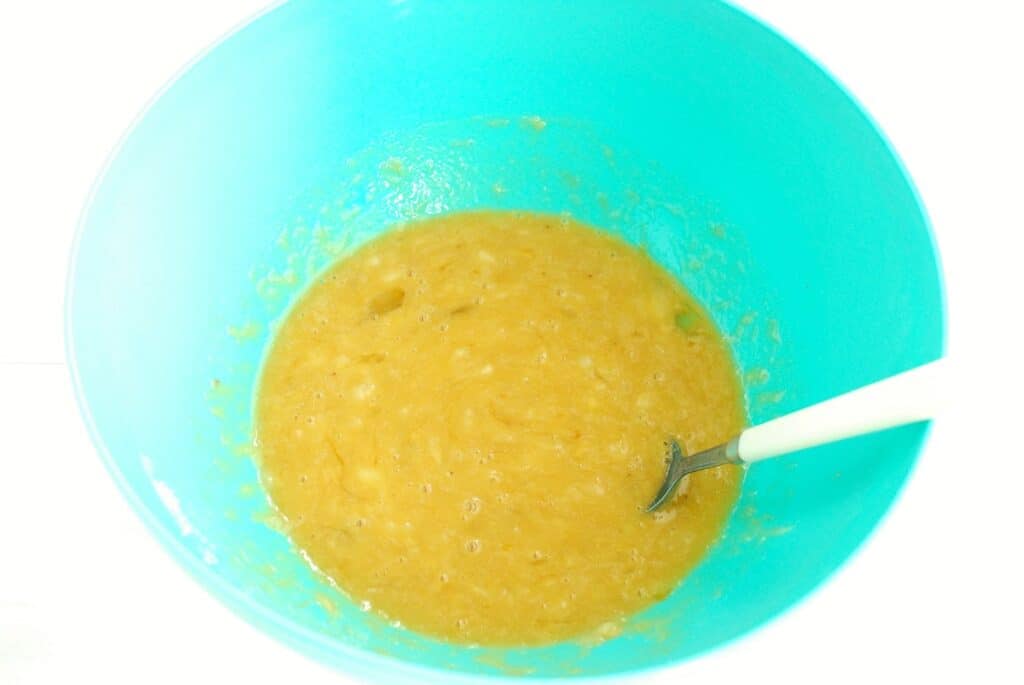 Now dump in all the dry ingredients – the almond flour, cinnamon, baking powder, baking soda, and salt. Your batter will look like this: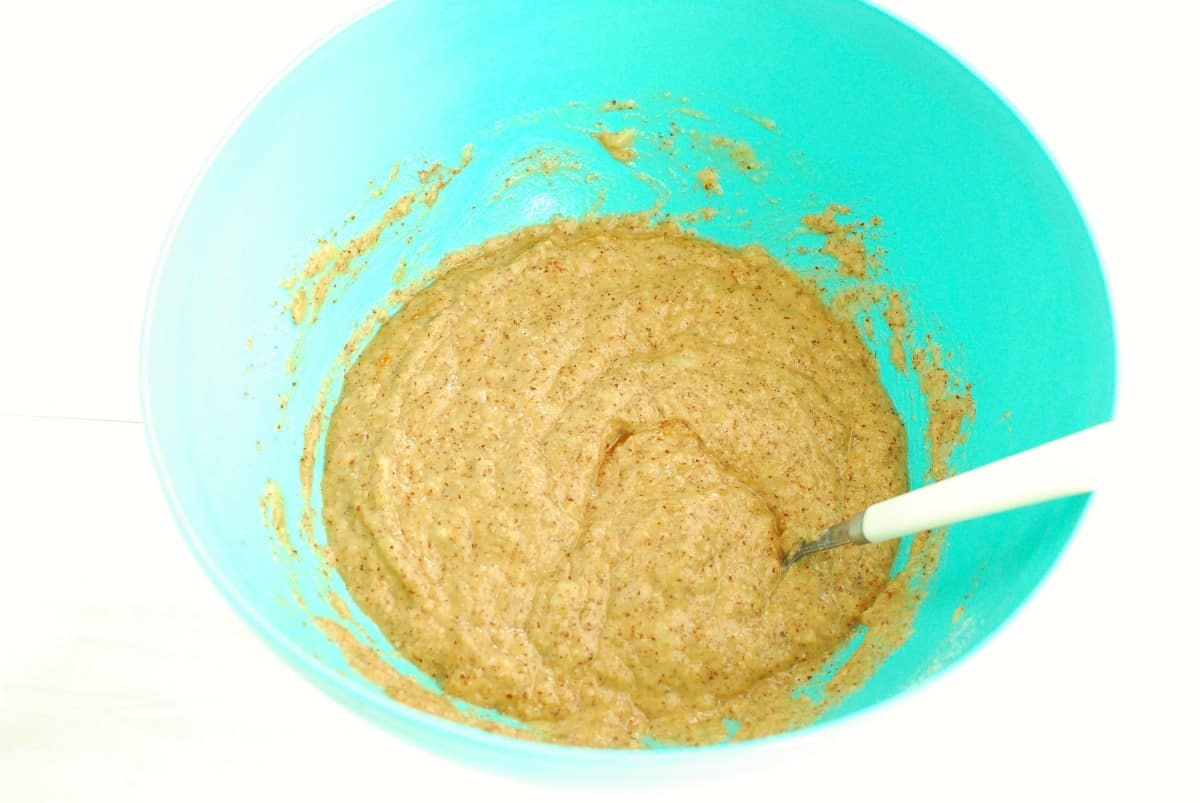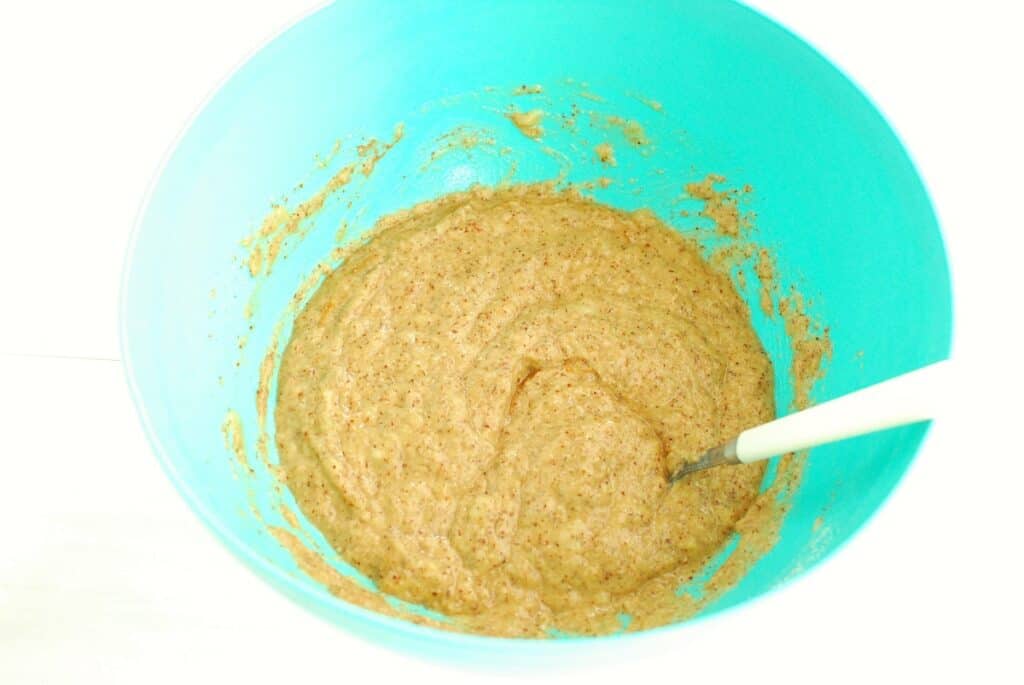 At this point, if you want to use any optional add ins (see next section for ideas), you can fold them in. Note that these muffins are delicious on their own, so don't feel like you need to mix in anything extra!
Now pour the batter into a greased muffin tin until each one is about ¾-full. It'll look like this before baking: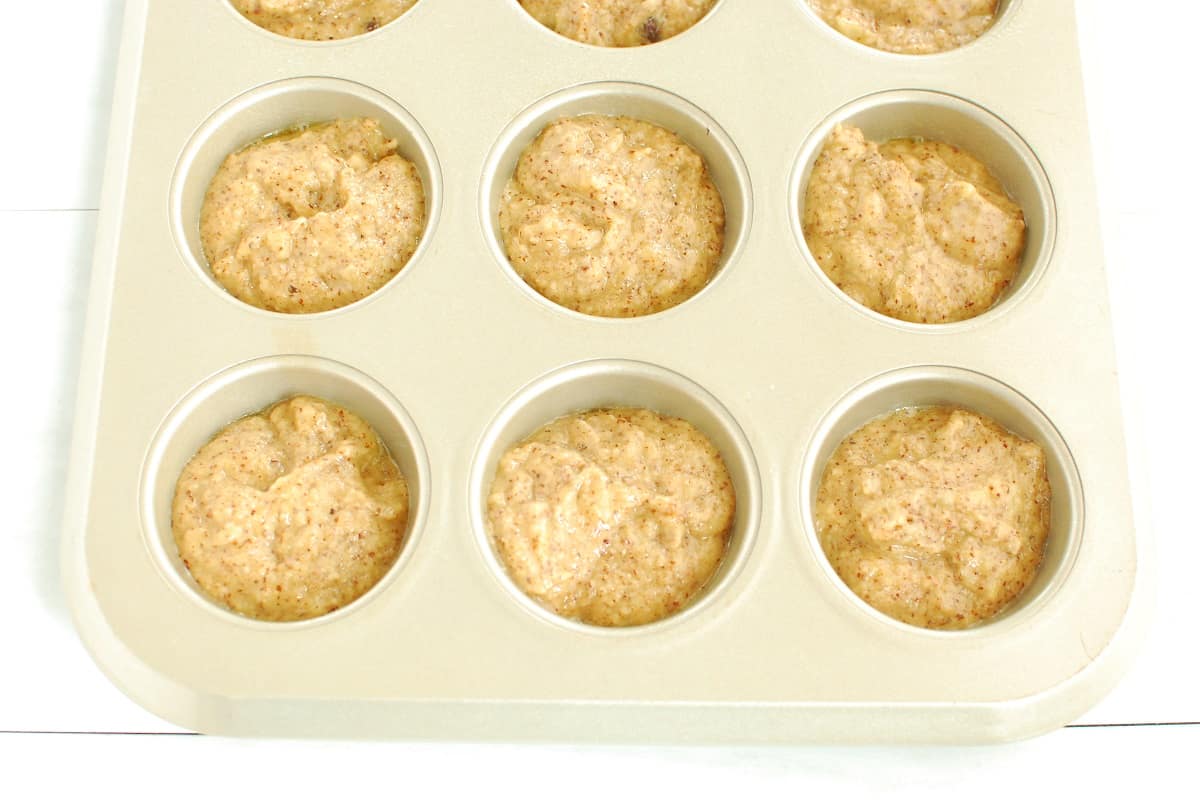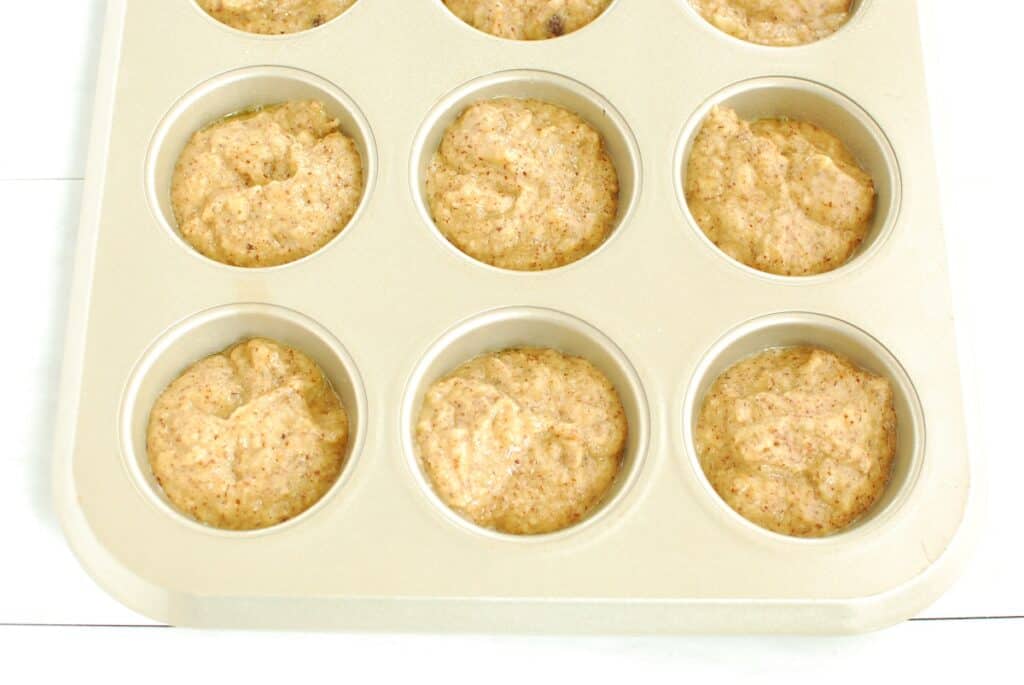 Go ahead and bake those up until they're golden brown and baked through – then let cool and dig in!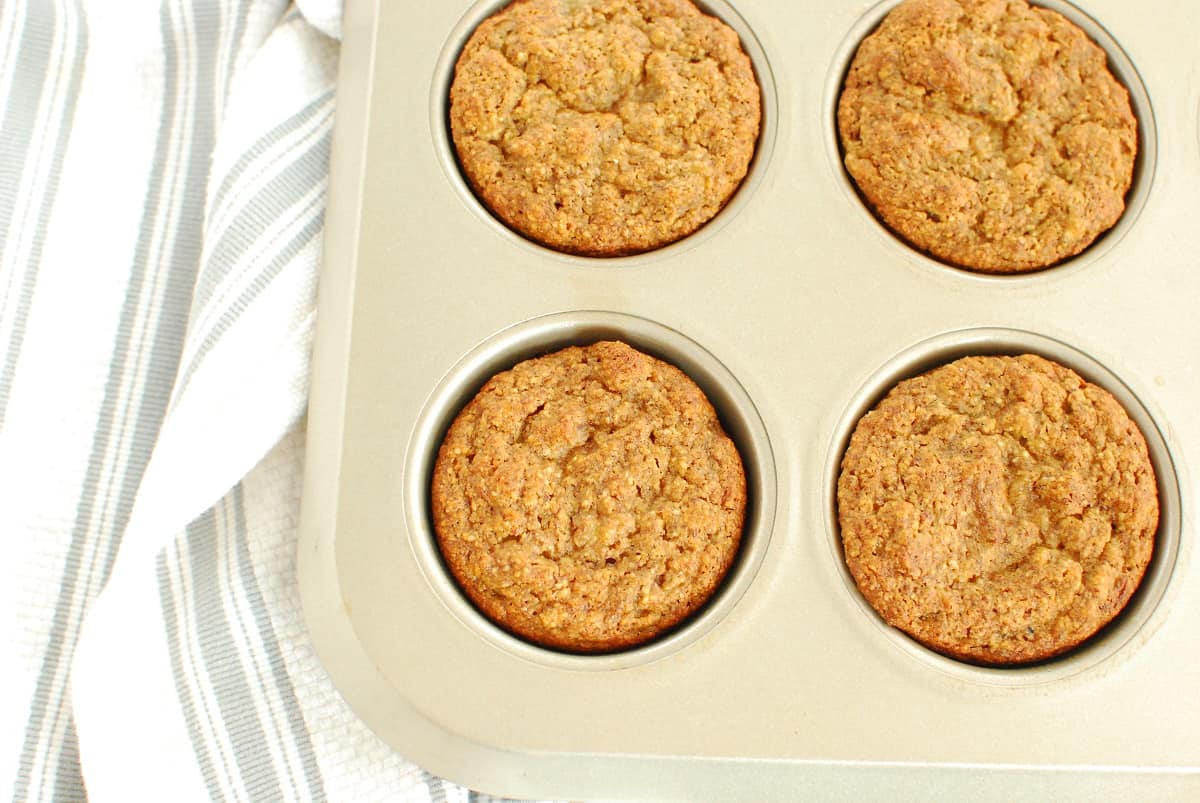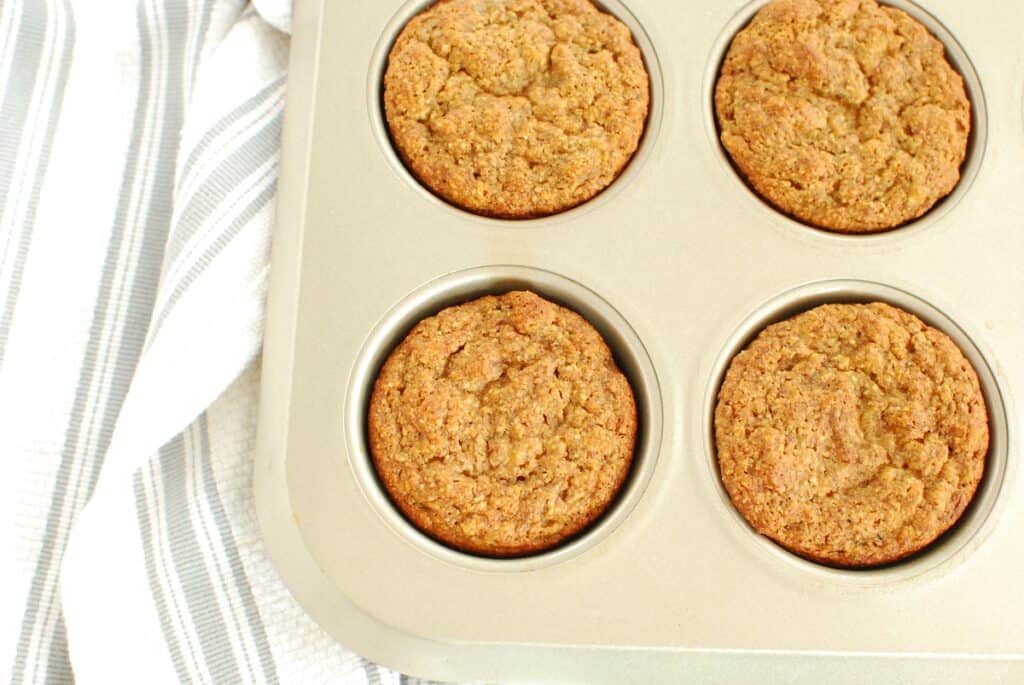 Extra Add-Ins
While not used in the base of this recipe, you can also use add-ins that you'd like in this banana bread. Feel free to mix in any of the following (use around ½ to ¾ cup of total add-ins, either from one or a mixture of a couple):
Dark chocolate chips
Shredded coconut
Dried cranberries
Raisins
Chopped walnuts
Chopped pecans
Fresh raspberries or blueberries
Recipe FAQ
Here are a few common questions that may come up as you prepare this recipe:
Can you freeze almond flour banana muffins?
Yes. Freeze them in a zip top bag. When you're ready to enjoy one, pull it out and microwave it for about 20-30 seconds.
How should you store almond flour muffins?
You can store these at room temperature for up to 1-2 days. Because these muffins tend to hold more moisture than traditional flour-based muffins, it's best to store them in the refrigerator if you plan to keep them for more than a day. They will last in the fridge for up to 5 days.
Can you make mini banana muffins?
Yes. Use a 24-count mini muffin tin and keep in mind that you'll need to start checking for doneness around halfway through the cooking time for regular muffins.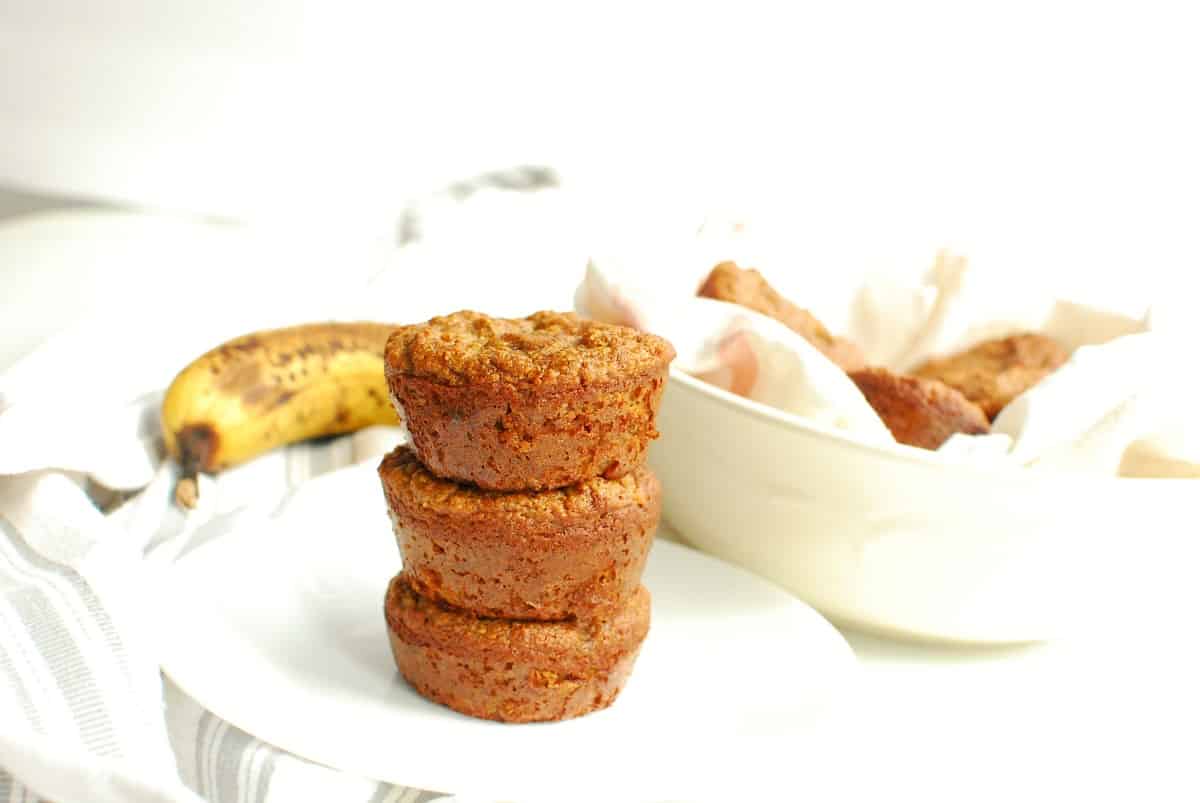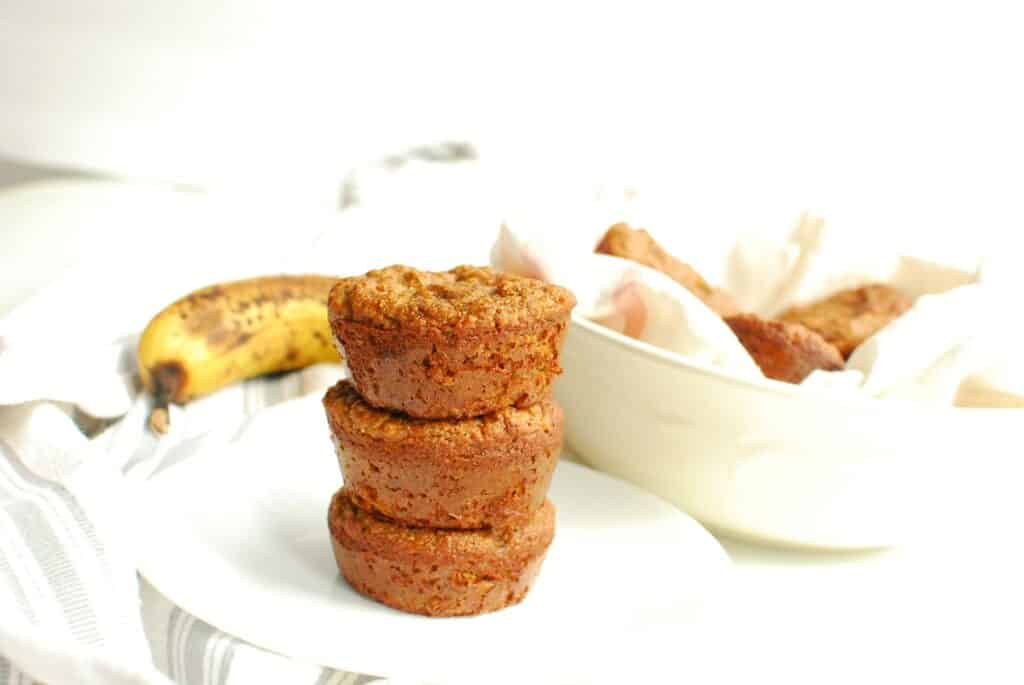 Nutrition Benefits
As a dietitian, I love these muffins as a better-for-you baked good. Here are some highlights:
More fiber and protein. Many muffin recipes tend to skew towards lots of carbs with little fiber or protein. These muffins provide 3 grams of fiber and 5 grams of protein each.
Healthy fats.  Rather than using less-healthy fats, this recipe is rich in nutritious monounsaturated fats thanks to the almond flour and olive oil (source).
Good source of magnesium.  Magnesium is very important, as it's involved in energy production, muscle and nerve contractions, and bone health.  One muffin provides 14% of your daily needs.
Excellent source of Vitamin E.  With one muffin clocking in at 33% of your daily needs, this recipe helps supply Vitamin E which acts as an antioxidant in the body (protecting your cells from damage from free radicals) (source).
More Banana Recipes
Got a ton of overripe bananas hanging around? Try one of the many other delicious overripe banana recipes we've got here on the blog:
I hope you enjoy these almond flour banana muffins! If you get a chance to try them, please feel free to leave a recipe rating or comment below.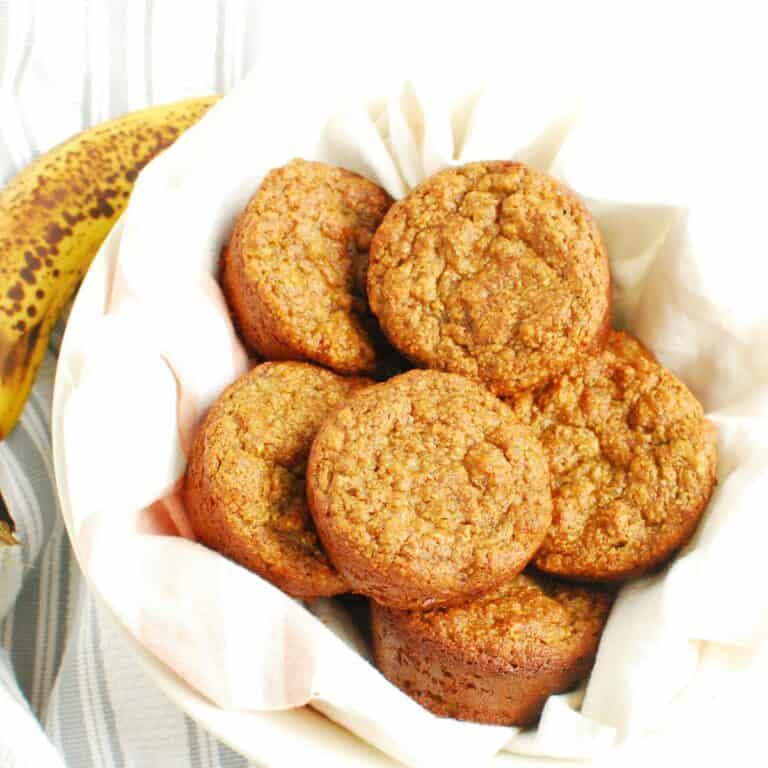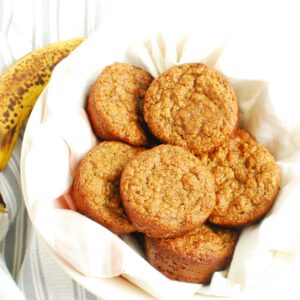 Almond Flour Banana Muffins
Start your morning with delicious and nutritious almond flour banana muffins!
Ingredients
3

overripe bananas, mashed

3

tablespoons

honey

2

tablespoons

olive oil

2

large eggs

1

teaspoon

vanilla extract

2

cups

almond flour

1

teaspoon

ground cinnamon

1

teaspoon

baking powder

½

teaspoon

baking soda

¼

teaspoon

salt
Instructions
Preheat the oven to 350 degrees F. Grease a 12-count muffin tin.

In a large mixing bowl, combine the mashed bananas, honey, olive oil, eggs, and vanilla. Whisk together until well combined.

Add the almond flour, cinnamon, baking soda, baking powder, and salt. Stir until combined.

Portion the batter out into the muffin tin, filling each about ¾ of the way full. Bake at 350 degrees F for 17-20 minutes, or until golden brown and a toothpick pulls out clean from the center.

Let the muffins cool in the muffin tin for a few minutes, then remove to a wire rack to continue cooling. Enjoy!
Notes
If you'd like to make these chocolate chip banana muffins, fold in ½ cup of chocolate chips after you've mixed all the rest of the batter ingredients. Bake as directed.
Nutrition analysis (approximate per muffin): 184 calories, 12.5 g fat, 1.5 g saturated fat, 155 mg sodium, 15 g carbohydrate, 3 g fiber, 9 g sugar, 5 g protein, Vitamin D: 1%, Calcium: 6%, Iron: 5%, Potassium: 5%, Magnesium: 14%, Vitamin E: 33%
Nutrition
Share: What's your favorite way to use up a bunch of ripe bananas? If you tried these muffins, what did you think?
Feel free to pin this post to share with others. 🙂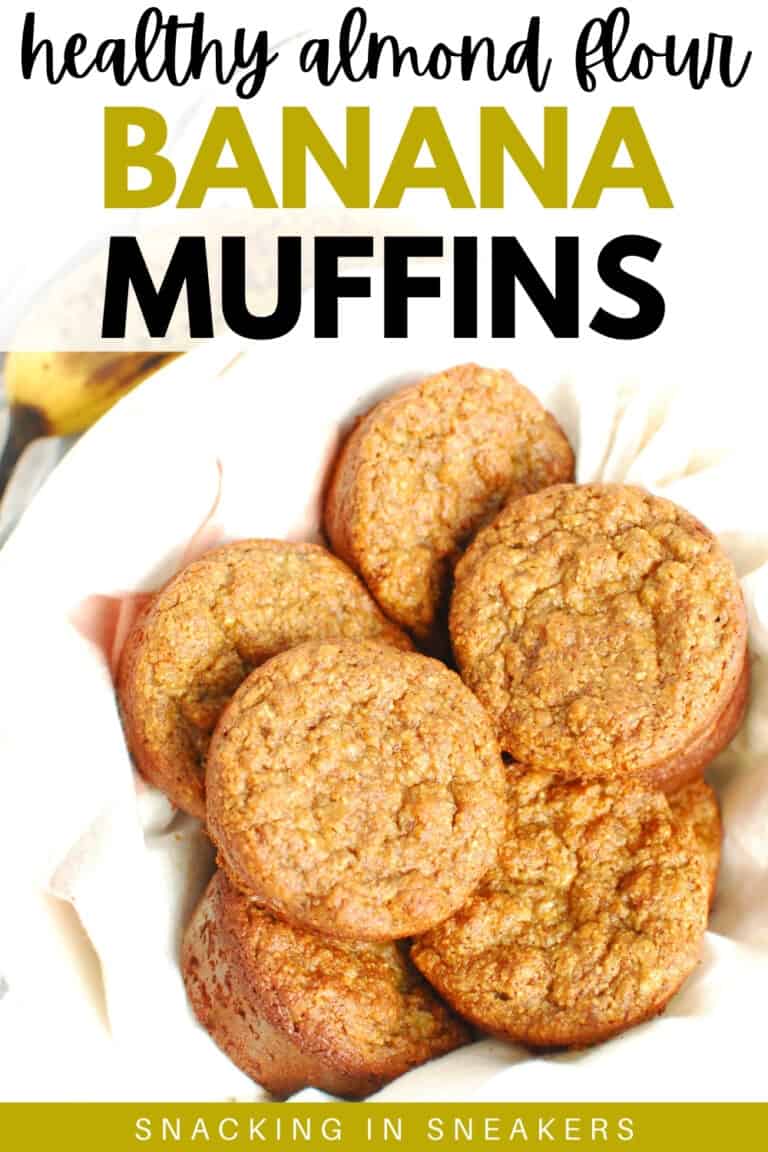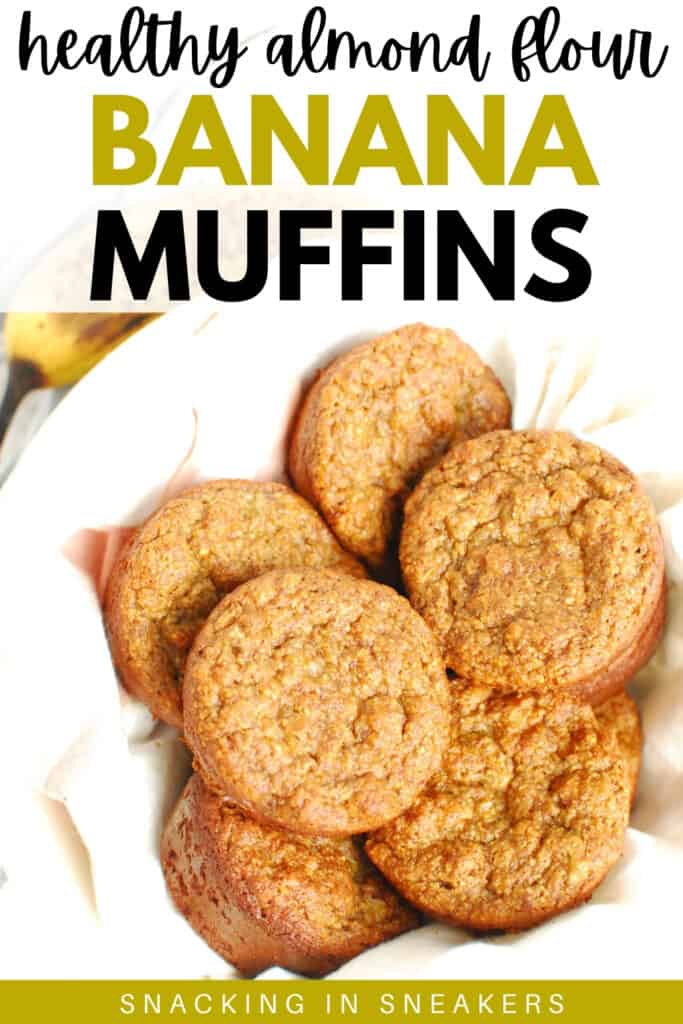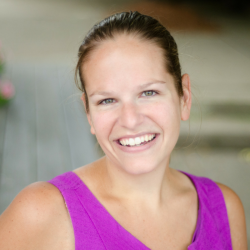 Latest posts by Chrissy Carroll
(see all)