Have a few overripe bananas hanging around your kitchen? Grab 'em and whip up this vegan coconut banana bread! It's tender, sweet, and has delicious bites of coconut flavor.
Disclaimer: This post contains Amazon affiliate links. As an affiliate, I earn a commission on qualifying purchases.
Note: This post was originally published in 2014 and has been updated in July 2021.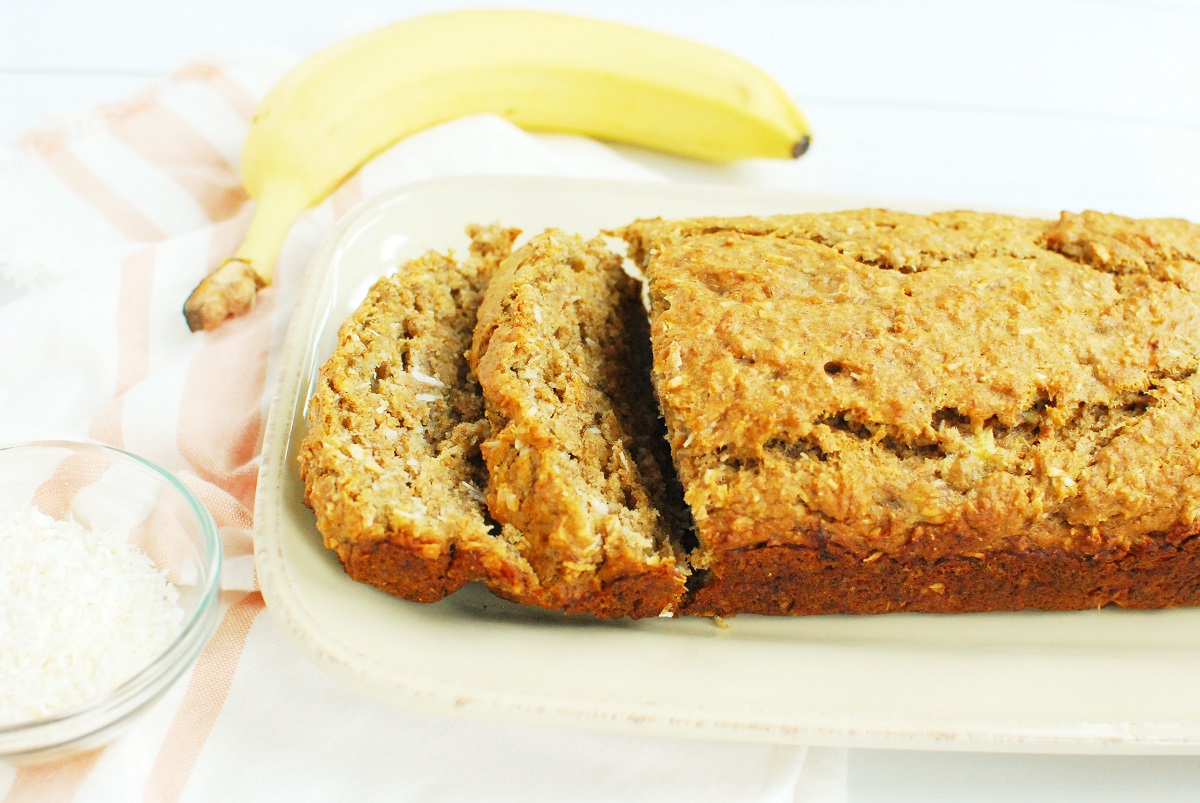 I first developed this recipe after hosting a nutrition table at an event expo. I may have overestimated the number of people attending, because I bought 80 bananas to give out as healthy snacks, and came home with 78 bananas 4 hours later. After giving out a ton to friends, I was left with quite a few overripe bananas that were perfect for this banana bread (as well as the many other overripe banana recipes I've compiled).
Ingredients
Here is a photo of all the ingredients you'll need, along with selected ingredient notes below: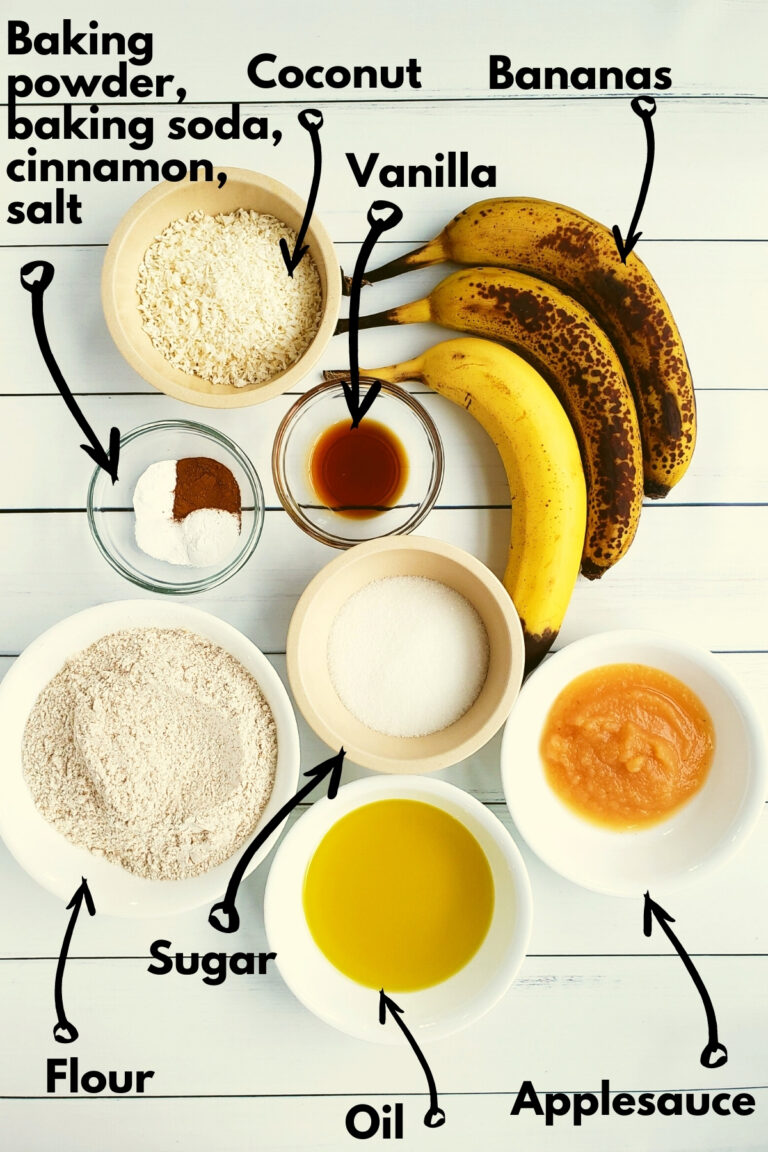 Bananas – Aim for bananas that have brown spots or are turning brown all over. These will add optimal sweetness to the recipe, and will also create the right texture for a moist bread. If you use bananas that are still fully yellow, it won't have the same taste or texture.
Sugar – If you are a strict vegan and avoid all animal products, be sure to find a vegan-friendly brand of sugar that does not use bone char filtering. At the time of publish, certified organic sugar cannot use bone char filtering, so that's an easy way to narrow down a brand. In addition, any brand labeled "vegan" should also follow these guidelines (but may be worth checking with the manufacturer). Beet sugar is also naturally vegan.
Coconut – Try to find unsweetened shredded coconut if you can – this reduces the total added sugar in the recipe. That said, if all you have is sweetened, it will work just fine!
Oil – I like using olive oil in baking recipes, as you'll increase the proportion of healthy monounsaturated fats as well as add some polyphenols found in the olives. That said, you can also substitute another oil of your choice here.
Step by Step Directions
You'll find the full recipe amounts and instructions at the recipe card at the bottom of the post, but here's a helpful overview with photos.
Start by combining the bananas, oil, applesauce, sugar, and vanilla in a large bowl. It should combine together fairly well, like this: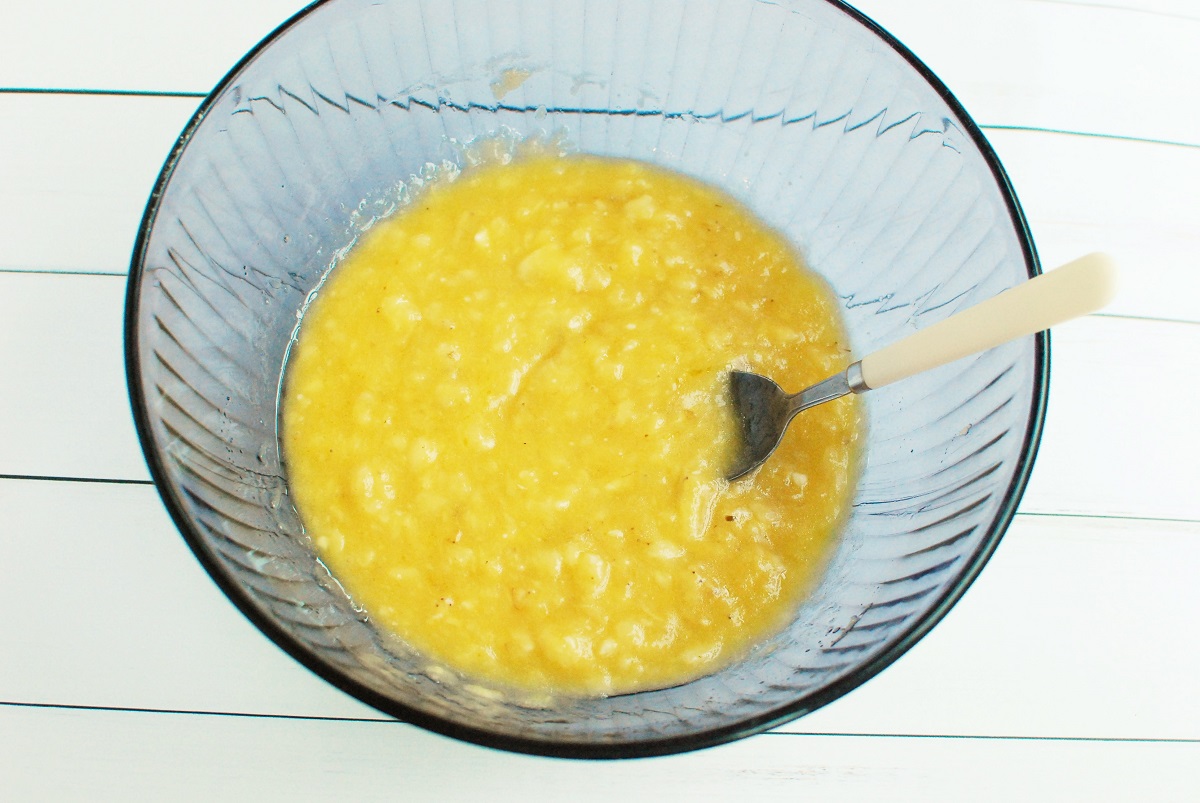 In another bowl, mix together the dry ingredients – the flour, cinnamon, baking powder, baking soda, and salt.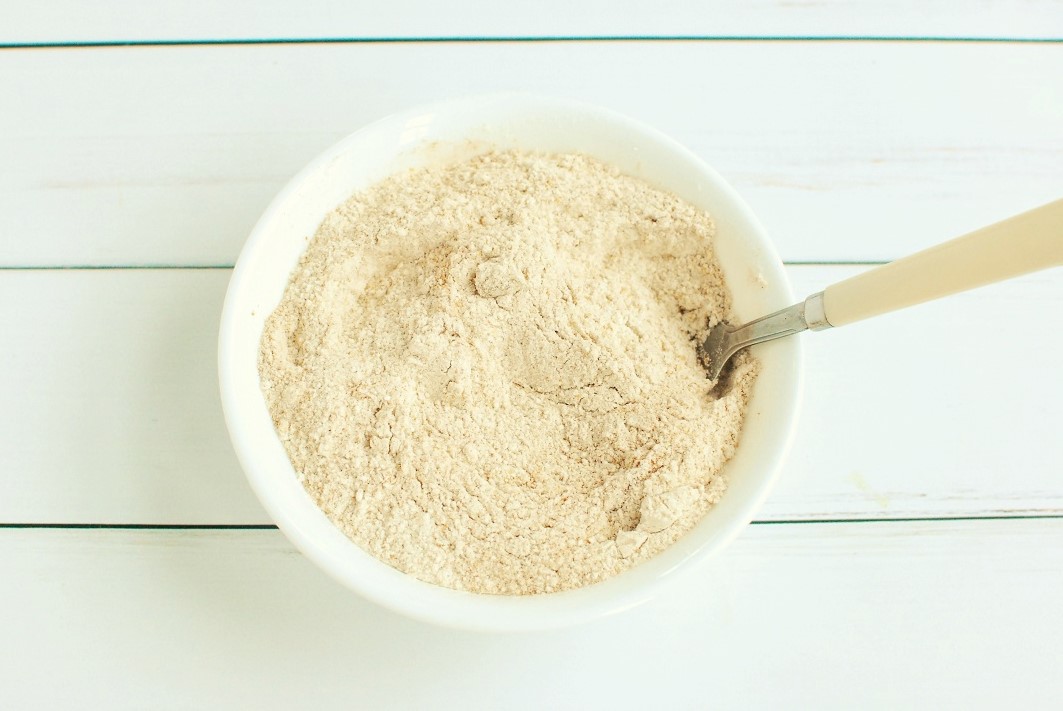 Next, pour the dry ingredients into the other bowl, and mix that together. Then fold in the coconut. Your batter should look like this: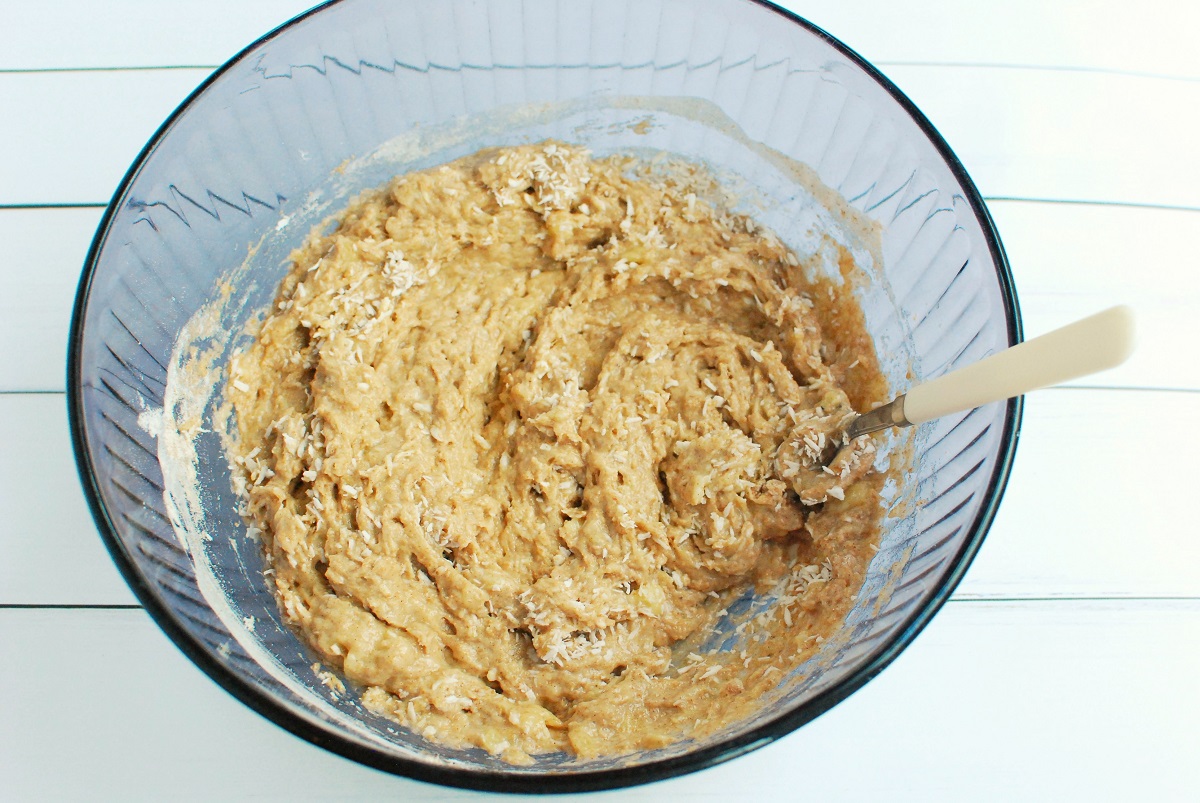 Just pour that batter into a greased loaf pan, bake it up, and then let it cool!
I love this banana bread plain, but you can also enjoy it topped with a dairy-free butter spread or peanut butter.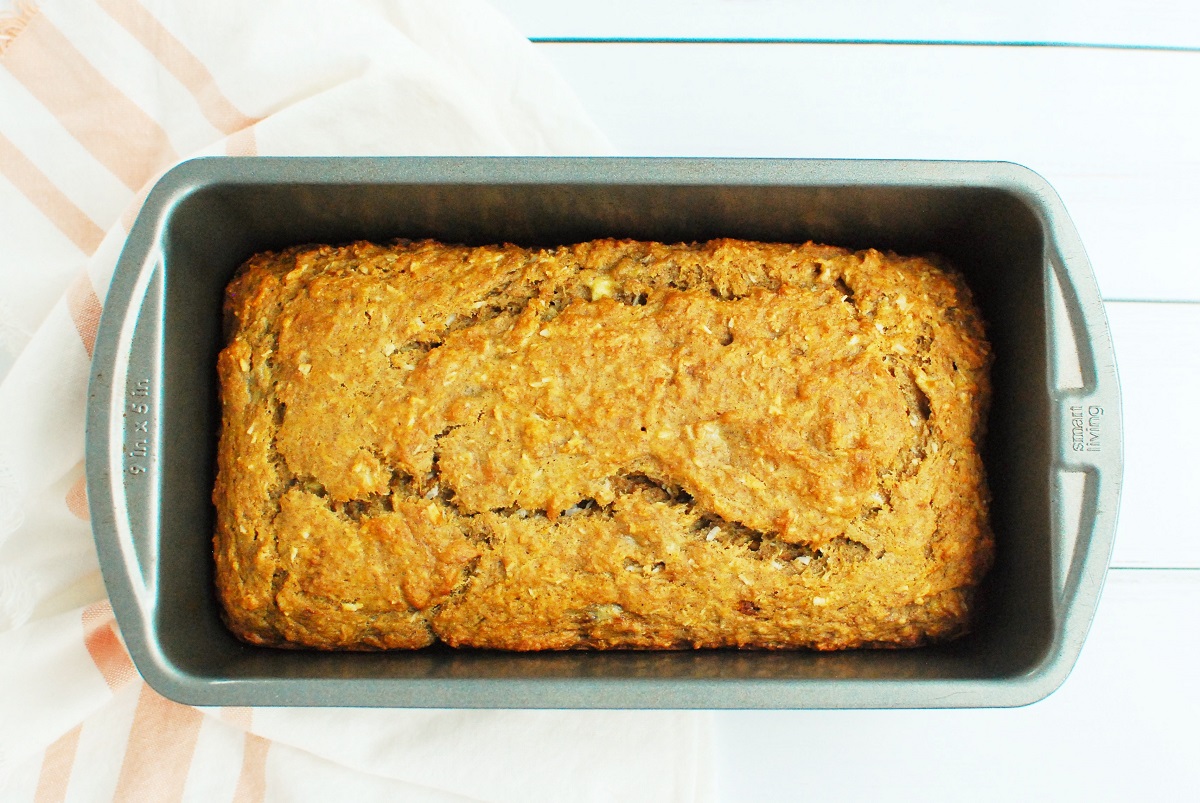 Recipe FAQ
Here are some common questions that may come up as you prepare this vegan coconut banana bread recipe:
How should you store banana bread?
Store your cooked banana bread at room temperature, either in an airtight container or on a plate covered with plastic wrap.  Enjoy within 3 days.  It's best to avoid storing it in the refrigerator, as the bread can dry out.
Can you freeze banana bread?
Yes!  You can freeze the full loaf to pull out to enjoy for a brunch with a group – or, use my trick and freeze individual slices for easy snacking.  Just wrap each in plastic wrap, then store in a big zip top bag in the freezer.  When you're ready to enjoy a slice, pop it in the microwave for about 30 seconds.
Can you make this recipe into muffins?
Yes!  Prepare the recipe as directed and then portion out the batter into a 12-count muffin tin.  Cook at 350 degrees F for 18-25 minutes, or until a toothpick pulls out clean from the center.
More Vegan Treats
If you're looking for more vegan treats, try one of these other tasty recipes:
Peanut butter banana granola – Another great way to use browning bananas, this granola is vegan and has no added sugar or oil. It's a delicious breakfast option.
Butter bean blondies – Yes, lima beans sound strange in a blondie – but you won't believe how good these are!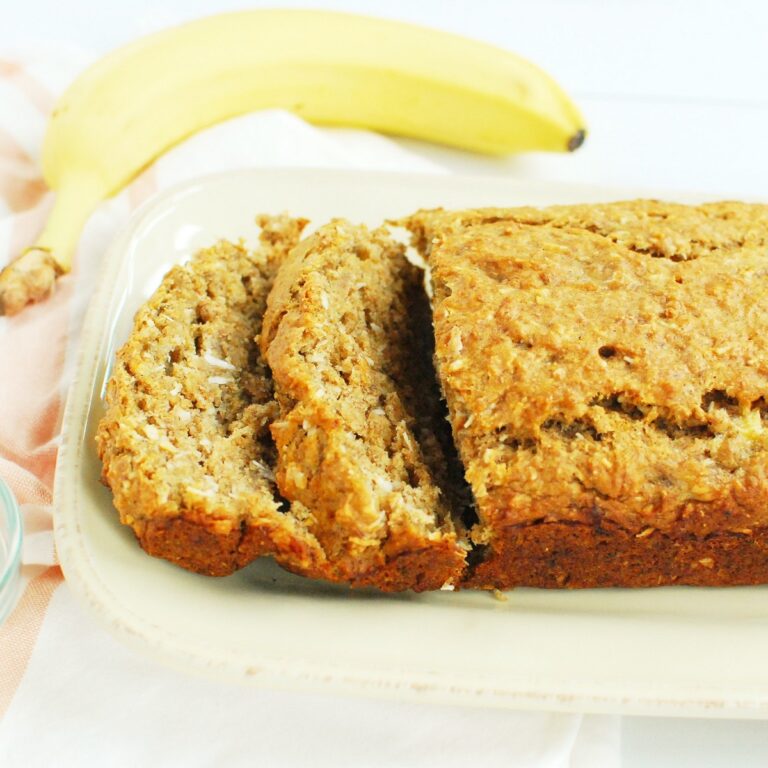 Vegan Coconut Banana Bread
This delicious vegan coconut banana bread is the perfect way to start your morning!
Ingredients
3

medium ripe bananas

mashed

⅓

cup

olive oil

¼

cup

applesauce

⅓

cup

vegan-friendly granulated sugar

1

tsp

vanilla

1 ¾

cup

whole wheat flour

(spooned and leveled)

1

tsp

cinnamon

1

tsp

baking powder

½

tsp

baking soda

½

tsp

salt

½

cup

shredded unsweetened coconut
Instructions
Preheat the oven to 350 degrees F. Grease a loaf pan and set aside for now.

In a large mixing bowl, combine the mashed bananas, olive oil, applesauce, sugar, and vanilla.

In another mixing bowl, mix together the flour, cinnamon, baking powder, baking soda, and salt.

Pour the dry ingredients into the mixing bowl with the wet ingredients. Stir until just combined. Fold in the coconut.

Pour the batter into the greased loaf pan. Bake at 350 degrees F for about 40-45 minutes, or until a toothpick pulls out clean from the center. Let cool for 10-15 minutes in the pan, then place the loaf on a cooling rack to finish cooling. Enjoy!
Notes
Nutrition analysis (approximate per slice): 223 calories, 10.5 g fat, 3.5 g saturated fat, 230 mg sodium, 32 g carbohydrate, 4 g fiber, 12 g sugar, 3.5 g protein, Vitamin D: 0%, Calcium: 3%, Iron: 6%, Potassium: 5%
Nutrition
Share: Do you also love coconut added to banana bread? If you tried this recipe, what did you think?
Feel free to pin this post to save for later!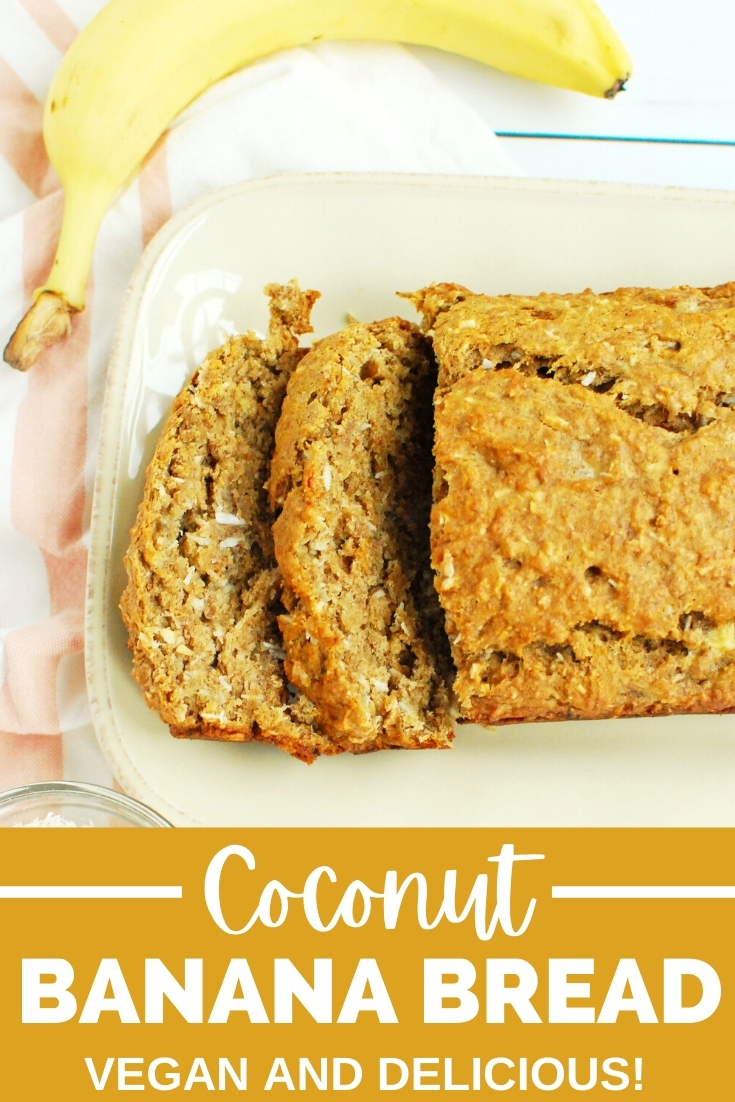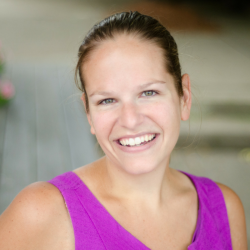 Latest posts by Chrissy Carroll
(see all)