I was hosting a table at an expo event a few weeks ago, and we may have overestimated the number of people attending. I bought 80 bananas to give out as healthy snacks. Four hours later, I came home with 78 bananas.
I gave a bunch away to friends and family, but needless to say, I still had a considerable number left over to cook with. So last weekend, I experimented with a bunch of different banana bread recipes. This coconut banana bread was my favorite.
Plus, it's got a better balance of ingredients than many other recipes. I mean, let's face it – baked goods are never going to be super healthy, but there are always ways you can make better choices that still taste delicious. This is a perfect example. It uses whole wheat flour instead of white flour, plus whole grain oats, to give you extra fiber and minerals. And I've cut back on the sugar a bit compared to similar recipes.
I got about 12 banana bread squares out of this recipe – 4 rows cut into 3 squares each (about 3×3 inches per square). Keep in mind, if you cut bigger pieces the nutrition facts will be a bit higher.
Enjoy!
Coconut Banana Bread Recipe
A delicious coconut banana bread is the perfect way to start your morning.
Ingredients
3

bananas

mashed

1/2

cup

lite coconut milk

1

teaspoon

vanilla

1

egg

1/4

cup

canola or vegetable oil

1/2

cup

sugar

1

cup

whole wheat pastry flour

1

cup

quick oats

1

teaspoon

baking soda

1/2

teaspoon

salt

1/4

cup

shredded coconut
Instructions
Preheat oven to 350 degrees.

Mix bananas, coconut milk, vanilla, egg, oil, and sugar together in a large bowl until well blended.

Add whole wheat pastry flour, oats, baking soda, salt, and shredded coconut. Mix until just blended – do not over mix.

Coat a 13x9 baking dish with nonstick cooking spray. Pour batter into dish.

Cook for approximately 25-30 minutes, or until a knife comes out clean.
Notes
Nutrition analysis (per serving):
183 calories, 7 grams of fat, 28 grams of carbohydrate, 13 grams sugar, 3 grams fiber, 3 grams protein
Notes:
-If you can find unsweetened shredded coconut, it's an even healthier choice!
-If you cut the squares smaller – 5 rows of 3 each, giving you 15 servings – each serving will be 150 calories, 6 grams of fat, 21 grams carbohydrate, 10 grams sugar, 2 grams fiber, and 3 grams protein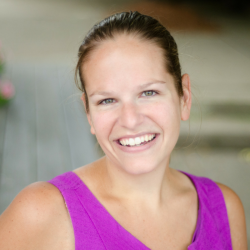 Latest posts by Chrissy Carroll
(see all)