Dark chocolate cherry brownies that are made with black beans?! You betcha!
These are a favorite for adults and kids alike.
Over Fourth of July weekend, I finally had a bit of downtime to experiment with some baking. I do a lot of healthy meal experimentation during the week, but have a bit more limited time to experiment with the fun treats. And if we're being honest, I'd end up eating cookies and cakes for meals if I did too much recipe development with the sweet stuff!
I wanted to try making a brownie recipe that involved aquafaba, since I've been having a lot of fun experimenting with all the things you can do with this magical liquid (it's the liquid leftover from a can of beans). I know some people use black beans in brownie recipes, so I thought I'd throw some of the actual beans in there too. And I had some cherries that I knew wouldn't last too much longer in the fridge, so I figured I'd toss those in too.
I scratched down a rough recipe on a piece of paper and headed into the kitchen. I promptly told my husband that I was making dark chocolate cherry brownies with a secret ingredient – black beans. He turned to the baby and said "Oh no, here goes mommy again."
My last baked good recipe that involved beans (there was a bean cookie at some point recently) was less than stellar. And by less than stellar, I mean somewhat crappy. You can't blame him for doubting me. Heck, I doubted myself a bit on this one.
I whipped up the batter and nervously grabbed a spoonful of batter. It was chocolatey. It was sweet. It had bites of tart cherries. It wasn't gritty or a weird texture – it was smooth and delicious. In other words, this batter was ah-mazing.
The pan of batter went into the oven, and 25 minutes later out came a bunch of yummy dark chocolate cherry brownies.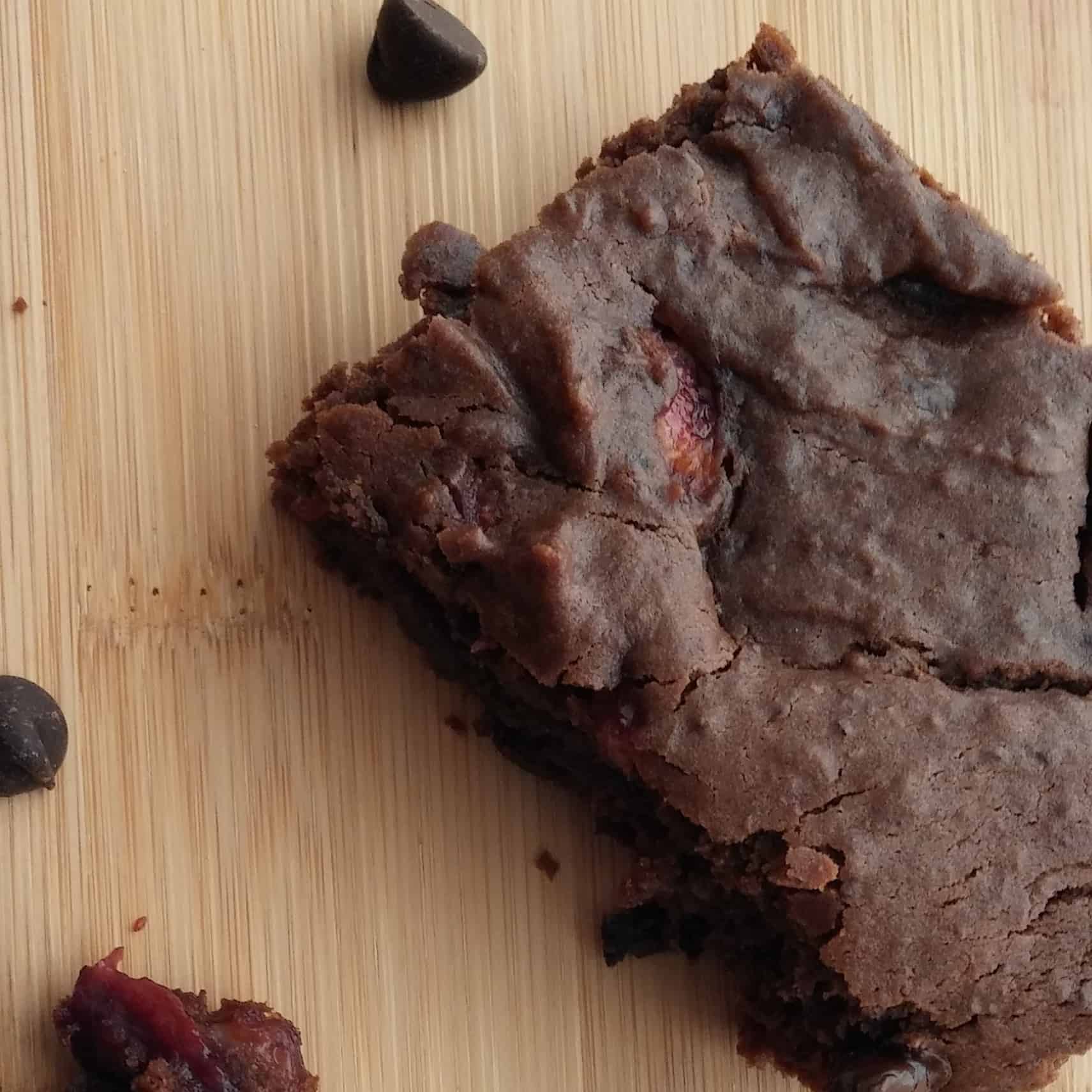 The finished product does have a little lighter texture compared to super fudgy brownies. But I gave a bite to my hubby about two minutes after they came out of the oven, and asked him if he would classify it as cake or brownie. He said it was more on the brownie spectrum of baked goods. And to our surprise, when we went to have them later for dessert, after cooling they definitely took on more of that rich, fudgy consistency.
This is seriously my favorite baked good recipe that I've developed to date. It was so delicious – in a dangerous I-need-to-get-these-outta-the-house-before-I-eat-them-all kind of way! 😉
Grab some fresh cherries from the grocery store and give these a try asap. If you struggle with portion control and willpower, find a few friends to share them with.
PS – If you're looking for more cherry recipes, check out this cherry recipe roundup with delicious ways to use both ripe sweet & tart cherries.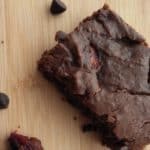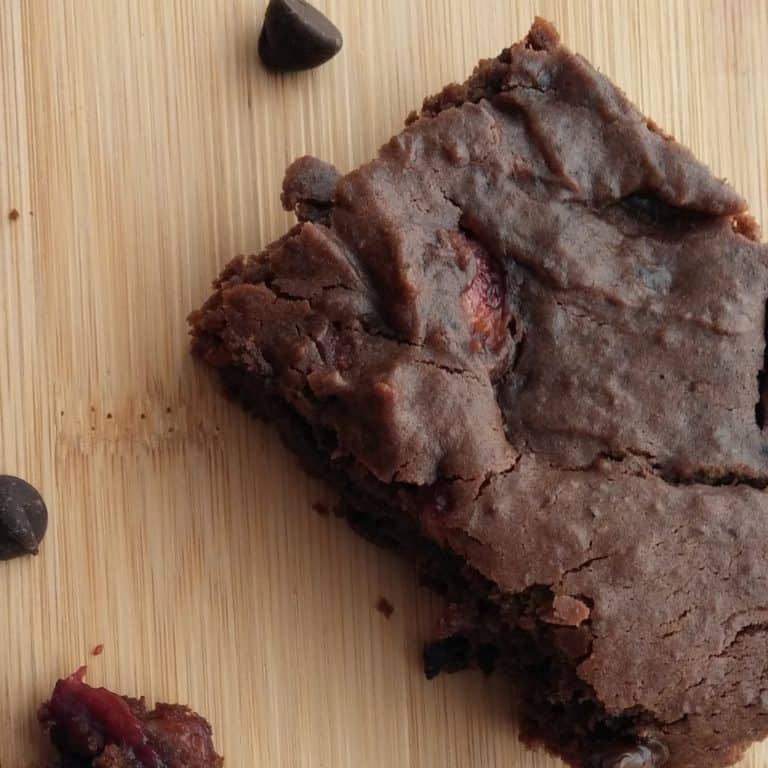 Dark Chocolate Cherry Brownies
Dark Chocolate Cherry Brownies - an indulgent treat that you'd never know was made with whole wheat flour and black beans!
Ingredients
Ingredients:
1/2

cup

black beans

1/3

cup

the liquid from the can of beans

(aquafaba)

1/2

cup

sugar

1/3

cup

applesauce

1/3

cup

oil

(vegetable, coconut - whatever you prefer)

1

tsp

vanilla

1/2

cup

dark chocolate chips

(Enjoy Life are dairy free if you can't have dairy)

1

cup

whole wheat pastry flour

1

tsp

salt

1

tsp

baking powder

1/2

cup

chopped pitted cherries

1/3

cup

dark chocolate chips

(additional to mix in)
Instructions
Directions:
Preheat oven to 350 degrees.

Puree black beans and aquafaba in a food processor or blender. Add to bowl.

Add sugar, applesauce, oil, and vanilla to bowl and whisk with black bean mixture.

Melt the 1/2 cup of chocolate chips in the microwave (it should only take about 30-60 seconds - do this in 20 second increments and do not overheat). Add to the bowl with previous ingredients. Whisk mixture.

Add flour, salt, and baking powder to bowl and stir to combine. Fold in chopped cherries and remaining unmelted chocolate chips.

Pour into a brownie pan or a pie plate and bake at 350 degrees for about 20-25 minutes, or until the top looks dry and a knife pulls out clean. (If you want it a little fudgier, you could try baking a smidge less – I haven't tried it but there's no need to worry about food poisoning from undercooked items since there are no eggs in it). Let cool and slice into squares. Enjoy!
Recipe Notes
Recipe Tips:
Recipe can be made vegan as long as sugar is used that does not include a bone-char filtering process.
Because there are beans and cherries in this recipe, I recommend storing in an airtight container in the fridge. When you're ready to have another, pop one out and reheat in the microwave for a warm treat.
Share with me: Have you ever included beans in your brownie recipe? What about cherries? What's your favorite type of brownie? Did you try – and love – these dark chocolate cherry brownies?