These chocolate cherry brownies are a wonderful dessert to make during the summer when fresh cherries are in abundance!  While it's definitely a sweet treat, using whole wheat pastry flour and black beans in the batter give this a nutritional step up compared to other recipes.
Note: This recipe was originally published in 2015 and has been updated in July 2021.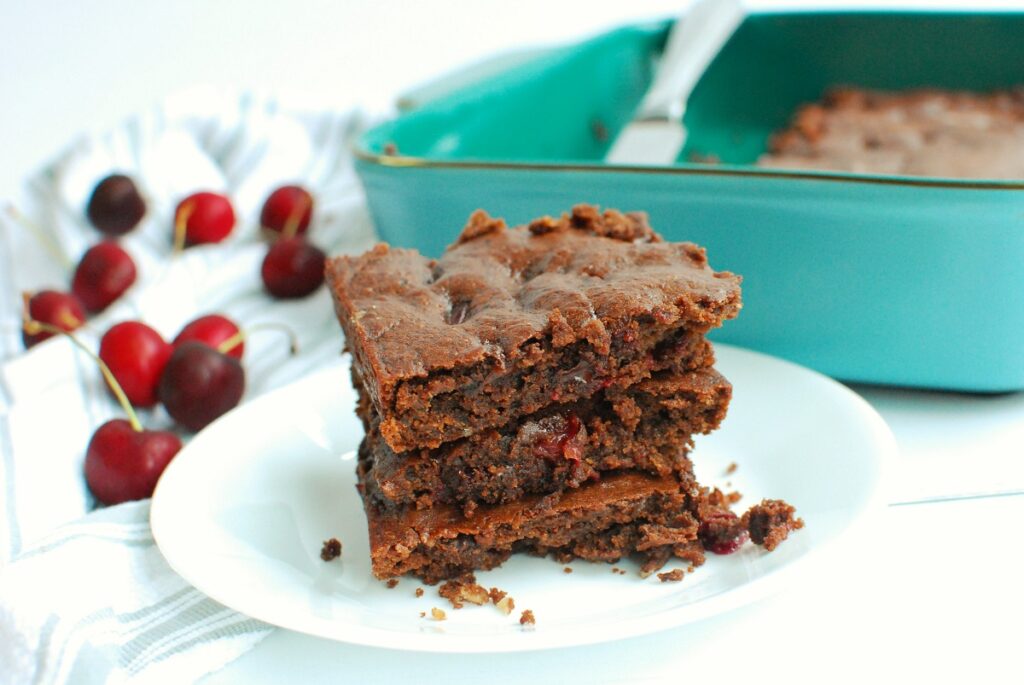 Ingredients
Here are the ingredients you'll need to make this recipe, with some selected ingredient notes: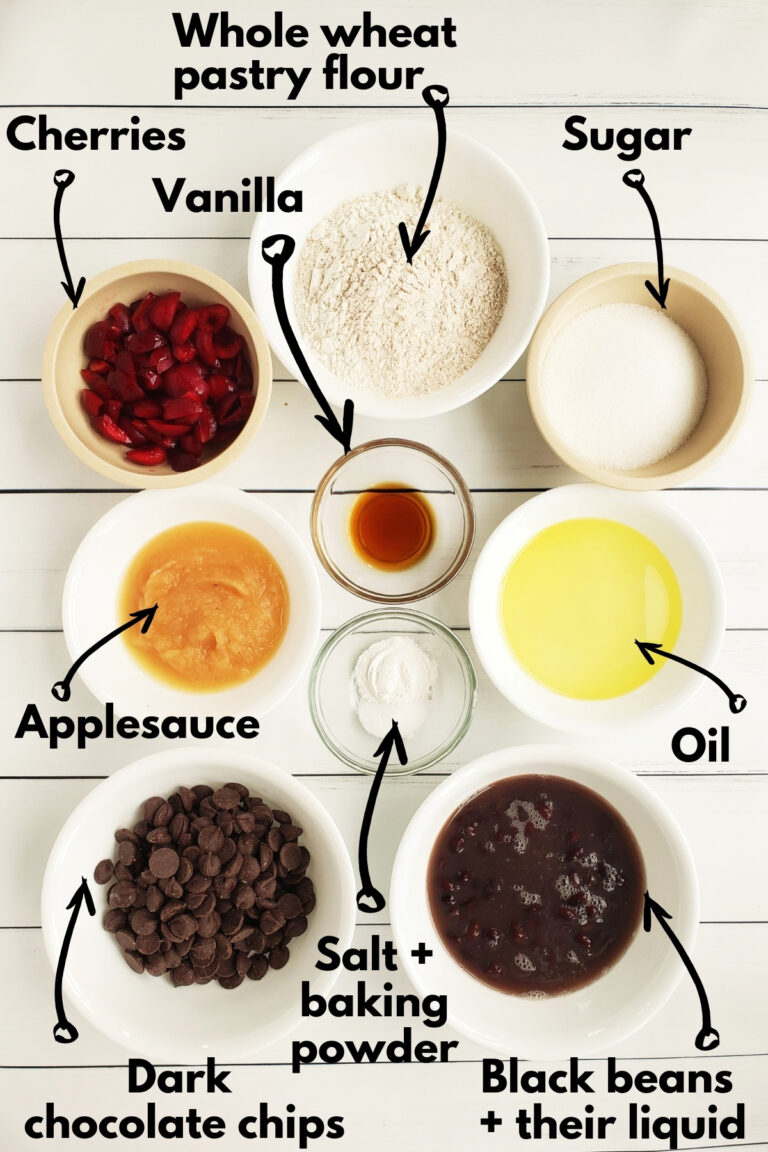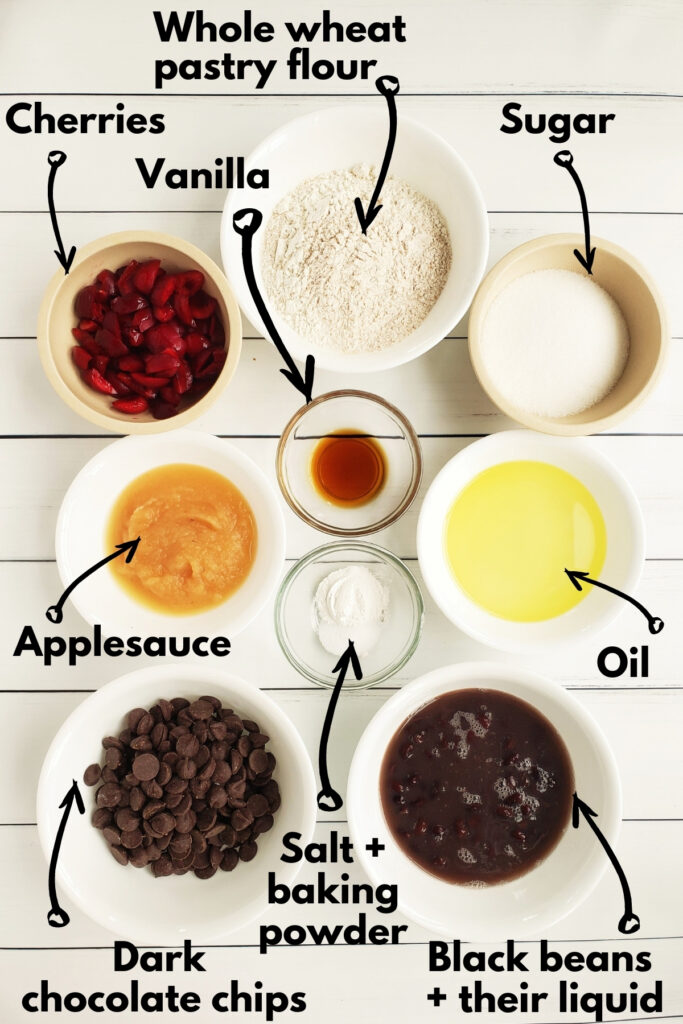 You might be surprised to see there's no cocoa powder in this recipe, which is almost always used in brownies. This recipe happened to be developed when I was simply out of cocoa powder one day, and I loved it so much that I kept it as-is over the years.
Cherries – You'll want fresh sweet cherries for this recipe.  You can also defrost some frozen cherries instead, which is helpful for allowing you to make these year-round when fresh cherries aren't in season!
Dark chocolate chips – I recommend the highest quality dark chocolate you can purchase for this recipe.  Because there's no cocoa powder used, the melted dark chocolate is key for getting that rich cocoa flavor in the brownie.
Black beans and aquafaba – Don't be scared off by this!  Black beans add a little extra fiber to this recipe, but you'd never guess they were in these brownies.  Aquafaba is simply the liquid that's in the can of beans.  It has properties similar to an egg in baking, which is why it's used in this recipe.
Step by Step Instructions
You'll find full recipe instructions and amounts in the recipe card at the bottom of this post, but here's a helpful overview with photos.
Start by taking the beans and aquafaba and placing them in a small food processor (or blender cup). Process until the mixture is pretty smooth, like this: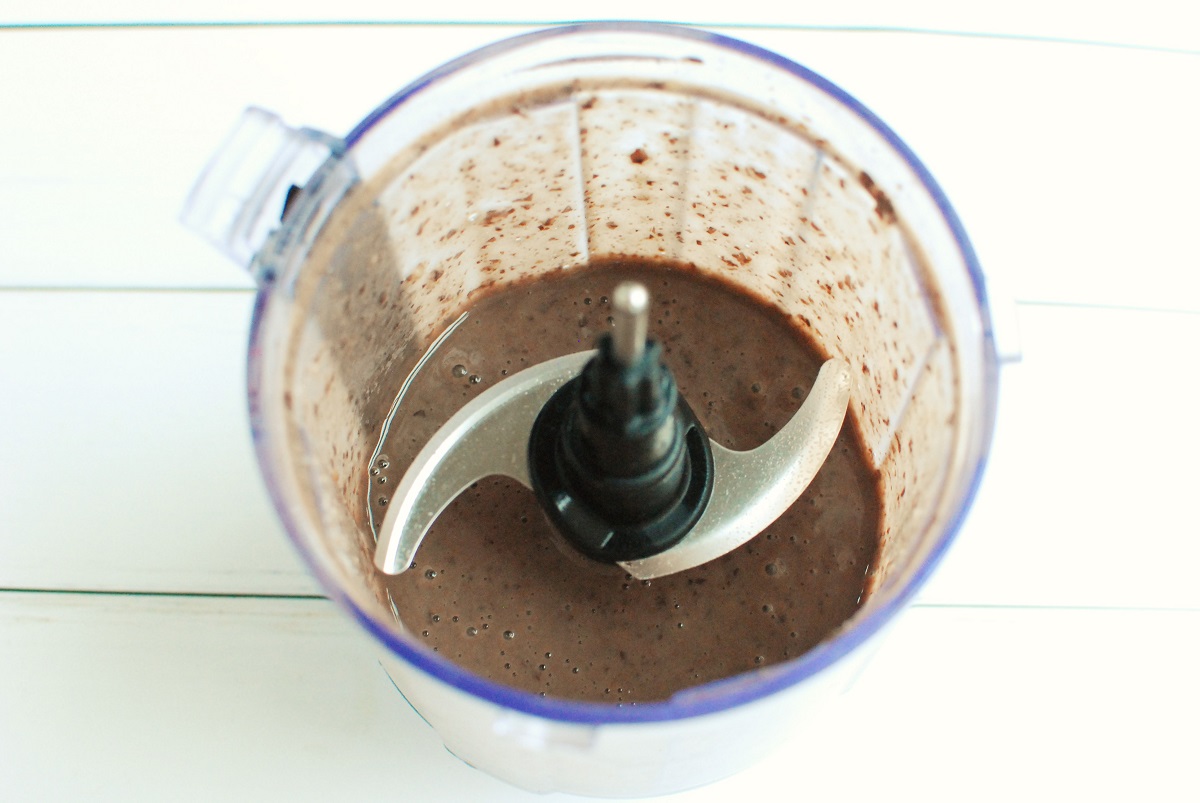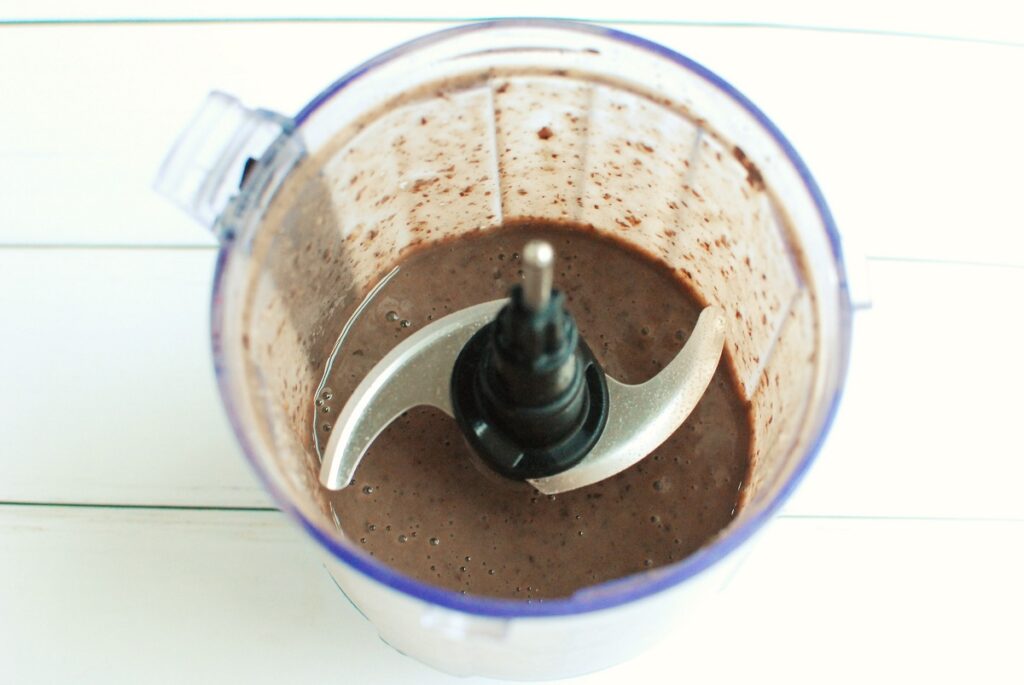 Pour that in a bowl, and then add the sugar, applesauce, oil, and vanilla. Give that a good stir to combine it well. Here's what it'll look like at that point: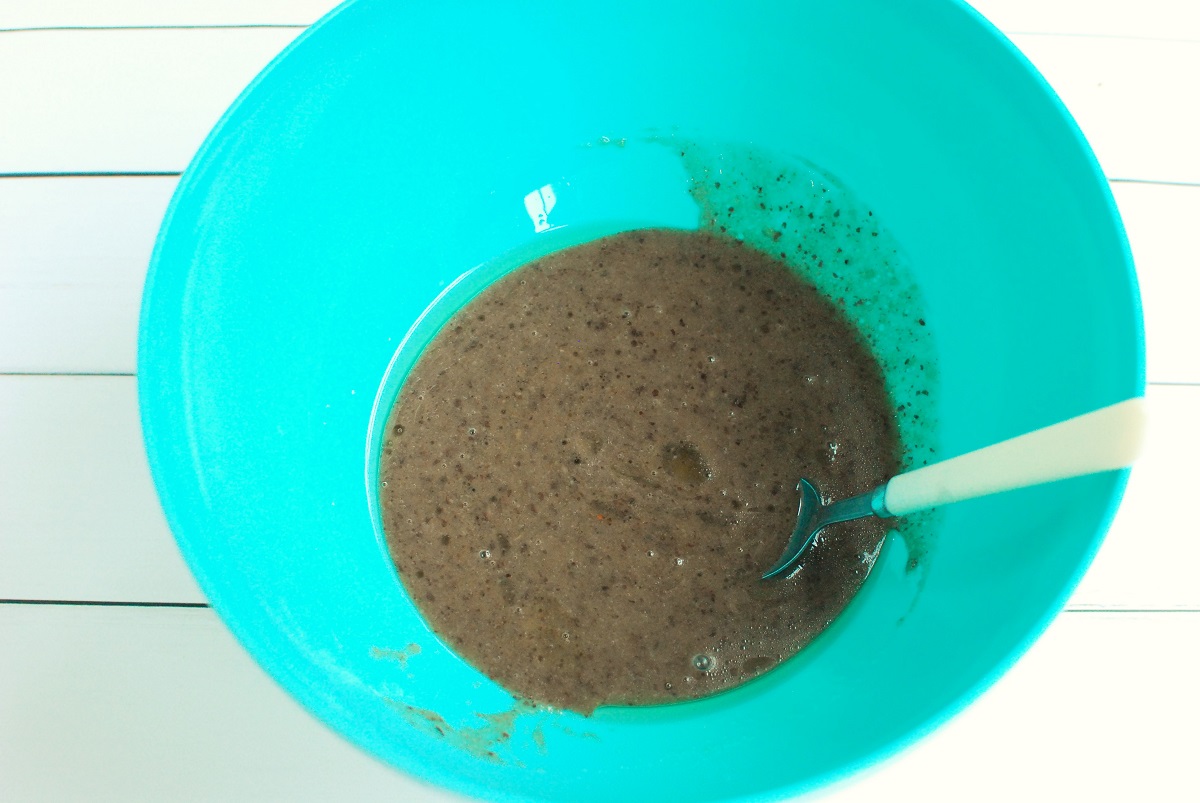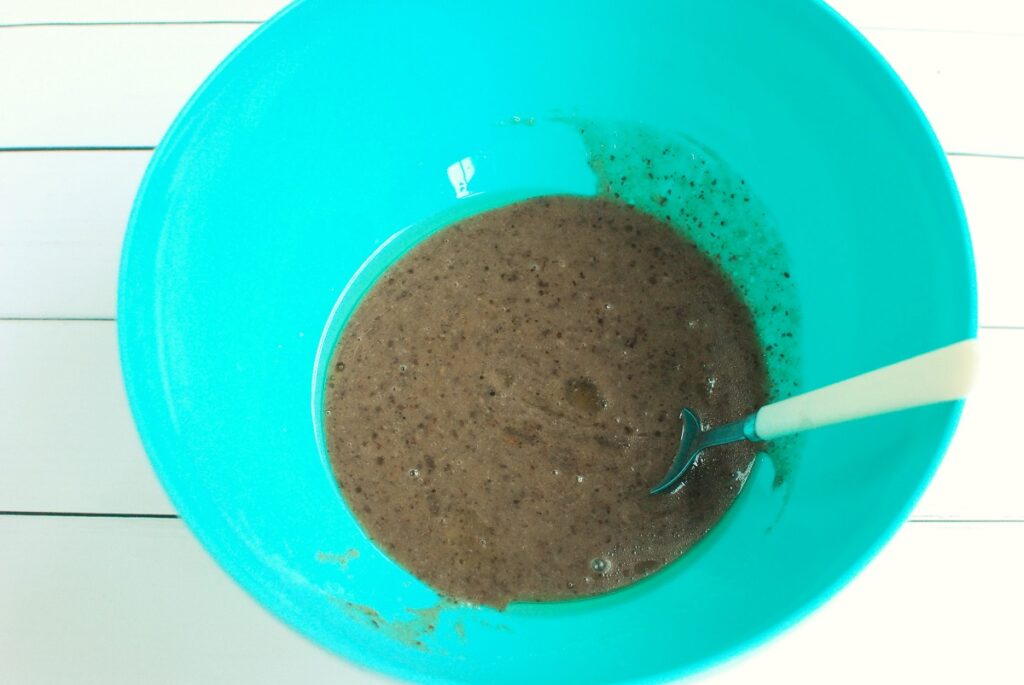 Next, you're going to melt about 2/3 of your dark chocolate. The best way to do this is by using a microwave safe bowl and microwaving in 30-second intervals. Be sure to stir the chocolate between each interval. It doesn't take very long for them to melt this way. (Do not over-microwave the chocolate or it will burn easily.)
Add that melted chocolate to the mixing bowl with the mixture so far, and here's what it'll look like: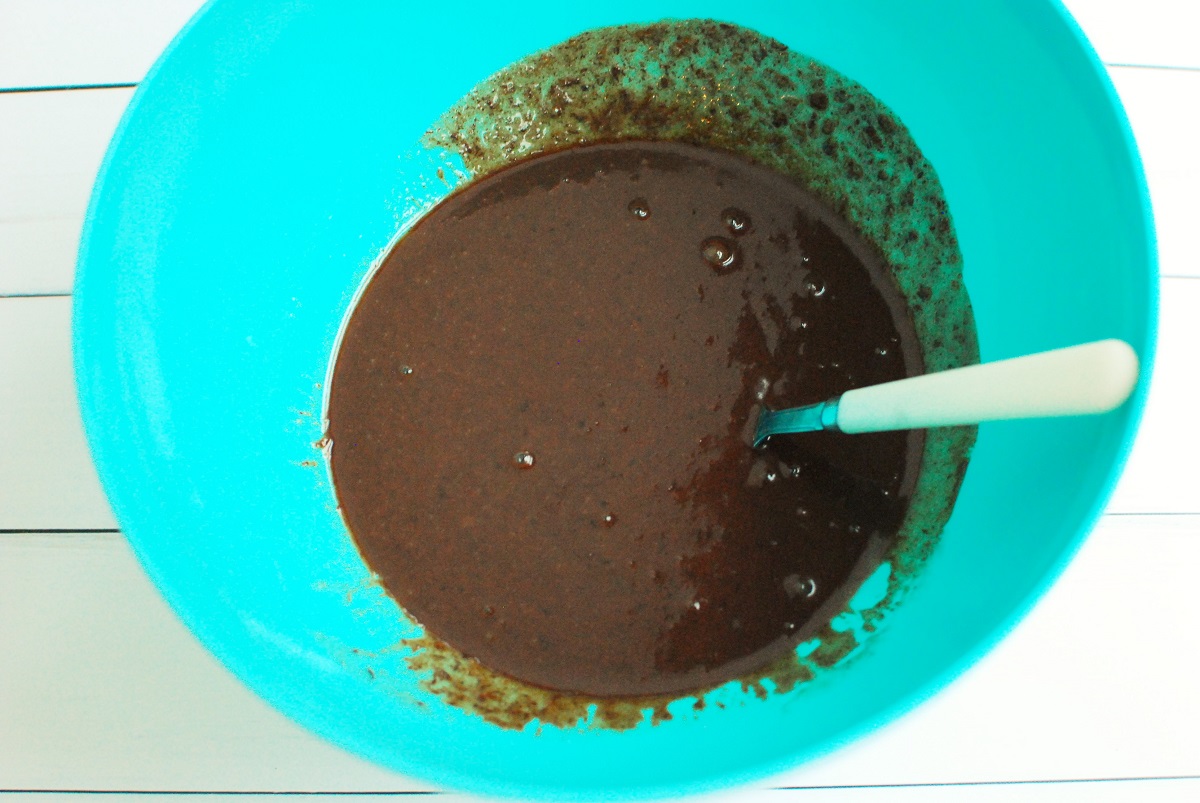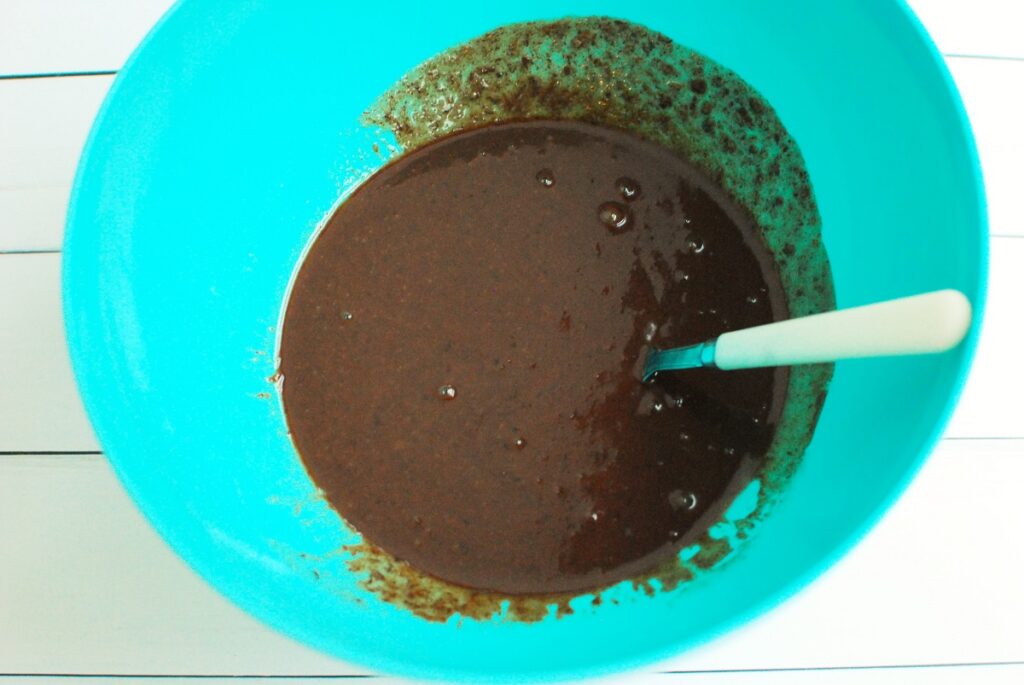 Now you'll add the dry ingredients – the flour, salt, and baking powder – and stir until combined. Then fold in your cherries and remaining chocolate chips and your batter is all set!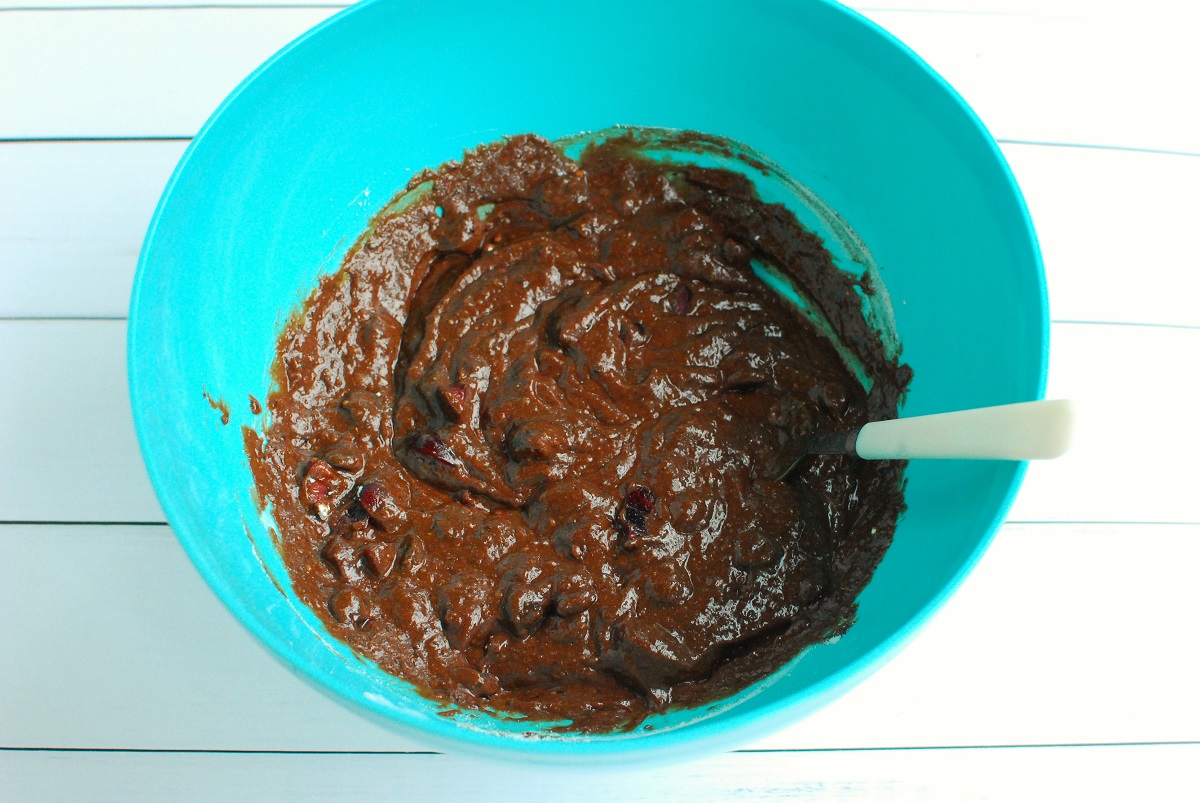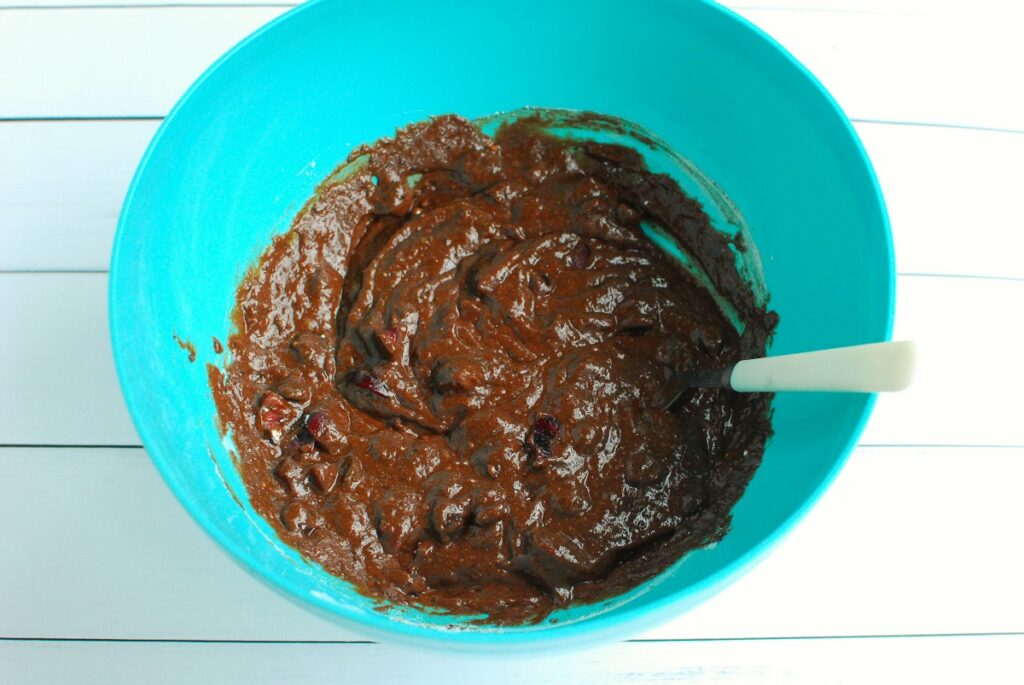 Pour that batter into an 8×8 dish, bake 'em, and then let cool. Now you're ready to dig in!
As a heads up, the texture of these cherry brownies is a bit lighter and cakier when warm compared to super fudgy brownies (like my butternut squash brownies), although they do take on a fudgier consistency if you refrigerate them.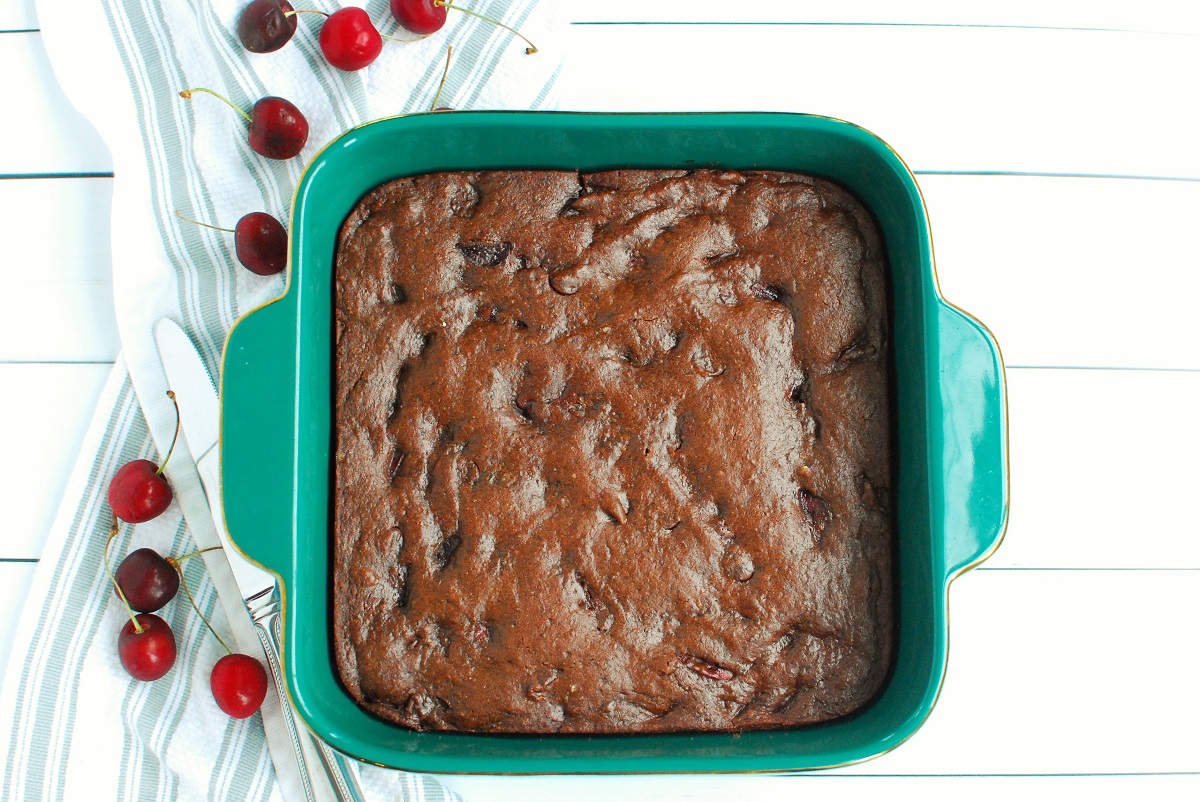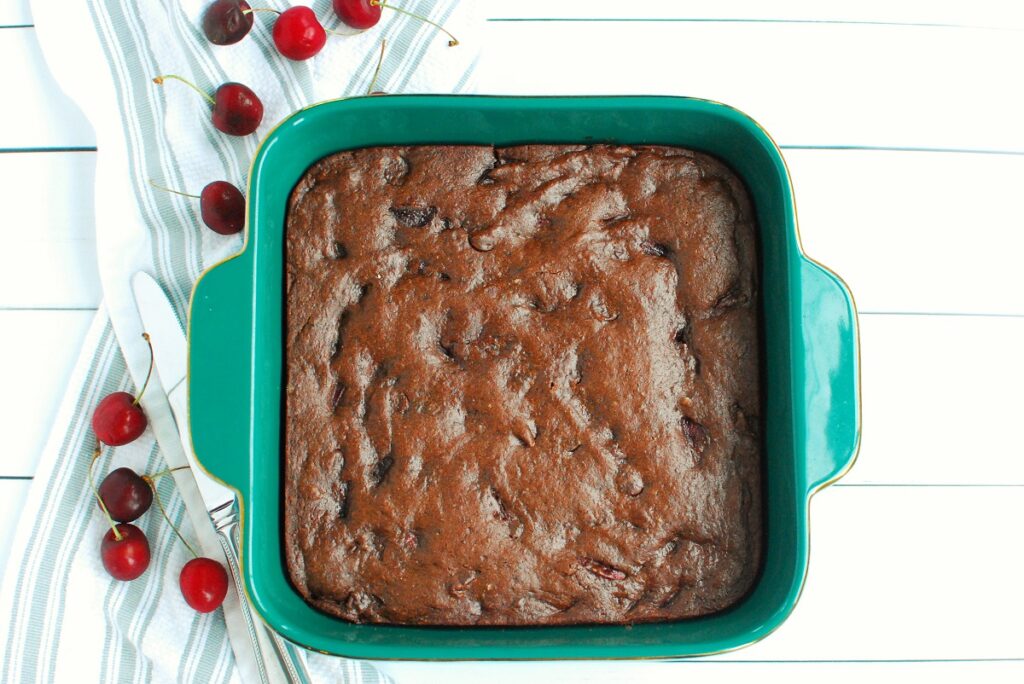 Recipe FAQ
Here are some common questions that may come up as you prepare this recipe:
How should you store cherry brownies?
Because these contain black beans and cherries, store them in an airtight container in the fridge for up to 5 days.  They actually taste delicious cold, but if you'd prefer, you can warm them up in the microwave too.
Can you use an 11×7 pan for brownies instead of a 8×8 pan?
Yes, but you may need to adjust cooking time.  An 8×8 pan provides 64 square inches of surface area, while an 11×7 pan provides 77 square inches.  This means the brownies will cook faster in the 11×7 pan.  Start checking them after 15 minutes.
Can you make these into vegan brownies?
Yes! Luckily there are no eggs in this recipe, so it's fairly simple to make vegan.  Just use dark chocolate chips that are dairy-free and vegan-friendly, like Enjoy Life.  If you are a strict vegan and avoid granulated sugar due to bone-char filtering, find a vegan-friendly sugar brand that does not use that.
More Cherry Recipes
If you're looking for more cherry-inspired recipes, try one of these options:
I hope you enjoy this recipe! If you get a chance to try it, I'd love for you to leave a recipe rating or comment below.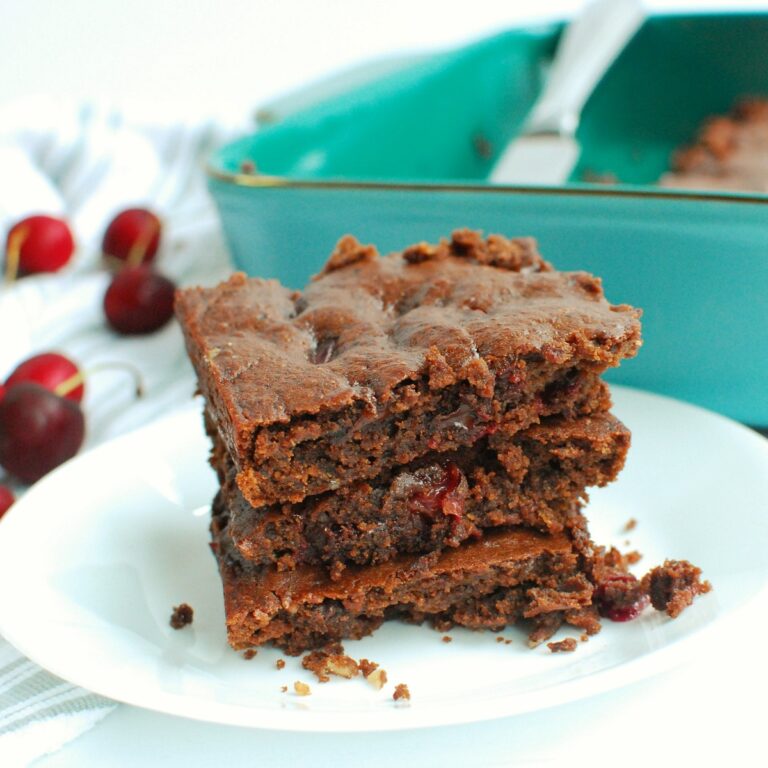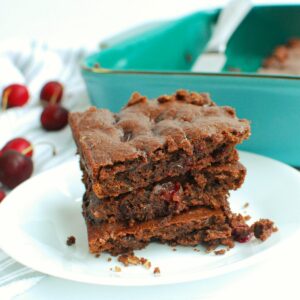 Chocolate Cherry Brownies
These chocolate cherry brownies are a delicious treat that's perfect to make when you have fresh cherries on hand!
Ingredients
Ingredients:
⅓

cup

the liquid from the can of black beans

(aquafaba)

½

cup

canned black beans

½

cup

granulated sugar

⅓

cup

unsweetened applesauce

⅓

cup

avocado oil

(or vegetable oil)

1

tsp

vanilla extract

1

cup

dark chocolate chips, divided

1

cup

whole wheat pastry flour

½

tsp

salt

1

tsp

baking powder

¾

cup

chopped pitted cherries
Instructions
Preheat oven to 350 degrees F.  Grease an 8×8 dish and set aside.

Add the liquid from the can of beans along with the beans to a small food processor. Puree until smooth. Pour in a mixing bowl.

To the same mixing bowl, add the sugar, applesauce, oil, and vanilla. Stir together until well combined.

Take ⅔ cup of the dark chocolate chips and place them in a microwave safe bowl. Microwave in 30-second intervals, stirring in between each, until the chocolate is fully melted. Stir this into the mixing bowl.

Add the flour, salt, and baking powder to the mixing bowl and stir to combine.

Fold in chopped cherries and remaining ⅓ cup of dark chocolate chips.

Pour into the 8×8 dish and bake at 350 degrees F for about 20-25 minutes, or until the top looks dry and a toothpick pulls out clean. Let cool and slice into squares.
Notes
Because there are beans and cherries in this recipe, I recommend storing in an airtight container in the fridge. When you're ready to have another, pop one out and reheat in the microwave for a warm treat.
An 8×8 pan of brownies will make 9 large brownies (cut 3×3) or 16 small brownies (cut 4×4). The nutrition analysis below assumes 16 small brownies.
Nutrition analysis (approximate per small brownie): 173 calories, 9 g fat, 3 g saturated fat, 130 mg sodium, 21.5 g carbohydrate, 2.5 g fiber, 12 g sugar, 2 g protein, Vitamin D: 0%, Calcium: 2%, Iron: 6%, Potassium: 2%
Nutrition
Feel free to pin this post to save for later!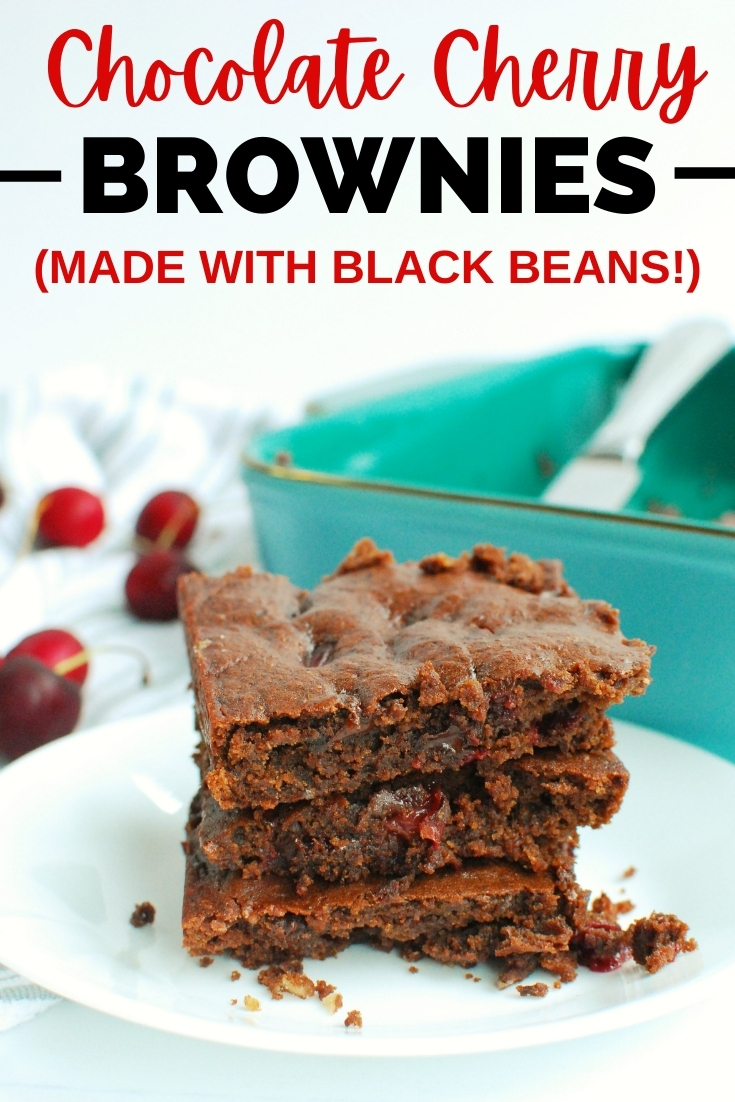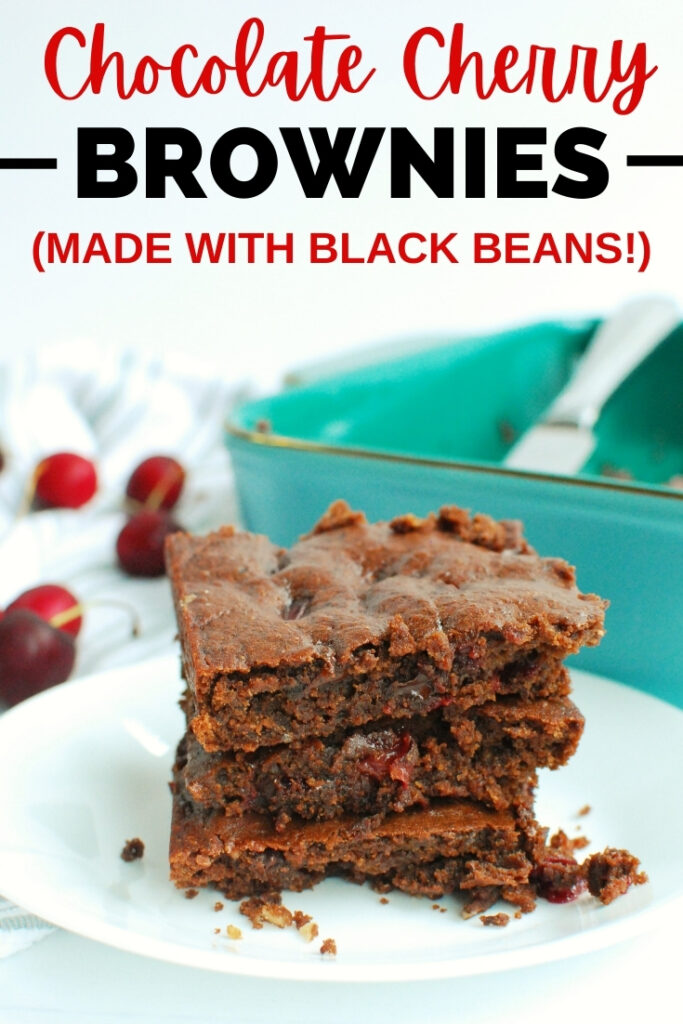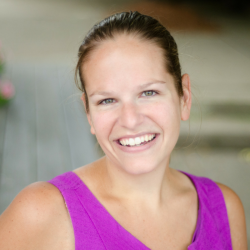 Latest posts by Chrissy Carroll
(see all)