If you're looking for a delicious summertime treat, be sure to whip up this tasty homemade cherry vanilla ice cream. With a base that blends cream, milk, and Greek yogurt, you end up with an insanely good ice cream that has more protein than the average scoop!
Disclosure: This post is sponsored by the dairy farm families of New England. As always, all opinions are my own.
How to make homemade cherry vanilla ice cream
To make this ice cream, you only need five simple ingredients:
Cherries (tart or sweet, fresh or frozen, pitted)
Dates (pitted)
Cream
Milk
Vanilla Greek yogurt or Skyr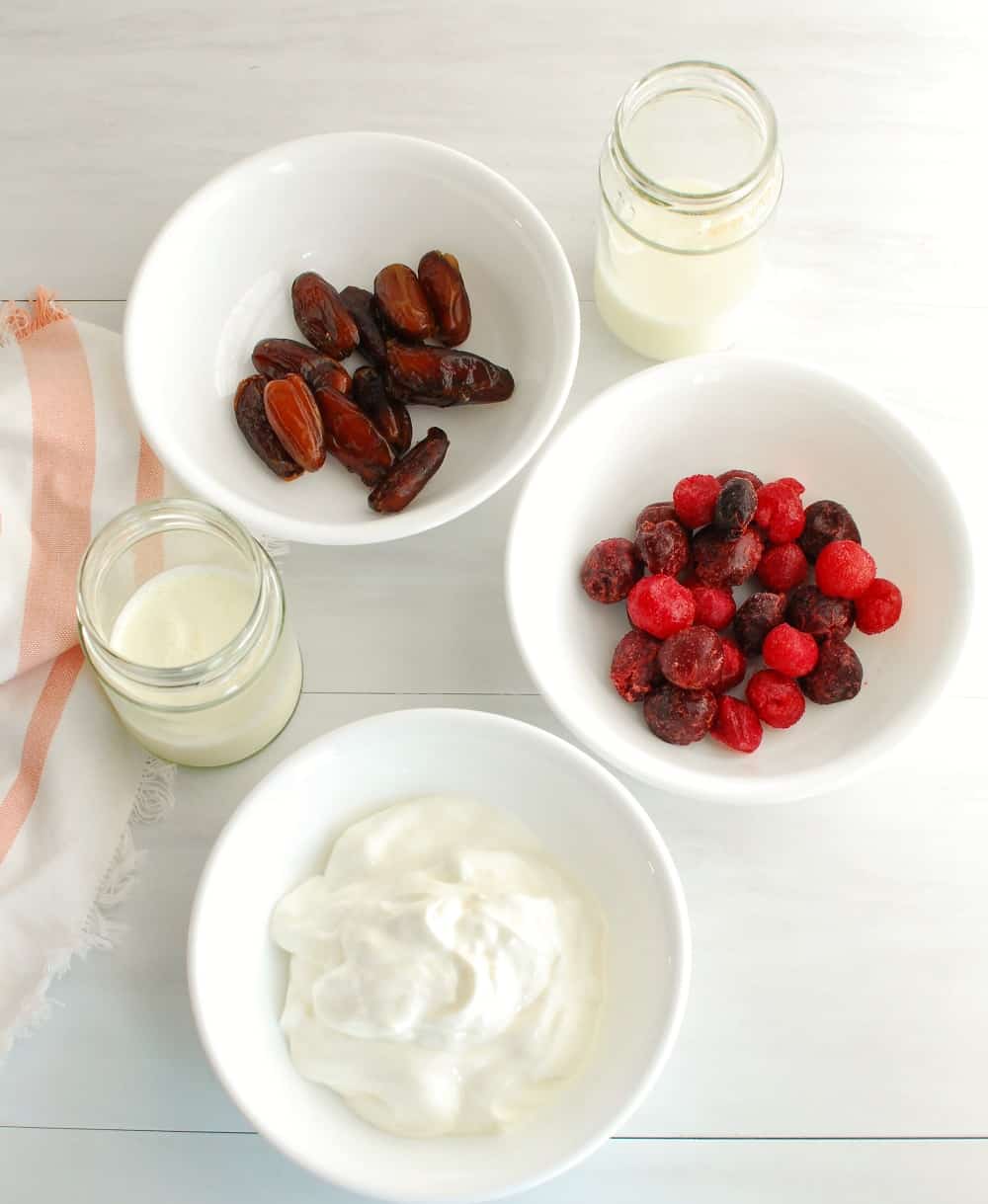 First, you'll combine the pitted cherries and dates together in a food processor to form this lovely sweet mixture that you'll weave into your ice cream base.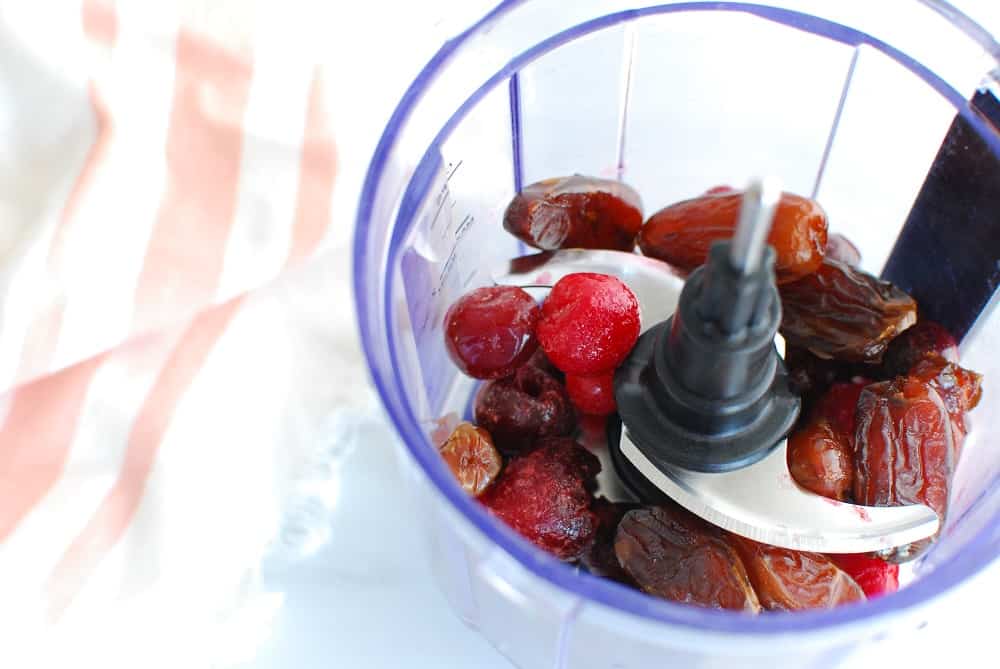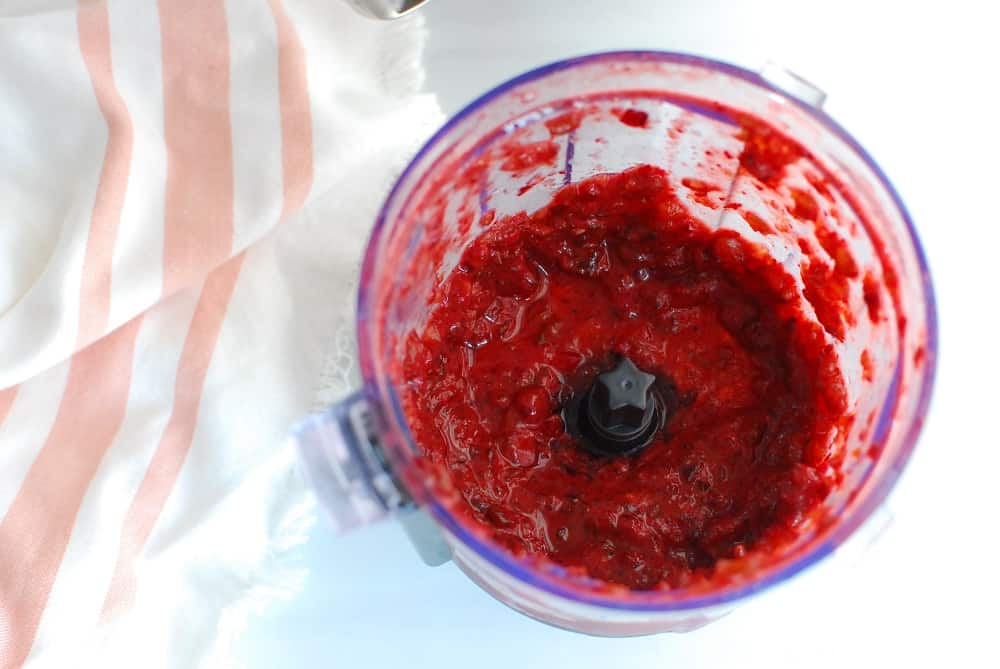 To create the base itself, you want to start by whipping your cream. I personally find this is easiest to do in a stand mixer. Just pour the cream in the mixer bowl and use the whisk attachment on high until you see peaks of whipped cream starting to form.
As an alternative, you can also whisk the cream quickly by hand until this happens. It actually doesn't take too long by hand especially with such a small amount of cream.
Next, slowly add the milk and Greek yogurt. Continue whisking (either on the mixer or by hand) for another minute. The mixture should be pretty light and creamy looking.
Stir in your cherry/date mixture, and then you're ready to move on to processing it into ice cream using the method of your choice!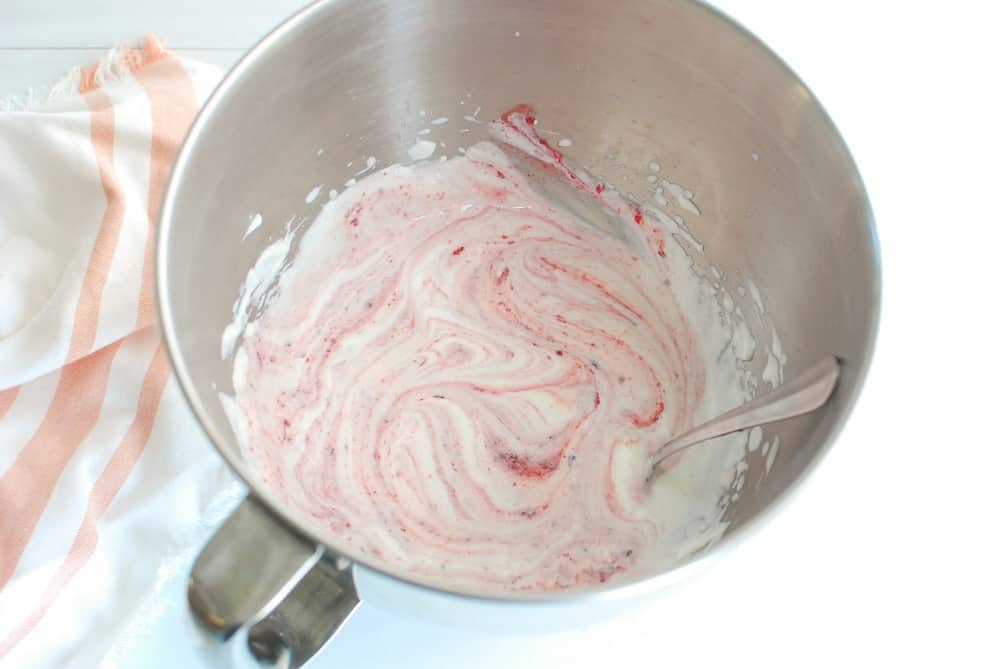 Three methods for making ice cream
1. Ice Cream Maker
This method is the easiest, but obviously it requires that you have an ice cream maker on hand. I just got one this month and I am loving it!
Our ice cream maker has a freezer bowl that you're supposed to keep in your freezer overnight before using. Just remember to plan in advance for that if yours also has this. Some other ice cream makers use a bowl that's nestled between ice and salt, which doesn't always require pre-chilling the bowl. And if you've got big bucks, there are some fancy compressor-based ice cream models as well that don't require a freezer bowl.
Alright, so you've got your ice cream maker ready to go?
If you are using that freezer bowl type, I recommend pre-chilling your cherry vanilla ice cream mixture for about 15 minutes in the freezer (you can just pop the bowl from the stand mixer right in there). With some of the other appliance models, you can skip this step.
Then take it out, pour the mixture in your ice cream maker, and churn away! Serve immediately in a cup or cone.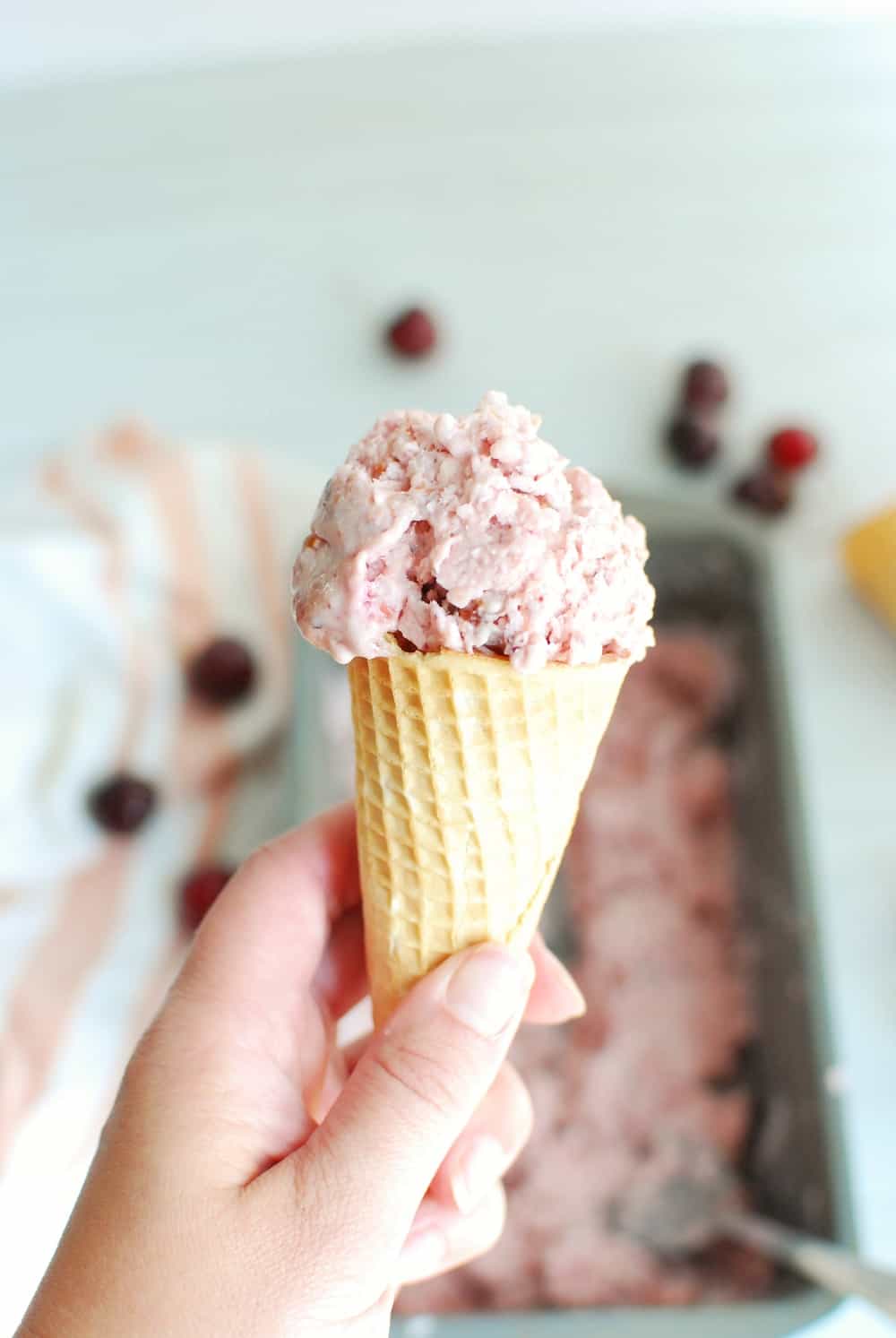 2. Ice cream in a bag
Up until high school, I was pretty confident that in order to make ice cream, you needed some super-secret fancy equipment that only the big manufacturers held. Then in a science class one day, we made ice cream – which quite obviously, was one of the highlights of my high school life. 😉
We mixed up milk, cream, sugar, and vanilla in little jars, put them in coffee canisters filled with ice and rock salt, and rolled them back and forth to each other in the good 'ol RCK parking lot. About 15 minutes later, voila – fresh ice cream.
If I'm remembering that class correctly, the salt lowers the freezing point of ice (just like why you salt your driveway in the winter). In order for the ice to melt though, it pulls heat from the environment – including your ice cream ingredients. This helps the ice cream mixture go from liquid to that standard creamy firm texture.
You can do this at home too! It's a really fun activity to do over the summer with your kids while they're home from school. You don't need a big coffee canister; a gallon sized zip top bag works just fine.
To make your cherry vanilla ice cream in a bag, first divvy up the mixture into a few mason jars. I recommend doing 4 based on the fact that this makes 4 servings – and that it will help it solidify quicker – but you can also work with two if you don't have many helping hands.
For however many mason jars you have, set aside the same number of gallon sized zip top bags. Fill them halfway with ice and add about 1/3 cup of salt to each. If you have rock salt that's great, but regular salt works just fine for this.
Place one mason jar in each bag and seal the top. Then shake it up, baby! Just shake the bag for about 10-15 minutes. (If you're feeling confused, just check out the photos/video over on my PB&J frozen yogurt post – I use the ice cream in a bag method there!)
Pull the jars out, pop open the lid, and dig in.
3. No churn freezer ice cream
You can definitely do this as a no churn style ice cream in a loaf pan. The texture does come out a bit "icier" than that above two methods, but it still tastes great.
The key to creating the best texture this way is to make sure to stir it every so often.
Pour your ice cream mixture into your loaf pan, and place it in the freezer. Then stir it about every 30-60 minutes, being sure to break apart any icy chunks that might be forming in the corners of the pan.
It will form a "soft serve" consistency after about 1-2 hours (I think it tastes best at this consistency). It will firm up pretty solid around 4 hours. At that point, stir it all again once more and transfer it to an airtight container to store for up to two weeks.
When you want to eat it, you'll need to defrost the ice cream in the microwave for about 15-30 seconds for it to become scoopable.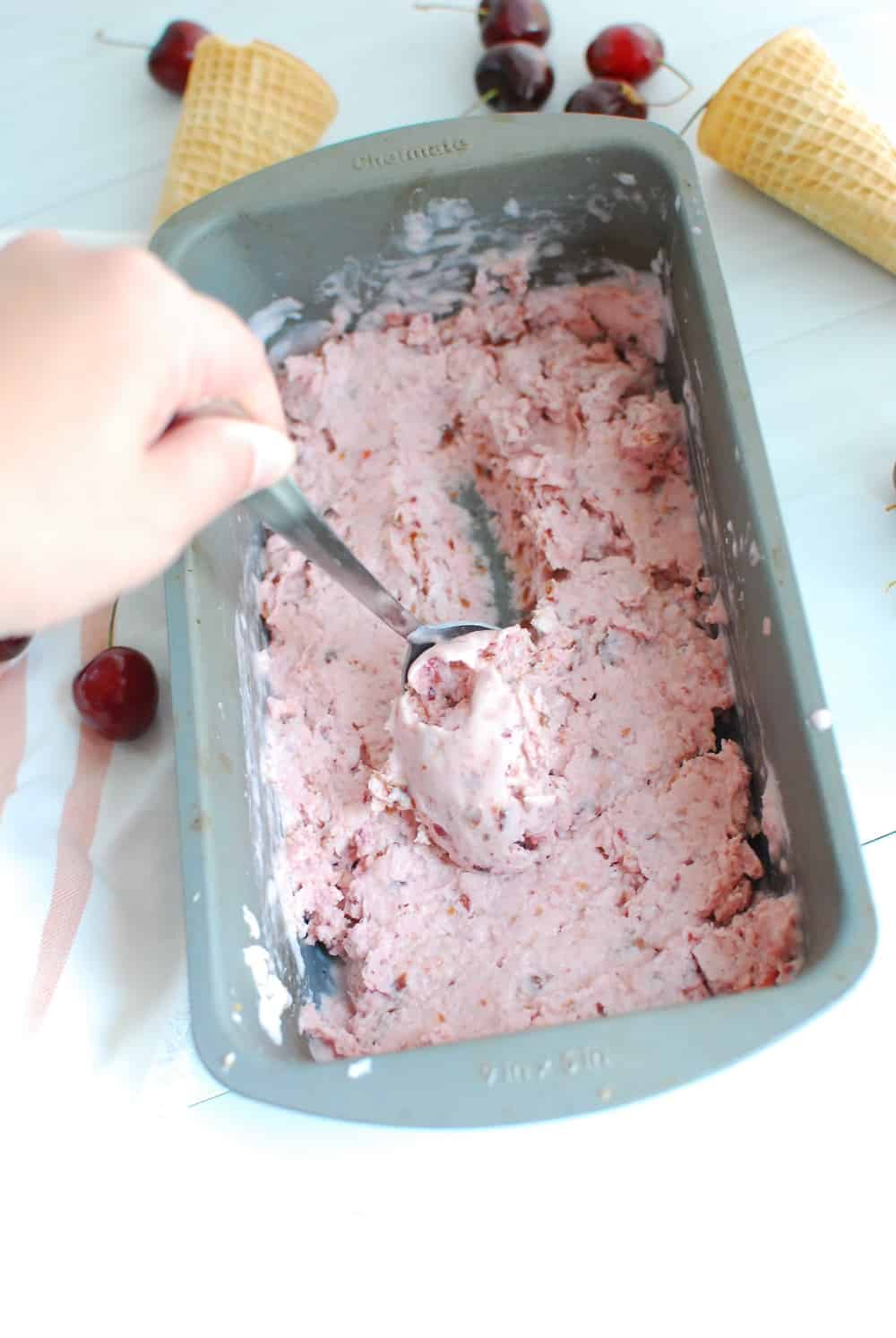 Why I love this cherry vanilla ice cream
No, it's not made from cauliflower or avocado or any other vegetable. 😉 This cherry vanilla ice cream is sugary and creamy and delectable with all its dairy-goodness.
It does have some positive attributes that I think y'all will appreciate. First off, two of my fav ingredients are in here:
Greek yogurt – Greek yogurt is just such a powerhouse of nutrition. It's packed with protein, it's a good source of calcium, and it provides key amino acids like leucine that help support athletes. Because you use Greek yogurt in addition to the cream and milk – making it kind of in-between traditional ice cream and frozen yogurt – you end up with 7.5 grams of protein per serving in this recipe.
Cherries – Nutritionally, both sweet and tart are rich in antioxidants and have anti-inflammatory properties, according to a study in Nutrients. Some research suggests tart cherries in particular may have additional benefits like sleep promotion (as they're a natural source of melatonin) and exercise recovery.
And also – don't forget that most of the sugar in here is naturally occurring in the fruit, yogurt, and milk. The only added sugar is that which is added to the vanilla yogurt.
Have I convinced you to give it a try? Who else is ready to enjoy an ice cream cone after their summer long runs?!
Extra Tips:
I personally love making this with fresh tart cherries when I can find them (grabbed a bunch at the farmers market recently!) – but when I can't, I just buy a frozen mixture of sweet and tart. You can see the difference between the two in the photo below. Not many stores carry frozen tart cherries alone, so I was glad to at least find the mixture of sweet and tart. You can also just use sweet cherries that are fresh or frozen. This recipe is flexible!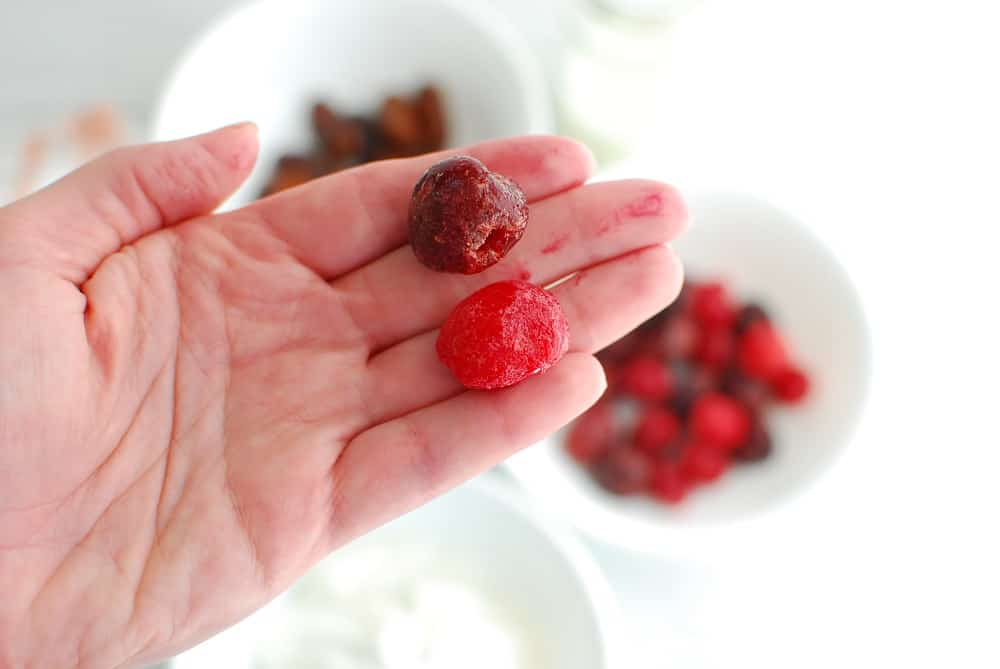 If you want to cut down on the sugar a bit, compare brands to find a vanilla yogurt that contains less added sugar. Or, try a plain Greek yogurt and add vanilla extract. You can always adjust the amount of dates to sweeten the plain version.
When you're whipping the cream for this, it's possible you might accidentally "over whip". (Especially if you're using the mixer and get distracted for a few minutes by your child trying to tell you a story.) You'll notice that the mixture looks a little grainy, perhaps like it's on its way to becoming butter. This isn't a problem. Just slowly stir in a little of the milk until it's creamy again. Then add the milk and yogurt and continue whisking for another minute.
I hope you'll give this cherry vanilla ice cream a whirl this summer! If you get a chance to try it, be sure to leave a comment or recipe rating.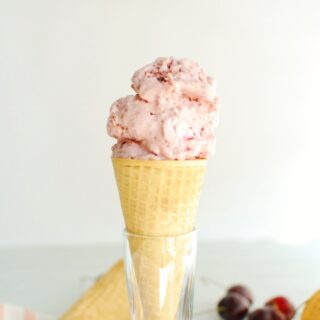 Homemade Cherry Vanilla Ice Cream
If you're looking for a delicious summertime treat, be sure to whip up this tasty homemade cherry vanilla ice cream. 
Ingredients
3/4

cup

fresh or frozen cherries, pitted

1/4 to 1/2

cup

pitted dates*

(about 5-10)

1/3

cup

heavy cream

1/3

cup

1% milk

1

cup

vanilla Greek yogurt or Skyr
Instructions
Add cherries and dates to a food processor. Pulse several times until the mixture is well combined (it's fine if there are still chunks of fruit in there). Set aside for a moment.

Add cream to the bowl of a stand mixer, and turn on high speed with the whisk attachment until it starts to form whipped cream (when peaks begin to form). As an alternative, you can whisk by hand.

Add the milk and yogurt to the cream mixture, and whisk again (by mixer or hanfor another minute, until the mixture is well combined.

Gently stir in the cherry date mixture.

If using the ice cream maker method: Place the bowl of ice cream mixture into the freezer for about 15-20 minutes to pre-chill, then churn according to the directions for your ice cream maker.

If using the no-churn method: Pour the mixture into a loaf pan and place in the freezer. Stir every 30-60 minutes, as this will help create the right texture. It will form a "soft serve" consistency after about 1-2 hours (and tastes now!), and will firm up completely around 4 hours.

If using the "ice cream in a bag" method: Divvy up the mixture into four mason jars. Fill four separate gallon zip top bags about halfway with ice and add about 1/3 cup salt to each. Place one mason jar in each bag, seal, and shake the bag for 10 minutes.
Notes
Notes:
You can use sour or sweet cherries for this recipe.
If using only sour cherries, I recommend using 1/2 cup of dates. If using only sweet cherries, use 1/4 cup of dates.
If storing remaining ice cream in the freezer, place in an air tight container. When ready to eat again, defrost in the microwave for 15-30 seconds until scoopable.
Nutrition analysis (approximate per serving, assumes blend of sour and sweet cherries, and 8 dates):
175 calories, 7.5 g fat, 4.5 g saturated fat, 43 mg sodium, 21 g carbohydrate, 1.5 g fiber, 18.5 g sugar, 7.5 g protein, Vitamin A: 8%, Vitamin C: 3%, Calcium: 12%, Iron: 2%
Nutrition
Share: Have you ever made homemade ice cream? What's your favorite flavor? If you tried this cherry vanilla ice cream, what did you think?
For information about the dairy farm families of New England, school nutrition, and health and wellness topics, please visit New England Dairy & Food Council and Must Be the Milk.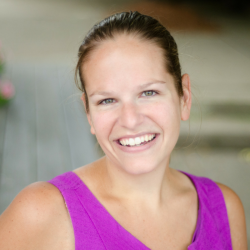 Latest posts by Chrissy Carroll
(see all)