The warm front that hit this week had me dreaming about spring-time. How could I not when I was outside in a t-shirt and flip-flops this week?! We've spent a lot of time soaking up the sun these last few days, and I decided to break out one of my fav warm weather food activities – ice cream in a bag.
Well, actually – homemade frozen yogurt in a bag. PB&J frozen yogurt to be exact. In other words, what is sure to be your new favorite dessert.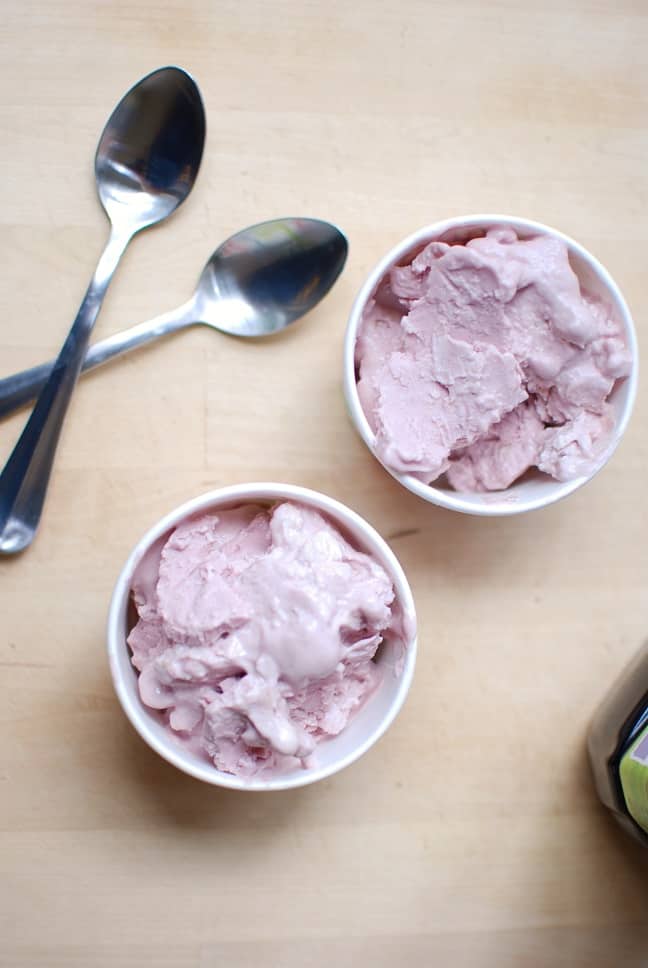 I first made "ice cream in a bag" in my chemistry class back in high school, and thought it was pretty much the coolest thing ever. Essentially, you take ingredients for ice cream and place 'em in a quart size ziplock bag or mason jar. You then place that bag/jar in a bigger gallon bag (or coffee canister), add some ice and salt, and shake it up for 10 minutes. The result? Ice cream!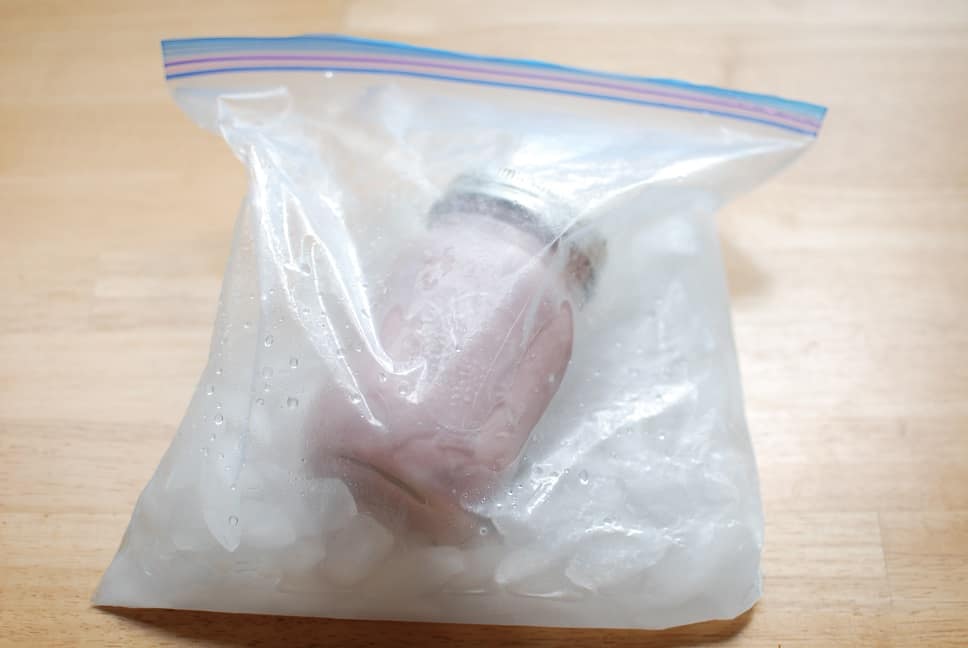 It works because when you add salt to ice, it lowers the freezing temperature of the ice. The mixture will draw heat from the warmer ice cream ingredients (and the ambient environment) in order to melt the ice/salt mixture in the larger bag. This causes the ice cream ingredients to turn into that traditional ice cream consistency. Or at least, that's what I think happens. It's been a while since high school chem, so I hope I'm remembering this correctly. 😉
Anyway – I got the idea to make homemade frozen yogurt in a bag because I wanted something a little healthier than regular ice cream. I figured if I used an Icelandic or Greek style yogurt, I could also get some protein that way. And when I came across grape juice wandering through the grocery store, I knew it would be perfect to make a PB&J frozen yogurt.
[Tweet "Make your own homemade PB&J frozen yogurt with just 3 simple ingredients!"]
Here is everything I love about this homemade PB&J frozen yogurt recipe:
There are 3 ingredients. Yep, 3. Nothing complicated over here.
It's a perfect portion, with a serving clocking in at less than 200 calories. This is ideal for anyone looking for a way to incorporate a regular sweet treat without derailing the diet.
You don't add any refined sugar to this recipe. The only sugar in here comes naturally from the yogurt and the 100% grape juice (along with a miniscule 0.5 grams – or less than ¼ of a teaspoon – from the powdered peanut butter ingredients).
It's protein packed – and I mean packed! There are 24 grams of protein in this baby, thanks to the use of the Icelandic or Greek yogurt and a little powdered peanut butter. No protein powders needed.
It's heart healthy! Research suggests that 100% concord grape juice can promote heart health (possibly through polyphenols similar to what's found in red wine, but in a way more family friendly version).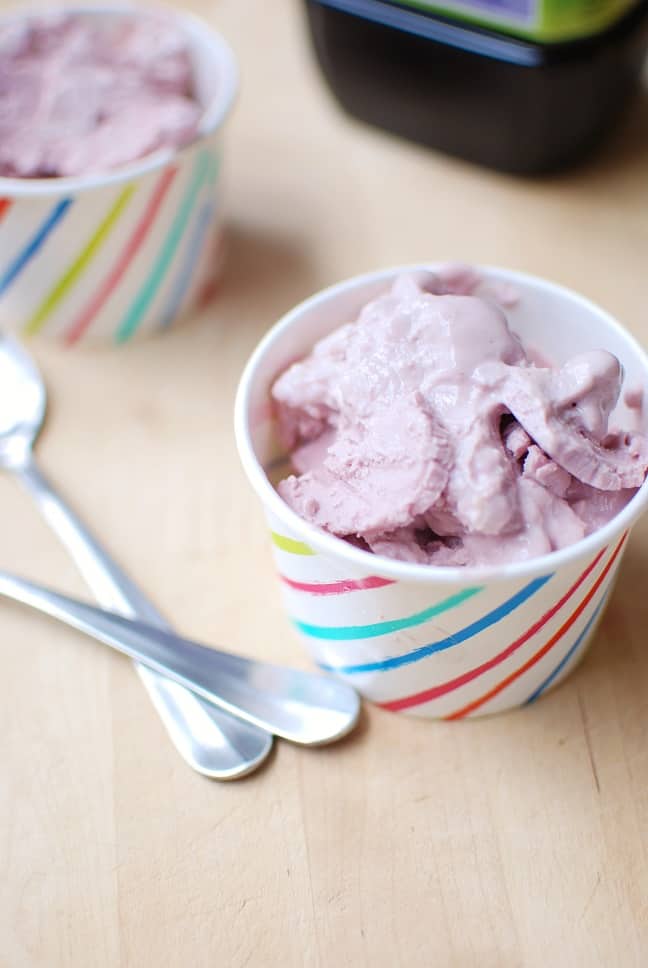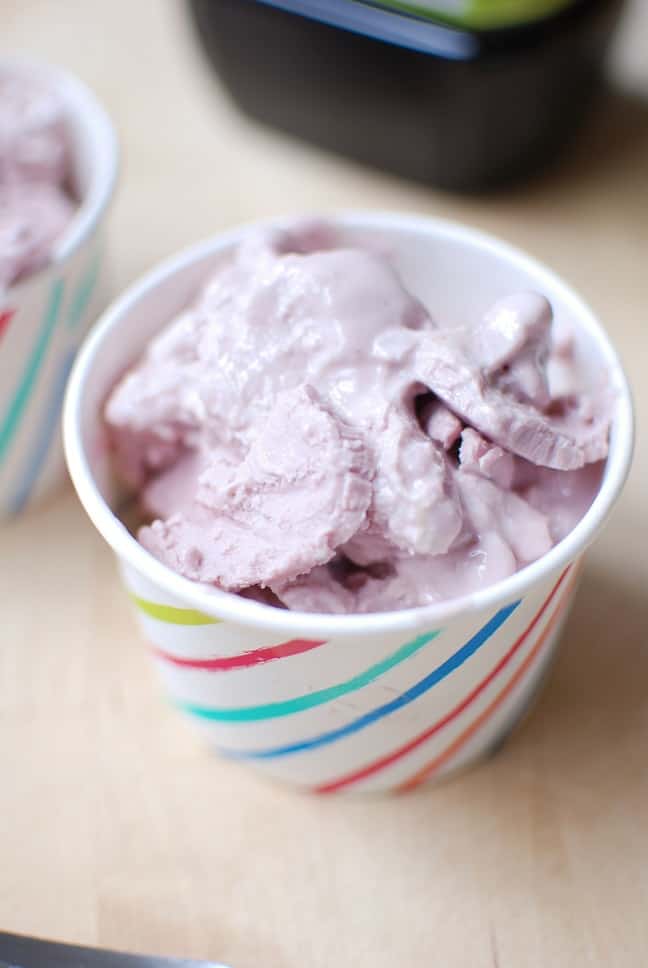 You really can't go wrong making this homemade PB&J frozen yogurt in a bag. And it's an especially fun warm weather activity for kids. They get to be involved in the food prep and can eat what they make! (You can certainly whip it up in cold weather too, but it does get a little chilly shaking around an ice filled bag.)
Even my two year old was having a ball making his own bag to enjoy with lunch today…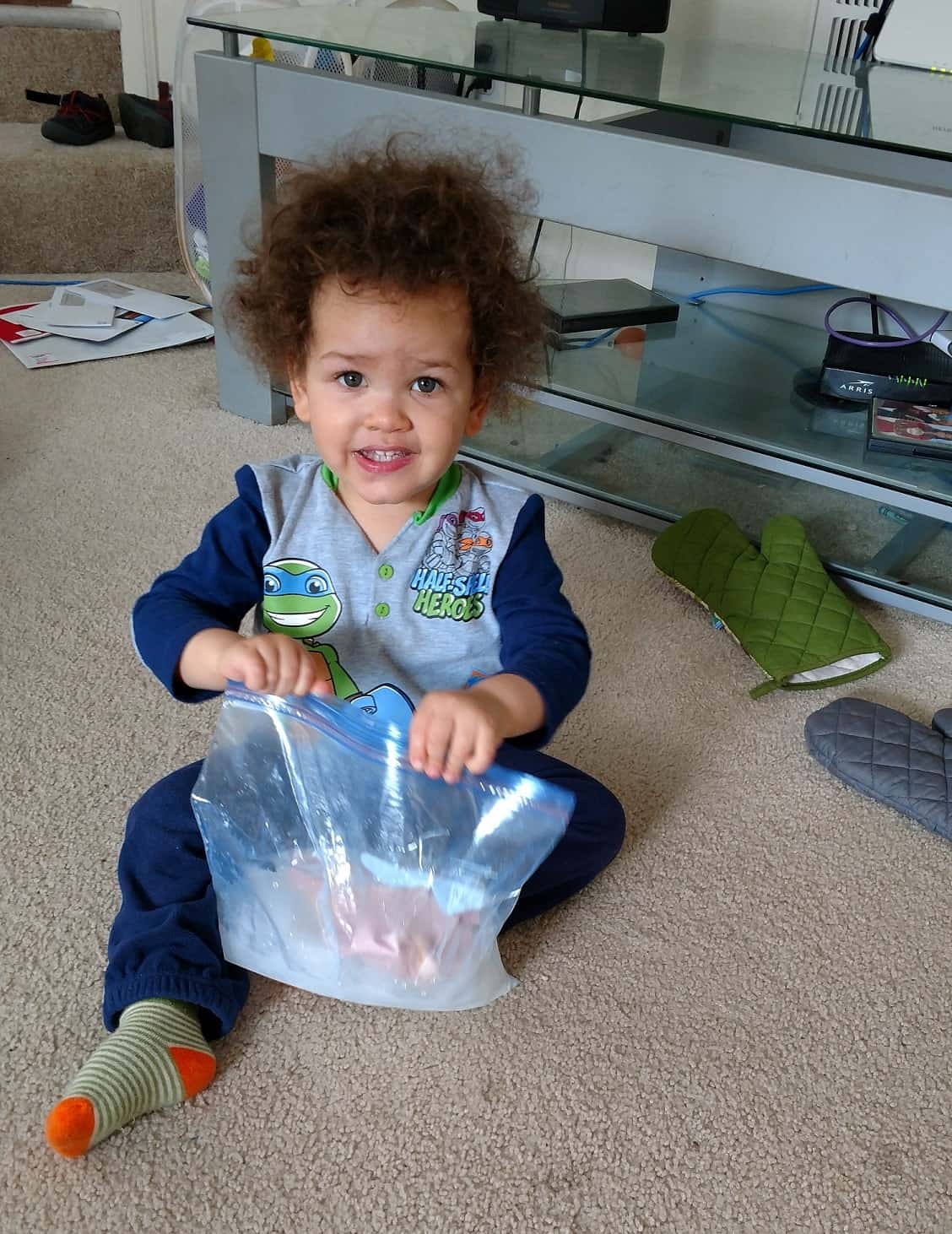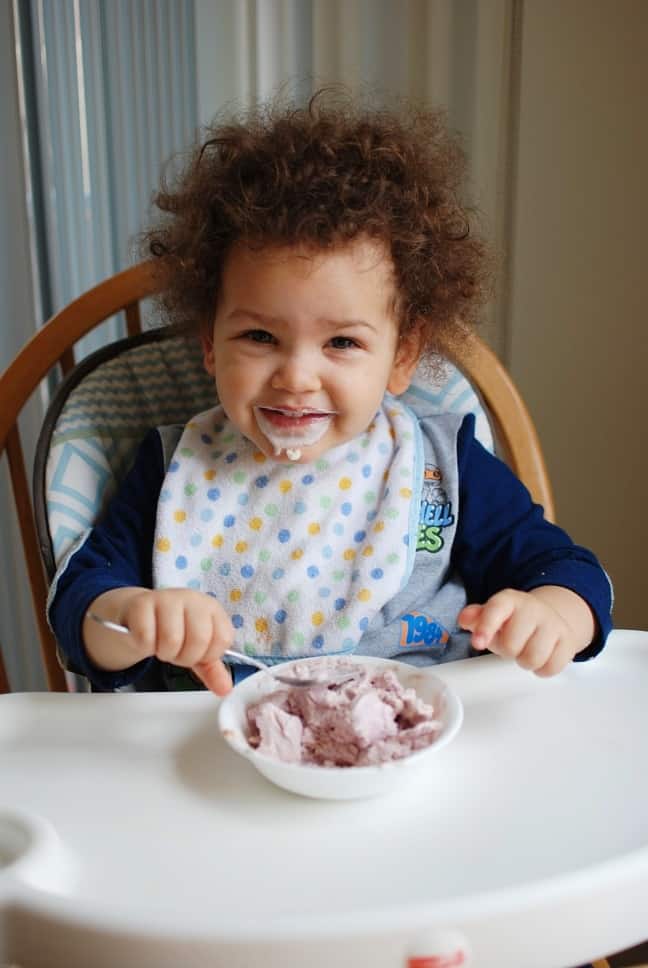 Tips (contain affiliate links –>):
Disclosure – this section contains Amazon affiliate links. As an affiliate, I earn a commission on qualifying purchases.
You can use either a quart size zip top bag or a mason jar for this recipe. The quart size bag will work faster, however depending on the quality of your bags, you risk ending up with salt water getting in the bag. You can minimize that risk by purchasing good quality bags or double bagging it. The mason jar eliminates this risk but it is heavier and more fragile if you have kids throwing it around, and it does take a little longer. Either way you do it, it works though!
Consider wearing gloves or oven mitts to shake the bag to keep your hands toasty while making the homemade frozen yogurt in a bag.
You can make this with powdered peanut butter or a spoonful of natural peanut butter! The natural peanut butter will have more calories, but they're all from healthy fats. Totally you're choice.
I hope you'll give this a try, and be sure to let me know what you think!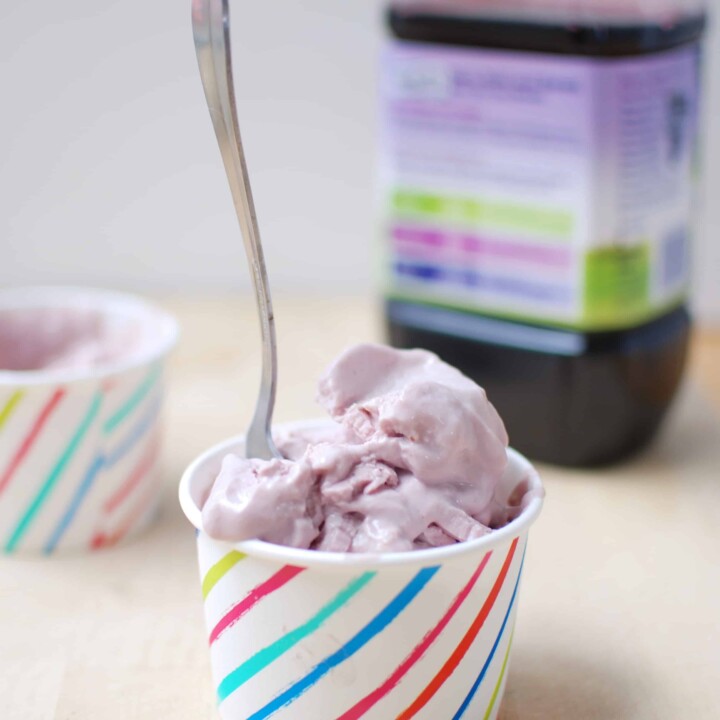 PB&J Frozen Yogurt in a Bag
Ingredients
Ingredients for frozen yogurt:
3/4

cup

nonfat plain Icelandic skyr yogurt or greek yogurt

1/3

cup

100% grape juice

1

tbsp

powdered peanut butter

(alternative - 1 tbsp natural peanut butter)
Also needed for bag (not eaten):
Instructions
Directions:
Place nonfat plain greek yogurt, grape juice, and powdered peanut butter in either a quart size zip top bag or a mason jar. Shake it up to combine ingredients. Set aside for a moment.

Fill a gallon size zip top bag about halfway to the top with ice. Add about 1/3 cup salt and shake up for a few seconds.


Take bag or jar with yogurt mixture and place inside the gallon size bag, and seal the top.

Shake, shake, shake! Shake the gallon size bag for about 10 minutes, or until your ingredients in the smaller bag/jar turn to frozen yogurt consistency. (Note – it will be quicker if your yogurt mixture is in a bag versus a jar).

Scoop frozen yogurt into a bowl and enjoy!
Notes
Nutrition Facts (approximate; assumes use of powdered peanut butter):
189 calories, 1 g fat, 0 g sat fat, 0 g trans fat, 118 mg sodium, 21 g carbohydrate, 1 g fiber, 15 g sugar (0.5 g added sugar = 0.125 teaspoons), 24 g protein, Vitamin A: 0%, Vitamin C: 40%, Calcium: 17%, Iron: 2%
Nutrition
Share with me: Have you ever made homemade frozen yogurt or ice cream in a bag? If you're a science whiz, did I explain the mechanism right? Are you super excited for this PB&J version of frozen yogurt?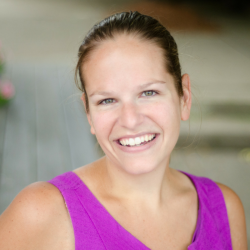 Latest posts by Chrissy Carroll
(see all)