Summer has arrived and it's time to enjoy frozen treats! My son and I love making these cherry pineapple popsicles together to enjoy on hot days. Not only are they kid-friendly, but they're great for active women too.
Disclosure: This post contains affiliate links. As an Amazon affiliate, I earn a commission on qualifying purchases.
How to make cherry pineapple popsicles
These couldn't be any easier. Ready? Here's what you need:
Pineapple
Tart cherry juice
Plain Greek yogurt
Maple syrup or honey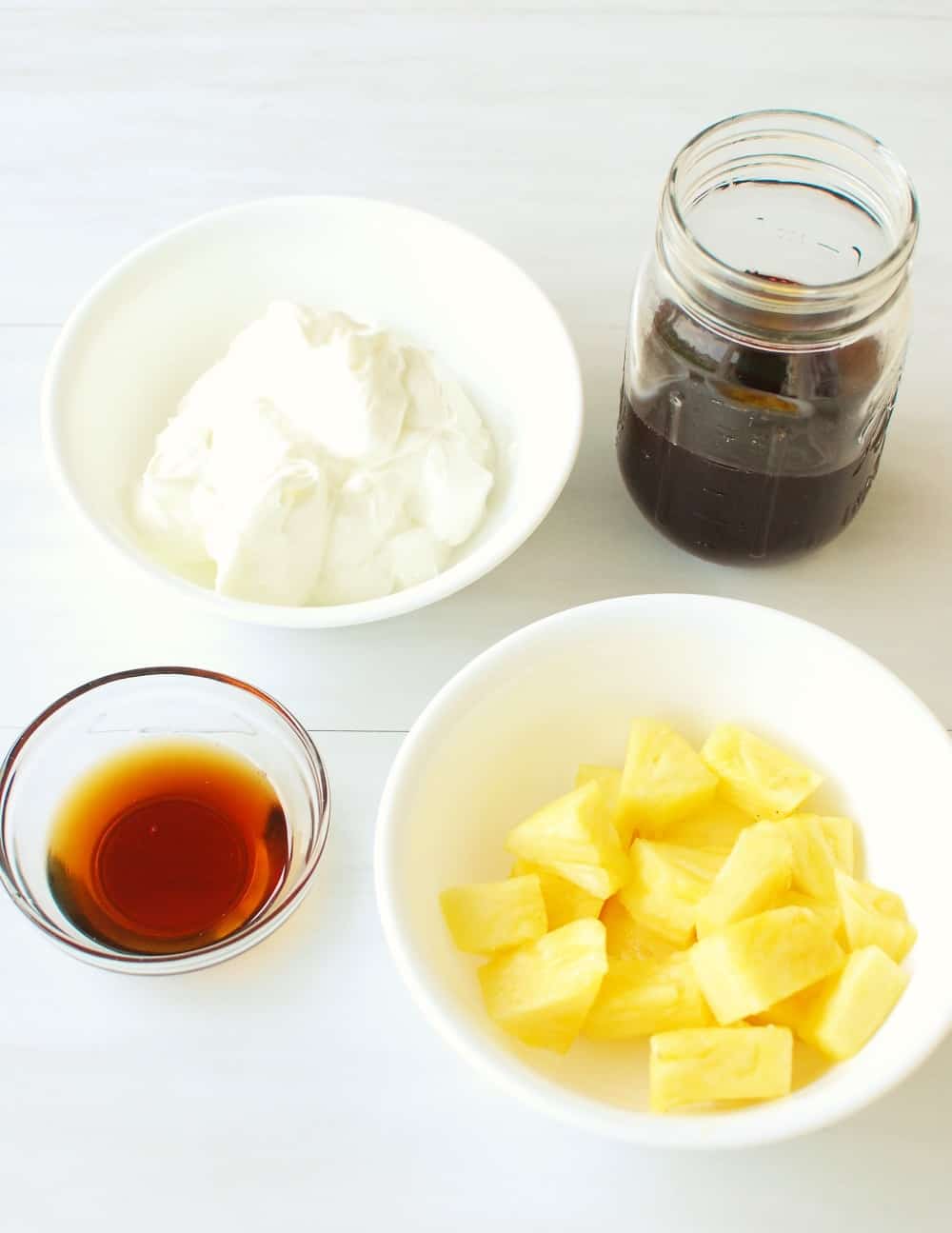 Put your ingredients in a blender, pour into a popsicle mold, and put it in the freezer. That's it! In a few hours you'll have popsicles ready to enjoy.
If you don't already have some, I highly recommend investing in an inexpensive set of popsicle molds. I have this Chuzy Chef Popsicle Ice Mold Maker – it will cost you less than $10 and the stand helps everything stay upright in the freezer during the chilling process. Best investment ever for the hot summer months!
How to get the popsicles out of the mold
This seems simple, but Answer the Public tells me it's a question people are asking…so I've got ya covered. 😉 If you try to get your popsicle out of the mold and it's not budging, just run it under hot water for 20-30 seconds. This will help defrost the pop just slightly, which means it won't stick to the mold as much. This lets you pull off the top of the mold so you can eat it.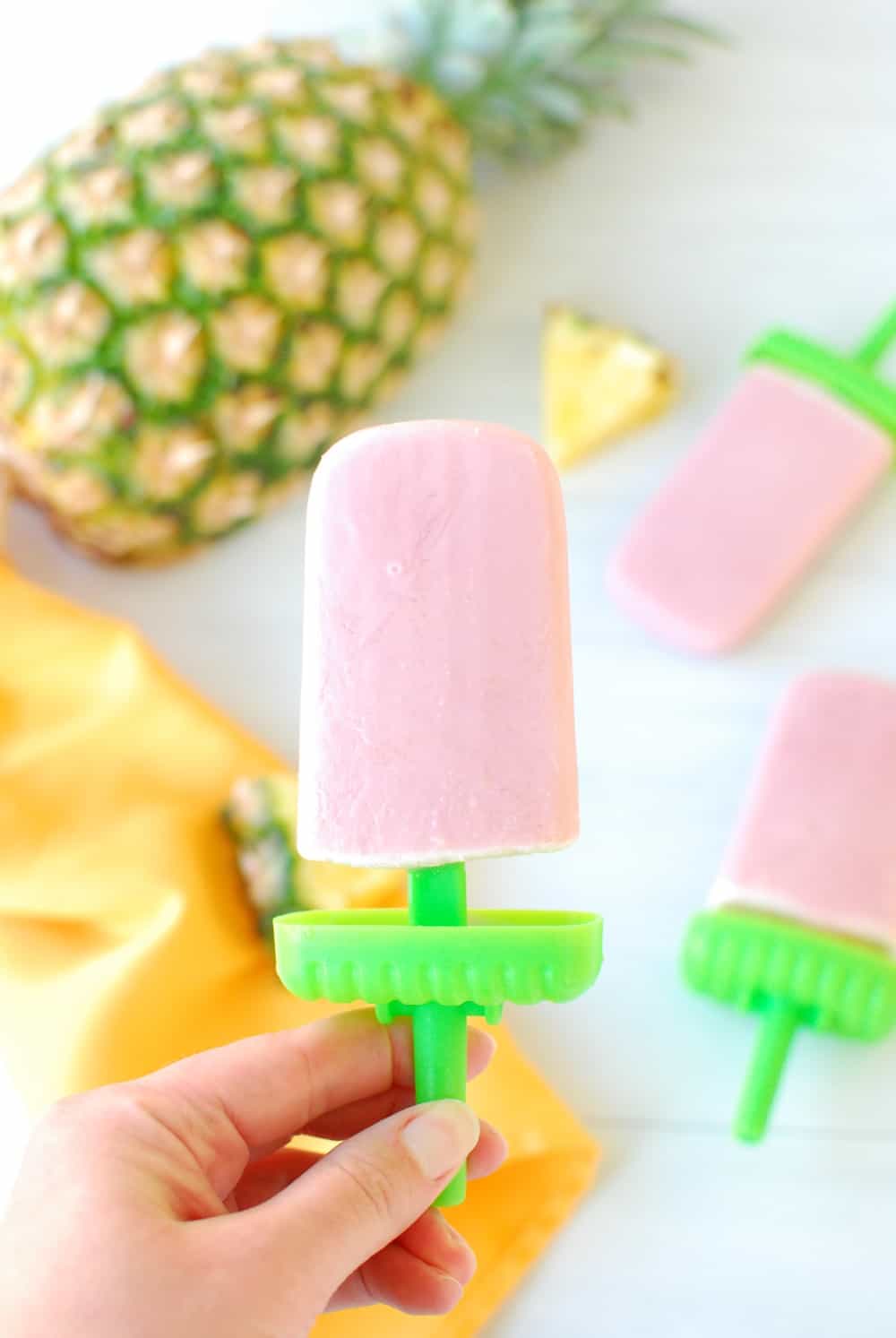 Nutrition benefits
Each of these cherry pineapple popsicles clocks in at just 64 calories, and the three main ingredients are all great for you fit folks:
Pineapple provides Vitamin C (supports immune health) and antioxidants (important for exercise recovery)
Tart cherry juice has been associated with better recovery and possibly better sleep (though let's be honest, the amount in here is relatively small when divided among six popsicles – but every little bit helps right?!)
Greek yogurt adds a little calcium and protein (each of these small ice pops has 4.5 grams of protein)
I love enjoying these on a hot summer day after a short run, or just while playing outside with my kiddo. He's a huge fan of them – in fact, sometimes I let him have one of these with his breakfast and he thinks it's the most special treat ever. 😉
Or we just enjoy them after slip and sliding outside (seriously mom friends – best $13 I spent at Target, lol).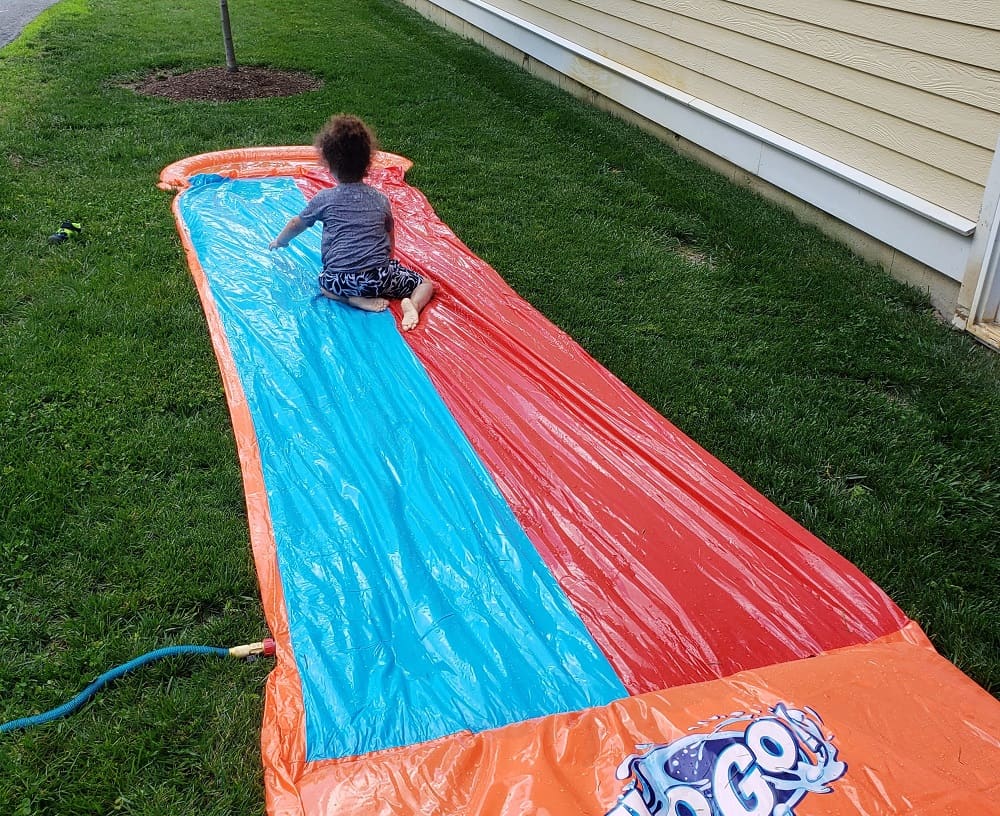 Dietary modifications
The only major allergen in here is dairy. If you have an allergy to that, you can swap out the yogurt for full fat coconut milk or pineapple juice instead. The coconut milk will create a creamier popsicle but will obviously have more coconut flavor, while the pineapple juice is fruitier but has an icier texture.
Also, a quick note – if you happen to be making these to share with any child under 1, be sure to stick with the maple syrup rather than honey. Honey shouldn't be given to kids under a year.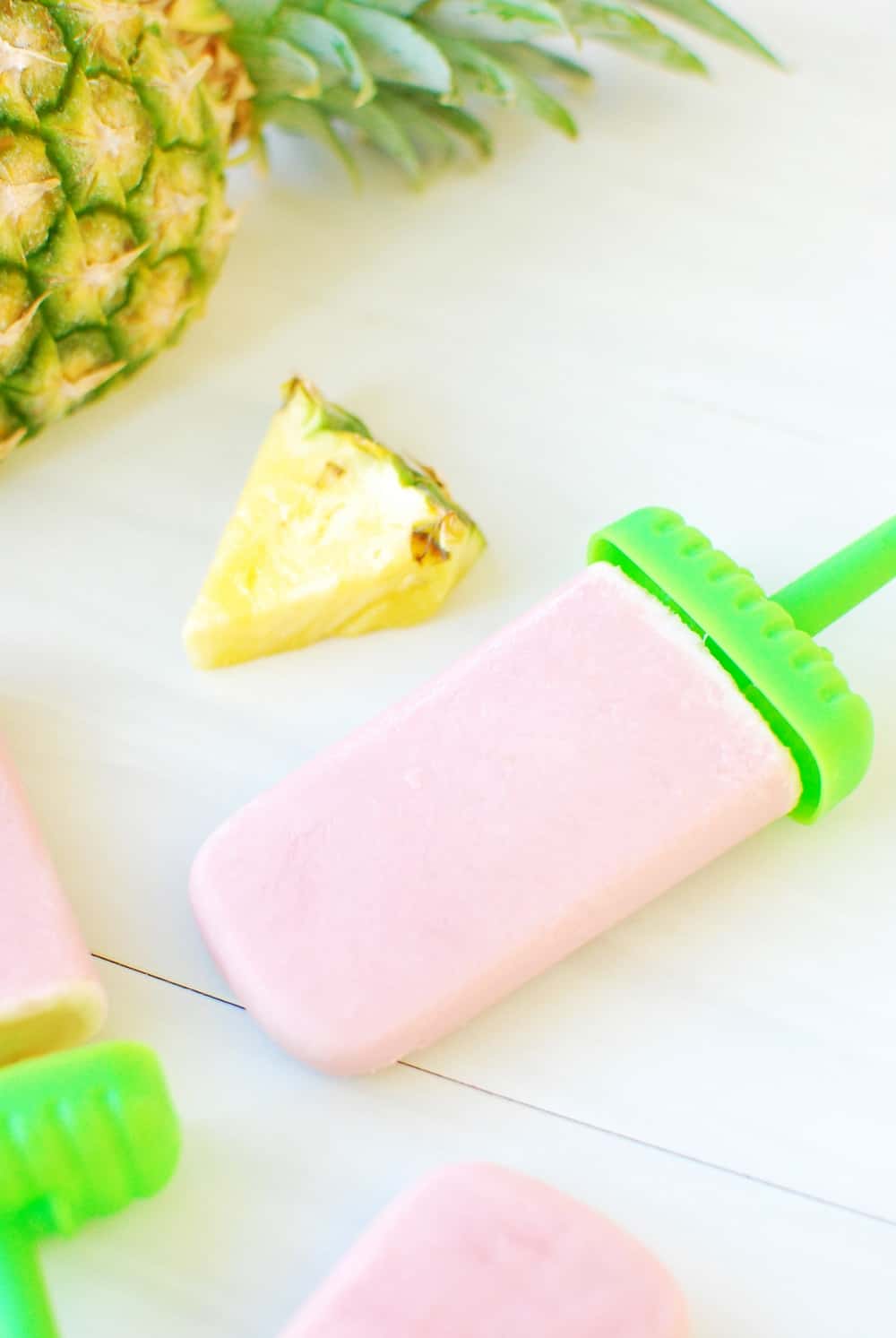 More frozen treats!
If you're looking for more frozen treats to make this summer, try one of these tasty recipes:
I hope you enjoy these cherry pineapple popsicles! If you get a chance to try them, leave a recipe rating and let me know what you think.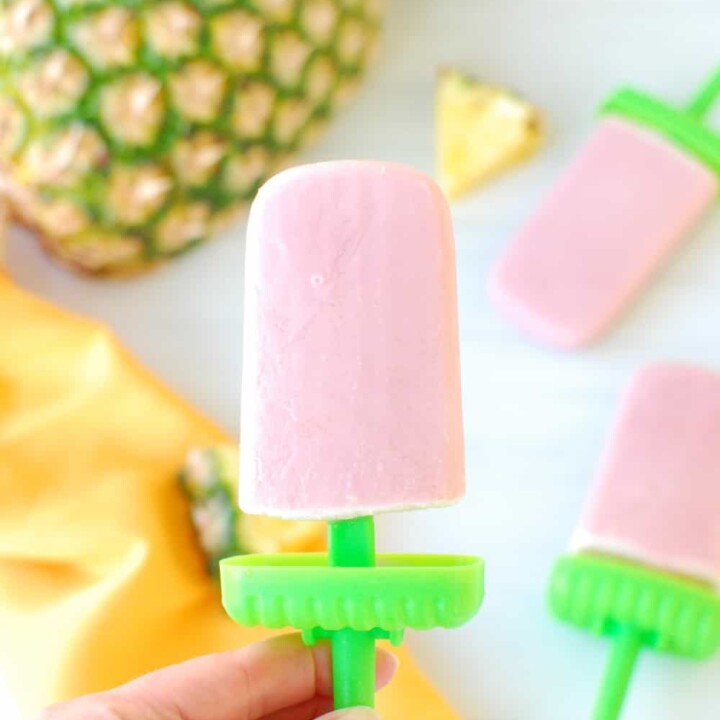 Cherry Pineapple Popsicles
These cherry pineapple popsicles are a healthy treat made with just four simple ingredients. Perfect for summertime snacking!
Ingredients
3/4

cup

pineapple, chopped

3/4

cup

tart cherry juice

1

cup

plain non-fat Greek yogurt*

1 1/2

tbsp

pure maple syrup

(or honey)
Instructions
Place all ingredients in a blender. Turn on and blend until well combined, about 15-30 seconds.

Pour mixture into popsicle molds. Freezer for at least 3 hours, preferably longer.
Notes
Notes:
*If you prefer a sweeter popsicle, you can use vanilla Greek yogurt instead of plain. If you prefer a creamier popsicle, you can use full-fat Greek yogurt rather than nonfat.
Nutrition analysis (approximate per serving):
64 calories, 0 g fat, 15 mg sodium, 11.5 g carbohydrate, 0.3 g fiber, 10 g sugar, 4.5 g protein, Vitamin A: 1%, Vitamin C: 16%, Calcium: 5%, Iron: 0%, Potassium: 4%
Nutrition
Share: What's your favorite fruit combo for ice pops in the summer? If you tried these cherry pineapple popsicles, how did you like them?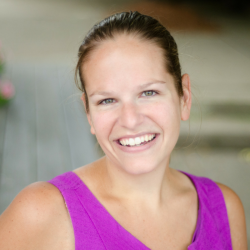 Latest posts by Chrissy Carroll
(see all)