This healthy strawberry milkshake is delectable enough for dessert, but nutritious enough that you can even eat it for breakfast!
Disclosure: This is a sponsored conversation written by me on behalf of Swell Ice Cream. The opinions and text are all mine.
Even though we're at the tail end of July right now, I couldn't skip over the fact that July is National Ice Cream month! And what better way to celebrate than with a healthy strawberry milkshake.
Now, I did some research into some other healthy strawberry shake recipes that were out there on the interwebs. A lot of them were made with just a frozen banana and strawberries, or almond milk and frozen strawberries. And while those are yummy smoothie ideas, I really am all about ICE CREAM in my milkshakes! Are you with me?! 😉
Which obviously leads to a dilemma – how do you create a milkshake that's relatively low in calories, but still includes creamy, flavorful ice cream? The solution for me has been to use Swell Ice Cream in my recipes!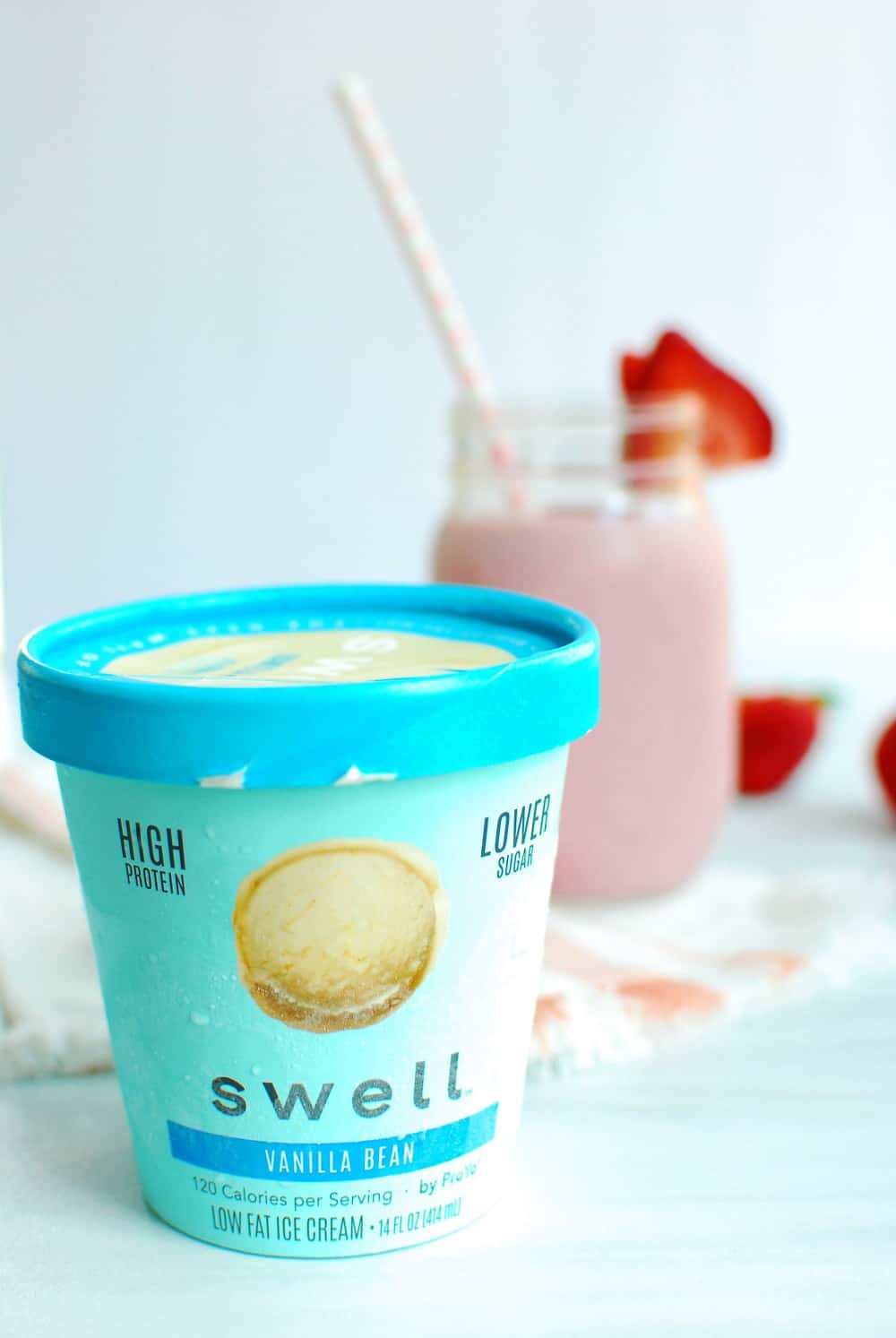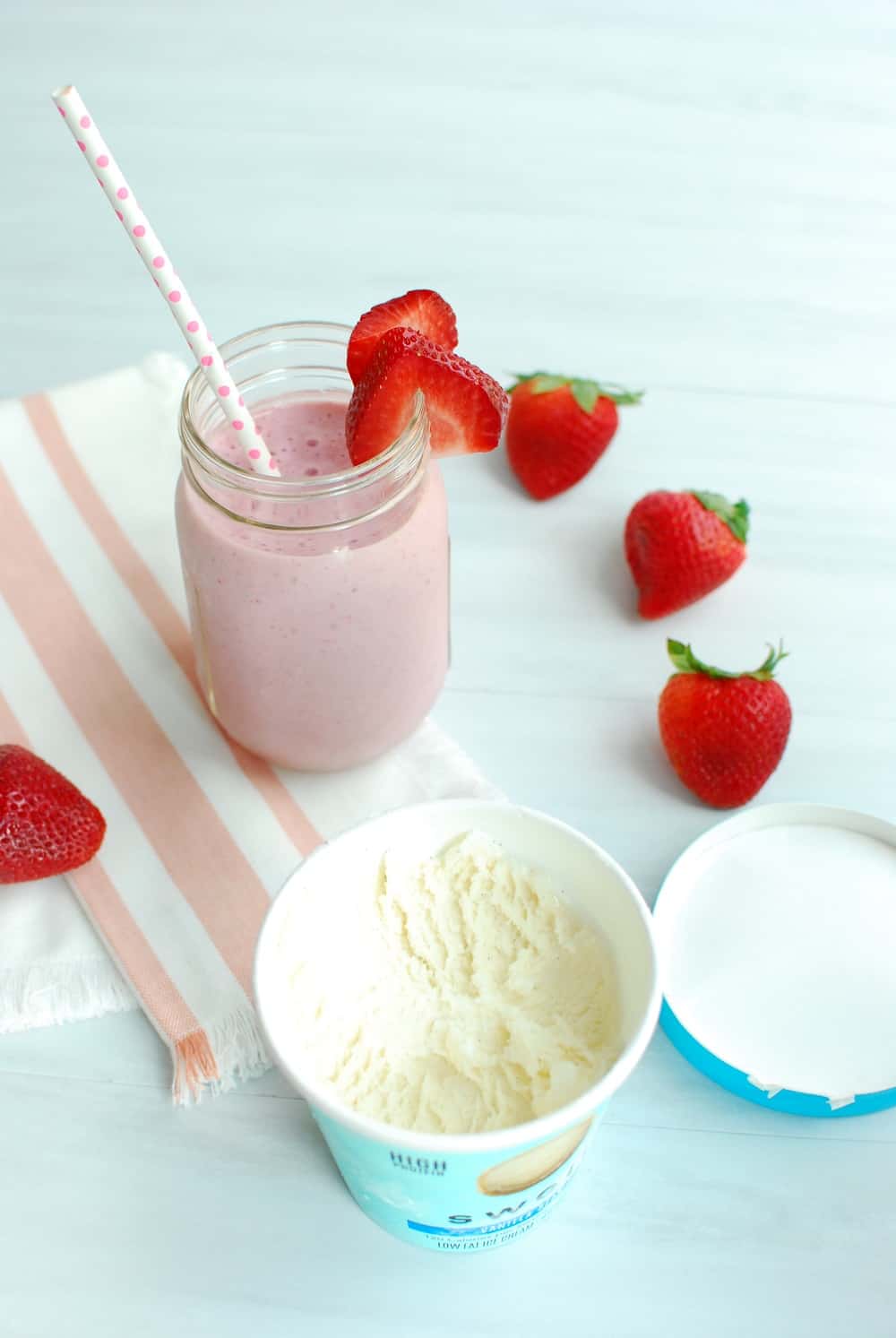 What is Swell Ice Cream?
Swell Ice Cream makes lower calorie, lower sugar, higher protein pints of ice cream in many flavors. And the taste and texture are like regular ice cream! It's not chalky, it's not icy, and it's not bland. On the contrary, it's creamy and sweet and delicious.
Curious about the ingredients in the ice cream? Here's what's in the vanilla flavor:
Skim Milk
Whole Milk
Whey Protein Concentrate
Xylitol (Natural Sweetener)
Cane Sugar
Inulin
Natural Flavors
Ground Vanilla Beans
There's two ingredients on here that you may not be familiar with, so let me break them down for you:
Xylitol
This is a sugar alcohol, which has a similar sweetness as sugar – but fewer calories. Xylitol has been used for a long time in various products, from chewing gums to toothpastes to sugar-free candies.
While it can cause gastrointestinal upset at high levels, most people tolerate it just fine at the levels used in this product (7 grams in a half cup serving). For example, a 2016 review on xylitol suggests healthy adults can have a single dose of 10-30 grams (depending on the individual) without adverse side effects.
(Of course, if you overdo it, down the whole pint, and feel a little bloated after — next time keep in mind the recommended half cup serving).
Inulin
This fiber is found naturally in plants and is also added to many food products. From a food manufacturing standpoint, it can absorb water and form a gel-like consistency. When combined with other ingredients, this can help improve the overall texture of lower-fat frozen dessert products.
(And from a nutrition standpoint, inulin is actually a prebiotic fiber, meaning it helps feed the good bacteria in our digestive tract).
Swell Ice Cream Nutrition
You can see that this ice cream contains pretty simple ingredients, and the blend of these ingredients creates a nice nutrition breakdown. Each half cup serving contains 10g protein and only 120-calories, making it an ideal ice cream choice for your healthier milkshakes.
In this case I obviously went with the strawberry theme, but I also have experimented with using them in a chocolate PB avocado milkshake (chocolate Swell ice cream + milk + avo + cocoa powder + PB) and a pina colada milkshake (coconut Swell ice cream + frozen pineapple + milk + shredded coconut).
How to Make This Healthy Strawberry Milkshake
For this healthy strawberry shake, all I did was combine a cup of fresh strawberries along with a half cup of vanilla Swell ice cream, a quarter cup of milk, and an ice cube or two. Boom – a delicious shake with a balanced nutrition profile!
I like making this in my single serve blender cup, but you can certainly break out the full-size blender if you'd like. And if you have some friends over that want to try it, just double or triple the recipe – it multiplies well.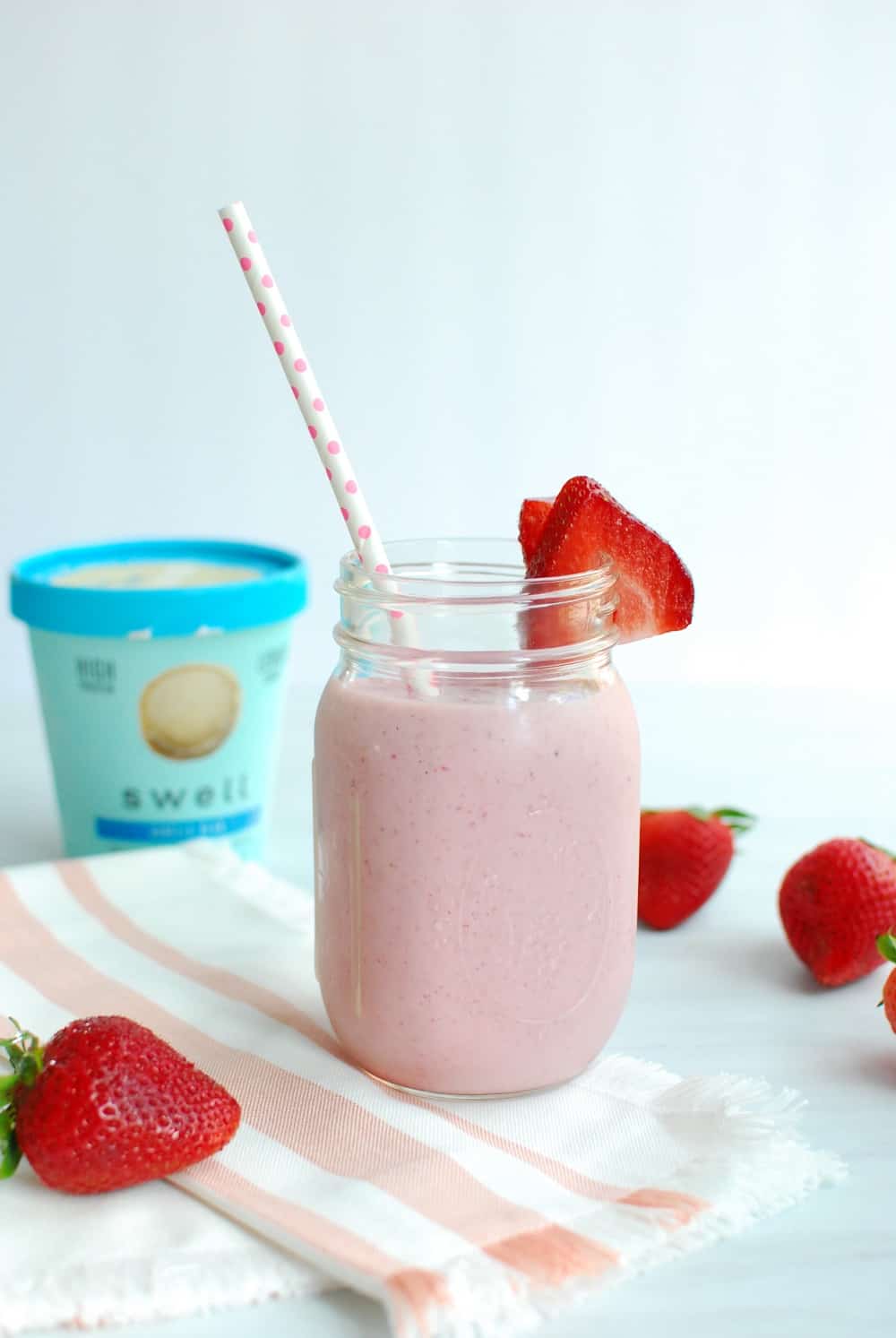 Here's what I love about this healthy strawberry shake:
Clocks in at 209 calories! That's the perfect size for a filling snack, or to eat as part of your breakfast (or as a small on-the-go breakfast). You can also use this as an easy recovery shake after a quick workout.
Packs in 13 grams of protein. Most of us get plenty of protein at lunch and dinner, but snacks and breakfast sometimes fall short. This is an easy way to get a bit more in at those times.
Fills you up with more than 6 grams of fiber. While fiber doesn't seem to catch the media's attention as much as other nutrition trends, it's actually a nutrient that 95% of Americans don't get enough of each day!
Contains nutrients important for all you runner & triathlete pals, like 20% of your daily calcium requirement (for bone health), 10% of your daily potassium requirement (helps with regulating blood pressure and essential in muscle contractions), and more than 100% of your daily Vitamin C requirements (important for immunity).
Searching for Swell Ice Cream to make this milkshake?
You can use the Swell Ice Cream Store Finder to find a location near you that carries the product – there are a lot of mainstream stores that keep it in stock. For example, around my neck of the woods I know I can grab it at Stop and Shop, or Shaw's.
Also, right now there's a $1 redemption offer on Ibotta – hello, money savings! (Any fellow Ibotta fans here?! Woo woo!)
If for some reason you can't find a location near you, you can also order online via their website.
I hope you love this healthy, protein-packed strawberry shake! Be sure to pin it and save it for later, and once you try it – let me know in the comments how you liked it. 🙂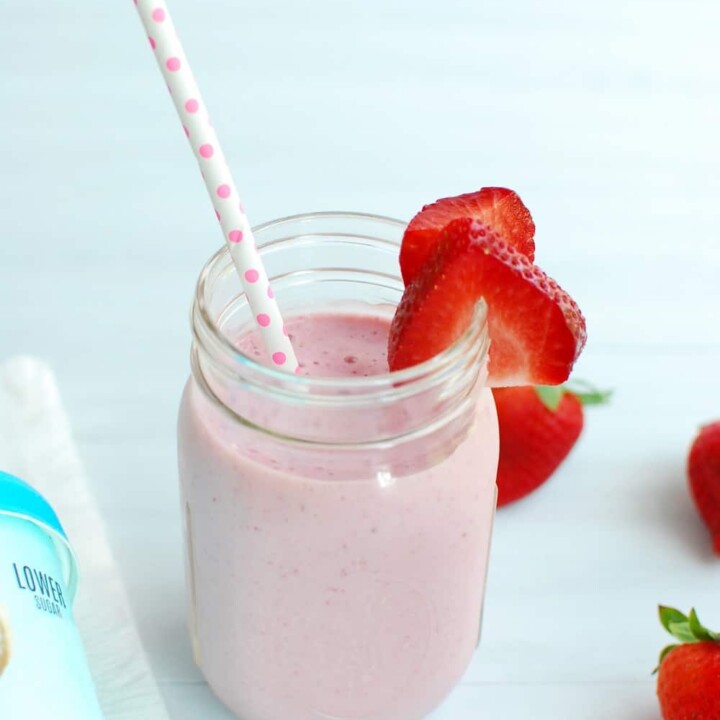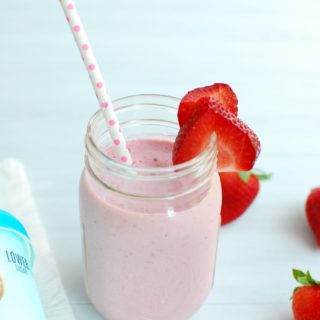 Healthy Strawberry Milkshake
This healthy strawberry milkshake is delectable enough for dessert, but nutritious enough that you can even eat it for breakfast!
Ingredients
1/2

cup

vanilla Swell ice cream

1

cup

strawberries, sliced

1/4

cup

milk

(1% or whatever you prefer)

1-2

ice cubes
Instructions
Add everything to a blender. Turn the blender on for about 15-20 seconds, or until all ingredients are well combined. Pour in a glass and enjoy!
Notes
Notes:
If using fresh strawberries, 1-2 ice cubes will help give the shake a better texture. If you are using frozen strawberries, you can skip the ice cubes.
Nutrition analysis (approximate):
209 calories, 2.5 g fat, 1 g sat fat, 83 mg sodium, 35 g carbohydrate, 6.5 g fiber, 20 g sugar, 13 g protein, Vitamin A: 3%, Vitamin C: 165%, Calcium: 20%, Iron: 4%
Nutrition
Share with me: Did you try this healthy strawberry milkshake? What did you think of it? What's your favorite kind of milkshake to make in the summer? Are you going to try Swell Ice Cream?
Note: Comments submitted may be displayed on other websites owned by the sponsoring brand.
Digital coupon on the ibotta shopping application can be redeemed three times at time of purchase for a total redemption value of $3.00.
This is a sponsored conversation written by me on behalf of Swell Foods. The opinions and text are all mine.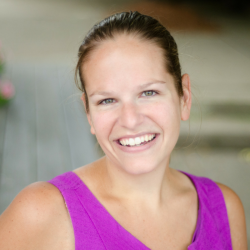 Latest posts by Chrissy Carroll
(see all)