This delicious peanut butter banana granola is the perfect way to start your morning. Made with just 7 ingredients, this granola has no added sugar. Instead, it's naturally sweetened with banana and applesauce. Your whole family will love this easy recipe, and it's a great option to fuel your fitness.
How to Make No Added Sugar Granola
Making granola without sugar or oil might sound bland, but I promise you – this recipe is anything but that.
Using peanut butter as the fat instead of oil offers some additional protein, nutrients, and flavor! And using banana and applesauce as the sweetener means that you still get a sugary flavor to your granola, but it's all coming naturally from the fruit.
Yes, sugar is sugar – but when it comes packaged in fruit form, you also get the benefit of adding vitamins, minerals, and phytochemicals to the dish. That's a big win in my book (and important for active women!).
To make this, here's the ingredients you'll need:
Banana
Peanut butter
Applesauce
Cinnamon
Salt
Rolled oats
Raw pecans
You'll mash up your banana along with your peanut butter and applesauce, then mix everything else together. Then all you need to do is spread it out on a baking sheet and cook it in the oven! Easy peasy.
Here's a quick video showing you how to make it:
Nutrition Benefits
This peanut butter banana granola packs in nutrients that help support an active lifestyle. Here are some highlights:
Healthy carbohydrates – Carbohydrates are used for energy during workouts, so it's key to make active women are getting healthy carbs to support exercise. The carbs in this granola come from the oats, banana, and applesauce – all nutritious options.
Healthy fats – The peanut butter and pecans in this recipe both provide nutritious fats that support satiety and heart health.
Antioxidants – In addition to healthy fats, nuts also provide antioxidants that benefit health. For example, a 2017 review article concluded that nuts can potentially help with oxidative stress and inflammation (source).
Fiber – One serving of this granola provides 4 grams of fiber, important for gut health.
Magnesium – Since magnesium is involved in energy production and may also be involved in exercise recovery and muscle health (read more about magnesium for athletes here), you definitely want to make sure you get enough each day. This recipe is a good source of magnesium, providing about 14% of your daily needs per serving.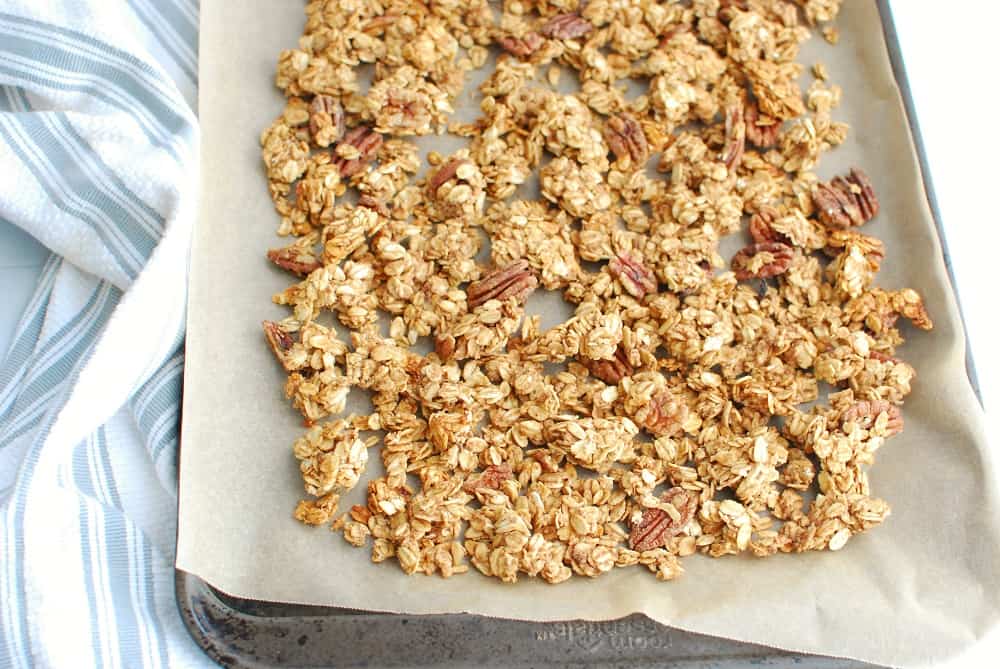 Ways to Use It
My go-to option for this granola is serving it up over a bowl of vanilla yogurt. It's such a great sweet treat, either for breakfast or as a snack.
There are lots of other ways to enjoy granola too, though! Think outside the box with these ideas:
Top your smoothie bowl with granola (along with chia seeds and fruit), or add it into a smoothie when you're blending it up (like in this granola smoothie).
Roll blueberries or sliced bananas in yogurt, then dip them in the granola and freeze. I love this frozen treat!
Make one of my favorite fall treats: baked apples or pears! You can top them with cinnamon, maple syrup, and some of this granola.
Use this granola as a topping on pancakes or waffles.
Make nice cream, then add this granola as a topping. It'll truly be a plant-powered dessert!
Try my sweet potato breakfast bowl, and add this granola as an extra topping.
Make apple nachos – slice apples and drizzle with nut butter, then add unsweetened shredded coconut, dark chocolate chips, and some of this granola. It's one of my favorite healthy desserts.
Roll pretzel rods in dark chocolate, then coat them with this granola.
Try making homemade chocolate bark with dried fruit and granola.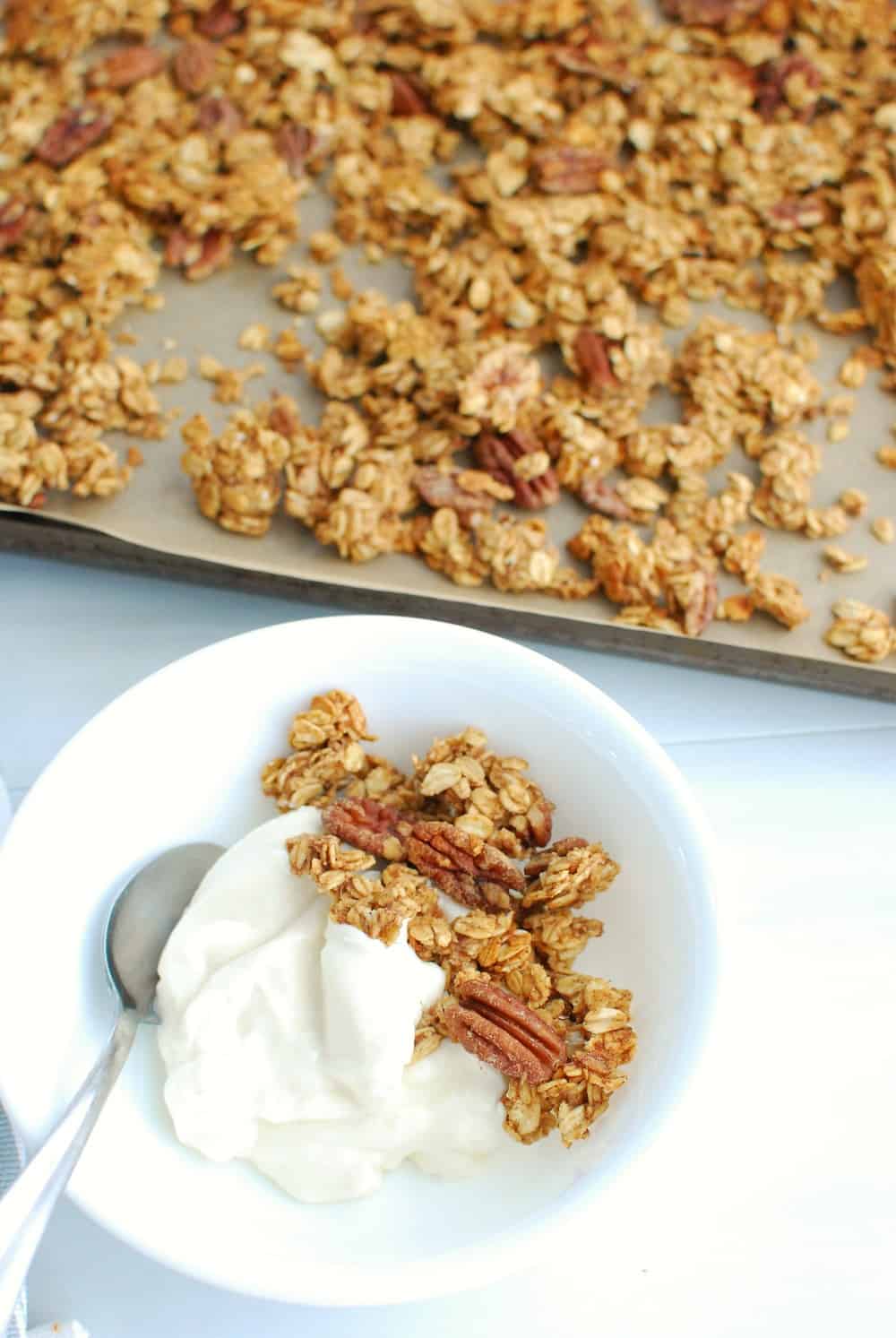 I hope you enjoy this recipe! It's definitely one of my favorites to make ahead of time and enjoy throughout the week. If you get a chance to try it, feel free to leave a recipe rating or comment below. (PS – looking for more granola recipes? Try my salted caramel granola!)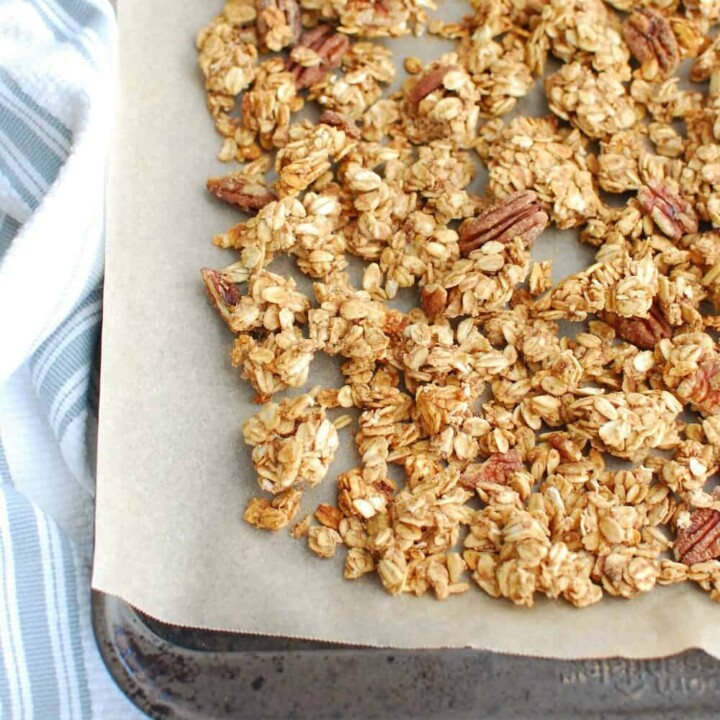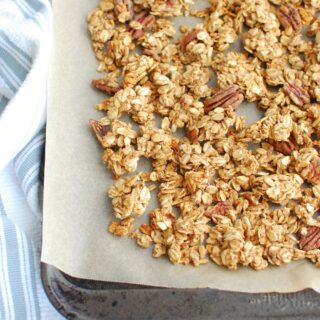 Peanut Butter Banana Granola
This delicious peanut butter banana granola is the perfect way to start your morning - and bonus, there's no added sugar!
Ingredients
1

ripe banana

mashed

1/4

cup

natural peanut butter

1/4

cup

unsweetened applesauce

1

tsp

cinnamon

1/4

tsp

salt

3

cups

rolled oats

(certified gluten free if needed)

1/2

cup

raw pecans
Instructions
Preheat the oven to 300 degrees. Line a baking sheet with parchment paper.

Combine the banana, peanut butter, applesauce, cinnamon, and salt in a large mixing bowl. When well combined, stir in the oats and pecans.

Pour the mixture onto the parchment paper lined baking sheet. Bake at 300 degrees for 35 to 40 minutes, stirring every 15 minutes. Enjoy!
Notes
Watch closely towards the end – you want the mixture to be golden and baked through, but it can quickly go from there to burnt.
This recipe makes about 5 loosely-filled cups of granola. A serving is approximately half a cup.
Leftovers can be stored in a food storage container or zip top bag at room temperature, provided the granola was cooked correctly and is dry. (If for some reason your granola is damp after cooling, it needs to be cooked a bit longer.)
Nutrition analysis (approximate per serving): 182 calories, 9 g fat, 1 g saturated fat, 85 mg sodium, 22 g carbohydrate, 4 g fiber, 3 g sugar, 5 g protein, Calcium: 2%, Iron: 7%, Vitamin D: 0%, Potassium: 6%, Magnesium: 14%
Nutrition
Share: Do you ever make homemade granola? What's your favorite flavor combinations?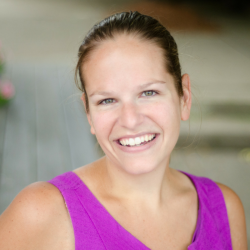 Latest posts by Chrissy Carroll
(see all)