Warm breakfasts are wonderful throughout the winter, but sometimes we all need a change of pace from eggs or oatmeal. This sweet potato breakfast bowl is a cozy breakfast treat that the whole family will love! It's a great way to satisfy your sweet tooth in a healthy way at your morning meal.
How to make a sweet potato breakfast bowl
There are a lot of variations out there on sweet potato breakfast bowls, but mine is relatively simple.
You'll cook the sweet potato, or you can use leftover baked sweet potatoes. Leftovers make it easy to get this recipe ready in just a few minutes! But you can also cook sweet potatoes pretty quickly in the microwave – generally around 5-6 minutes. Be sure to poke a few holes with a fork before you put it in there, and cover it with a damp paper towel.
Once it's cooked and cooled a bit, pop it in a food processor with a little pure maple syrup, almond milk, and cinnamon.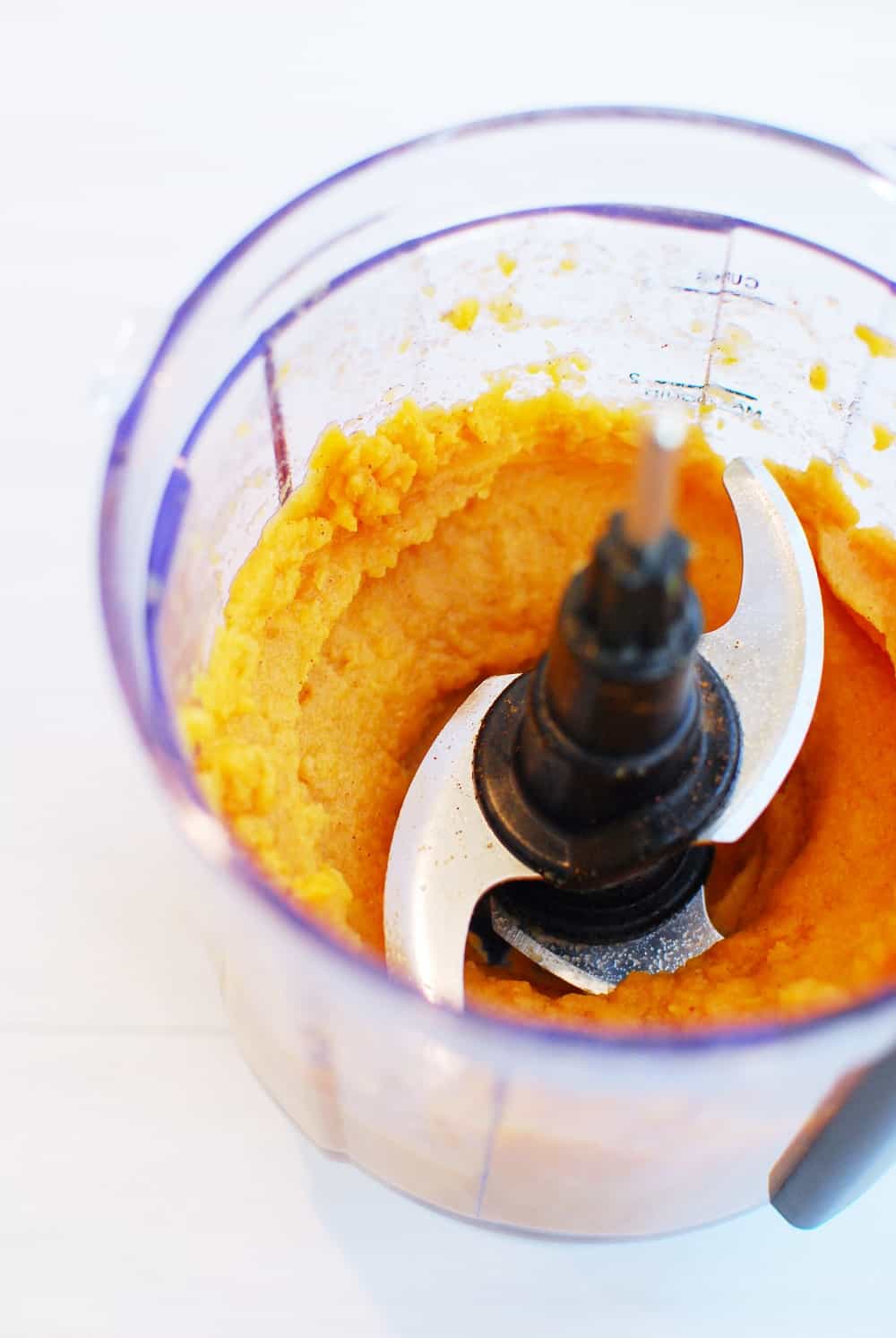 Then add your favorite nut butter. I generally just use whatever peanut butter or almond butter I have on hand, but this would be a bomb breakfast with some of my homemade gingerbread almond cashew butter or homemade macadamia nut butter.
Lastly, top it off with golden raisins (clearly the flavor winner of the raisin family – feel free to debate in the comments though 😉 ) and walnuts. Yum!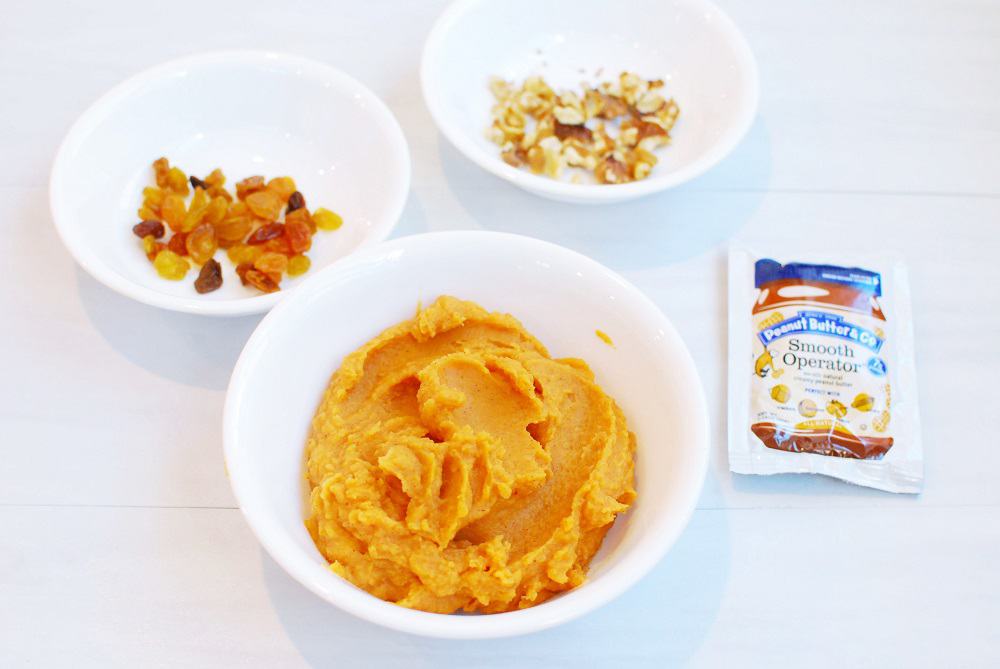 Why I love this breakfast for runners and triathletes
This is pretty much the ultimate power-packed breakfast to fuel your fitness (and your day!). It's rich in the right kinda carbs that will help you train harder, and is also a good source of nutrients that athletes need – like iron (helps carry oxygen throughout the body) and potassium (a mineral lost in sweat).
My fav time to eat this? After a long morning run. I'll combine this with a glass of milk and you've got your perfect recovery meal right there.
You can definitely eat this solo for recovery, but it does fall just slightly short of the 15-25 grams of protein I usually recommend after a workout. If you don't want to enjoy it with milk on the side, you can also add in a little Greek yogurt, part-skim ricotta, cottage cheese, or protein powder directly into the sweet potato mixture.
Dietary modifications
I love this breakfast bowl because it already fits so many dietary needs. It's naturally gluten free, dairy free, soy free, and egg free – awesome for anyone with food allergies. Also, if you're on the paleo diet, most would consider it paleo too, since it's sweetened with pure maple syrup.
Here are some quick ways to modify for other allergies or dietary needs:
Nut allergy – if you have a nut allergy, you can use another milk alternative (like oat milk), switch out the peanut butter for sunflower seed butter, and top with a seed of choice (chia, pumpkin, etc) instead of walnuts.
Whole30 – this can easily be made Whole30 by switching out the maple syrup for a little mashed banana or applesauce.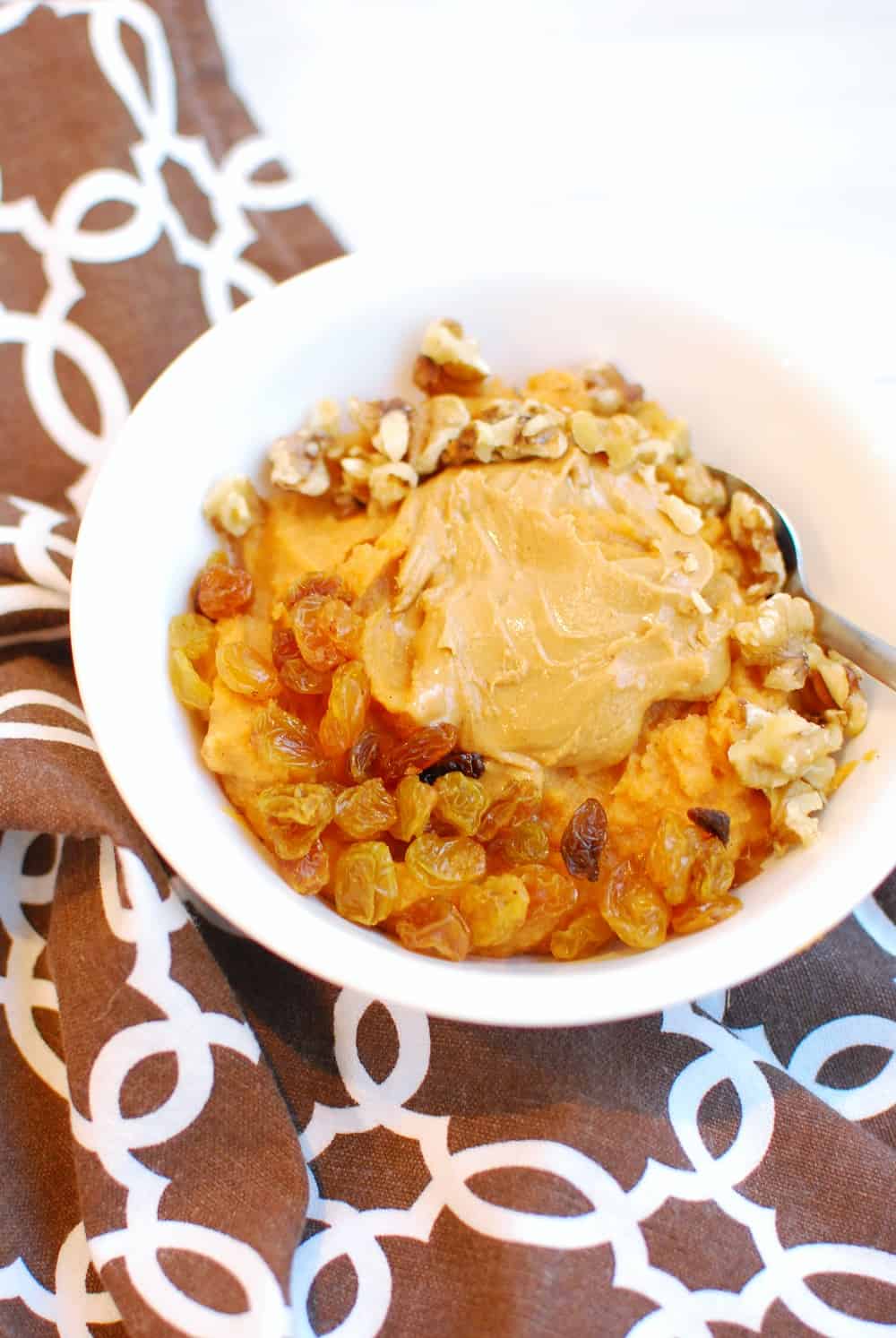 Other sweet potato breakfast bowl combinations
If you want to try something else besides the recipe below, here are some other combos to test out. I haven't tried them all yet, but I'm imagining these could be some tasty options!
Mashed sweet potato + coconut milk + blueberries + shredded coconut
Mashed sweet potato + almond milk + banana + pecans (+ and if you want to get crazy, maybe a drizzle of caramel syrup on top!)
Mashed sweet potato + oat milk + berries + chia seeds + yogurt
Mashed sweet potato + cumin + beans + poached egg + salsa (for a savory option)
Definitely give this sweet potato breakfast bowl a shot soon (or pin it for later so you can try it next time you go shopping!).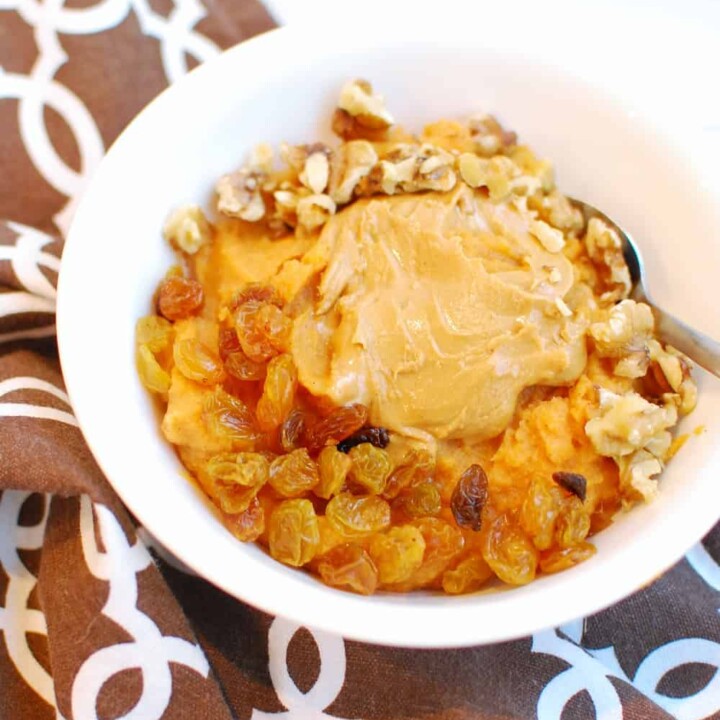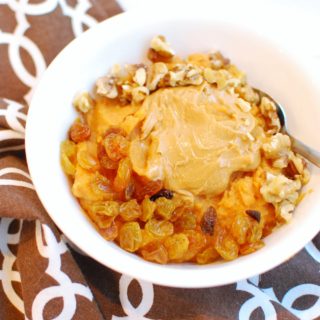 Sweet potato breakfast bowl
Satisfy your sweet tooth in a healthy way at breakfast with this filling, energy-packed sweet potato breakfast bowl!
Ingredients
1

medium sweet potato

1

tbsp

maple syrup

2

tbsp

almond milk

(or milk of your choice)

1/4

tsp

cinnamon

2

tbsp

peanut butter or almond butter

2

tbsp

golden raisins

2

tbsp

chopped walnuts
Instructions
Microwave or bake a sweet potato until the flesh is soft. (It takes about 4-6 minutes in the microwave; be sure to poke it with a fork a few times before putting it in!).

Remove and let cool for a few minutes. When cool enough to handle, scrape the flesh into a small food processor. Add the maple syrup, almond milk, and cinnamon. Pulse a few times to create a smooth texture.

Put the sweet potato mixture in a bowl and top it with the peanut butter (or almond butter), golden raisins, and walnuts. Enjoy!
Notes
Notes:
If you're using this as a recovery meal and want to increase the protein, you can add a few dollops of Greek yogurt, ricotta cheese, or cottage cheese, or stir in a little protein powder.
Nutrition analysis (approximate):
530 calories, 26 g fat, 4.5 g sat fat, 215 mg sodium, 63 g carbohydrate, 8 g fiber, 34.5 g sugar, 13 g protein, Vitamin A: 477%, Vitamin C: 34%, Calcium: 15%, Iron: 15%, Potassium: 23%
Nutrition
Share with me: What would you put in a sweet potato breakfast bowl? If you tried this recipe, what did you think? What's your favorite power-packed breakfast for runner?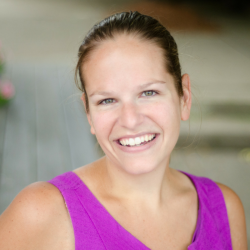 Latest posts by Chrissy Carroll
(see all)