Ready for banana bread…with a twist?! Try this matcha banana bread, packed with sweet banana flavor and earthy notes from matcha green tea – plus, rich dark chocolate chips. It's a delicious better-for-you snack or dessert that's great for active women who need to fuel their fitness.
What makes this banana bread a healthier option?
As an RD, I like this recipe because it's a bit of a nutrition step up from many popular banana bread recipes. Here's the highlights:
Uses whole wheat flour – While most recipes use white flour, using whole wheat flour is great because it's a whole grain. That mean it contains all the parts of the grain kernel, which increases the fiber and mineral content.
Adds a healthy fat – This bread uses olive oil rather than butter, shortening, or other types of fat. The more I learn about olive oil, the more amazed I am about how nutritious it is for our bodies. It's packed with heart-healthy monounsaturated fats, as well as a variety of polyphenols. There's one component in olive oil called oleocanthal, which has been shown in research to reduce inflammation, and may play a role in brain health and reduced risk of cancer.
Uses minimal added sweeteners – I still like adding a little additional sweetener besides just the banana, because I appreciate that oh-so-delicious taste. But in this case, I use honey rather than refined sugar, and only a third a cup.
Includes matcha – This powder is made from pulverized green tea leaves. It's rich in bioactive compounds that promote health. According to research, matcha has high antioxidant activity and also has anti-inflammatory properties. Each slice of banana bread contains about half a teaspoon matcha, which is a small amount but may still be beneficial.
Ingredients
Ready to make it? Here's the ingredients you'll need to make this recipe, and some helpful notes about a few of them:
Ripe bananas – The riper, the better! Look for ones that have a lot of brown spots or are (even better in my opinion) starting to turn black on the outside.
Eggs
Olive oil
Honey
Plain nonfat Greek yogurt – This adds a little extra protein to the recipe. You can substitute full fat or vanilla if you don't have plain nonfat on hand.
Vanilla
Cinnamon
Matcha powder – If you've never used matcha before, you're in for a treat! It has a bright flavor with elements of grassiness (but in a pleasant way!). It's long been used in Japanese tea ceremonies – and you can also use matcha powder in a number of culinary applications, like ice cream, overnight oats, and this banana bread.
Whole wheat flour
Baking soda
Salt
Dark chocolate chips – I just use regular dark chocolate chips (Enjoy Life are my fav!). But if you want a lower sugar option, you can try a stevia-sweetened chocolate chip like Lily's.
Instructions
You'll find full amounts and instructions in the recipe card at the bottom of the post, but here are a few helpful tips and photos.
Start by mashing your bananas in a mixing bowl, then whisking in the eggs, oil, honey, yogurt, vanilla, cinnamon, and matcha. It's going to be a fabulous green color, like this: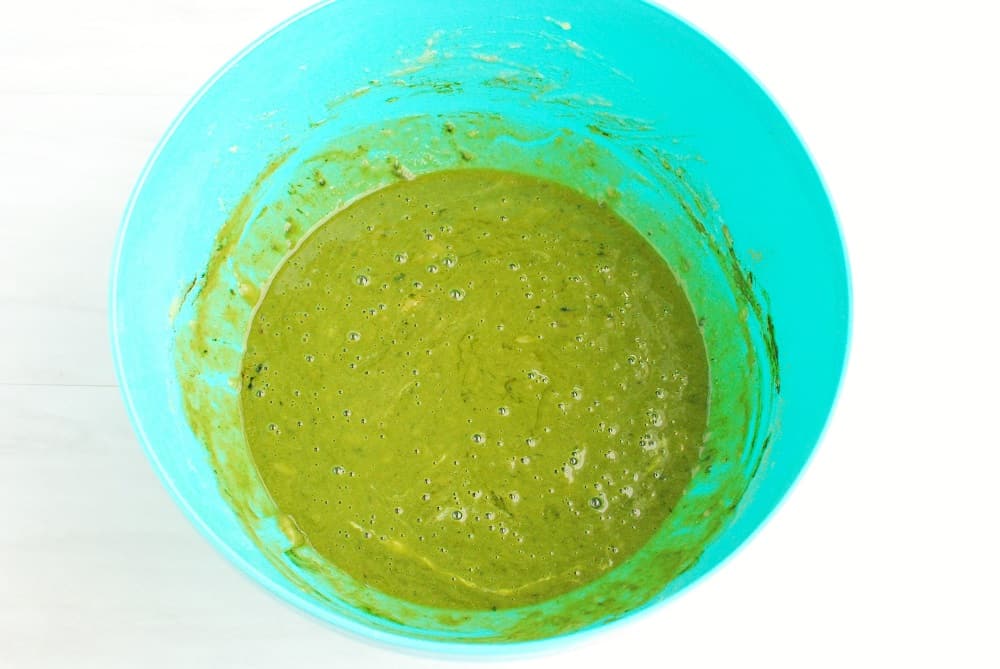 Then add your dry ingredients – the flour, baking soda, and salt.
Conventional baking wisdom says to mix these separately first, but I am admittedly lazy and use this hack: pour the flour on top of the liquid ingredients, and the baking soda and salt on top of that. Use a spoon to lightly mix those dry ingredients on top first, then go ahead and mix them with the liquid below. Easy peasy.
Now fold in your chocolate chips. This is what the batter will look like: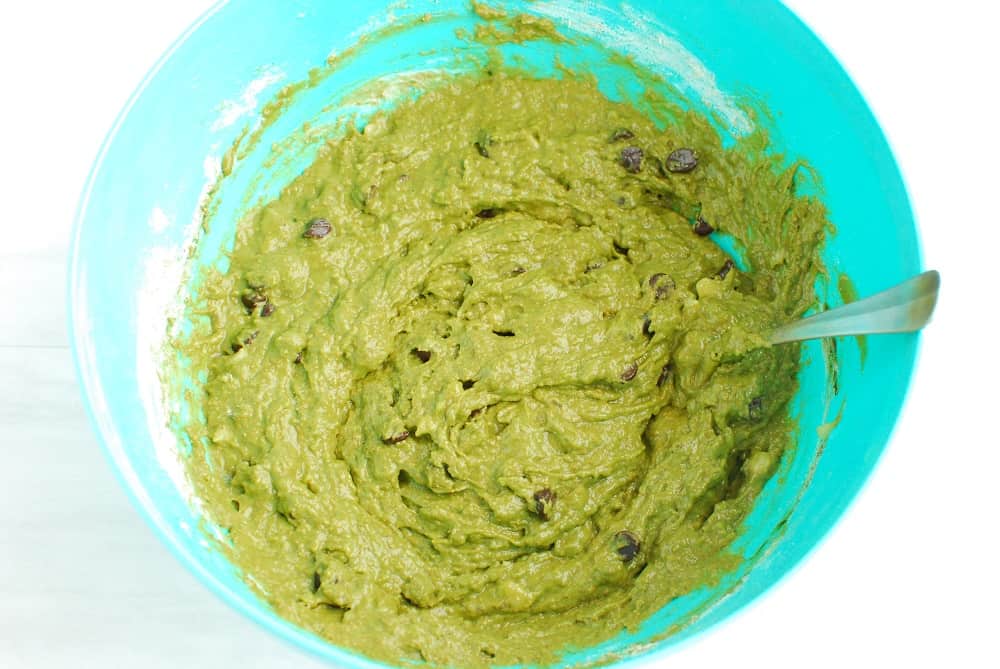 All that's left to do is pour it in a pan and bake that baby in the oven! Pro tip – be sure to grease your pan really well, especially if it's an older one.
Once it's done, let it cool for a bit, then dig in and enjoy!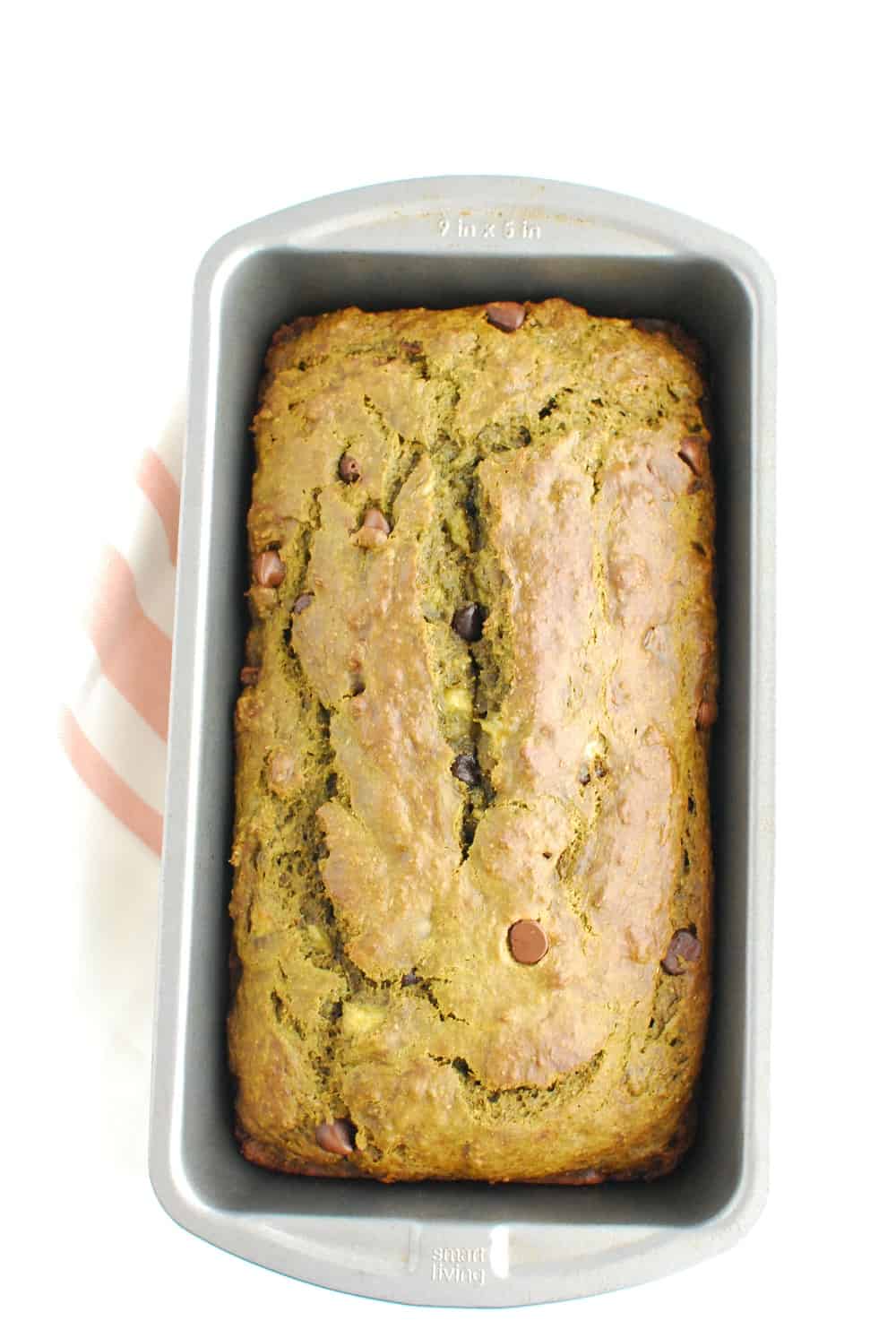 Recipe FAQ
Here are some common questions that may come up as you prepare this recipe:
How should you store matcha banana bread? Store it room temperature, either in an airtight container or on a plate covered with plastic wrap. Enjoy within 3 days. Avoid storing in the refrigerator, as it can cause the bread to dry out.
Can you freeze this recipe? Yes! I recommend freezing in individual slices. Wrap each in plastic wrap, then store in a big zip top bag in the freezer. When you're ready to enjoy a slice, just pop it in the microwave for about 30 seconds.
Can you make these into muffins? Yes – prepare the recipe as-is and pour into a greased muffin tin. Cook at 325 degrees F for 20-25 minutes, or until a toothpick pulls out clean from the center.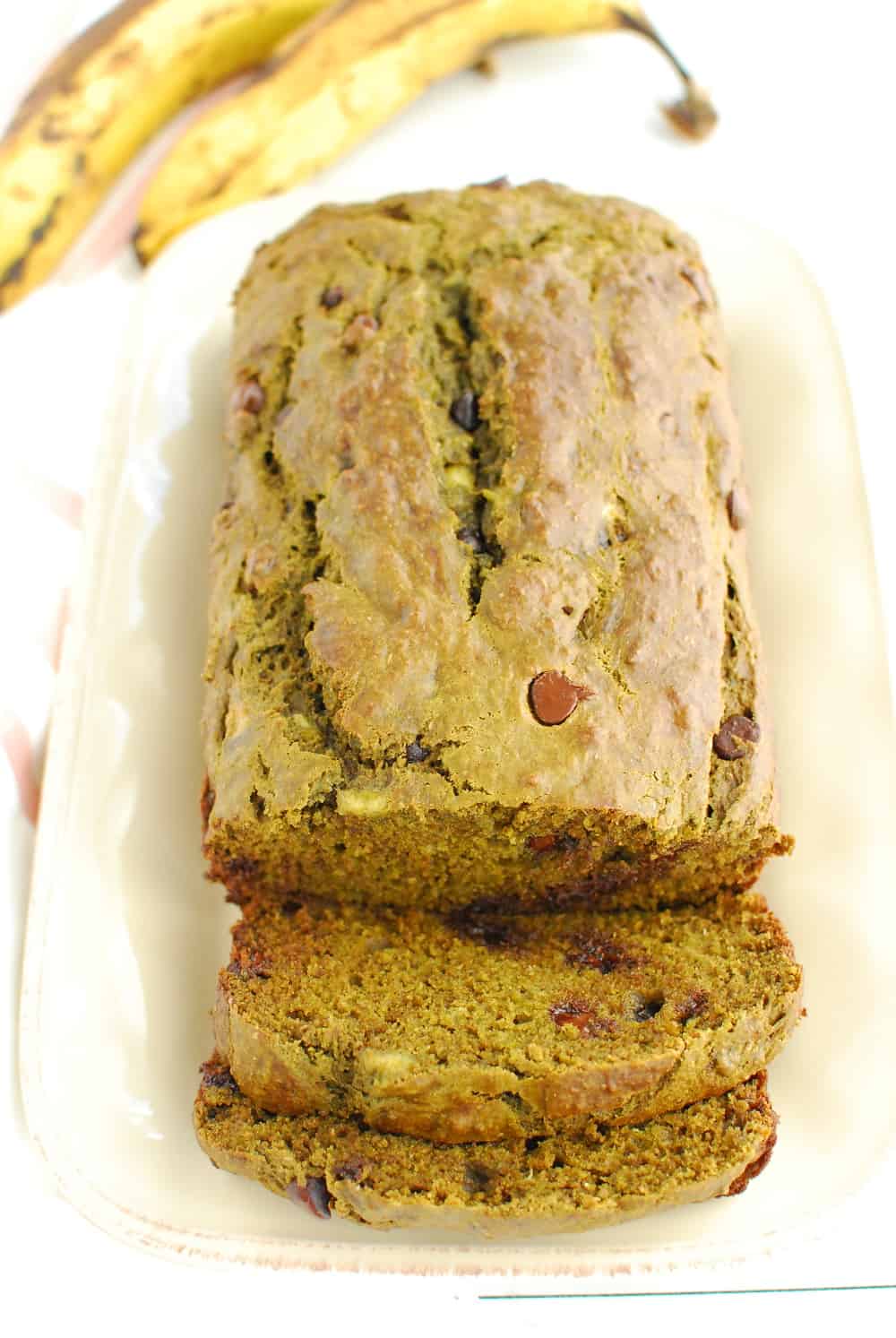 More ripe banana recipes
If you're looking for more recipes to use up those overripe bananas, try one of these delicious options:
I hope you enjoy this recipe. If you get a chance to try it, I'd love for you to leave a recipe rating or comment below.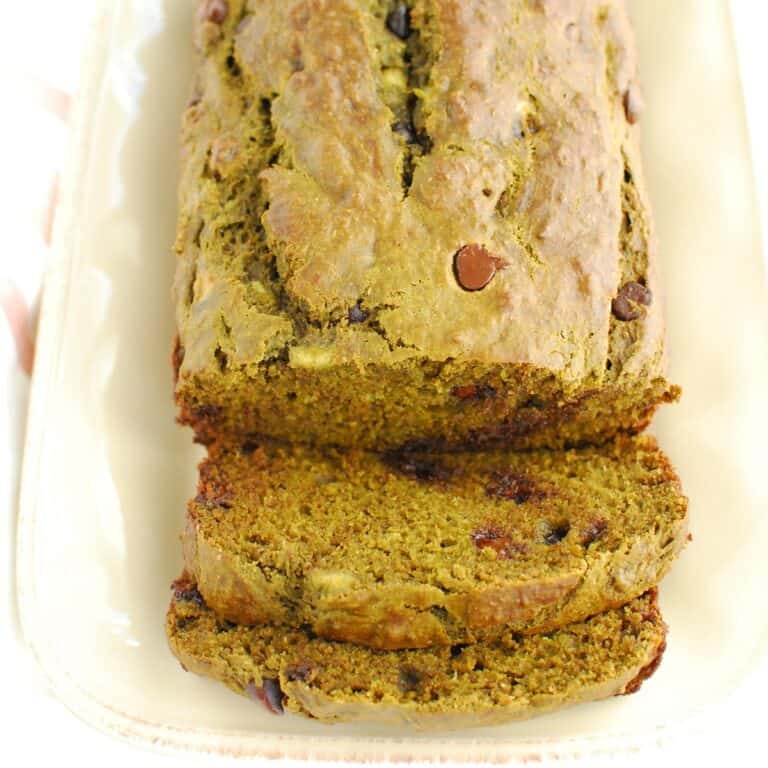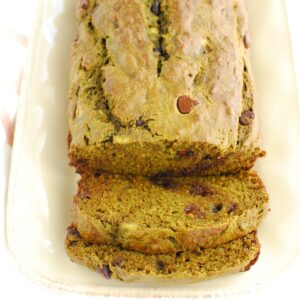 Matcha Banana Bread
This matcha banana bread is packed with sweet banana flavor and earthy notes from matcha green tea!
Ingredients
3

medium ripe bananas, mashed

2

eggs

½

cup

olive oil

⅓

cup

honey

¼

cup

plain Greek yogurt

1

tsp

vanilla

1

tsp

cinnamon

2

tbsp

matcha

1 ¾

cup

whole wheat flour

1

tsp

baking soda

½

tsp

salt

½

cup

dark chocolate chips

(optional)
Instructions
Preheat the oven to 325 degrees F. Grease a loaf pan with oil.

In a large mixing bowl, combine the mashed bananas, eggs, olive oil, honey, Greek yogurt, vanilla, cinnamon, and matcha. Whisk together well.

Add the flour, baking soda, and salt. Stir until combined, then fold in the chocolate chips.

Pour the batter into the loaf pan. Bake at 325 degrees F for 45-55 minutes, or until a toothpick pulls out clean from the center.

Let cool for 10 minutes in the loaf pan, then flip onto a plate or cooling rack and let continue to cool. Slice and enjoy!
Notes
Nutrition analysis (approximate per serving; includes chocolate chips): 259 calories, 13.5 g fat, 3.5 g saturated fat, 220 mg sodium, 31.5 g carbohydrate, 4 g fiber, 13.5 g sugar, 5.5 g protein, Vitamin D: 1%, Calcium: 2%, Iron: 11%, Potassium: 5%
Nutrition
Share: What's your favorite kind of banana bread? If you tried this recipe, what did you think?
Please pin this so others can find this recipe too! 🙂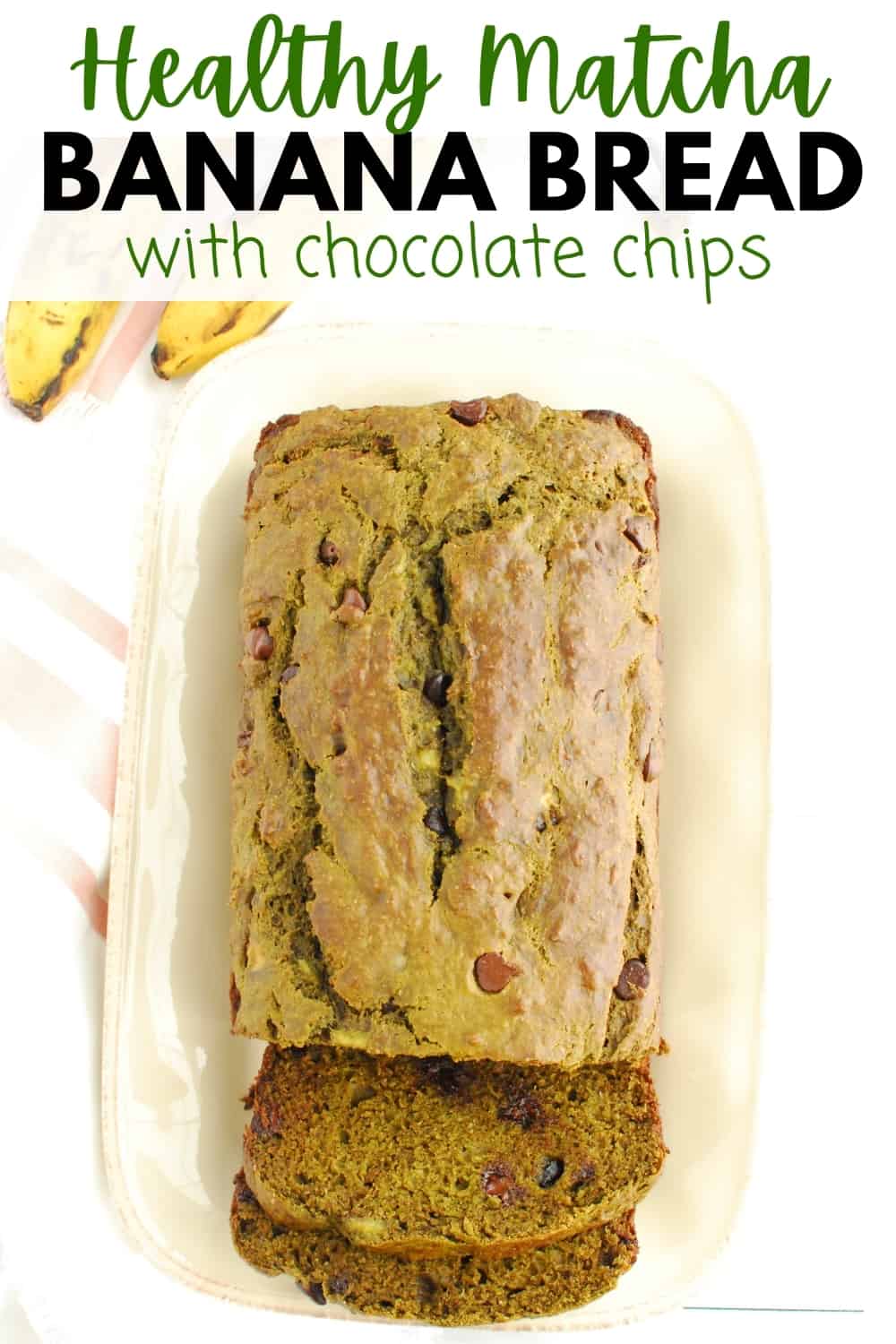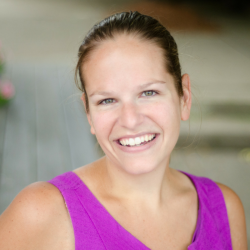 Latest posts by Chrissy Carroll
(see all)