These healthy matcha overnight oats are a great way to start your morning! Just toss the ingredients in a jar the night before, pop 'em in the refrigerator, then dig in the next morning. You'll be treated to a creamy, delicious treat with perfectly balanced matcha flavor and a hint of maple sweetness.
What is matcha?
You're probably familiar with standard green tea, but what about matcha?! Matcha is made by taking young green tea leaves and pulverizing them into a fine powder.
Matcha has long been used in Japanese tea ceremonies. The origins of matcha are thought to have started long ago in China, when steamed tea leaves were processed and stored in bricks for easier transport. Japanese Buddhist monks are thought to have brought this tradition of powdered green tea back to Japan, though it did not evolve into the ritual Japanese tea ceremony until sometime between the 1300-1500's (1, 2).
With regular tea, some of the flavor and nutrients from the leaves are infused into the water during steeping – but with matcha, the powdered leaves themselves are fully mixed in, allowing you go get all the beneficial components.
Matcha is also generally grown under shaded conditions, which increases the presence of bioactive compounds in the leaves (3).
If you've never had it before, matcha has a bright flavor with elements of grassiness (but in a pleasant way).
Lately, matcha has been used in many other culinary applications besides tea, from ice cream to chocolate to (our focus today) overnight oats.
Ingredients
Here are the ingredients you'll need to make this dish, along with some helpful notes on each: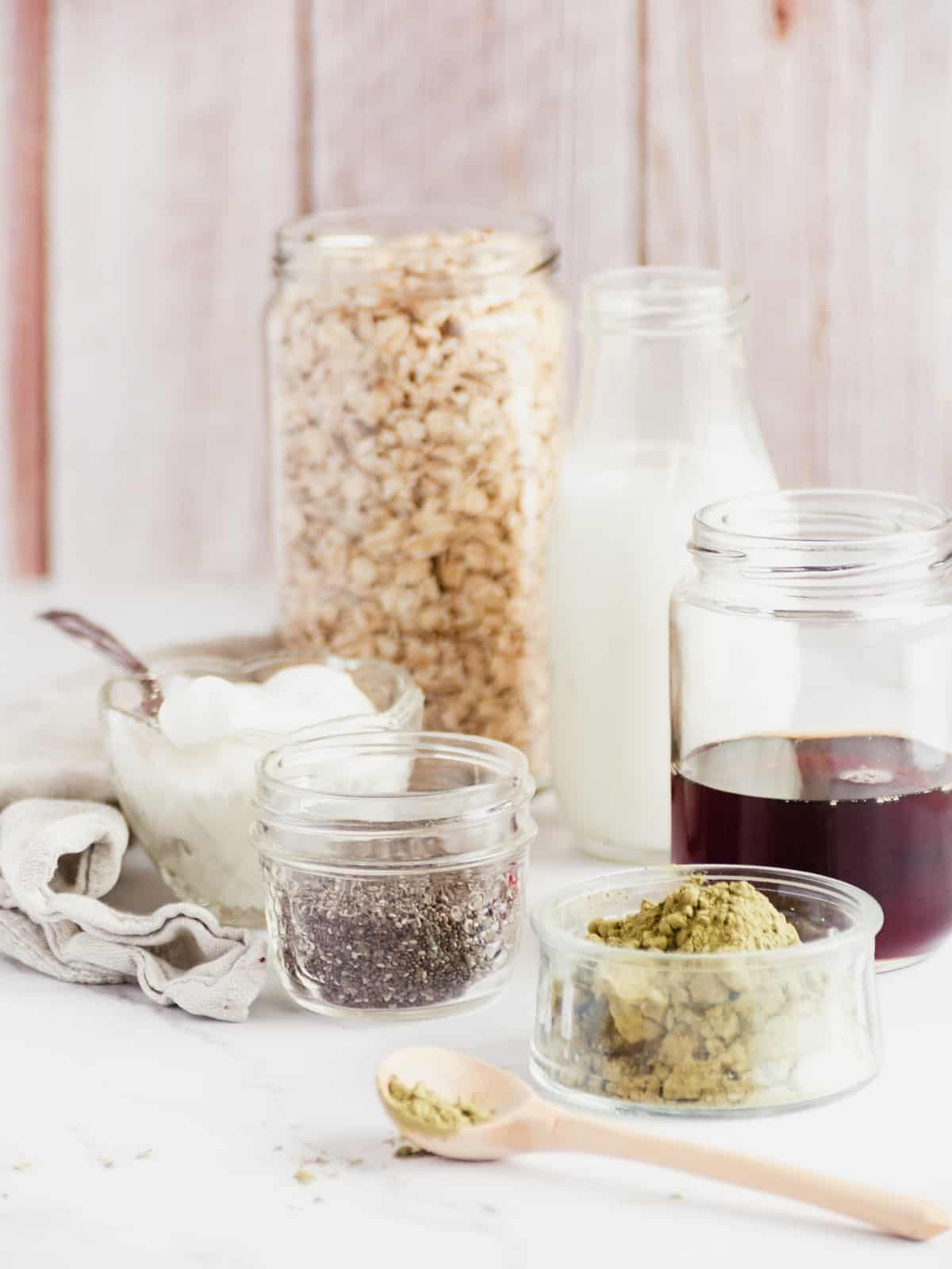 Matcha powder – Our star of the show!
Rolled oats – You want rolled oats for this, not steel cut oats. Steel cut oats do not soften as much as rolled oats overnight.
Salt – A pinch of salt helps enhance the other flavors in this recipe.
Chia seeds – Cha-cha-cha-chia! These seeds, once only known for their ability to sprout a chia head, are now a staple in my kitchen cabinet. They're packed with fiber and healthy fats, and also help thicken up the oats to make them extra creamy.
Milk – I use 1% milk as that's what we usually have on hand, but you can use any variety of milk you've got at your house. I like dairy milk in this recipe as it boosts the protein content, but you could also use a milk alternative if you prefer.
Plain Greek yogurt – You'll add this for two reasons – to help achieve the creamy texture, and to ramp up the protein content of this breakfast.
Maple syrup – Pure maple syrup makes such a great natural sweetener for overnight oats. I find 2 teaspoons adds just enough sweetness, but feel free to adjust this up or down depending on your palate.
Vanilla extract – This adds additional flavor to the recipe. Vanilla also brings out an inherent sweetness in the dish (without needing to add excess added sugar).
Step by Step Instructions
Making these matcha overnight oats couldn't be any simpler! Are you ready?
First, put the rolled oats, matcha powder, and salt in a mason jar. Stir it around to let the matcha really coat all the oats, and break up any lumps of matcha that might be present.
Next, you'll mix in all the rest of your ingredients. Give it a stir, put the lid on, and give it a few shakes. Everything should be well combined.
Now pop that baby in the fridge, let it sit overnight, and in the morning, your breakfast is ready to eat!
Recipe FAQ
Here are some common questions that may arise as you prepare this breakfast:
Can you use instant oats instead of rolled oats? You can in a pinch, though the texture might not be as optimal. Rolled oats soften but hold up fairly well overnight, whereas instant oats may have a bit of a mushier texture.
Can you use another sweetener? Sure – feel free to use honey, brown sugar, or a low-cal sweetener like monkfruit instead.
Is there a substitute for chia seeds? Chia seeds are easy to find at the grocery store these days, so hopefully you can find them for this recipe. If you don't have any, though, you can try substituting ground flax seed.
How long do overnight oats stay good? These will stay good in the fridge for up to 4 days. If you prep a few batches on Sunday, you can eat them throughout the week until Thursday.
Do you eat overnight oats hot or cold? Either! Most people eat them cold right out of the fridge, but you can also heat them up if you'd prefer. Just remember to remove the metal lid from the mason jar if you're heating them up in the microwave.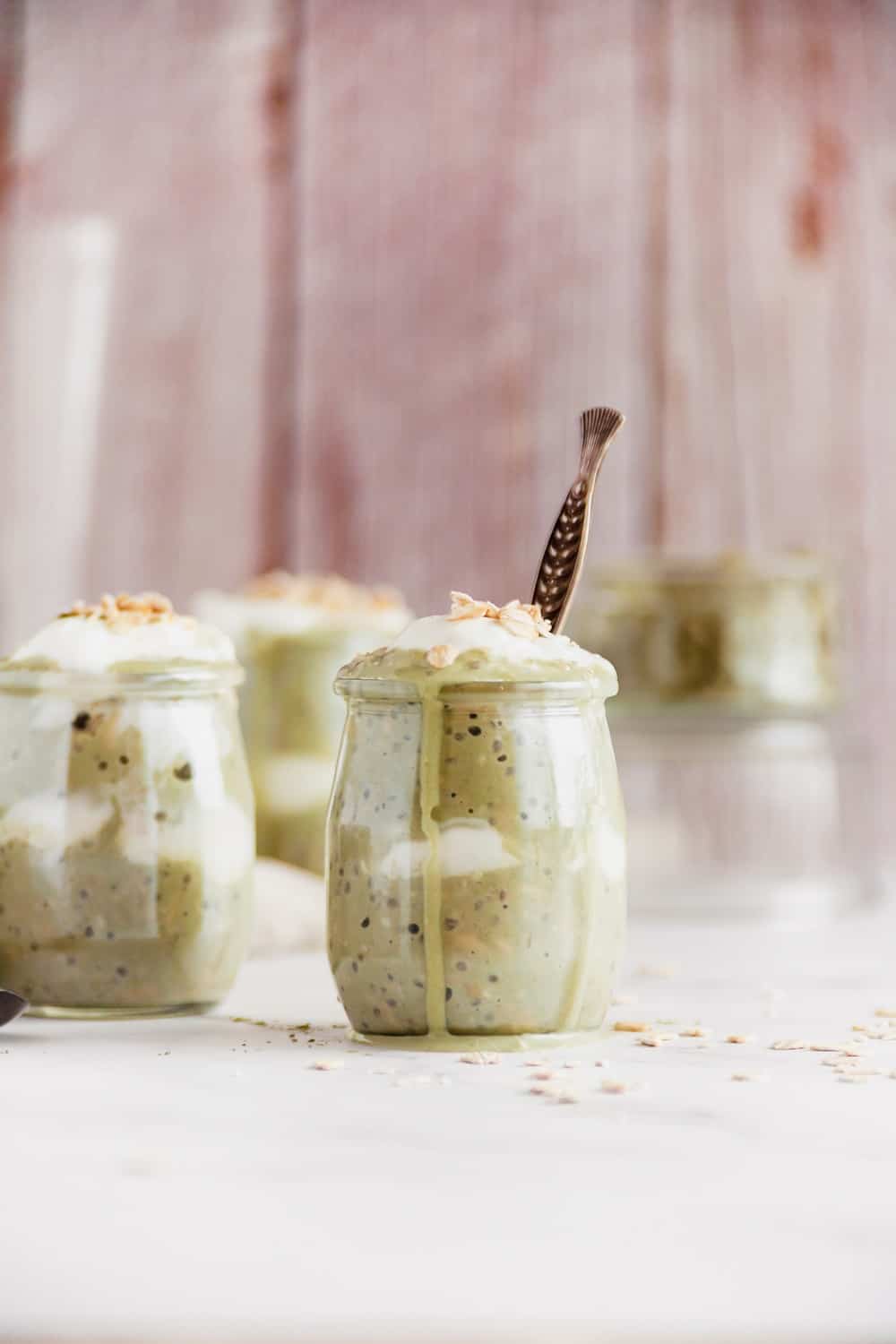 Nutrition Benefits
As a dietitian, I wanted to highlight a few nutrition benefits of these overnight oats:
Filled with fiber – This recipe packs in 7.5 grams of fiber for digestive and heart health. If you top it with berries, you'll get even more!
Packs in protein – These overnight oats contain 17 grams of protein for a well-rounded breakfast that won't leave you feeling hungry an hour later.
Healthy carbs – Oats and dairy provide healthy carbohydrates to fuel your workouts.
Health-promoting benefits of matcha – Perhaps most interesting are all the possible benefits of matcha in this recipe! Matcha has a high antioxidant content (4). It's been linked to potential (but not proven) cancer prevention properties (5, 6) and may reduce stress (7). And for those of you that are endurance athletes, limited research suggest matcha enhances fat oxidation during moderate intensity exercise – which could help conserve carbohydrate stores longer during your run (8, 9)
I hope you enjoy this recipe! If you get a chance to try it, please feel free to leave a recipe rating or comment below. (And if you're looking for more overnight oats recipes, be sure to check out these caramel pumpkin overnight oats or this roundup of overnight oat recipes).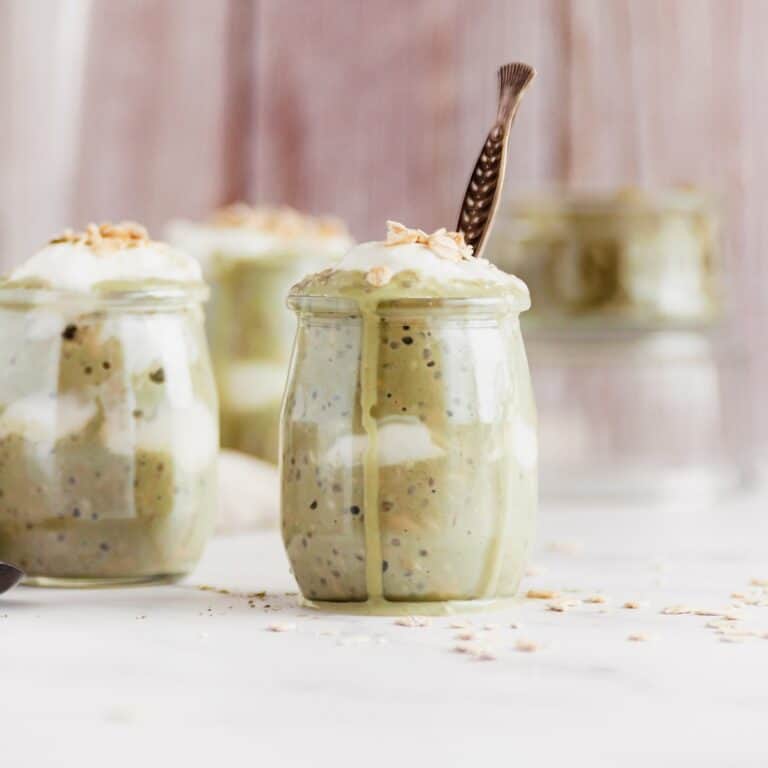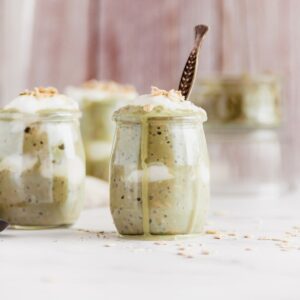 Matcha Overnight Oats
These healthy matcha overnight oats are a nutritious and delicious way to start your morning.
Ingredients
For the overnight oats:
½

cup

rolled oats

1

tsp

matcha powder

Pinch

salt

1

tbsp

chia seeds

½

cup

1% milk

(or any milk or milk alternative)

¼

cup

plain nonfat Greek yogurt

2

tsp

maple syrup

¼

tsp

vanilla extract
Optional for topping:
Raspberries, blueberries, coconut, granola, nuts, or additional yogurt.
Instructions
In a mason jar, combine the rolled oats, matcha powder, and salt. Stir well to thoroughly coat the oats in the matcha powder and break up any lumps.

Add the remainder of the ingredients to the jar: the chia seeds, milk, Greek yogurt, maple syrup, and vanilla extract. Stir, then place a lid on the jar and shake well to thoroughly mix up the ingredients.

Place in the refrigerator overnight.

Enjoy the next morning cold or warm (can be heated in the microwave in a glass mason jar but metal lid must be removed). Add optional toppings as desired.
Notes
This makes thick overnight oats. If you prefer a thinner oatmeal, drizzle in a little extra milk in the morning.
Nutrition facts (approximate, does not include optional toppings): 337 calories, 7 g fat, 1.5 g saturated fat, 260 mg sodium, 51 g carbohydrate, 7.5 g fiber, 17 g sugar, 17 g protein, Vitamin D: 7%, Calcium: 26%, Iron: 19%, Potassium: 10%
Nutrition
Share: What's your favorite type of overnight oats?
Feel free to pin this post to save for later! 🙂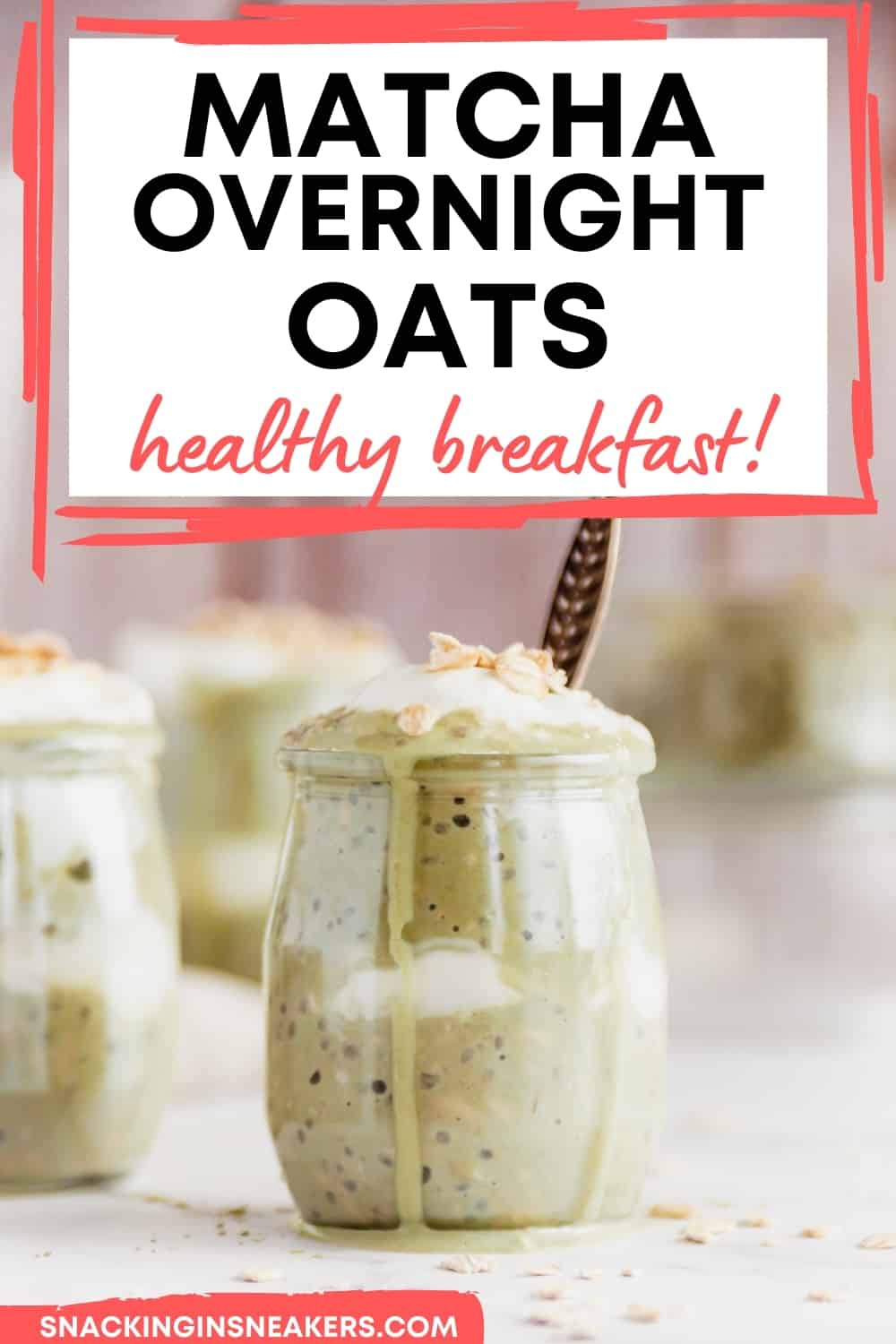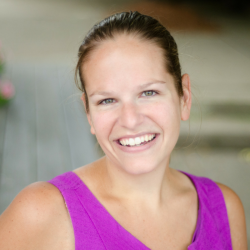 Latest posts by Chrissy Carroll
(see all)