Craving an easy morning breakfast? Try one of these 20 healthy overnight oats recipes! Overnight oats are one of the best meal planning options available for those busy mornings when you need to grab and go and get out the door. And even if you're able to sit and eat at the table, having your breakfast ready and waiting for you is a relaxing way to start your day.
In this collection of healthy overnight oat recipes, you'll find a variety of options for many dietary needs. Whether you're looking for low-added-sugar recipes or gluten-free recipes, there are options here that will work for you. And from seasonal deliciousness like pumpkin, gingerbread and apple cinnamon to fruity goodness from berries, mango and banana, you'll find tons of scrumptious flavors.
As a heads up, overnight oats will last for up to 4 days in your fridge – so feel free to meal prep several of these on a Sunday and enjoy through most of your workweek. Breakfast has never been easier: all you need to do in the morning is wake up and enjoy!
20 Healthy Overnight Oats Recipes
Start your morning off with these cozy apple and cinnamon oats full of autumn-inspired goodness. Cinnamon and nutmeg spice up the oats while maple syrup gives it a hint of sweetness. Top it with a little extra diced honeycrisp apple, a few walnuts, and dried cranberries to round out this delicious morning treat.
Craving a sweet treat on a chilly fall morning? Try these caramel pumpkin overnight oats! This lightly sweetened recipe is reminiscent of a pumpkin dessert, but in a more nutritious combination for breakfast.
When cherries are in season you'll definitely want to make this mouth-watering breakfast treat. Make sure you pit your cherries first and then just assemble for an overnight session in the fridge. It's a feast for the eyes as well as your taste buds; it's cherry pie in a jar! (Pro tip – you can also just use pitted frozen cherries in the off-season!)
Warm or cold, these breakfast oats get a hit of chocolate from cocoa powder as well as chocolate chips. The raspberries make a winning flavor with the chocolate for a truly scrumptious breakfast that will be waiting for you in the fridge when you wake up.
With a nod to the holidays, indulge in this gingerbread breakfast that gets its flavor profile from a little molasses. It's seasonal deliciousness in a healthy and easy breakfast bowl.
This anti-inflammatory recipe with turmeric is great way to have a healthful and delicious breakfast that requires very little work to assemble. Make a batch of these golden milk single-serve oats since they will keep in the fridge for up to 4 days. Win-win!
Save some time and skip your cuppa coffee in the morning – and trade it in for this coffee-infused overnight oat recipe. This may just become your new morning ritual.
Coconut cream pie goes high-protein in this awesome rendition of a dessert classic. Full of coconut goodness from coconut milk, shredded coconut and coconut flakes, you'll adore this beautiful breakfast treat that's actually healthy and much easier to make than a pie!
These gorgeous oat parfaits would make a great menu item for a brunch since it's a make-ahead recipe. The star of the show is the easy-to-make strawberry, rhubarb and chia jam. Scrumptious!
PB & J gets a new setting with this healthier version of a childhood favorite flavor combo. Since these keep in the fridge for a few days, prep a few in advance and use different jelly flavors for each so you have some variety when you grab a jar every morning. Fun!
Shredded carrots and a dash of maple syrup give you all the sweetness you need in this overnight oats recipe. A dash of cinnamon, pecans and coconut help round out this carrot cake inspired breakfast which is healthy as well as delicious.
You can totally have dessert for breakfast when you make a few healthy swaps for the s'mores ingredients. It's easy to assemble the chocolate chia layer and the vegan marshmallow layer and you will love this new take on a campfire classic!
If you love the combination of peanut butter and bananas then you need to add this overnight oats recipe into your rotation! Chia seeds and a drizzle of honey make this a delectable morning treat that tastes like dessert but packs in extra nutrition.
Eating brownies for breakfast is possible with this amazing overnight oats recipe that combines oats, cocoa powder, chia seeds, yogurt, nut butter and chocolate chips. After an overnighter in the fridge, enjoy your brownie in a jar for breakfast!
Healthy meets off-the-charts delicious with this awesome recipe. Make a healthier version of caramel sauce and then carry on with assembling this decadent overnight oats breakfast bowl.
If you're looking for a gluten-free and vegan breakfast option, consider this easy overnight oats parfait. Figs are the star of the show in this cinnamon-infused sweet and healthful recipe. If you've never tried fresh figs before, you're in for a treat with this recipe (and you should also check out my fig energy bars).
Blueberry pie in the morning may sound decadent but it's totally do-able with this easy year-round recipe. When blueberries are in season, make sure you stock up for this yummy breakfast jar. You can always freeze fresh blueberries so you can have them off-season, as well, or simply buy frozen blueberries from the store.
Take 5 with this 5-ingredient recipe that you can put together in 5 minutes. These creamy and protein-infused oats will become a favorite, if not an actual ritual, for your morning breakfast routine. Easy, delish and healthy!
Gluten-free and vegan, these overnight oats get their bright flavor from mango puree, fresh strawberries and bananas. This is an easy, fruity and healthy way to start your day.
Your favorite candy bar just got a healthy makeover in this outrageously delicious overnight oat recipe. Almond milk, unsweetened coconut and vegan chocolate chips will have you swooning over this easy almond joy inspired treat. No need to warm it up in the morning: just dive in and enjoy it cold!
Share with me: Do you have a favorite healthy overnight oats recipe that you love?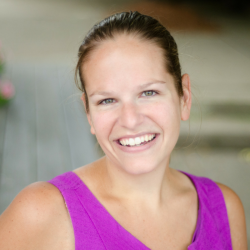 Latest posts by Chrissy Carroll
(see all)