Craving a hearty banana bread recipe to add to your morning meal or enjoy as a snack? Try this buckwheat banana bread! It's a tender and light cake, sweetened with maple syrup, and has the perfect amount of banana flavor in each bite.
What is buckwheat?
Despite its name, buckwheat isn't related to wheat at all. It's a pseudo-cereal – while it's used like other cereal grains, it's actually a seed (quinoa is similar to buckwheat in this regard). Buckwheat has a natural nutty, earthy flavor that works well in a variety of dishes.
While buckwheat flour may be a new introduction to your pantry, you're probably familiar with some of the other ways buckwheat is used. For example, buckwheat pancakes are a common breakfast staple at many restaurants, and soba noodles are actually made from buckwheat too.
Plus, a few little health bonuses for you – buckwheat is thought to be higher in antioxidants and beneficial plant compounds compared to many other grains (source). And since it's naturally gluten-free, it's a great option for baking if you've got celiac disease or a gluten sensitivity.
For all you active folks, this banana bread provides carbs that can help fuel your workouts, so it can be a nice addition to breakfast, or a snack about an hour before a shorter workout.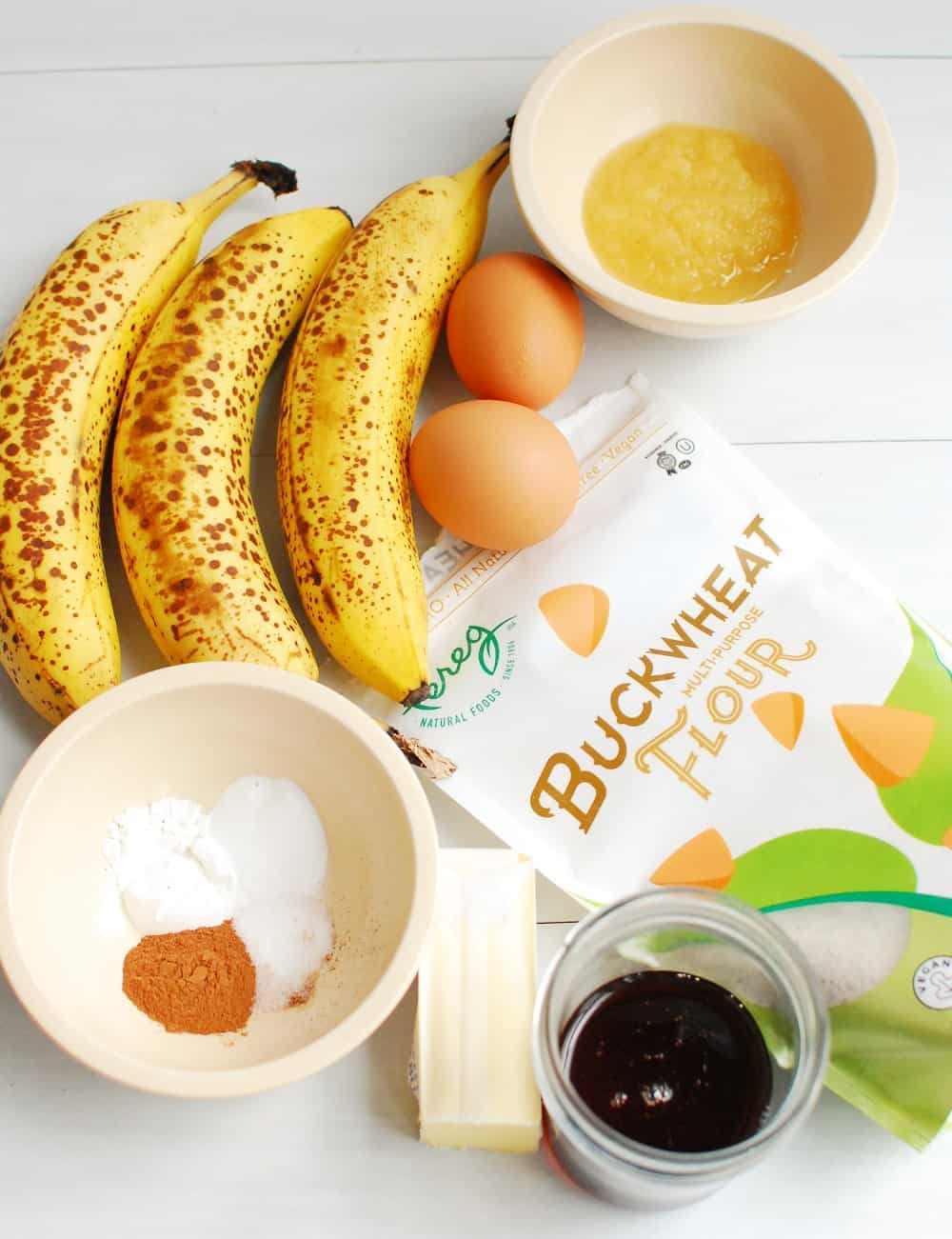 Recipe FAQ
The recipe can be found in the recipe card below, and is pretty easy to follow. But here's a few questions that may come up as you make it:
Can you make this dairy free? Yes. Just substitute a dairy-free butter for the regular butter. You can also use coconut oil.
How should you store banana bread? You can store this on the counter wrapped in plastic wrap for about 2-3 days. If you want to keep it past that, I recommend slicing it into individual slices and freezing them. Wrap each individually in plastic wrap and then place them all in a gallon size zip top bag. You can pull out a slice at a time and pop it in the microwave to enjoy.
What is turbinado sugar? Turbinado sugar is a partially refined sweetener, but has a larger crystal than granulated sugar and still retains some of the molasses (which is why it's a darker color). I like sprinkling this on top to give the top of the bread a little sugary crunch. However, this is completely optional! You can skip it if you want to avoid any refined sweeteners, or you can use brown sugar or granulated sugar if you want.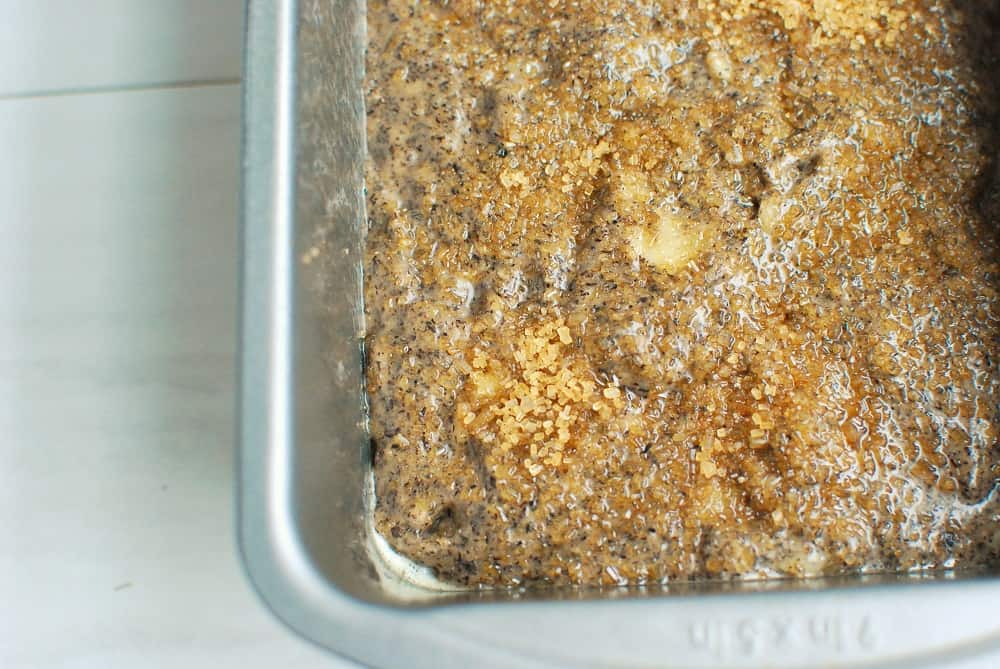 Mix-ins for banana bread
This buckwheat banana bread is made without any mix-ins, but you can easily add some in if you'd like. Here are a few ideas to create your own flavor combinations:
Chocolate chips (I love dark chocolate chips, and I'm also a big fan of Lily's no-added-sugar chocolate)
Blueberries
Cranberries – fresh or dried
Red currants – I recently got these from the farmers market and they've been my favorite new fruit to experiment with! I made an apple currant crisp last week, but I'd also love to toss these into my banana bread.
Nuts – walnuts or pecans are classic additions, but you could also get creative with ingredients like shelled pistachios
Shredded zucchini or carrots (hello, added veggie intake!)
Crushed pineapple
Raisins
Shredded coconut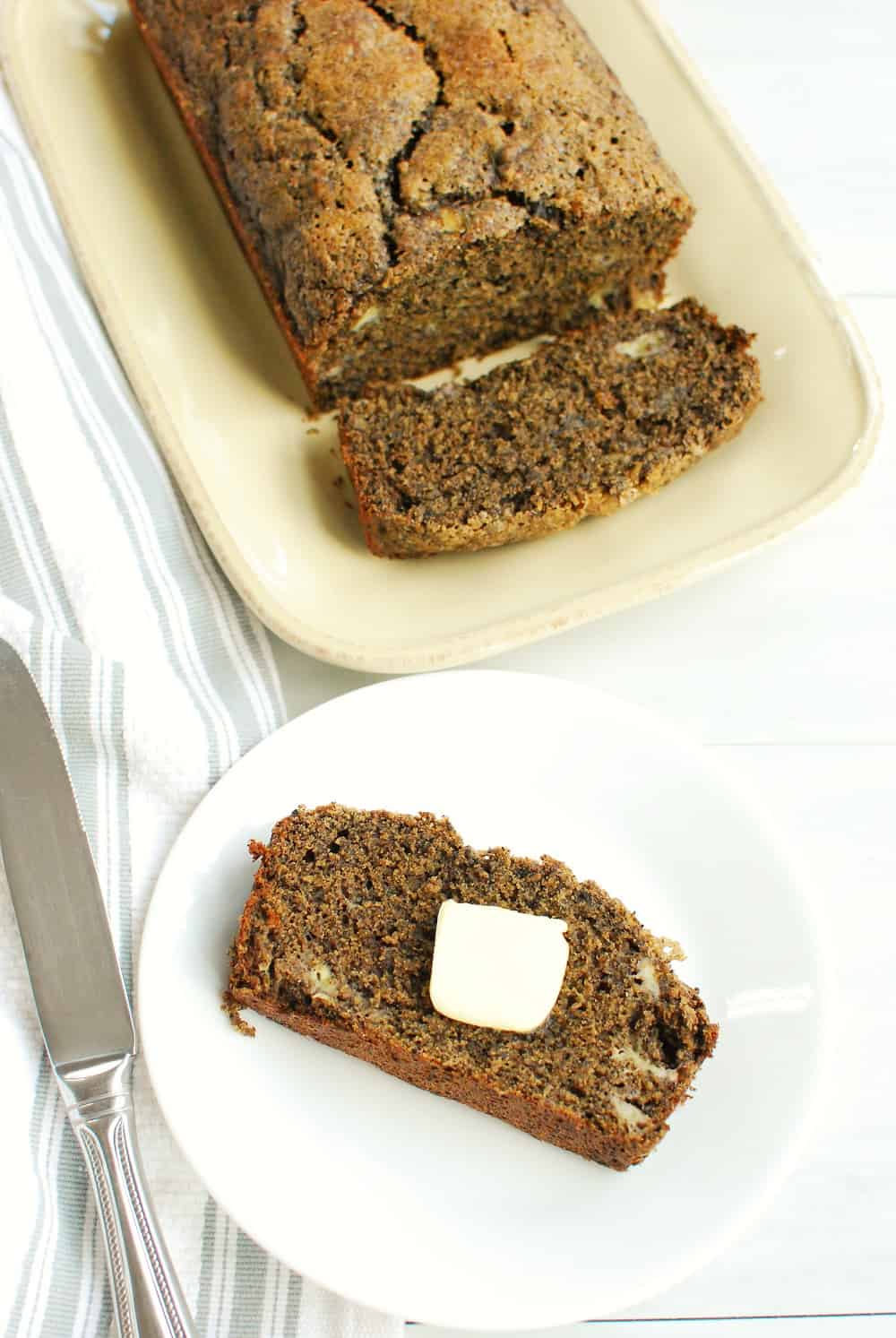 Serving suggestions
I pretty much always veer for a straight up slice, warm, with a pat of butter. It's pure delight! But here's a few more ideas you could try:
Nut butter – peanut butter, almond butter, cashew butter, or my coconut chocolate macadamia nut butter would all be awesome on this.
Whipped pumpkin butter – just mix some butter with a little pumpkin puree, pumpkin pie spice, and maple syrup – then whip it up until it's light and fluffy.
Fruit butters – apple butter, peach butter, plum butter, or any other thick fruit puree works really well on here
Vanilla Greek yogurt (don't knock it 'til you try it!)
Whipped coconut cream
And if you've got leftover buckwheat banana bread and aren't sure what to do with it, I've got a few good ideas for you too! My favorite is to use it for French toast. Just whisk up your eggs, milk, and cinnamon like you normally would to make French toast, and use this banana bread instead of your regular bread.
You can also make a delicious bread pudding from banana bread, or chop it up and make a yogurt parfait with it. I've known some people who have baked it to make a biscotti-like "cookie" to enjoy with coffee – haven't tried it myself but it's definitely on my list to do!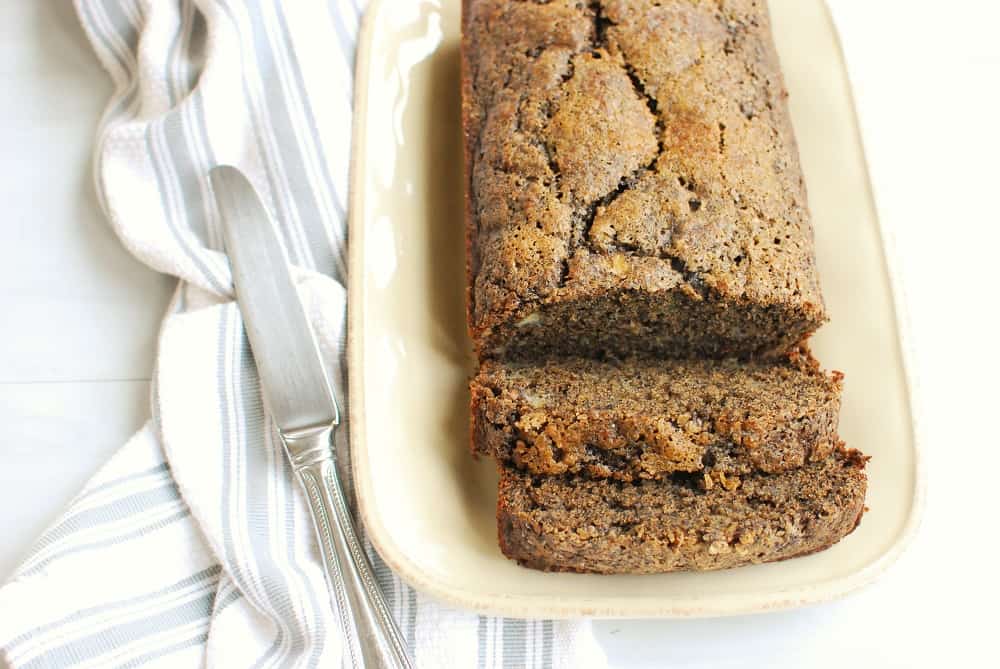 I hope you enjoy this recipe – if you get a chance to give it a try, I'd love for you to leave a recipe rating or comment below. (PS – looking for more ways to use overripe bananas? Check out these 20 recipes for using bananas!).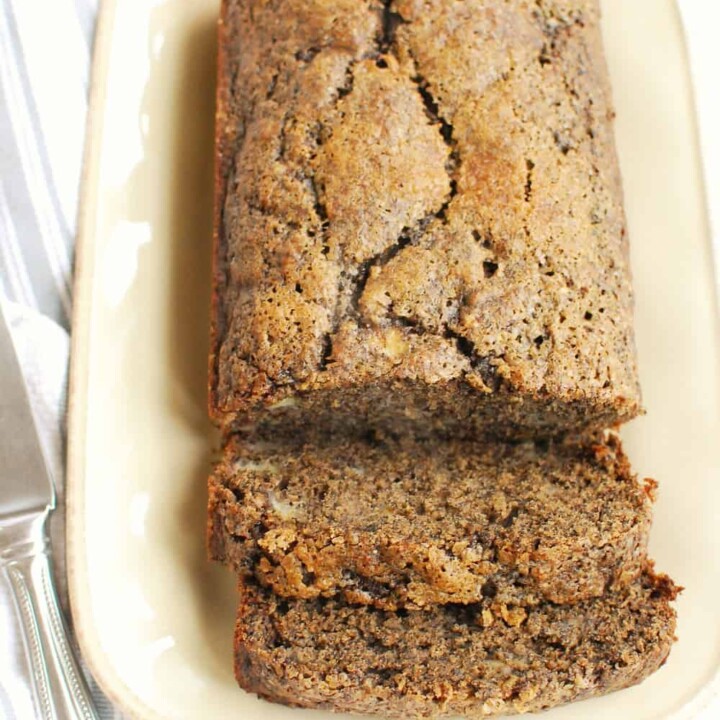 Buckwheat Banana Bread
This buckwheat banana bread is a hearty and delicious gluten free quick bread. 
Ingredients
3

overripe bananas

2

eggs

1/3

cup

butter, melted

1/3

cup

maple syrup

2

tbsp

unsweetened applesauce

1 ½

cups

buckwheat flour

1

tsp

baking powder

½

tsp

baking soda

½

tsp

salt

1

tsp

cinnamon

1

tbsp

turbinado sugar

(optional for sprinkling on top)
Instructions
Preheat the oven to 350 degrees F. Grease a loaf pan.

In a large bowl, mash the bananas. Whisk in the eggs, butter, maple syrup, and applesauce.

Add the buckwheat flour, baking powder, baking soda, salt, and cinnamon to the bowl. Stir until combined.

Pour the batter into the loaf pan. If desired, sprinkle the optional turbinado sugar over the top.

Bake at 350 degrees for 40-50 minutes, or until a knife pulls out clean from the center. Let cool for about 5-10 minutes in the pan, then flip it and continue to cool on a cooling rack or plate. Enjoy!
Notes
Nutrition analysis (approximate per serving): 245 calories, 10 g fat, 5.5 g saturated fat, 370 mg sodium, 37 g carbohydrate, 3.5 g fiber, 16 g sugar, 5 g protein, Vitamin D: 3%, Calcium: 7%, Iron: 7%, Potassium: 10%
Nutrition
Share: What's your favorite way to make banana bread?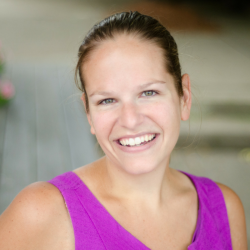 Latest posts by Chrissy Carroll
(see all)