Get a little nutty with this delicious pistachio banana bread! You'll get a double dose of pistachio flavor in this bread by using both shelled nuts and a quick homemade pistachio butter. Packed with healthy fats, whole grains, and protein, you'll love this recipe.
Ingredients
Here's what you'll need to make this recipe, and helpful notes about some of them:
Pistachios – You'll be using pistachios to make a homemade pistachio butter to mix into the batter, as well as shelled pistachios to fold into the batter whole. Because of the volume you're using, it's best to buy shelled pistachios for this recipe. It saves so much time compared to shelling every one individually! (PS – if you're looking for more pistachio recipes to use the rest of what you bought, try our pistachio pesto pizza).
Bananas – Overripe are best! Use bananas that have a lot of brown spots or even ones that are starting to turn black on the outside.
Eggs
Olive oil
Plain Greek yogurt – I prefer using nonfat, but any variety will do.
Honey – If you don't have honey on hand, maple syrup will also work.
Vanilla
Cinnamon
Whole wheat flour
Baking soda
Salt
Instructions
Full ingredient amount and instructions are found in the recipe card below, but here are some helpful tips and photos.
You're going to start by taking some of your pistachios and making a homemade pistachio butter.
This is actually super easy – you'll measure out a cup of shelled pistachios, and place those in a small food processor (or high powered blender designed for making nut butter).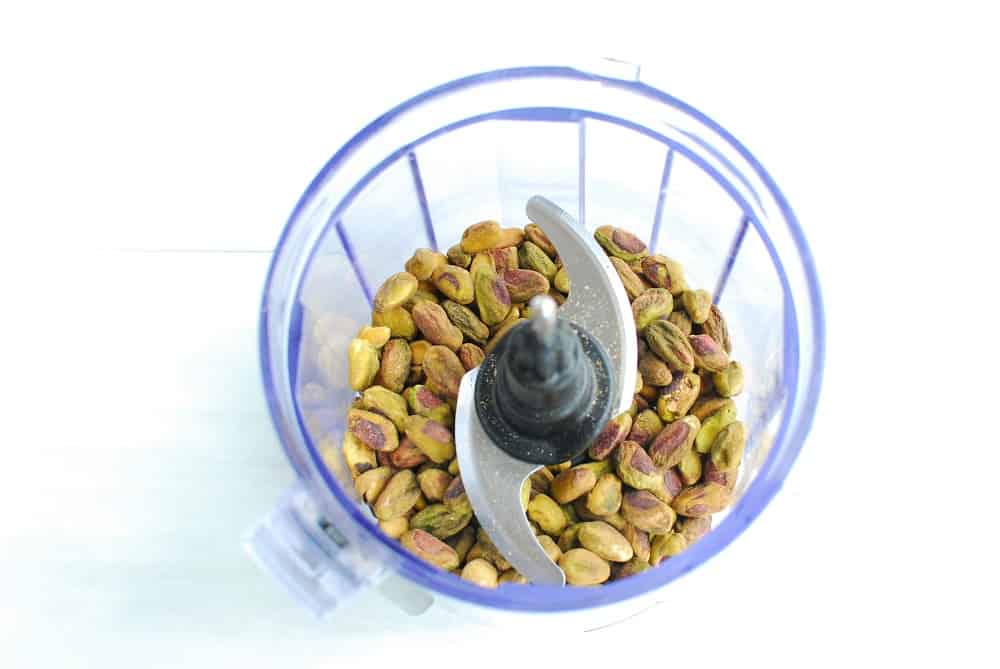 Process in 30-60 second intervals, scraping down the sides as needed, for about 4-5 minutes total. After that time, you'll get a smooth and delicious pistachio butter that looks like this: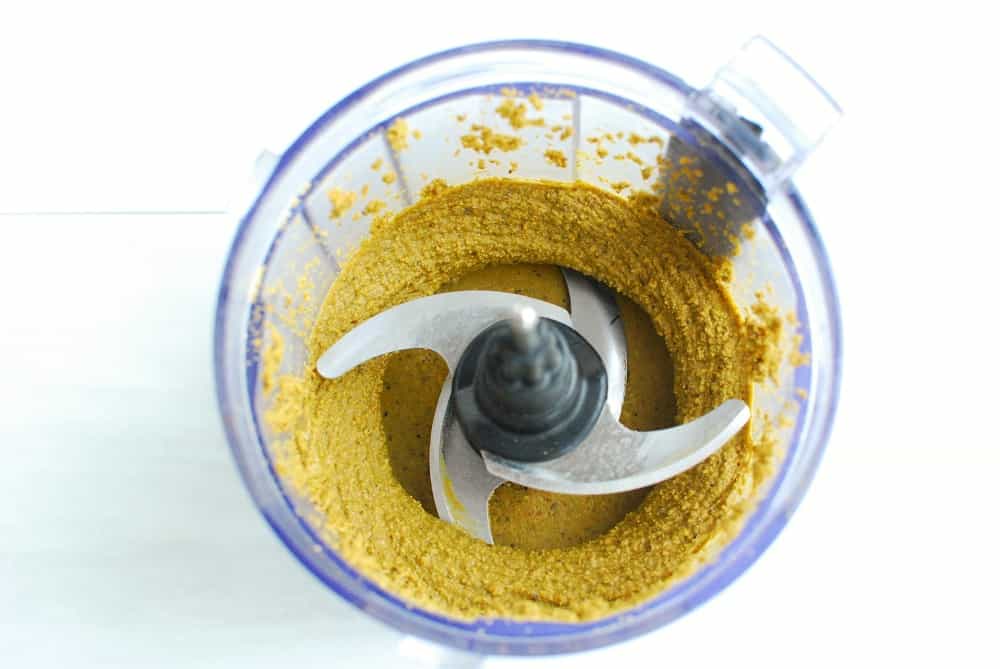 A full cup of shelled pistachios gives about half a cup of pistachio butter. If you don't feel like making this, you can substitute with store-bought pistachio butter, or even almond butter. But I recommend trying to make it if you've got the time!
Now that you've got that done, you'll combine that pistachio butter with all your liquid ingredients and whisk 'em together. Then you'll add in your dry ingredients, and fold in the rest of the shelled pistachios. The batter will look like this: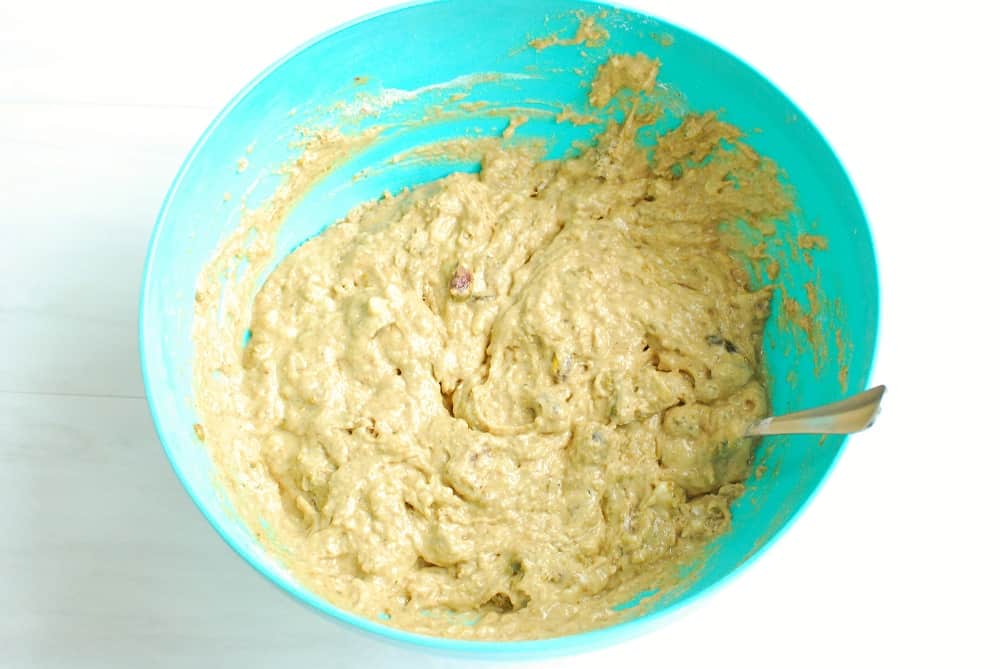 Now all that's left to do is pour it in a loaf pan and bake it up!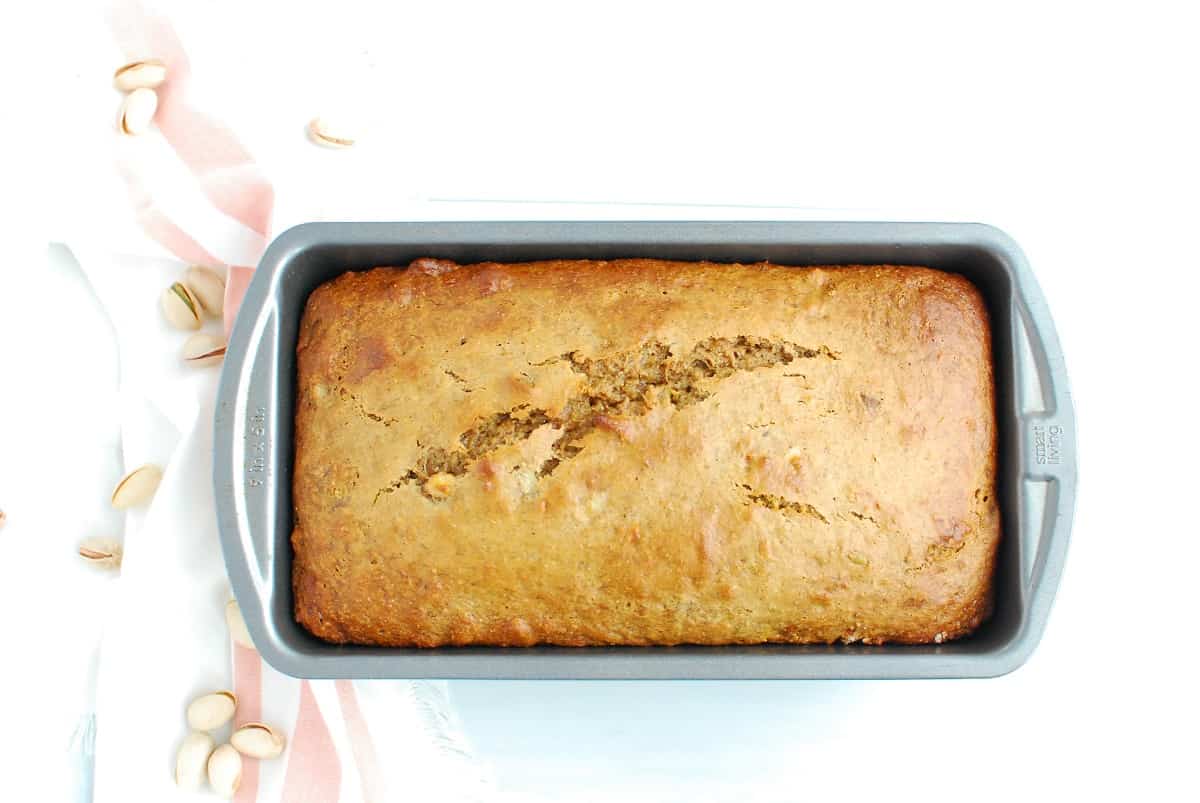 Recipe FAQ
Here are some common questions that may come up as you prepare this recipe.
How should you store this bread? After it cools, cover on a plate with plastic wrap or place in an airtight container, and leave at room temperature. It will stay fresh for 3 days. Avoid placing it in the fridge, as this can cause banana bread to dry out.
Can you freeze this? Yes. I recommend freezing in individual slices, so that you can pull one out and enjoy it whenever you're craving a slice. Wrap each slice very tightly in two layers of plastic wrap, then place all those in a zip top bag in the freezer. When ready to enjoy, unwrap a slice and microwave for about 30 seconds to defrost.
Can you add chocolate chips to this bread? Sure! A half cup of dark chocolate chips makes a delicious addition.
Nutrition benefits
As an RD, it's fun finding ways to make traditional quick bread recipes a smidge healthier. Here are three highlights with this pistachio banana bread recipe:
Uses whole wheat flour – While most banana bread recipes use white flour, I like using whole wheat flour as a way to add extra whole grains into the day. Whole grains have more fiber and minerals compared to refined flour.
Packs in pistachios – By making homemade pistachio butter, you can use that as the source of healthy fats, and help reduce the total amount of regular butter or oil that you'd normally use. And then in addition to the pistachio butter, there's also shelled pistachios throughout the bread adding healthy fats.
Includes Greek yogurt – Using plain nonfat Greek yogurt adds extra protein to this recipe, in addition to that which is in the pistachios. In fact, each slice of this bread packs in 8.5 grams of protein! (Yogurt also is a great way to keep quick breads tender.)
Between the carbs and protein in this recipe, it's a great option for snacking on after a run alongside a glass of milk!
What to serve on your banana bread
Don't get me wrong, this bread is delicious on it's own! But sometimes it's fun to also add toppings to your banana bread. Here's a few ideas:
Extra homemade pistachio butter
Other nut butters, like cashew butter
Sliced bananas and a drizzle of honey
Apple butter or peach butter
Also, as a heads up: try using leftover pistachio banana bread as a base for French toast! Just use it in place of any other bread for your favorite French toast recipe, cook it up in a buttery skillet, and serve with pure maple syrup. It is the best treat.
I hope you enjoy this recipe! If you get a chance to try it, I'd love for you to leave a recipe rating or comment below. And if you're looking for more banana bread recipes, please feel free to try our matcha banana bread or buckwheat banana bread.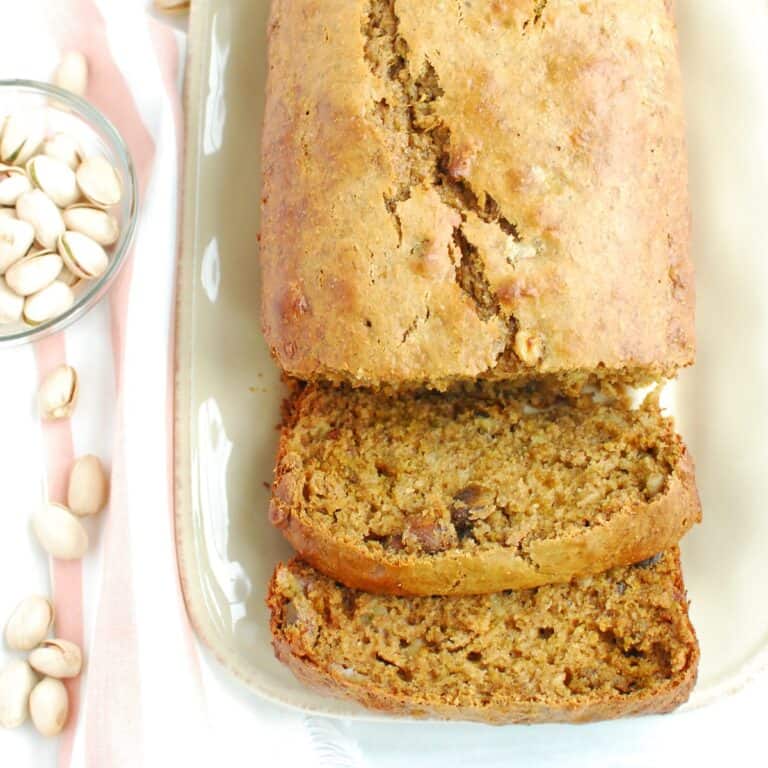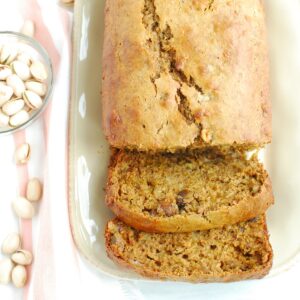 Pistachio Banana Bread
Get a little nutty with this pistachio banana bread, packed with healthy fats and protein!
Ingredients
1 ¾

cup

shelled pistachios, divided

3

medium ripe bananas, mashed

2

large eggs

2

tbsp

olive oil

⅔

cup

plain nonfat Greek yogurt

½

cup

honey

1

tsp

vanilla

1

tsp

cinnamon

1 ¾

cup

whole wheat flour

1

tsp

baking soda

½

tsp

salt
Instructions
Preheat oven to 325 degrees F. Grease a loaf pan.

Take 1 cup of the shelled pistachios and place in a small food processor. Process in 30-60 second increments, scraping down the sides as needed, until a smooth pistachio butter forms. It should take about 4-5 minutes of processing total.*

In a large bowl, combine the pistachio butter, mashed bananas, eggs, olive oil, yogurt, honey, vanilla, and cinnamon. Whisk until everything is well combined.

Add the flour, baking soda, and salt. Stir until just combined. Fold in the remaining ¾ cup shelled pistachios.

Pour the batter into the loaf pan. Bake at 325 degrees F on a middle rack for 55-65 minutes, or until a knife or toothpick pulls out clean from the center.

Let cool for 10 minutes in the pan, then flip onto a plate or cooling rack to finish cooling. Enjoy!
Notes
The homemade pistachio butter gives this bread great flavor and texture – but if you do not have a food processor to make this, you can substitute with ½ cup of store-bought pistachio butter or the same amount of almond butter instead.
Nutrition analysis (approximate per serving): 270 calories, 12 g fat, 1.5 g saturated fat, 285 mg sodium, 37 g carbohydrate, 4 g fiber, 18 g sugar, 8.5 g protein, Vitamin D: 1%, Calcium: 4%, Iron: 9%, Potassium: 8%
Nutrition
Share: What's your favorite kind of banana bread? If you tried this version, what did you think?
Feel free to pin this post to share with others! 🙂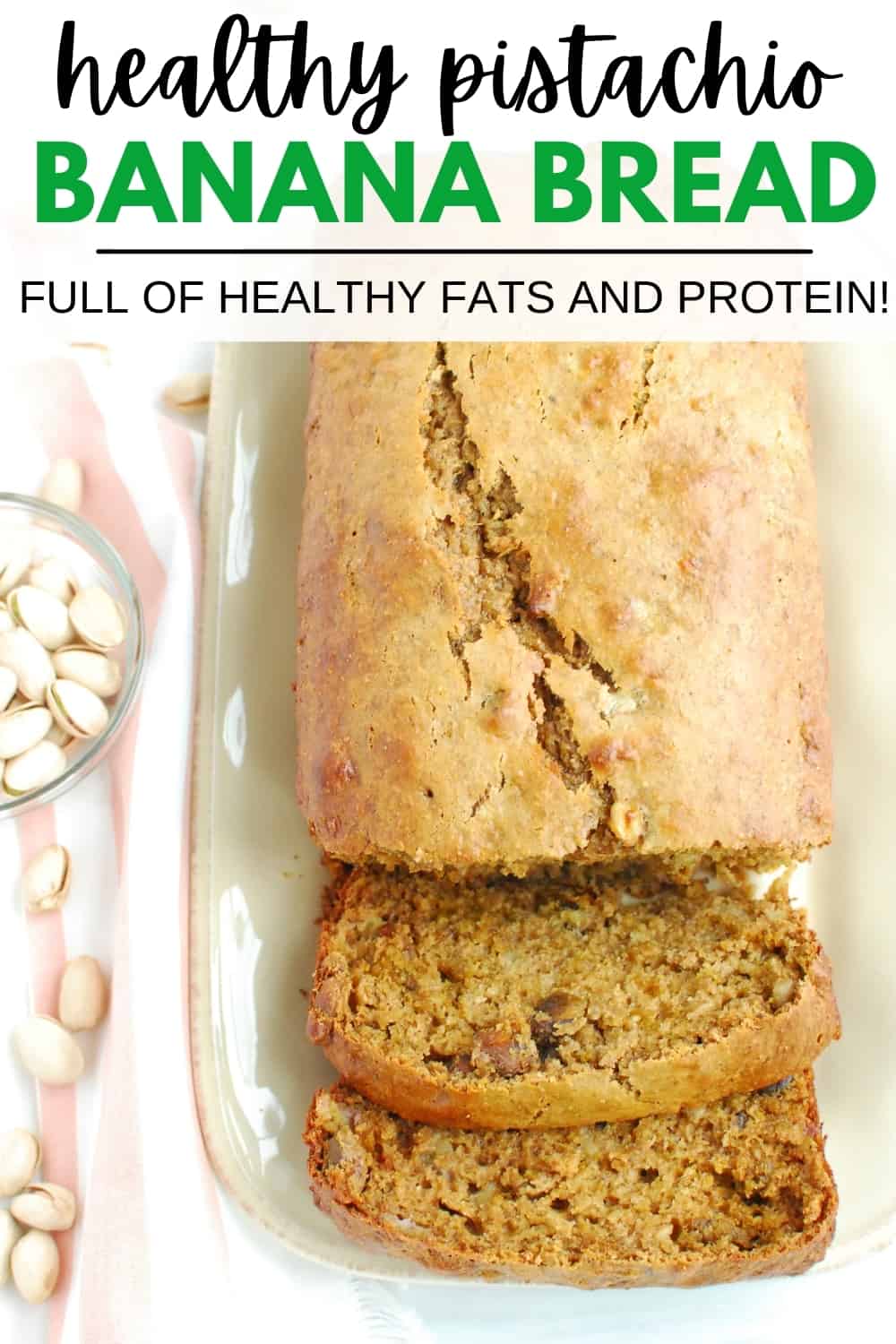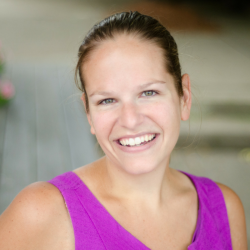 Latest posts by Chrissy Carroll
(see all)