Wondering what to do with some extra cranberries you've got lying around? Try cranberry chia jam! This lower sugar jam is delicious to mix with yogurt or spread on a biscuit. Plus, this small batch recipe is quick to make (less than 20 minutes).
Ingredients
In my opinion, the best part of this recipe is that you only need a few ingredients! Here's what you'll need: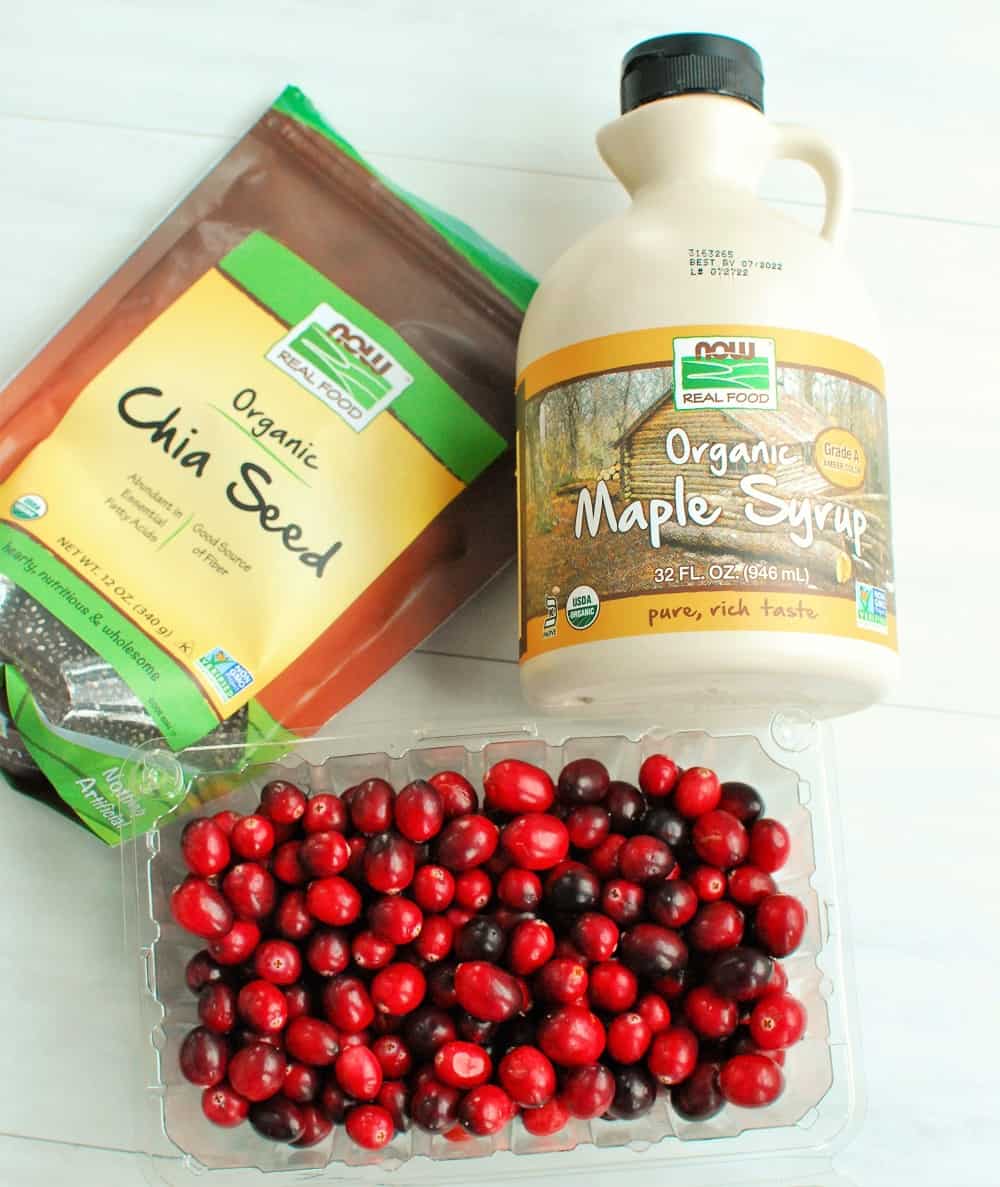 Cranberries – Fresh or frozen will work for this recipe. Up here in Massachusetts, we're lucky to have fresh, locally grown cranberries available in the fall and winter.  Since we get a lot in our winter CSA, I like to use them weekly to make this jam (and always save some fresh cranberries to use in cranberry jalapeno dip for parties!).
Water – Because cranberries aren't as juicy as other fruits that are usually used to make chia jam (like my strawberry chia jam recipe, for example) – you'll need to add some water to help get the right texture.
Pure maple syrup – Along the same lines, cranberries aren't nearly as sweet as other fruits. Adding maple syrup helps give this jam a tart-forward flavor with slight sweetness, which I find perfect!  You can always adjust the amount of maple syrup to your preferences in future batches, either making it more or less sweet.
Chia seeds – Do you remember those "cha-cha-cha-chia" commercials?! Yep, those same seeds that were used to sprout silly haired chia pets are now a popular food item.  The chia seeds help to thicken the jam, making it possible to create a delicious jam-like texture with far less sugar than traditional recipes.  Chia seeds are also a great source of healthy fats and fiber, making them an excellent addition to any meal or snack.
Step by Step Instructions
You'll find full recipe instructions and amounts at the bottom of the post in the recipe card, but here's a helpful overview.
To start, add the cranberries to the pot with the water and maple syrup. You're going to bring this to a simmer over medium-low heat, letting it cook until the cranberries are nice and soft.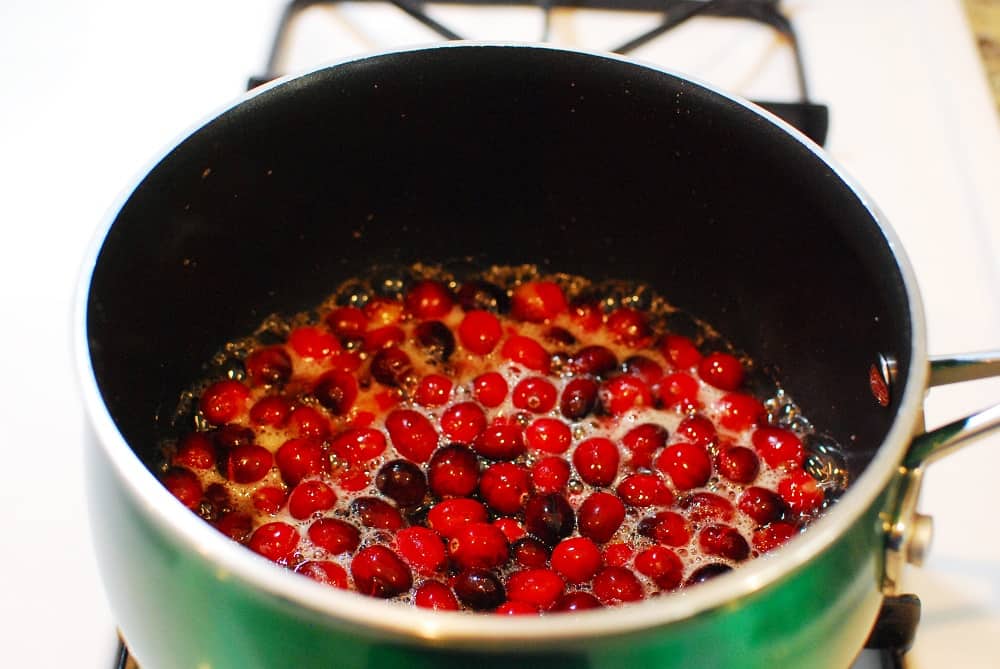 If at any point you feel like the mixture is cooking down too much, either a) lower the heat, or b) add a bit more water.
Once the cranberries are soft, remove them from the heat and mash 'em up! You can use a potato masher or the back of a fork. Be careful, as they will be quite hot at this point.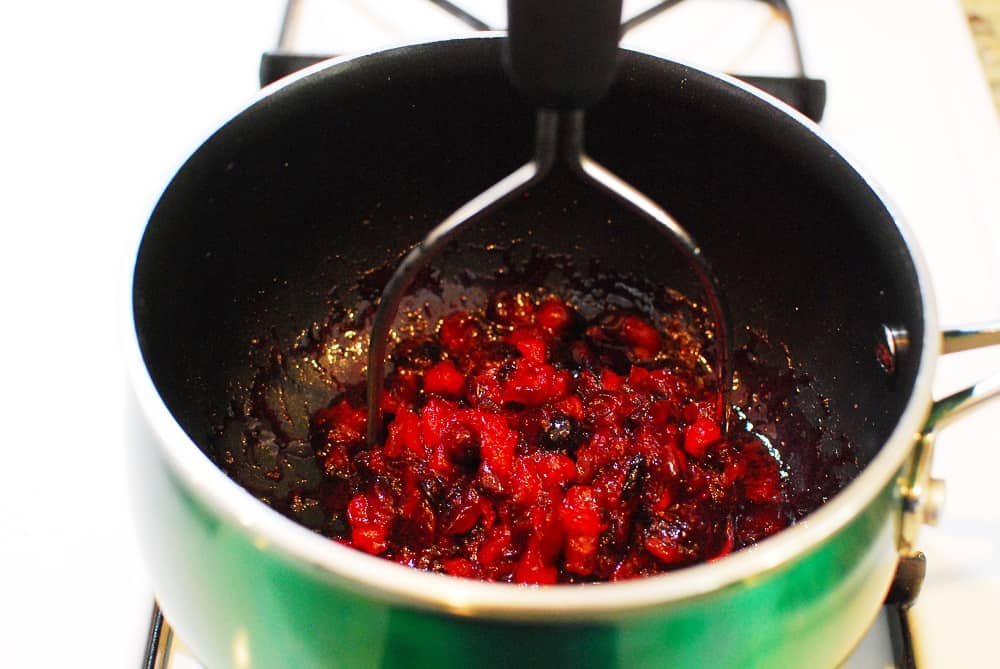 As soon as you're done mashing, stir in the chia seeds. You want to do this while the jam is still hot, as it'll give it the best final texture.
Now just wait a few minutes for it to cool down, then use as you please!
Recipe FAQ
Here are some common questions that may come up as you prepare this recipe:
Where can you find chia seeds?
Most grocery stores carry chia seeds these days, though it can be difficult to find the correct location.  Sometimes they're in the natural aisle/section, and other times they're in the baking section.  Occasionally you'll also find them where rice or quinoa are stocked.  You can also just buy them online if you can't find any locally!
How long does chia jam last?
Chia jam is a refrigerator jam and will last around 5 or so days in the fridge.
Can chia jam be frozen?
Yes.  While you can freeze the entire batch in a food storage container, it can also be beneficial to freeze in an ice cube tray, then transfer those to a zip-top bag once frozen.  This way, you can remove only as much as you need when you want some jam, rather than having to defrost the whole batch.
How much sugar is in this chia jam?
A 2-tablespoon serving of this jam contains just 7 grams of sugar – compared to 2 tablespoons of normal jam which clocks in around 20 grams or more.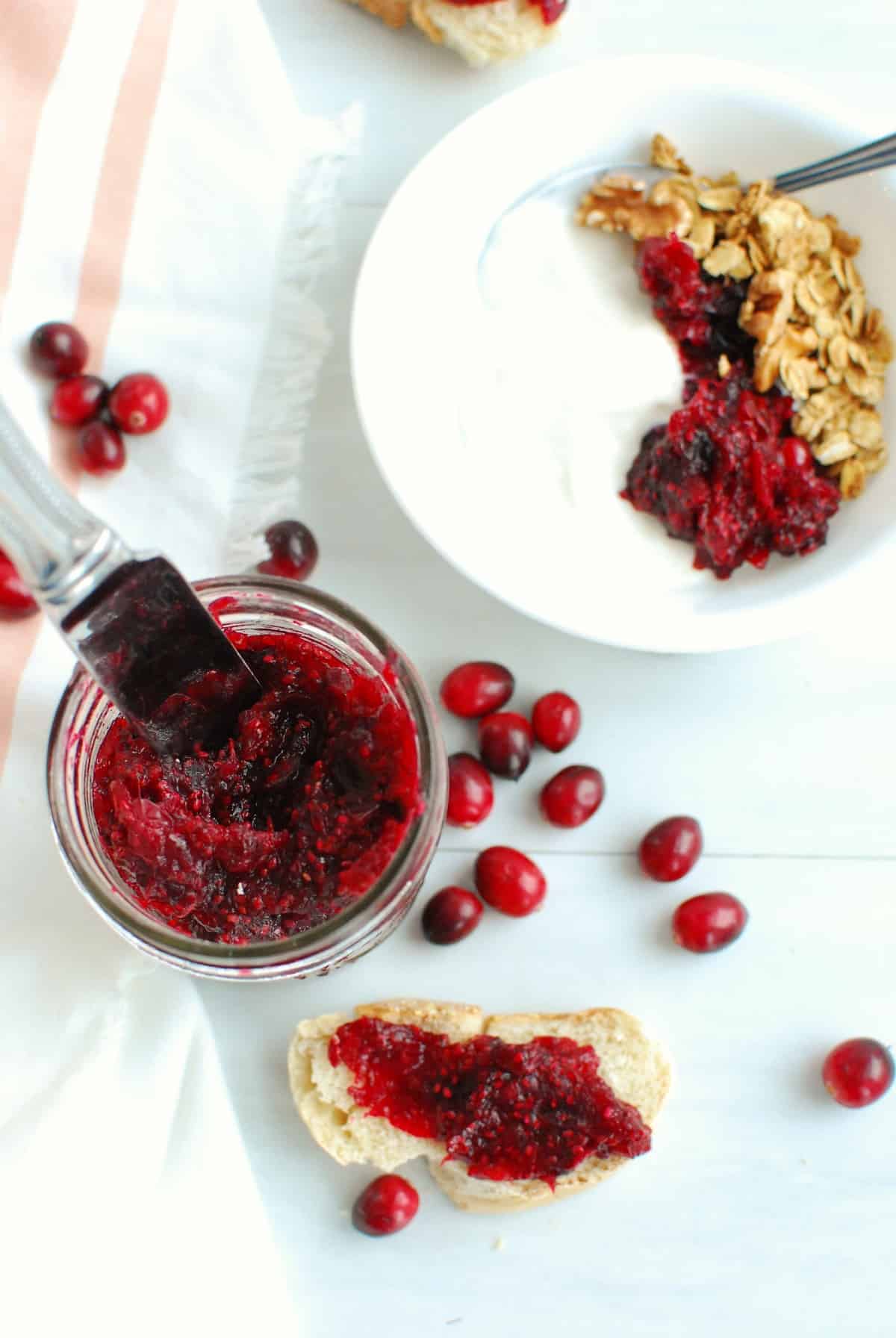 How to Serve
Here are some ideas for what you can do with this cranberry chia jam:
Make a yogurt parfait, layering plain Greek yogurt, cranberry chia jam, and lower-sugar granola. (This is my absolute fav, and makes an amazing post run snack!)
Spread it on a freshly baked shortcake biscuit.
Use it on a turkey sandwich (hello, Thanksgiving vibes!).
Spread it on a whole grain waffle, or on these high protein pancakes.
Spread it on some toast, and add a little ricotta on top.
Use it as the jam for thumbprint cookies.
And if you want to get really fancy – try making some homemade pop tarts and use this as the filling.
I hope you enjoy this recipe – if you get a chance to try it, please be sure to leave a recipe rating or comment below.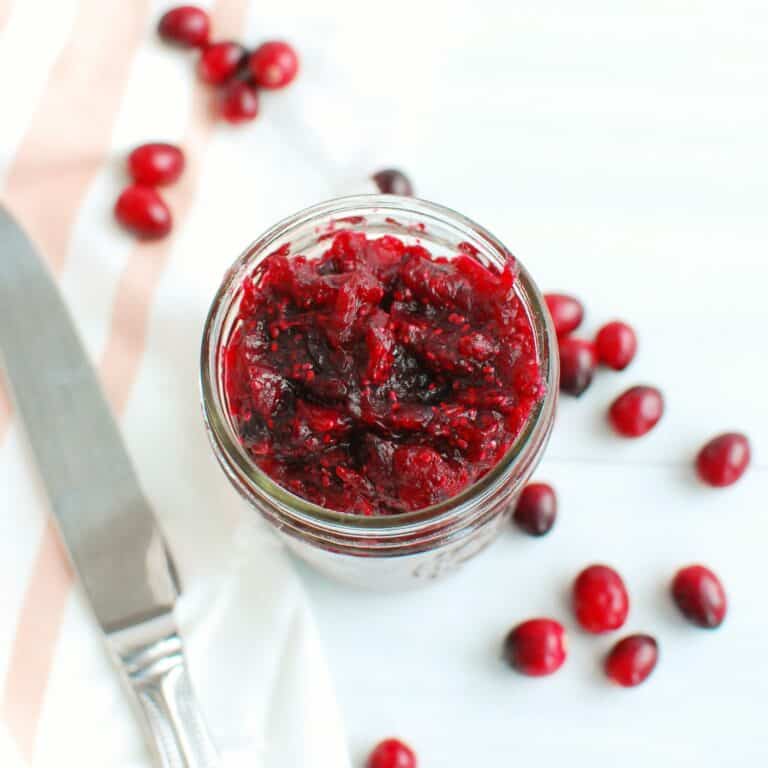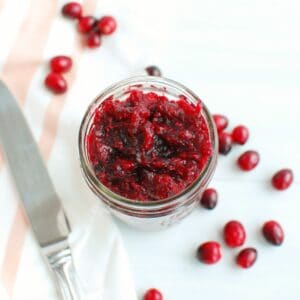 Cranberry Chia Jam
This cranberry chia jam is a low sugar option that tastes amazing!
Ingredients
2

cups

cranberries

(fresh or frozen)

⅓

cup

water

¼

cup

pure maple syrup

1

tbsp

chia seeds
Instructions
In a small pot over medium-low heat, combine the cranberries, water, and maple syrup. Cook for about 7 to 10 minutes, or until the cranberries are soft.

Remove from heat and mash the cranberries with a potato masher or the back of a fork.

Stir in the chia seeds and let cool for about 5 to 10 minutes. Enjoy!
Notes
This recipe makes approximately 1 cup of chia jam, or eight 2-tbsp servings.
Nutrition analysis (approximate per 2 tbsp serving): 43 calories, 0.5 g fat, 0 g saturated fat, 2 mg sodium, 10 g carbohydrate, 1.5 g fiber, 7 g sugar, 0.5 g protein, Vitamin D: 0%, Calcium: 2%, Iron: 2%, Potassium: 1%
Nutrition
Share: What's your favorite fruit to use when making chia jam?
Please feel free to pin this post to share with others! 🙂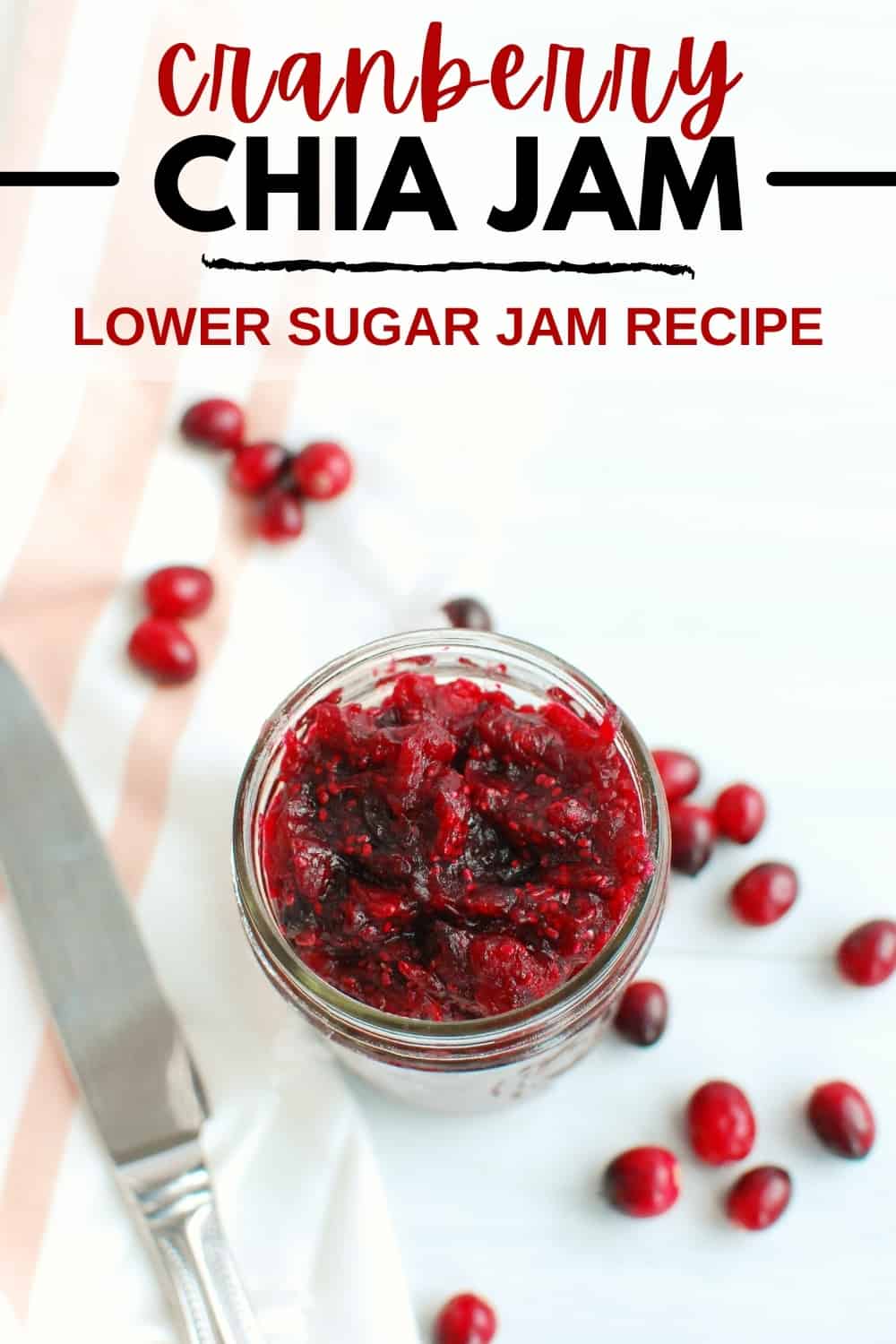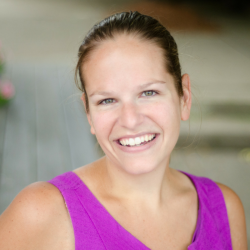 Latest posts by Chrissy Carroll
(see all)