Want a protein-rich breakfast that tastes amazing? Try these cottage cheese protein pancakes!
Protein may be a nutrition buzzword, but in reality most people meet their protein needs each day. There is some room for improvement in two areas though:
Spacing protein intake throughout the day, as protein helps with satiety and keeps you feeling full longer. Most people have a very small amount of protein at breakfast, a moderate amount at lunch, and a lot at dinner. Just shifting that a bit to get more protein at breakfast and some snacking options might help for overall health, fullness, weight balance, and more.
Eating protein within 30-60 minutes after a tough or long workout to help promote muscle repair and recovery.
These pancakes can check off both those boxes – they work wonderfully for a protein rich-breakfast, and when combined with the apple topping, they make a bomb post-workout meal.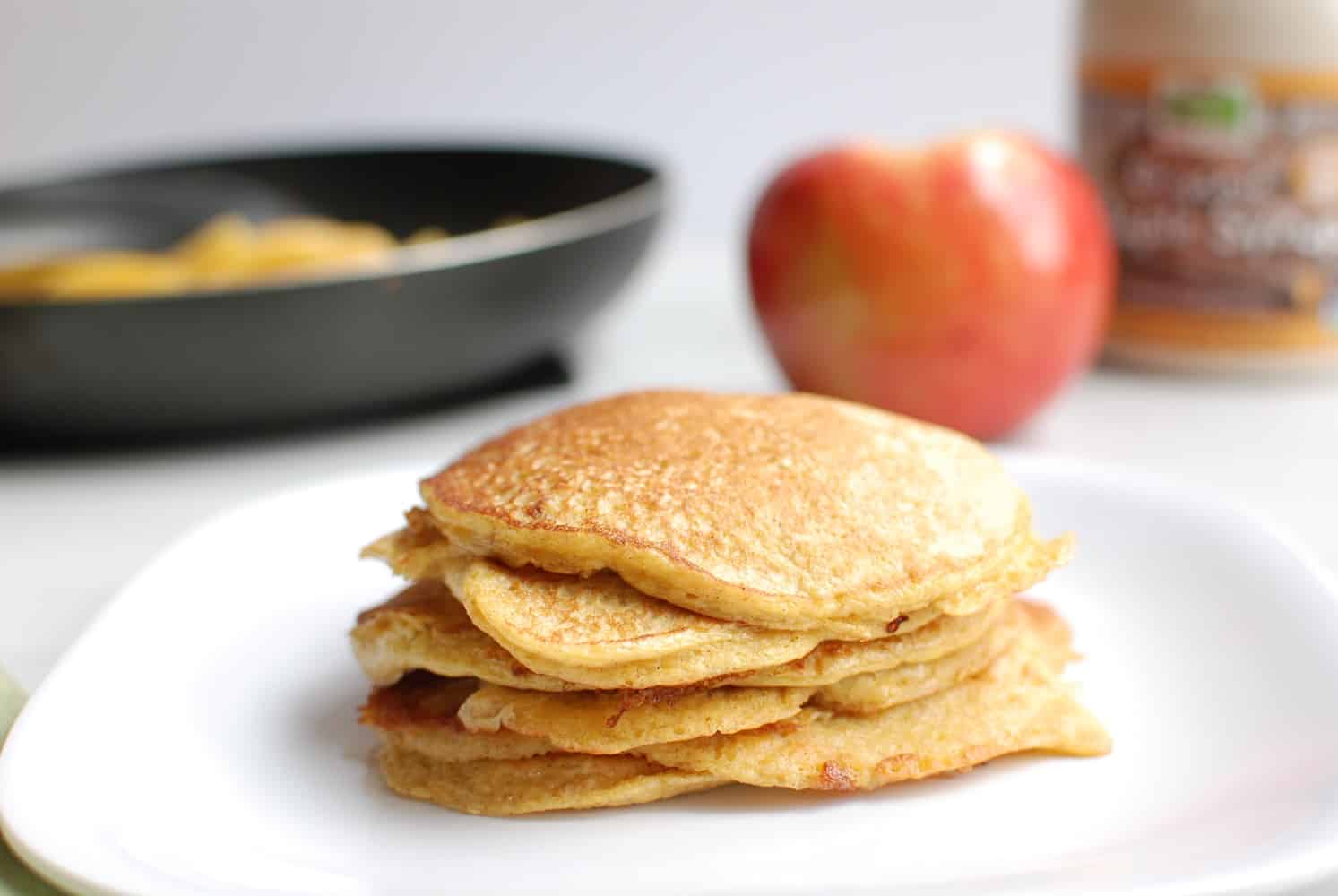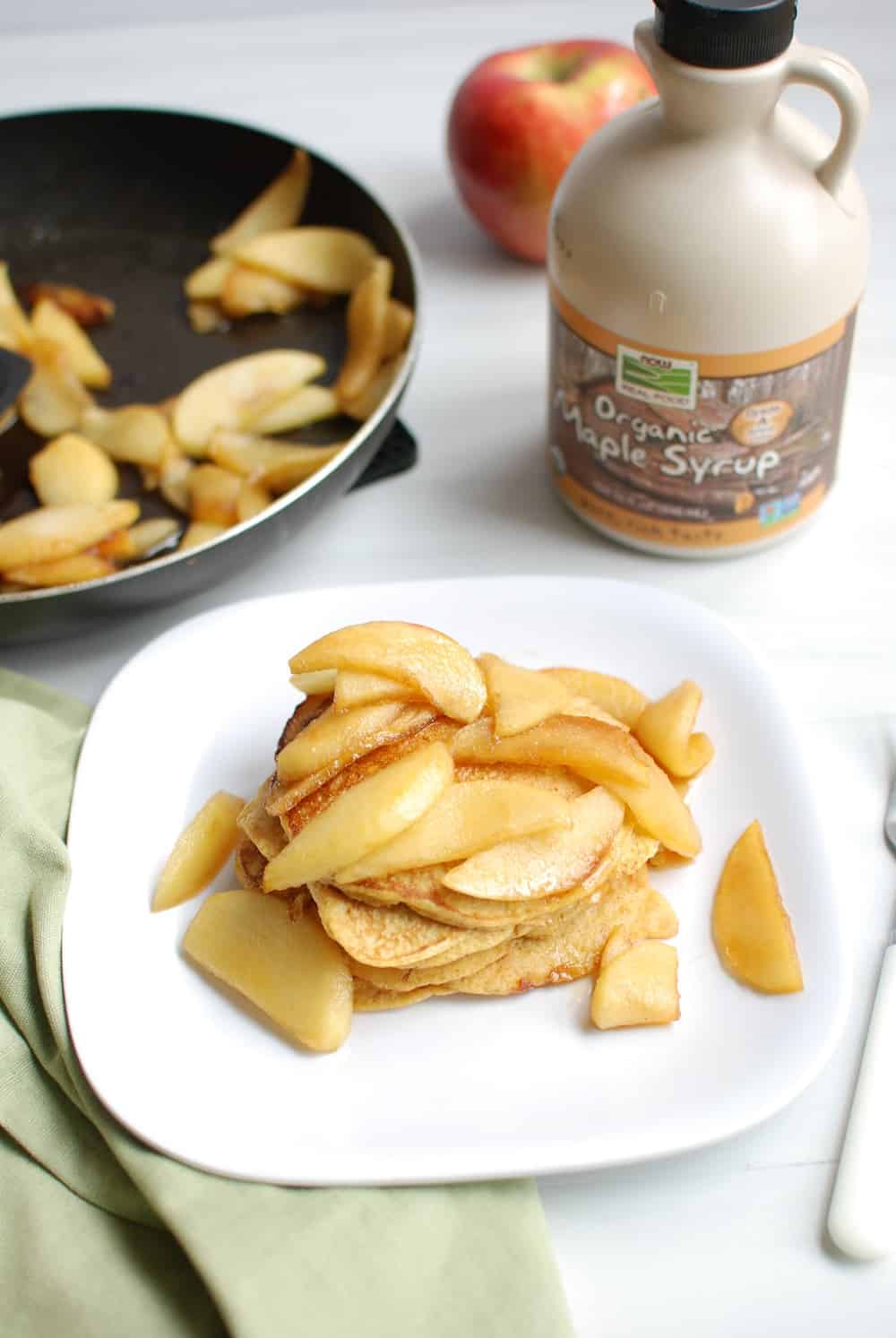 While traditional pancakes are more carb-heavy, these protein pancakes pack in 19 grams of protein per serving. The "secret" ingredients? Eggs and cottage cheese!
Most of you are probably familiar with adding eggs to pancake batter, but in this case you're going to use quite a few extra ones to boost the protein (and Vitamin D content, thanks to those yolks).
Cottage cheese is also an amazing source of protein. But many people – myself included – aren't huge cottage cheese fans as a solo snack with fruit. When you blend it into a dish though? It's marvelous! It blends right into these pancakes and you can't even taste it. (If you want a savory way to use cottage cheese, check out this Texas style lasagna).
[Tweet "The secret ingredient in these protein pancakes? Cottage cheese!"]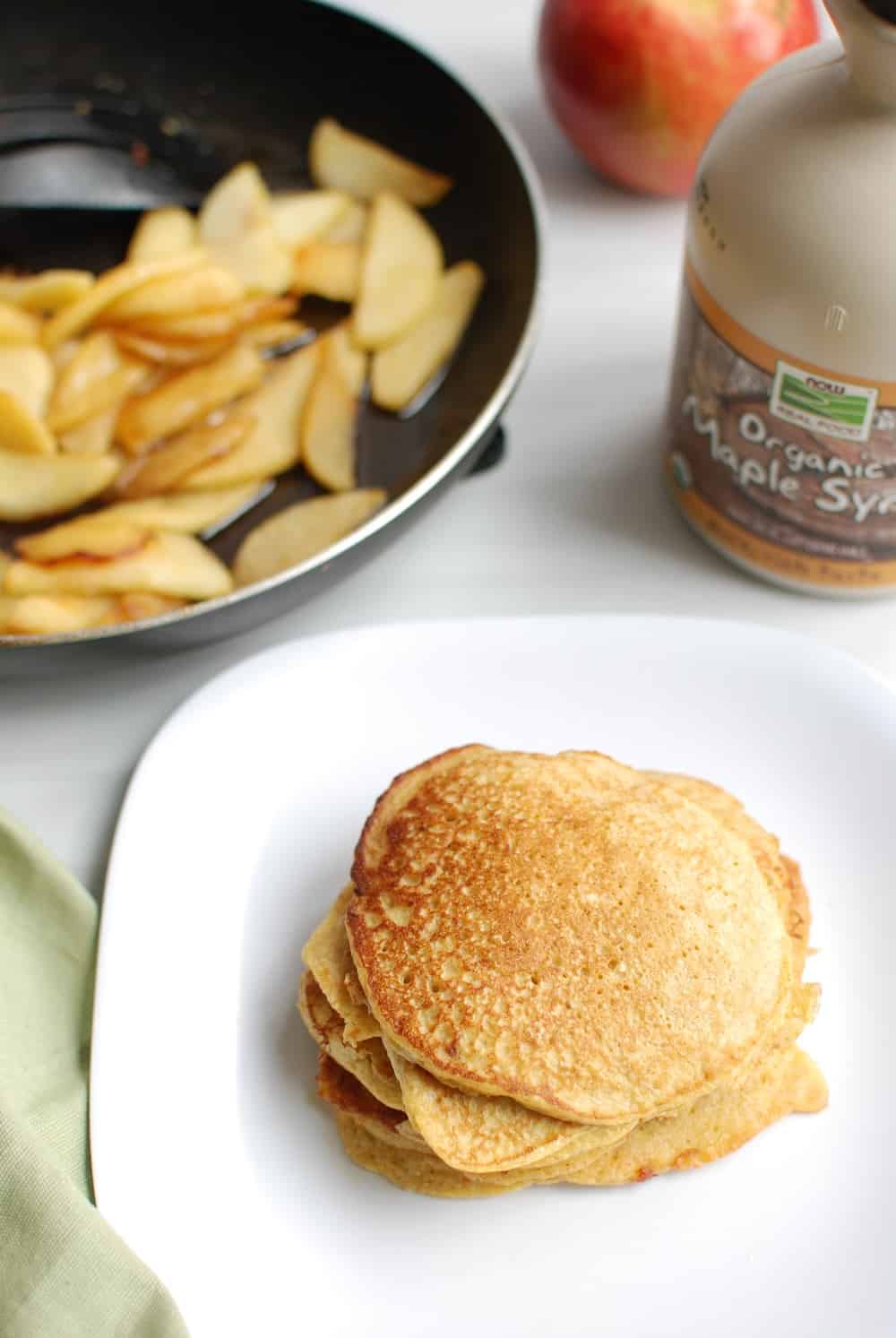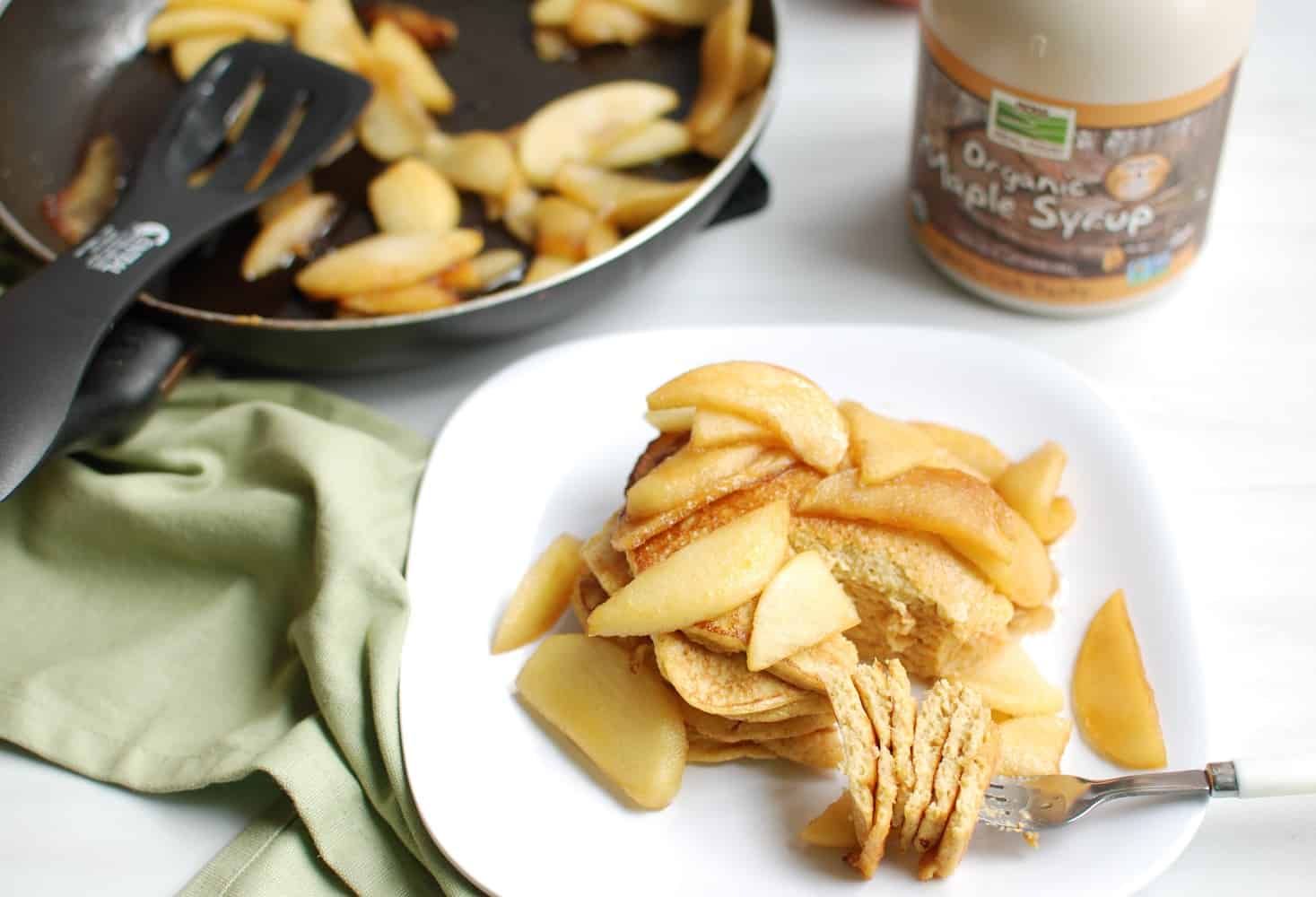 And a bonus here: these bad boys are incredibly easy to make. First, you're going to grab a cup of oats and toss 'em in a blender. I like a single serve blender because the clean up is easy, but you can use a regular size blender too. The goal is to grind the oats down a bit so they become more like a course flour than full rolled oats. (Don't skip this step – the texture will be off if you do).
After that, you just add the eggs, cottage cheese, vanilla, and cinnamon to the blender along with the oats. Blend it up for a few seconds until you have a nice uniform batter, and then cook 'em like you would normal pancakes.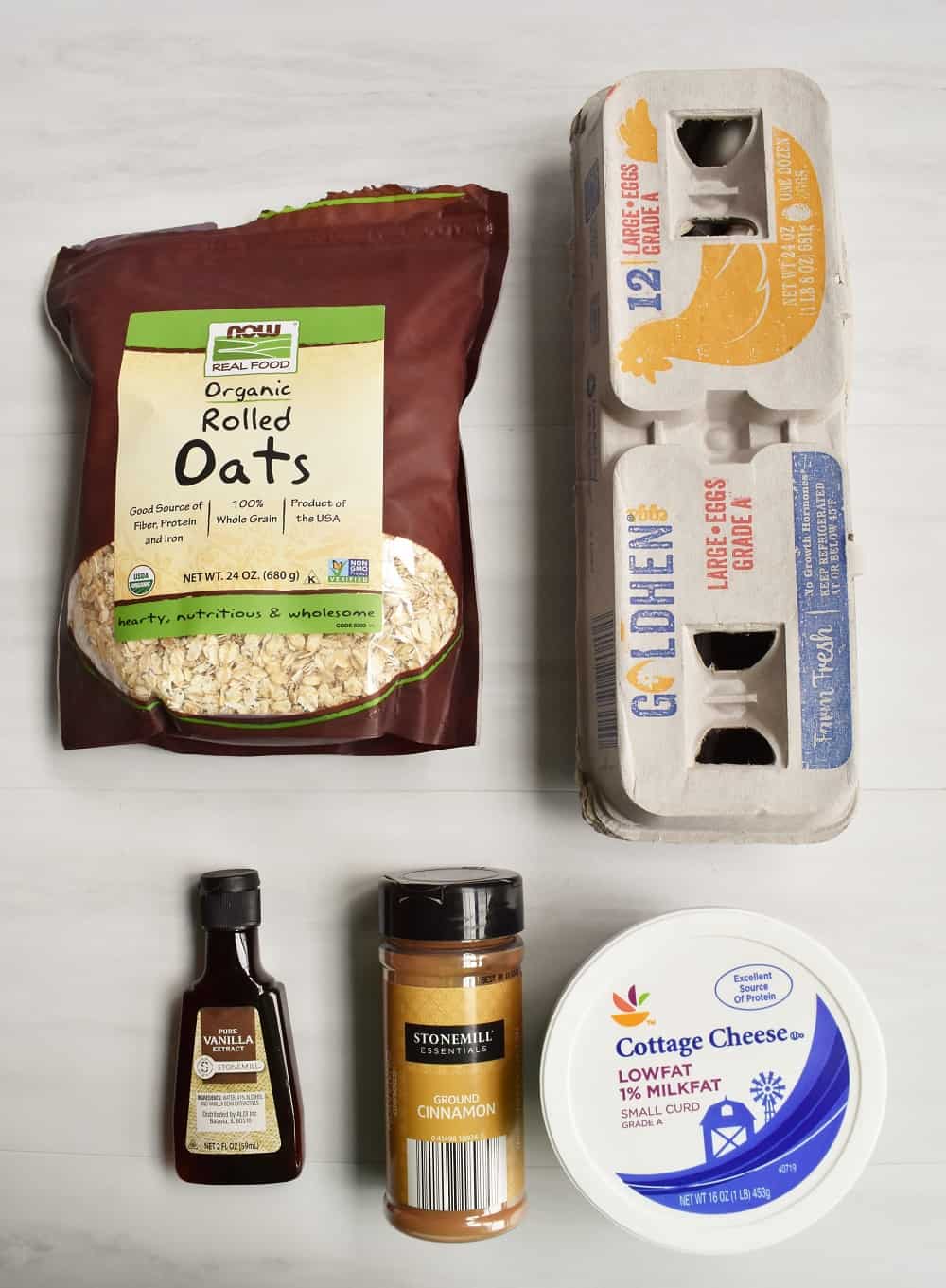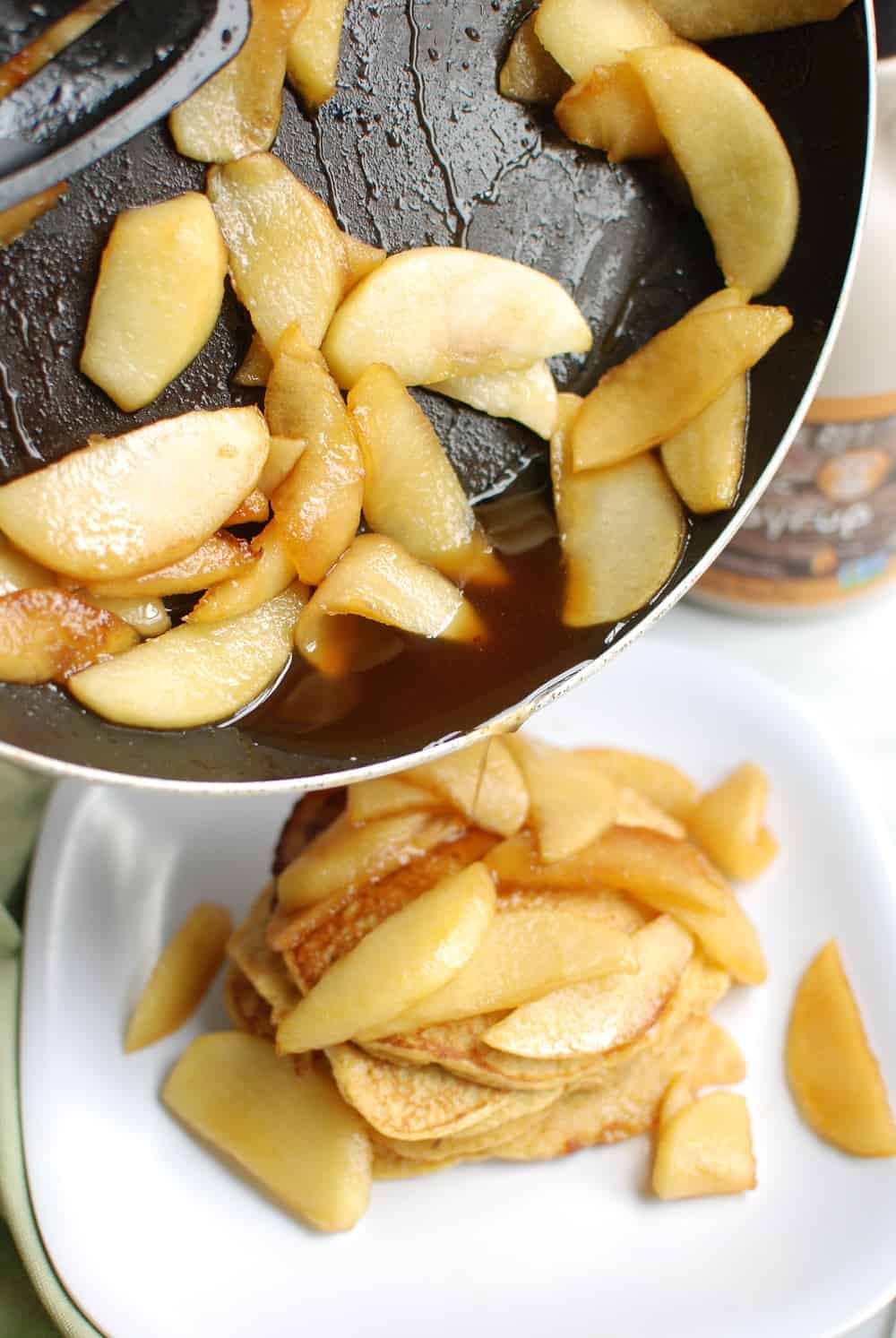 As a heads up, the batter and pancakes will be thinner than normal pancakes – they won't be quite as fluffy. But they still taste ah-mazing!
You can serve them with pure maple syrup – or I personally love a sautéed apple topping as shown. Any way you want to serve these, you're treating your body to a protein-rich dish that's just delish.
Give 'em a try and let me know how you like them. And if you need more protein-rich breakfast options, don't forget to check out these 19 ideas.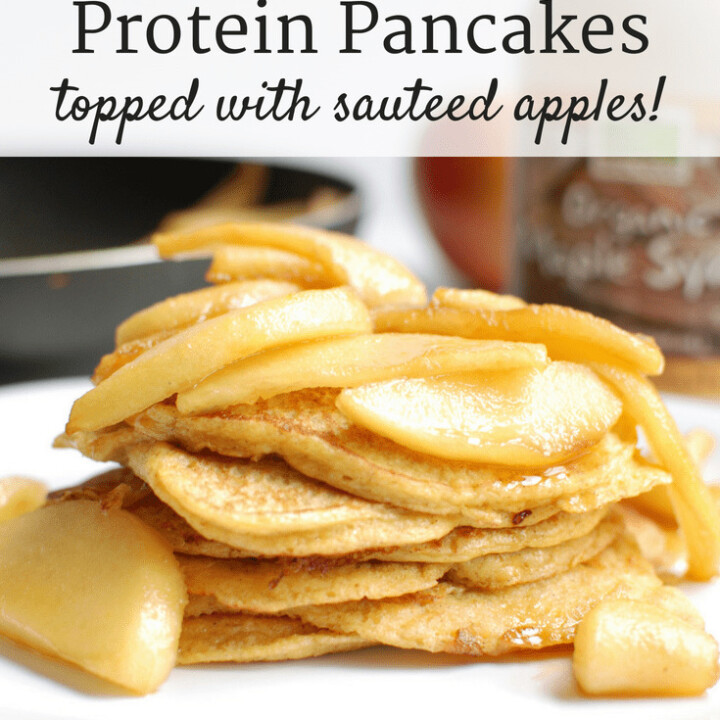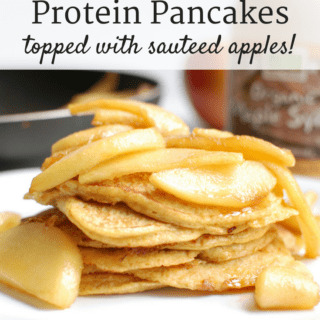 Cottage Cheese Protein Pancakes
Looking for a way to add protein to your breakfast? Try these cottage cheese protein pancakes! Perfect for a healthy breakfast or a recovery meal after a workout.
Ingredients
For the cottage cheese pancakes
1

cup

rolled oats

6

eggs

1

cup

cottage cheese

1/2

tsp

vanilla

1/2

tsp

cinnamon

1

tbsp

butter
For apple topping (optional):
1

tbsp

butter

2

large apples

peeled and sliced

1/4

cup

brown sugar
Instructions
For the pancakes:
Place the oats in a blender. Pulse a few times until the oats become a rough flour-like consistency.

Add the eggs, cottage cheese, vanilla, and cinnamon to the blender. Turn the blender on for about 10-20 seconds, or until everything is well combined.

Place 1 tsp butter in a large skillet and melt over medium heat. Pour the batter into small pancakes in the skillet. Note that the batter and pancakes will be relatively thin – that's normal for this recipe. Cook for approximately 2 minutes, then flip and continue cooking an additional minute.

Remove the cooked pancakes with a spatula and set aside on a plate. Prepare the skillet for the second batch by heating with another 1 tsp butter. Repeat the process with the remaining batter until all pancakes are cooked. Enjoy your pancakes with the apple topping below, pure maple syrup, or any preferred topping.
For the optional apple topping:
Melt butter in a large skillet over medium heat. Add apples and cook for 5 minutes, stirring occasionally.

Add brown sugar, reduce heat to low, and continue to cook for an additional 5 minutes, until the apples are soft. Serve on top of pancakes.
Notes
Notes:
This recipe should make about 16 small pancakes, for 4 servings of 4 pancakes each. Depending on the exact size of your eggs, it may make slightly more or less.
I usually use a large single serve blender cup for this recipe. If you only have a large traditional blender, you make need to add the oats to a food processor first to attain the correct flour-like consistency – then add that and all the other ingredients to your blender.
Nutrition analysis for cottage cheese protein pancakes (per serving of 4 pancakes):
253 calories, 12 g fat, 5 g sat fat, 16.5 g carbohydrate, 2 g fiber, 2.5 g sugar, 19 protein, Vitamin A: 10%, Vitamin C: 0%, Calcium: 9%, Iron: 13%
Nutrition analysis for optional apple topping (per serving – assumes 4 servings):
116 calories, 3 g fat, 2 g sat fat, 24 g carbohydrate, 21 g sugar, 0.5 g protein, Vitamin A: 2%, Vitamin C: 5%, Calcium: 2%, Iron: 1%
Nutrition
Share with me: What's your favorite way to get protein in at breakfast? Have you ever tried cottage cheese protein pancakes?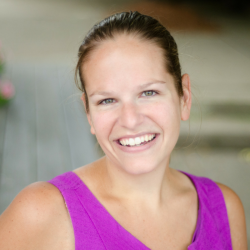 Latest posts by Chrissy Carroll
(see all)