No need to wait an hour for lasagna to bake in the oven with this skillet lasagna recipe! This easy lasagna for one is quick to throw together on the stovetop, and uses just a few simple ingredients. If you have any extra cooked chicken or beef on hand, you can toss that in here – but it's plenty delicious as written for a vegetarian option.
Try this easy athlete-friendly single-serve meal whenever you want a tasty lunch or dinner option and you're just cooking for yourself!
How to Make Skillet Lasagna
This recipe is so simple to make, which is why I know many of you will be a fan. Here's what you need:
Pasta sauce
Water
Lasagna noodles
Spinach
Cottage cheese
Mozzarella cheese
Now, before I go on – if you are not a fan of cottage cheese, don't skip over this recipe yet! I do not personally enjoy eating plain cottage cheese by the spoonful, but I do enjoy it in savory recipes like this (or my Texas lasagna). It adds a creaminess, richness, and saltiness to the dish.
Once you've gathered up your ingredients, you'll add your pasta sauce, water, and lasagna noodles to the skillet. Bring that to a boil and let it cook for about 15 minutes. If for some reason all the water gets absorbed, feel free to add a little more water and pasta sauce as needed.
Then once the noodles are tender, you'll mix in your spinach and cheeses for a few minutes. Now, enjoy!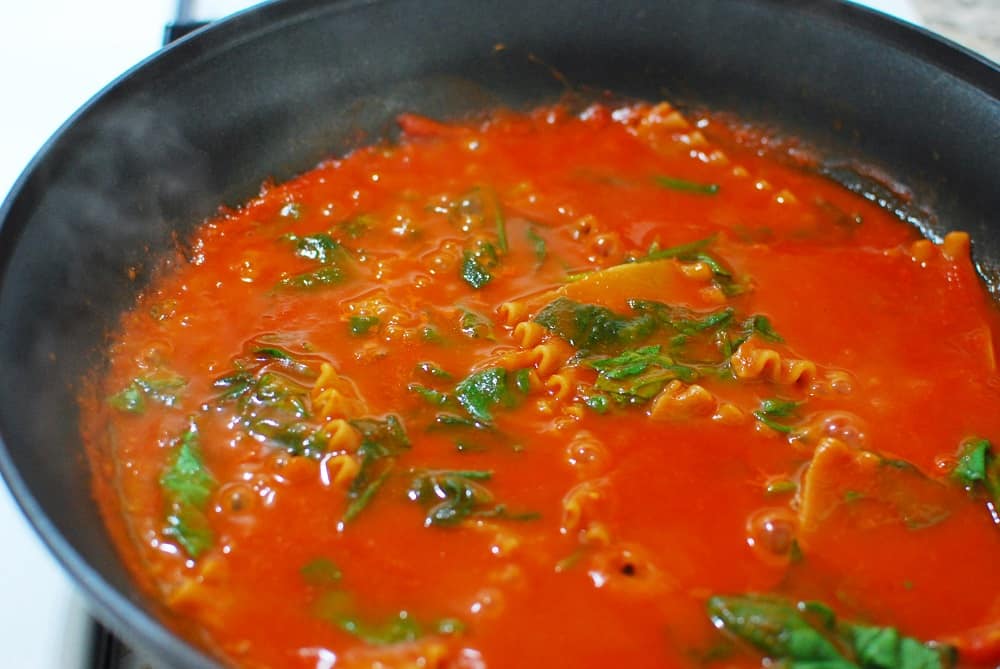 Why I Love This Meal for Active Folks
Who doesn't love a good pasta meal?! For real, though, this single serving lasagna is a great example of how to include a nutritious pasta meal in your diet. Here's a few highlights:
It uses whole grain noodles, which have more fiber and phytochemicals compared to refined grains.
The cottage cheese in the recipe boosts the protein intake. This recipe has 24 grams of protein, which is a good amount for a vegetarian meal.
You'll add quite a bit of spinach to this dish to boost your leafy greens intake and add some extra antioxidants to this dish.
It's got a nice blend of carbohydrates and protein to help replenish energy stores and help the muscle repair and recovery process.
One note – this meal is a bit high in sodium, but for active folks that are losing sodium regularly in sweat, I don't worry about this as much. However, if you have any medical conditions where you need to limit sodium, feel free to choose a low-sodium pasta sauce.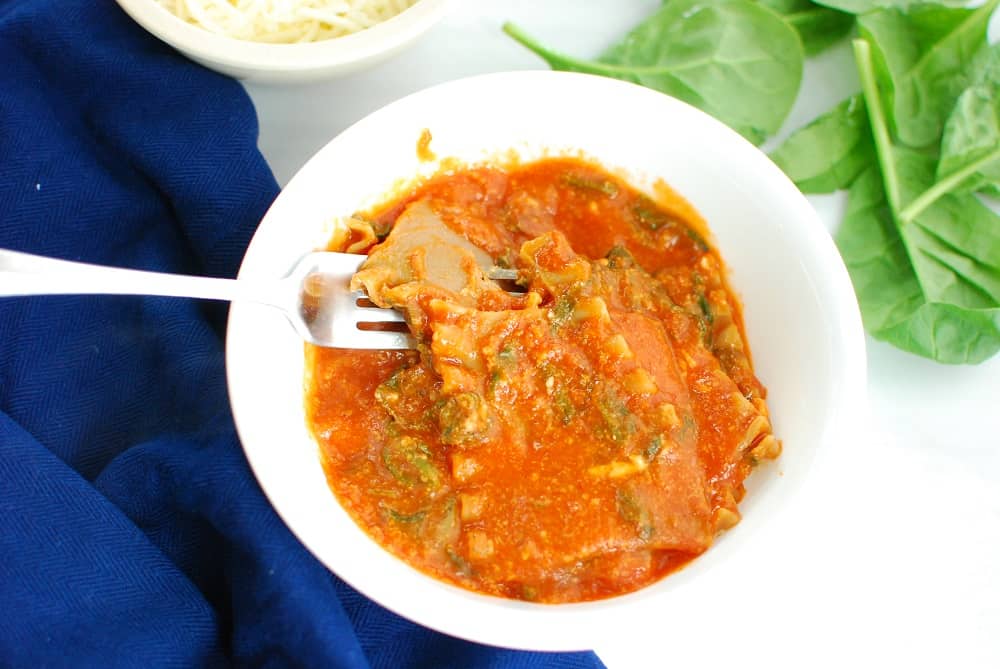 Sides to Serve With This
This dish is balanced enough to eat on its own as a complete meal! But if you want to make a side for yourself to go along with it to bulk up the meal, try one of these options:
Grab some steam-bags of frozen vegetables. These are easy to toss in the microwave as you're making the skillet lasagna.
Create a side salad. You can make it with whatever vegetables you have in the fridge, or you can buy those salad kits where everything is in it for you. (A Caesar salad kit would pair great with this).
Spiralize a zucchini and toss it in a pan with olive oil and garlic for a few minutes. If you want, you can toss it with a little parmesan.
Slice cucumbers, tomatoes, and red onions and toss them with a little olive oil, vinegar, a sprinkle of sugar and salt. Yum!
Have a little antipasti board alongside the lasagna, with some sliced meats and olives.
Sauté a few brussels sprouts, asparagus, or green beans. I personally love sautéed green beans with lemon pepper seasoning.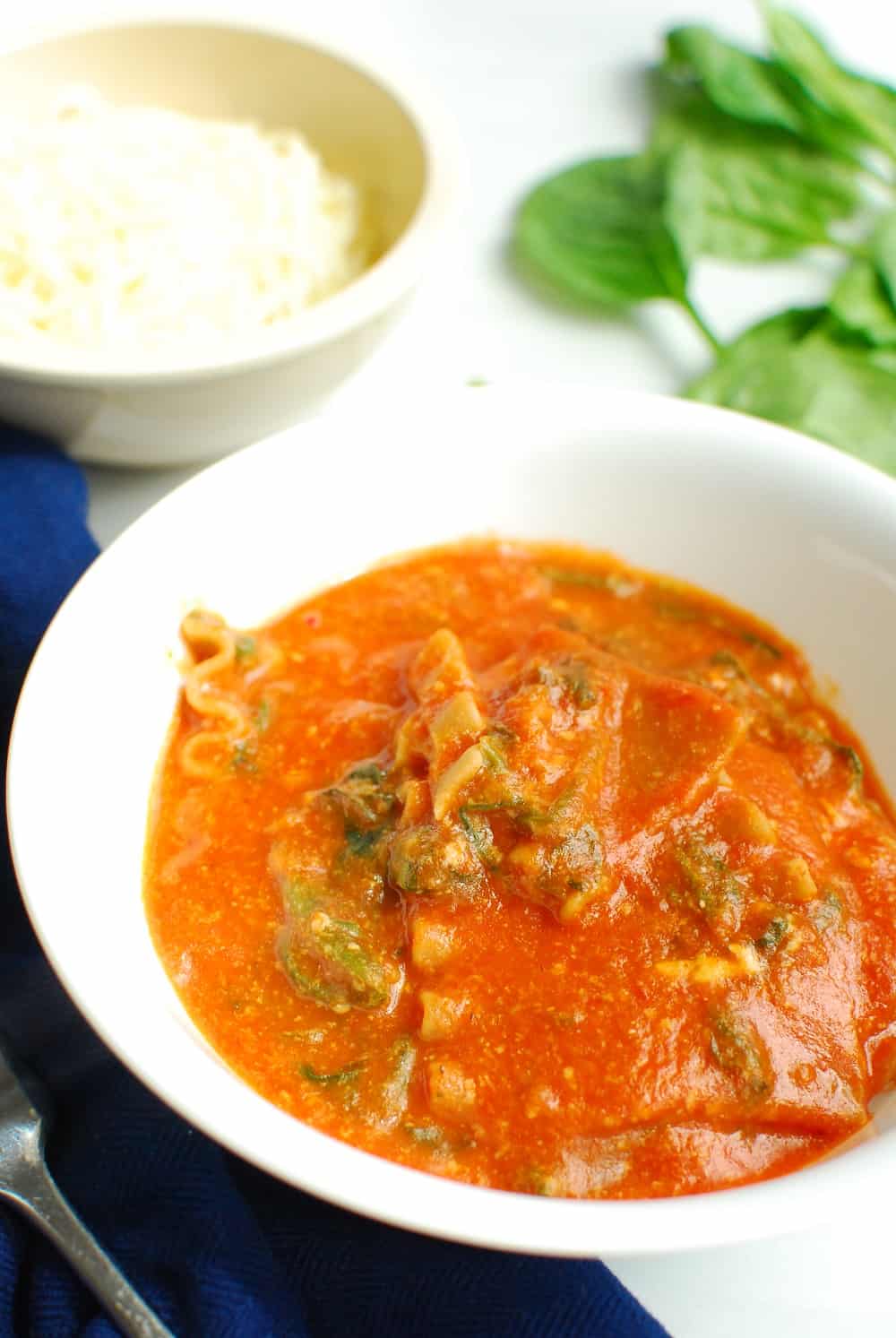 I hope you enjoy this lasagna for one! If you get a chance to try it, be sure to let me know your thoughts in a comment or recipe rating below.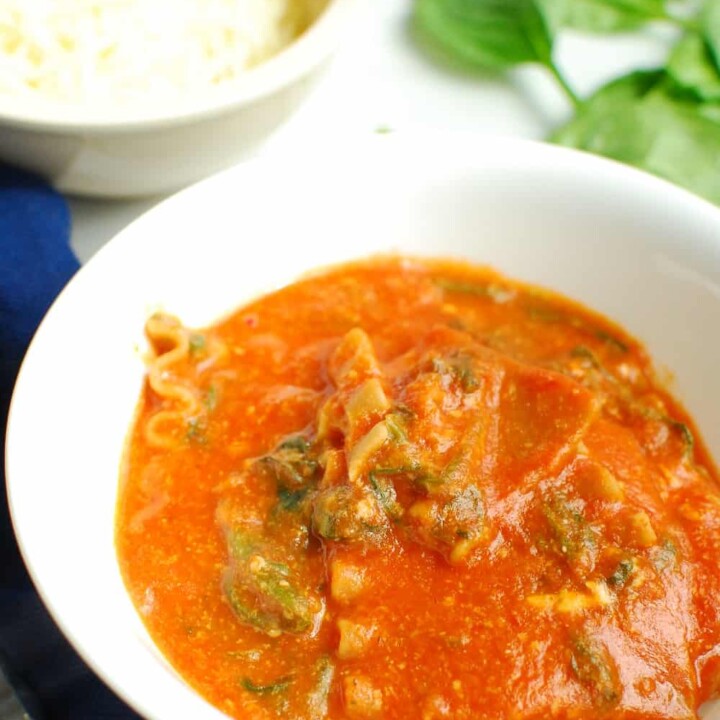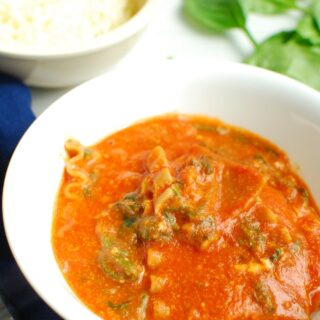 Skillet Lasagna for One
No need to wait an hour for lasagna with this skillet recipe! This lasagna for one is easy to make and perfect when you're cooking for just one person.
Ingredients
2/3

cup

jarred pasta sauce

1 2/3

cup

water

2

whole wheat lasagna noodles, broken in several smaller pieces

1 1/2

cups

spinach, chopped

1/4

cup

1% cottage cheese

1/4

cup

part-skim mozzarella cheese
Instructions
Place the pasta sauce and water in a medium size skillet over medium heat. Break the lasagna noodles into smaller pieces (about 2 inches each) and place them in the sauce. Make sure everything is covered.

Bring mixture to a boil then reduce to a simmer. Keep an eye on it as it's cooking and add more sauce/water if needed. Let cook for about 15 minutes, or until noodles are tender.

Stir in chopped spinach, cottage cheese, and mozzarella cheese. Cook for another 2-3 minutes, until spinach is wilted and the mozzarella cheese has melted. Enjoy!
Notes
Nutrition analysis (approximate): 390 calories, 11 g fat, 4 g saturated fat, 1225 mg sodium, 51 g carbohydrate, 8.5 g fiber, 11.5 g sugar, 24 g protein, Vitamin A: 111%, Vitamin C: 27%, Calcium: 34%, Iron: 25%
Nutrition
Share: What's your favorite easy meal for one? If you tried this skillet lasagna for one, what did you think?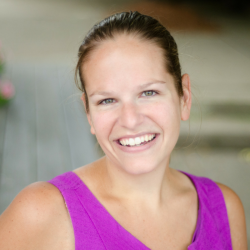 Latest posts by Chrissy Carroll
(see all)