Craving a delicious pizza recipe that also packs in some good nutrition? Look no further than this pistachio pesto pizza. This recipe makes four personal size pizzas that are rich, cheesy, and delicious. And bonus – it's got 26 grams of protein, plus heart-healthy nuts and two different veggies!
Disclosure: This post is sponsored by American Pistachio Growers. As always, all opinions are my own.
Why Pistachios?
Pistachios may be small, but they pack a mighty nutritional punch! Here are a few highlights on why I love including pistachios in my meals (like this pizza):
Good source of protein – Each ounce of pistachios provides 6 grams of protein, or about 10% of the daily value (note that if you're an athlete, your protein needs are higher). Protein helps support muscle repair and recovery.
Complete protein – As a bonus, recent research suggests that pistachios contain all the essential amino acids, making them a complete protein. Most complete proteins are animal foods, so it's nice to have pistachios as one of a few complete plant-based options.
Support a healthy immune system – While most of us know that Vitamin-C rich foods help to support the immune system, there are also many other nutrients involved – and pistachios contain a quite a few. For example, pistachios have protein, zinc, and B vitamins, all of which are involved in immunity.
Good for your heart – Pistachios contain healthy fats, as well as antioxidants like lutein, zeaxanthin, and Vitamin E – all of which support heart health. In fact, the FDA allows the following qualified health claim for pistachios: "Scientific evidence suggests, but does not prove, that eating 1.5 ounces per day of most nuts, such as pistachios, as part of a diet low in saturated fat and cholesterol may reduce the risk of heart disease."
Easy, on-the-go snack – While I'm using them in a recipe today, pistachios are also great as a simple satiating snack. The protein and fat help you to stay full, so you're not reaching for another snack 20 minutes later. Grab a piece of fruit and a handful of pistachios for an easy portable snack that is perfect after a short sweat sesh.
(You can learn even more about pistachios and nutrition here.)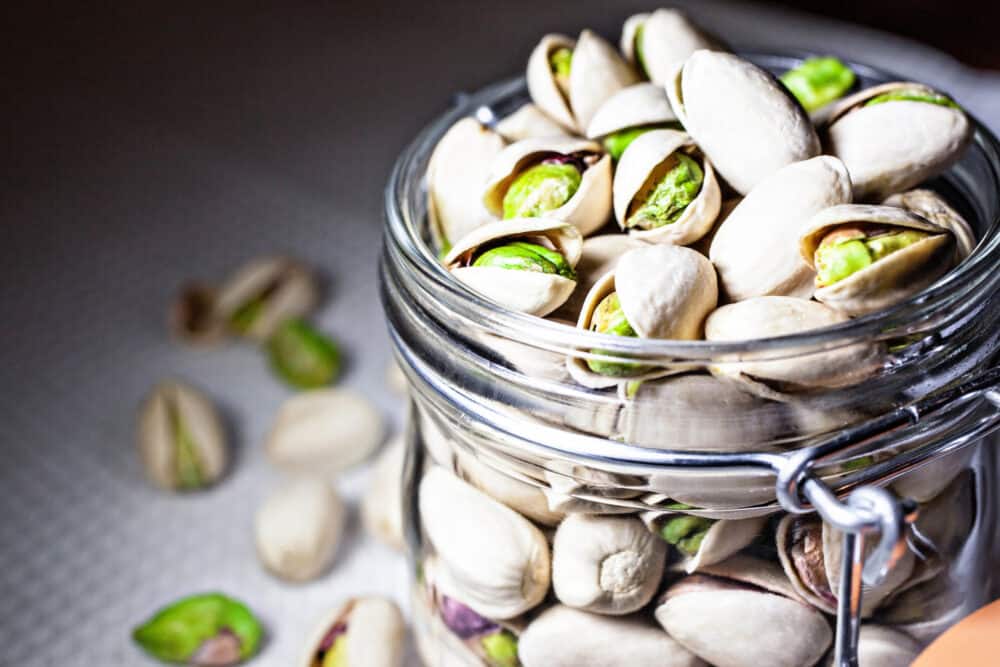 Ingredient Notes
Now that you know all about the benefits of pistachios, let's get cooking! Here's what you'll need to make this pistachio pesto pizza recipe, and some notes about each:
For the pistachio pesto:
Pistachios – Our star of the show today!
Kale – Using leafy greens like kale offers a different flavor profile for the pesto while boosting your leafy green intake.
Garlic – Key to any good spread, garlic offers a ton of flavor.
Parmesan – This adds a subtle saltiness along with hints of nutty, buttery flavor.
Lemon juice – The acid in lemon juice helps round out the flavor of the pesto and helps the other ingredients shine.
Olive oil – Helps the recipe come together into a spreadable topping.
For the crust:
Self-rising flour – This is flour that already has baking powder and salt mixed in.
Garlic powder – Adds extra flavor in the dough itself. You can also get creative with other seasonings here if you'd like!
Plain non-fat Greek yogurt – Adds the moisture for the dough to come together – as well as quite a bit of protein.
For the toppings:
Broccoli – With fiber, Vitamin C, and Vitamin K, broccoli is a great choice to add to boost your veggie intake for the day.
Mozzarella cheese – We can't have pizza without mozzarella, am I right?!
Step by Step Instructions
You'll find the full step by step instructions in the recipe card, but here's some helpful tips and photos for each step.
You're going to start by making your pistachio pesto. Add all the ingredients for the pesto into a small food processor (small ones work best for this!).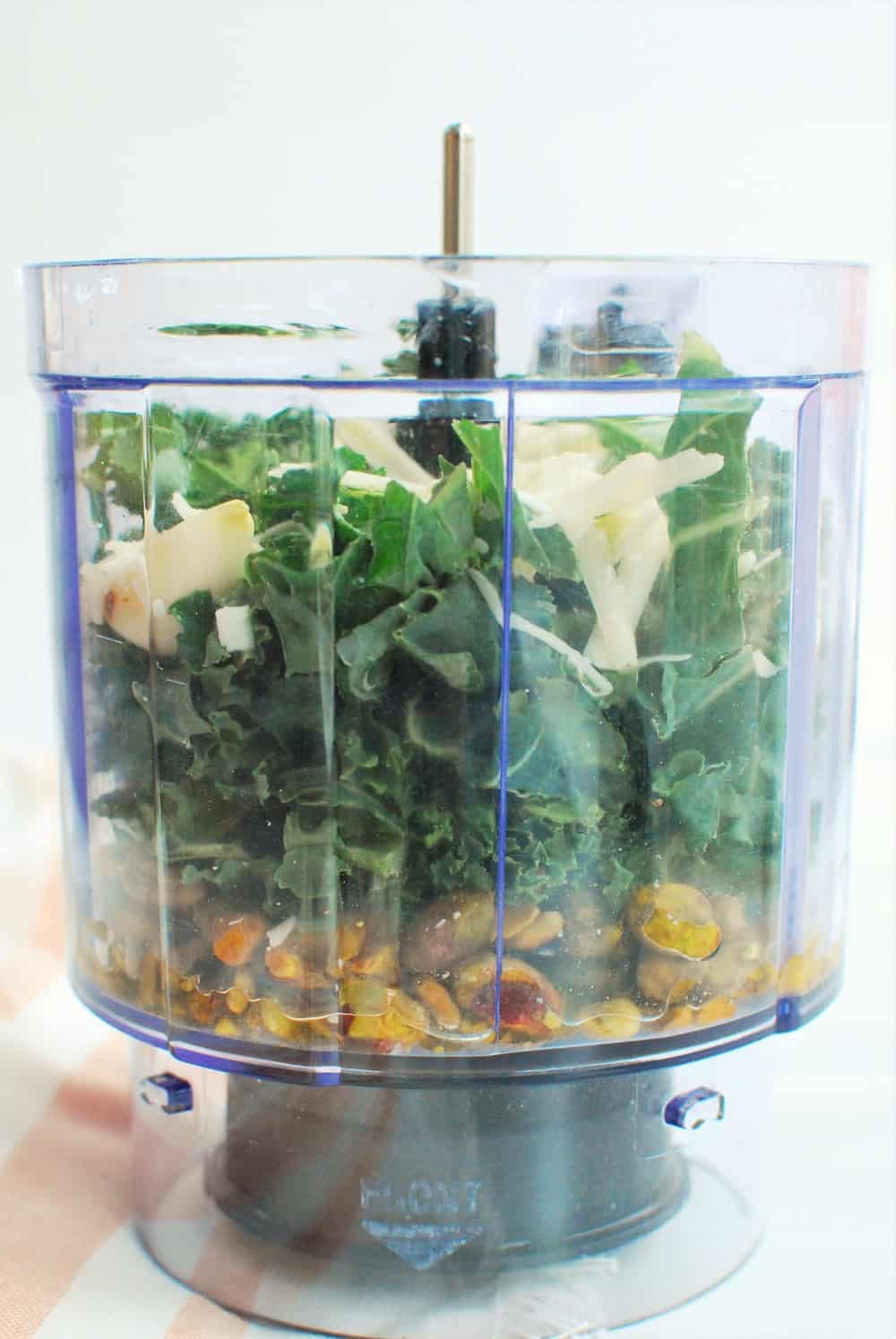 Then just process for a minute or so, scraping down the sides as needed, until everything is well-combined like this: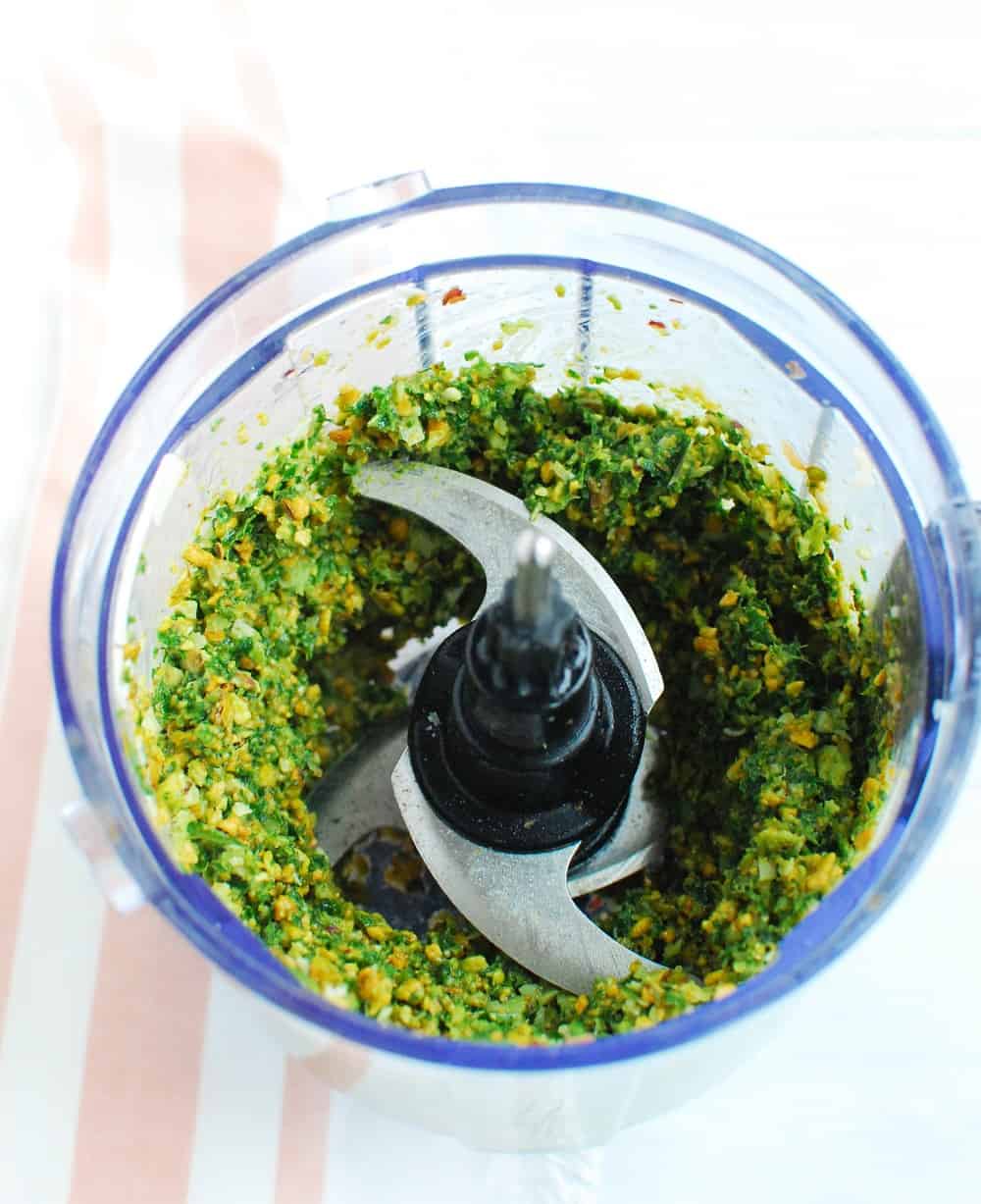 As a heads up, this pesto doesn't have to be perfectly smooth – I actually like leaving a bit of texture in there. It will also be much thicker than other pesto recipes, because a thicker pesto works best on the type of pizza dough we're using.
Next, set that aside and get working on your dough. For this pizza, we're making an easy 3-ingredient Greek yogurt dough. It's simple and a great way to get even more protein into the recipe.
Mix your self-rising flour, garlic powder, and Greek yogurt together. It'll look a bit shaggy at first, like this:
When it looks like that, it's time to dig in and knead with your hands! The dough will all come together the more you knead it, until it's smooth and workable.
Next, divide the dough into four equal balls, and roll them out on a floured surface. You can make whatever shape you want here – circles, rectangles, hearts – go crazy. You want the dough to be pretty thin, around 1/8 to 1/4-inch thick.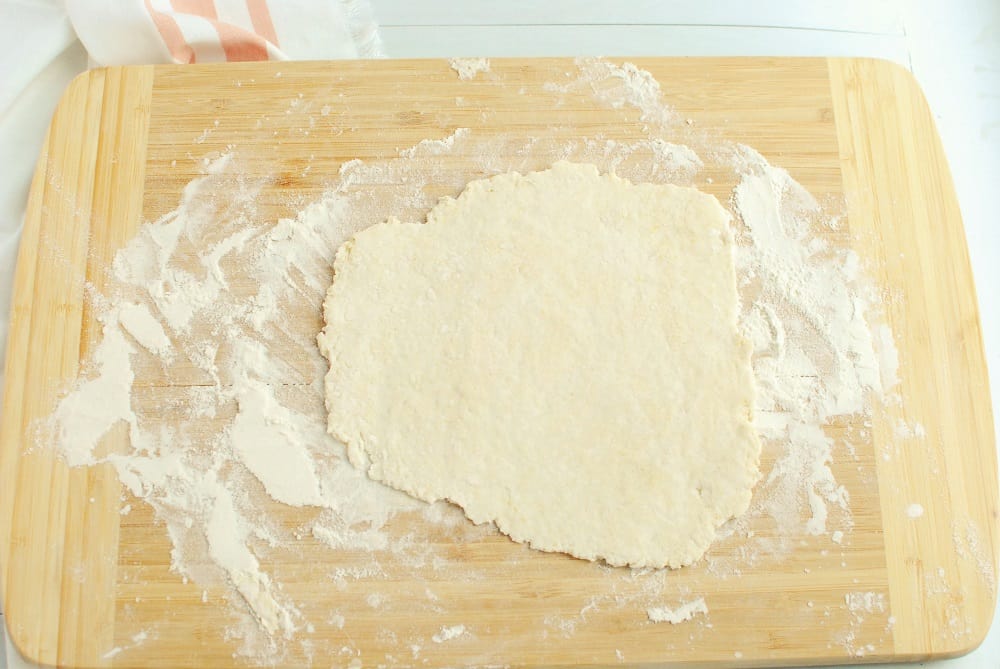 Place that rolled out dough onto your baking sheets. Bake this at 450 degrees F for 5 minutes, then pull it out. This par-bake step helps ensure the crust will crisp up properly.
Now, spread your pesto all over the dough (I find you can spread it best using the backs of two spoons). Top it with your broccoli and mozzarella, and pop it back in the oven for another 5-8 minutes.
Boom – your delicious pistachio pesto pizza is done and ready to dig into!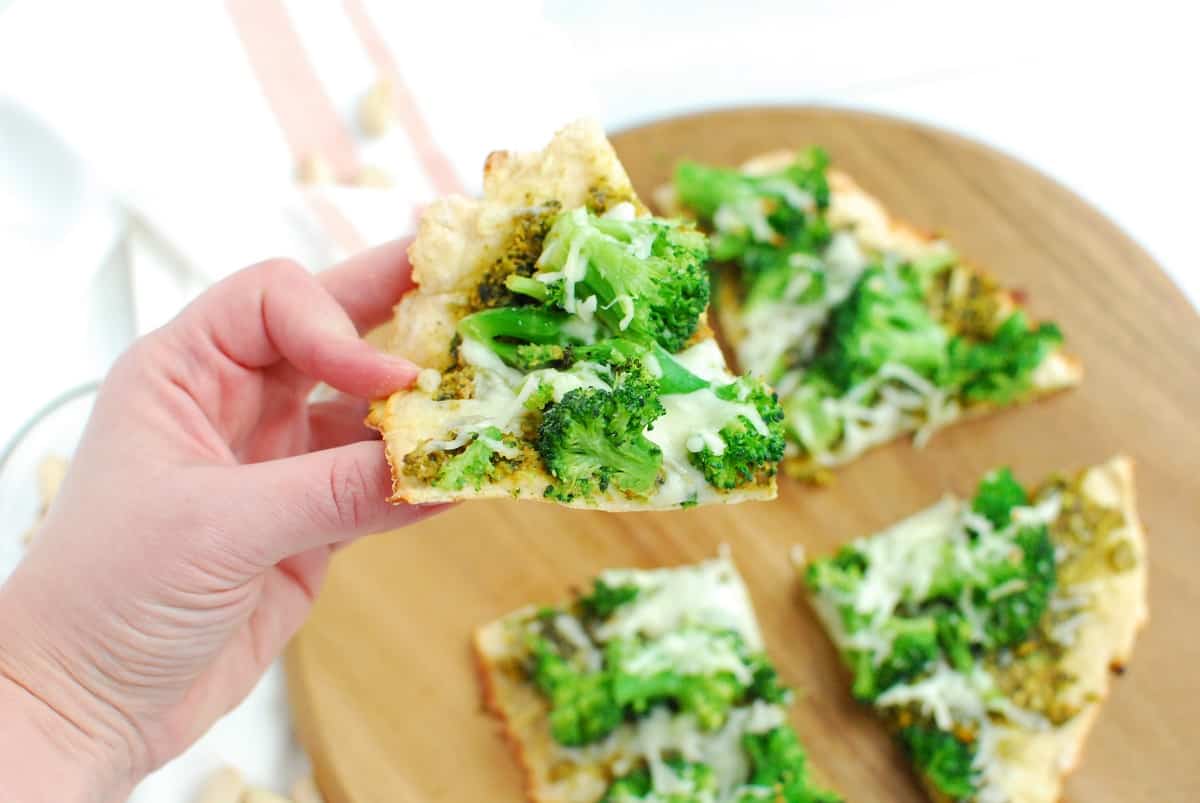 Recipe FAQ
Here are some common questions that may arise as you prepare this recipe:
Is there a substitute for self-rising flour? If you don't have self-rising flour, simply combine 1 1/2 cups of all-purpose flour with 2 1/4 teaspoons of baking powder and 1/2 teaspoon of salt.
Can you use full fat yogurt instead of nonfat yogurt? Sure! Just keep in mind the nutrition analysis will vary from what is listed in the recipe card.
The dough seems really dry – what should I do? The dough can be too dry if the flour is packed down into your measuring cup (remember, always use the spoon and level method!). No worries though – just add another 2 tablespoons of Greek yogurt and that should take care of it.
Can you freeze these pizzas? Yes. If freezing, follow the instructions as written until you've finished par-baking the pizza and adding the pesto and toppings. Then, do not bake again, but instead transfer to freezer safe bags and freeze flat. When ready to cook, bake in a preheated 450 degree F oven for 10-15 minutes, or until the crust is crisp and cheese is melted.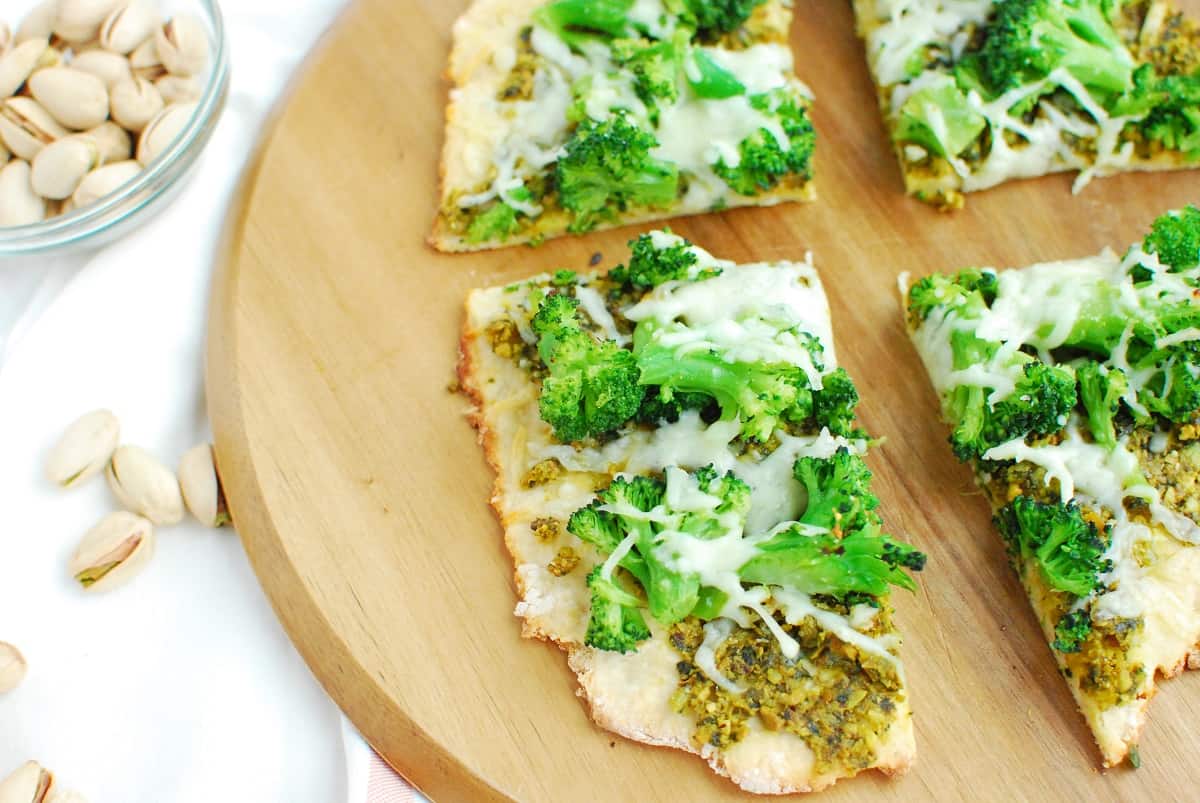 More Pistachio Ideas
If you're looking for more pistachio recipe ideas, here are a few of my other favorites:
I hope you enjoy this recipe – if you get a chance to try it, please feel free to leave a recipe rating or comment to let me know your thoughts.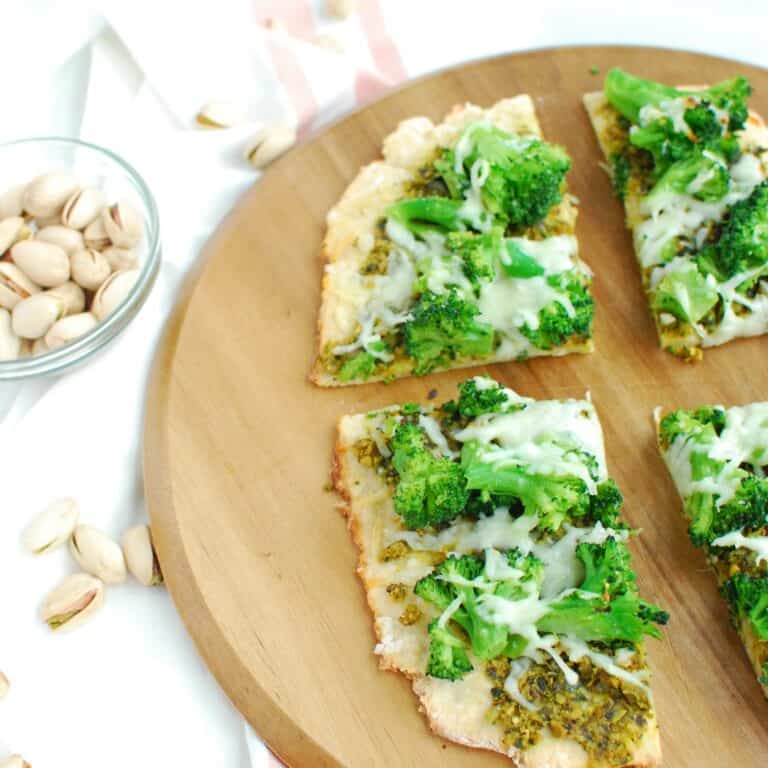 Pistachio Pesto Pizza
With a homemade high protein crust, a rich pesto spread, and a broccoli mozzarella topping - this pistachio pesto pizza is both nutritious and delicious!
Ingredients
For the pesto:
½

cup

shelled pistachios

2

cups

kale, loosely packed

1

clove

garlic

2

tbsp

shredded parmesan

1

tbsp

lemon juice

2 ½

tbsp

olive oil
For the crust:
1 ½

cups

self-rising flour

(plus more for your work surface)

½

tsp

garlic powder

1 ⅛

cup

plain nonfat Greek yogurt*
For the toppings:
12

oz

pkg frozen broccoli

thawed or cooked in the microwave, excess water drained

1

cup

part skim mozzarella
Instructions
Preheat the oven to 450 degrees F. Grease two baking sheets and set aside for now.

To make the pesto, combine the pistachios, kale, garlic, parmesan, lemon juice, and olive oil in a small food processor. Process for a minute, scraping down the sides as necessary, until well combined. Set aside for now.

Next, prepare the crust: in a mixing bowl, combine the self-rising flour and garlic powder. Stir in the Greek yogurt. When a shaggy dough forms, knead the dough with your hands right in the mixing bowl. Continue kneading for a few minutes until the dough has fully come together and is smooth.

Divide the dough into four equal pieces. On a well-floured surface, roll each ball of dough out into a rectangle or circle personal-size pizza, aiming for a thickness of around 1/8 to 1/4-inch. Transfer to the baking sheets (two per baking sheet).

Place the baking sheets with the crusts in the oven and par-bake for 5 minutes.

Remove from the oven and spread the pesto across the four crusts. Add the broccoli and mozzarella cheese, distributing evenly between the four crusts.

Return the pizzas to the oven and cook for another 5-8 minutes, until the pizza crusts are slightly crisp on the bottom and the cheese has melted on top.
Notes
1/8 cup = 2 tbsp.
It's normal for this pesto to be thicker than other pesto recipes; it works well on this pizza as it will prevent the crust from getting soggy. It also uses less oil and let's the pistachio flavor shine through.
Nutrition analysis (approximate per serving):
496 calories, 23 g fat, 6 g saturated fat, 830 mg sodium, 49 g carbohydrate, 6 g fiber, 5.5 g sugar, 0 g added sugar, 26 g protein, Vitamin D: 1%, Calcium: 43%, Iron: 21%, Potassium: 13%
Nutrition
Share: What's your favorite way to use pistachios?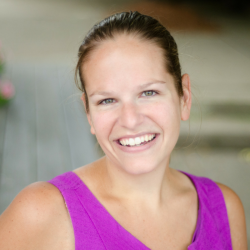 Latest posts by Chrissy Carroll
(see all)