When the craving for a sweet treat strikes, try these healthy peanut butter cookie dough bites. Packed with natural ingredients and lightly sweetened, these still taste like you're snacking on a spoonful of peanut butter cookie dough. Make a batch on the weekend and enjoy them throughout the week!
Disclosure: This post contains Amazon affiliate links; as an affiliate I earn a commission on qualifying purchases.
Note: This post was originally published in 2014; the content and photos have been updated in 2021.
Ingredients

This recipe only requires seven ingredients! Here's what you'll need, along with some helpful notes about each ingredient:
Rolled oats – You'll want to use quick oats or old-fashioned rolled oats for this recipe. Do not use steel cut oats; they are not pressed enough to use raw in this recipe and will create poor texture.
Natural peanut butter – This is important – you need a drippy natural peanut butter to use in this recipe (the kind where the oil starts to separate a bit and you have to stir it back in). Regular peanut butter usually has palm oil added which gives it a firmer texture, and that will cause the recipe to be too dry. Natural peanut butter is a much better option (and also a step up nutritionally, as the only ingredients are peanuts and salt).
Powdered peanut butter – These days, you can find this at most major grocery stores. One common brand is PB2 (but any brand will do). I use plain powdered peanut butter, but you can also use chocolate powdered peanut butter for a fun variation on this recipe.
Honey – This will act as our sweetener, and because it's sticky, it'll hold all the ingredients together.
Vanilla – Adds a bit of classic cookie-dough flavor.
Salt – Helps enhance the other flavors in this recipe.
Chocolate chips – For this recipe, I like using Lily's dark chocolate baking chips. These do not have any added sugar and are sweetened instead with stevia and erythritol. However, feel free to use any chocolate chips that you have on hand! Just keep in mind the nutrition facts may vary slightly with regular chocolate chips.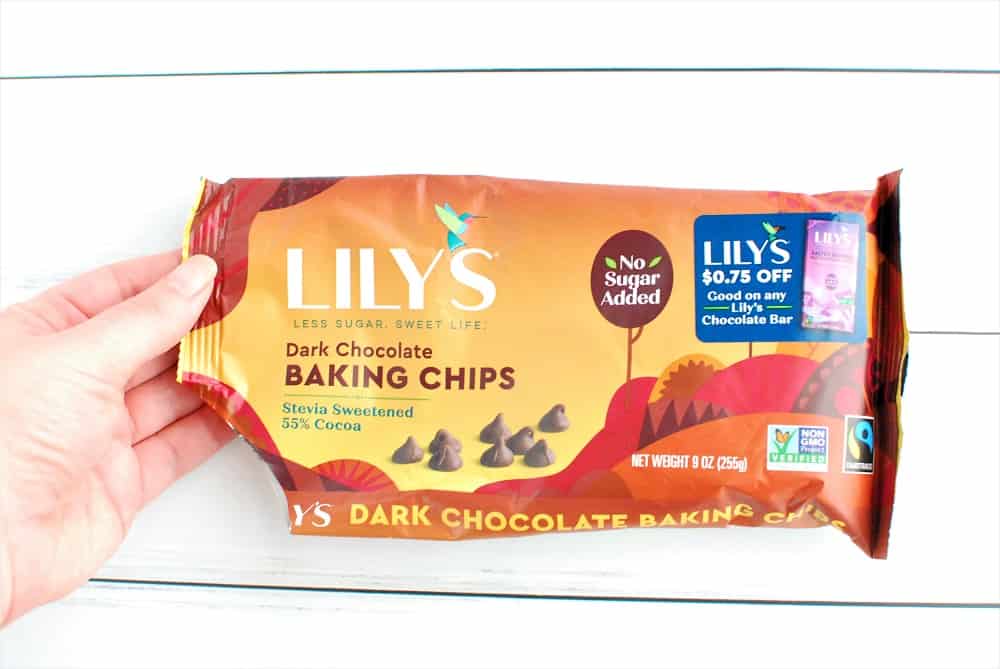 Step by Step Instructions
You'll find full amounts and ingredients in the recipe card below, but here's a helpful overview with photos.
This recipe is very simple. You're going to start by grinding the oats into a coarse flour. You can do this with a food processor or a high-powered blender. Just toss the oats in there, pulse several times, and you should have a mixture that looks like this: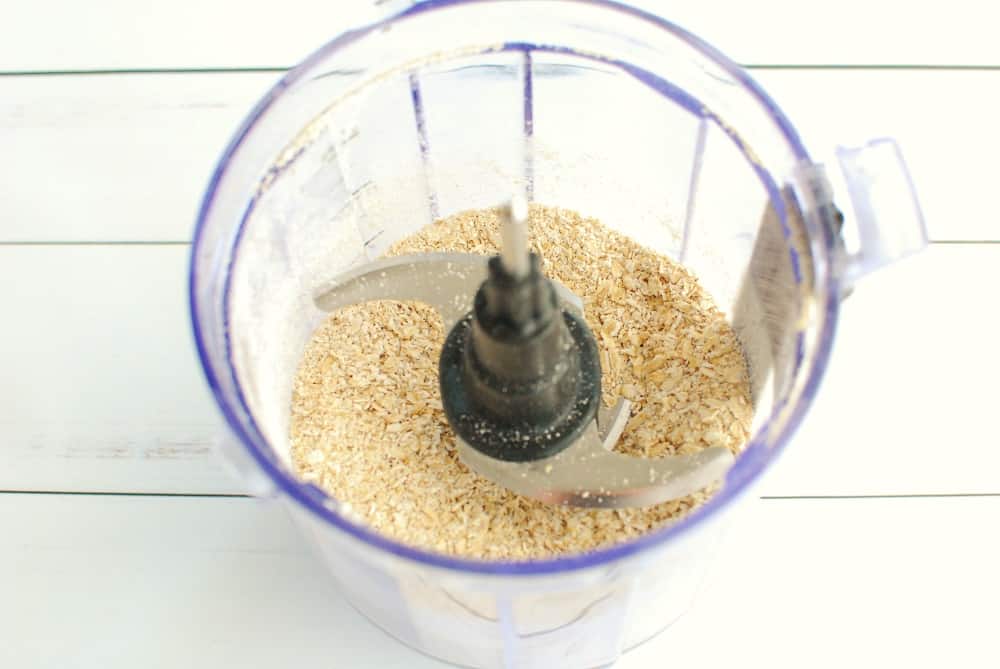 Next, mix all your ingredients (including those ground oats) in a bowl. It may seem a little dry at first, but keep mixing it, using your hands as necessary. Eventually it'll come together like this: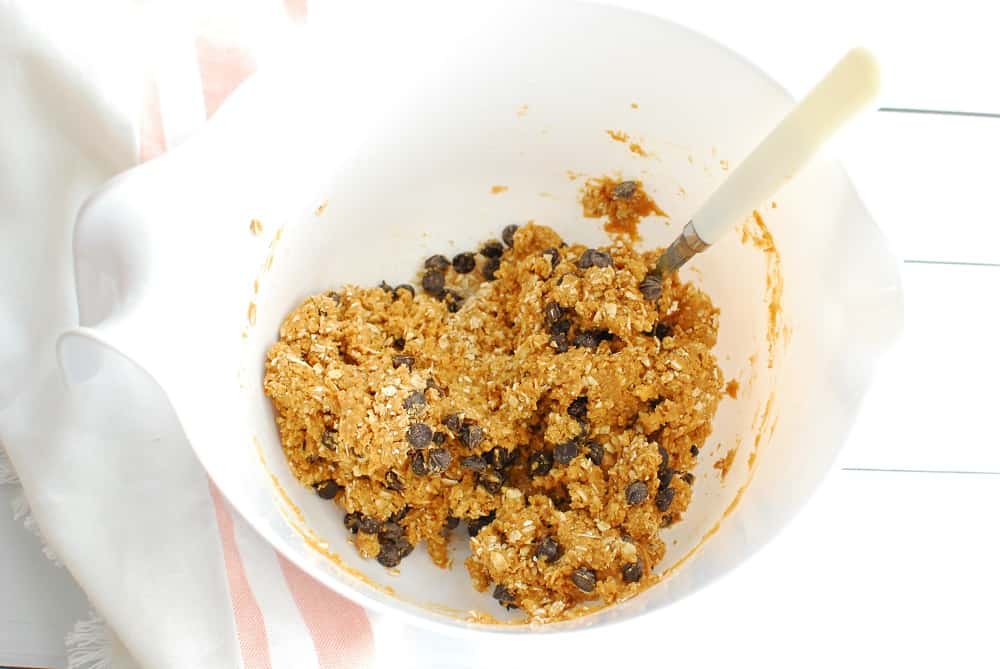 Now you can roll it into your peanut butter cookie dough balls, and store those in the fridge. Whenever you want a sweet treat, grab one for a snack.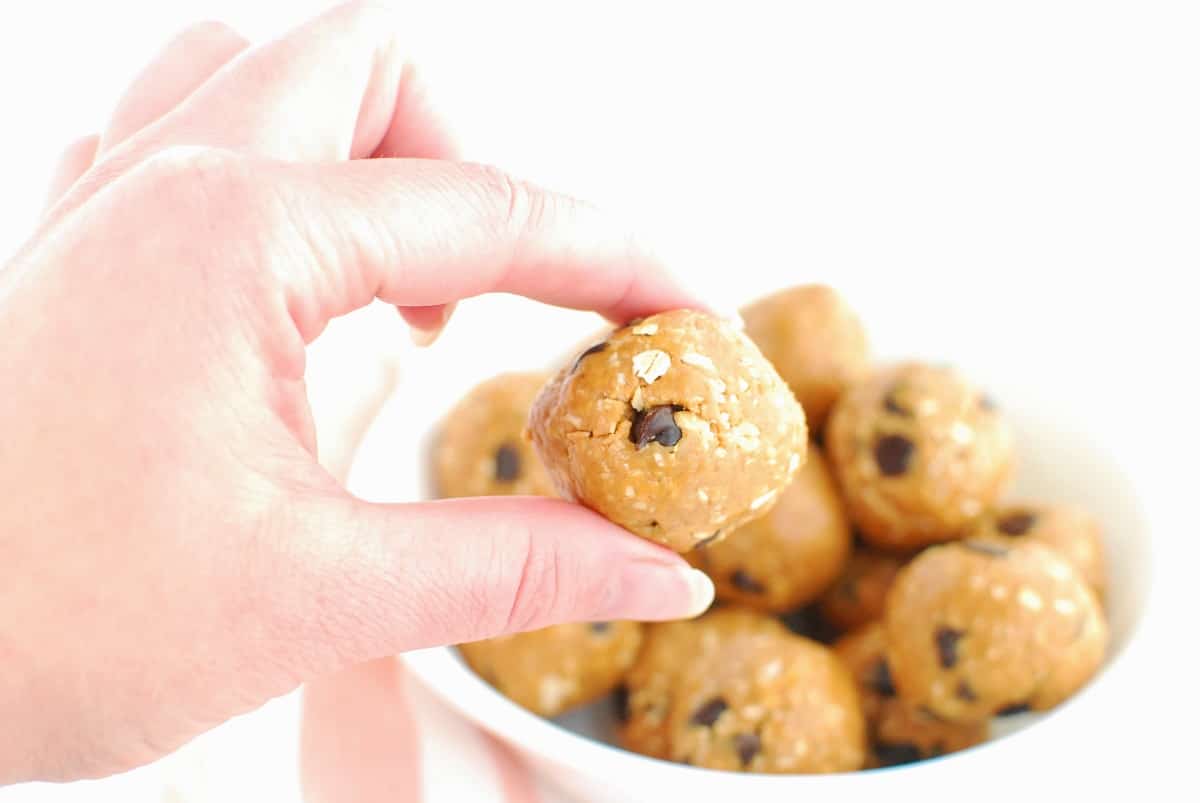 Recipe FAQ
What should you do if the mixture is too dry? First, try working the dough with your hands. Usually that may be enough to get it all mixed together. If it's still too dry (which can occasionally happen depending on the consistency of your peanut butter), try adding another 1-2 tablespoons each of peanut butter and honey. That should be enough moisture to pull it together.
How should you store these cookie dough balls? Store in the fridge for up to 5-6 days.
Can this recipe be made gluten free? Yes. To make gluten-free, use certified gluten-free rolled oats (like Quaker gluten free rolled oats).
Can this recipe be made dairy free? Yes, just choose dairy-free chocolate chips. At the time of publish, the Lily's dark chocolate chips that I used were dairy free, and so are Enjoy-Life dark chocolate chips. (Always double check labels for any allergy needs).
Nutrition Benefits
It's always great finding healthier recipes, especially for all you active women that are out there fueling your fitness.
Each of these peanut butter cookie dough bites contains 2.5 grams of fiber and 4.5 grams of protein. Plus, they have healthy fats to keep you satisfied, and carbohydrates to help provide energy for workouts.
More peanut butter recipes
If you're looking for more delicious peanut butter treats, try one of these ideas:
I hope you enjoy this recipe! If you get a chance to try it, please feel free to leave a recipe rating or comment below.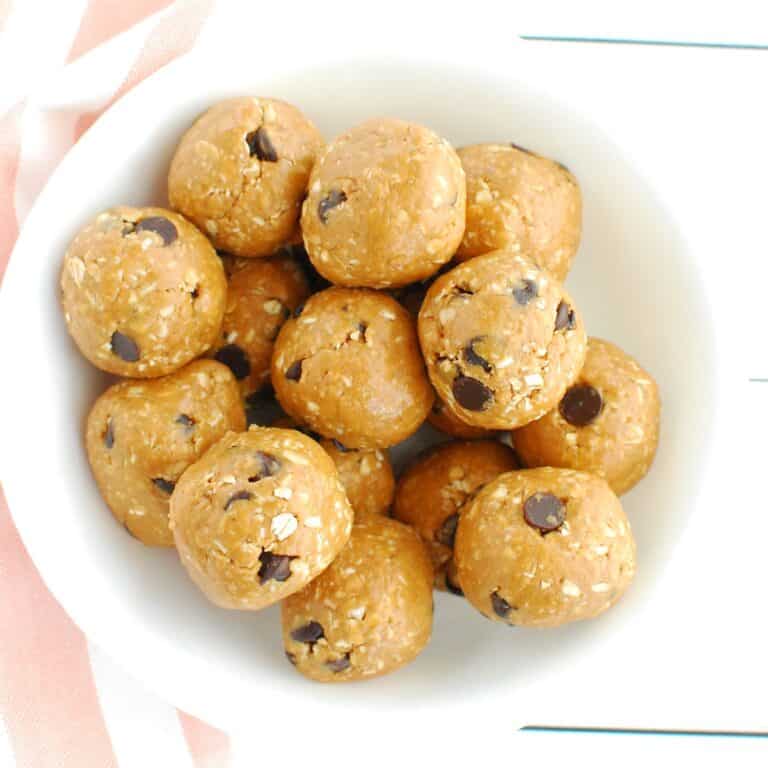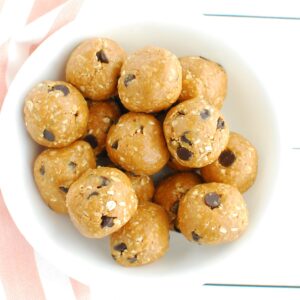 Healthy Peanut Butter Cookie Dough Bites
These peanut butter cookie dough balls are packed with natural ingredients and lightly sweetened - but still taste like a spoonful of cookie dough!
Ingredients
1

cup

rolled oats

(ground into a coarse flour)

½

cup

natural peanut butter

(salted)

½

cup

powdered peanut butter

⅓

cup

honey

1

tsp

vanilla

⅛

tsp

salt

⅓

cup

Lily's dark chocolate baking chips

(or any brand of chocolate chips)
Instructions
To make oats into a coarse flour, simply add to a small food processor or blender cup, and pulse several times.

In a large bowl, combine the ground oats, natural peanut butter, powdered peanut butter, honey, vanilla, salt, and chocolate chips. Mix until well combined.

Roll the mixture into 16 balls. Store in the fridge and enjoy when you're craving a sweet treat!
Notes
The oats should be measured before grinding into flour, not after.
You must use a drippy, natural peanut butter for this recipe. Regular peanut butter usually has added palm oil to keep it from being oily, but this thickens it up doesn't work well in this recipe.
Nutrition analysis (approximate per serving): 117 calories, 5.5 g fat, 1.5 g saturated fat, 70 mg sodium, 14 g carbohydrate, 2.5 g fiber, 6.5 g sugar, 4.5 g protein, Vitamin D: 0%, Calcium: 1%, Iron: 4%, Potassium: 3%
Nutrition
Share: What's your favorite healthy(ish) sweet treat to make? If you tried this recipe, what did you think?
Please pin this post to share with others 🙂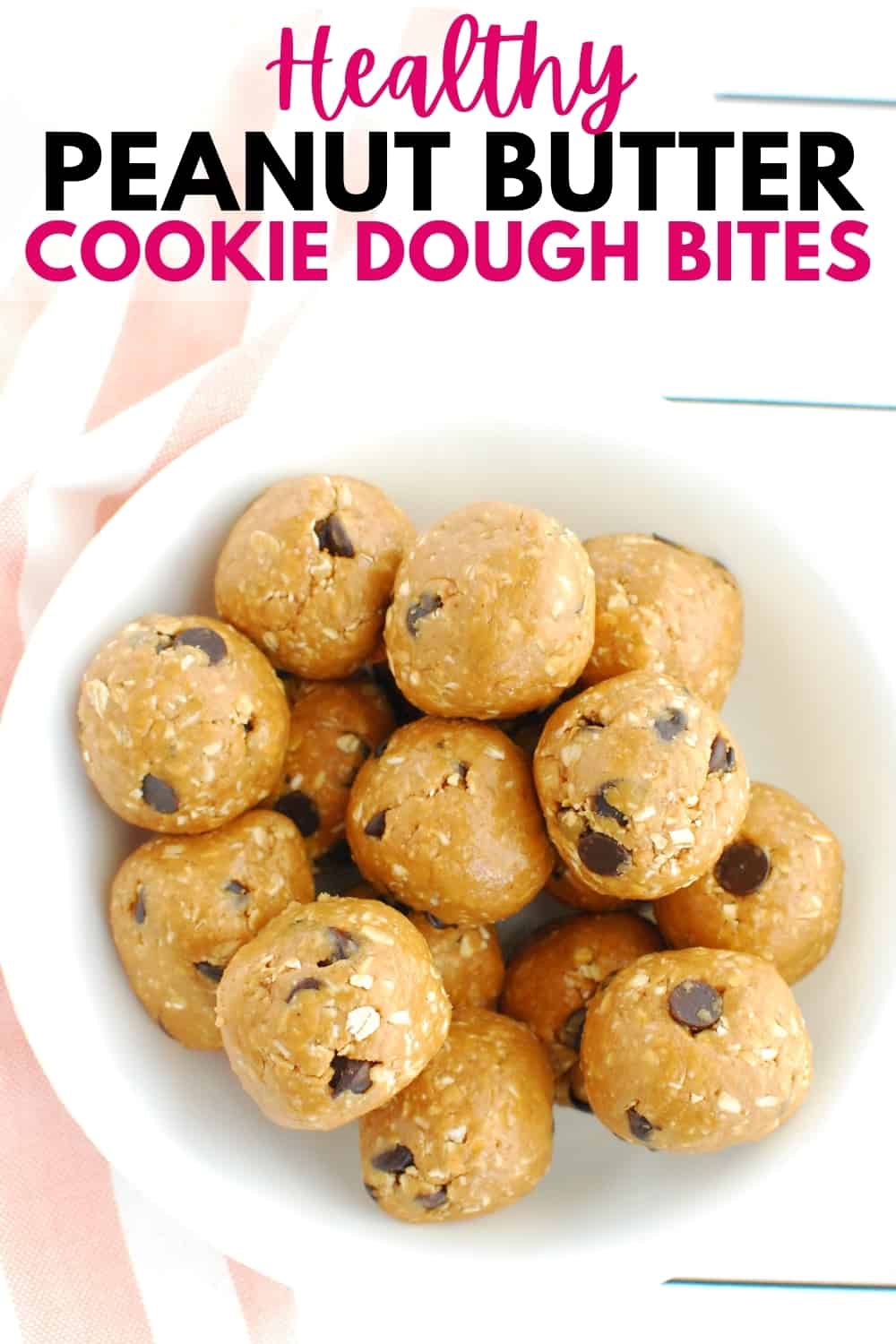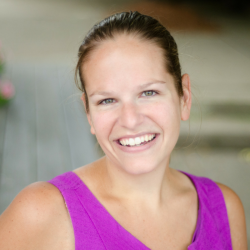 Latest posts by Chrissy Carroll
(see all)