I'm always on the lookout for snacks that are tasty and filling. I love plain ol' fruits and veggies just as much as the next person, but let's be honest – I think we all want some variety in our snack options. And that includes having something rich and sweet that satisfies your cravings. The best thing is that you can have that in a healthy way! These no bake apple peanut butter energy bites combine fruits (apples and dates) with whole grains (oats) and healthy fats/protein (peanut butter and chia seeds) into one amazing snack!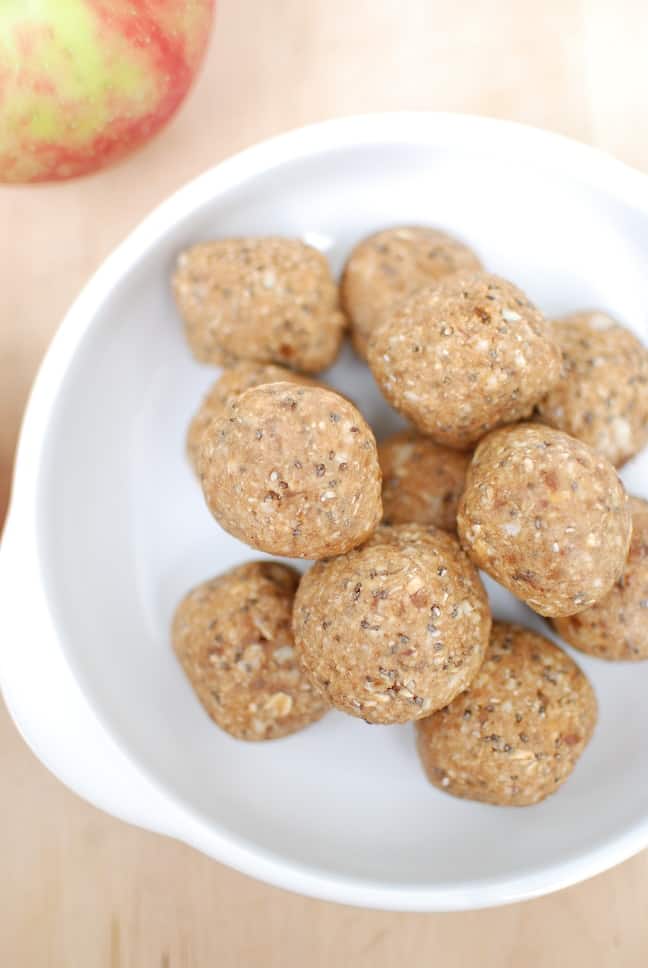 I've seen the healthy energy ball trend explode on Pinterest in the last year, but I wasn't a huge fan of the first few recipes I tried. A few weeks ago, I decided to just try to make up my own recipe and am in love with it.
These no bake apple peanut butter energy bites have a primarily peanut-y flavor, but also have a subtle sweetness thanks to the dates and apple. I use fresh-picked apples from the local farm (honeycrisp are finally ripe – I'm in heaven!) but you can experiment with any type of apple or even dried apples.
For dates, you're looking for whole pitted dates. There are two kinds you can look for at the store:
Medjool Dates: At the grocery stores around here, medjool dates are usually in a plastic container in the produce section. These are typically bigger and a bit moister than other varieties, but also tend to be more expensive. You can find them online if you can't find them at the supermarket.
Deglet Nour Dates: As an alternative, you can check the dried fruit section for some of the common commercially packaged pitted dates. These are a bit smaller and less expensive, though some people complain they're drier. Though most brands don't say the specific type of date on these packages, I'm assuming they're deglet nour since that's a very common type.
I've made these with both varieties and don't notice a big difference in the final outcome – so use what you prefer and what fits your budget!
The rest of the ingredients should be pretty easy to find, as even commercial grocery stores carry chia seeds these days (though you can easily leave those out if you don't want to include them or can't find them).
I like that these are no-bake – just roll 'em up and pop them in the fridge. I've been putting them on a baking sheet in the fridge to chill them before tossing them all in a tupperware so as to avoid them sticking together, but that step is probably unnecessary.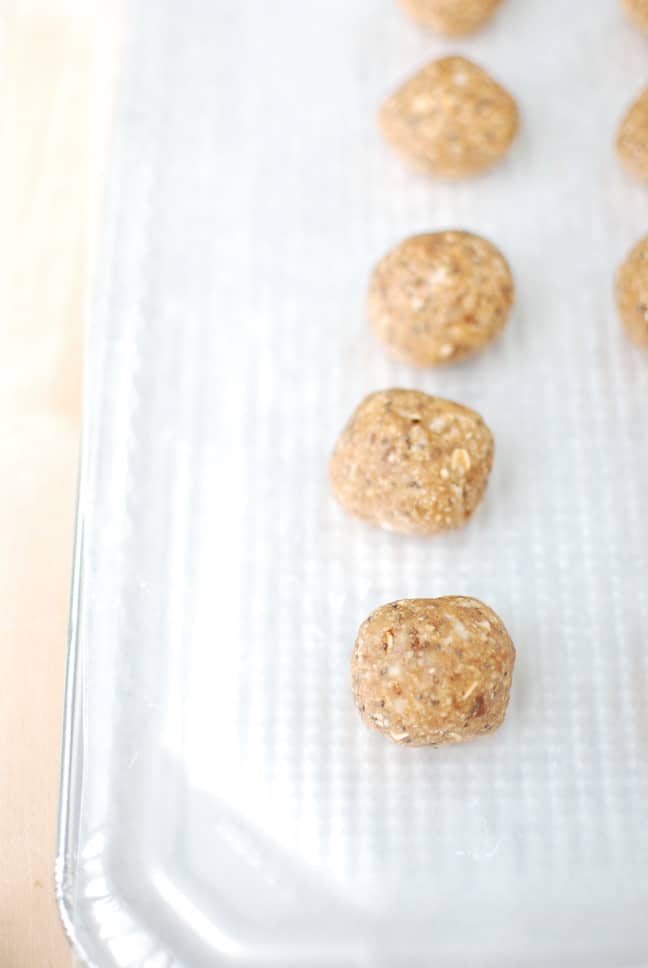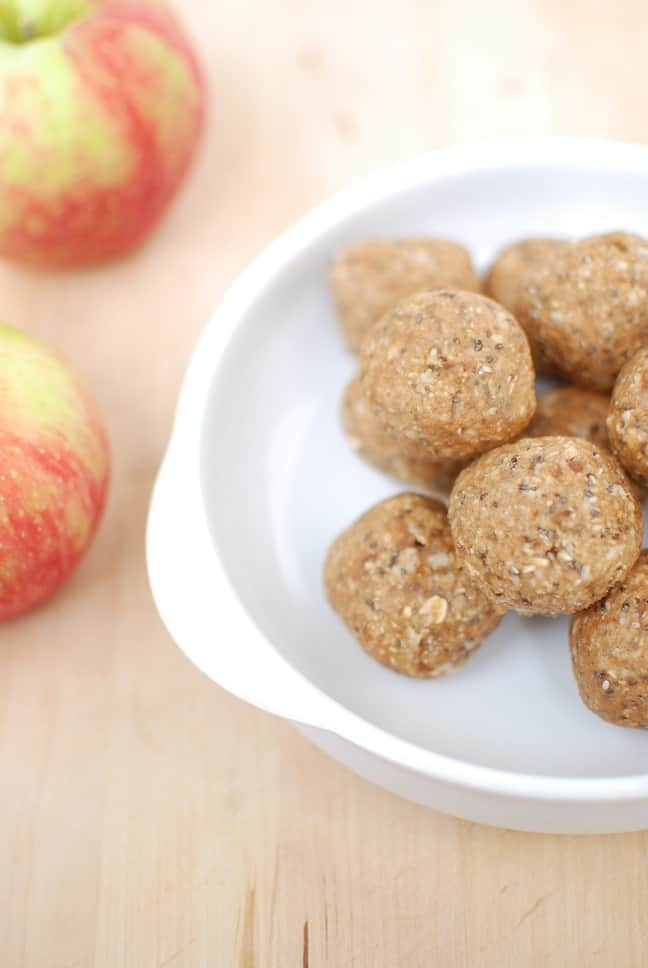 What's great about these apple peanut butter energy bites is they are perfect for kids and adults. My 1.5 year old is absolutely obsessed with these right now. If I make a big batch over the weekend, I know that it's a snack I can keep in the fridge and quickly give him without any additional prep work during the week. And for those of us fit-minded adults, these provide a lovely balance of carbs, protein and healthy fat that are super satisfying and nutritious.
Give 'em a try and let me know what you think! They taste best after being chilled, so take the time to put them in the fridge for a bit after you make them for optimal flavor.
No Bake Apple Peanut Butter Energy Bites
2016-09-18 15:24:32
Serves 12
Ingredients
1 apple, peeled and diced
1 cup oats
1/2 cup natural peanut butter
1/2 cup dates (whole, not chopped)
1 tsp cinnamon
1 tbsp chia seeds
Instructions
Add everything to a food processor and process until well combined. You may have to stop the processor and run a spoon down the sides a few times. Once well combined, roll into balls and refrigerate. These taste best chilled straight out of the fridge!
Tips
You can keep these in the fridge for several days. You can also freeze them! Just pop them in the microwave for about 10 seconds to defrost when ready to eat.
Nutrition Analysis (approximate per serving – 1 ball)
120 calories, 6 g fat, 50 mg sodium, 14 g carbohydrate, 3 g fiber, 6 g sugar, 4 g protein
Snacking in Sneakers https://www.snackinginsneakers.com/
Share with me: What's your favorite satisfying snack? Have you jumped on the energy bite train? Do you have any flavor combinations you love?