I'm always on the lookout for snacks that are tasty and filling. I love plain ol' fruits and veggies just as much as the next person, but let's be honest – I think we all want some variety in our snack options. And that includes having something rich and sweet that satisfies your cravings. These apple peanut butter energy balls are the perfect option!
This article was originally published in 2016; it was updated in 2019.
Disclosure: This contains Amazon affiliate links. As an affiliate, I earn a commission on qualifying purchases.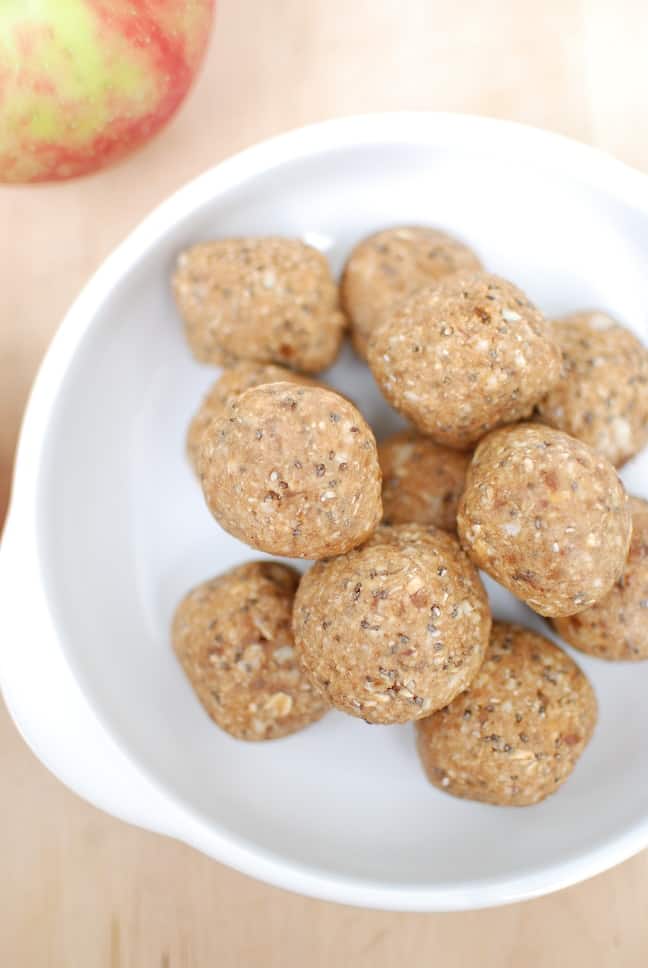 Why I love apple peanut butter energy balls
I've seen the healthy energy ball trend explode on Pinterest in the last year, but I wasn't a huge fan of the first few recipes I tried. A few weeks ago, I decided to just try to make up my own recipe and am in love with it.
I love this healthy snack because it combine fruits (apples and dates) with whole grains (oats) and healthy fats/protein (peanut butter and chia seeds) into one amazing grab-and-go option!
These no bake apple peanut butter energy bites have a primarily peanut-y flavor, but also have a subtle sweetness thanks to the dates and apple. I use fresh-picked apples from the local farm (honeycrisp are finally ripe – I'm in heaven!) but you can experiment with any type of apple or even dried apples. When it comes to apple types, I'm personally a fan of Zestar, Gala, or Ginger Gold in this recipe. But again, any type works.
Plus, all of the ingredients should be pretty easy to find, and you only need six of them. The only thing that could be a little tough depending on the area where you live are the chia seeds. but most grocery stores carry them these days in the natural section (though you can easily leave those out if you don't want to include them or can't find them).
What kind of dates should you buy for this recipe?
For dates, you're looking for whole pitted dates. There are two kinds you can look for at the store:
Medjool Dates: At the grocery stores around here, medjool dates are usually in a plastic container in the produce section. These are typically bigger and a bit moister than other varieties, but also tend to be more expensive. You can find them online if you can't find them at the supermarket.
Deglet Nour Dates: As an alternative, you can check the dried fruit section for some of the common commercially packaged pitted dates. These are a bit smaller and less expensive, though some people complain they're drier. Though most brands don't say the specific type of date on these packages, I'm assuming they're deglet nour since that's a very common type.
I've made these with both varieties and don't notice a big difference in the final outcome – so use what you prefer and what fits your budget!
What if you don't like dates?
I've heard from a few people that they're not a fan of dates. While I personally think they lend the best flavor for these peanut butter oatmeal energy balls, you can also substitute in golden raisins instead.
If you're not a date or raisin fan, you could try using honey or brown rice syrup as a sweetener and binder. I haven't tried it in this recipe, but just a) keep in mind you'll want to decrease the total amount compared to the dates (maybe start with 1/4 cup), and b) keep in mind this is added sugar versus naturally occurring sugar in the dates.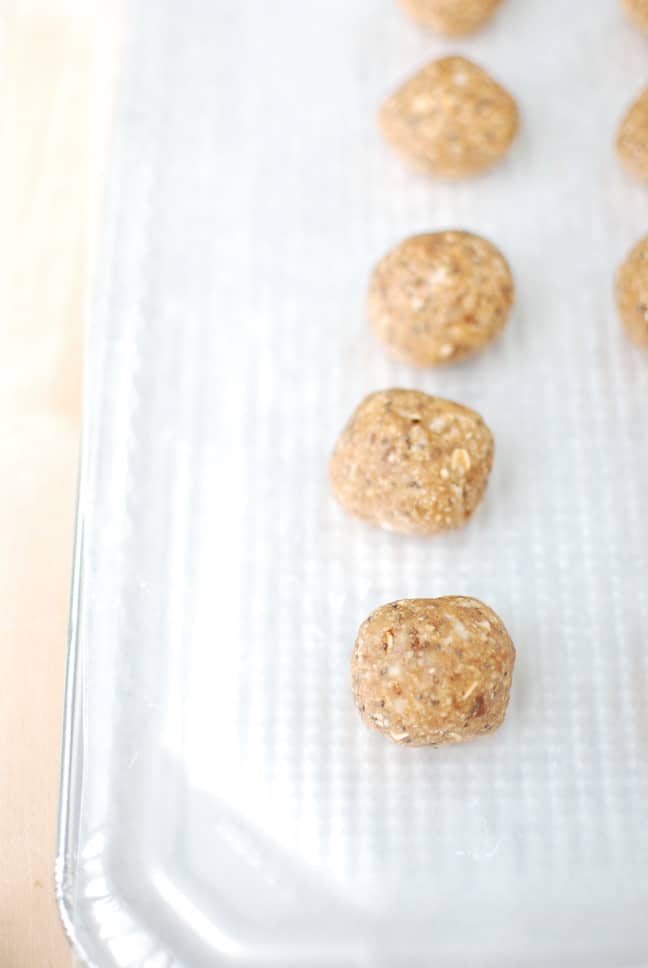 You don't have to bake these?
Nope! You don't have to bake them at all – just roll 'em up and pop them in the fridge. I've been putting them on a baking sheet in the fridge to chill them before tossing them all in a tupperware so as to avoid them sticking together, but that step is probably unnecessary.
Some people have asked me about eating raw oats in these apple energy bites, and wonder if that's safe. Yes, it is safe!
The concern about this comes from phytic acid in oats, also known as phytate. Phytic acid can bind with certain minerals and make them more difficult to absorb. If you were eating a ton of uncooked raw oats this could create a problem, but it's nothing to worry about with some occasional energy balls.
The only issue a small percentage of people may have is a little bloating, as some people don't digest raw oats as well as cooked oats. If this is the case, you can try eliminating the oats and using a combination of different seeds (like pumpkin, chia, etc) and coconut flakes instead.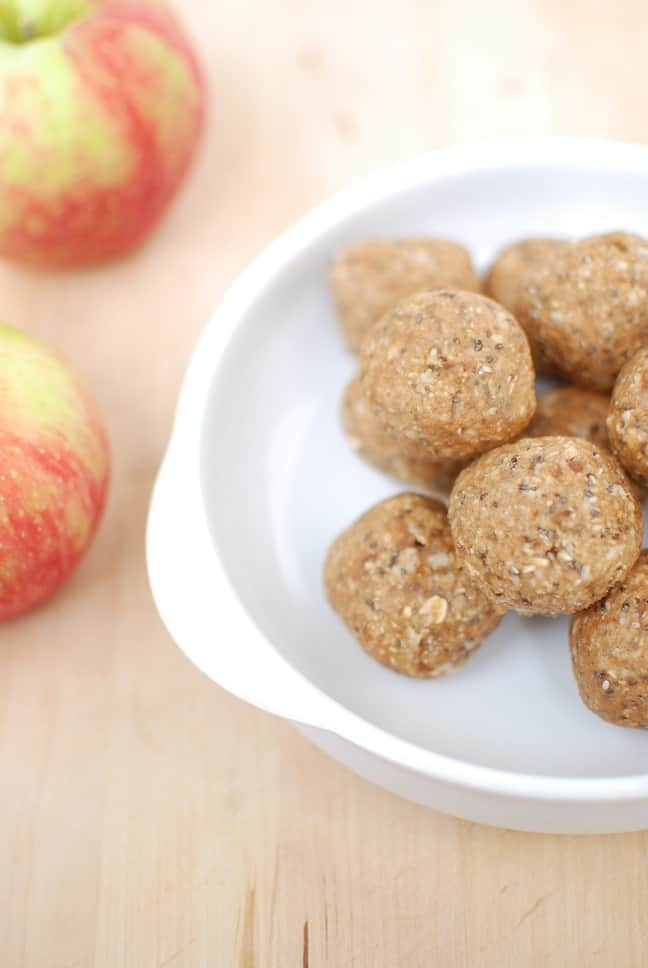 A great meal prep snack!
What's great about these apple peanut butter energy bites is they are perfect for kids and adults AND can be prepped ahead of time. My 1.5 year old is absolutely obsessed with these right now. If I make a big batch over the weekend, I know that it's a snack I can keep in the fridge and quickly give him without any additional prep work during the week.
As an aside, with Halloween on the horizon, you can also make these a fun, festive treat. Just add some edible googly eyes and boom – they're spooky energy bites!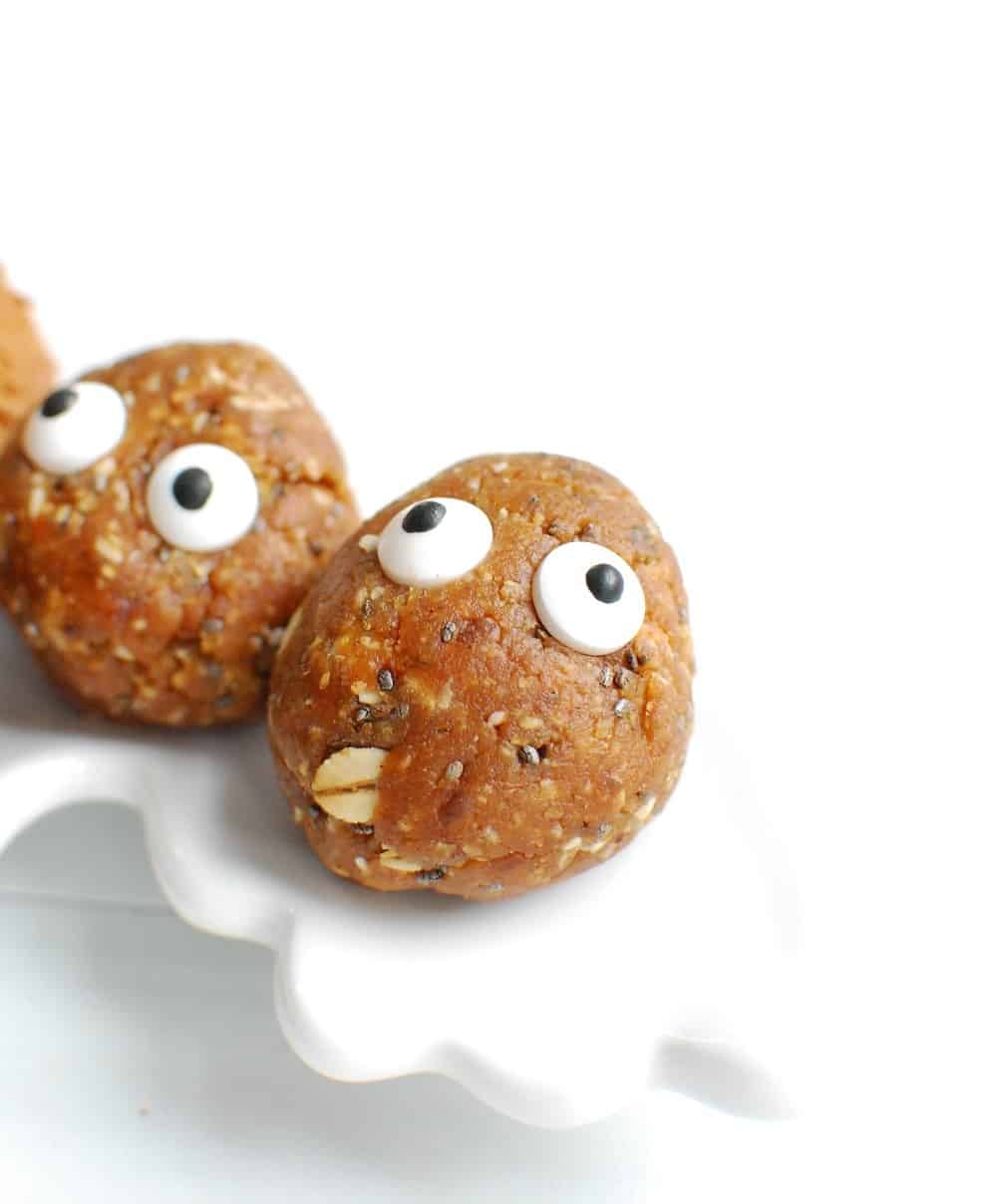 Of course, these are great for adults too. For anyone trying to eat more nutritious snacks, these provide a lovely balance of carbs, protein and healthy fat that are super satisfying and nutritious.
Give 'em a try and let me know what you think! They taste best after being chilled, so take the time to put them in the fridge for a bit after you make them for optimal flavor.
PS – If you're looking for more delicious apple recipes, be sure to try my apple mug cake and or these cottage cheese pancakes with sauteed apples. If you're looking for more peanut butter recipes, try peanut butter protein fudge or peanut butter honey cheerios bars.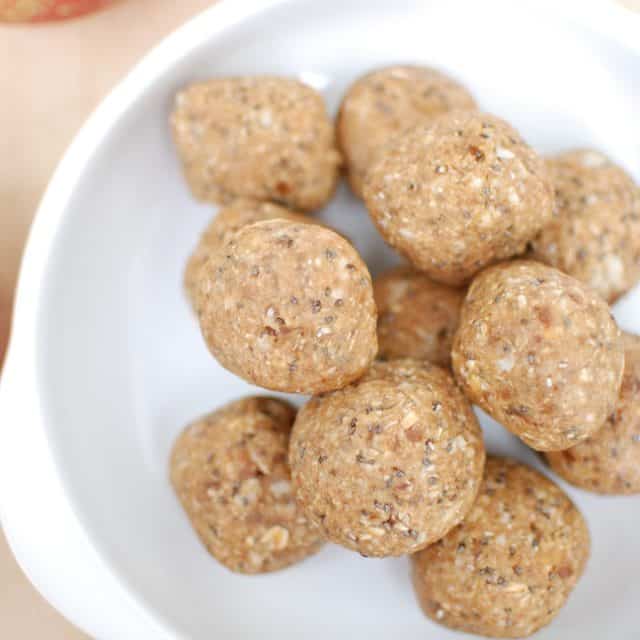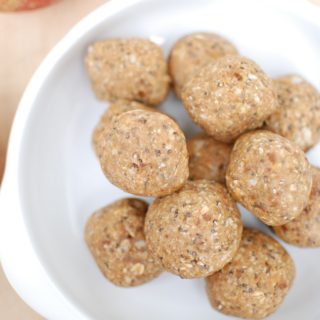 No Bake Apple Peanut Butter Energy Balls
These no bake apple peanut butter energy balls are a lovely healthy snack! The recipe is super easy to make with only 6 ingredients. 
Ingredients
1

apple, peeled and diced

1

cup

rolled oats

1/2

cup

natural peanut butter

1/2

cup

dates, whole

(not chopped)

1

tsp

cinnamon

1

tbsp

chia seeds
Instructions
Add everything to a food processor and process until well combined. You may have to stop the processor and run a spoon down the sides a few times. Once well combined, roll into balls and refrigerate. These taste best chilled straight out of the fridge!
Notes
Tips:
You can keep these in the fridge for several days. You can also freeze them! Just pop them in the microwave for about 10 seconds to defrost when ready to eat.
Nutrition Analysis (approximate per serving – 1 ball):
120 calories, 6 g fat, 50 mg sodium, 14 g carbohydrate, 3 g fiber, 6 g sugar, 4 g protein
Nutrition
Share with me: What's your favorite satisfying snack? Have you jumped on the energy bite train? If you tried these apple peanut butter oatmeal balls, what did you think?!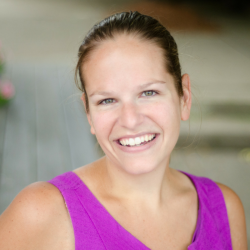 Latest posts by Chrissy Carroll
(see all)