Start your morning right with a bowl of this peanut butter and jelly oatmeal! This simple breakfast recipe is made with just five ingredients but is packed with flavor. You'll love the classic sandwich flavor combo transformed into a warm breakfast bowl.
Ingredients
Here are the ingredients you'll need to make this oatmeal – I love this recipe because you only need a few things: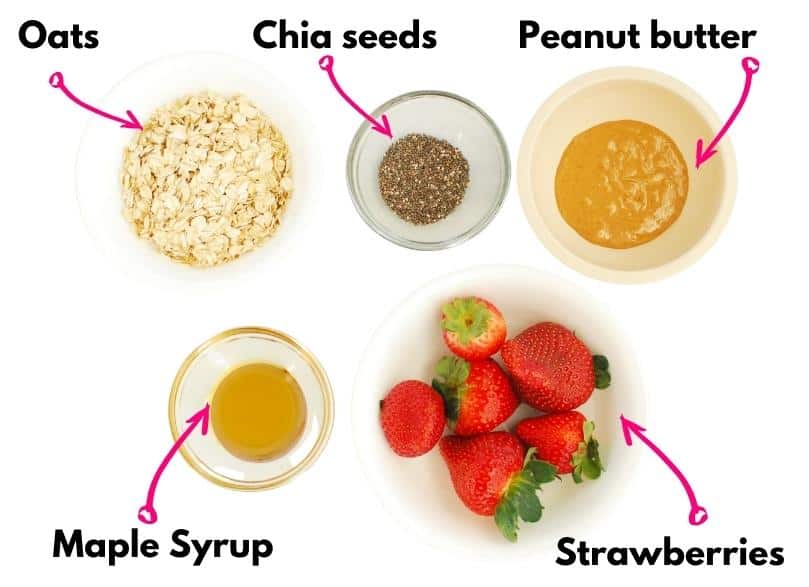 Here are some helpful notes about some of these ingredients:
Strawberries – Ideally you want to use sweet, juicy strawberries for this recipe. Berries that are picked too early will often be firmer and less sweet. They'll work, but super ripe fresh berries are your best option.
Chia seeds – Cha-cha-cha chia! These seeds are full of healthy fats and fiber, so they're great to include in meals like oatmeal, yogurt parfaits, or smoothies. In this case, we're going to use them to make the strawberry chia jam that we'll stir into the oatmeal.
Peanut butter – I recommend natural peanut butter for two reasons. First, the only ingredients are peanuts and salt, so you avoid added palm oil or other less-healthy oils that are often used in other peanut butters. Second, natural peanut butter tends to be a thinner, drippier texture, which works wonderfully for swirling in oatmeal.
Step by Step Instructions
You'll find full recipe amounts and instructions in the recipe card at the bottom of this post, but here's a helpful overview with photos.
You're going to start by cooking your oatmeal with water. Just pop the oats and water in the pot and cook according to package directions. When the oatmeal is ready, pour it into a bowl and set it aside for now.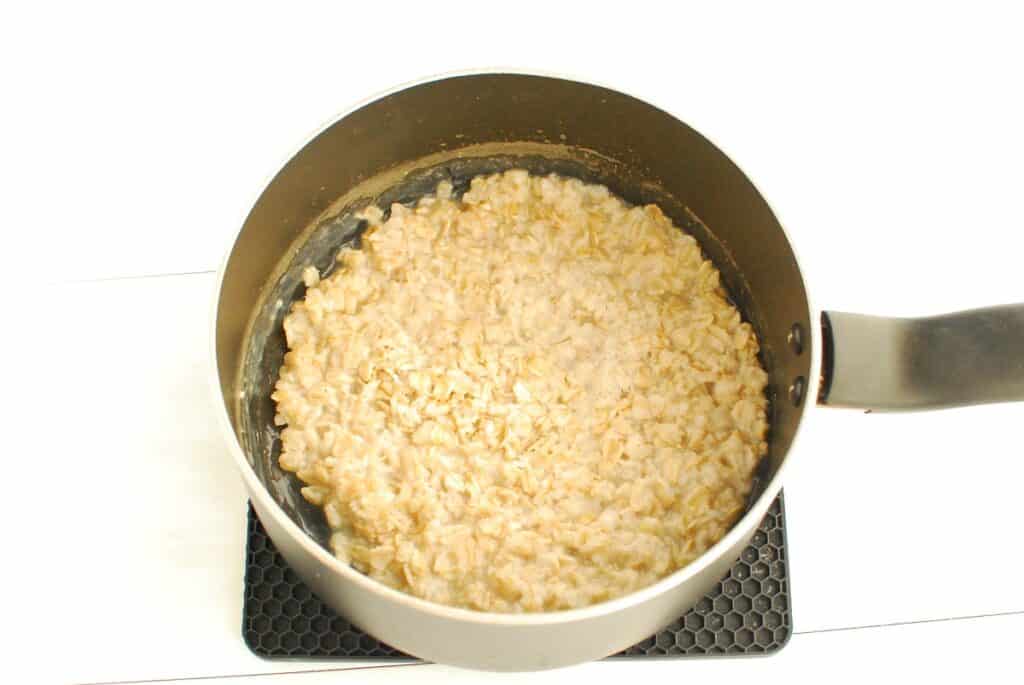 Meanwhile, in another small non-stick pot, combine your strawberries and maple syrup.  Place this over medium low heat.  The berries will soften up fairly quickly.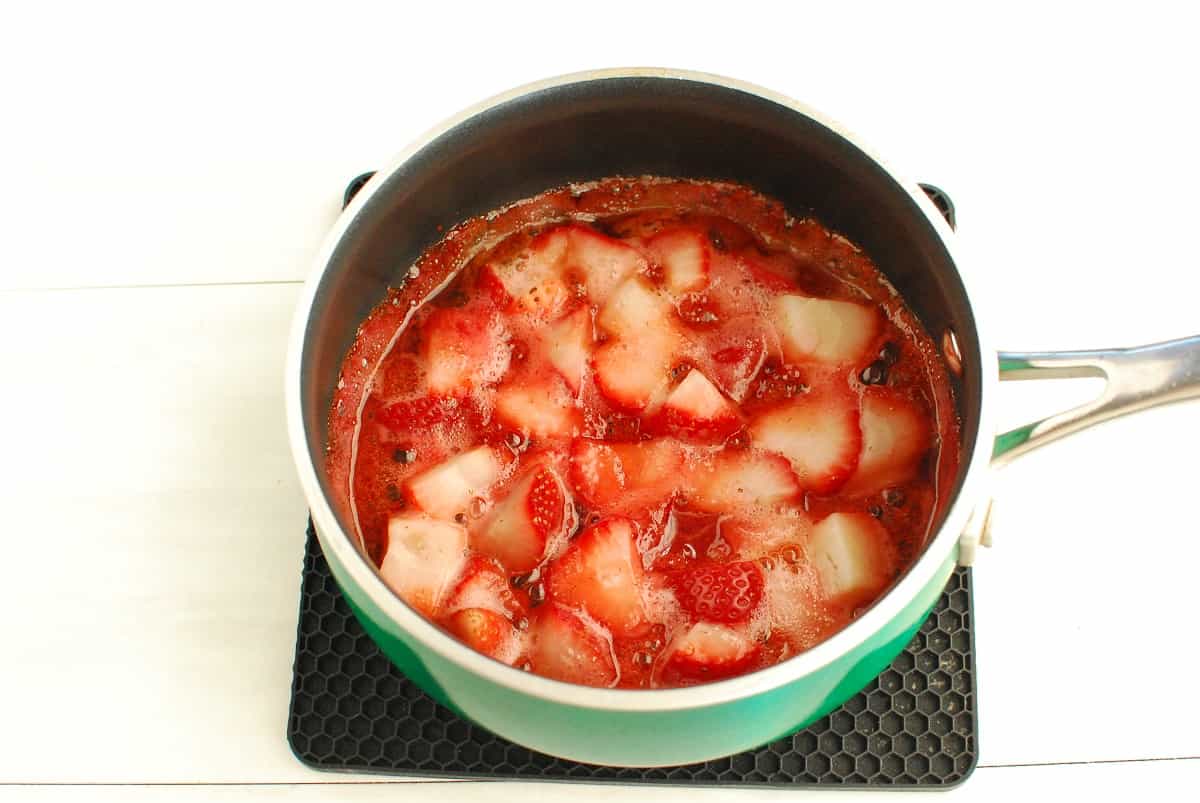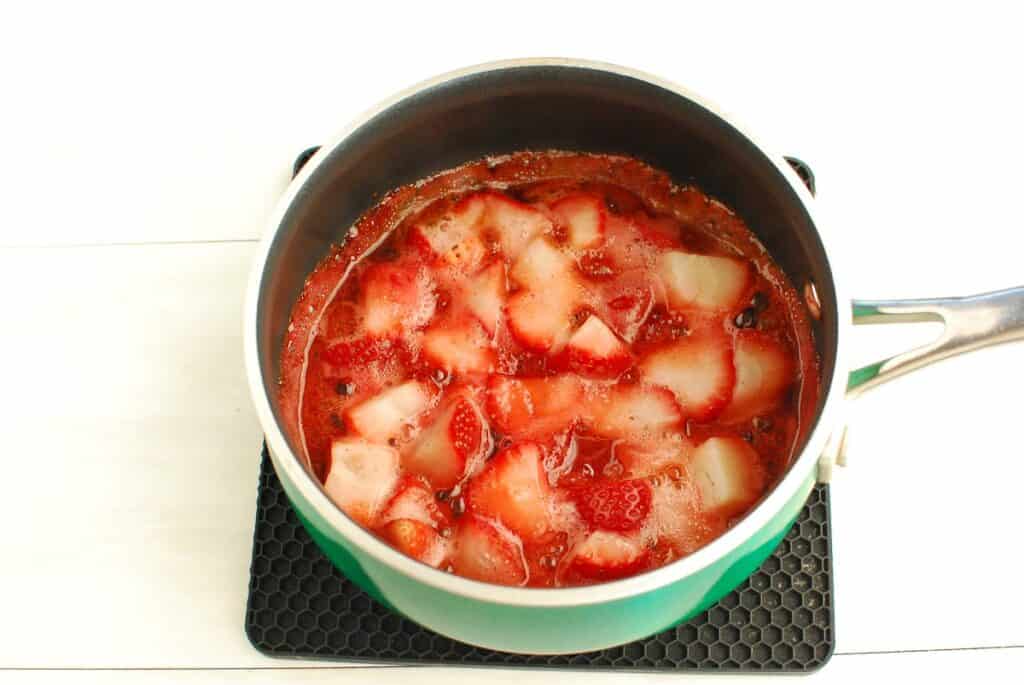 After a few minutes, you should be able to mash them down, either with a potato masher or the back of a fork. It's fine if it's not completely smooth; in fact I prefer it that way!
Add your chia seeds to the pot and continue cooking for another minute or two, then remove from heat. You'll notice that the mixture should thicken up a bit to almost a jam-like consistency.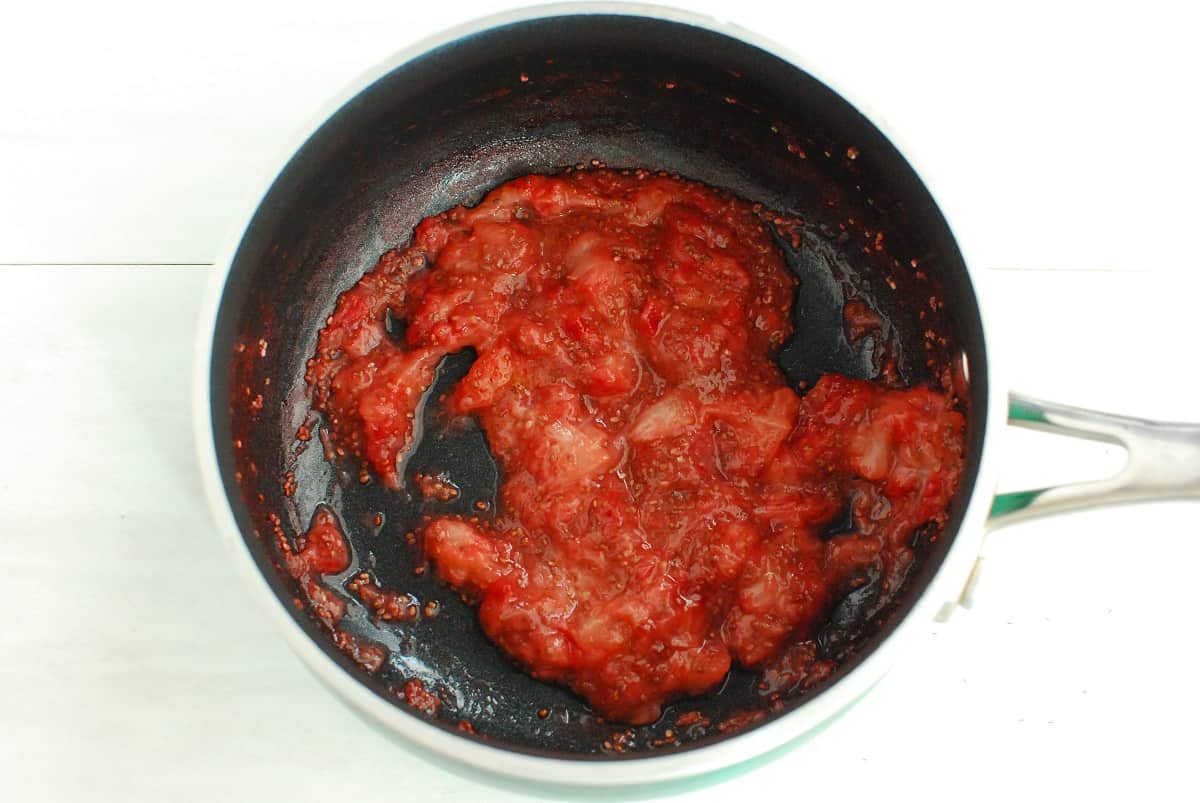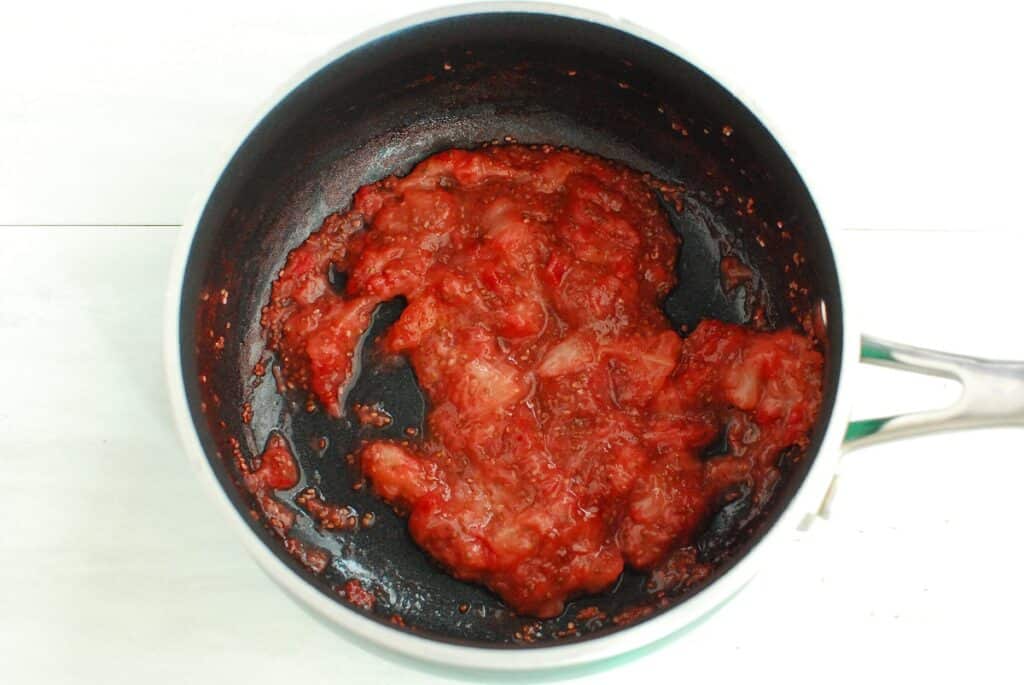 Go ahead and add your peanut butter to your bowl of oatmeal, and then pour your strawberry chia mixture on top.
Swirl it up and dig in!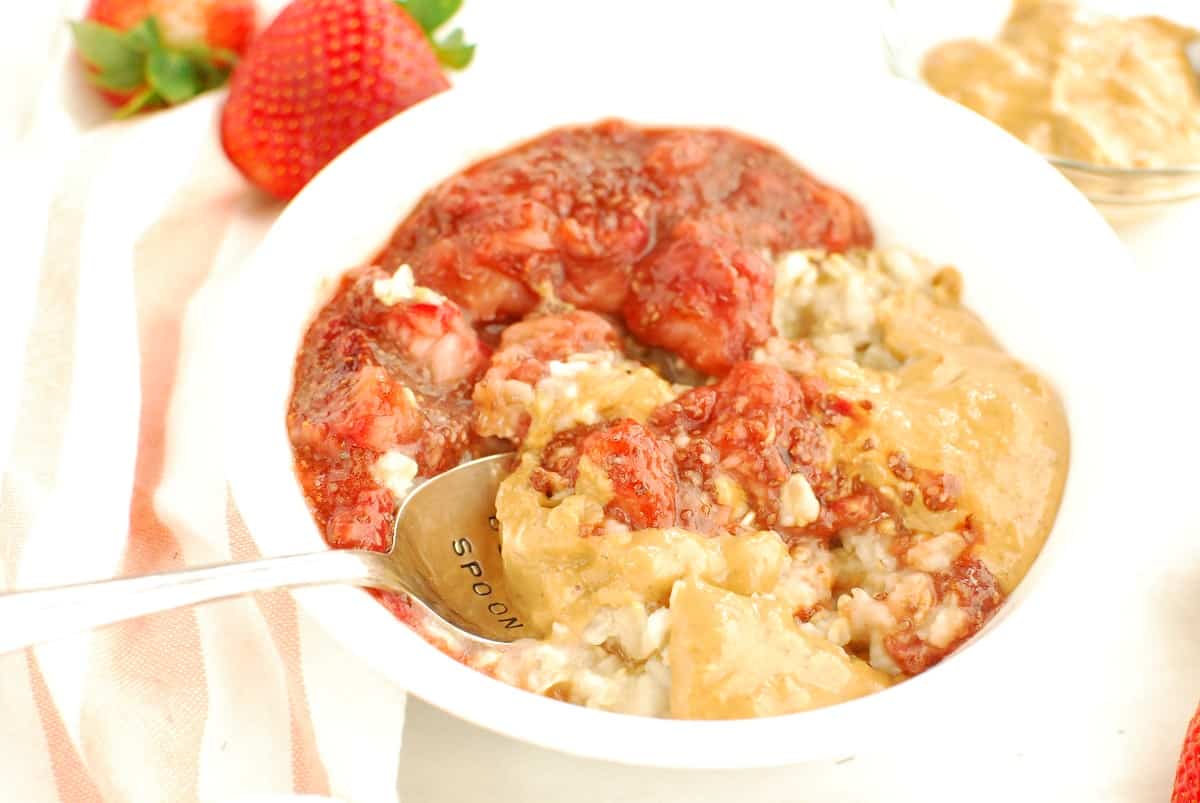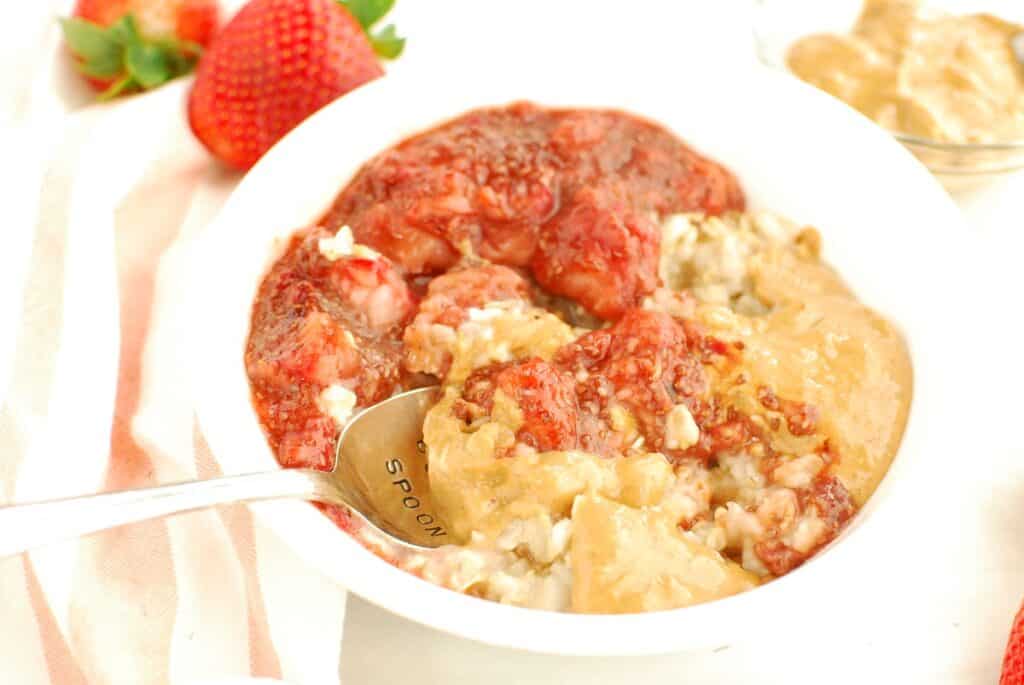 Recipe FAQ
Here are some common questions that may come up as you prepare this peanut butter and jelly oatmeal:
Can you use instant oats or steel cut oats instead of rolled oats?
Sure.  Just cook those with water according to package directions (note you may need to adjust the amount of water used).  Instant oats are typically very quick to cook (about 1-2 minutes) while steel cut oats tend to take a bit longer to cook (about 20-30 minutes).
Can you use any type of berry for chia jam?
Yes!  Strawberry is very common, but you can also make chia jam with blueberries, blackberries, raspberries, seeded concord grapes, or even cranberries.  Feel free to use any of those as your jelly component rather than strawberries.
How can you add more protein to oatmeal?
Feel free to add some vanilla Greek yogurt, peanut butter protein powder, or vanilla protein powder to your oatmeal.  This recipe does provide 14.5 grams of plant-based protein as written, so it's a good option even without any of these additions.
Nutrition benefits
This breakfast has the best flavors of peanut butter and strawberry jam, in a healthy way that fuels your body. Here are some nutrition highlights:
Rich in healthy carbs that can help fuel your workouts.  This recipe is a great option for runners!
Provides 14.5 grams of protein to support muscle repair and recovery.
Has 11 grams of fiber to support digestive and gut health.  Did you know almost everyone falls short in their daily fiber needs?!
Contains 22% of your daily iron needs, a key mineral that helps transport oxygen to your muscles.  Iron is particularly important for female athletes who lose this mineral in their monthly cycle.
Provides 99% of your daily Vitamin C needs to support a healthy immune system.
Has 37% of your daily magnesium needs.  Magnesium is very important for runners, as it is involved in energy production, muscular contractions, bone health, and may be involved in exercise recovery and muscular health.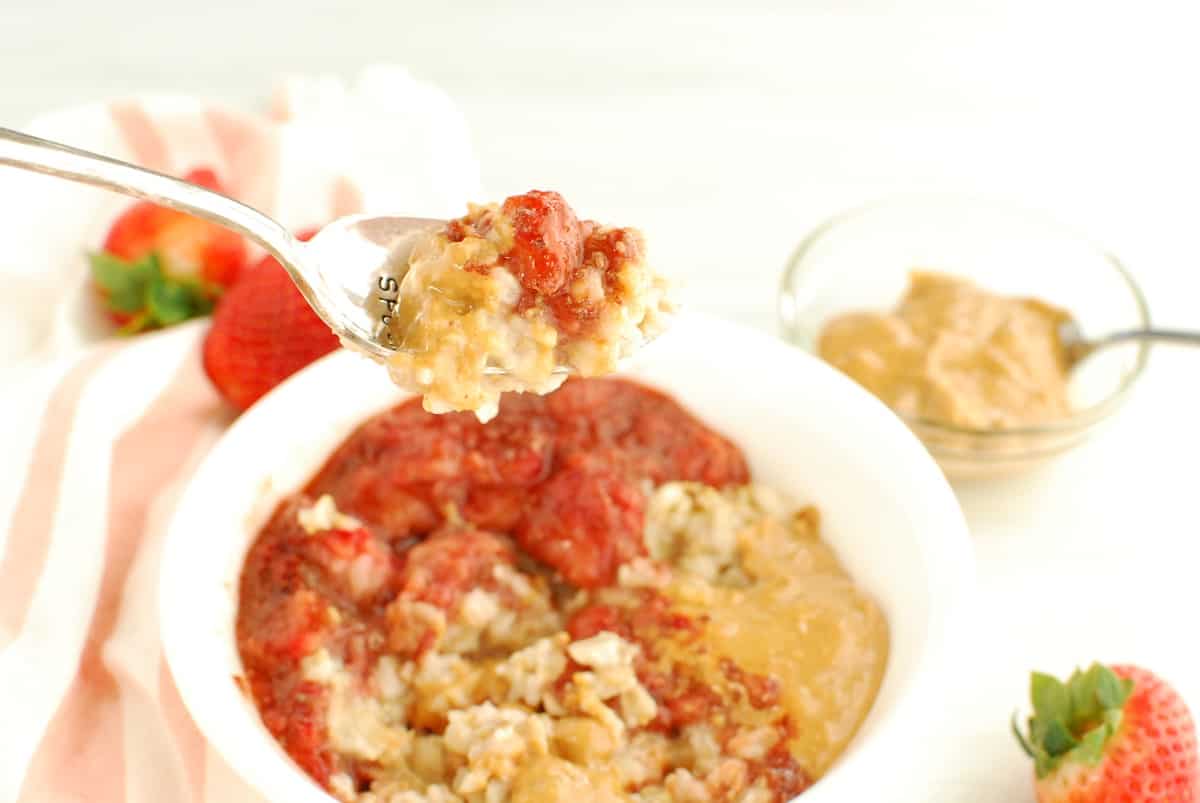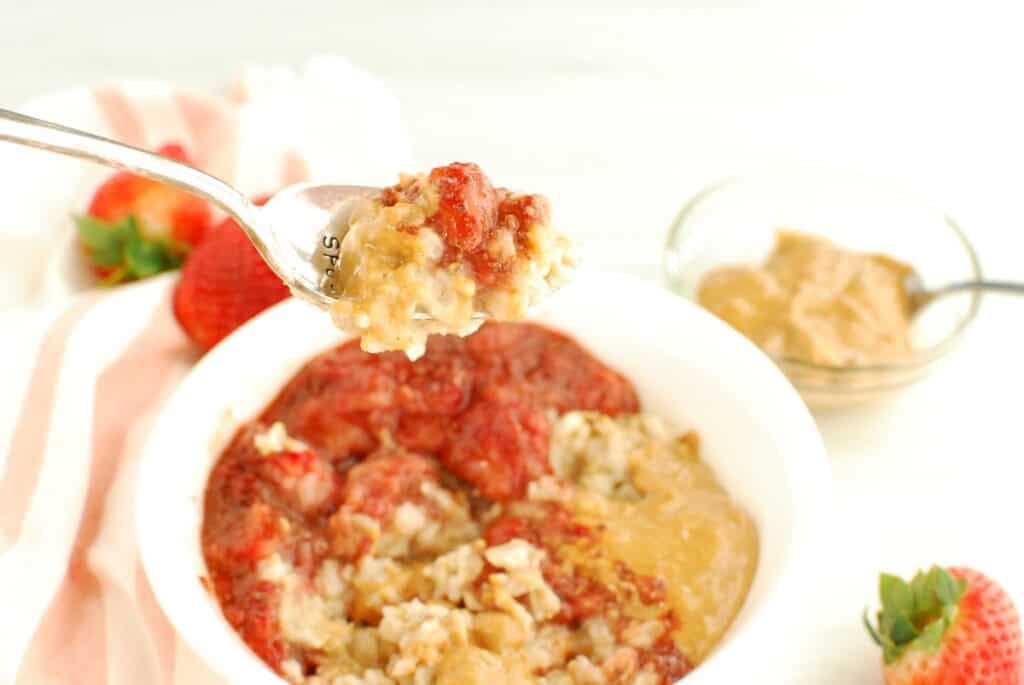 More Oatmeal Recipes
Here are some more oatmeal recipes you might enjoy:
Also, don't forget to check out our list with tons of oatmeal add-ins which might help give you some creative inspiration to create your own delicious combos.
I hope you enjoy this peanut butter and jelly oatmeal! If you get a chance to try it, please feel free to leave a recipe rating or comment below.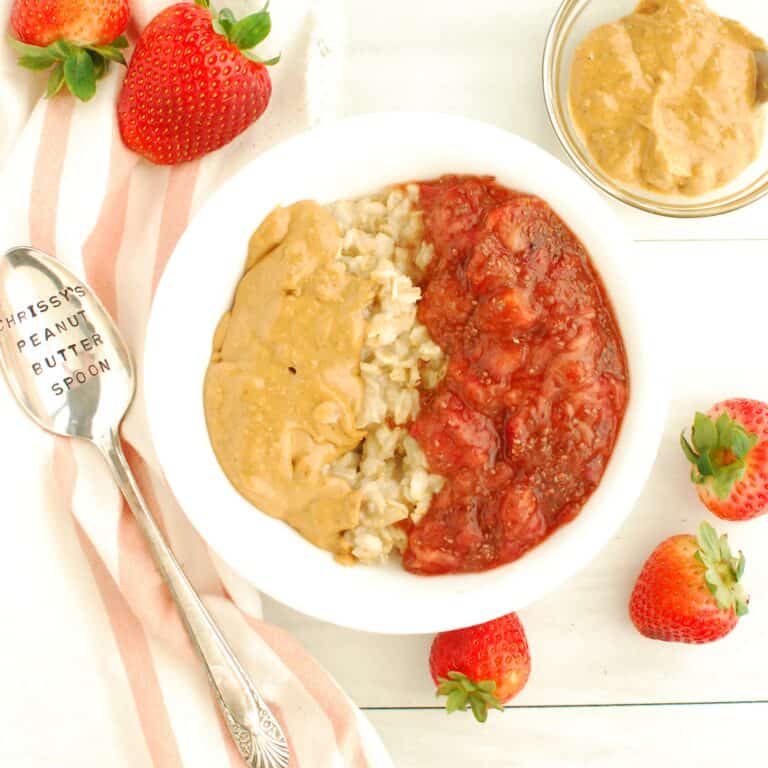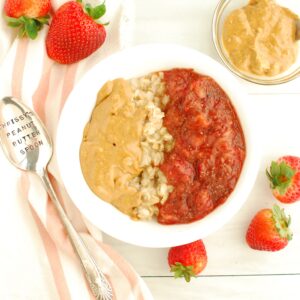 Peanut Butter and Jelly Oatmeal
This peanut butter and jelly oatmeal is a healthy and delicious breakfast recipe made with just 5 ingredients!
Ingredients
½

cup

rolled oats

1

cup

water

1

cup

sliced strawberries

½

tbsp

maple syrup

2

tsp

chia seeds

2

tbsp

natural peanut butter
Instructions
In a medium pot, cooked the rolled oats with the water, according to package directions (typically bring to a boil then simmer for 4-5 minutes). Pour the oats into a bowl and set aside for now.

Meanwhile, add the strawberries and maple syrup to another small pot and place over medium-low heat. Cook for about 4 minutes, until the strawberries are soft. Mash them with a potato masher or the back of a fork.

Add the chia seeds to the pot and cook for another minute, then turn off heat. Let sit for a moment and the mixture will thicken up to a jam-like texture.

Drizzle peanut butter onto your bowl of oatmeal, and then add the warm strawberry chia jam. Stir and enjoy!
Notes
If you want to save yourself dishes, cook the oats first, then rinse out the pot and make your chia jam.  I find that the oatmeal stays pretty warm while taking the few minutes to make the strawberry chia jam, so it's nice to use one pot and save time on dishes.
Feel free to use instant oats or steel cut oats if you'd prefer; just cook them according to package directions (note that you may need to adjust the water).
Nutrition analysis (approximate): 453 calories, 21.5 g fat, 4 g saturated fat, 150 mg sodium, 55.5 g carbohydrate, 11 g fiber, 17 g sugar, 14.5 g protein, Vitamin D: 0%, Calcium: 9%, Iron: 22%, Potassium: 13%
Nutrition
Share:  What's your favorite oatmeal combination?
Feel free to pin this post to share with others.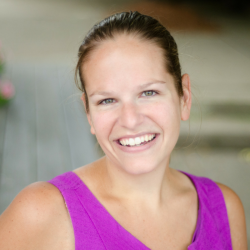 Latest posts by Chrissy Carroll
(see all)