With these high protein overnight oats, you'll get all the flavors of a blueberry pancake in a convenient grab-and-go meal. Made without protein powder, these oats get their high protein content from milk, Greek yogurt, and ricotta cheese. In fact, you'll get 24 grams of high quality protein, plus carbohydrates, making it perfect as a meal to refuel after a tough workout.
Ingredients
Here's what you'll need to make this recipe, and some helpful notes about each one:
Blueberries – Fresh work well for this recipe so you can mash some and blend them into the oats for blueberry flavor throughout. But you can definitely use frozen too; you'd just skip the mashing step and only use whole berries.
Rolled oats – You'll want rolled oats for this recipe – since they're pressed, they'll absorb the liquid and soften overnight into the right texture. While there are some recipes for overnight oats that use steel cut oats, I don't recommend them for this recipe as they require a different liquid ratio and more soaking time.
Plain Greek yogurt – This is always a staple in my fridge, as you can use it in both sweet and savory culinary applications. Greek yogurt packs in a lot of protein, and also makes these oats creamy.
Ricotta cheese – The most underappreciated member of the dairy world! I love ricotta, as it is high in protein, adds a creamy texture, and brings out pancake-esque vibes to this recipe. (If you're looking for another great recipe to use the rest of your ricotta, definitely check out my caramel apple salad).
Maple syrup – You'll use this to sweeten the recipe, and because it's maple, this will remind you of blueberry pancake flavors.
Milk – I use dairy milk for this recipe, because it adds more protein. If you have a high-protein milk alternative that you keep on hand, feel free to use that instead.
Instructions
This recipe is so easy to make.
You'll start by mashing half of your blueberries, then pouring them into a mason jar. Then you'll add the oats, yogurt, ricotta, maple syrup, and milk, and give everything a good shake.
Pop that mason jar in the fridge and let it sit overnight. In the morning, dig into deliciousness!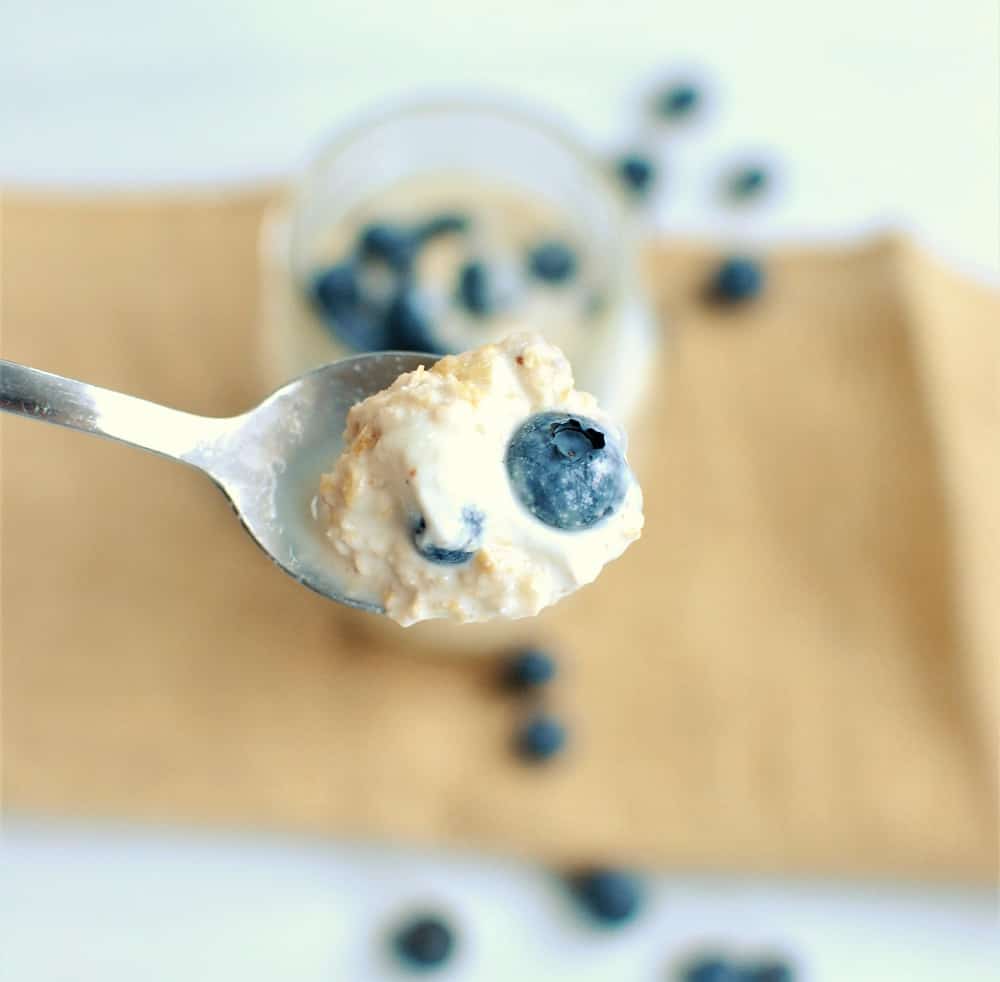 Recipe FAQ
Here are some common questions that may come up as you prepare this recipe:
Are overnight oats eaten cold? You can eat them cold or you can warm them up – whatever you prefer. Just don't forget to remove the metal lid from your mason jar if you're heating them up in the microwave!
Can this recipe be frozen? I do not recommend freezing overnight oats.
How long do overnight oats last? These will stay good in the fridge up to 4-5 days.
Why is this a good post workout meal? After a strenuous long run or a tough strength training session, it's smart to refuel with both carbs and protein. These overnight oats contain both of those nutrients, which will help replenish energy stores and start the muscle repair and recovery process.
Is this recipe gluten free? It can be made gluten free as long as you are choosing certified gluten free oats.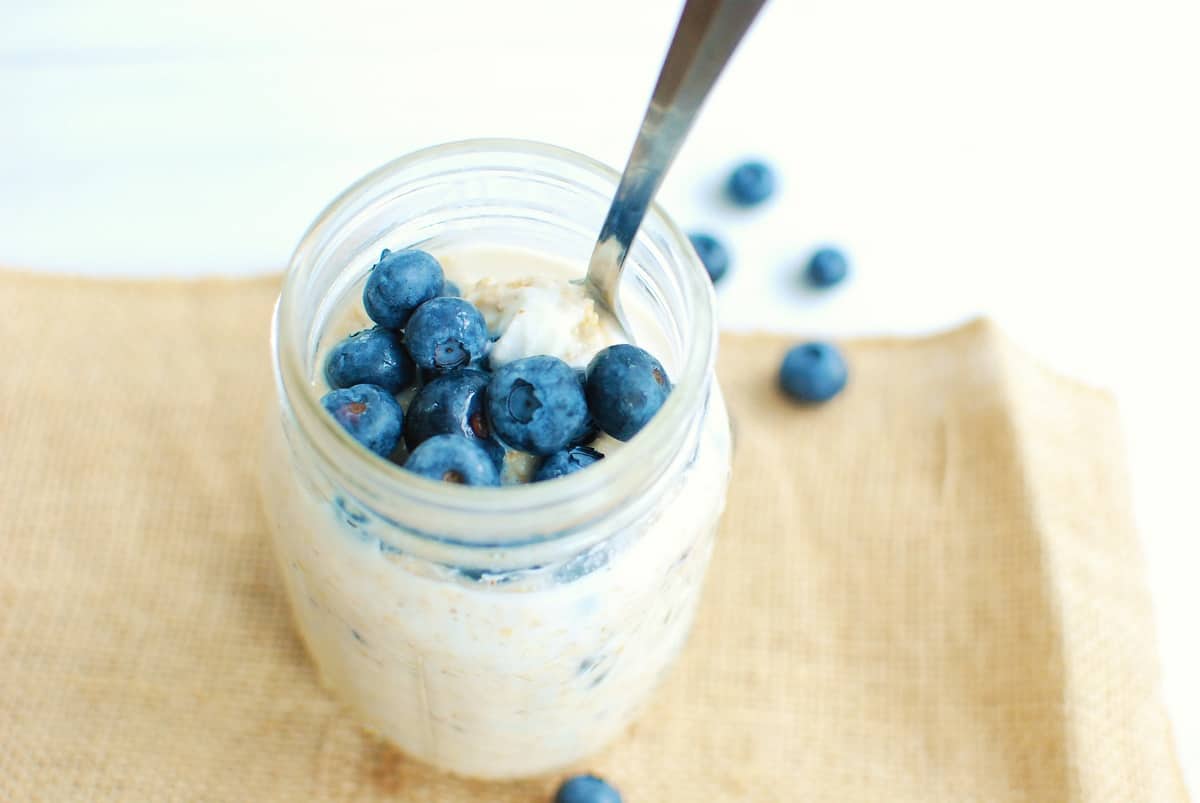 More Overnight Oats Recipes
If you're looking for more delicious overnight oats ideas, here are a few of my favorite:
You can also check out this roundup of 20 healthy overnight oats recipes with lots more ideas.
I hope you enjoy these blueberry high protein overnight oats. I find them very convenient, since we usually have greek yogurt and ricotta in our fridge. You can make other variations of this recipe with whatever berries you like – strawberries, blackberries, and raspberries all work well. If you have a chance to try this recipe, I'd love for you to leave a rating or comment below.
Blueberry High Protein Overnight Oats
These high protein overnight oats will remind you of a blueberry pancake!
Ingredients
1

cup

blueberries

divided into 1/2 cup and 1/2 cup

½

cup

rolled oats

¼

cup

plain nonfat Greek yogurt or Skyr

¼

cup

part skim ricotta cheese

1

tbsp

maple syrup

½

cup

1% milk
Instructions
Take 1/2 cup of blueberries and mash them up with a fork in a bowl. Pour them into a mason jar.

Add the oats, yogurt, ricotta, maple syrup, milk, and remaining blueberries. Put the lid on the jar and give everything a good shake.

In the morning, enjoy cold, or heat them up. To serve hot, remove lid and place in the microwave for 60-90 seconds. Stir well and enjoy.
Notes
Nutrition analysis (approximate):  465 calories, 9.5 g fat, 4.5 g saturated fat, 145 mg sodium, 73.5 g carbohydrate, 7.5 g fiber, 35.5 g sugar, 24 g protein, Vitamin D: 8%, Calcium: 34%, Iron: 14%, Potassium: 14%
Nutrition
Share: What's your favorite flavor combo in overnight oats? If you tried this recipe, what did you think?
Feel free to pin this post to share with others!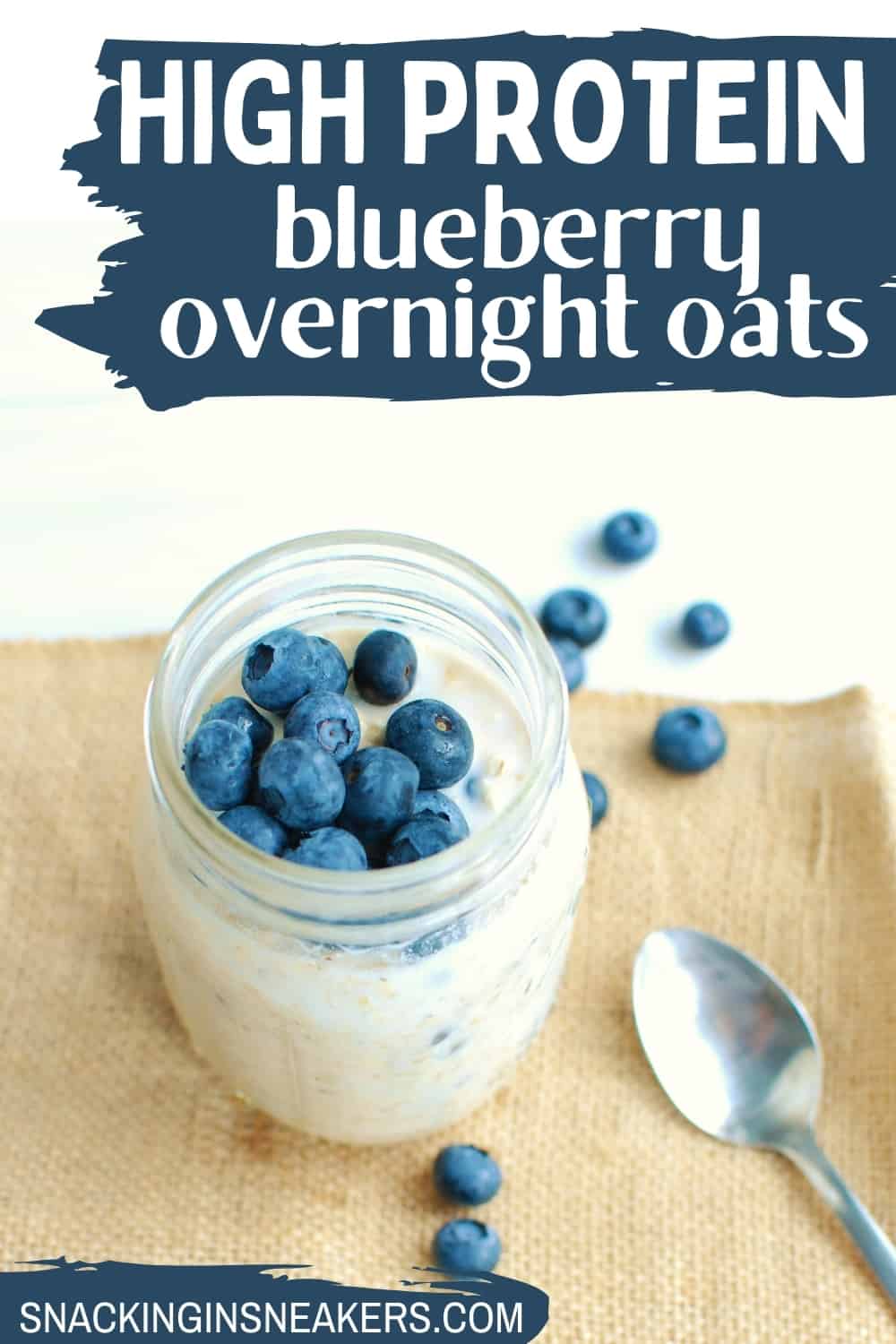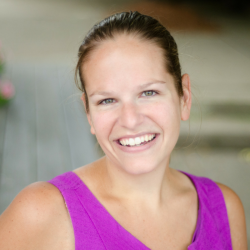 Latest posts by Chrissy Carroll
(see all)