Apple mug cake makes a delicious, portion-controlled treat that's perfect on a fall day – especially after a chilly long run! This healthy mug cake is made with a mixture of whole wheat flour and almond flour, gets a little protein boost from some Greek yogurt, and of course, has lovely chunks of sweet, fresh apples.
Disclosure: This post is sponsored by Autumn Glory Apples. As always, all opinions are my own.
A Post Workout Treat
Every so often, our local running store hosts these fun group runs that culminate in something exciting, like an ice cream social or a fall breakfast or a vendor raffle. When I woke up last weekend and it was only about 20 degrees out, I was hesitant to attend. But with a little prodding from my husband – "this run is to collect canned foods for the food bank after all!" – we loaded the jogging stroller and my son into the car and drove over.
Of course, once I was there and running, I felt great. Isn't that always the way it goes with a workout?!
It was the coldest outdoor run I've done yet this year, though. And while I was out there, it got me thinking – there really aren't that many quick, warm recovery foods. Most of my go-tos, like smoothies or chocolate milk or yogurt & fruit, are all cold.
I started to brainstorm what kinds of warm recovery foods might be nice for athletes who are doing a lot of long runs this winter (especially up in this area with so many runners that will be preparing for Boston).
And then I remembered I had some Autumn Glory Apples at home, and the wheels started turning – what about an apple mug cake?! Could I make one that had a little protein in there as well so it would be a good recovery option?!
Yes, my friends. Yes indeed.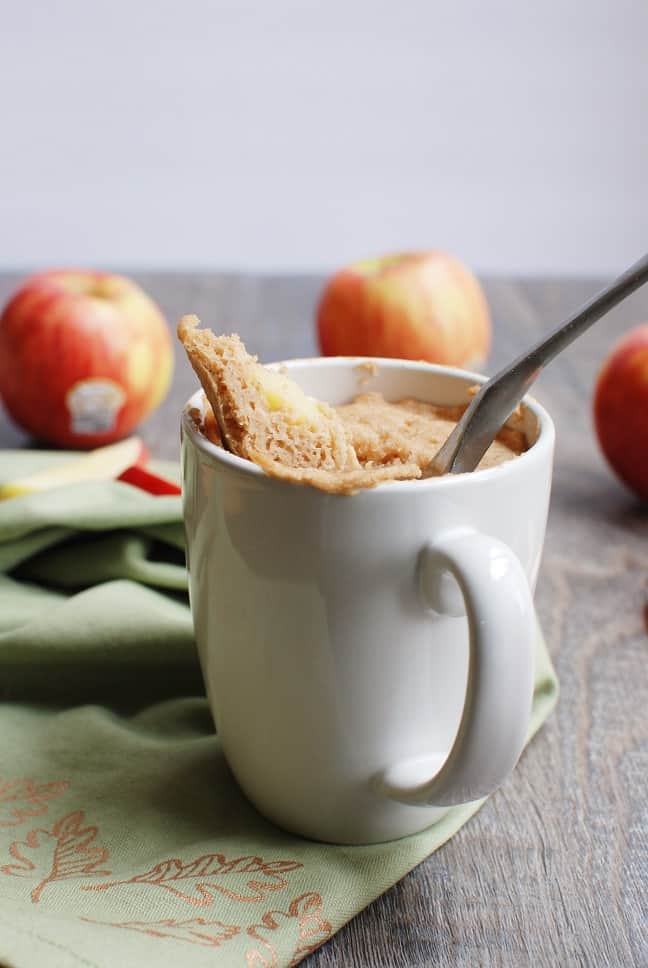 How to make an apple mug cake
You only need a handful of ingredients to make an apple mug cake, most of which I'm guessing are in your fridge or pantry right now:
Egg
Plain Greek yogurt (or vanilla)
Applesauce
Oil
Brown sugar
Cinnamon
Whole wheat flour
Almond flour
Baking powder
Apple
For this particular recipe, I used Autumn Glory Apples. With hints of cinnamon and caramel, that fall flavor pops in any type of sweet snack you can think of – smoothies, muffins, pies, and more. And especially in this apple cinnamon mug cake.
Once you've got all of those ingredients, you basically just mix everything together in your mug and pop it in the microwave! (See the specific amounts and timing in the recipe card below).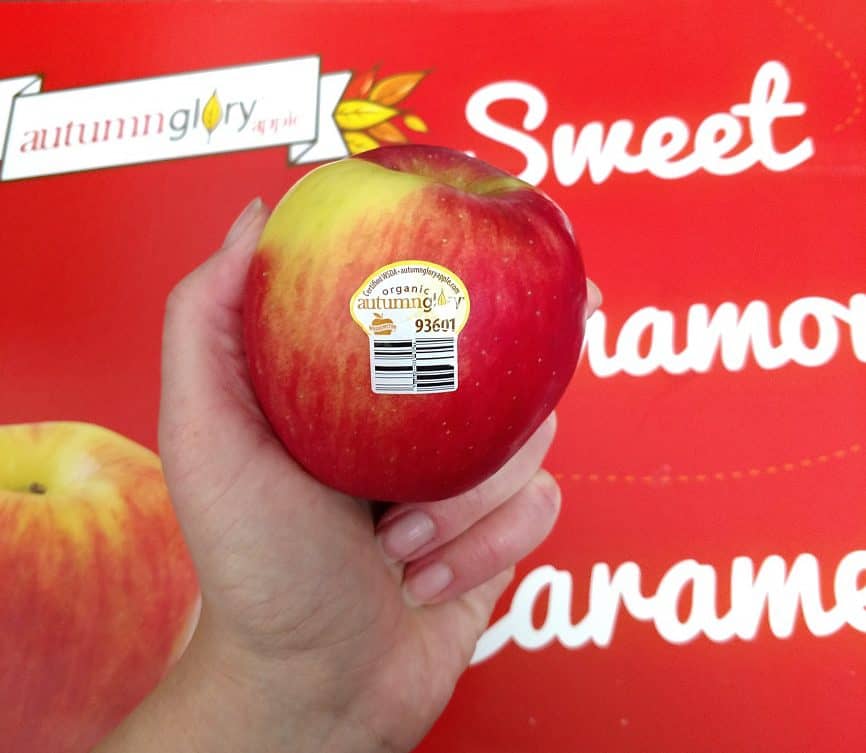 Recipe FAQ
Here are some common questions that might come up when you're making this recipe:
Can you make mug cake in a bowl instead of a mug? Yep, that should work! Just make sure it's not a huge bowl; it should be a smaller size cereal bowl. Also, you may need to adjust the cooking time since it's more shallow than a mug.
Can you make mug cake without baking powder? It won't rise and be as cake-like. I would recommend using the baking powder.
How long will mug cake last? This is meant to be eaten right after you make it for best results, but if you have extra that you don't finish, you can store it in the fridge to snack on within the next 2 days.
When to Eat This
I've designed this apple mug cake for two scenarios:
Scenario 1: You've just completed a long run or ride, and want a delicious snack to refuel. You need some carbs and protein to help restock the muscles with energy and begin the repair process.
Runner and tri friends…this mug cake is where it's at! Especially after some of those cold fall and winter runs, you just want something to warm you up quickly. Piping hot apple cinnamon cake? Um, yes please.
Let's talk about why this works for recovery. You see, after a long run or ride, you're looking to replenish carbohydrate in the muscles quickly – think within 30-60 minutes of finishing your workout. This is to restock those muscles with stored energy. You also want a little protein as well to help start the repair and recovery process for those muscle fibers.
This mug cake is a fine choice in that hour window, since it's giving you both of those things. You're getting primarily healthy carbs from the whole wheat flour, yogurt, applesauce, and apples.
There is brown sugar in here, too – not exactly a "healthy carb", but you gotta have some subtle sweetness in cake! #sorrynotsorry 😉 If you want to experiment with stevia or another alternative sweetener, you can always give that a whirl, but I'm sticking with the real stuff in this.
Here's the cool thing about this cake though – in addition to those carbs, it's also got 12.5 grams of protein. Where else do you find that in cake?! I mean, of course, you could find a mug cake recipe that uses protein powder and it would likely be a bit higher. But for those that want just a basic whole food recipe? This is it. The protein in this comes mainly from the egg white and greek yogurt.
The recipe clocks in right between a 4:1 and 3:1 carbohydrate to protein ratio, which is thought to be an optimal balance for endurance athlete recovery.
And if you want to pack in a little more protein, simply serve it with a scoop or two of greek yogurt on top, or chug down a cold glass of milk with your warm, decadent cake. I personally try to aim for about 15-25 grams in recovery, so a cup of milk alongside this cake is right in my wheelhouse.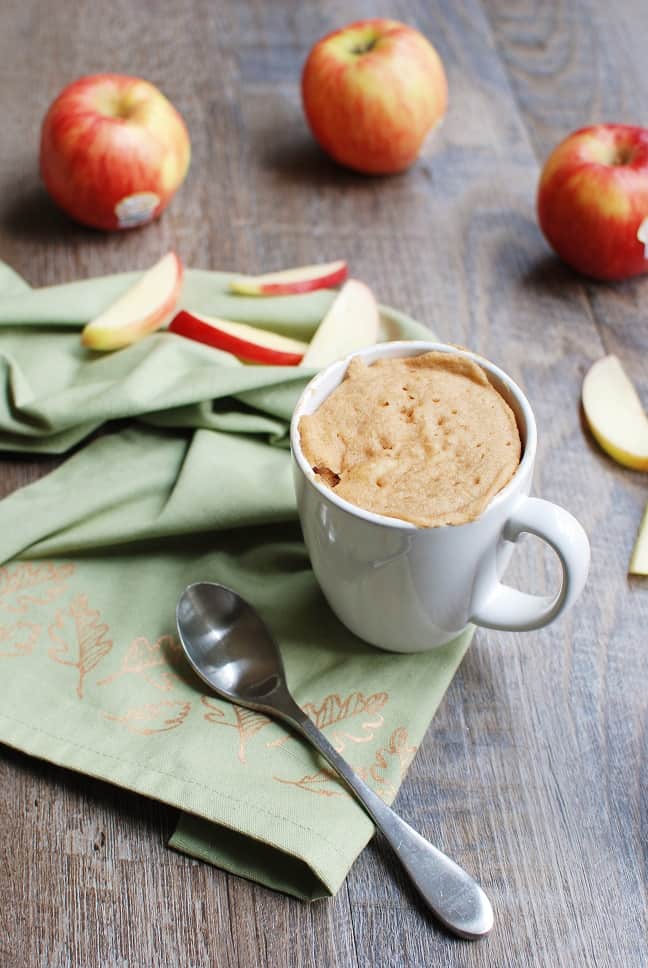 Scenario 2: You really want dessert, but you know if you make a whole cake you're going to be digging into it all week. You want something indulgent, but in a reasonable portion controlled serving.
Willpower can be fleeting, my friends. If there's a pan of cake in the house, I know I personally struggle with limiting myself to one serving.
So instead, you can make and enjoy this single serve mug cake. Yes, it's a little high in calories for a snack (350 calories per serving), but that's still considerably less than what you might serve yourself from a big 'ol cake. And this boasts the benefit of 12.5 grams of protein and 5 grams of fiber.
Or, if you're working hard to drop a few pounds, make it a split serving with a spouse or friend. Simply mix up the batter as described, but split between two mugs when you cook it. This knocks your cake down to just 175 calories a serving. That's super reasonable for anyone's meal plan.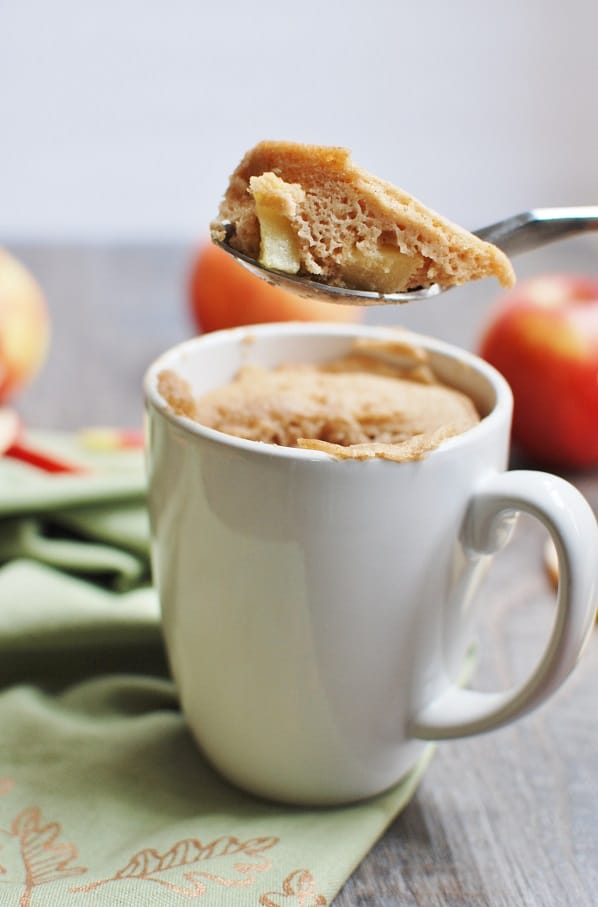 Whether you are pounding the pavement this fall or you just want to enjoy a sweet treat, I hope you enjoy this delicious apple mug cake!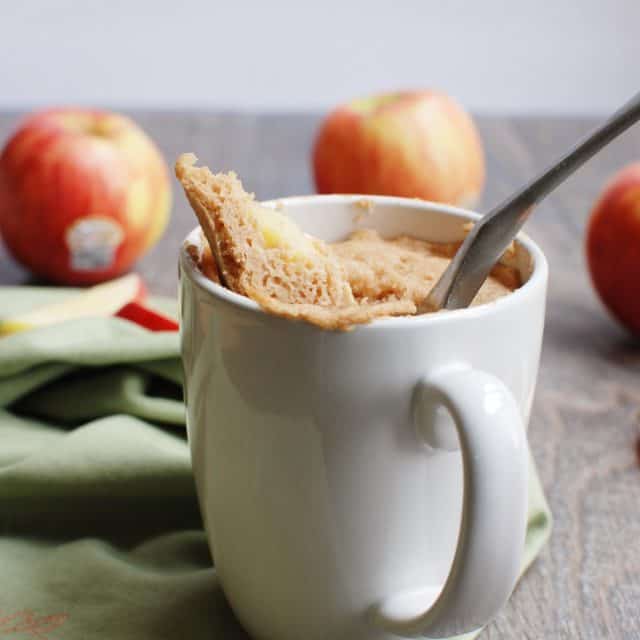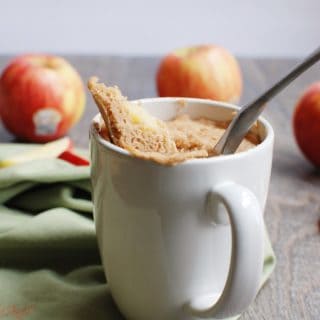 Apple Mug Cake
This apple mug cake will soon be your favorite fall snack! Bonus – it's a high protein snack that's great for recovery after a tough run or ride.
Ingredients
1

egg white

from a large egg

3

tbsp

plain greek yogurt

2

tbsp

unsweetened applesauce

1

tsp

vegetable oil

or coconut oil

4

tsp

brown sugar

1/2

tsp

cinnamon

2

tbsp

whole wheat pastry flour

2

tbsp

almond flour

1/2

tsp

baking powder

1/2

small apple, peeled and diced
Instructions
Combine the egg white, greek yogurt, applesauce, oil, brown sugar, and cinnamon in a mug. Whisk everything together with a fork until well combined.

Stir in the whole wheat pastry flour, almond flour, and baking powder. Gently fold in the chopped apple. (If making this into two servings, divide mixture between two mugs at this point).


Microwave for 2 to 2 ½ minutes, or until the top of the mug cake is no longer wet. Let sit to cool for a few minutes, then dig in! (Note – if you divided it into two servings, try microwaving for 1 to 2 minutes instead, as the cake will cook more quickly when divided).

Notes
Notes:
I have tested this several times and it has always come out the correct consistency based on my ingredients. However, if the mixture appears too dry, add 1 tbsp of milk or water. This may happen if you're using a smaller egg.
Note that the bottom of the mug cake may be a bit moist, but it should not be batter-like. If after letting it cool you dig in and the inside of the cake is still batter-like, pop it in for an additional 30-60 seconds.
If you want to boost the protein content of this, you can add a few dollops of vanilla greek yogurt to the top.
If you want to reduce the sugar content, you can try cutting it from 4 tsp brown sugar to 2 tsp brown sugar. The cake will just be less sweet.
Nutrition analysis (for entire recipe):
350 calories, 11 g fat, 1 g sat fat, 257 mg sodium, 50 g carbohydrate, 5 g fiber, 12.5 g protein, Vitamin A: 1%, Vitamin C: 16%, Calcium: 28%, Iron: 9%
Nutrition analysis (per serving for two servings):
175 calories, 5.5 g fat, 0.5 g sat fat, 129 mg sodium, 25 g carbohydrate, 2.5 g fiber, 6 g protein, Vitamin A: 0%, Vitamin C: 8%, Calcium: 14%, Iron: 4.5%
Nutrition
Share with me: What's your favorite post-workout snack? Are you excited for this apple mug cake?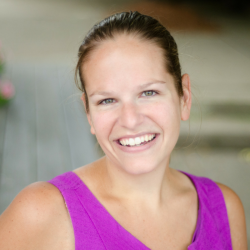 Latest posts by Chrissy Carroll
(see all)