Imagine if Reese's peanut butter cups and a protein bar had a baby.  This peanut butter protein fudge is what you'd end up with!  Essentially, it's a delicious peanut-buttery treat that's still got a bit of an edge health wise.
Disclosure: This post is sponsored by NOW®. As always, all opinions are my own.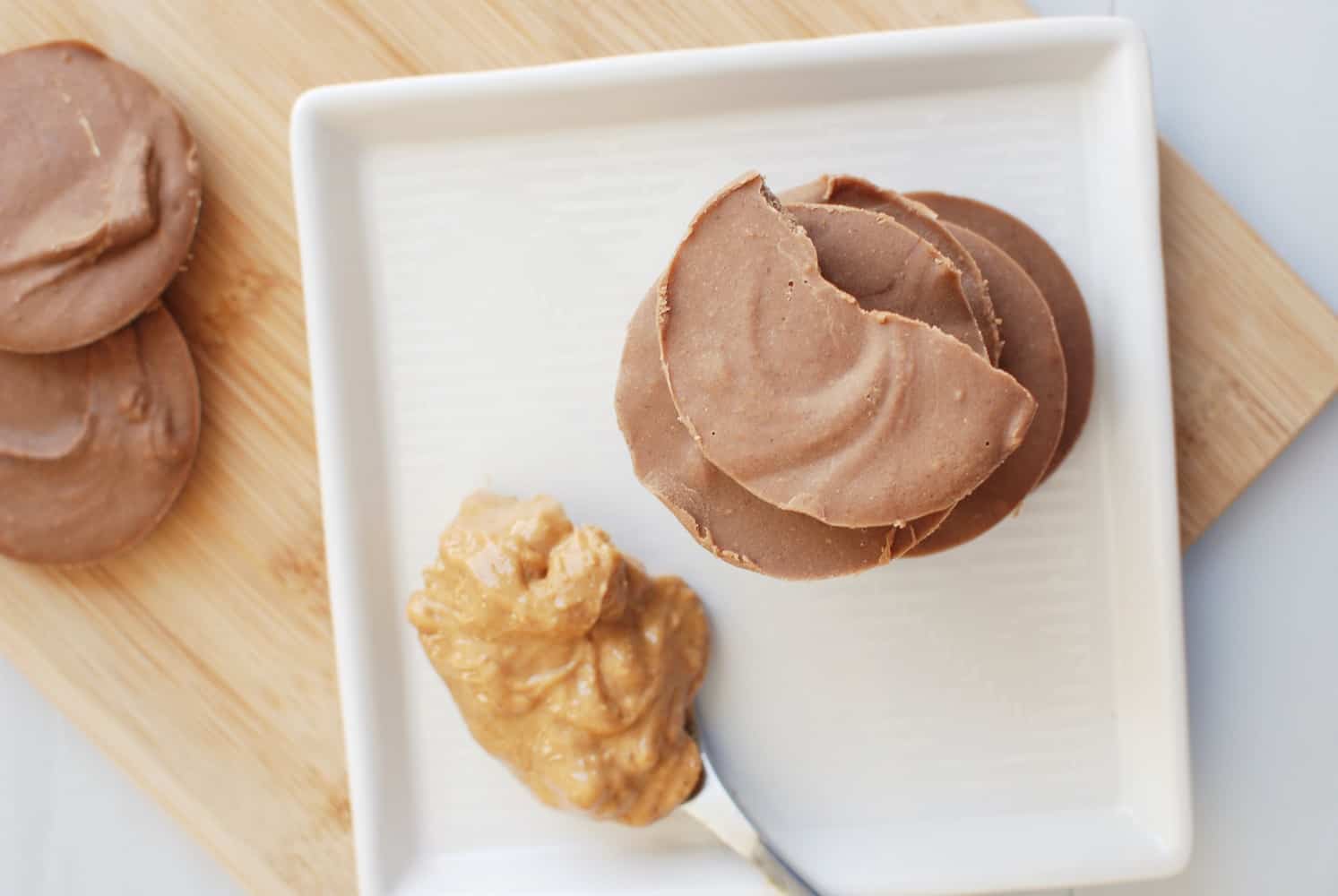 Ingredients
I think you'll be surprised just how easy it is to make this recipe. You only need five simple ingredients: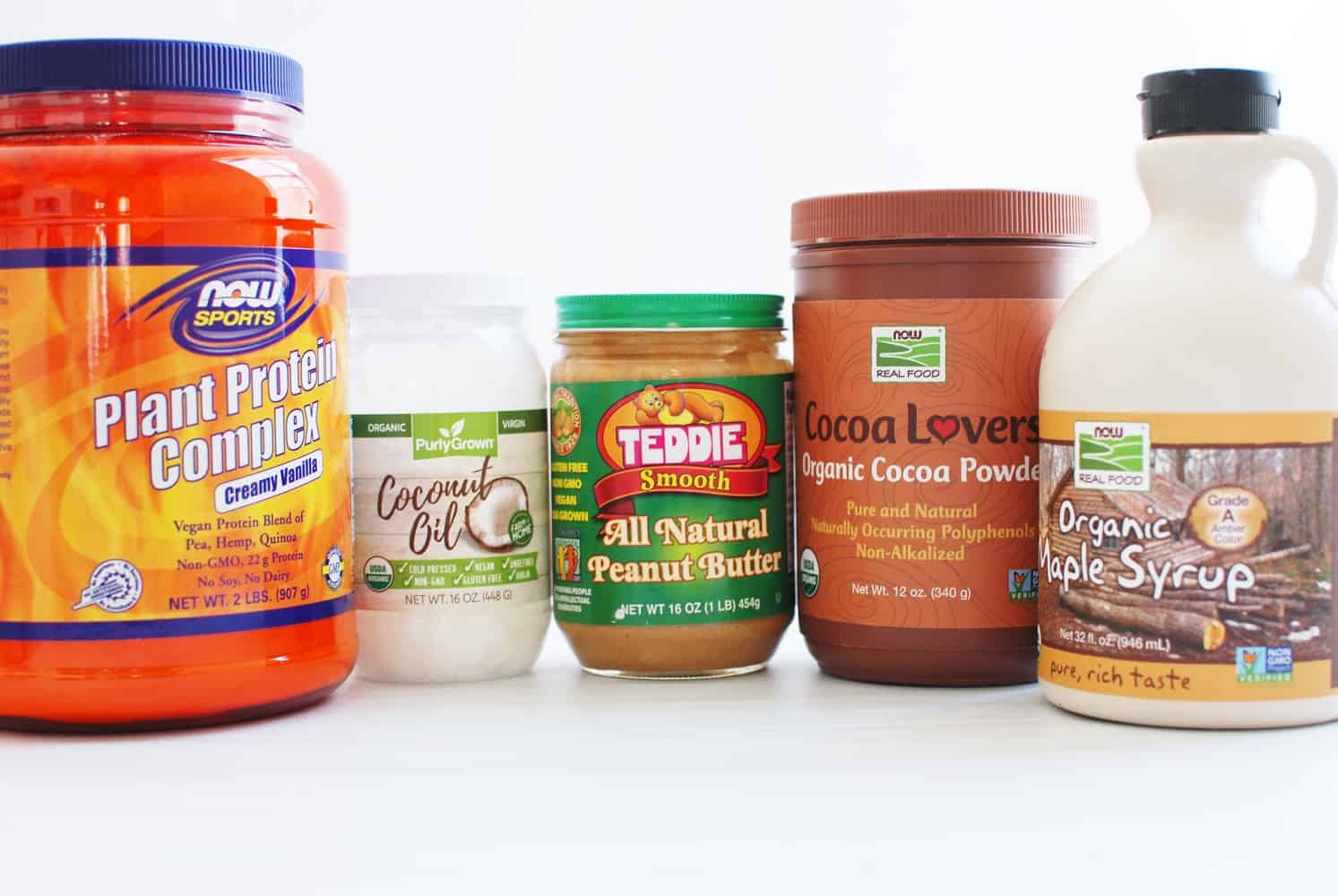 1. Coconut oil
While I don't think coconut oil is the magical panacea many health enthusiasts make it out to be, I do think it's something you can include in a balanced diet. Plus, it's super helpful to use for vegan and dairy-free recipes.
In this protein fudge recipe, coconut oil adds smoothness and mouthfeel to create that traditional fudge texture you're probably used to!
2. NOW® Sports Protein Powder
I'm partial to using the NOW® Sports Vanilla Plant Protein Complex here. In my years as an RD I've gotten to sample a lot of protein powders and this is definitely one of my favorite plant-based options out there. It's made with pea, hemp, and quinoa proteins. For any of you with dietary limitations, this blend is dairy-free, soy-free, and vegan.
But you can also use any of the other NOW® Sports vanilla protein powders instead, like their vanilla grass-fed whey protein.  Or if you want some extra chocolatey flavor, you can use any chocolate powder too.  (I find the vanilla lets the peanut butter flavor shine through a bit more though).
3. Natural peanut butter
I recommend a natural peanut butter here rather than a processed one. First, it's a bit healthier, as natural peanut butters should just contain peanuts and salt – whereas some of the more processed ones also have added sugar and other oils. In addition to that, though, the drippy texture of natural peanut butter leads to a better overall texture in this recipe.
4. Maple syrup
The protein powders listed above are sweetened with xylitol and stevia, but I add just a smidge of pure maple syrup to this recipe. I like the true sugar flavor that it adds, and it's helpful for also adding a bit of moisture.
5. Cocoa powder
Obviously we need some chocolate in fudge, right?! Cocoa powder is actually good for us though, as its packed with flavonoids as well as a little fiber.
Instructions
Once you've got all these ingredients, it's as simple as mixing everything together, portioning it out in a silicone muffin pan, and letting it set in the freezer for 10 minutes. 
Once they've set, you can store them in the fridge and pop 'em out for an easy snack anytime. 
Here's a quick video showing you all the steps (forgive the camera skills – I made this when I was just learning how to do video on my DSLR 😉 )
Nutrition Benefits
Each piece of peanut butter protein fudge is just 185 calories with 6 grams of protein!
Now, is that going to be enough for a post-workout recovery meal? Nah, probably not. But is it awesome for a sweet snack with a little bit of sticking power? You bet!
The combination of fats and protein in these make them very satisfying, so one piece of protein fudge is just what you need to satisfy that sweet tooth.
Bonus: this recipe is naturally vegan-friendly and fits a lot of dietary needs since it's free from certain allergens like dairy, soy, and eggs.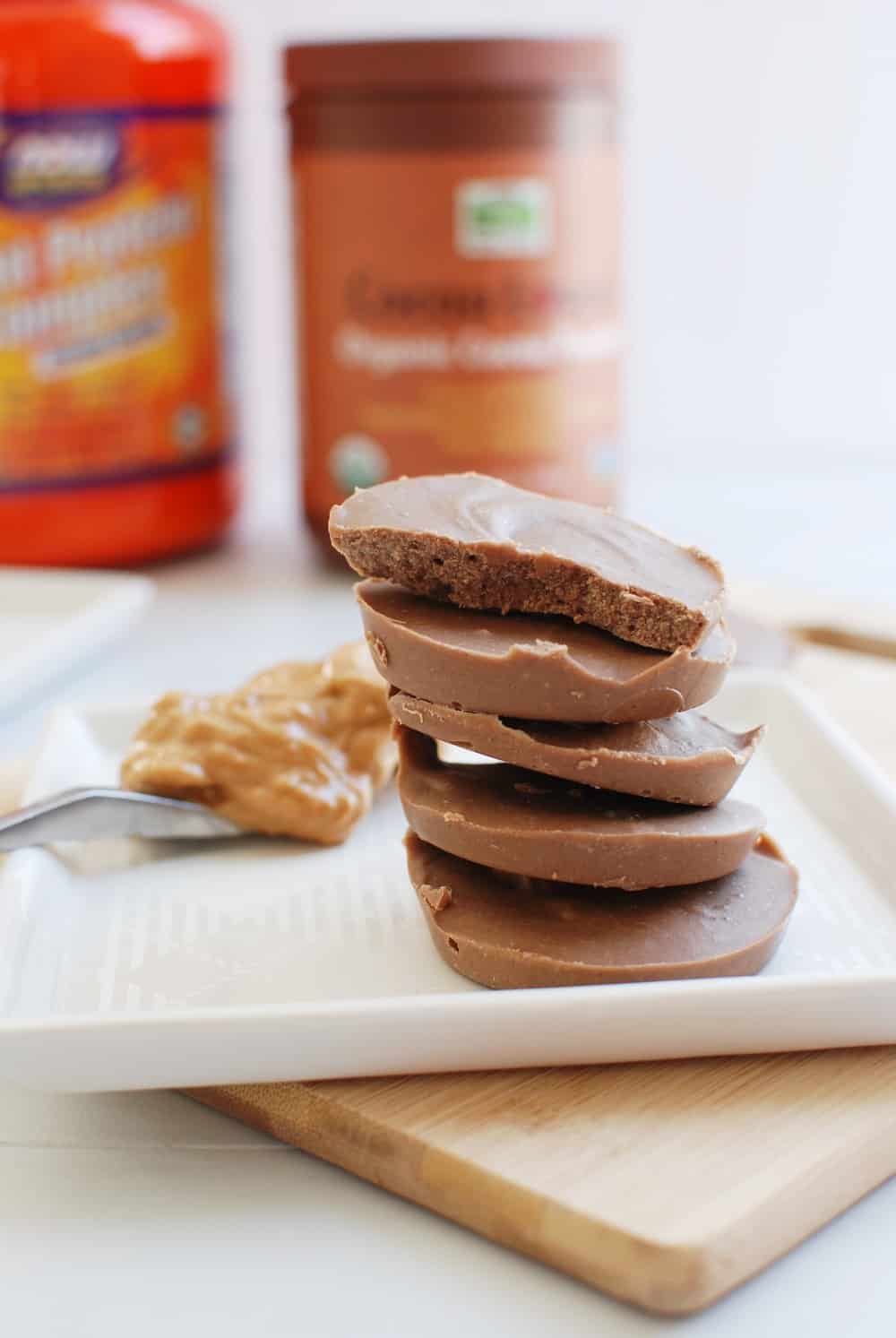 More Protein Powder Recipes
If you're looking for more recipes that utilize protein powder, try one of these options:
I hope you get a chance to make it soon – and if you do, be sure to let me know what you think by rating the recipe!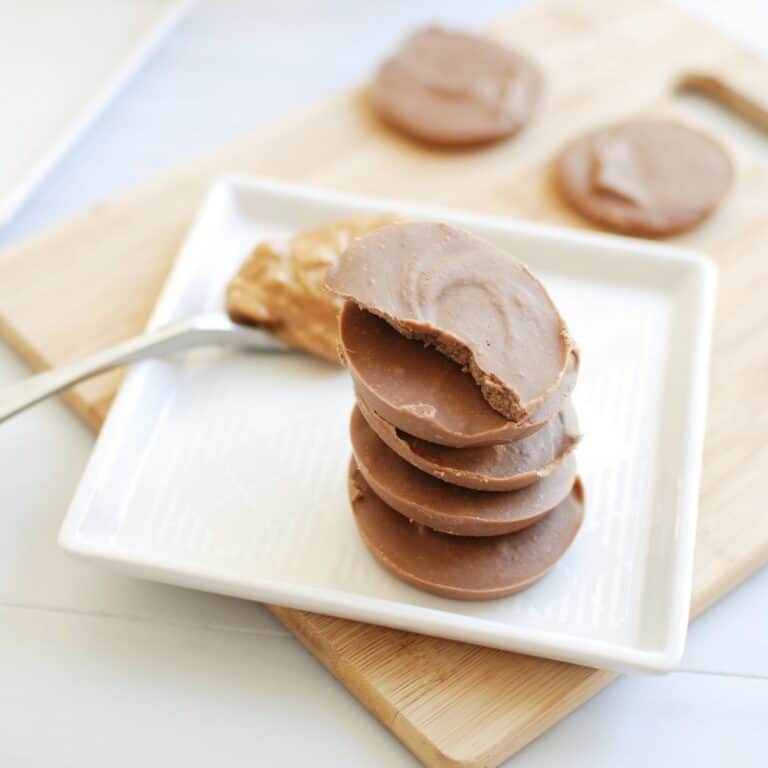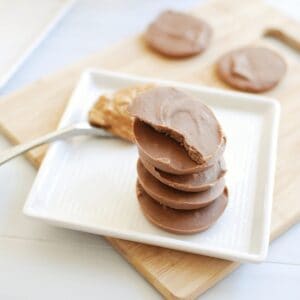 Peanut Butter Protein Fudge
Imagine if Reese's peanut butter cups and a protein bar had a baby. This protein fudge is what you'd end up with!

Ingredients
¼

cup

coconut oil

¼

cup

vanilla protein powder

(I use NOW® Sports Plant Protein Complex Creamy Vanilla)

½

cup

natural peanut butter

2

tbsp

pure maple syrup

1

tbsp

cocoa powder
Instructions
In a microwave safe bowl, melt the coconut oil in the microwave.

In a large bowl, mix melted coconut oil with the remaining ingredients. Stir until smooth.

Portion out the mixture into 8 cups of a silicone muffin pan. Place in the freezer for 10 minutes to set, then enjoy! Store extras in the fridge for up to 5 days.
Notes
Nutrition analysis (approximate per serving):  185 calories, 15 g fat, 8 g carbohydrate, 2 g fiber, 3.5 g sugar, 6 g protein, Calcium: 2%, Iron: 6%
Nutrition
Feel free to pin this post to save for later!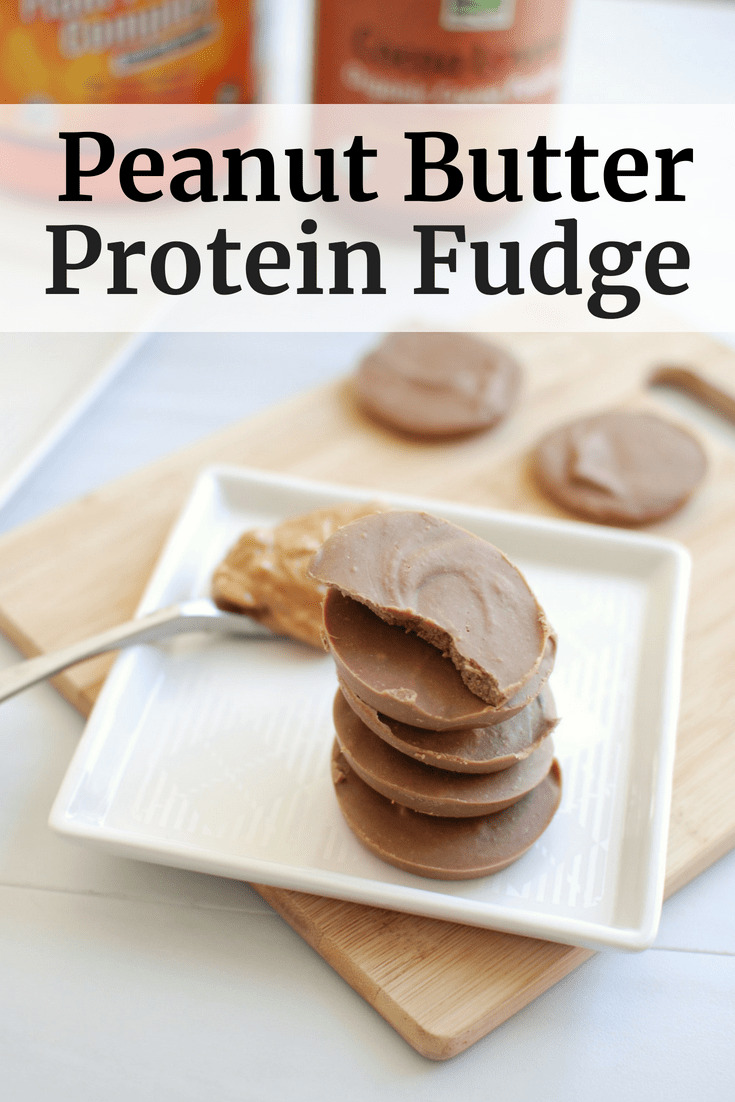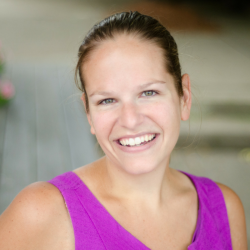 Latest posts by Chrissy Carroll
(see all)