Do you want to get the most out of your workout? If so, don't forget about proper nutrition after you're done with your sweat sesh! This post-workout watermelon protein shake is a great way to replenish carbohydrates and protein, helping you refuel and support those hard-working muscles. You can whip up this refreshing shake in about 5 minutes, making it great for a recovery meal or snack.
Disclosure: This post was sponsored by the National Watermelon Promotion Board. As always, all opinions are my own.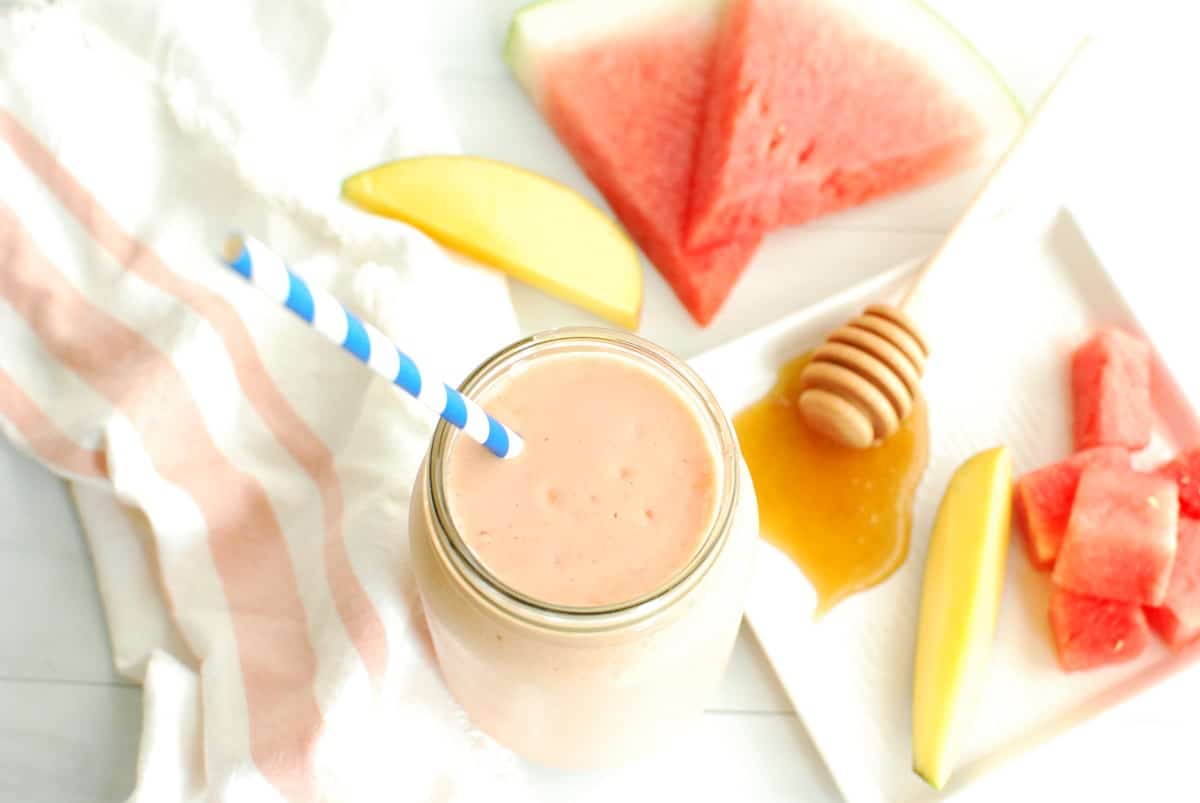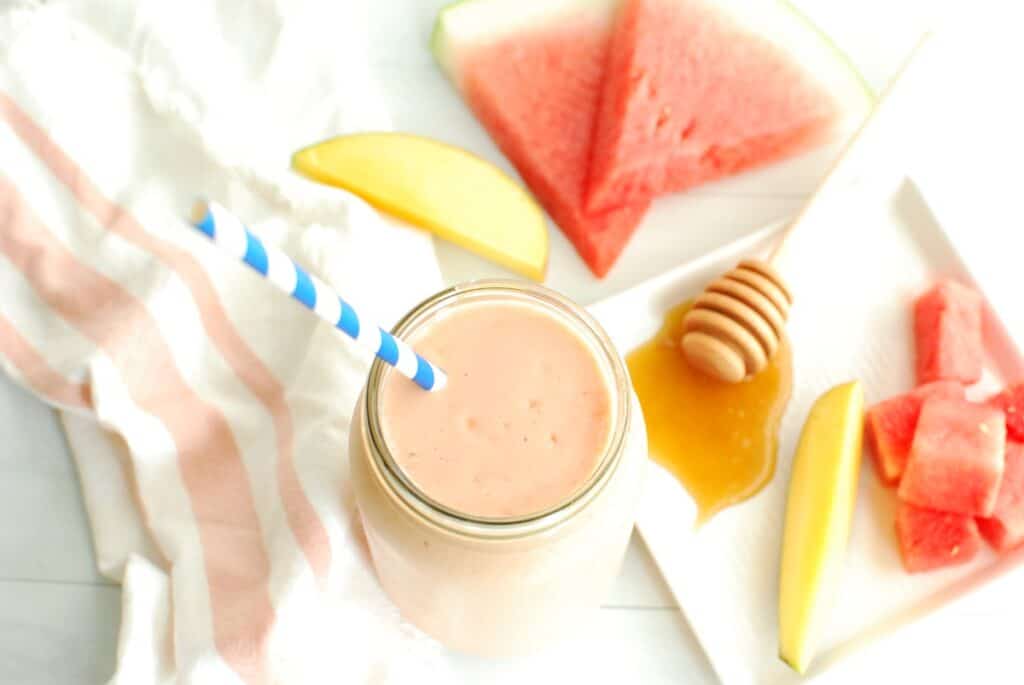 Ingredients and Instructions
Here's an overview of the ingredients you'll need, with helpful ingredient notes:
Watermelon – My absolute favorite fruit! When choosing a fresh watermelon, remember to "look, lift, and turn". Look for a watermelon with no cuts or bruises. Lift it up – it should feel heavy for it's size. And turn it over – you want to look for a creamy yellow spot where it ripened in the sun.
Mango – This tropical fruit adds extra flavor and sweetness. You can buy frozen mango directly from the freezer aisle, or grab fresh mango when it's on sale and chop it up to freeze for smoothies.
Tart cherry juice – If you've never purchased this before, it's usually located in either the produce section of the grocery store (sometimes near the kombucha and pomegranate juices) or in the shelf-stable aisle with juices.
Protein powder – I prefer whey protein isolate, as it's a high-quality protein with an optimal amino acid blend after a workout. You can also choose any plant protein complex if preferred.
Honey – While some may find this shake sweet enough without the honey, others will enjoy this addition, as it helps temper the tartness in the Greek yogurt and cherry juice.
Once you've gathered up all these ingredients, you simply need to toss them in a blender (regular or blender cup), blend them, and enjoy!
Recipe FAQ
Here are some common questions that may come up as you prepare this watermelon protein shake:
How much protein powder should I add to a shake?
This depends on the other ingredients in the shake.  Around 20-30 grams of total protein is a good amount for a protein shake after a workout. For this recipe, we also use Greek yogurt to boost the protein content, so a half scoop of protein powder is the perfect amount to balance that.  You can adjust this as desired, leaving out the yogurt and using more protein powder, or skipping the protein powder and adding more yogurt.  Feel free to experiment and see what works best for your taste preferences.
Can you make this watermelon smoothie ahead of time?
The smoothie will not be as creamy and can separate if you make it ahead of time.  For best results, make it right before you plan to drink it.
Can you make a vegan protein shake?
Sure.  Substitute the Greek yogurt for non-dairy yogurt, and use a full scoop of a plant protein complex (rather than a half scoop of whey protein).  In addition, use maple syrup if you need to sweeten, rather than honey.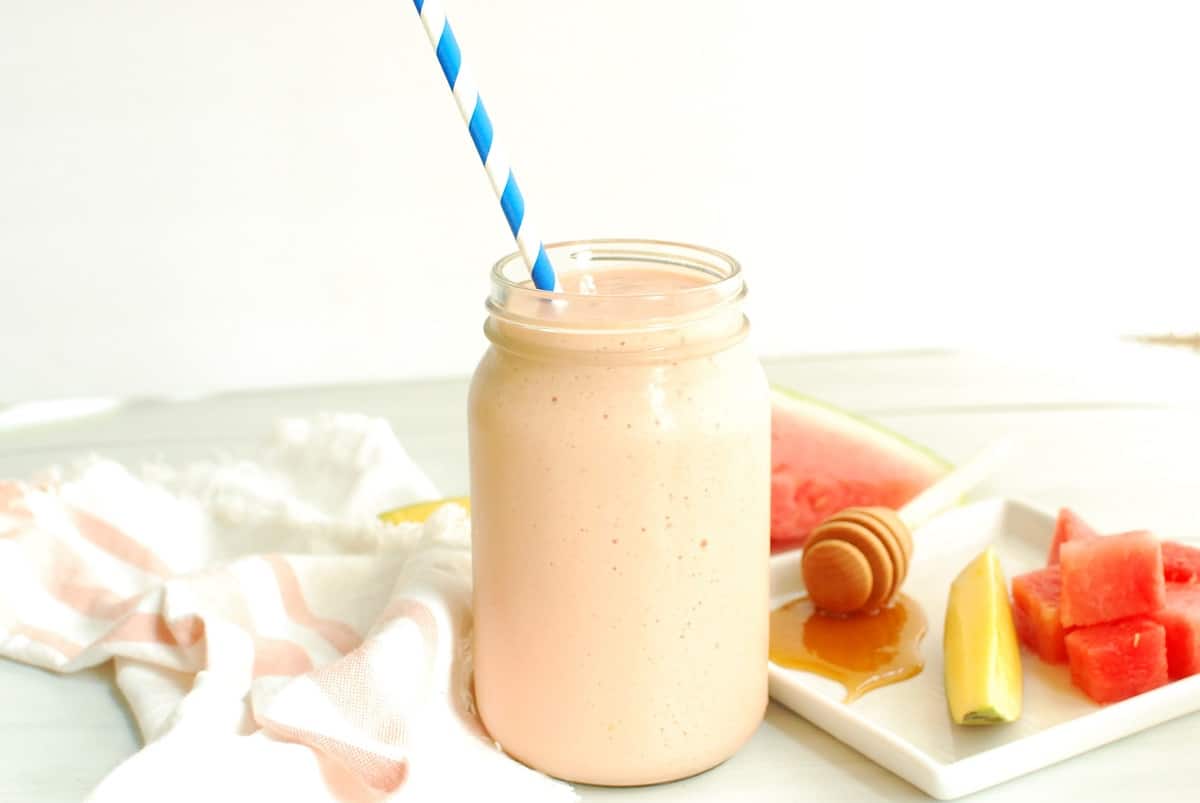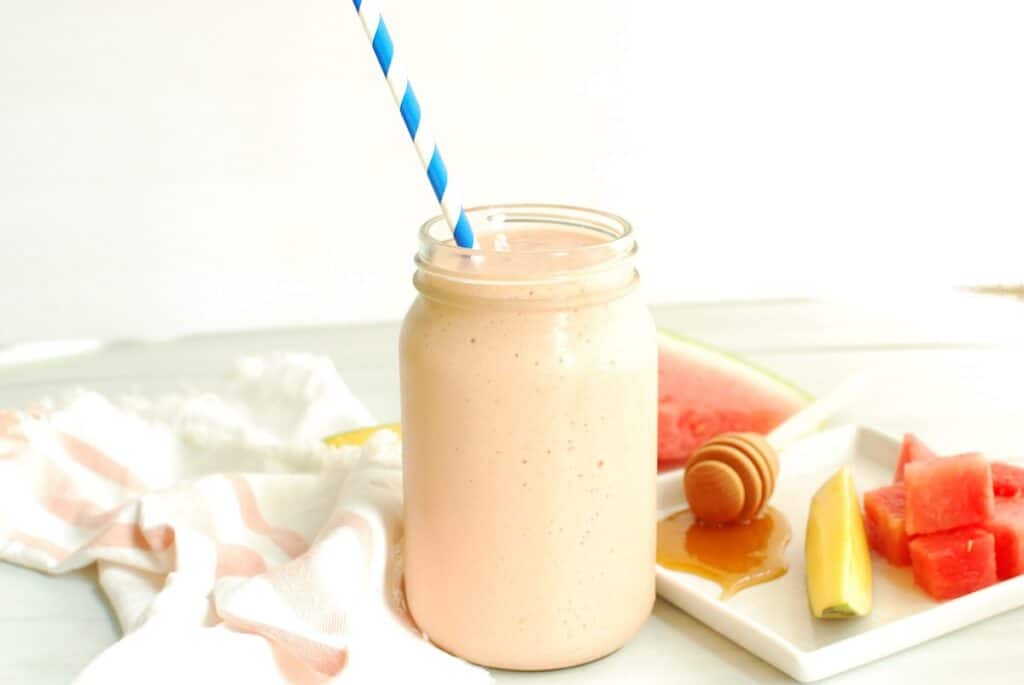 Nutrition benefits
This smoothie is a fantastic option after a workout – and here's why:
Helps with hydration:
This smoothie includes fresh, juicy watermelon, which is 92% water. After a workout when you've been sweating, it's helpful to consume food and beverages that help you rehydrate. This shake does just that!
Provides protein:
Protein helps the muscles recover and grow stronger after workouts. The Greek yogurt and protein powder provide about 27.5 grams of protein in this shake, which is a great amount to support recovery after a workout. Most athletes benefit from around 20-30 grams after a strength workout, and at least 15+ grams after an endurance workout.
Contains carbohydrates:
While protein is often the shining star of a post-workout shake, remember that carbohydrates are stored in your muscles and used for fuel – especially during tough, intense exercise (like speed workouts at the track or strength training sessions).
While your everyday diet generally does a good job replenishing these, athletes who are doing two-a-day workouts or those who have a high training load should make an effort to take in carbohydrates (along with protein) after their workout. The watermelon, mango, cherry juice, and honey in this recipe all provide easily digestible, quickly absorbed carbohydrates that are perfect for this purpose.
Rich in recovery nutrients:
This recipe contains unique nutrients that help with recovery:
L-citrulline is an amino acid found in watermelon.  It can increase nitric oxide production in the body, which may help open up the blood vessels.  Some (but not all) studies have suggested that watermelon juice and/or L-citrulline may reduce muscle soreness after a workout (source).
A 2021 meta-analysis found that tart cherry juice helps reduce muscle soreness and promote recovery after tough exercise sessions.
Flavonoids found in mango can act as antioxidants (source).  This may help support recovery by reducing excessive oxidative damage after intense workouts.
I hope you enjoy this watermelon protein shake!  If you get a chance to try it, feel free to leave a recipe rating or comment below.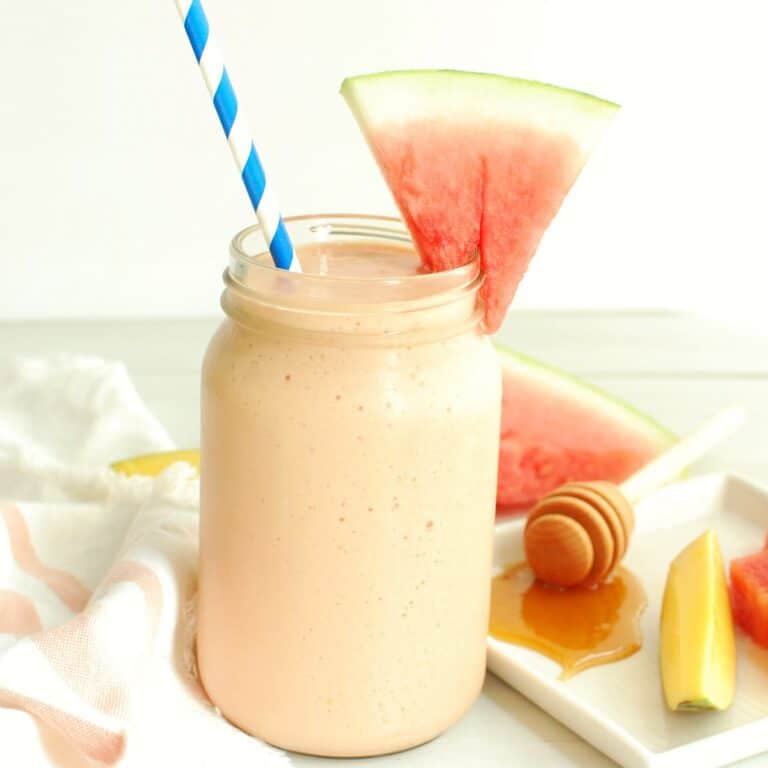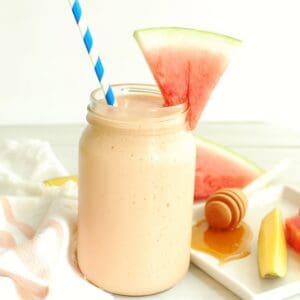 Watermelon Protein Shake
Get your post-workout protein in with this refreshing watermelon protein shake!
Ingredients
1

cup

chopped watermelon

1

cup

frozen chopped mango

¼

cup

tart cherry juice

½

cup

plain nonfat Greek yogurt

½

scoop

vanilla protein powder

(or unflavored)

1

tablespoon

honey

(optional, adjust to more or less according to taste preferences)
Instructions
Place all ingredients in a blender (regular or blender cup). Blend for about 30 seconds, until well combined. Enjoy.
Notes
Nutrition analysis (approximate per serving, including honey): 404 calories, 2 g fat, 0.5 g saturated fat, 75 mg sodium, 74 g carbohydrate, 4.5 g fiber, 67 g sugar, 27.5 g protein, Vitamin D: 0%, Calcium: 20%, Iron: 7%, Potassium: 18%
Nutrition
Share:  What's your favorite post-workout snack?  If you tried this shake, what did you think?
Feel free to pin this post to share with others! 🙂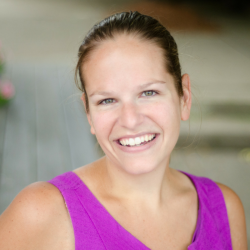 Latest posts by Chrissy Carroll
(see all)