If you love a good 'ol cup of joe – or maybe a few cups! – each day, you're going to love this cold brew protein coffee recipe. Adding chocolate protein powder to coffee is an easy way to increase the sticking power of your caffeine fix, and helps increase your protein intake at breakfast or snack time. Plus, it only takes a few minutes to make this tasty treat.
Disclosure: This post was sponsored by NOW®. As always, all opinions are my own.
How to make protein coffee
Are you ready for how easy this recipe is? I don't even know if I should call it a recipe, that's how simple it is to make:
1) Pour cold brew over ice.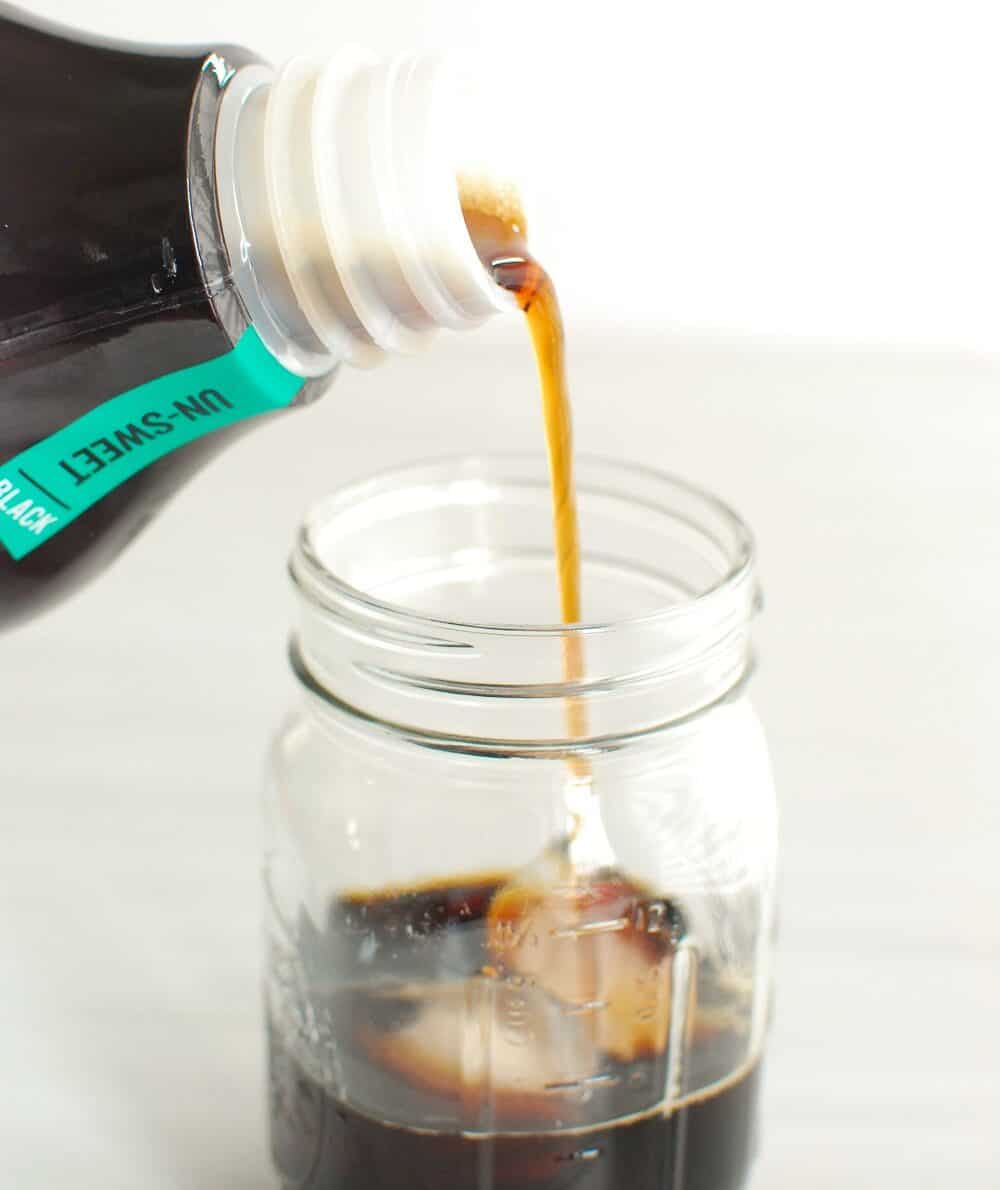 2) Add in protein powder.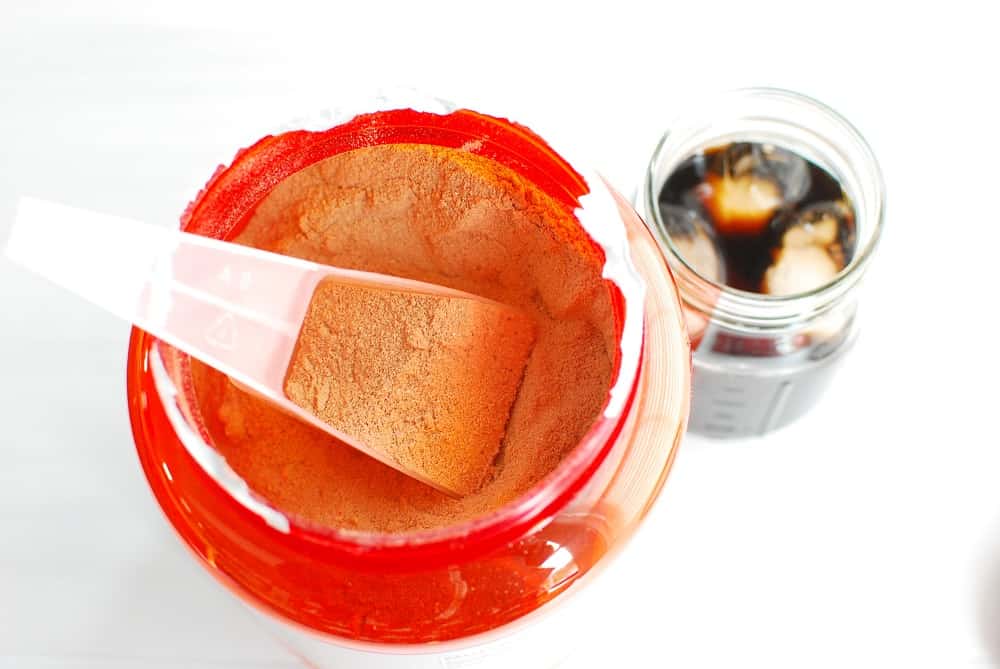 3) Shake it up for a minute or two. And drink!
That's it!
By using a cold coffee drink, you can add protein powder to the coffee and it mixes in well without any clumping like you might experience in a hot coffee drink.
I drink this with just the coffee and protein powder, and it tastes awesome. But if you prefer, you can also add a splash of milk, cream, or milk alternative to suit your tastes.
Cold brew vs. iced coffee
You might be wondering what the difference is between cold brew and regular iced coffee. First off, know that you can make this with either one!
Regular iced coffee is made by brewing coffee grounds with very hot water. You end up with a hot cup of coffee, which is then poured over ice to bring the temperature down. Some people also like to freeze coffee into ice cubes to use instead of regular ice cubes, which prevents the flavor from getting diluted.
Cold brew is a little different. Coarse coffee grounds are steeped with cool water over a 10-12 hour period, and then it's filtered. No hot water is used in this process, and the prolonged cool steep results in coffee that's a bit less acidic and less bitter (and some versions also have more caffeine).
Now I'm all about simplicity, so I just buy a bottle of cold brew to make this. But if you want, you can make your own homemade cold brew (there's tons of tutorials online). Or, just use regular iced coffee. All these options work!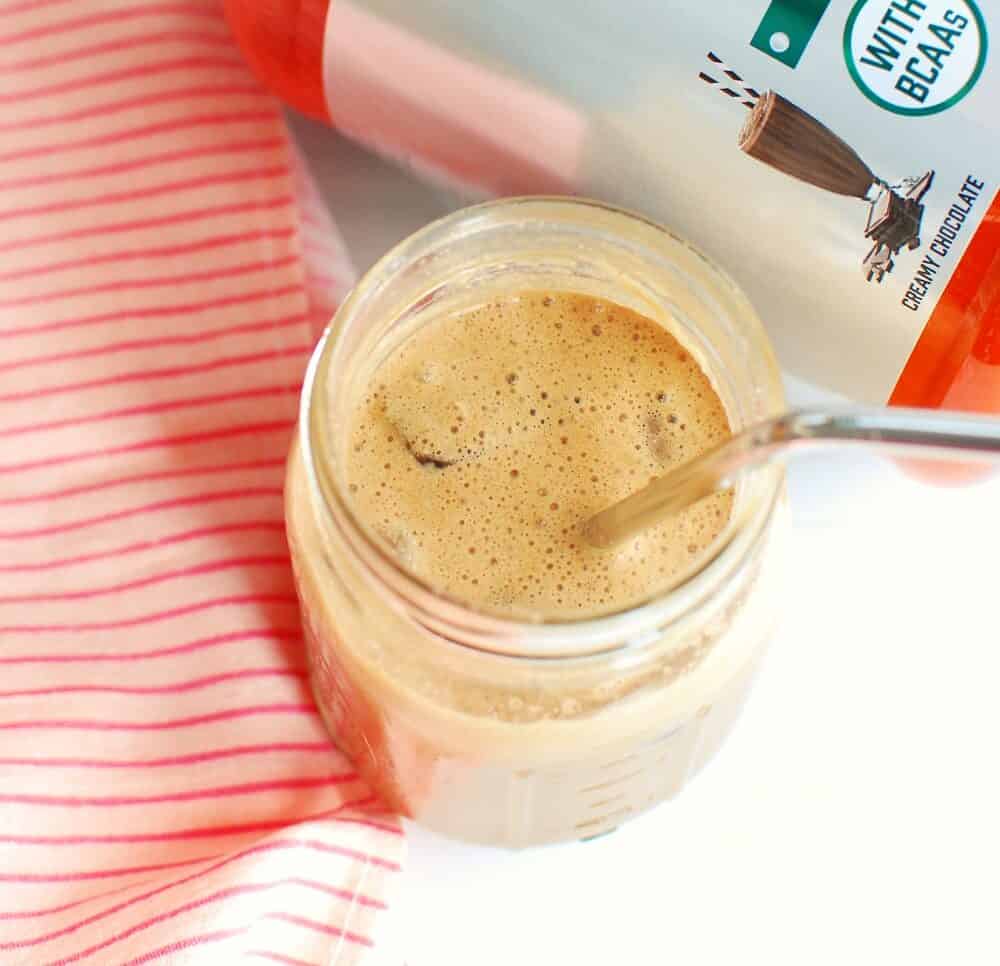 What kind of protein powder should you use?
I recommend chocolate protein powder, but I know other people have tried this with vanilla and enjoy it that way too. But the chocolate makes for that classic mocha flavor that is just so lovely.
As far as specific brands and types, I'm a fan of NOW® Sports protein powders. I've been to their lab and production facility before, and was very impressed at their standards and product quality. You can make this with either their plant protein complex or a whey protein powder.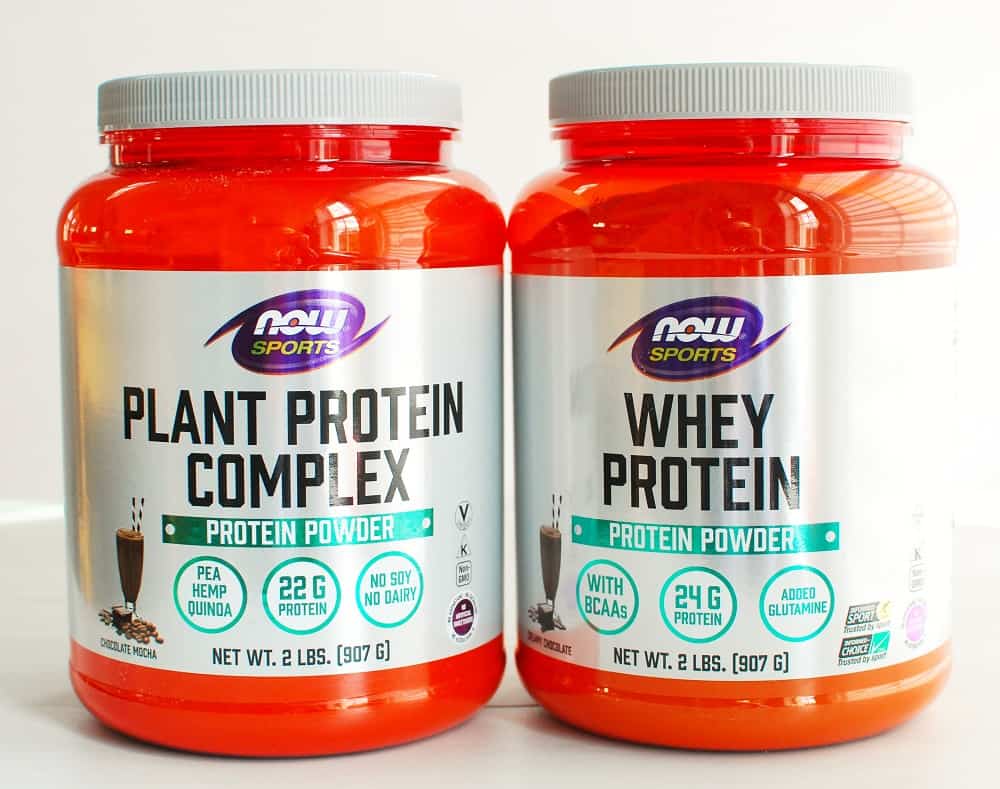 NOW® Sports Chocolate Whey Protein Powder is typically what I recommend for athletes as a post-workout option, thanks to its great amino acid profile. For this protein coffee recipe, most of us are probably just enjoying it as a morning treat or a mid-afternoon pick-me-up, so we don't have to worry about those details as much. That said, this is still my go-to for this recipe!
The NOW® Sports Chocolate Mocha Plant Protein Complex is also a great choice for this recipe. This blend is especially useful if you're vegan or don't eat dairy products (which is what whey is made from).
Other Coffee and Protein Combos
Of course, a drink like this isn't the only way to enjoy a coffee and chocolate protein powder combination. Here are a few other ideas:
Ice Pops – Make the protein coffee recipe here, but increase the cold brew amount to about 16 ounces (2 cups). Then mix in a 1-2 tablespoons of maple syrup, or blend in a banana. Pour the liquid into six ice pop molds and enjoy this frosty snack all summer long.
Coffee Smoothie – One of my favorite ways to make a more complete snack is to blend together the following: 1 frozen banana, 1/2 cup cold brew coffee, 1 scoop chocolate or vanilla protein powder, 1/2 cup milk or almond milk, and 1 tablespoon of cocoa powder. Yum!
Overnight Oats – Combine 1/2 cup of rolled oats with 1/2 cup of milk (or milk alternative), 1/3 cup cold brew, and a few tablespoons of chocolate protein powder. You can also add a spoonful of chia seeds or hemp hearts if you'd like. Mix in a few dark chocolate chips in the morning when you're ready to eat it!
Energy Balls – Try combining oats, dates, nuts, cold brew coffee, cocoa powder, chia seeds and chocolate protein powder in a food processor. Roll into balls and store in the fridge for an easy snack. You can find my recipe for these coffee protein balls here!
I hope this post helped give you some inspiration for how to satisfy your coffee craving and get in a little extra protein. If you get a chance to try this protein coffee recipe, I hope you'll leave a comment or recipe rating below.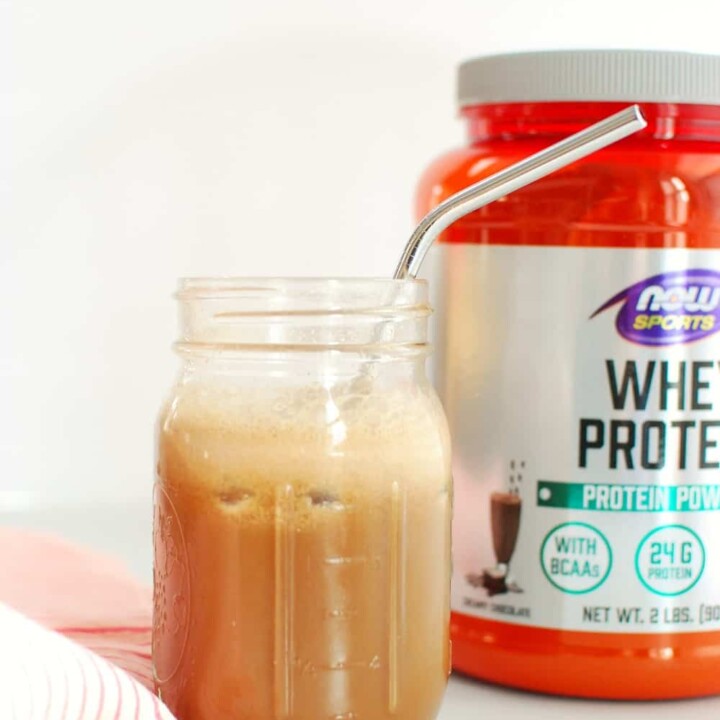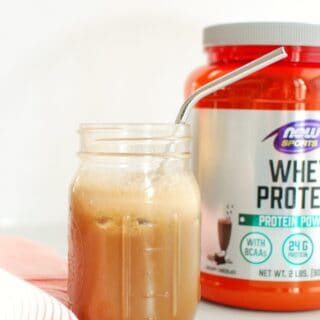 Easy Protein Coffee
This cold brew protein coffee is the best way to get your caffeine fix and boost your protein intake!
Ingredients
Ice

12

ounces

black cold brew coffee

1/2

scoop

NOW Sports Chocolate Whey Protein Powder

(or NOW Sports Chocolate Mocha Plant Protein Complex)

Milk or cream

(optional)
Instructions
Place a few ice cubes in a mason jar. Pour in the cold brew coffee, then add the protein powder. Cover with a lid and shake it up for 1-2 minutes, until well combined. Enjoy as-is, or add a little cream/milk if desired.
Notes
Nutrition facts (approximate with whey protein, assumes no added milk/cream):  95 calories, 1 g fat, 45 mg sodium, 7 g carbohydrate, 0.5 g fiber, 1 g sugar, 12 g protein, Vitamin A: 0%, Vitamin C: 0%, Calcium: 10%, Iron: 4%
Nutrition facts (approximate with plant protein complex, assumes no added milk/cream): 85 calories, 1 g fat, 155 mg sodium, 7 g carbohydrate, 0.5 g fiber, 0.5 g sugar, 11 g protein, Vitamin A: 0%, Vitamin C: 0%, Calcium: 1%, Iron: 3%
Nutrition
Share: If you tried this protein cold brew, what did you think?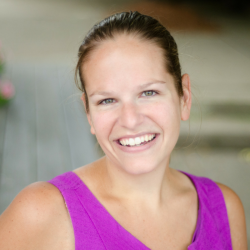 Latest posts by Chrissy Carroll
(see all)