These homemade tart cherry gummies are a fun and easy-to-make sweet treat. Tart cherries are known for their health benefits, so these gummies are a great way to get your daily dose. Plus, they only require a few simple ingredients. Enjoy them for a snack, or even use them as fuel during a workout!
Disclosure: This post contains Amazon affiliate links. As an affiliate, I earn a commission on qualifying purchases.
Ingredients
You only need four simple ingredients to make this recipe!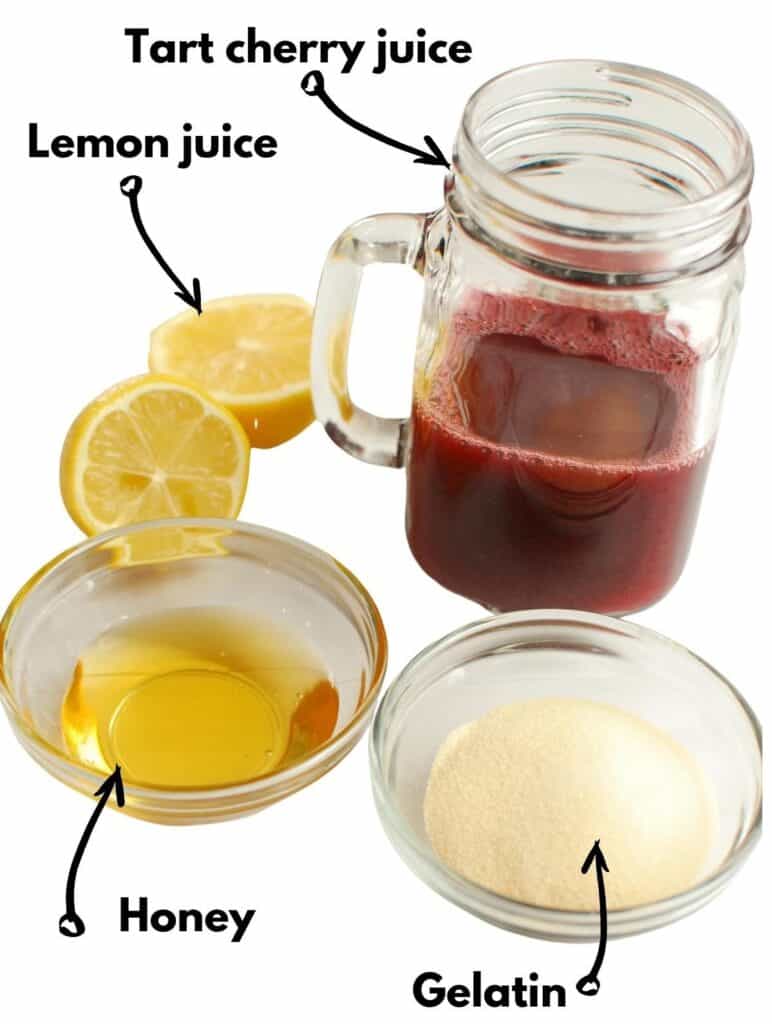 Tart cherry juice – This is usually found in either the produce section of the grocery store (near the fresh juices and kombuchas), or in the standard juice section (as there are a few shelf-stable brands now). You can also order tart cherry juice online.
Lemon – This adds a little sour pop to the gummy bears and I find helps mask the gelatin better than juice alone.
Gelatin – This is what allows the gummies to set. I use NOW Beef Gelatin, but you can use any brand that you prefer. Despite what Google and many people tell you, I personally do not think gelatin is odorless and tasteless. 😉 I do find it has a distinct flavor, which is why getting the ratios of juice and honey are really important.
Honey – This will sweeten the gummy bears and also mask the gelatin. This recipe is lightly sweetened but you can add more if you prefer sweeter candy or you are using them as workout fuel.
In addition to the ingredients themselves, you'll also want to grab some gummy bear molds. I ordered this set off Amazon which has several different shapes and sizes, and is reasonable price-wise.
Instructions
Gummy bears are actually very simple to make. You'll find the full recipe amounts and instructions in the recipe card at the bottom of the post, but here's a helpful overview.
Start by combining the tart cherry juice, lemon juice, and honey in a small pot. Heat it over medium-low heat, until quite warm (but not boiling).
At this point, remove from heat and vigorously whisk in the gelatin. Try to break up and clumps and ensure that it's mixed in smoothly.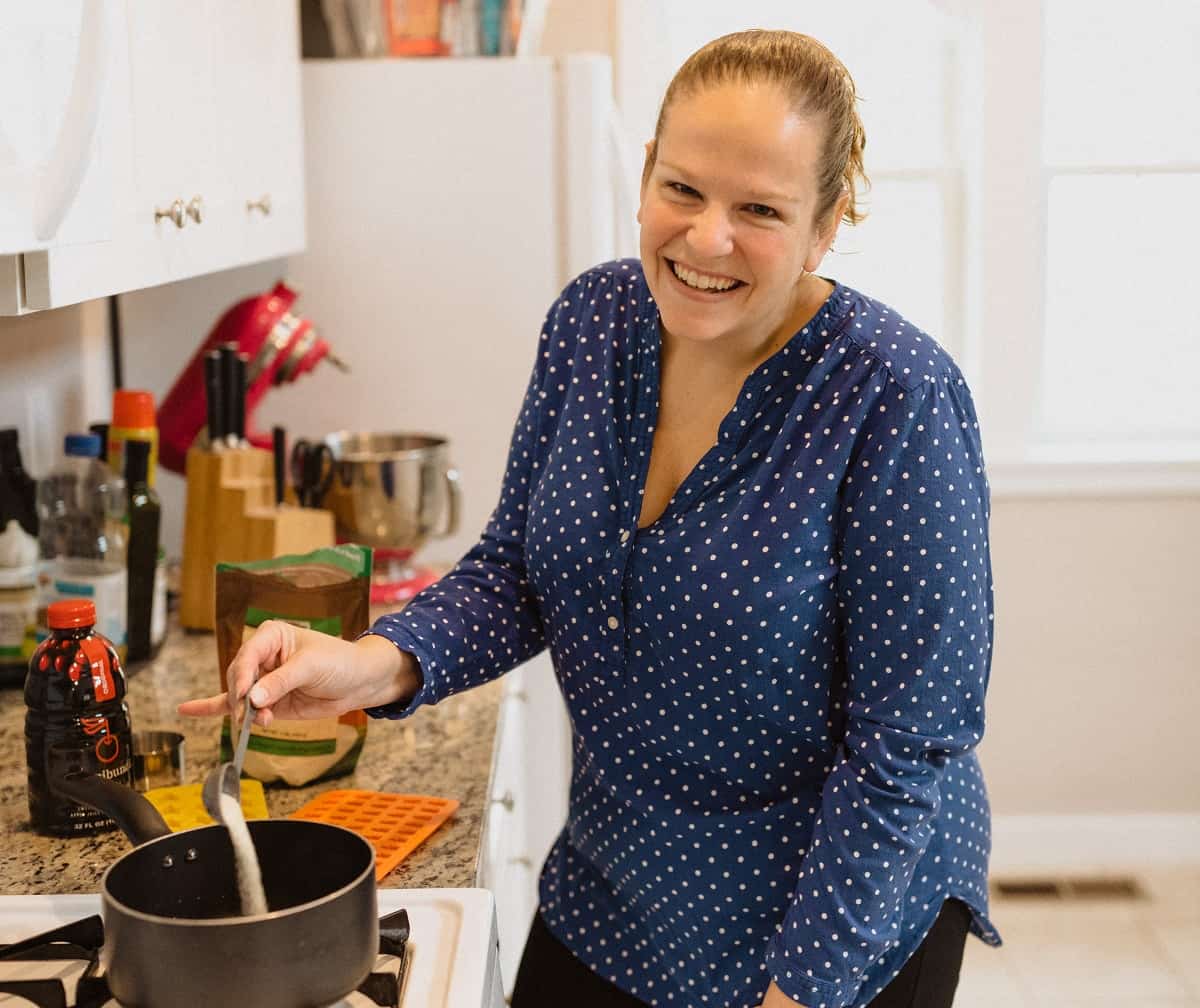 Now take a dropper (which should come with whatever gummy mold set you purchased), and work quickly to fill your molds.
Pop those in the fridge for an hour or two and boom – homemade gummy bears!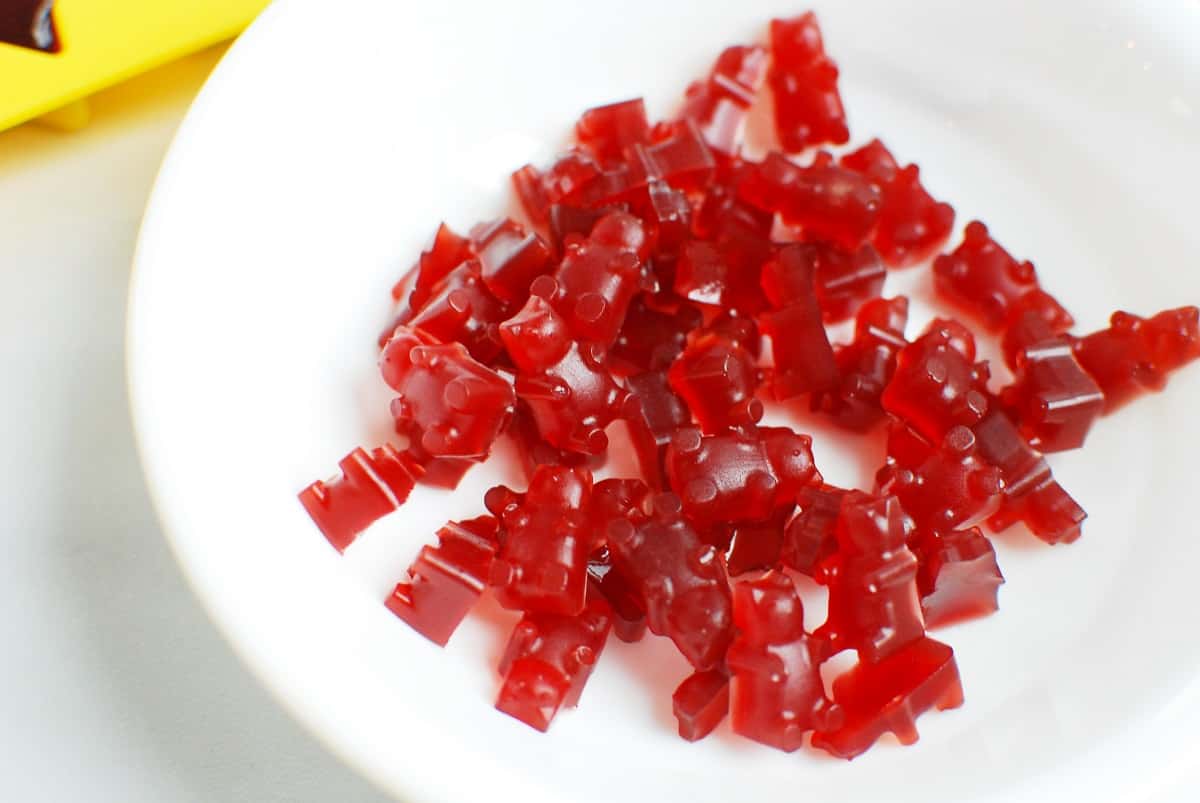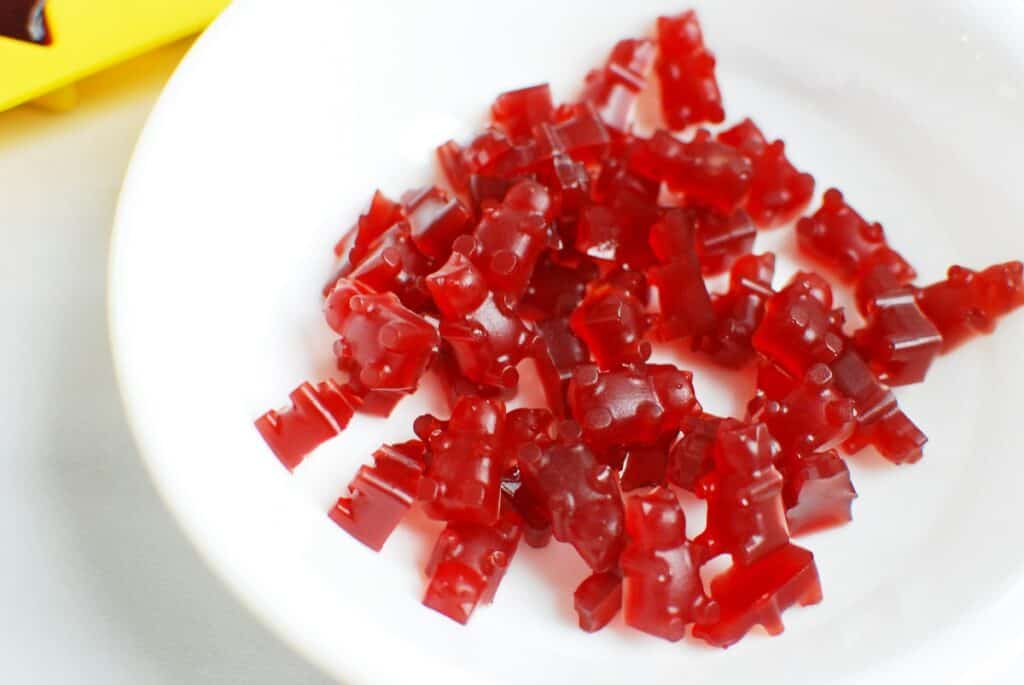 Recipe FAQ
Here are some common questions that may arise as you prepare these cherry gummy bears:
How should you store homemade gummy bears?
Store them in an airtight container in the refrigerator for up to 5 days, or freeze for up to 3 months.
Can you freeze homemade gummy bears?
Yes. To freeze, spread the gummies on a baking sheet and place that in the freezer for a few hours. Once the gummies are frozen, transfer to a zip top bag or freezer container and store in the freezer. Freezing this way will prevent them from sticking together.
Do homemade gummy bears taste like store-bought gummy bears?
Homemade gummy bears are a more nutritious alternative to store-bought gummy bears. Most store-bought brands are a little sweeter (due to using more real sugar or artificial sweeteners). Manufactured gummy bears also typically use flavor extracts to enhance the taste, which aren't typically used in homemade recipes. As such, homemade bears tend to be slightly less sweet and have a more subtle flavor, but are still delicious.
Can you use another type of fruit juice to make gummies?
Yep! Many strong flavored fruit juices, like grape juice and cran-apple juice, work well in homemade gummy bears.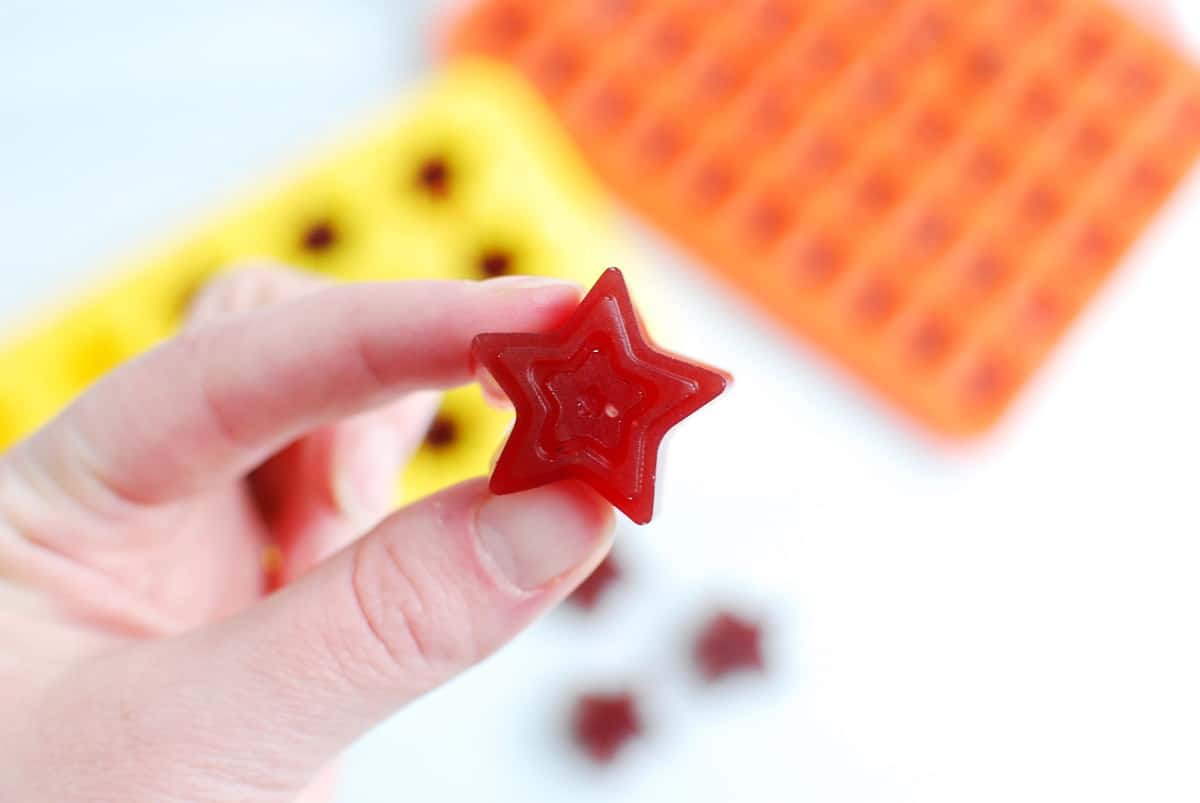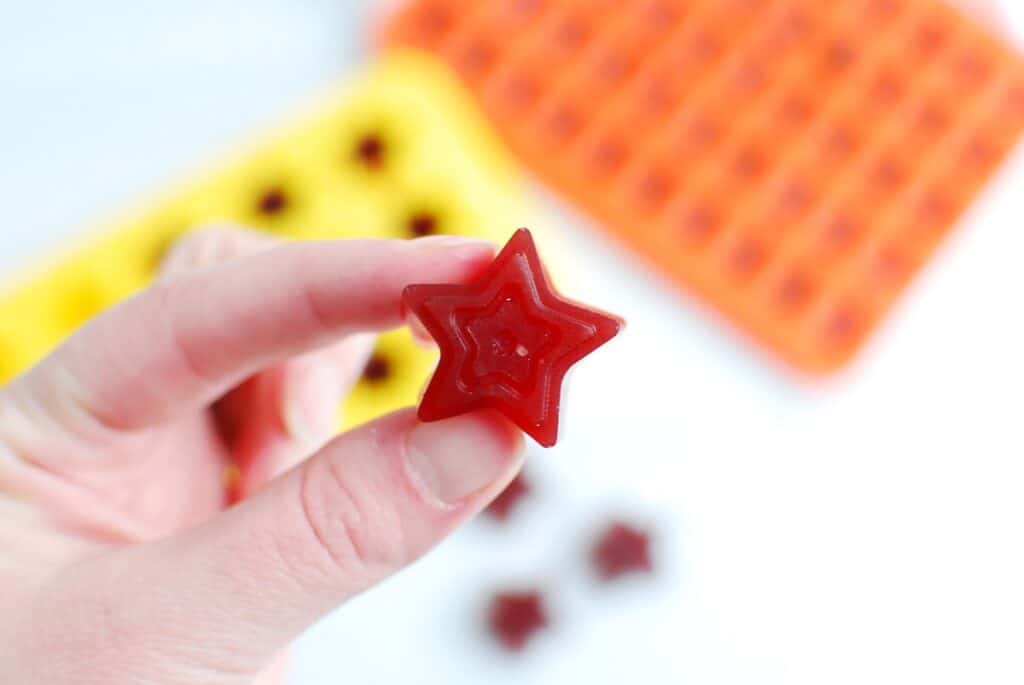 Benefits of Tart Cherries
Tart cherry juice – the base of these gummies – is packed with antioxidants and has been shown to have several health benefits. For example, some research suggests sour cherries may have anti-inflammatory properties, and other studies note that tart cherry juice can help with sleep quality.
But perhaps most interesting is the role for active women and men when it comes to exercise recovery. Here's a few highlights:
A 2021 systematic review concluded that tart cherry supplementation had a small beneficial impact on muscle soreness, a moderate beneficial impact on recovery of muscle strength, and a small impact on sprint time.
A 2010 study looked at those who drank tart cherry juice for five days leading up to a marathon, compared to those who didn't. The tart cherry juice group had reduced inflammation and better return of strength.
A 2020 meta-analysis concluded that tart cherry concentrate improved endurance exercise performance when consumed leading up to an event.
Research suggests the benefits on exercise recovery are more likely to occur when someone consumes tart cherry products regularly prior to exercise, and not just on the day of or after exercise.
The caveat to all these studies is that the amount of juice or the concentration in a supplement is generally pretty high, so we don't know if smaller amounts – like what's in these gummies – will help. But no harm in enjoying a few each day if you want a sweet snack and seeing if you find them helpful!
As a bonus, you could also use these tart cherry gummies as fuel during a long run or ride. Just add some salt to the recipe when you make it to boost the sodium content for exercise fueling.
(Side note – you can also try this chocolate cherry smoothie for a great recovery snack that will add more tart cherry juice to your day).
More homemade gummy bear recipes
If you want to try some more homemade gummies, be sure to look at some of these recipes:
I hope you enjoy these tart cherry juice gummy bears! If you get a chance to make 'em, feel free to leave a recipe rating or comment below.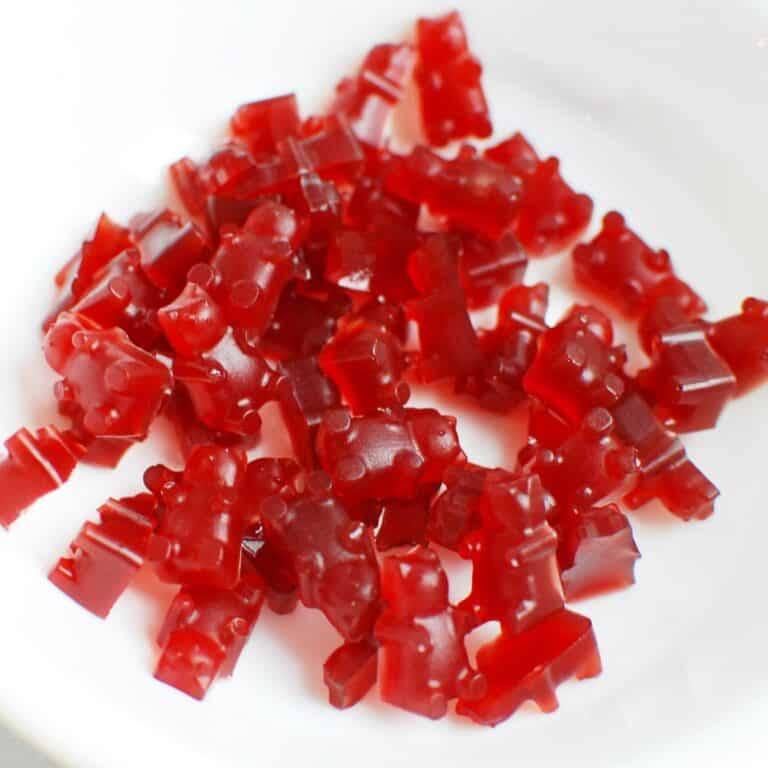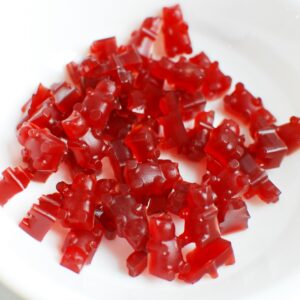 Tart Cherry Gummies
These homemade tart cherry gummy bears are an easy and healthy sweet treat!
Ingredients
1

cup

tart cherry juice

2

tbsp

lemon juice

2

tbsp

honey

(or more if you prefer sweeter gummies)

3

tbsp

beef gelatin powder
Instructions
Place all your gummy molds on a baking sheet (this will make it easier for you to move them all into the fridge after you've filled them).

In a small pot, combine the cherry juice, lemon juice, and honey in a small pot over medium-low heat. When it's hot (but not boiling), remove from heat and whisk in the gelatin vigorously until well combined.

Working quickly, use a dropper to place the warm cherry mixture in the gummy molds.

When you've finished filling your molds, move them to the refrigerator and chill for 2 hours. At this point, they should be firm.

Pop the gummies out of the mold and store in an airtight container in the refrigerator for up to 5 days, or freeze for up to a 3 months.
Notes
If you like sour gummy bears, you can make a sour coating by mixing together ¼ cup granulated sugar and 1 tsp citric acid. Toss the gummy bears in that. Note that the sour coated gummies do not store well in the fridge like the plain ones, so make them only when you're ready to enjoy them.
If you want to use these as running fuel, use 3-4 tbsp honey (rather than 2) and add ½ to 1 tsp salt to the recipe. This will provide a better carbohydrate and electrolyte balance for the fuel.
This recipe makes about 200 small gummy bears OR 45 large gummies.
For the purposes of the nutrition analysis, assume 8 servings per batch (about 25 mini gummy bears or 5 large gummies).
Nutrition analysis (approximate per serving): 50 calories, 0 g fat, 9 mg sodium, 9 g carbohydrate, 0 g fiber, 8.5 g sugar, 3.5 g protein, Vitamin D: 0%, Calcium: 0%, Iron: 1%, Potassium: 1%
Nutrition
Share: What's your favorite kind of homemade gummy bear? If you tried this recipe, what did you think?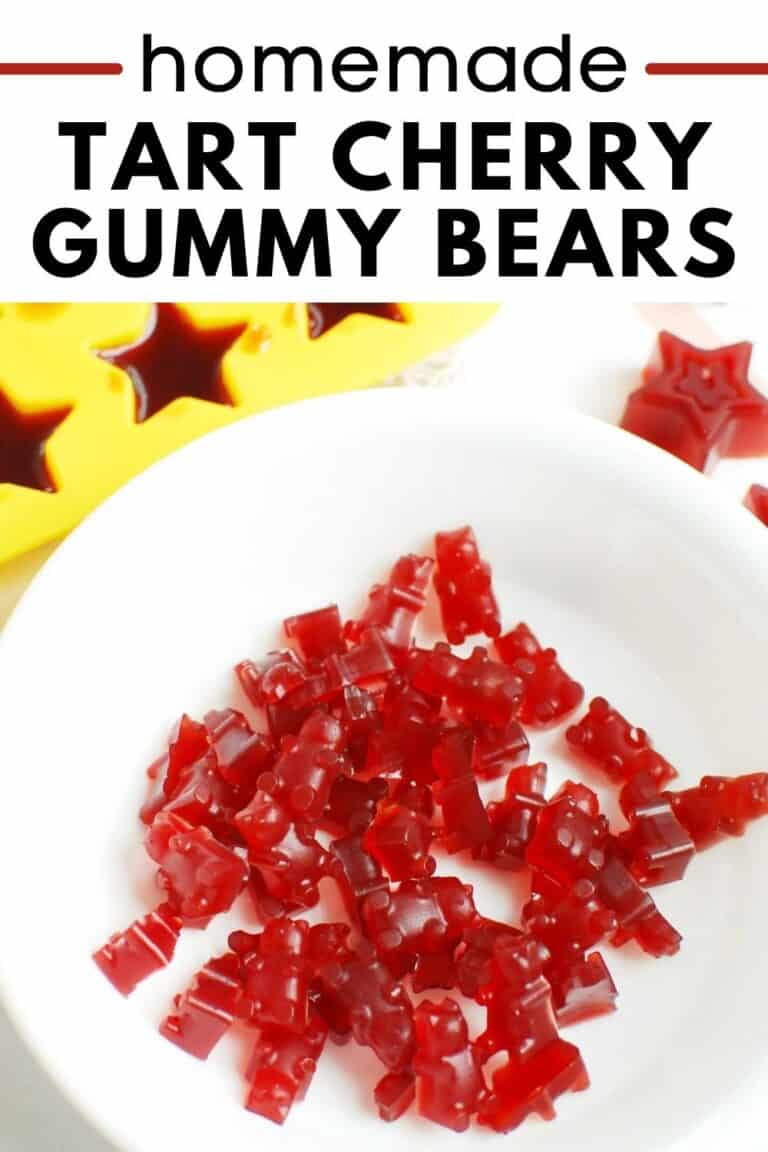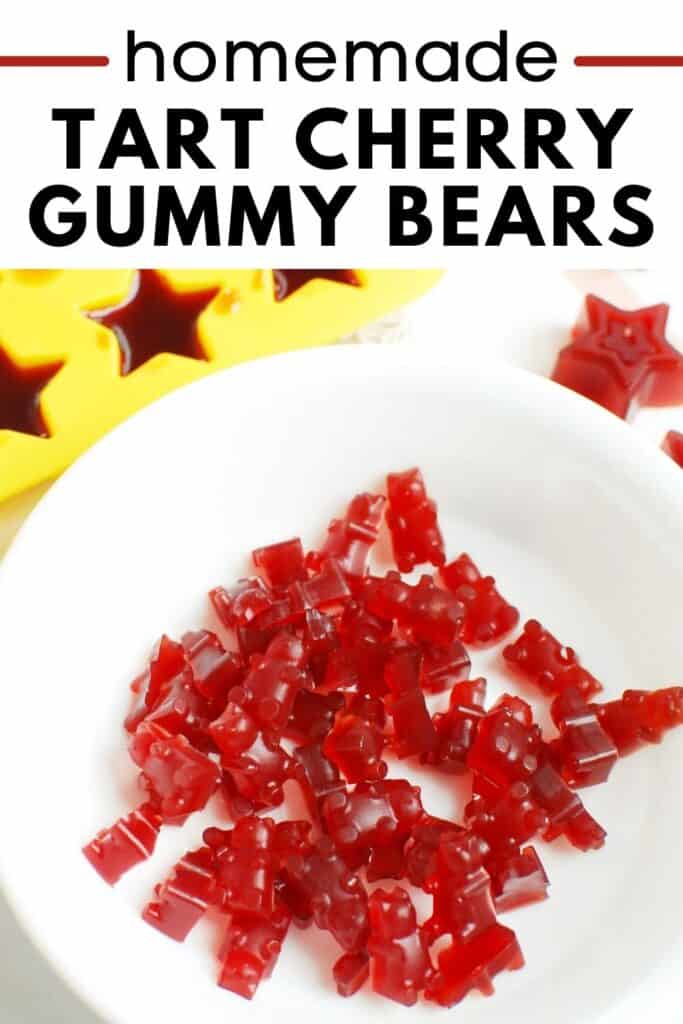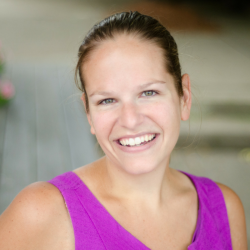 Latest posts by Chrissy Carroll
(see all)