When winter hits, it's important to focus on optimizing your health. This is especially true for active folks; you want to feel great and ready to take on your training when your season starts up again. One way to support your well-being during seasonal transitions is with elderberry*. And with these homemade elderberry gummies, there couldn't be a more delicious way to incorporate it into your day!
Disclosure: This post is sponsored by NOW Foods. As always, all opinions are my own. This post also contains an Amazon affiliate link; as an affiliate I earn a commission on qualifying purchases.
Disclaimer:  This post was written and reviewed by Chrissy Carroll, MPH, RD. It is for informational purposes only and is not intended to be medical or nutrition advice.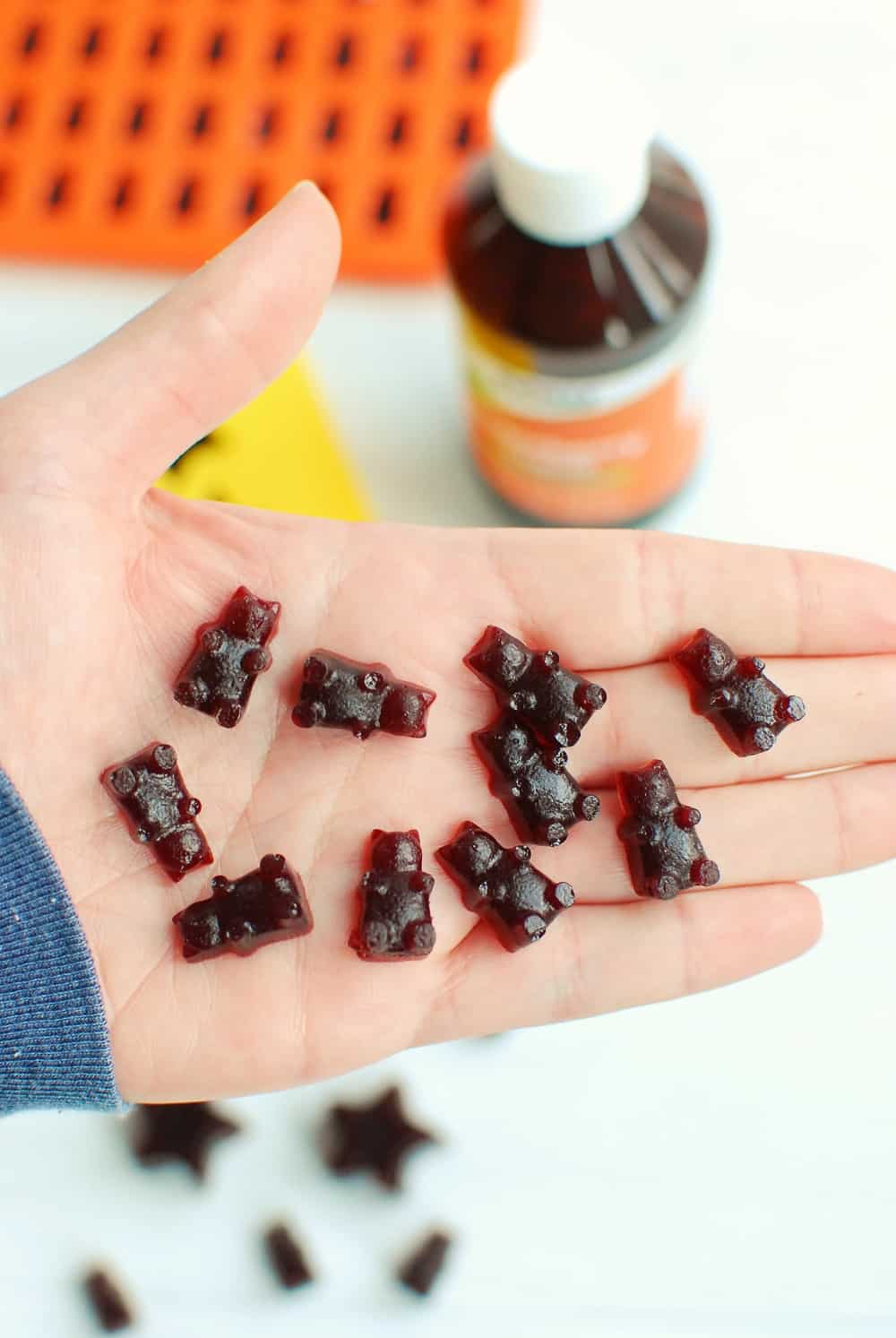 What is elderberry?
Elderberry is a fruit that is common in Europe, though there is also a species of the plant that is grown here in the United States. The fruit is high in anthocyanins and other nutrients*. It's been used for centuries in alternative medicine to support health and well-being, and has become more mainstream the last few years.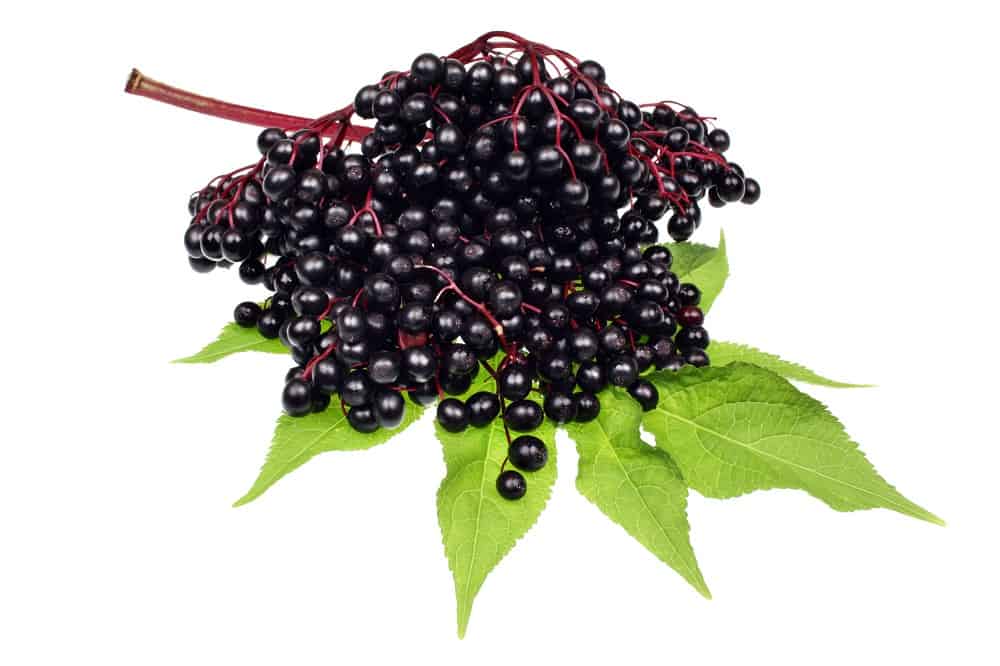 How to make homemade elderberry gummies
You only need a few ingredients to make these easy gummies: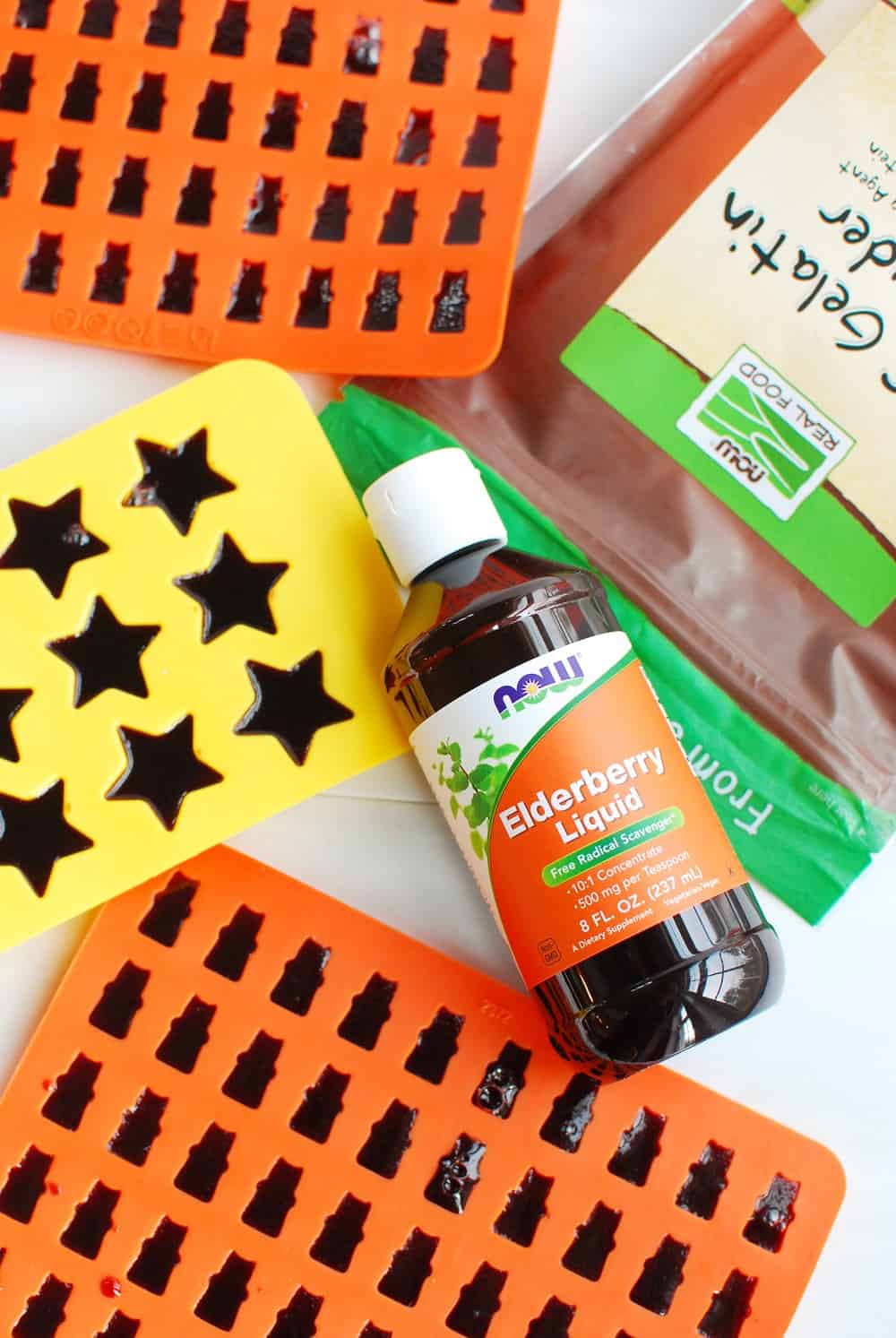 As a heads up, if you don't already have elderberry liquid or gelatin on hand – feel free to order directly from NOW Foods with my coupon code to stock up. Use code CHRISSY and you'll get 20% off any purchase.
To make this elderberry gummies recipe, you'll start by mixing your elderberry liquid with the honey in a bowl. Then whisk in the gelatin.
It will start to get a little clumpy, but that's OK – that's why you'll add in hot water next. The hot water will help dissolve any clumps of gelatin. Whisk it all together so that it's smooth.
Once that's done, you'll just use a dropper to transfer the liquid to your gummy molds.
If you don't have molds, you can find them at some kitchen supply stores, or just order them online. I ordered this set off Amazon which has several different shapes and sizes, and is reasonable price-wise. (In the serving size for the recipe, when I talk about "small" gummies, I'm referring to the tiny little bears in this mold set. When I talk about "large" gummies, I'm referring to the stars and seashells in this set.)
All you need to do from here is refrigerate them for an hour or two and they'll firm up and be ready for snacking!
You can keep them in the fridge for about 5 days, or you can store them in the freezer for up to a few months.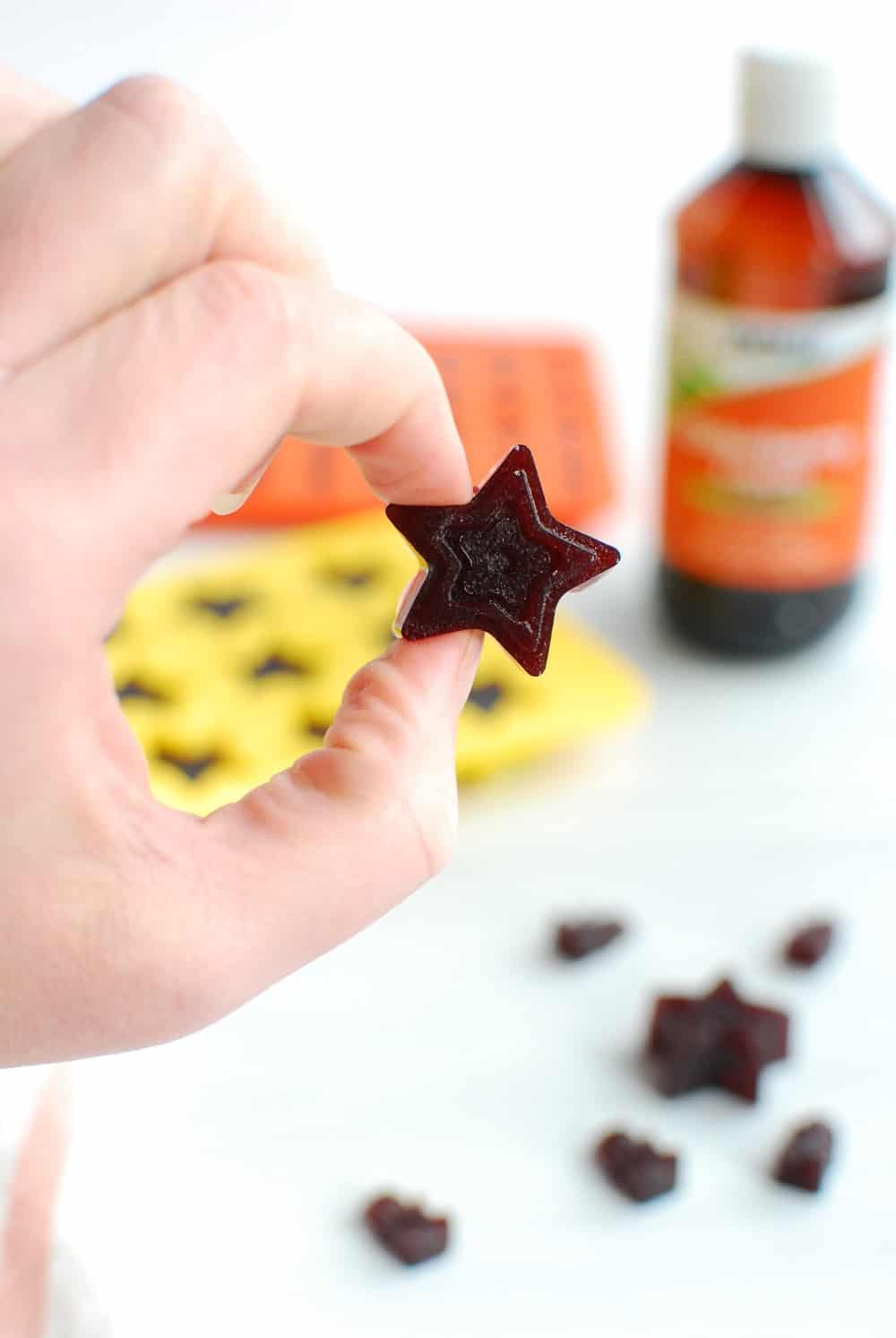 Optional sour gummy option
If you want to make sour elderberry gummies – you know, gummies that have that delicious sour sugary coating on the outside – it's actually quite easy to do. All you need for that is: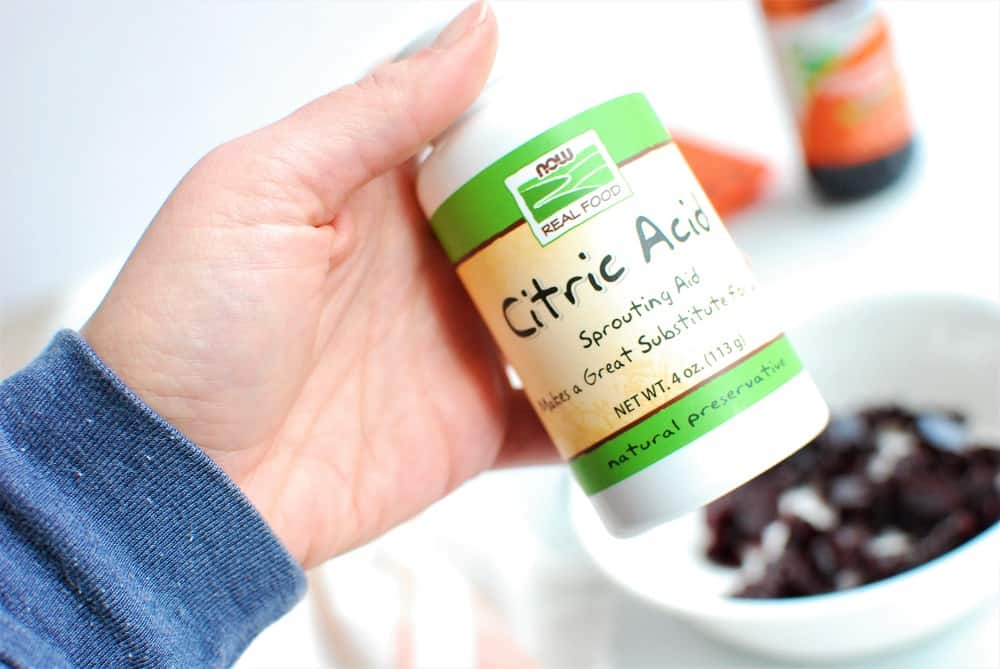 You'll mix those two things together and then toss your finished gummies in there for a sour surprise!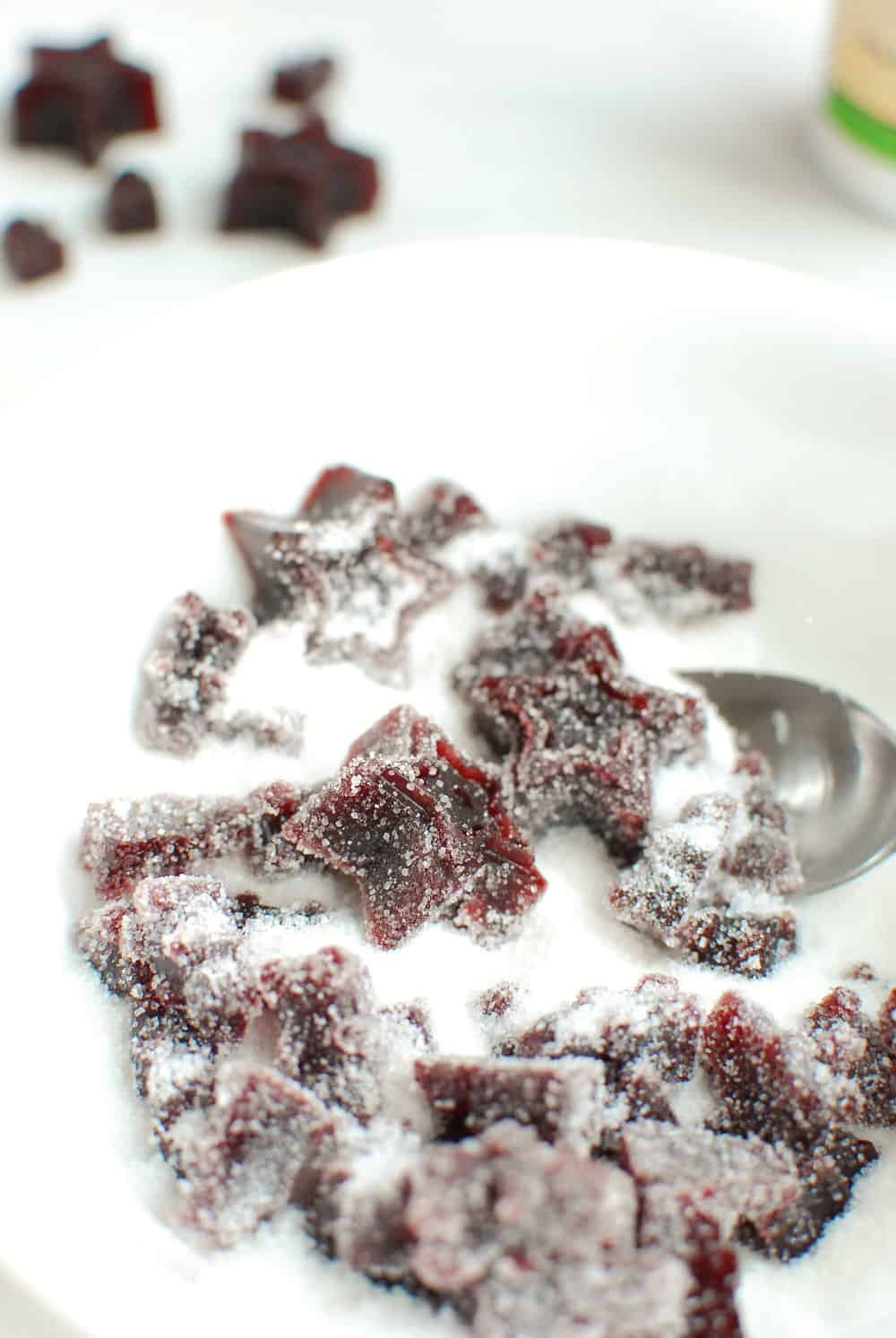 However, a word of warning – once you do toss them with the sour coating, they don't store well. The coating draws liquid out if they sit in the fridge, and they get a bit of a strange texture.
For this reason, I recommend making the coating and keeping it in a separate container. Then whenever you want to enjoy the sour flavor, take out one serving of gummies and toss them in a bowl with one spoonful of the sour coating.
Obviously this adds some refined sugar to the final product, so it's completely up to you if you'd like to make them sour or if you'd prefer the base recipe alone (I actually love the taste of elderberry so I prefer this recipe without the sour coating).
How many elderberry gummies should you take?
The product instructions on the elderberry liquid suggest that adults should take 1 teaspoon (5 mL) 1 to 3 times daily.
Based on the amount of elderberry liquid used in this recipe, that would equate to about 2 large gummies (the equivalent of 1.4 teaspoons) or 8 small gummy bears (the equivalent of 1 teaspoon). This assumes you use the same size molds.
If you use different molds, you can do a little math to figure out how many to take. First, use the same size for all your gummies. Then, divide the total number of gummies you get by 32 (since there's 32 teaspoons of elderberry liquid in this recipe). That should give you the number of gummies to eat that's equivalent to 1 teaspoon.
For example, if you made 100 equal-size gummies with whatever size mold you have on hand, that would mean about 3 gummies equals 1 teaspoon (100/32 = 3.1).
Do these gummy bears taste the same as store-bought gummies?
I think the taste of these is quite comparable to a store-bought elderberry gummy, and perhaps even better because you can adjust the sweetener to your preferences. And obviously if we're comparing to just regular candy gummy bears, we've got a huge step up nutritionally thanks to using elderberry liquid and naturally sweetening them with just a little honey.
The texture will be slightly different. It's not as soft as jello, but it's also not as firm as store-bought gummy bears. This is because store-bought candy goes through a commercial drying process, which is pretty tough to attempt at home.
That said, you can slightly adjust the proportion of gelatin depending on your preferred texture. In this case, 3 tablespoons will give you softer gummies which I prefer. If you want to firm them up more, you can attempt this recipe with 3.5 to 4 tablespoons of gelatin instead.
I hope you enjoy these elderberry gummies as a way to help maintain health and well-being!* If you get a chance to try them, don't hesitate to leave a comment or recipe rating below.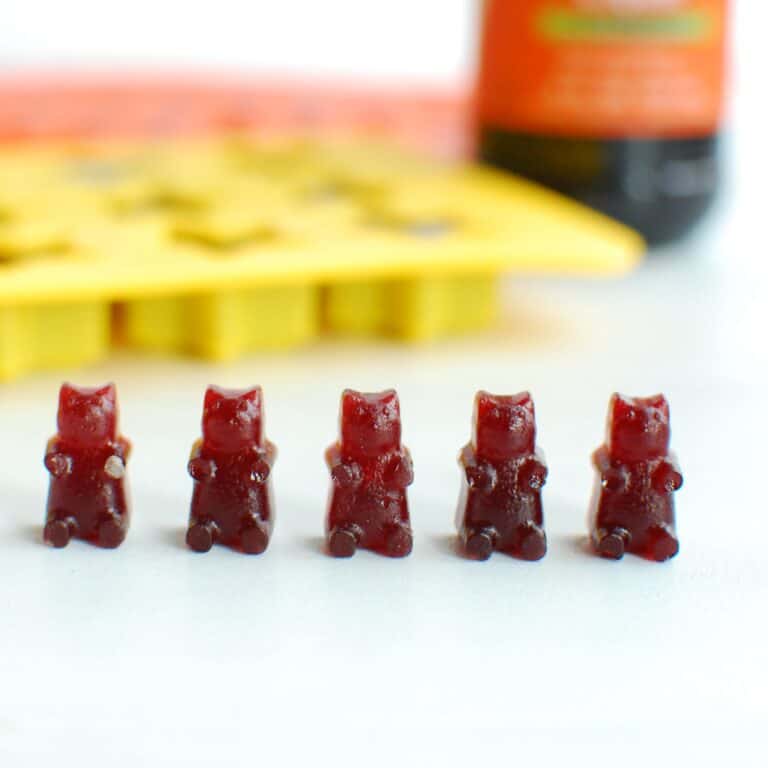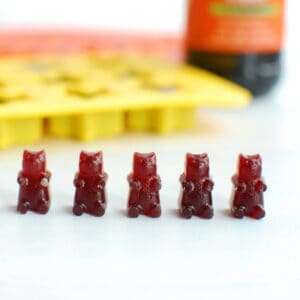 Homemade Elderberry Gummies
These homemade elderberry gummies taste like a candy treat – but help support well-being!
Ingredients
For the gummies:
2/3

cup

NOW Elderberry Liquid

2

tbsp

honey

(or more to taste)

3

tbsp

gelatin

1/3

cup

hot water

(aim for very hot but not boiling)
For the optional sour coating:
1/4

cup

granulated sugar

1 to 2

teaspoons

citric acid

(to taste)
Instructions
Place all your gummy molds on a baking sheet (this makes it easier to move them into the fridge when you're done filling them).

Mix together the elderberry liquid and the honey in a medium mixing bowl. Give it a little taste and add more honey if desired. Whisk in the gelatin.

Pour the hot water into the bowl and continue whisking until the mixture is smooth. Working quickly, use a dropper to place the liquid in the gummy molds.

Place the gummy molds in the refrigerator for 1 to 2 hours. Store in an airtight container in the refrigerator for up to 5 days, or freeze for up to a few months. To freeze, spread gummies on a baking sheet in the freezer until fully frozen, then transfer to a zip top bag or freezer container. This will prevent them from sticking together during the freezing process.

For the optional sour coating, mix together the sugar and citric acid. Toss the gummies in the mixture, then enjoy immediately. Note that sour gummies do not store well. If you enjoy the sourness, I recommend making a bag of the coating and removing a spoonful to toss your gummies in serving by serving.
Notes
Notes: This recipe makes about 250 small gummy bears OR 45 large gummies.
Nutrition analysis (approximate *per serving* of 8 small gummies, does not include optional sour coating): 23 calories, 0 g fat, 2 mg sodium, 5 g carbohydrate, 1 g protein
Nutrition
Share: Have you ever tried elderberry? If you made these homemade elderberry gummies, what did you think?
*These statements have not been evaluated by the Food and Drug Administration. This product is not intended to diagnose, treat, cure or prevent any disease.
Feel free to pin this post to save for later!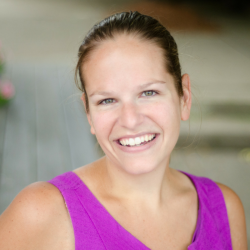 Latest posts by Chrissy Carroll
(see all)