Fall is here and with it comes a change in weather, scenery, and mood. The leaves change, the days feel shorter, and everything makes us want to curl up with a good book. Let's take a closer look at why you need more self care in your life and how some of these fall self care ideas can help you achieve that!
Disclosure: This post contains Amazon affiliate links. As an affiliate, I earn a commission on qualifying purchases.
Disclaimer: This post is for informational purposes and should not be construed as mental health advice. Seek out a doctor or therapist if you have mental health concerns.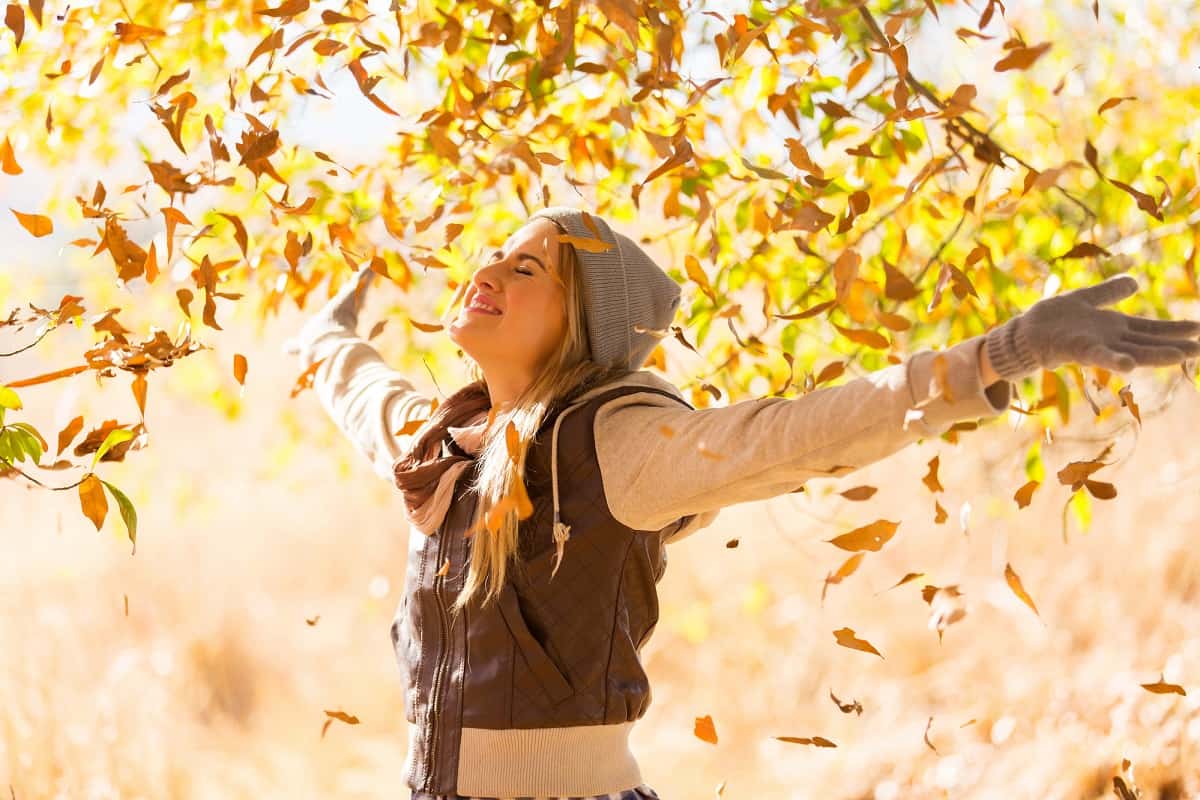 Why do you need self care in the fall?
Self care is important all year round, but we often notice its presence (or lack of) more as the seasons change. When the world around us changes, it's easier for us to notice our own habits and routines, both good and bad. We take a closer look at our physical and mental health, wellbeing, and how we're taking care of ourselves.
As the days get shorter and weather gets colder, it's easy to start to retreat into the house. Perhaps you deal with Seasonal Affective Disorder (SAD), a type of depression that kicks off each fall and continues throughout the winter, according to Mayo Clinic.
Even those without SAD can experience changes in the fall and winter, as the shorter amounts of daylight can affect your circadian rhythm and Vitamin D levels, according to Henry Ford Health, which can impact your energy levels.
With the shorter days, chillier weather, and changes to daily routines (hello, back-to-school time) – it's helpful to have some self care ideas you can pull from your pocket to nourish yourself and embrace the season.
15 Fall Self Care Ideas
Here are some wonderful self care activities and tips to help you enjoy the season:
1. Bake something delicious
With the new season comes the opportunity to embrace those fall flavors – think apples, pumpkin spice, butternut squash, and cinnamon! Try finding a new recipe highlighting one of these ingredients.
When you're baking, don't rush through it. Take time to enjoy the sensory experiences – the satisfaction of leveling the measuring cup, the physical effort of stirring the batter, the smell of your creation baking in the oven, the taste of the final product…there are lots of senses involved.
If you need some recipe inspiration, here are a few fall favorites:
Enjoy the treats solo, or share them with loved ones or neighbors for an extra boost of joy from giving.
2. Add some fall decorations to your home
Adding fall decorations to your home or workspace can be an excellent way of practicing self care. Surrounding yourself with objects and colors that inspire feelings of joy will help make your space feel more inviting and welcoming.
For example, you could add some pumpkin-spice scented candles and a cute checkered throw blanket to your living room. Or maybe you want to add some mums to your porch for a pop of color. Or maybe you love Halloween and want to get festive with spooky spiderwebs and jack-o-lanterns. Whatever floats your boat and makes you happy.
3. Go apple picking
Is there anything that screams fall more than a trip to an apple orchard?! Find a local orchard or plan a road trip to somewhere special, and spend the afternoon picking apples. Many farms also have play areas for kids (if you're bringing the family) and typically sell apple cider donuts.
Once you pick your apples, you can revisit the first tip and bake something yummy with them.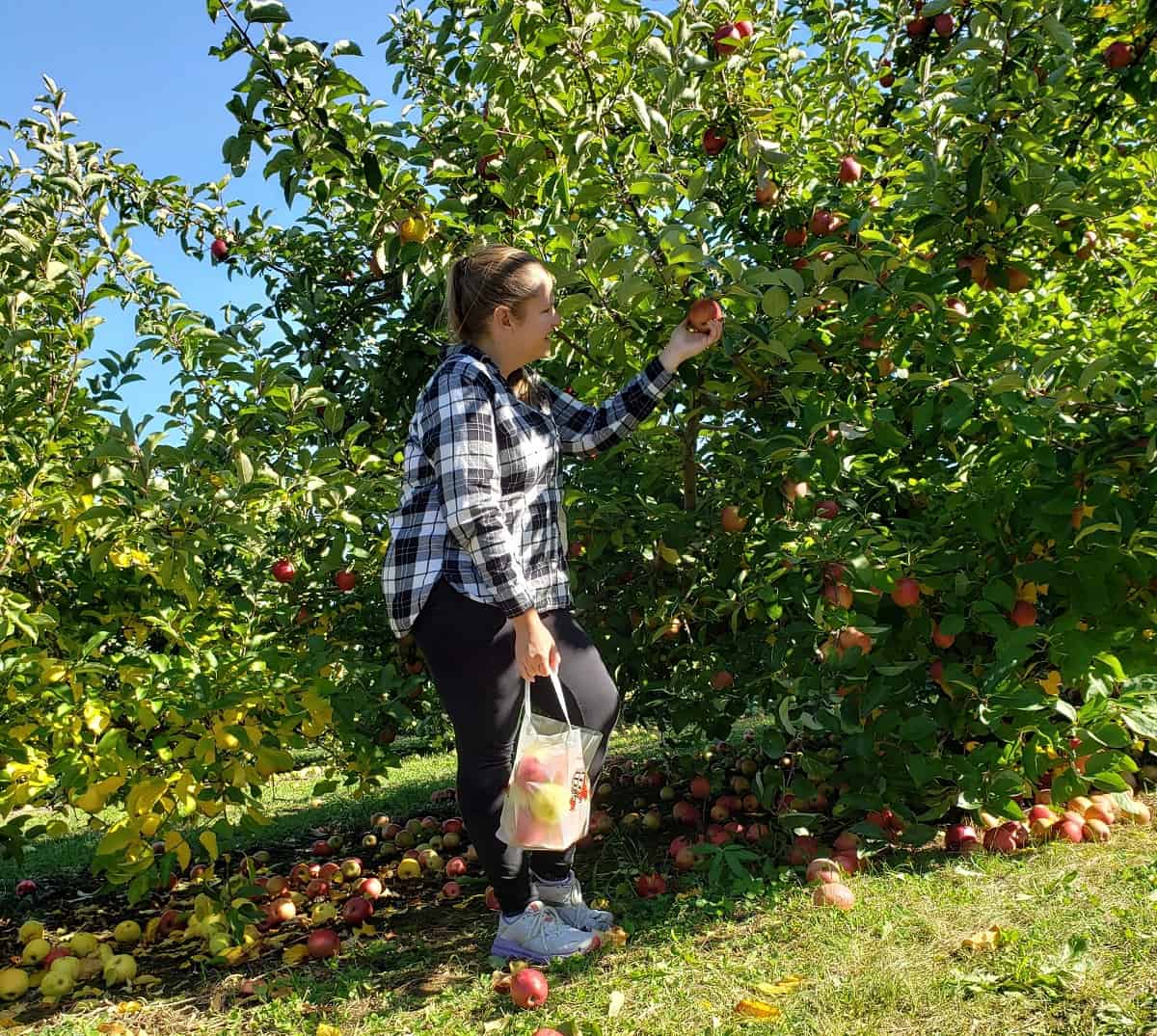 4. Find a volunteering opportunity.
Volunteering is an excellent way to practice self-care during the fall months. Not only do you make positive difference in the lives of others, but you can also reap mental and emotional benefits by giving back.
Look for opportunities that benefit causes you are passionate about, such as food insecurity, local neighborhood issues, environmental conservation or animal welfare. Finding something you connect with can be particularly satisfying and help to reinforce your sense of purpose.
Additionally, since many volunteer opportunities involve social interaction and working with others, it's a great way to get out of the house and enjoy meaningful connections.
5. Visit a pumpkin patch
Going to a pumpkin patch is a great way to celebrate the season and put a smile on your face. Not only is the atmosphere along the lines of a quintessential fall day, but the connection with nature can boost your mood.
During your visit, take some time to relax, reflect, and simply appreciate the environment. You can look around at all of the pumpkins of different shapes and sizes and admire their beauty. A lot of times there will also be hayrides or other activities available that can help bring you joy.
The pumpkin patch is also a great way to practice mindfulness. As you walk around amid all of the vibrant oranges and yellows, you can take deep breaths and connect with yourself through this experience. This is your chance to reclaim your power over stress and anxiety in order to restore balance in your life.
And of course, you can grab a pumpkin during your visit, and then use that in many ways – from creating artistic jack-o-lanterns for your porch, to whipping up homemade air fryer pumpkin seeds, to cooking down the pumpkin flesh for many delicious recipes.
6. Plan a day trip
When you plan a trip that you look forward to, you end up with a double dose of happiness – one from the anticipation of the trip, and another from the experience itself. It's a win-win for self care!
Start by deciding what type of activities you want to do on your day trip. This might include hiking, visiting a local museum, a donut tour of the best shops in your state (just me?), or simply taking a drive and exploring scenery along the way.
You can decide whether you want to do an out-and-back in one day, or if you'd prefer staying overnight somewhere. This might also depend on your financial status. If you're tight on money, don't let that bum you out – there are tons of free things to do and free events that are likely in driving distance of your home!
7. Read a good book
This self care idea can really apply to any season, but I think it's particularly welcome in the fall and winter. Sometimes there's nothing better than sitting under a cozy blanket with a new-to-you book to read.
Create a calming environment with somewhere comfy to sit and a seasonal candle or warm drink. Enjoy a mini digital detox by putting your phone in another room for a couple hours. Then snuggle up for a deep dive into the words of the book.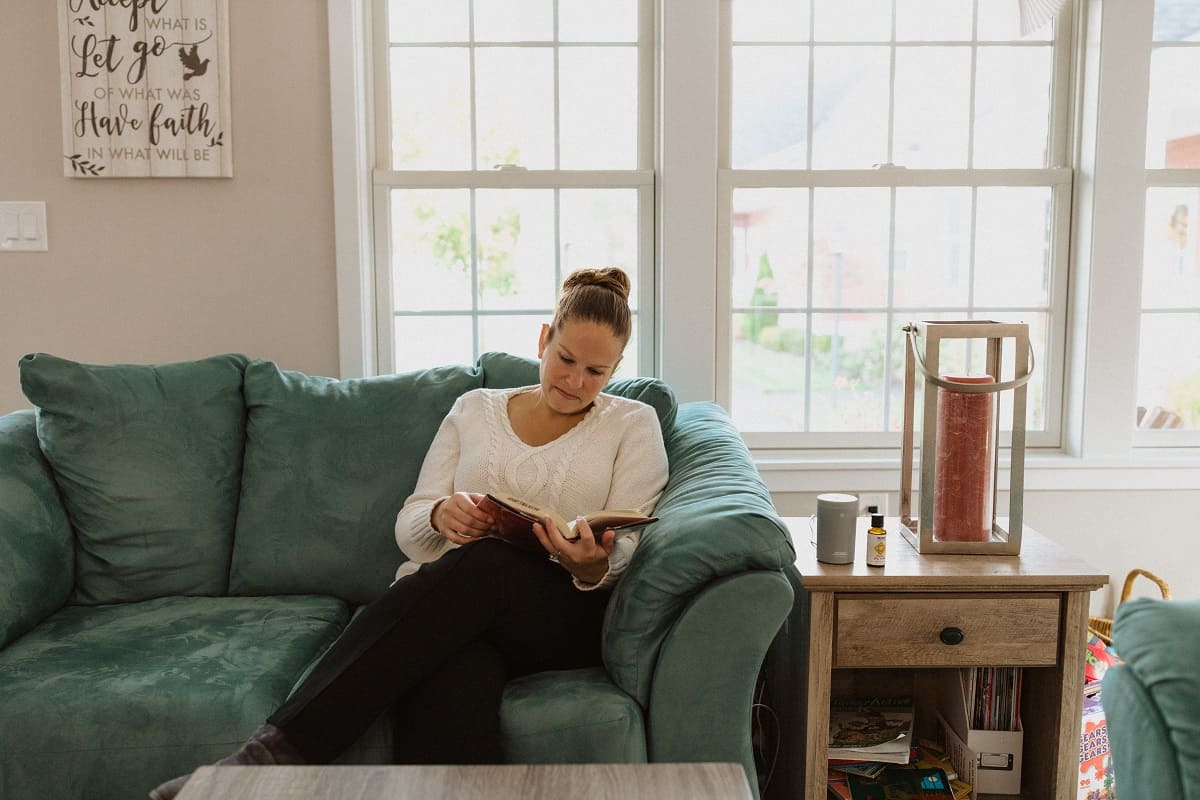 8. Prioritize sleep
When it comes to self-care, getting enough sleep is essential. Quality sleep restores the body and mind, which leads to a better mood, more productivity, and proper exercise recovery (this makes sleep especially important for athletes).
Not getting enough sleep affects anything from concentration to memory to your hunger hormones and even your immune system.
Take fall to establish a consistent sleep routine. Start by thinking about what time you want to get up each morning, and working backwards from there to determine your bed time. Most adults need a minimum of 7 to 9 hours of sleep – if you're not getting that, odds are your body may be suffering.
Here are some additional tips for good sleep:
When possible, turn off electronic devices at least one hour before bedtime. The blue light from screens can impact your melatonin levels and interfere with the natural circadian rhythm.
If you aren't tired, consider some light stretching, listening to relaxing music, drawing, writing, or reading (rather than watching TV).
Keep your bedroom dark, cool, and decluttered.
Invest in a good mattress and pillows that support your body.
Avoid caffeine later in the day.
Sleep may not seem like the sexiest self care activity, but it will ensure you are feeling great each and everyday.
9. Try aromatherapy
Aromatherapy is the use of natural plant-based essential oils to enhance wellbeing. Although it might not sound scientific, aromatherapy has several noted benefits. In fact, Mount Sinai Hospital states that it helps "relieve pain, improve mood, and promote a sense of relaxation."
You can take advantage of these benefits by diffusing some essential oils in your home (if you don't have any yet, you can find great oil and diffuser kits).
Different scents have different benefits. For example, lavender oil is thought to have calming effects and promote relaxation, while peppermint oil may have energizing effects.
Plus, isn't it so nice to have a lovely smell in your house?!
10. Do a home pedicure
When my kiddo was younger, this was one of our favorite activities to do together (now he's too cool for pedicures with mom, haha!). I still love treating myself to this when I have an hour of downtime. Giving yourself a pedicure is a relaxing experience that will leave your feet feeling soft and beautiful.
Start by soaking your feet. I like to fill the bathtub with warm water, add some Epsom salts, and a few drops of lemon essential oil.
After about 10-15 minutes, you can do any foot maintenance you'd like (for example, using a pumice stone to soften or trimming nails).
Then, dry your feet and hydrate with some moisturizing lotion. Follow that up with applying a coat of nail polish, then a top coat. Hello, lovely feet!
PS – This isn't just for women. Men, you can take all the steps too, perhaps skipping the nail polish if you aren't a fan of that.
11. Go for a walk when the leaves are changing
Taking a walk and observing the marvelous colors of autumn is one of life's greatest joys. You can decide if you want to do an invigorating power walk or take a leisurely stroll – there's no right or wrong way to go about this.
Walking is one of the simplest forms of exercise, but it also offers numerous health benefits. According to Mayo Clinic, it can help improve your mood and mental well-being, strengthen your bones and muscles, reduce your risk for chronic diseases like heart disease and diabetes, and even support your immune system. There is evidence that exercise also reduces stress and anxiety as well.
Fall is a perfect time for starting a new walking routine.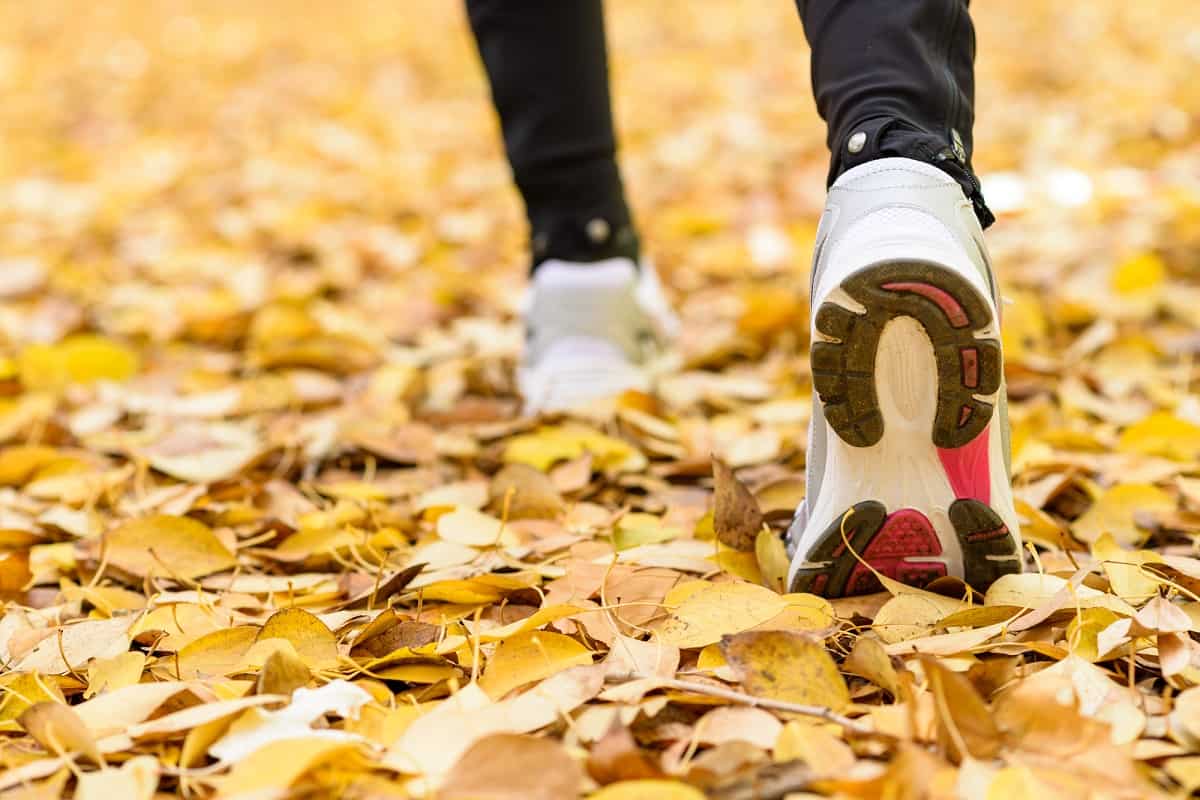 12. Create a new morning routine
Do you have a morning routine? This is simply a list of things you do every morning to set your day up for success, which is a great form of self care. There's nothing specific that must be on your list; you can tailor it in a way that works for you.
For example, your morning routine could include…
Drinking a glass of water
Enjoying a cup of coffee or tea
Meditating for 5 minutes
Reading 10 pages in a book
Exercising for 20 minutes
Enjoying a balanced breakfast
Stretching
List your three main goals for the day
Journal
Make your bed
Go for a walk outside
Obviously this is a long list just to provide ideas – choose a few things that work for you. Once you've found a routine that works for you, you can keep the basics of it year round or tweak it slightly for each season.
PS – If you need some inspiration on starting a morning routine, check out the book Miracle Morning by Hal Elrod. It'll inspire you to set that alarm clock and get rolling each day!
13. Take a class
When I used to teach, fall always felt like a season of fresh starts with the beginning of the school year. But just because you're not currently a formal student or teacher, doesn't mean you can't also elicit that excitement of a new start.
Consider taking a class to learn something new, whether online or in person. You could get training in a potential career field, brush up on a skill set you already have, or explore something completely new.
Note that taking a course doesn't necessarily mean tons of out of pocket expenses, either. Here are a few different ways to find reasonably priced classes:
Look into adult continuing education courses that take place in the evenings, typically offered through community colleges, vocational schools, or "after dark" programs.
See what benefits your local library offers. For example, the Boston Public Library allows anyone in Massachusetts to get an e-library card, and with that comes access to LinkedIn Learning courses. Your library may also partner to offer those courses.
Check if your local library is offering any classes. For example, ours recently hosted a social media class for small businesses. These are more likely to be one-time classes or a short series.
14. Try yoga.
Not only is yoga a great form of physical exercise, but it is also beneficial mental health. The combination of stretching, strengthening and deep breathing can be wonderful for your body and mind.
Yoga encourages mindfulness, as you'll become more aware of thoughts and feelings during your practice. This may help you better handle stress and anxiety during challenging times.
You could try a standard hatha yoga class, sweat it out in a hot yoga class, do flips and hang upside down in an aerial yoga class, or get some zen in a restorative yoga class. Whatever feels right for you!
15. Write a list of things that make you happy
My final fall self care idea is one of the simplest yet most effective — write a list of all the things that make you happy. This can include things like your favorite fall scented essential oils, listening to your favorite relaxing playlist, or running through leaves on the ground.
Use this list to inspire you to feel more grateful, do more things you love, and create a bucket list of ideas for the future.
Final Thoughts
Fall is a season filled with excitement, new beginnings, and seasonal changes to embrace. Use these fall self care ideas to help you find more joy in the season – whether that's through getting cozy with a good book or exploring your local pumpkin patch.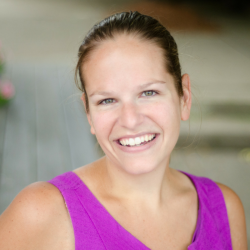 Latest posts by Chrissy Carroll
(see all)