We're moving into summer and with it comes plenty of fresh opportunities to focus on self care. The sun is shining, the weather is warm, and there are lots of activities to help us create fun memories! If you're looking for new ways to invest in yourself, these summer self care ideas are a great way to kickstart the season.
Disclaimer: This post is for informational purposes and should not be construed as mental health advice. Seek out a doctor or therapist if you have mental health concerns.
Disclosure: This post contains Amazon affiliate links. As an affiliate, I earn a commission on qualifying purchases.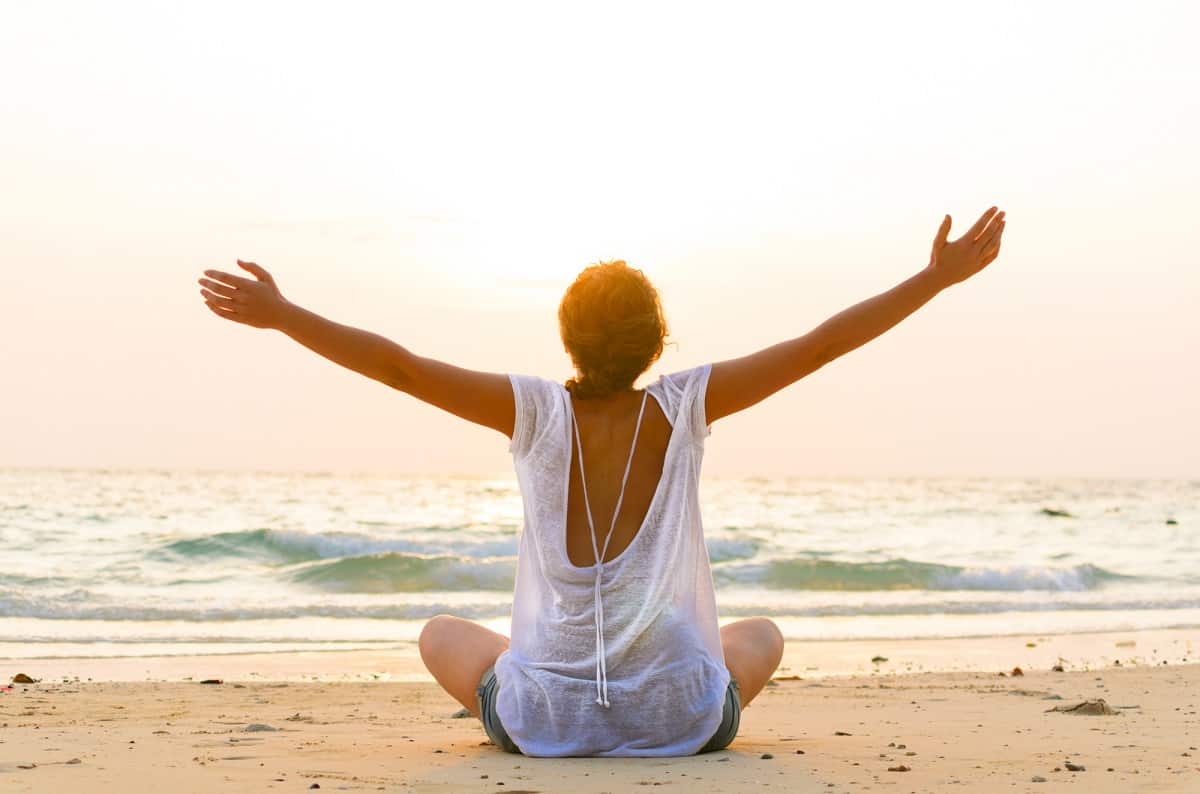 Why practice self care in the summer?
It's important that you take care of your mental health and wellbeing throughout the year. Self care can help you control anxiety, increase joy, prevent burn out, and improve your energy levels.
Adjusting what you do for the seasons can be a great way to add variety and excitement to your routine. The arrival of summer is perfect for helping focus on self care thanks to:
Warmer weather
Longer, brighter days
More opportunities to do things outside
Feel-good vibes
Summer breaks
Higher energy levels
This is the perfect opportunity to start or revitalize your self care habits!
15 Summer Self Care Ideas
Sprinkle some magic into your everyday life with the help of these summer self care activities:
1. Try a new outdoor activity
With summer comes better weather, which makes spending more time outside feel effortless. It's the perfect time to start a new outdoor activity. Here are a few ideas:
2. Write a Summer bucket list
Did you know that anticipating a positive event can actually lower stress levels, according to research in the Journal of Experimental Social Psychology?
In addition, other research has shown that anticipating experiences – rather than purchases of material goods – has a bigger impact on happiness.
You can use this to your advantage by writing out a summer bucket list, and planning out those experiences!
For example, maybe you want to go camping with your family, have an outdoor movie and smores night in your neighborhood, and want to take a road trip to the beach.
Once you've got your bucket list made, embrace joy in planning out those experiences and looking forward to them.
3. Spend time by the water
There is something incredibly refreshing and soothing about being near water. While the beach is my favorite spot to go, it's also not always practical if you don't live near the coast. But that doesn't mean there isn't water nearby!
Consider taking a walk near a lake, pond, or river near you. A 2017 systematic review article found that being around water (called "blue spaces" in the study) was linked to benefits for mental health, well-being, and physical activity.
Next time your stressed, try spending some time by the water's edge and see how you feel.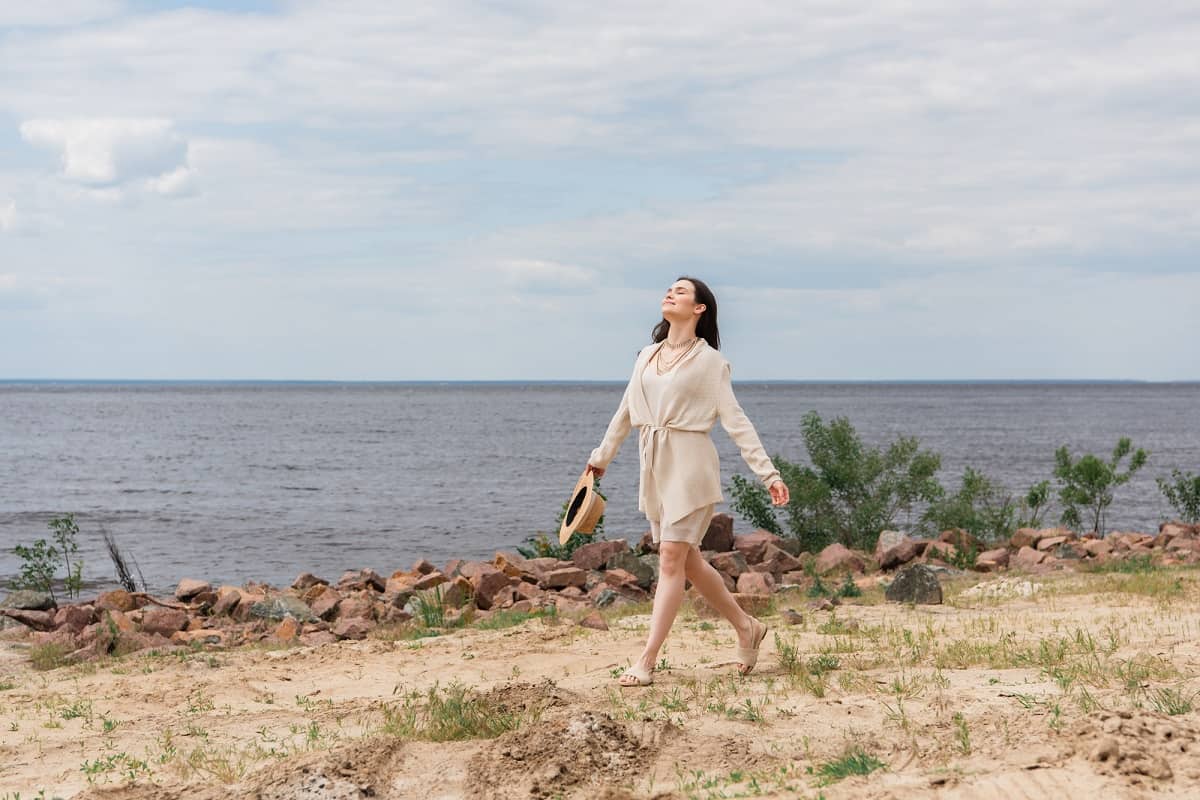 4. Stay hydrated
In the warmer months it's vital to make sure you're getting enough water into your body! According to Healthline, hydration can impact energy levels, brain function, mood, and headaches – so all the more reason to sip on that water bottle all day long as part of your self care routine.
Here are some tips for staying hydrated:
Always keep a refillable water bottle with you
Drink water with your meals
Like bubbles? Try seltzer instead of soda.
If you prefer flavored drinks, try infused waters (like this cucumber lemon mint water)
Iced herbal teas (with little to no caffeine) can also be a great option for hydration
5. Visit a farmer's market
Your local farmer's market can be a great source of fresh fruit, vegetables, flowers, and artisanal products. Plus, you get to soak up the atmosphere, meet others from your community, and appreciate the bounty of food that's available.
Even better, try buying something new that you've never tried. If you usually veer for spinach, why not try arugula? If you've never tasted a husk cherry before, why not grab a pint?
The excitement of tasting and experimenting with new fruits and vegetables is one of my favorite things to do in summer!
6. Have a picnic
Whether you pick something up at the farmer's market or prepare at home, going on a picnic is a great summer self care idea. Pack up your favorite treats and something refreshing to drink, then find a cozy spot in a park, by a river, or even in your own backyard.
You can enjoy your picnic solo and bring a good book to read. Or you can invite a couple of friends and make an afternoon out of chatting and laughing together.
7. Grow a plant
Early summer is the perfect time to exercise that green thumb and try your hand at gardening. You don't have to have a big yard or a raised bed to do this either.
Perhaps you have a potted flower on your porch, or a windowsill herb garden, or you purchase container gardens to grow cherry tomatoes. Or maybe an indoor Aerogarden is more your style, which requires little upkeep and is great for small apartments.
Figure out what is manageable for you. You may feel a great sense of pride when you pluck that juicy cherry tomato from the plant to snack on, when you snip a little basil to add to your pasta, or when you cut some flowers to give to a neighbor.
8. Make a summertime playlist
Summer, summer, summertime…
Who else loves a good throwback to DJ Jazzy Jeff and the Fresh Prince?!
Summer can bring such a fun, energetic vibe that it makes sense that our playlists would match. Create an upbeat summertime playlist to put you in a good mood when driving, workout out, or just doing the dishes at home.
9. Go for a swim
We already touched on the benefits of being near water for a walk or simply sitting by it – but there are also lots of benefits to getting in there!
Swimming is a great self care idea, is obviously easier in the summer when weather is warmer and there are more places to swim outdoors. It's an excellent exercise that improves cardiovascular health, and is ideal for people with joint issues like arthritis (since swimming is not weight bearing).
Head to your local pool, beach, or lake and go for a nice swim. If you're going into open water and there are not lifeguards around, find a buddy to swim with and wear a swim bouy for visibility. If you have to swim solo, hug the shore so you can always quickly stand up and get on land in an emergency.
10. Plan a staycation
While traveling the world and frequent vacations sounds just lovely, not everyone will have the funds to take lots of trips each year. But that's OK!
Summer is the perfect time to plan a local staycation. Explore your own or your neighboring city/town. Visit a restaurant you've never tried, check out some sights, go to an art exhibit or comedy show…essentially, plan the day (or a few days) like you would if you were on vacation.
11. Embrace body positivity
There is a dark side to summer, particularly for women – and it's that it often brings out insecurities regarding bodies. There's nothing like the fluorescent lighting of a dressing room when trying on a bathing suit that can shake a someone's confidence!
This summer, make one of your self care activities embracing body positivity. Try practicing some body positive affirmations, working your way through some body positive journal prompts, or just saying "F it" to the harmful diet culture messages about what bodies should look like.
The way to a bikini body? Put on a bikini and enjoy yourself. 🙂
12. Practice mindfulness
Summer is a great time to try something new, and a great habit to pursue is mindfulness. Practicing mindfulness can help you feel grounded, grateful, and happy — so it's a great complement to the energy of the season.
Mindfulness can be a powerful form of self care all year round, so try working some elements of it into your daily routine that you can take with you as you move into the other seasons.
For example, you might try mindful eating, where you really slow down and focus on each bite you take. Or you might try meditating or deep breathing to reconnect your body and mind with the present moment.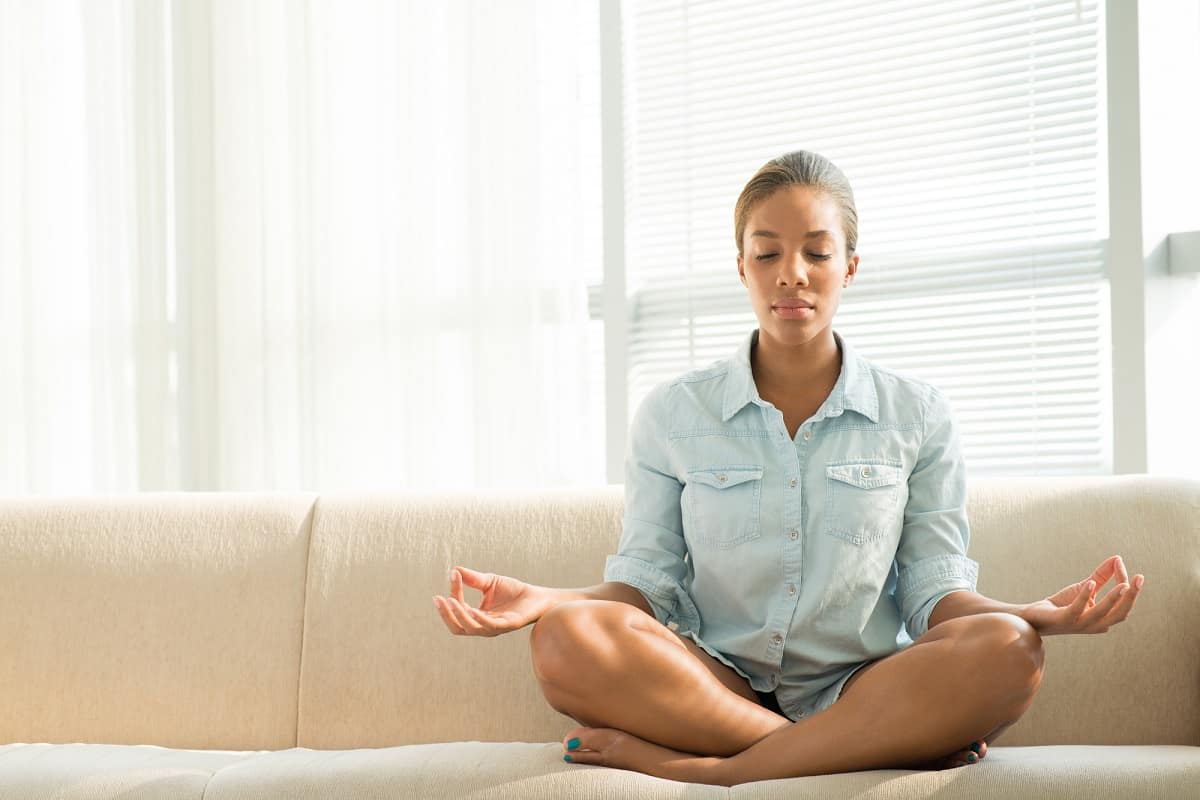 13. Try a new recipe
Every season brings us delicious seasonal produce to enjoy, with summer being one of the best for the bounty of food you can find locally.
Reinvigorate your mealtime routine by trying out some new recipes that incorporate these seasonal ingredients. For example, you could try making…
14. Plan an ice-cream date
For a fun take on the traditional coffee date, why not plan an ice-cream date instead? Invite a friend, partner, or loved one to the best place to get ice-cream in your city. Or, you could make it a regular date every other week, and try new ice cream spots – then decide which earns the crown for the best cone.
If you don't have anyone to go with, this works perfectly as a solo date too. Grab your favorite ice-cream, then take a walk around the park or by the beach to take in the sights and enjoy the warm summer air.
15. Host a backyard BBQ
Got a backyard and a list of friends? Then the time is perfect to host a backyard BBQ! It's a great way to start or end the summer season, but is also of course great to do anytime. Fire up the BBQ and invite people round to eat, drink, and laugh about the good times.
But what if you're new to town or you haven't made many friends in your area? Make it a neighborhood thing! Invite all your neighbors, even if you aren't close, and let everyone come together. Feel free to make it a potluck if you're short on funds.
Every summer, my neighborhood hosts a "community crawl" – we start at one section of houses and progressively move from section to section. At each stop, people put out food and drinks they've made. It's been a great way to bond and get closer with neighbors, and cultivating that sense of community is a wonderful aspect of self care.
Final Thoughts
Summer can feel like a busy season, but it's important to take time out to look after yourself. Use these self care tips and ideas to inspire you to find new ways to nourish your body and soul.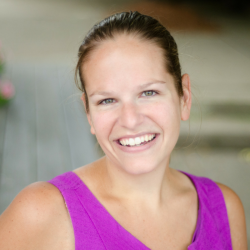 Latest posts by Chrissy Carroll
(see all)