This hydrating cucumber lemon mint water is a refreshing infused water recipe to keep you hydrated!
Everyone that knows me well knows that I love (and I mean L-O-V-E) a good diet soda. Of course, as an RD, I know it's not the best choice for my body – which is why I try to limit them to an occasional treat. Instead, I try to focus on better choices for daily drinks, which include water, seltzer, and unsweetened teas.
Cucumber Lemon Mint Water & Hydration
Infused water recipes are a favorite for daily drinks in our house because they're easy to make, completely natural, and taste delicious! This cucumber lemon mint water has always been a hit, especially in summer time, because it's just so refreshing.
[Tweet "Hydrate in a tasty way with this cucumber lemon mint water!"]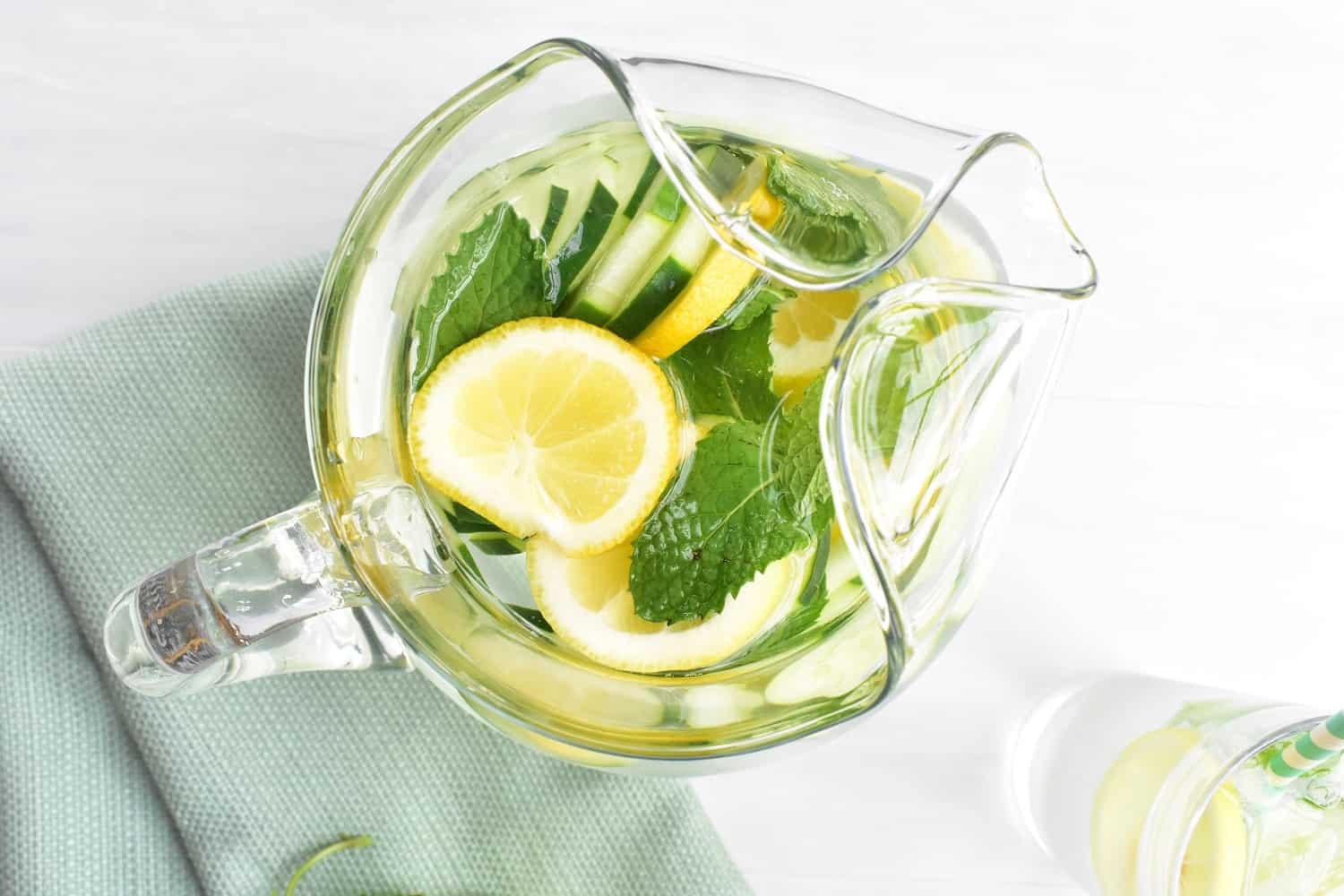 It's important to sip on healthy drinks like this (or plain water of course) regularly throughout the day. These will help you to stay hydrated.
While there's no hard-and-fast rule for exactly how much fluid you need (it likely depends on your weight, body composition, and other factors) – the Institute of Medicine has made the following recommendations:
Men: 3 liters (about 13 cups) of fluid from beverages
Women: 2.2 liters (about 9 cups) of fluid from beverages
Aside from the IOM recommendations, some practitioners recommend body weight calculations. You try out the equation of dividing your body weight in half and using that number in ounces as a daily goal. For example, if a man weighed 190 pounds, his daily fluid goal would be 95 ounces (about 2.8 liters; fairly comparable to the IOM recommendations).
I know I've got a lot of running pals and triathlete readers out there, and everyday hydration can sometimes fall by the wayside. A lot of people worry about hydration during a long run or ride – which don't get me wrong, is clutch to figure out. But showing up to the start of training or an event dehydrated is really hard to recover from while you're out there on the course. It's ideal to stay hydrated on a regular daily basis to avoid that from happening.
Is Lemon Water Good for Detoxing?
I'm really not a huge fan of the word "detox" because of all the misinformation out there. Your kidneys and liver do a pretty wonderful job of removing toxins from the body – no magical woo-woo cleanse drink necessary.
BUT – staying hydrated helps keep the liver and kidneys functioning properly. Drinking enough water also helps to prevent constipation, which aids you in detox by helping you stay regular and get waste products out of the body.
If drinking cucumber lemon mint water helps you drink more water overall because it tastes better, than by all means – feel free to call it a "detox drink". 😉
(As an aside, there are certain spices and phytochemicals that may influence the liver and kidneys in their ability to remove toxins – I'm not downplaying that. However, you're not getting much of those in a simple infused water recipe like this.)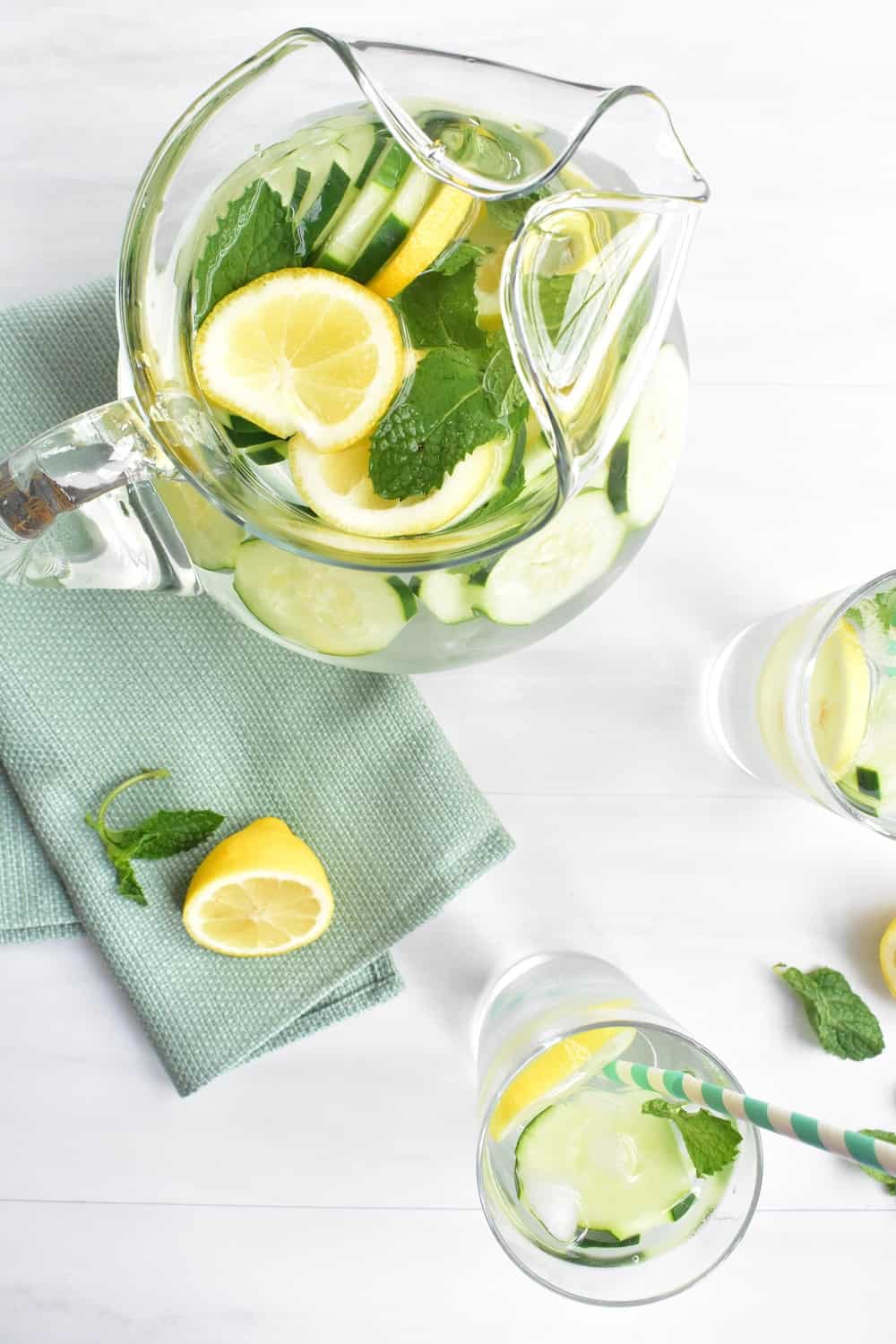 Looking for other tasty drink recipes?
Try this beet lemonade as a sweet treat to sip on this summer! Also, athletes should try out this homemade natural electrolyte drink.
I hope you enjoy this hydrating infused water recipe! 🙂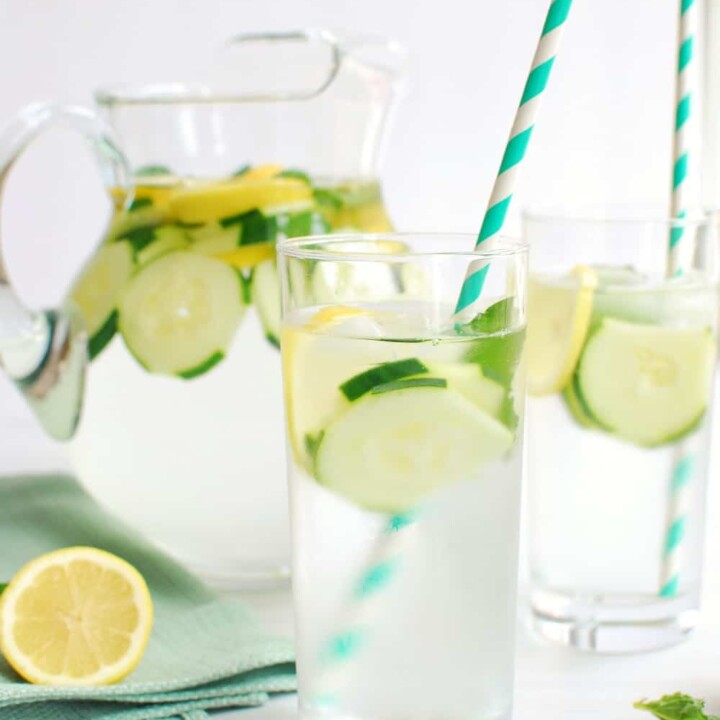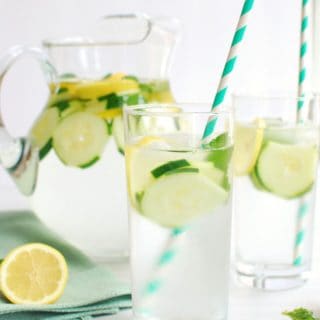 Hydrating Cucumber Lemon Mint Water
Keep your body hydrated in a tasty way with this refreshing cucumber lemon mint water!
Ingredients
10

cups

water

2

lemons, sliced

1

cucumber, sliced

10

mint leaves

1-2

cups

ice cubes
Instructions
Add all the ingredient to the pitcher, and enjoy!
Notes
Notes:
You can use more mint – or muddle the mint – if you prefer a mintier taste. I like just a few leaves to add a very subtle taste.
Nutrition analysis (approximate per cup; assumes very small amount of calories from sugars in the lemon infusing in water):
2 calories, 0 g fat, 0 mg sodium, 0.5 g carbohydrate, 0 g protein
Nutrition
Share with me: What's your favorite kind of infused water recipe? Did you try this cucumber lemon mint water – and if so, what did you think? Do you believe in "detox drinks"?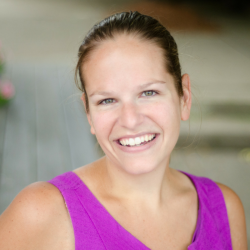 Latest posts by Chrissy Carroll
(see all)