Whether you need a delicious salsa recipe for snack time or you want some to go with your dinner tonight, this tomatillo and tomato salsa is soon to be your go-to recipe. A hybrid of a traditional tomato salsa and salsa verde, you get the best of both worlds in this delicious recipe. Quickly roasting the tomatoes, tomatillos, and jalapeno helps extract more flavor into this salsa.
What are tomatillos?
Tomatillos aren't green tomatoes, a popular misconception with this unique food – it's actually a completely different plant. The fruit itself looks like a small bright green tomato that's covered in a papery husk. When you remove the husk, the tomatillo may have a slightly stick coating but this is easily rinsed away with water.
While tomatillos can be eaten raw, their flavor is a bit more acidic and bitter compared to tomatoes, so you frequently see them cooked in many dishes. Roasting them brings out their sweetness, and adds wonderful depth of flavor to this dish.
However, you can also use them raw in salsa if you'd like. It will be a tangier than the roasted version.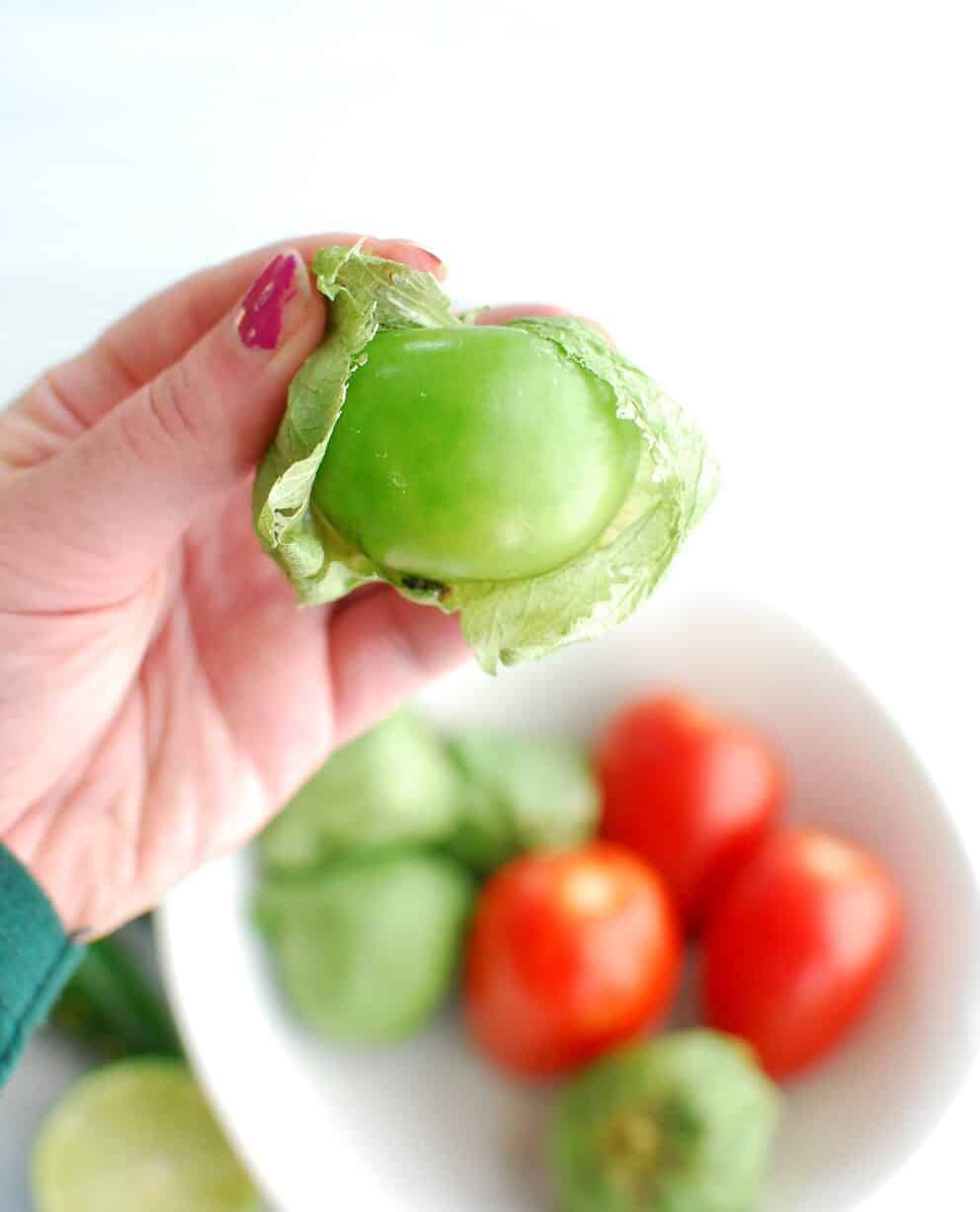 How to make tomatillo and tomato salsa
This recipe is very simple to make, you just need to allow yourself a bit of time to roast some of your produce at the beginning.
You'll start by removing the husk from the tomatillos, and then popping those on a pan with some tomatoes and jalapenos. Coat everything in a little olive oil, then roast them for about 15 minutes.
When they come out of the oven, they'll look like this: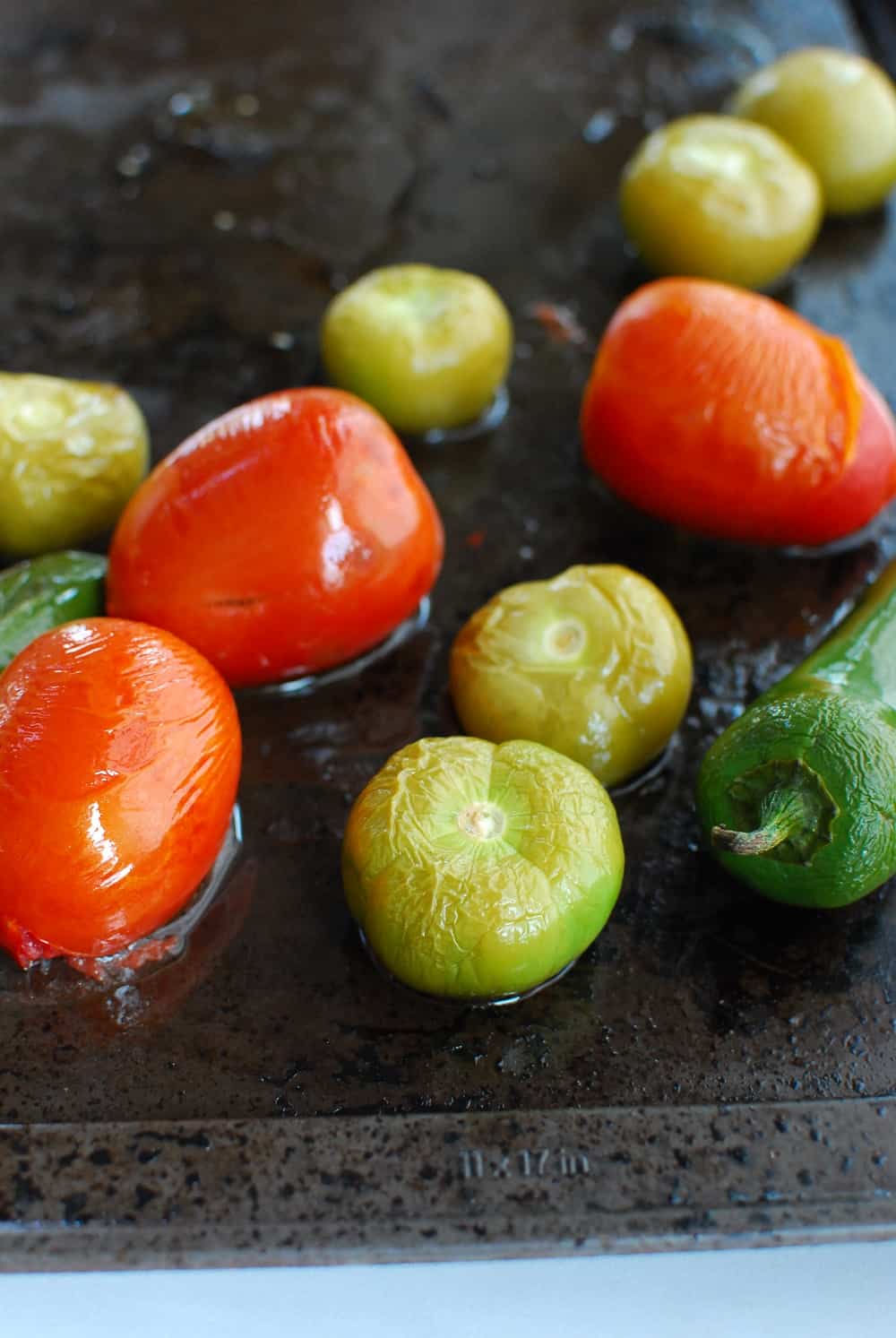 Next, you'll want to place the roasted jalapenos and onions in the food processor first. Chop these up very finely.
When that's done, set it aside for a moment. Take a minute to peel and deseed your tomatoes. Since they've been roasted, the peel should come right off. When you cut into it, the liquidy seeds should also just kind of seep right out. This leaves you with the rest of the tomato which is what you'll use in the salsa. In the photo below, you can see the part I use on the left, the seeds in the middle, and the peel on the right.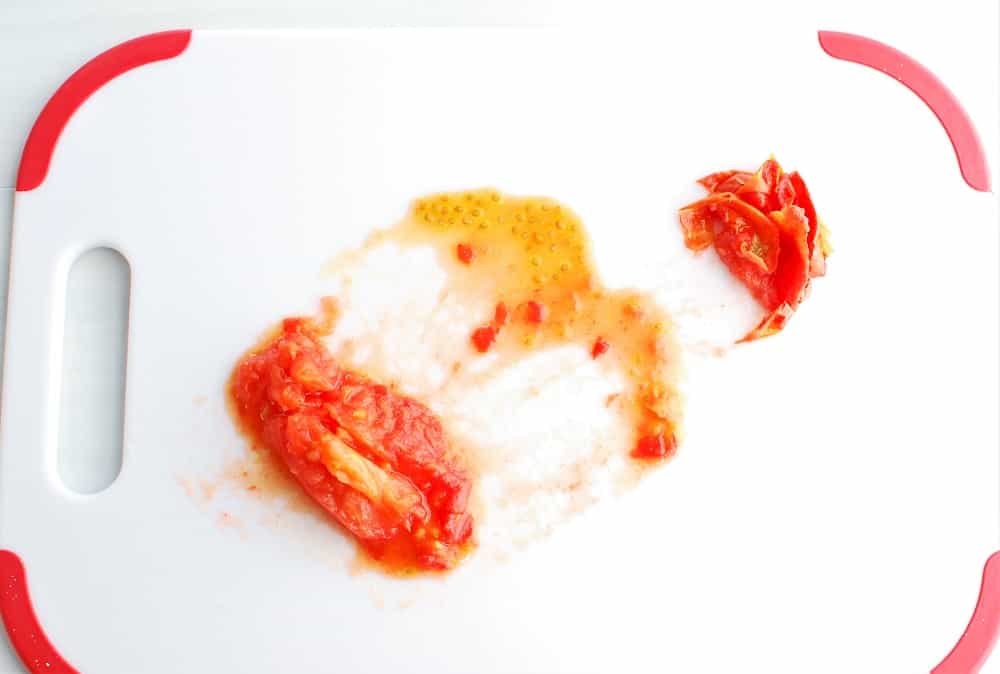 Now, add that tomato, along with the tomatillos, to the food processor that has the jalapeno and onion. Also add in some cilantro, lime juice, and salt. Pulse it a few times until it reaches the texture you like, and then you are ready to dig in!
Recipe FAQ
Here are some common questions that may come up as you prepare this recipe:
Is this very spicy? Nope, not at all. It's very bright and tangy, rather than spicy. To give perspective, my 5 year old had no problem eating this. If you prefer a spicy salsa, though, add in some extra roasted jalapenos, or a little habanero.
Is homemade salsa good for you? Yes, yes, yes! This is essentially just a bunch of fruit and veggies that are processed together into a tasty dip. It's low in calories but packs in so much flavor, making it a great way to enhance foods like chicken or fish while still keeping them calorie-controlled (only if that's a concern for you of course!). Plus, one serving packs in 10% of your Vitamin A needs and 25% of your Vitamin C needs.
How long should you process this in the food processor? You should pulse it as many times as you need to get the texture you like. I prefer a bit of a chunky salsa, where I am still getting some good size bits of the tomato and tomatillo in there. But you can certainly process it to a smoother texture too!
Do you have to peel and deseed the tomatoes? This step is optional. You can toss them right into the food processor if you don't have time to peel and deseed. I just like the texture better without the peel. And the tomatillos provide a lot of liquid in the salsa when they're processed, so I find deseeding the tomatoes helps prevent it from thinning out more. That said, it's really not a big deal to skip this step.
How long will homemade salsa stay good for? It's recommended that you use this within 4-5 days. That will preserve the best quality and eliminate any food safety risk from foods hanging around the fridge too long. But believe me, it's so tasty, you won't have any trouble eating it all up!
Can you freeze this salsa? Yes, but the texture won't be as good upon thawing. If you freeze it, use it later as an ingredient in a dish, rather than as a stand-alone dip. You'll find some ideas below!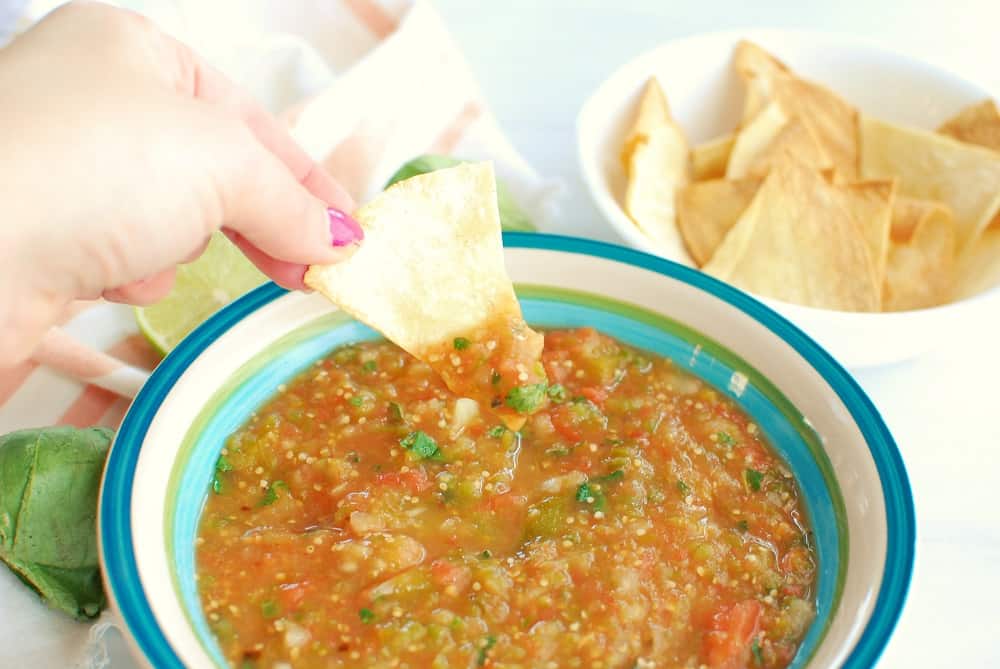 Ways to use this salsa
Obviously, digging into this with some tortilla chips (especially air fryer tortilla chips) or veggies is a classic choice! But there are also several other ways you can use this:
Sauté some chicken breast in a little oil in a pan. Towards the end of cooking, mix in some of this salsa. Use the chicken in homemade burrito bowls with rice, beans, and avocado.
Similarly, put two chicken breasts in the crockpot with this salsa and let it cook on high for 3-4 hours, or until the chicken reaches an internal temperature of 165 degrees. Shred the chicken and let it sit in the salsa mixture for 10 minutes after shredding. Add this to tacos, burrito bowls, wraps, and more.
Mix tomatillo and tomato salsa into your favorite mac and cheese recipe (this recipe looks delish!) – or speaking of cheese, use it in a grilled cheese sandwich.
Use this salsa as a healthy "dressing" on a tex-mex salad with lettuce, tomatoes, corn, beans, and cheddar.
Make a southwestern turkey burger, and top it with this salsa.
Use this to top seared scallops (hello, delicious summer time meal!).
Make a potato salad that uses a salsa-based dressing rather than a mayo-based dressing.
No matter how you choose to use it, I hope you love this tomato and tomatillo salsa! If you get a chance to try it, I hope you'll leave a recipe rating or comment below.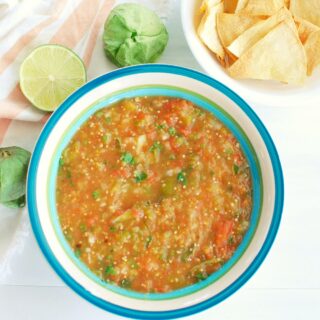 Tomatillo and Tomato Salsa
A hybrid of a traditional salsa and salsa verde, you get the best of both worlds in this delicious tomatillo and tomato salsa recipe!
Ingredients
6

tomatillos

3

medium plum tomatoes

2

jalapenos

1/2

tbsp

olive oil

1/4

cup

yellow onion

1/2

lime, juiced

1/4

cup

cilantro

1/8

tsp

salt
Instructions
Preheat the oven to 400 degrees F.

Remove the husks from the tomatillos, rinse them, and dry. Place them on a baking sheet, along with the tomatoes and jalapenos. Drizzle these with the olive oil, tossing everything around on the pan to ensure it's evenly coated. Place in the oven and roast for 15 minutes.

When those are done, remove the stem from the jalapenos and place those and the onion in a food processor. Pulse several times until these are finely chopped.

Peel and deseed the tomatoes (optional, but provides better texture and taste).

To the food processor bowl with the chopped jalapeno and onion, add the tomatoes, tomatillos, lime, cilantro, and salt as well. Pulse a few times until it reaches the desired texture.

Enjoy now, or store in the fridge for up to 4-5 days.
Notes
Nutrition analysis (approximate per serving): 28 calories, 1 g fat, 0 g saturated fat, 40 mg sodium, 4.5 g carbohydrate, 1 g fiber, 2.5 g sugar, 1 g protein, Vitamin A: 10%, Vitamin C: 25%, Calcium: 1%, Iron: 2%
Nutrition
Share: What's your favorite type of salsa?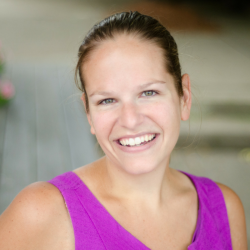 Latest posts by Chrissy Carroll
(see all)