Craving a burger this weekend? Look no further than these southwestern turkey burgers! Packed with flavor from red onion, cilantro, and cumin, these burgers make a nutritious and delicious meal. Great for summertime grilling, or for any time of year on the stovetop.
Disclosure: This Southwestern Turkey Burgers with Guacamole recipe was sponsored by the National Turkey Federation.
This post was originally published in 2016 and has been updated in 2021.
Why Turkey?
Turkey is a surprisingly versatile protein, and there are a ton of different cuts. My favorites are ground turkey – like I use in this recipe – because a) it's inexpensive, and b) you can use it in so many ways. Think burgers, meatloaf, lasagna, loaded potatoes, tacos – the list goes on and on. I also enjoy turkey tenderloin, which is great to grill and put over salads.
Turkey is also rich in protein, which is important for keeping you full after your meal and especially useful for athletes in order to support muscle repair and recovery.
Ingredients
You only need a handful of ingredients to make this recipe. Here's what goes into the burger patties: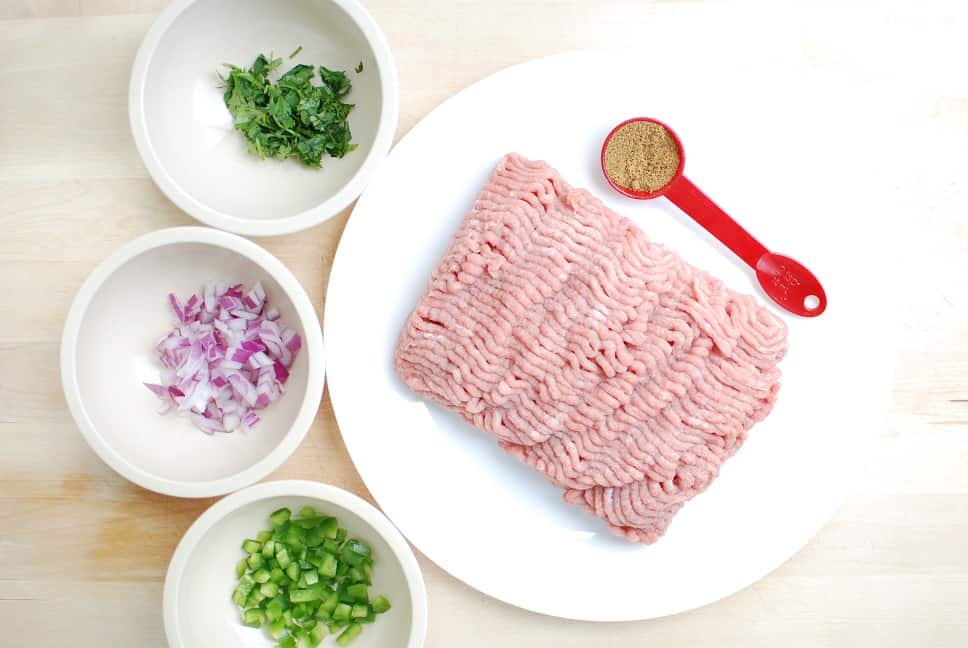 Ground turkey – I use regular ground turkey here which is usually an 85/15 mix, but you can also purchase lean ground turkey which is sold in 93/7 and 99/1. Keep in mind leaner ground turkey can dry out if overcooked, so if you choose that be sure to use your handy meat thermometer to cook right to 165 degrees, then pull from the grill or pan.
Red onion – This adds a nice pop of slightly sweet, slightly bitter flavor.
Cilantro – If you're someone that has that genetic trait that makes cilantro taste like soap, feel free to leave this out.
Cumin – You're probably familiar with this spice, which adds a warm, zesty, classic Tex-Mex flavor to dishes. If you love it, feel free to add a little more than called for in this recipe.
Jalapeno – We've gotta have a little spice in these! A minced jalapeno adds subtle heat. If you prefer a hotter burger, feel free to upgrade to a serrano pepper or habanero pepper (just keep in mind those are much more fiery, so be sure you're used to them).
Salt – A little salt helps enhance the other flavors in this recipe.
For assembling the burgers themselves, you'll also need:
Avocado + lime juice – to make a quick guacamole
Burger buns
Instructions
This recipe is super simple. Start by making that quick guacamole with your avocado and lime, so it's all ready.
Set that aside for now, and then make your burger patties. Just toss all the ingredients for those in a bowl, and then form them into four patties.
From here, you can either grill them or cook them on the stovetop. Either way, it should take around 4-6 minutes per side for the burger to cook through. For the most accurate cooking time, though, use a meat thermometer. Once it hits 165 degrees F, they're ready to be pulled from the heat.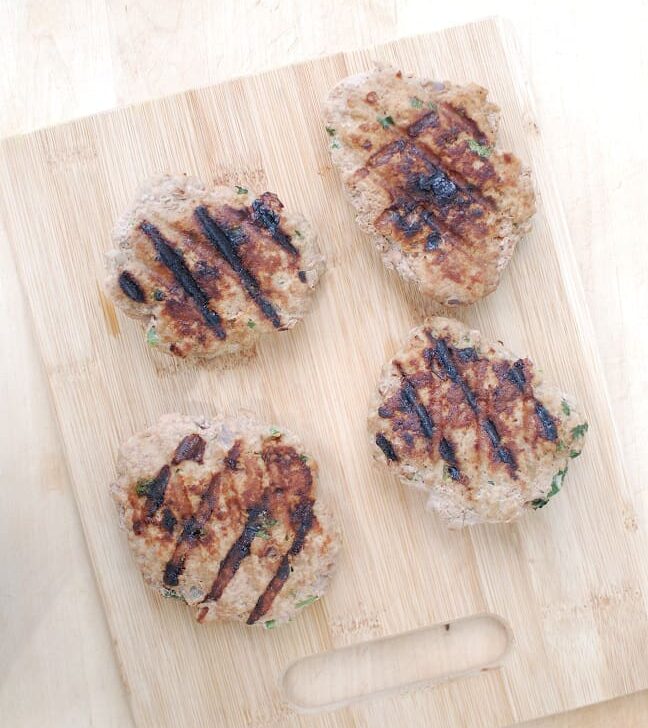 From there, go ahead and build your burger! I like mine on a whole wheat bun with that fresh guacamole, but you could also put it on a lettuce wrap or gluten free bun if you wanted or needed a different option. You can also choose any other toppings that you'd like – lettuce, tomato, red onion, pepperjack cheese, etc.
Recipe FAQ
Here are some common questions that may come up as you prepare these southwestern turkey burgers.
When are turkey burgers done? The most accurate way to determine doneness of meat is using a meat thermometer to ensure the internal temperature has reached 165 degrees. This will ensure the burgers are safely cooked but still juicy.
How long do turkey burgers last in the fridge? Once cooked, you can store leftover burgers in the fridge for up to 4 days.
Can you freeze turkey burgers? Yes. You can freeze the patties raw or cooked. To freeze raw, place on a baking sheet and freeze for couple hours, then transfer all the patties to a freezer-safe bag. You can grill these right from frozen. If you'd prefer to freeze cooked burgers, you can do that too, and reheat individually in the microwave for a quick meal.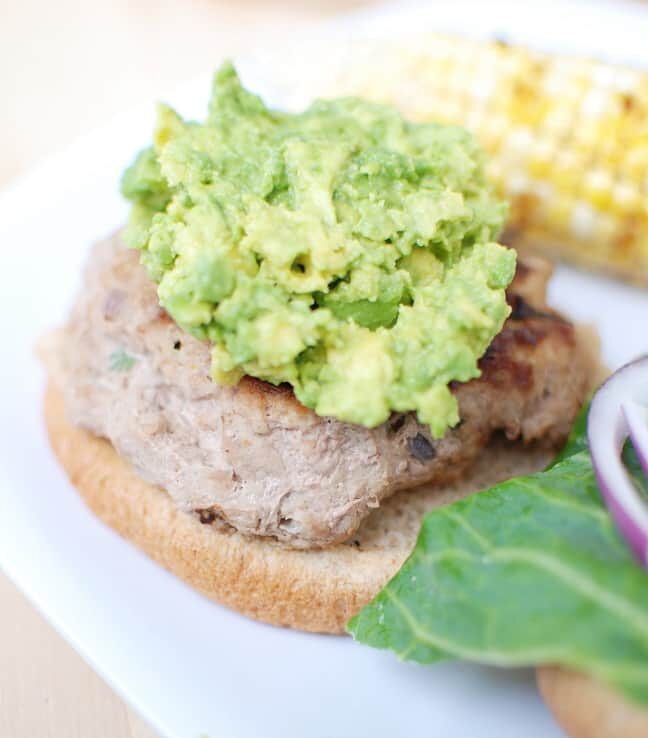 Side Dish Suggestions
If you want to round out your meal, here are some easy side dish suggestions:
I hope you enjoy this easy recipe! If you get a chance to try these southwestern turkey burgers, please feel free to leave a recipe rating or comment below and let me know how you liked them.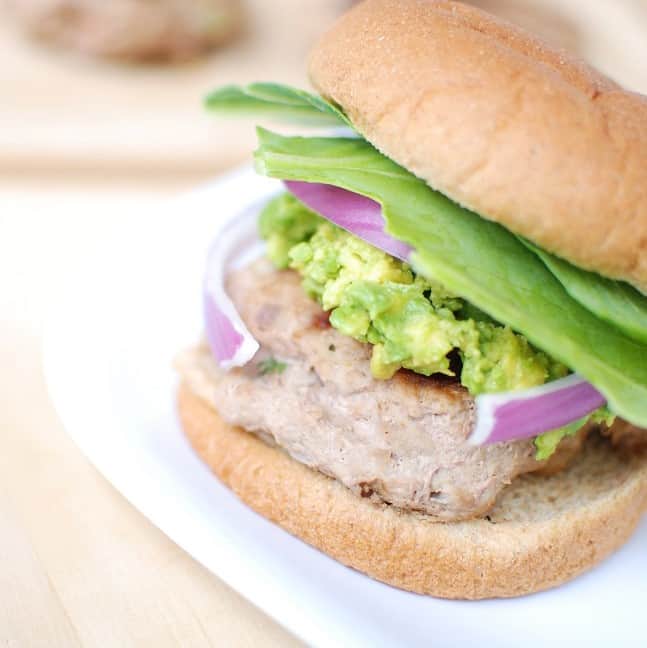 Southwestern Turkey Burgers
Make these easy southwest turkey burgers and top 'em off with guacamole for a delicious meal!
Ingredients
For burger patties:
1

lb

ground turkey

2

tbsp

finely chopped red onion

1

tbsp

chopped cilantro

1

small jalapeño, minced

1

tsp

cumin

¼

tsp

salt
For assembling burgers:
1

avocado

1

lime, juiced

4

whole wheat buns
Instructions
In a small bowl, mash the avocado with the lime juice to make a quick guacamole. Set aside in the fridge while you prepare your burgers.

Prepare grill for cooking, or alternatively, set aside a non-stick skillet to cook on the stovetop.

In a large bowl, combine the ground turkey, red onion, cilantro, jalapeno, cumin, and salt. Do not overmix. Form into four burger patties.

Grilling instructions: Grill patties approximately 4-6 minutes per side, until the internal temperature reaches 165 degrees F.

Stovetop instructions: Grease the non-stick skillet with cooking spray, and place over medium heat. Place turkey burgers in the skillet and cook for 4-6 minutes per side, until the internal temperature reaches 165 degrees F.

Place patties on a whole wheat bun and top with guacamole. Enjoy!
Notes
You can add any additional toppings to your burger that you would like as well, like pepperjack cheese, lettuce, tomato, onions, etc.
Nutrition analysis below assumes ground turkey is 85% lean.  If you use leaner ground turkey, it will have fewer calories and fat.
Nutrition analysis (burger patty + whole wheat bun + 1/4 of guacamole made from avocado & lime): 401 calories, 23 g fat, 5.5 g sat fat, 410 mg sodium, 25 g carbohydrate, 6 g fiber, 25.5 g protein, Vitamin D: 2%, Calcium: 9%, Iron: 18%, Potassium: 13%
Nutrition
Share with me: Do you do a lot of grilling this time of year? What's your favorite kind of burger to make? If you tried these burgers, what did you think?
Feel free to pin this post to refer to later.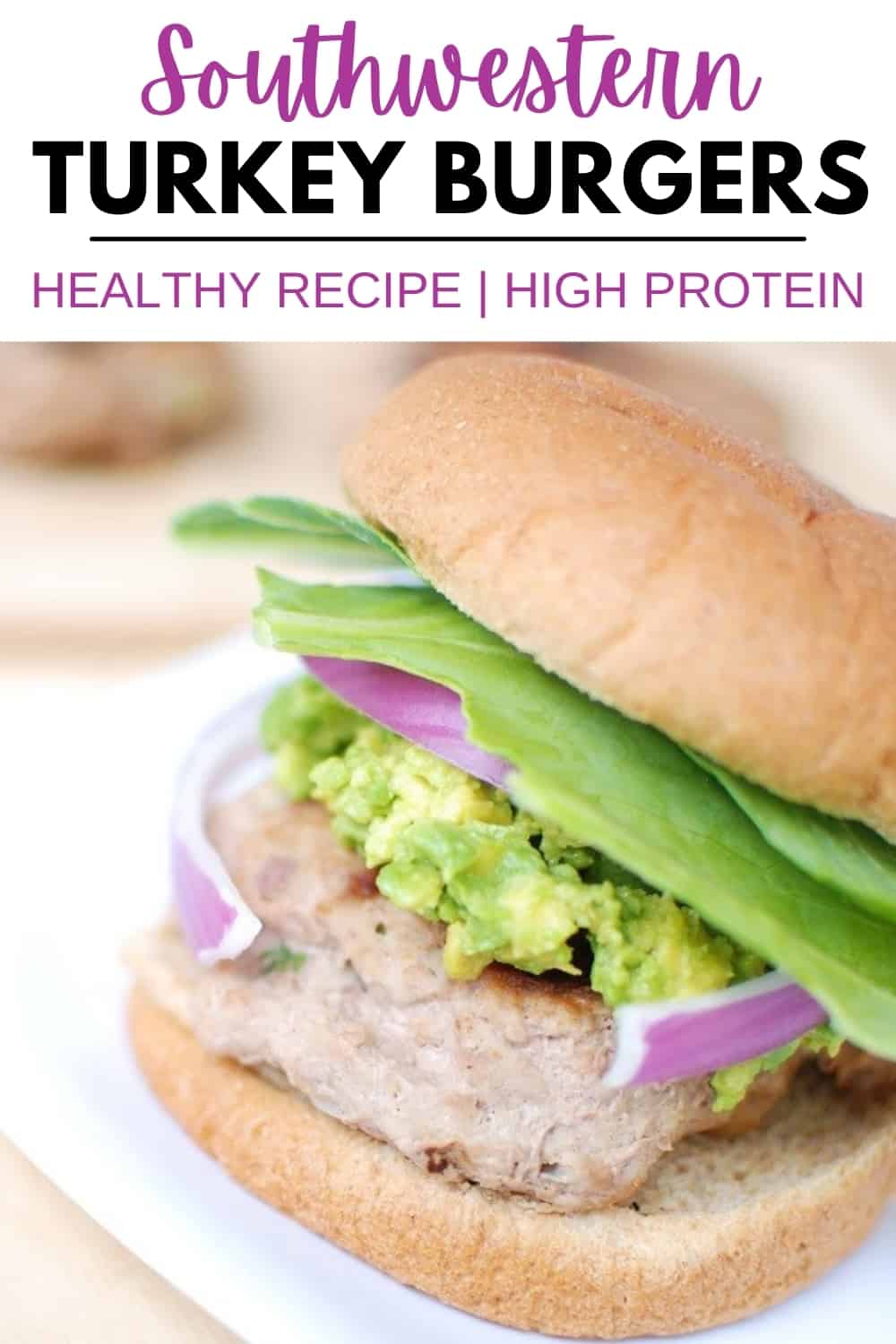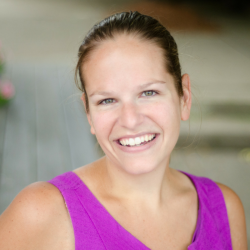 Latest posts by Chrissy Carroll
(see all)