Looking for the perfect side dish to accompany any dinner, or to bring to your summer BBQ? Try these easy healthy baked beans, made on the stovetop!
The first time I had baked beans was out of a can, which apparently is a cardinal sin among baked bean lovers. Since then, I've tested quite a few recipes out – but by far my favorite is this stovetop version that I randomly created one night. It was completely unplanned; one of those recipes where you just kind of throw things in and hope it'll turn out alright.
It was more than alright; it was so flavorful, sweet, and a little smoky! I immediately jotted down everything I could recall about what I added to the pot, and subsequently tested it several more times in later weeks. Baked bean heaven, ya'll!
How to make easy baked beans
This recipe is honestly a bit of a misnomer, because you'll make these on the stovetop – so they're not technically baked. But they'll taste just like they were, in a far quicker time frame.
You'll start by chopping up some bacon, and getting that going in a pot. Once it starts to release some of its fat, you'll add in onion and a spicy pepper (think jalapeno, habanero, etc – you can play around with this to find what works for you).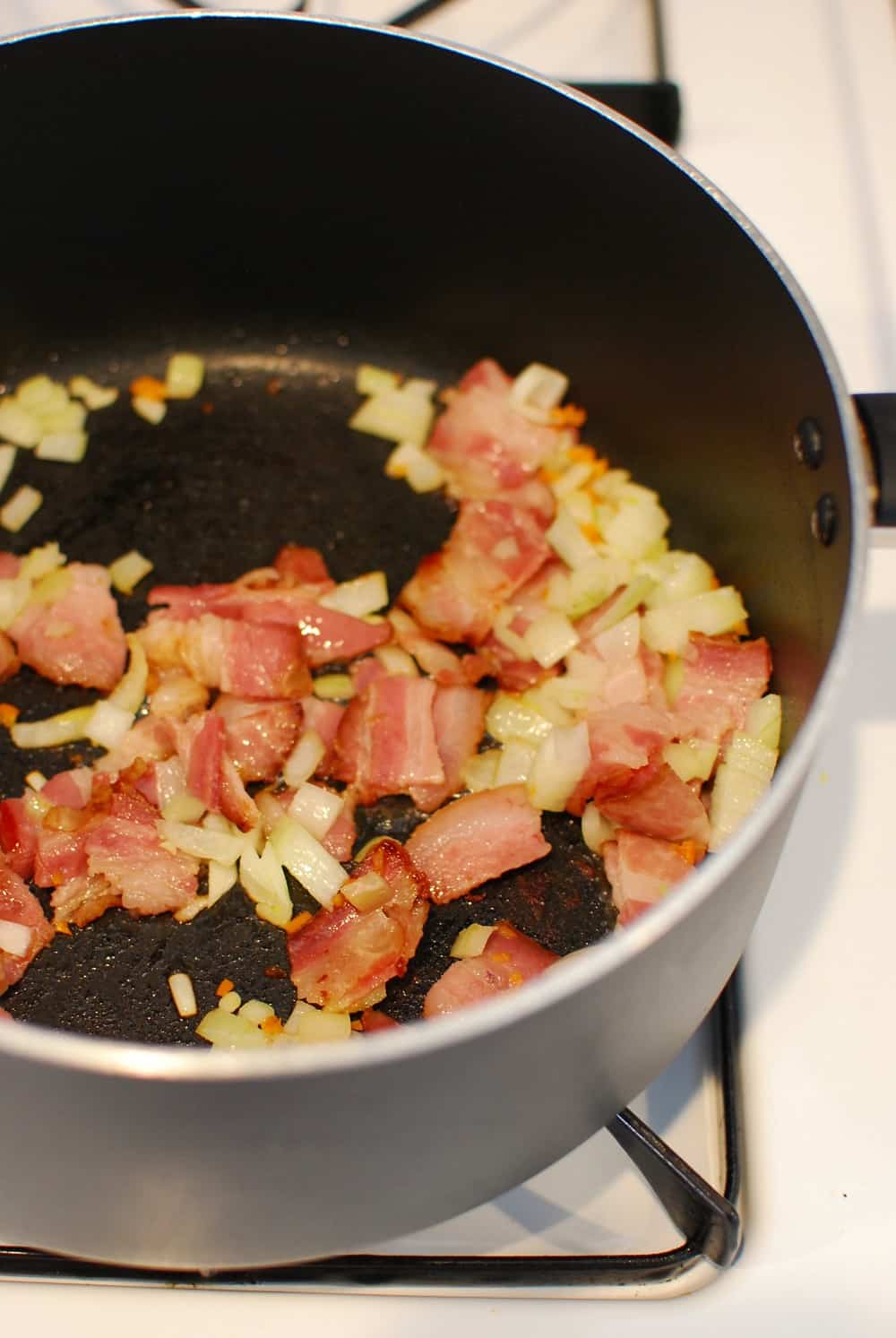 Once the onion starts to get tender, you'll add in your tomato paste, beans, brown sugar, and maple syrup. Cook that up for a minute or so, then add your stock.
I used Better than Bouillon vegetable base for this recipe, which is essentially a concentrated stock – you add a teaspoon of it along with a cup of water to get the equivalent of one cup of stock. But you don't have to use this. Any vegetable stock will do! I just really happen to love that one.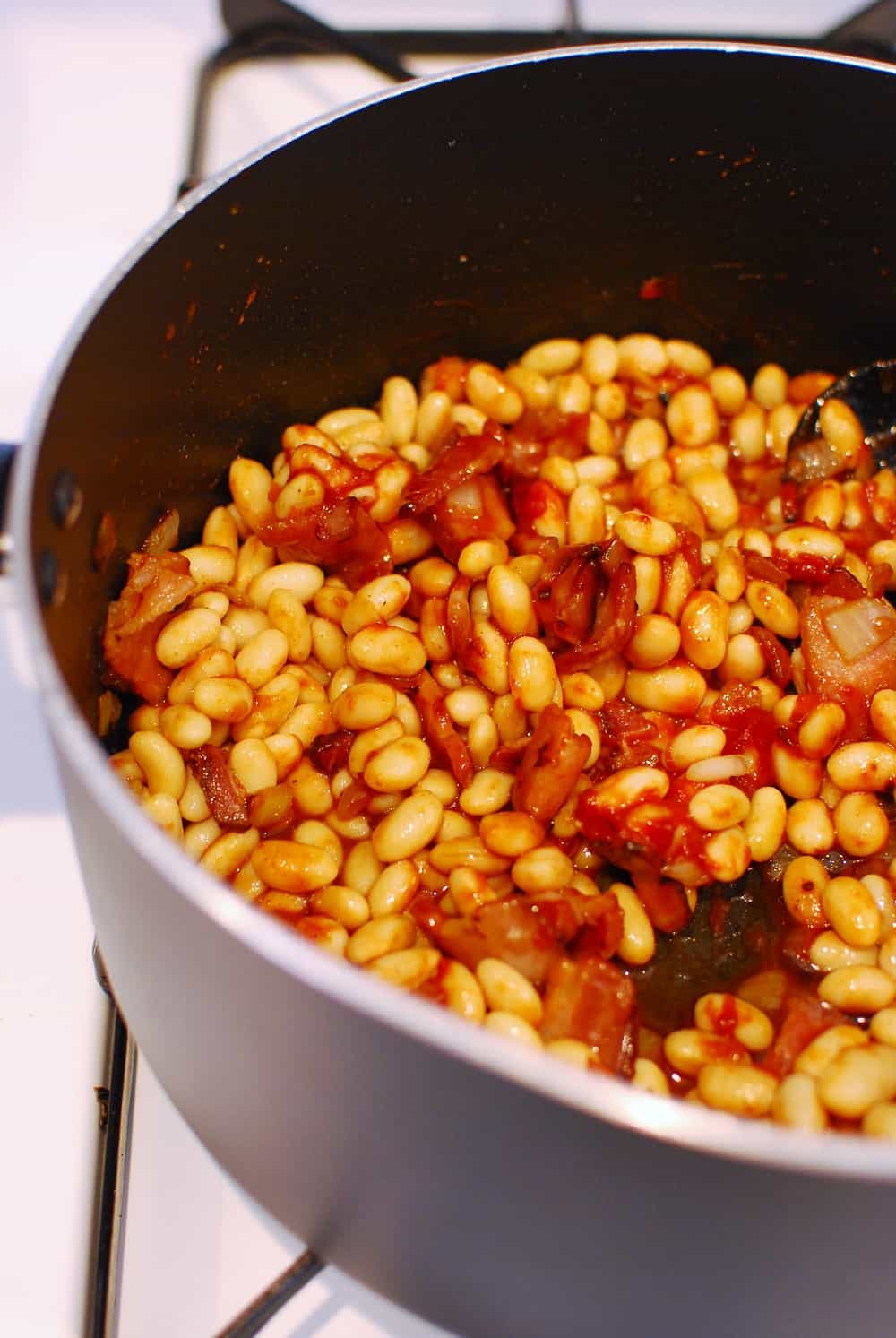 Let it all simmer for 10 minutes, and that's it! So quick, yet so flavorful.
Are these really healthy baked beans?
I think it depends what your definition of "healthy" is – but to me, it's a resounding yes!
With the primary ingredient being beans (duh), you're treating your body to a fiber-packed side dish. That fiber is essential for both digestive and heart health.
One side dish serving of baked beans packs in 10 grams of protein and 6 grams of fiber – a winning combo to keep you full and satisfied. (And heck, at 222 calories a serving, this can also work as a filling snack too. Who says you can't eat baked beans for a mid-day munch?)
This recipe is also lower in sugar than many other recipes out there. You'll only use 2 tbsp of pure maple syrup and 2 tbsp of brown sugar to sweeten the whole batch. And you can certainly cut down on this further if you want! The result will obviously just be a little less sweet.
For all my runner and triathlete pals out there, beans are also a great source of healthy carbs to help you fuel your fitness goals. (Just avoid 'em the night before a big race – you don't want all that fiber to send ya rushing for the porta potty!).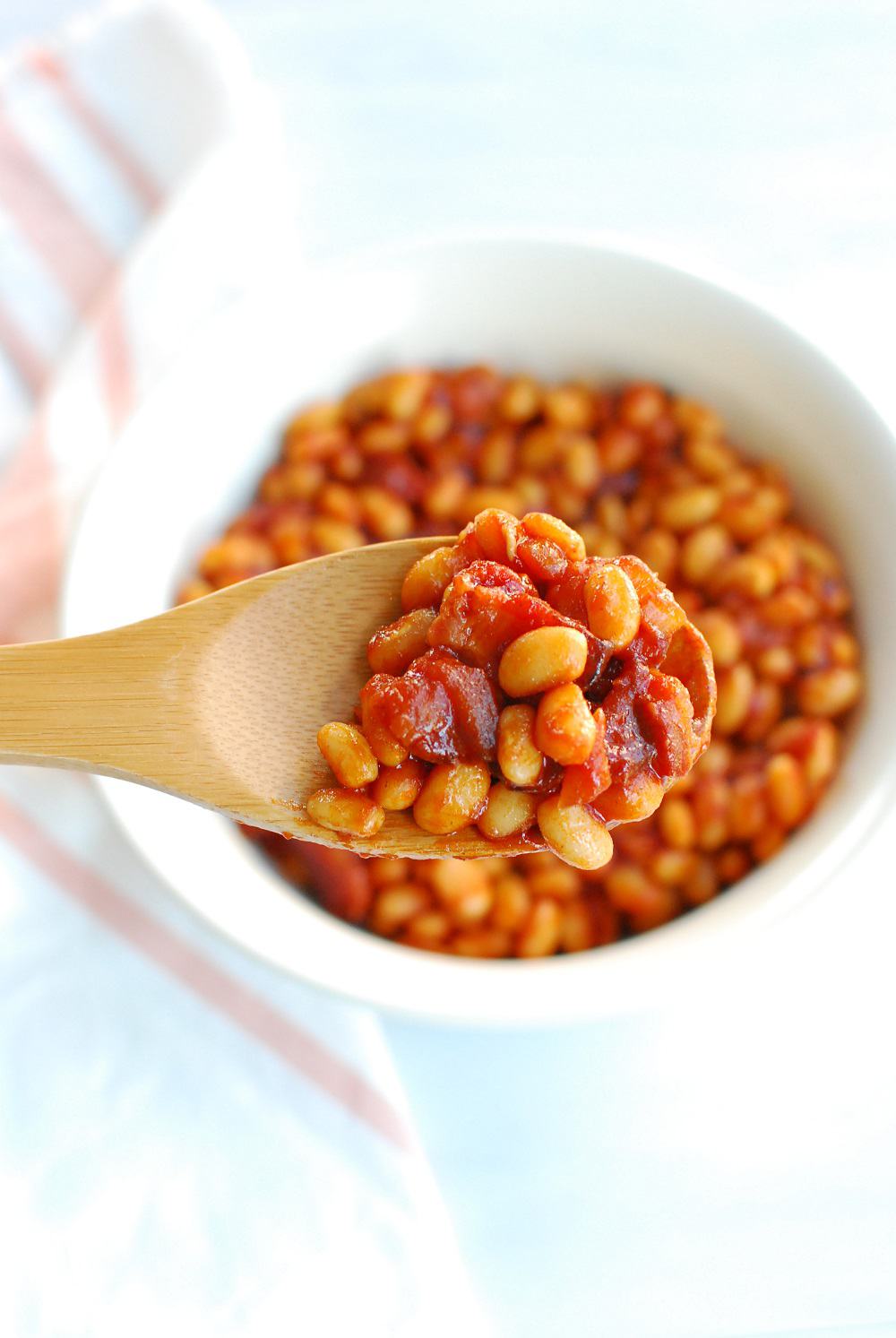 Dietary Modifications
Need to make this recipe fit your personal dietary restrictions? Here are a few easy swaps:
Gluten free – Choose a safe vegetable stock, rather than the Better than Bouillon vegetable base (they do not claim any of their products are currently gluten free).
Vegetarian/Vegan – Skip the bacon. If you want the slight smokiness that the bacon provides, add a few drops of liquid smoke to the recipe.
MSPI (milk soy protein intolerance) – This recipe is naturally dairy free. To avoid soy, choose a safe vegetable stock, rather than the Better than Bouillon vegetable base (it contains soy).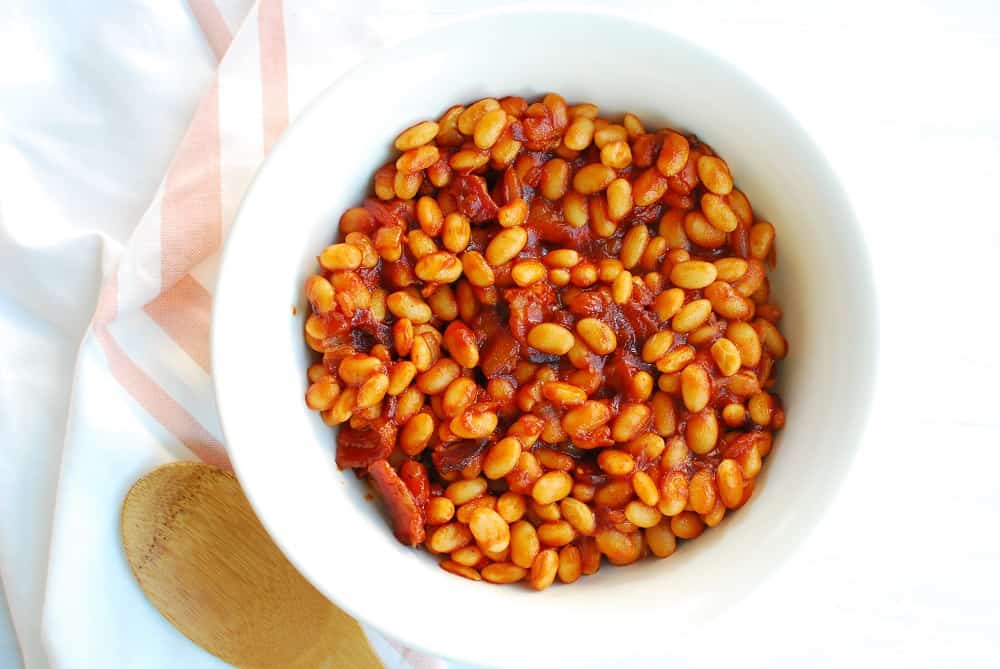 I hope you love these baked beans as much as I do. Give them a try ASAP and be sure to leave a recipe rating below.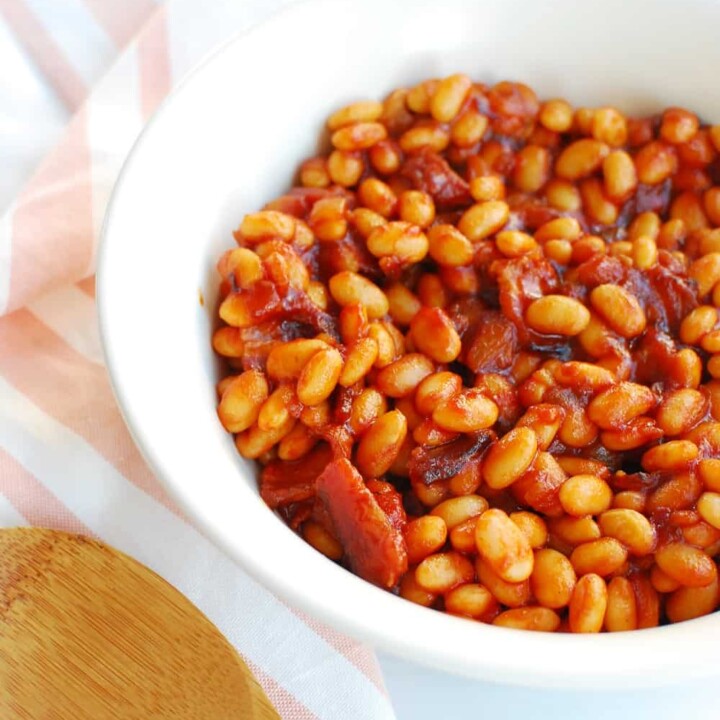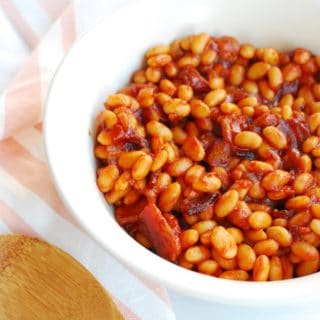 Easy Healthy Baked Beans (Stovetop Recipe!)
These easy healthy baked beans are perfect for your next barbecue – or anytime! Lower in sugar than many other recipes and made super quick on the stovetop.
Ingredients
4

slices

hardwood smoked bacon, chopped into 1-inch pieces

½

a large onion (or 1 small onion), chopped

1

jalapeno pepper (or 1/2 habanero pepper), minced*

3

tbsp

tomato paste

2

cans northern beans, drained

2

tbsp

brown sugar

2

tbsp

pure maple syrup

1

tsp

Better than Bouillon vegetable broth base*

1

cup

water*
Instructions
Heat a large pot over medium heat. Add the chopped bacon and let cook for a minute or two, until some of the fat has been released. Add the onion and pepper and cook for another 3-4 minutes, until onion starts to get tender.

Add the tomato paste, beans, brown sugar, and maple syrup. Cook for 1 minute.

Add the teaspoon of vegetable base and the cup of water. Leave heat on medium and cook until most of the liquid has reduced, about 10 minutes. Enjoy!
Notes
Notes:
You can adjust the amount/type of pepper based on your preference for spiciness in your baked beans. I prefer sweeter, smokier baked beans, and these amounts don't add much heat – just more a flavor balance.
I find Better than Bouillon vegetable base works extremely well in this recipe, but you can also simply substitute 1 cup of vegetable broth of your choice in exchange for the base and water.
Nutrition analysis (approximate per serving):
222 calories, 6 g fat, 2 g sat fat, 251 mg sodium, 33 g carbohydrate, 6 g fiber, 7.5 g sugar, 10.3 g protein, Vitamin A: 2%, Vitamin C: 7%, Calcium: 7%, Iron: 12%
Nutrition
Share with me: What's your favorite BBQ side dish? Do you like sweet, smoky, or spicy baked beans? If you tried these easy healthy baked beans, what did you think?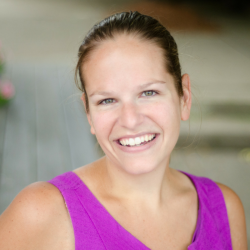 Latest posts by Chrissy Carroll
(see all)