Want to make a show-stopping dessert for your spouse or friend? Try these adorable baked apple roses! You only need six simple ingredients to make this delicious recipe, which tastes similar to apple pie (but features less added sugar and more protein!).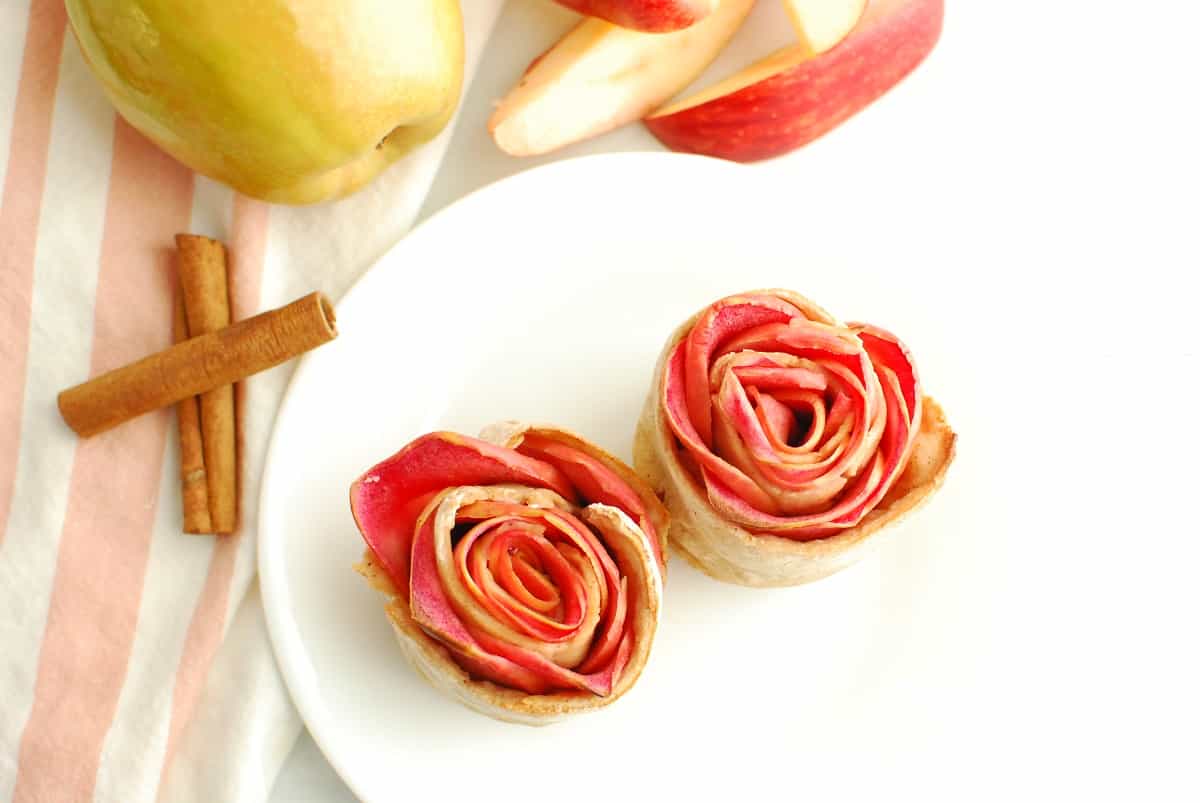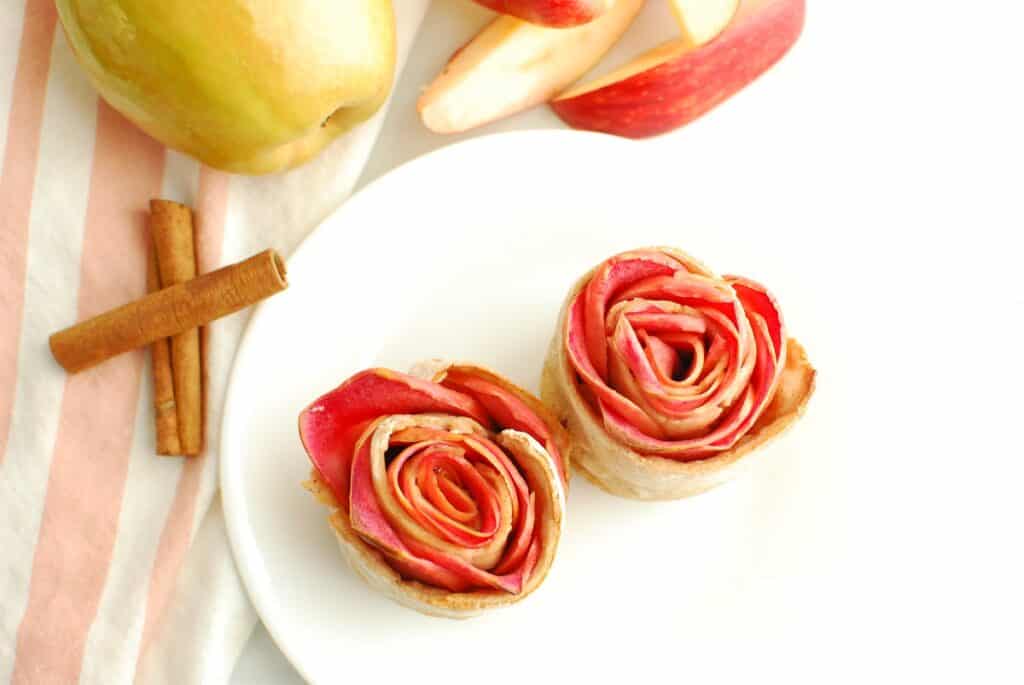 Ingredients
Here's a photo of everything you'll need to make this recipe, along with some selected ingredient notes:
Apples – You can use any crisp apple for this recipe. I prefer using red-fleshed varieties, like the Lucy Glo or Lucy Rose varieties. This makes the recipe look more "rose-like". That said, you could also use honeycrisp, granny smith, or gala apples.
Self-Rising Flour – This flour already has a leavening agent and baking powder added to it. Do not use regular flour in its place, as it will not puff up a little (which helps create the pastry-like texture). If you don't have self-rising flour on hand, though, you can create your own version by mixing together ½ cup all-purpose flour, ¾ tsp baking powder, and ⅛ tsp salt.
Plain Greek yogurt – It sounds odd, but it's very easy to create a simple dough with self-rising flour and plain Greek yogurt (I use the same strategy – sans cinnamon – in the crust of my pizza recipes, like this lemon ricotta pizza). You can also use vanilla Greek yogurt in this recipe if you'd like a bit of extra added sweetness.
Instructions
You'll find the full recipe amounts and instructions in the recipe card at the bottom of the page, but here's a helpful overview with photos.
Start by mixing together the flour and cinnamon in a bowl. Add the Greek yogurt and mix. The dough will be a bit shaggy; this is normal. (Photo 1)
Knead the dough with your hands for a few minutes right in the bowl, helping to fully combine the ingredients and make it into a workable ball. (Photo 2)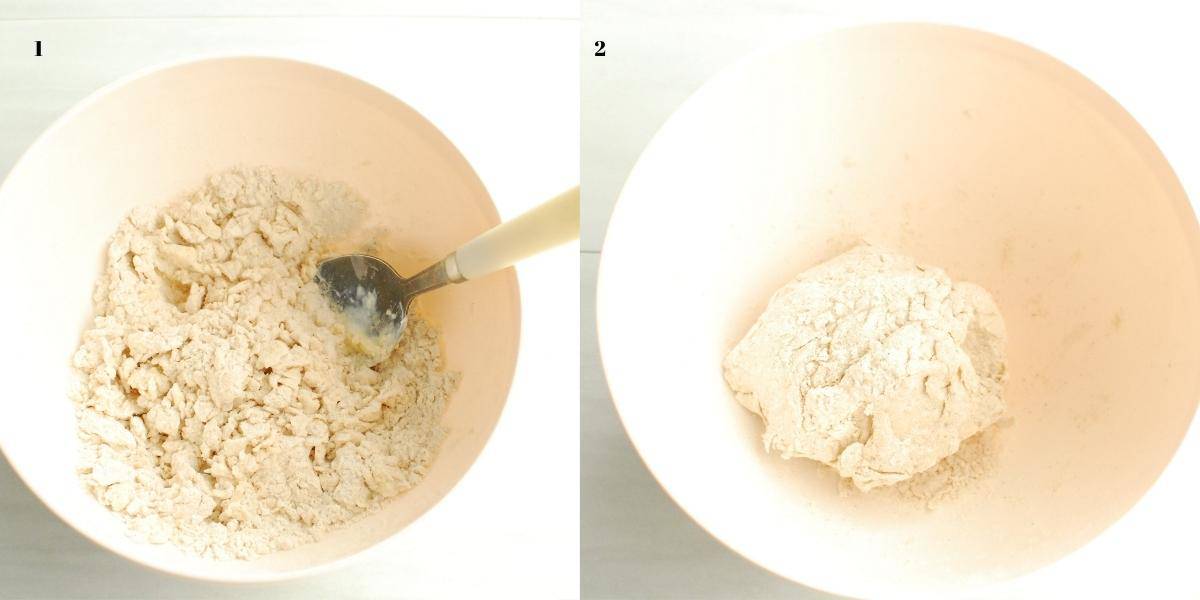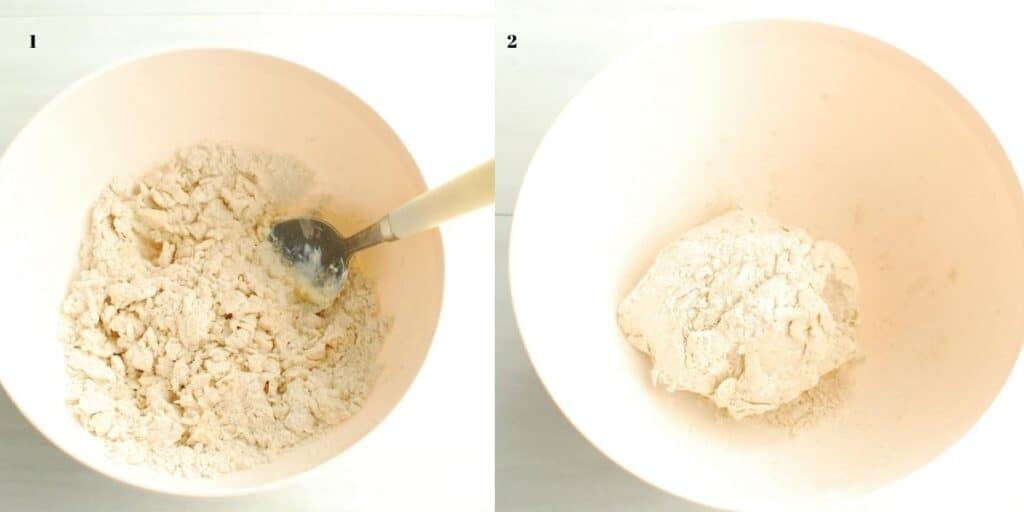 Place the ball of dough on a floured work surface.
Roll out the dough out into a large rectangle, about 5 inches wide by 12 inches long. Cut the edges of the dough if needed to create a rectangular shape. Now cut this lengthwise down the middle, so you have two long strips of dough, each about 2 ½ inches wide by 12 inches long. (Photo 3)
Note – this doesn't have to be perfect! Just do your best to get two long strips.
Now make the cinnamon sugar filling. Combine the melted butter, brown sugar, and cinnamon in a bowl. (Photo 4)
Brush the cinnamon sugar mixture onto the strips of dough (Photo 5) until both strips are fully coated (Photo 6). (Note: If you have extra of the filling, you can spread it on again after you place the apples on the dough.)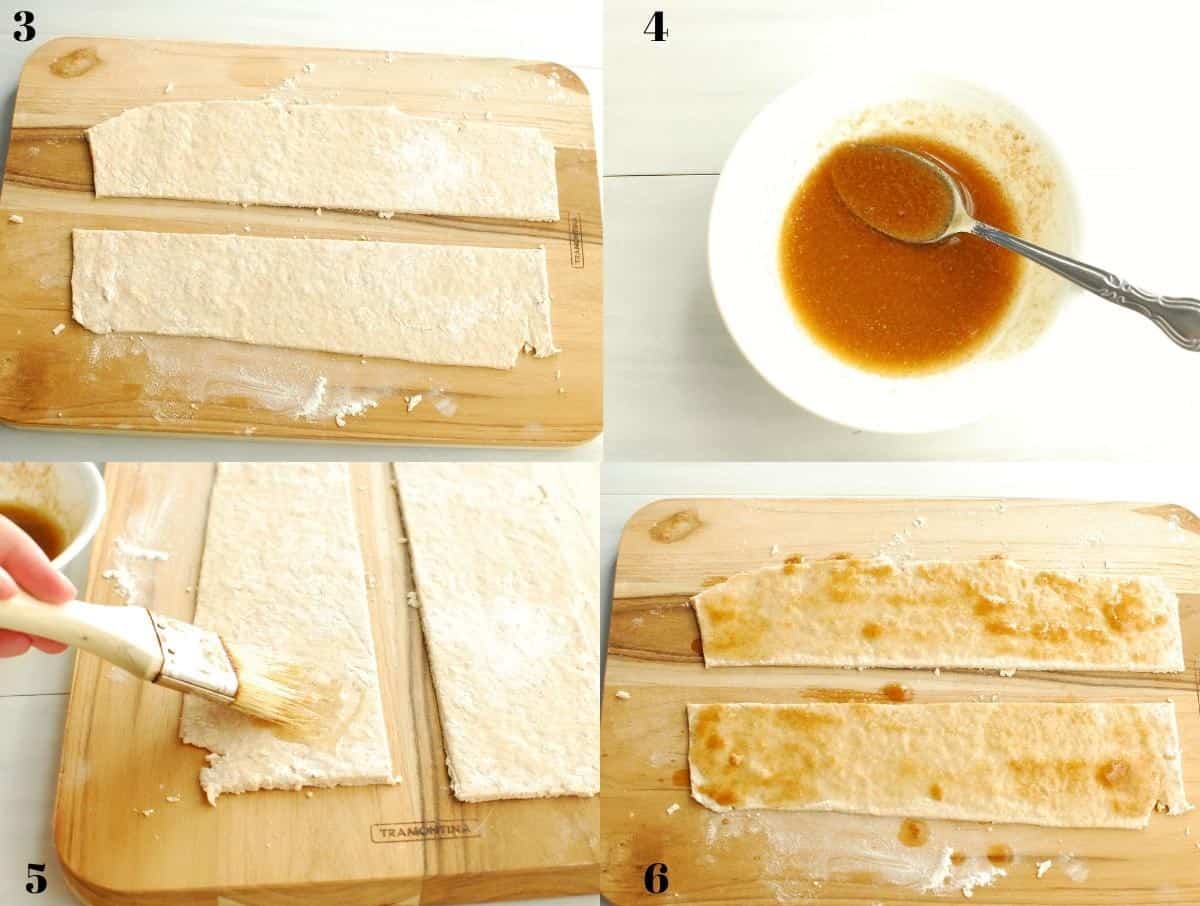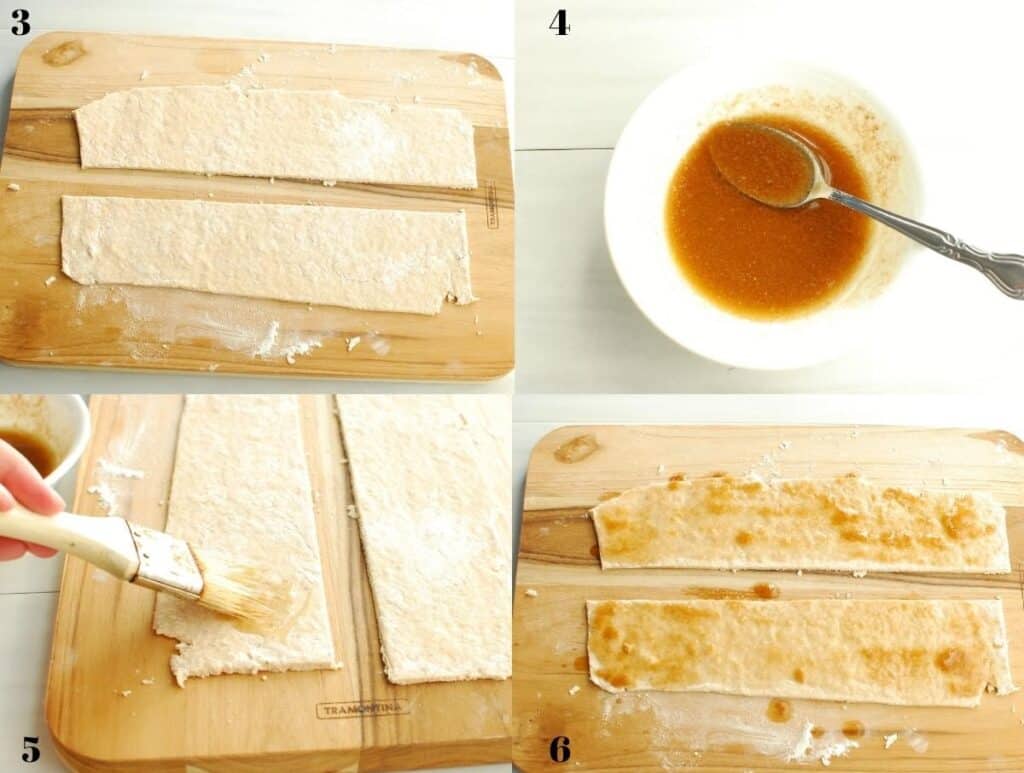 Next, slice your apple lengthwise into thin pieces, then cut those in half again width wise (Photo 7).
Place the slices on a microwave safe plate, and cover with a damp paper towel. Microwave on high for 45 seconds. This will help the apples become pliable as you roll them up in the dough.
Take the apples and place them along the dough. Position them so that they are just above the edge of the dough, cut side on the dough, and each apple should overlap the one before. (Photo 8)
Start from one edge and roll the dough gently to the end. (Photo 9)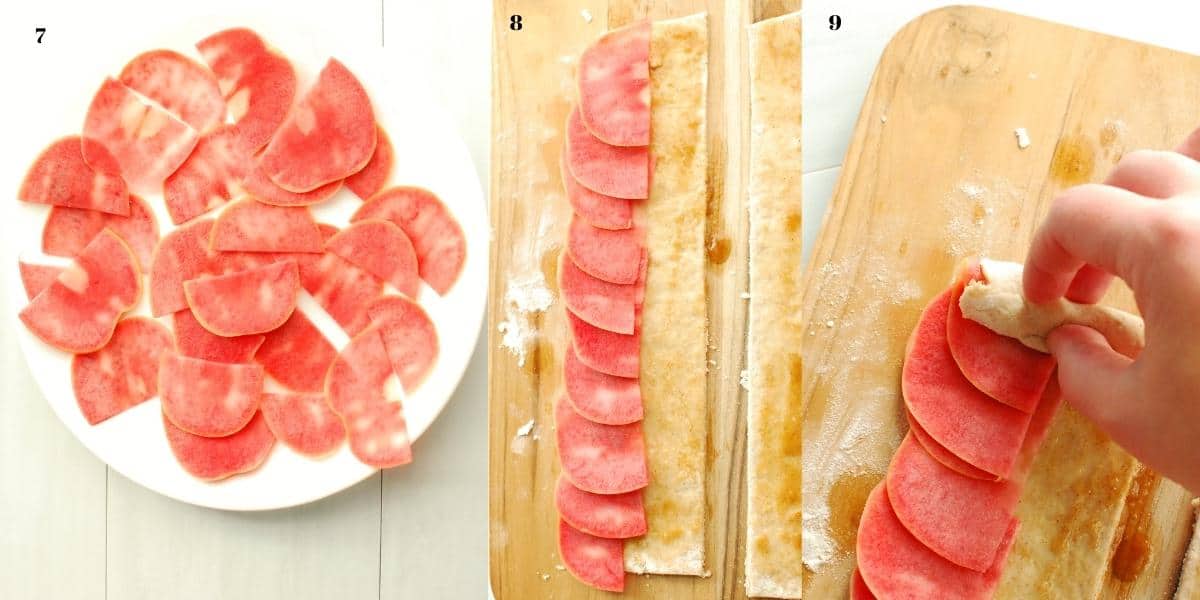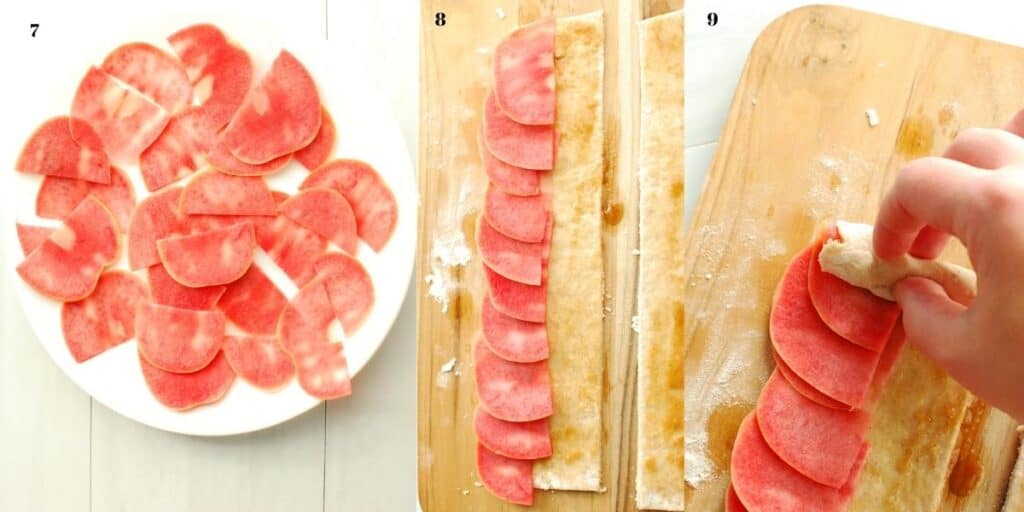 Place this in a greased muffin tin. Repeat with the other one. (Photo 10)
Bake it up and you'll be treated to a delicious dessert that is show-stopping! (Photo 11)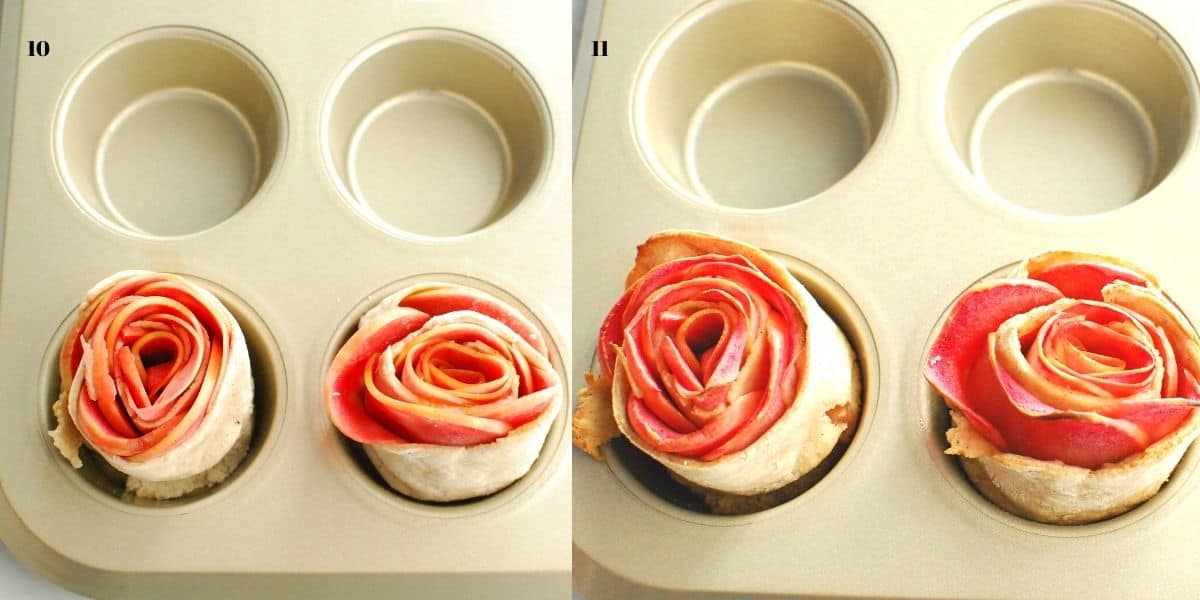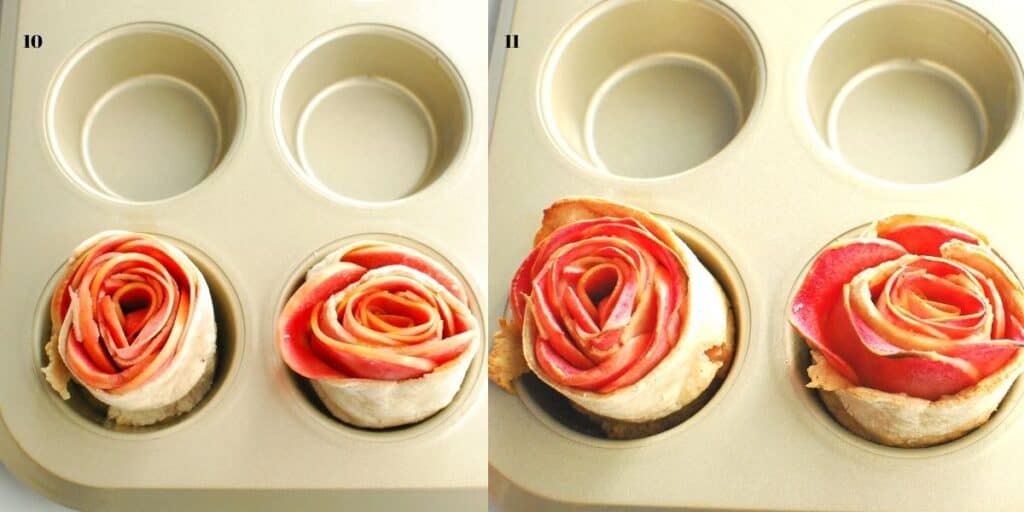 Recipe FAQ
Here are some common questions that may come up as you prepare this recipe:
What should you do if the Greek yogurt dough is too sticky?
Add another tablespoon of flour at a time, kneading the dough, until it is less sticky and workable.
What should you do if the Greek yogurt dough is too dry?
Add another one to two tablespoons of greek yogurt, until the dough is workable but not overly sticky.
Can you make apple roses without added sugar?
Yes. If you'd like to make a no-added-sugar apple rose, simply use Lakanto Golden sweetener (made with monkfruit and erythritol) instead of brown sugar.
Why are the apples breaking when rolling the apple rose?
If the apples are breaking, you may have sliced them too thick. Try slicing them thinner next time. You can also try microwaving them a bit longer to help make them easier to work with.
Can you make a vegan version of this recipe?
Yes. Substitute a thick dairy-free yogurt for the Greek yogurt in the dough. For the filling, substitute dairy-free butter for the regular butter, and ensure that your brown sugar does not use bone char filtering.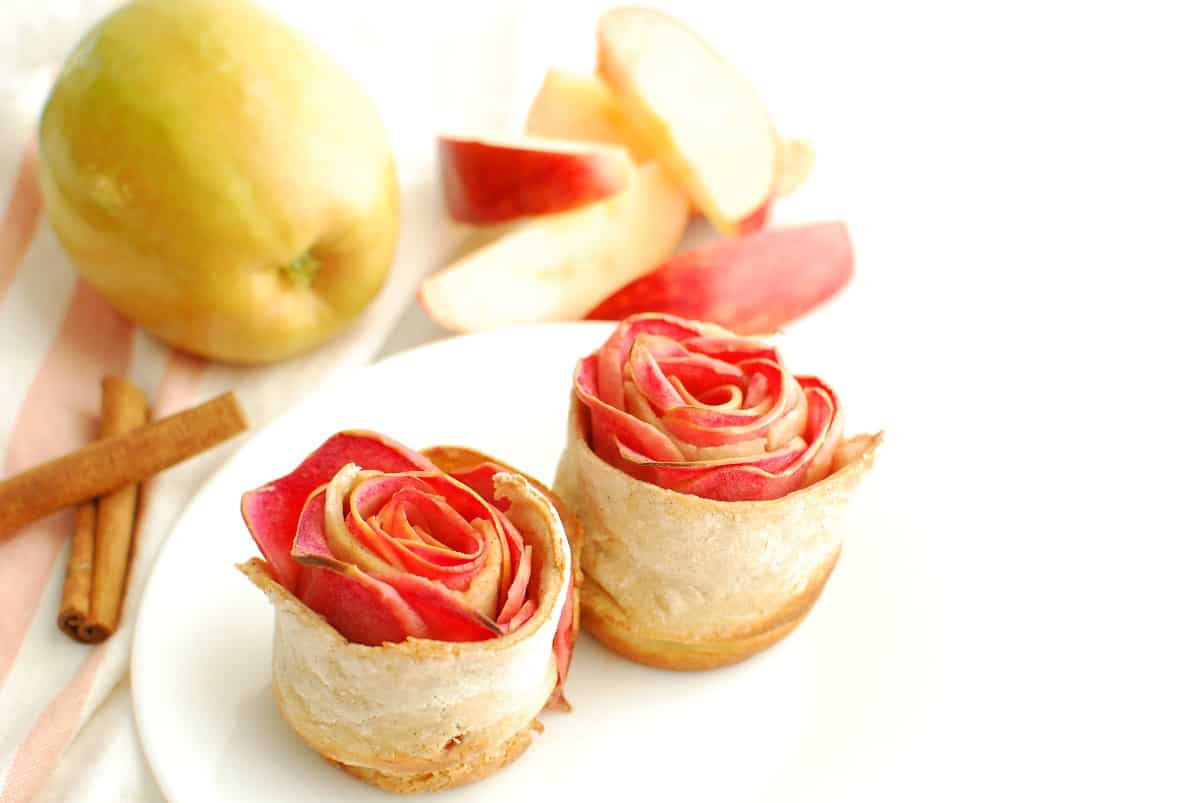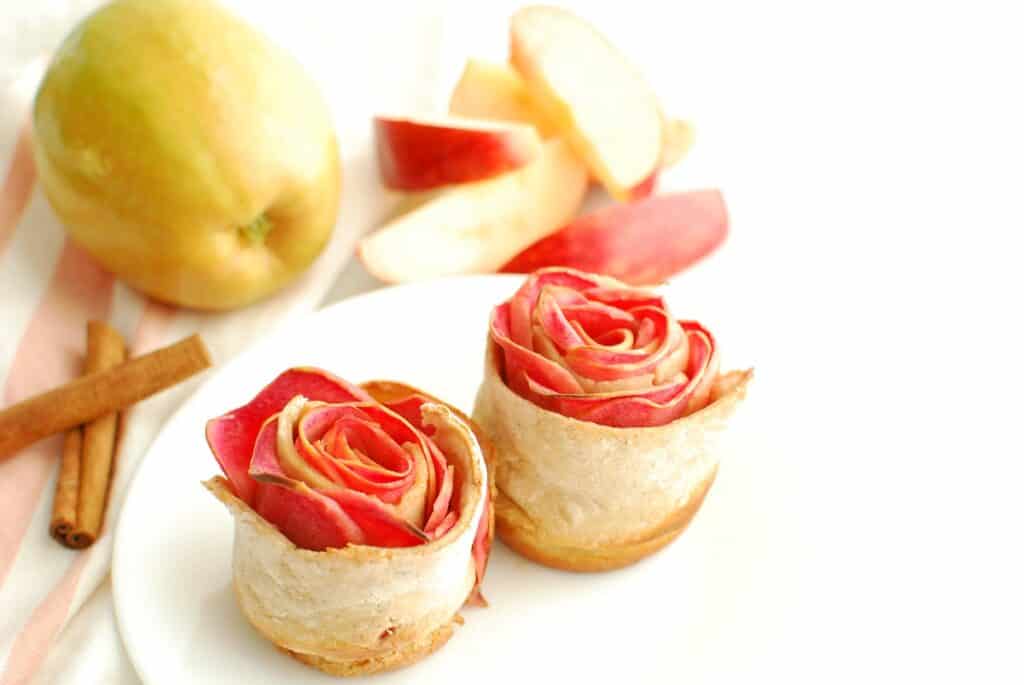 Nutrition Benefits
With many of the dessert recipes I develop, I try to keep nutrition and portion sizes in mind. Not because you can't have a big 'ol slab of regular apple pie topped with ice cream (a balanced diet contains room for all foods!) – but rather because it's nice to have other options that perhaps offer a nutritional step up, or smaller portions.
Here's the three nutrition highlights for why I like this recipe (as an RD):
More protein: Standard apple roses are usually made with puff pastry dough, but by using the Greek yogurt dough, we get a little bit more protein in the dessert.
Less added sugar: Similarly, this recipe uses less sugar compared to standard recipes, for only 6.5 grams of added sugar per serving (less than many breakfast cereals and granola bars!). You can reduce this to zero grams of added sugar if you'd like by using a sugar substitute like Lakanto Golden.
Portion controlled: I don't know about you, but I personally have a tough time with portion control if I've got an entire pie baked in my kitchen. That's why I like that this recipe only makes two servings, each of which is a perfectly satisfying portion! (Of course, if you want to make it for a crowd, you can multiply the recipe out to get more servings).
More Apple Recipes
If you're looking for more fun apple recipes to make this season, try one of these tasty options:
I hope you enjoy these baked apple roses as much as I do! If you get a chance to try them, feel free to leave a recipe rating or comment below.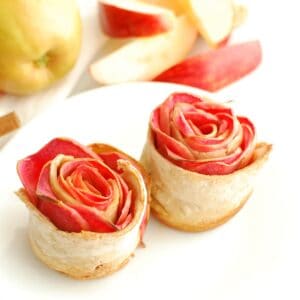 Easy Baked Apple Roses
These baked apple roses are made with just six ingredients – no puff pastry necessary! This better-for-you recipe is lower in sugar and higher in protein.
Ingredients
For the dough:
½

cup

self-rising flour

¼

tsp

cinnamon

⅓

cup

plain nonfat Greek yogurt
For the filling:
1

tbsp

butter

melted

1

tbsp

brown sugar

(or Lakanto golden)

¼

tsp

cinnamon

1

large apple

(red-flesh apple recommended)
Instructions
Preheat the oven to 375 degrees F. Grease two spots in a muffin tin.

Prepare the dough: mix together the flour and cinnamon in a medium mixing bowl, then add the Greek yogurt. Stir together until a shaggy dough forms, then knead by hand for a few minutes until the dough forms a ball that is not sticky and workable.

Pour dough out on a floured work surface, and sprinkle a little more flour on top. Roll the dough into a large rectangle, about 5 inches wide by 12 inches long, cutting the edges of the dough if needed to form the rectangle.

Cut the rectangle in half lengthwise so you have two strips, each about 2 ½ inches by 12 inches.

Let the dough sit for now while you get the ingredients ready for the filling. In a small bowl, combine the melted butter, brown sugar, and cinnamon. Spread the cinnamon sugar filling over both strips of the dough.

Slice the apples lengthwise into thin pieces (skipping over the core). Cut each slice in half again widthwise. Place the apple slices on a microwave safe plate, cover with a damp paper towel, and microwave on high for 45 seconds to make the slices pliable and easy to work with.

Place the apples along the long edge of the strip of dough so that the rounded edge of the apple is slightly overlapping the edge of the dough, and so that each apple slice overlaps the one before.

Start from the top and carefully roll the dough down to the end. Place this in the greased muffin tin and repeat with the other strip of dough.

Bake the apple roses at 375 degrees F for 16 to 18 minutes, or until the dough is fully cooked through and turning golden brown on the edges. Let cool in the pan for 5 minutes, then carefully remove and serve.
Notes
You must use self-rising flour (or make your own version with flour, baking powder, and salt). Regular all-purpose flour (without those additions) will not work.
Red flesh apples will create the most "rose like" appearance, but you can make these with any apple you prefer. Two commonly available red flesh apples are Lucy Glo or Lucy Rose.
Lakanto golden can be used in place of brown sugar to make this a no-added-sugar recipe.
Nutrition Facts (approximate per serving):  260 calories, 6.5 g fat, 4 g saturated fat, 440 mg sodium, 44.5 g carbohydrate, 3.5 g fiber, 17.5 g sugar, 6.5 g added sugar, 7.5 g protein, Vitamin D: 0%, Calcium: 13%, Iron: 9%, Potassium: 4%
Nutrition
Share: What's your favorite dessert to make with apples? If you tried these apple roses, what did you think?
Feel free to pin this post to share with others!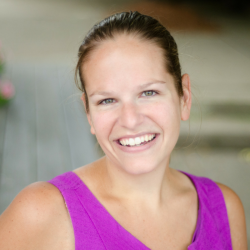 Latest posts by Chrissy Carroll
(see all)