This lemon ricotta pizza is the best blend of savory, sweet, and (if you want it to be) spicy! The flavor profile is complex and super satisfying. And believe it or not, this is also a healthier recipe that packs in 18 grams of protein in each personal size pizza.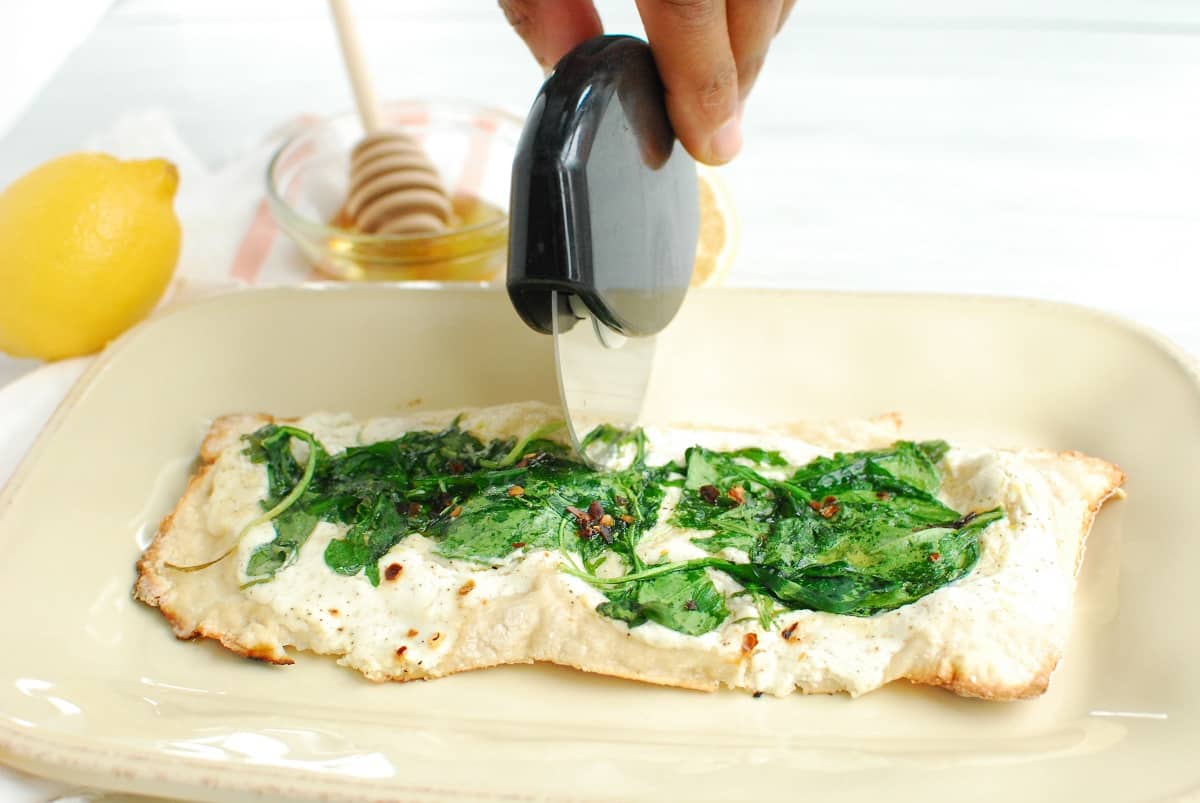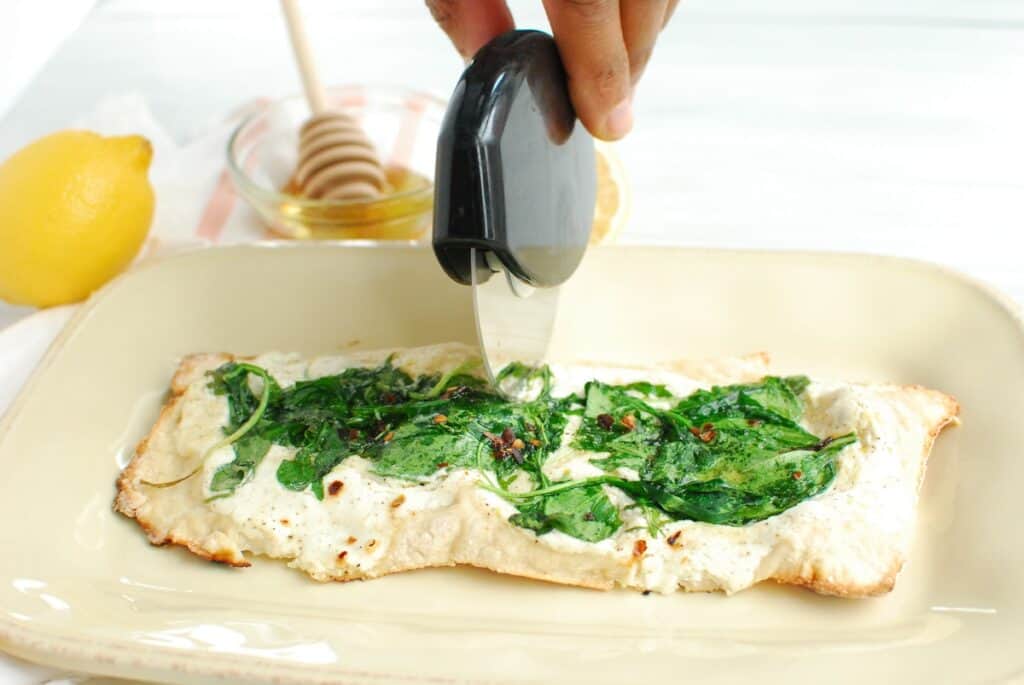 Ingredients
Here's a photo of all the ingredients you'll need, along with selected ingredient notes: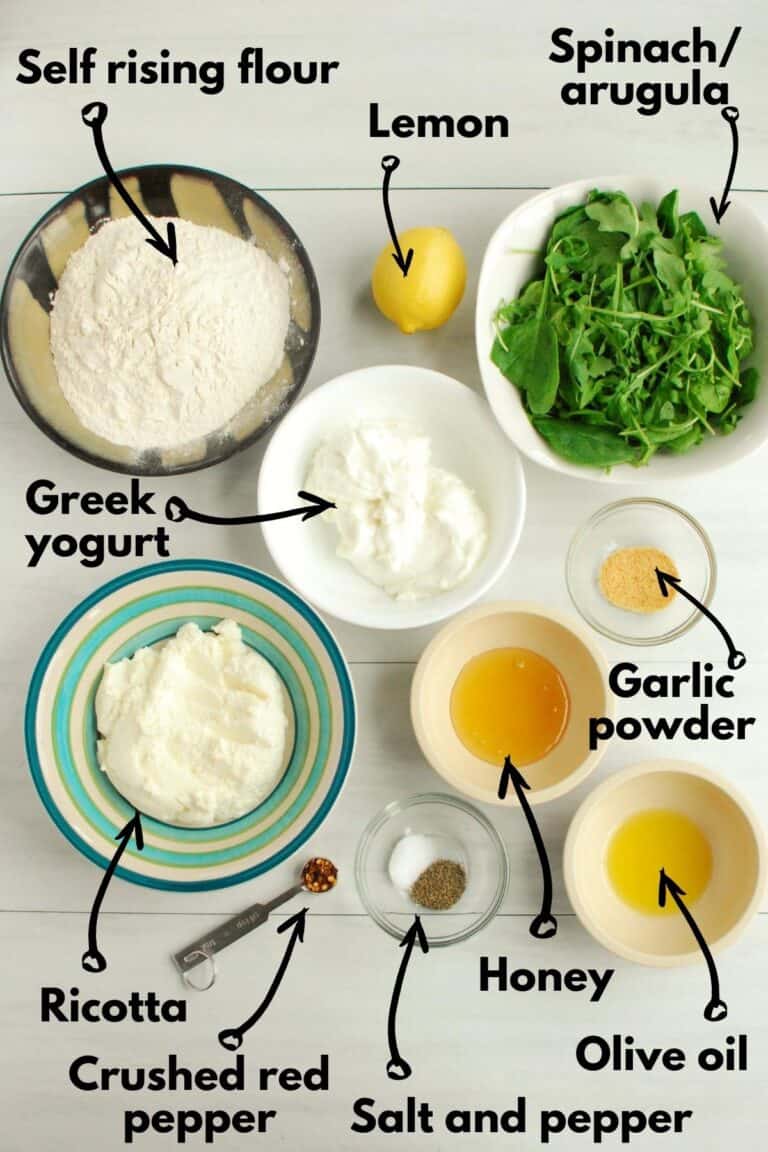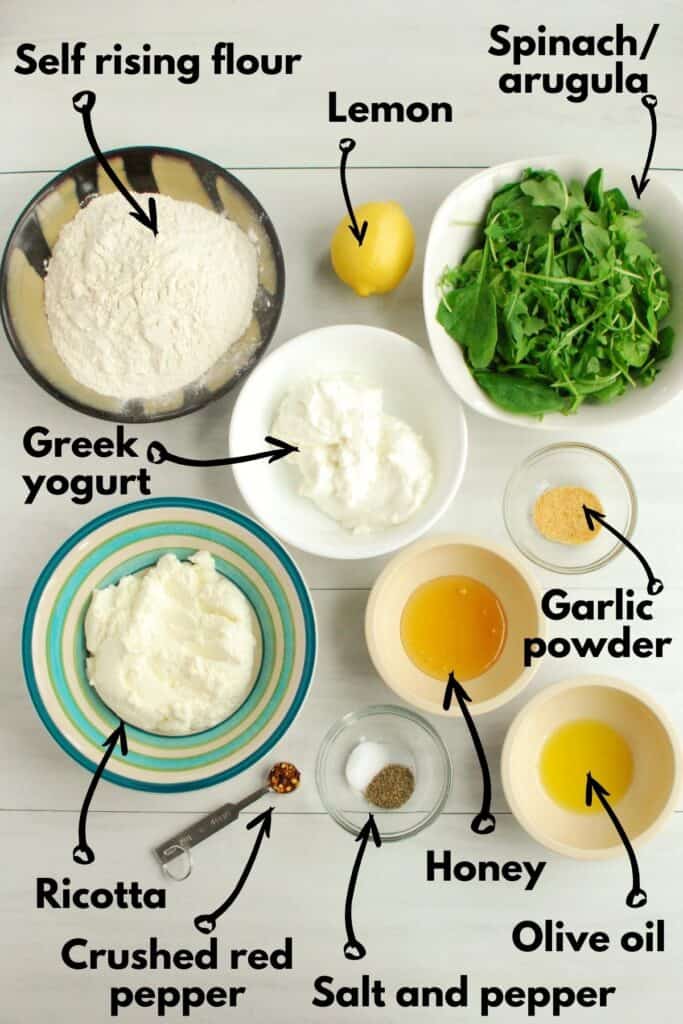 Honey – Living in a small town, I love that I can grab local honey from neighbors. It's amazing how the flavor can vary depending on the nectar source. Did you know there's even a honey flavor wheel that can help you identify different flavors and aromas in your honey? Don't feel the need to get any special kind for this recipe though; your standard grocery store bear works just fine!
Ricotta – I recommend buying part skim ricotta for this recipe, but if you prefer whole milk ricotta, you can certainly use that instead. Ricotta is totally the MUVP – most under valued player – of the dairy world! It's amazing for sweet and savory recipes. (If you want to try a sweet treat with ricotta, use the extra from the container to make this caramel apple salad).
Spinach Arugula Blend – Most grocery stores near me sell a blend like this and I like the balance between the milder spinach and the more peppery arugula. But adjust this based on your preferences and what you can find at your store! You can use either option individually.
Step by Step Instructions
You'll find the full recipe card with instructions and amounts at the bottom of the post, but here's a helpful overview with photos.
As a heads up, it seems like a lot of steps, but it actually comes together quite quickly.
You'll start by preheating your oven to 450 degrees F, and getting your baking sheets ready. You'll also make your ricotta topping by combining the ricotta, lemon zest, lemon juice, some of the olive oil, salt and pepper. Resist the temptation to eat this by the spoonful as-is – so much savory deliciousness.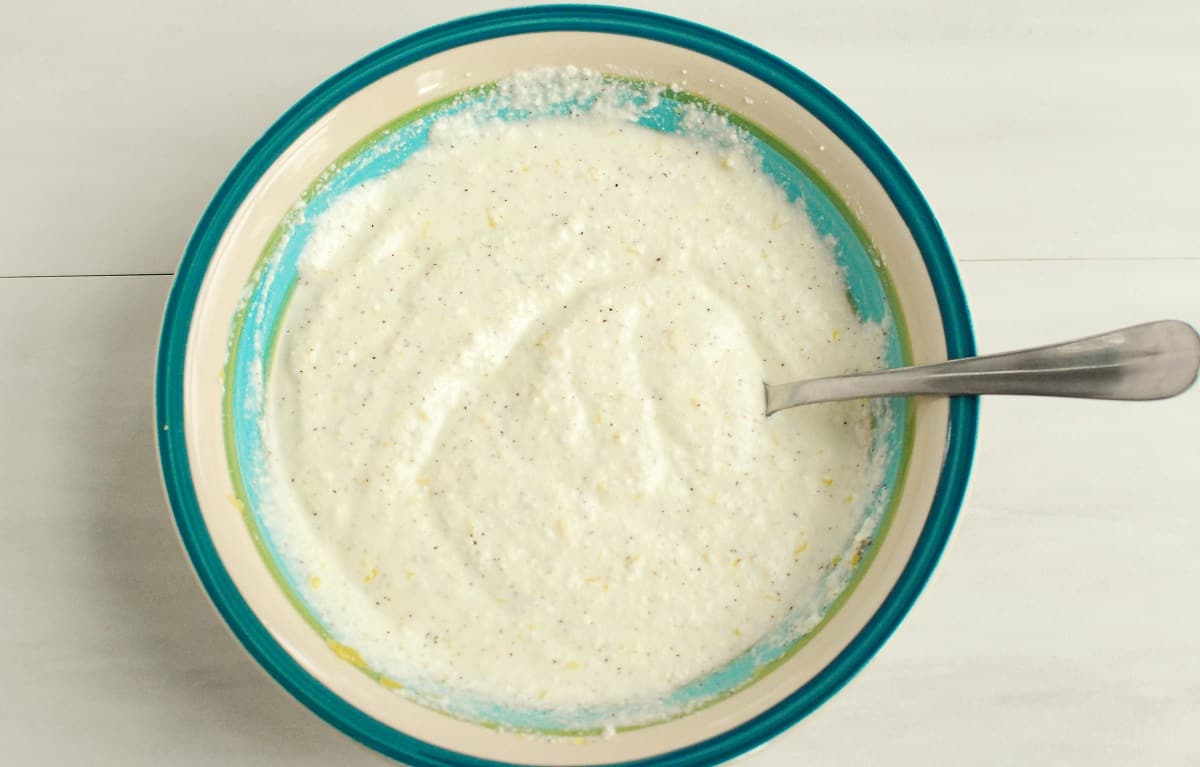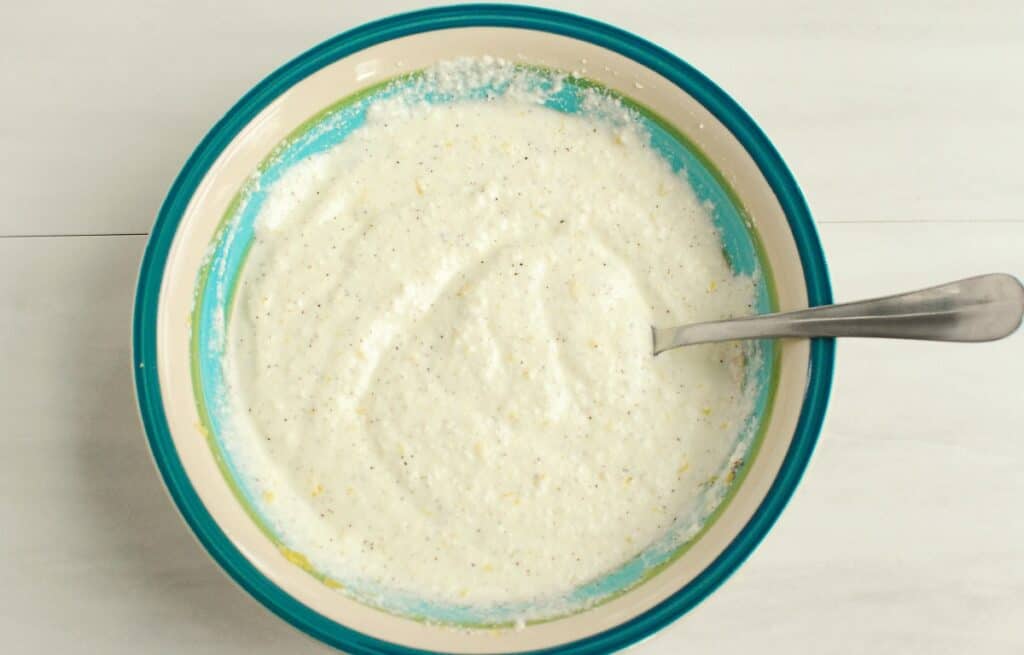 Now get your high-protein crust ready. Mix together your self-rising flour and garlic powder, then mix in the Greek yogurt.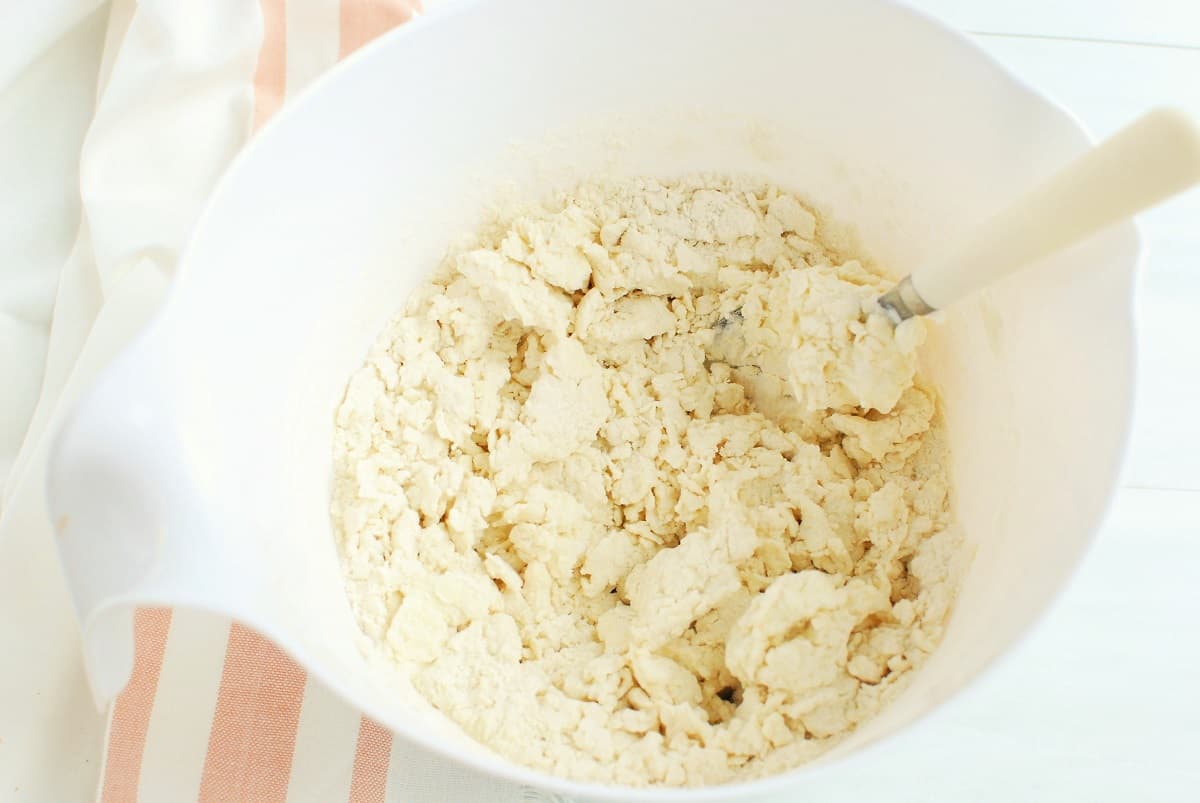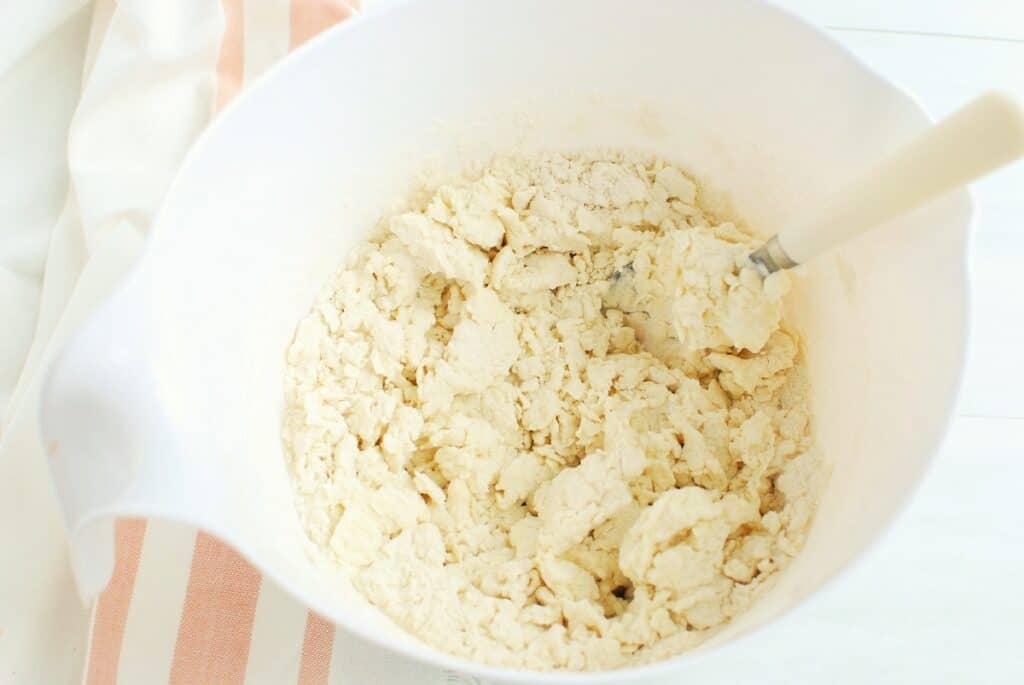 When it comes together in a shaggy dough, knead it by hand for a minute in the bowl so a ball of dough comes together and is workable.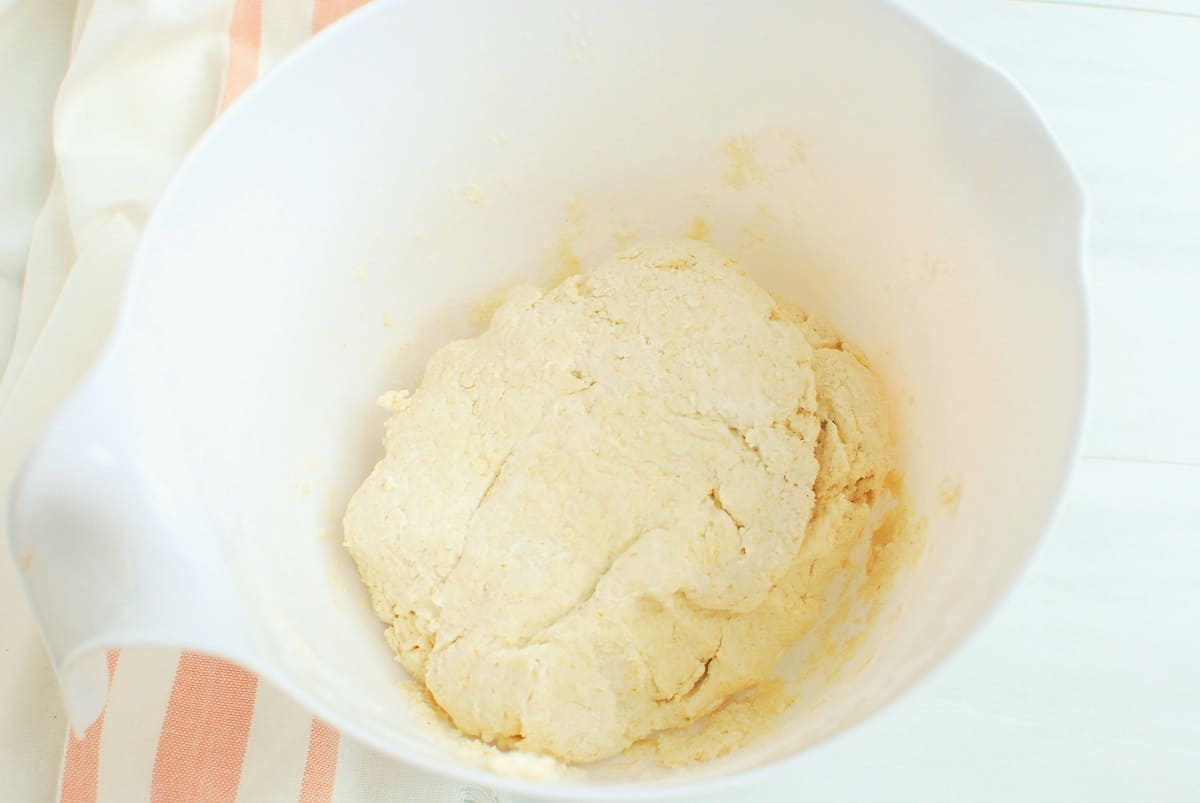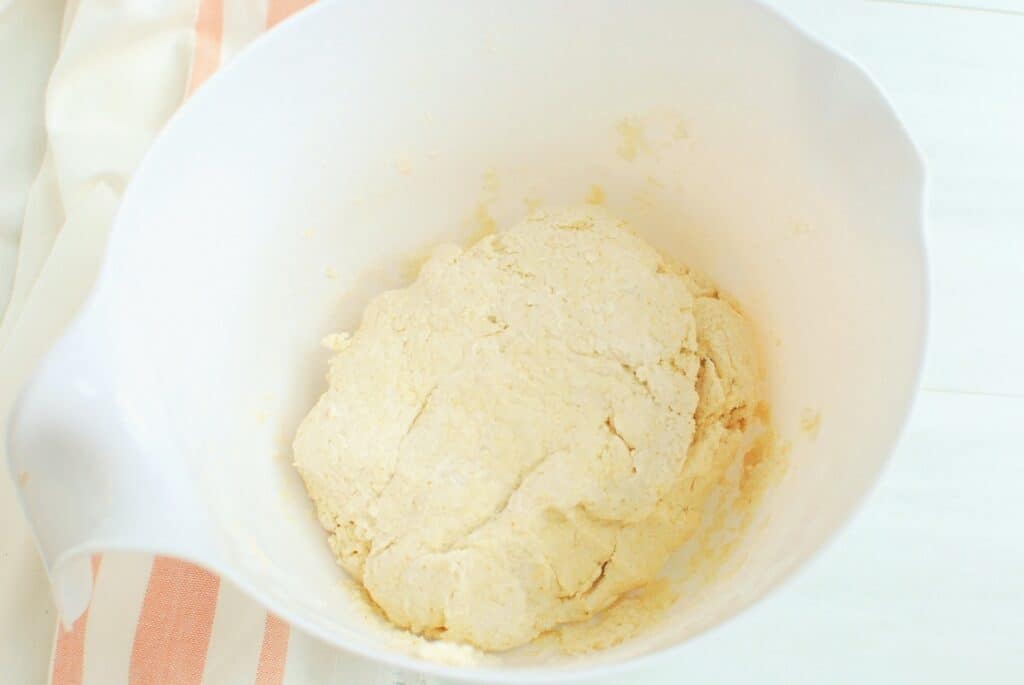 Now divide that into four balls, and roll each out on a floured surface. You want to get it pretty thin – around ⅛ to ¼-inch – so that the crust will crisp up a bit. Since this is a different kind of crust, it won't have exactly the same texture as regular pizza dough, but it comes so close!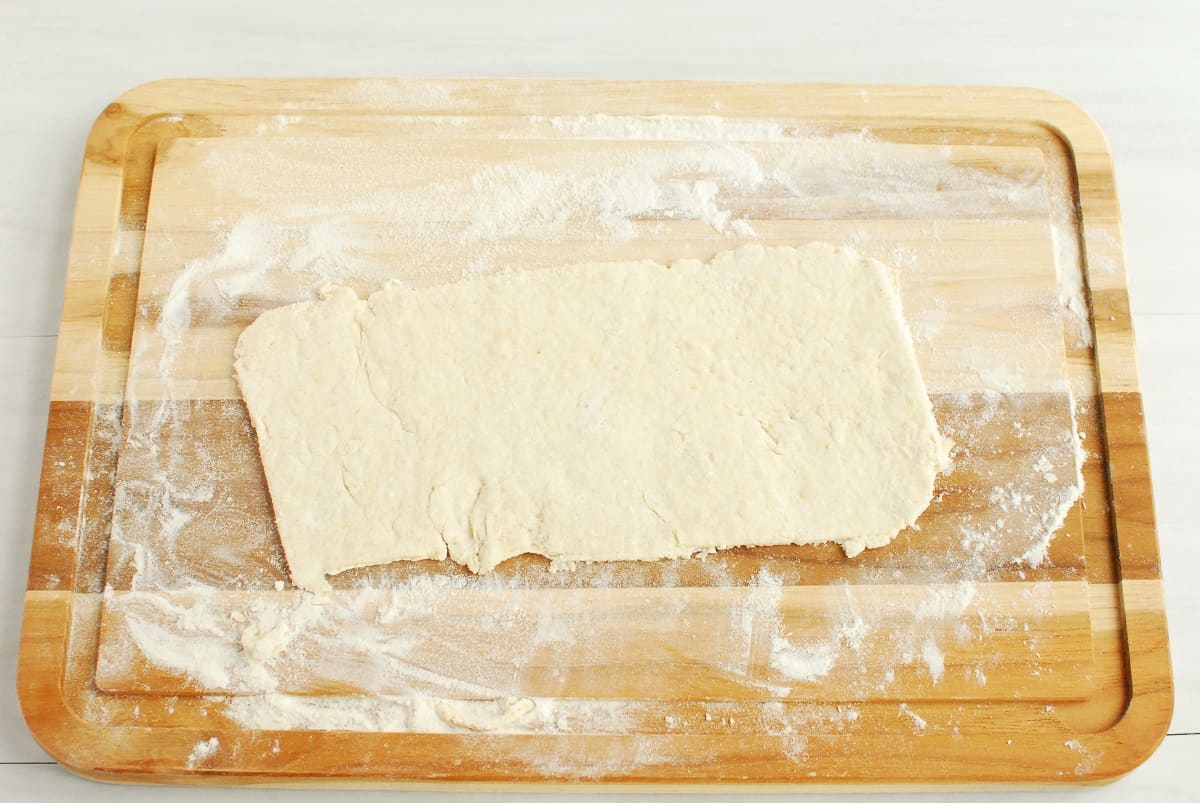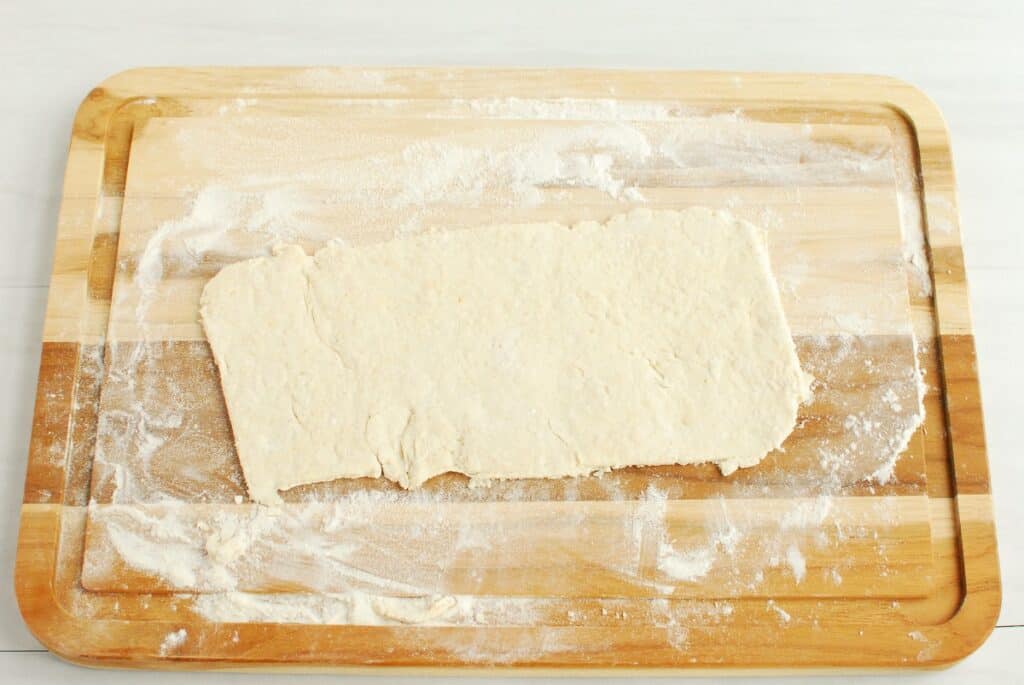 Parbake those four crusts for 5 minutes.  This par-bake step helps ensure the crust will crisp up properly.  While they're in there, toss your greens with the rest of the olive oil.
When the crusts are ready, take 'em out of the oven and top with the ricotta mixture and greens. Drizzle on the honey and add the crushed red pepper flakes. The later is optional, but I highly recommend the spice to balance out the sweet honey – it's such a yummy combo!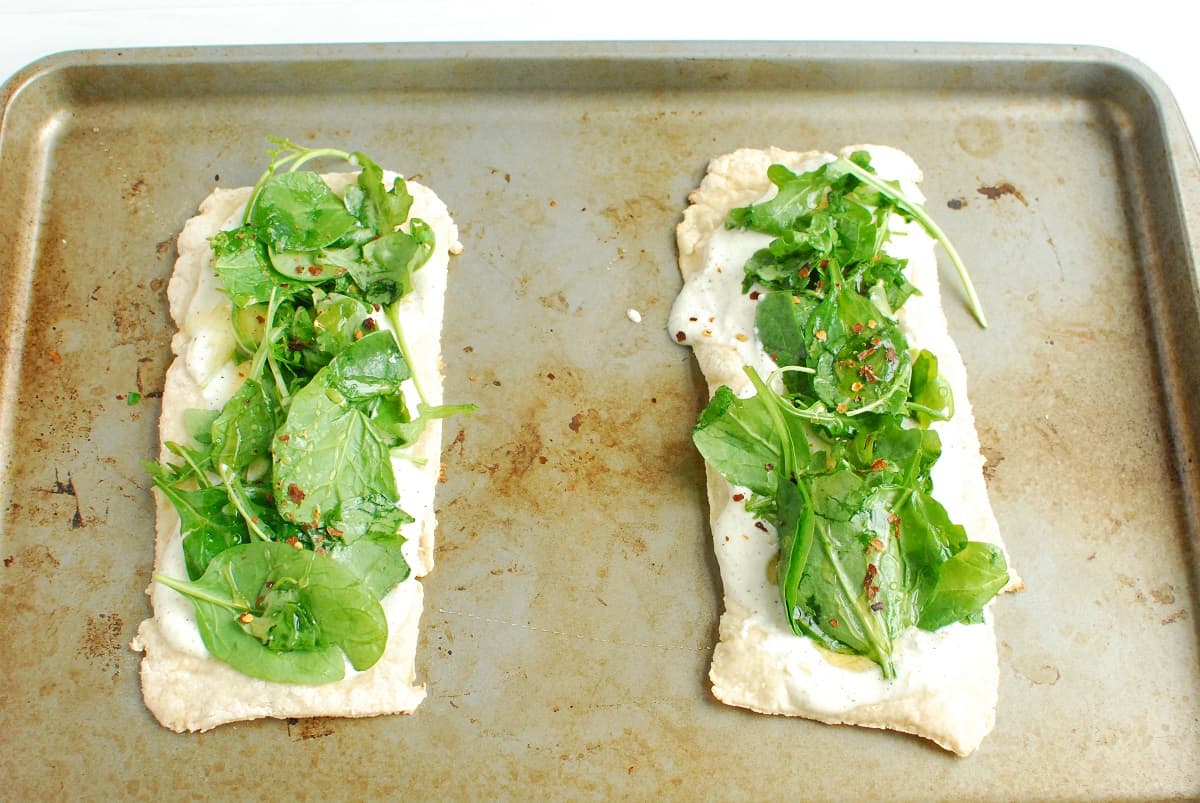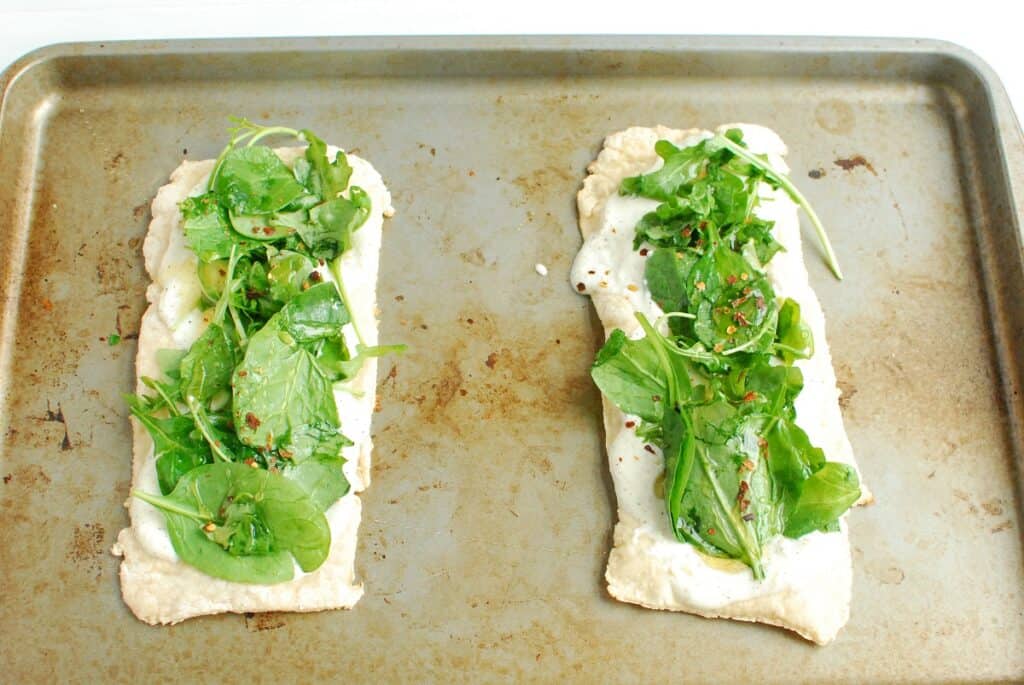 Bake it again until the crust is crisp and the greens are wilted, and then it's all done!  Get ready to dig into this delish lemon ricotta pizza.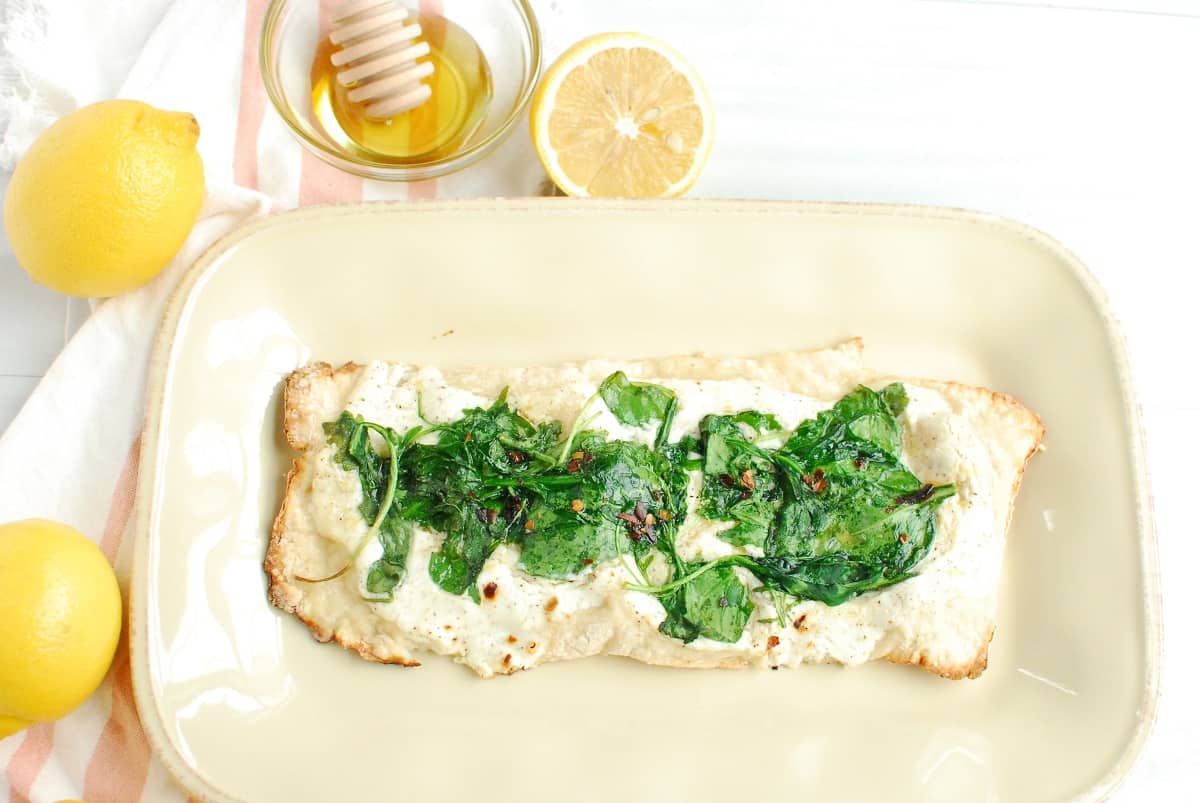 Recipe FAQ
Here are some common questions that may come up as you prepare this recipe:
Is there a substitute for self-rising flour?
If you don't have self-rising flour, you can make your own.  Just combine 1 ½ cups of all-purpose flour with 2 ¼ teaspoons of baking powder and ½ teaspoon of salt.
Can you use whole milk yogurt instead of nonfat yogurt in pizza dough?
Yes, that swap will work just fine. Keep in mind the nutrition analysis will vary compared to using nonfat yogurt.
What should I do if the Greek yogurt dough is too dry?
This can occur if you pack down the flour into your measuring cup (it's better to spoon and level).  If you're kneading the dough and it's too dry, add another 2 tablespoons of Greek yogurt.
More Healthy Pizza Recipes
If you're searching for more delicious and nutritious pizza recipes, try one of these options:
Pistachio pesto pizza – The nuts in the pesto topping on this plant-based pizza add extra protein and healthy fats to the recipe, making it filling and tasty.
Everything bagel chicken pizza – On a low carb diet? This recipe is for you. It's made with an egg white based wrap as the crust, then topped off with a smidge of alfredo, grilled chicken, and more. Yum.
Salad pizza with Greek yogurt crust – Similar to my recipe here, this salad pizza uses a Greek yogurt dough to boost the protein content. Plus, I love the idea of combining a salad and a pizza!
Sweet potato and kale pizza – Ah, another combo that combines a sweet element (sweet potatoes) with greens. These recipes are always a solid choice!
I hope you enjoy this lemon ricotta pizza recipe! If you get a chance to try it, I'd love it if you'd leave a recipe rating or comment below.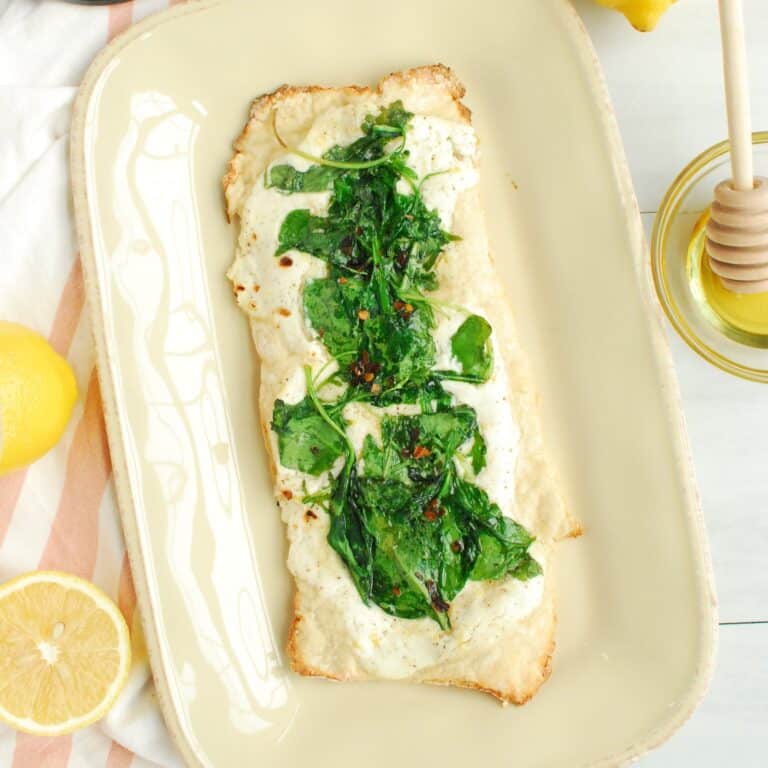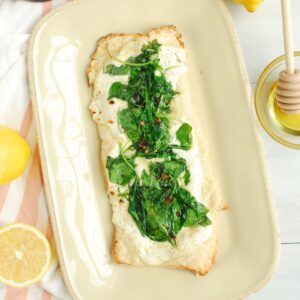 Lemon Ricotta Pizza
This lemon ricotta pizza has a complex flavor profile with a blend of sweet, savory, and spicy!
Ingredients
For the pizza:
1

cup

part-skim ricotta cheese

Zest of a lemon

2

tbsp

lemon juice

1

tbsp

olive oil

divided

¼

tsp

salt

¼

tsp

pepper

2

cups

spinach arugula blend

loosely packed

2

tbsp

honey

½

tsp

crushed red pepper

optional, adjust according to heat preference
For the crust*:
1 ½

cups

self-rising flour

plus more for your work surface

½

tsp

garlic powder

1 ⅛

cup

plain nonfat Greek yogurt
Instructions
Preheat the oven to 450 degrees F. Grease two baking sheets and set aside for now.

In a mixing bowl, combine the ricotta, lemon zest, lemon juice, ½ tablespoon of the olive oil, salt, and pepper. Stir until well combined then set aside for now.

Prepare the crust: In another mixing bowl, combine the self-rising flour and garlic powder. Stir in the Greek yogurt. When a shaggy dough forms, knead the dough with your hands right in the mixing bowl. Continue kneading for a few minutes until the dough has fully come together and is smooth.

Divide the dough into four equal pieces. On a well-floured surface, roll each ball of dough out into a rectangle or circle personal-size pizza, aiming for a thickness of around ⅛ to ¼-inch. Transfer to the baking sheets (two per baking sheet).

Place the baking sheets with the crusts in the oven and par-bake for 5 minutes.

Meanwhile, in another bowl, toss together the greens with the remaining ½ tablespoon of olive oil.

When the crusts are ready, remove from the oven. Spread the ricotta mixture on each, then top with greens and drizzle with the honey. Sprinkle on crushed red pepper (if using).

Return the pizzas to the oven and cook for another 7-9 minutes, until the pizza crusts are slightly crisp on the bottom, the greens have wilted a bit, and everything is warm. Enjoy!
Notes
*If you'd prefer, use store-bought pizza crust rather than homemade. This homemade version is a higher protein dough, though, so the nutrition analysis will vary using store-bought.
For reference, ⅛ cup = 2 tablespoons.
Feel free to use either spinach or arugula if you can't find a blend.
Nutrition analysis (approximate per pizza): 333 calories, 9 g fat, 3.5 g saturated fat, 700 mg sodium, 45 g carbohydrate, 1.5 g fiber, 11.5 g sugar, 18.5 g protein, Vitamin D: 0%, Calcium: 30%, Iron: 14%, Potassium: 6%
Nutrition
Share: What's your favorite unconventional topping for pizza? If you tried this recipe, what did you think?
Feel free to pin this post to save for later.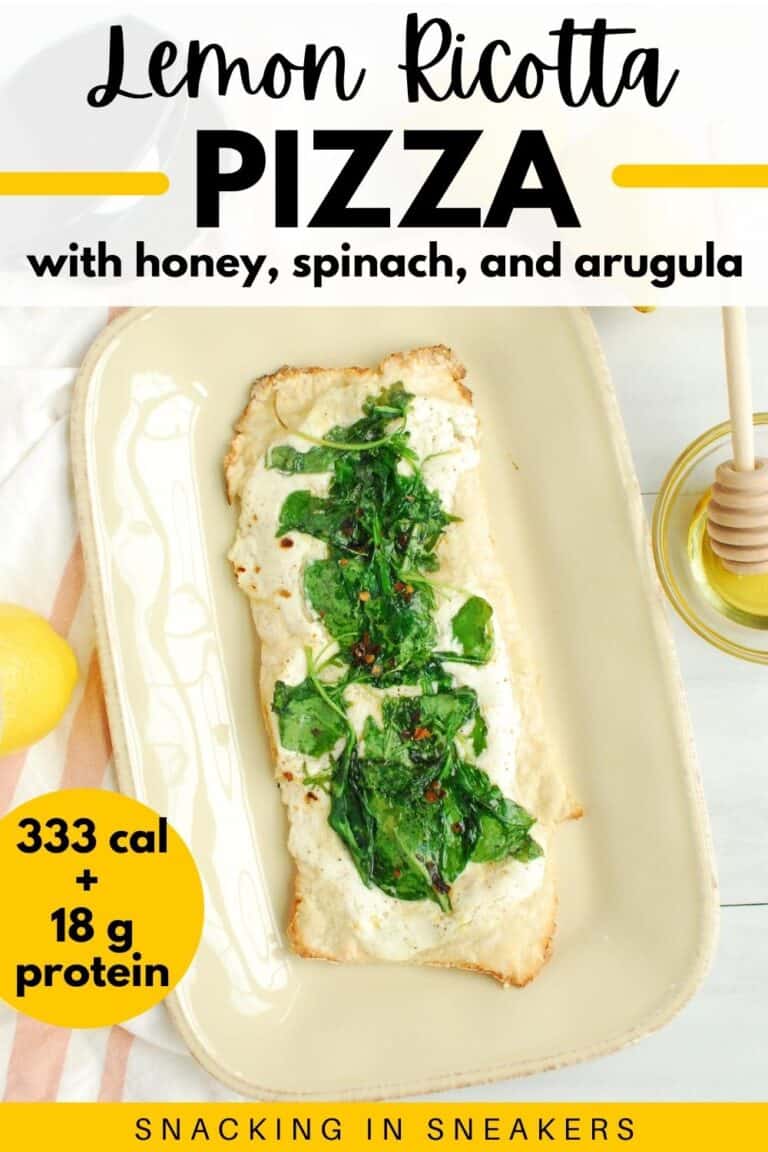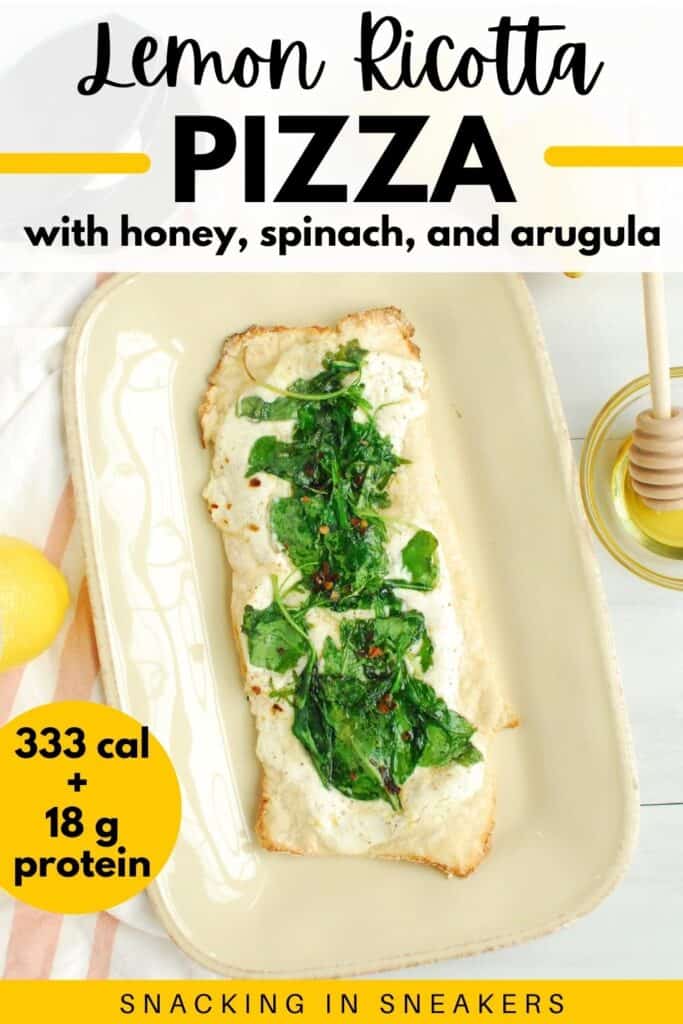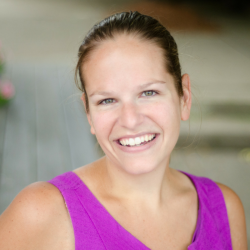 Latest posts by Chrissy Carroll
(see all)