There was an interesting collection of quotes from top running coaches that I was reading through the other day, and there were two that struck me the most:
The Marginal gains concept has created a world where people focus on the last 1% while ignoring the first 99%. Get the basics down first!

— Steve Magness (@stevemagness) December 21, 2016
Anyone looking to cutting edge science to "optimize" their performance who isn't sleeping 7-9 hours a night should start there.

— Brad Stulberg (@BStulberg) December 19, 2016
How true are both of these?! We're often looking for the next big thing; the cutting edge training method – yet we forget that the basics are most important.
Consistency of training. Building an aerobic base. Good nutrition. And yes, sleep!
Let's break down why sleep is so clutch for any type of athlete, from runner to gymnast, from rugby player to hockey player…
The benefits of sleep for athletes
The benefits of sleep for athletes are immense. Sleep is essential for recovery and optimal performance. For example, gymnasts performance has been shown to be positively correlated with sleep duration. Along the same lines, increasing sleep by two hours each night was shown to improve performance in tennis players, with better serving accuracy.
Sleep is also key for regulating hunger hormones and mood.
But many athletes struggle with not getting enough sleep. One study found that 1 in 4 ice hockey players have problems sleeping, while research on gymnasts has shown as many as 3 in 4 elite athletes suffer from poor sleep quality.
What happens when an athlete doesn't get enough sleep?
Typically, greater perceptions of fatigue, and possibly impaired recovery and/or performance.
Even one night of partial sleep deprivation can cause these consequences. Cyclists who completed a HIIT session after sleep deprivation (defined as half their normal sleep) experienced reduced peak power output for a longer time following the session, compared to when they slept normally. They also felt sleepier and less motivated to train again in the sleep deprived state.
Similarly, junior rowers who were subject to a 1.5 hour delay in bedtime experienced reduced recovery the next day and a poor emotional state.
What affects sleep quality among athletes?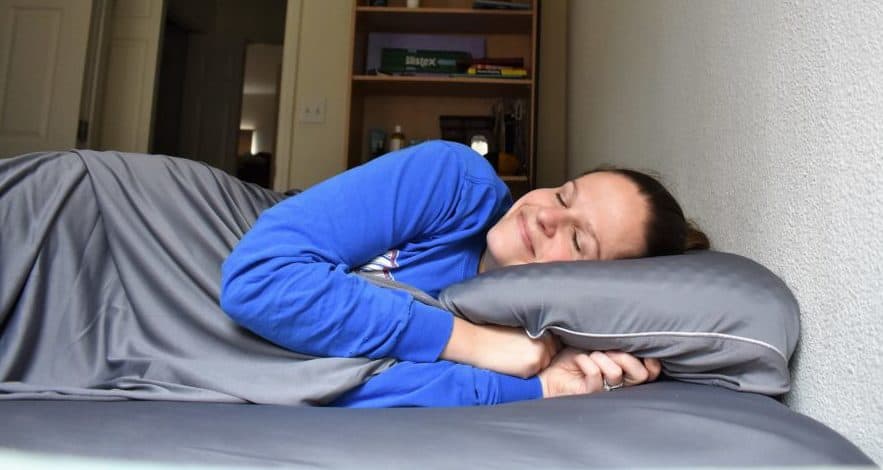 1. Training intensity
Increases in training intensity – especially sharp upticks – can cause negative impacts on sleep quality, as shown in cyclists. Quick increases in intensity also increase the risk of injury, so it's always wise to follow a gradual training plan.
2. Game/race days
Game days or race days may lead to poorer sleep quality at night among athletes, like in this study on rugby players and this study on football players. This may be exacerbated by night matches, as research shows in football players.
3. Jet lag
Sleep and athletic performance studies have shown that jet lag can reduce sleep quality, physical performance, and muscle recovery.
4. Caffeine ingestion
Despite the fact that caffeine is recognized for it's value in performance enhancement (read more about caffeine and performance in this article) – it can negatively impact sleep onset and duration. This is particularly true for athletes using it for late afternoon or evening events.
5. Timing of training
Early morning sessions may reduce sleep duration and can result in more pre-training fatigue. Early morning sessions can certainly fit into a balanced training schedule, but should be balanced by an earlier bed time.
6. Alcohol use
While alcohol may make it easier to fall asleep, it disrupts sleep patterns and can reduce overall sleep quality.
What about electronic device use and sleep in athletes?
Most sleep experts believe that electronics lead to later sleep duration or poor sleep quality. The thought is that they are cognitively stimulating and that their light emission delays the release of melatonin. And some data, like that from the National Sleep Foundation Poll, supports that electronics led to difficulty falling asleep and less fulfilling sleep.
Interestingly, though, some of the latest research I found specific to adult athletes hasn't found these connections.
For example, a small study on netball athletes found that electronic device use on a tablet didn't have detrimental effects on sleep quantity or quality compared to reading without a tablet. Another study on elite judo athletes found no difference in sleep-related measures or physical performance when electronic devices were removed for two nights from an intervention group at a training camp.
Since the jury is still out, though, it's probably smart to minimize device use before bed, especially during a tough training cycle or before a big game/race.
How much sleep do athletes need?
Most researchers believe 7 to 9 hours is enough sleep for the average adult. However, think of sleep needs like a bell curve – there will be some outliers. If you feel most energized and well-rested on 10 hours of sleep, that's probably the optimal amount for your body.
Along the same lines, your training intensity may impact sleep needs. You may find that you need a bit less sleep during easier parts of your training year, while you need more sleep during the most intense aspects.
If you feel like 7 to 9 hours is unattainable, try to focus on simply getting more than you are currently getting. Sleep and athletic performance studies suggest that sleep extension (i.e. increasing hours of sleep) is likely to have a positive impact on performance. This may apply even if you don't reach the optimal level of sleep, but are at least getting more than your current baseline.
How can athletes sleep better?
1. Make sleep a priority
To achieve the benefits of sleep for athletes, something as simple as prioritizing sleep can help. Read up on sleep tips like these, implement them, and consider tracking your sleep. If you coach athletes, consider doing a workshop about the importance of sleep to help them make it a priority. For example, one study provided sleep education and tips for football players. They found that athletes improved sleep duration and efficiency, with reduced fatigue and increased vigor.
2. Set up a consistent sleep schedule
Try to get on a consistent schedule as far as bed time and wake up time, building in those 7-9 hours (or as close to those 7-9 hours as possible) that your body needs.
3. Create a better sleep enviornment with upgraded bedding options
Different athletes will have different preferences when it comes to their sleep set up, including mattress choices (i.e. firm vs. soft), pillows, and sheets.
One thing that we've been experimenting with in our house is using better sleep products that are designed for the way we sleep, thanks to a few complimentary products from bedgear!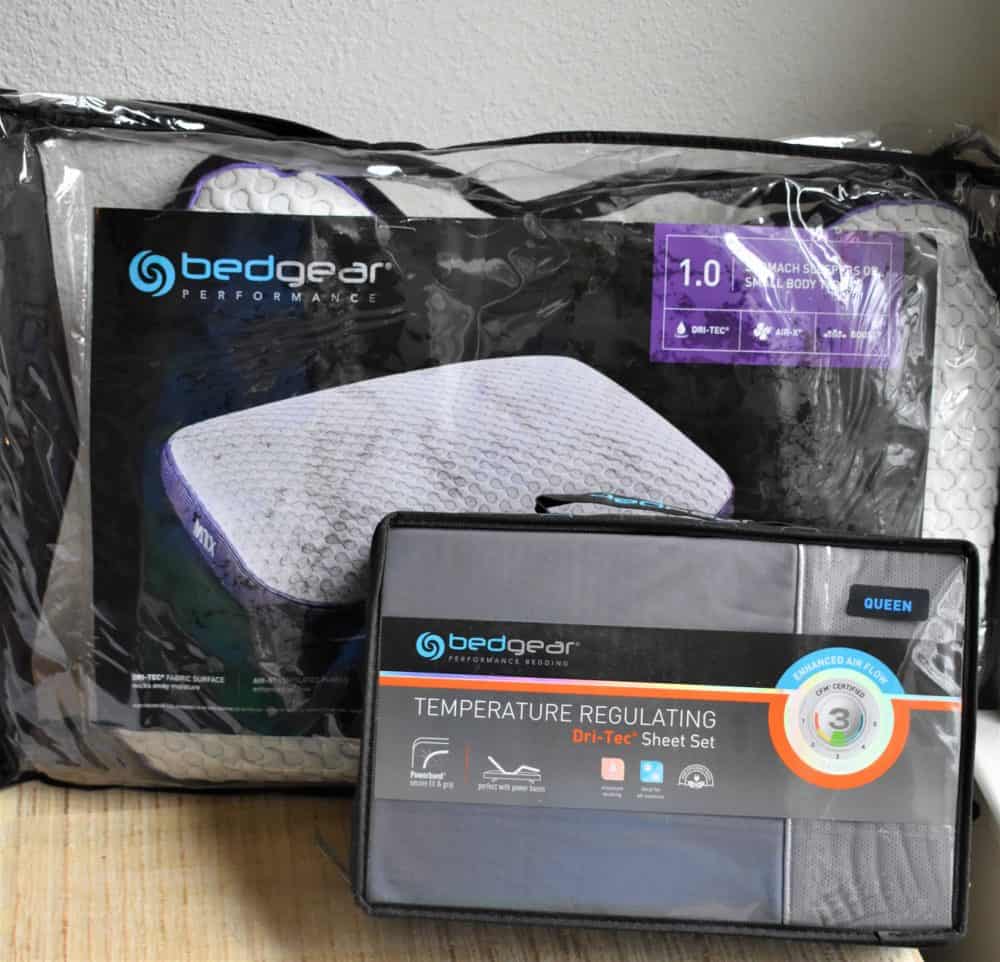 For example, I've got the M1X performance pillow from bedgear and am in LOVE with it. I typically sleep on my stomach (or side), and this pillow is perfectly supportive for me. You can browse all their selections to find a pillow that's right for your sleeping style.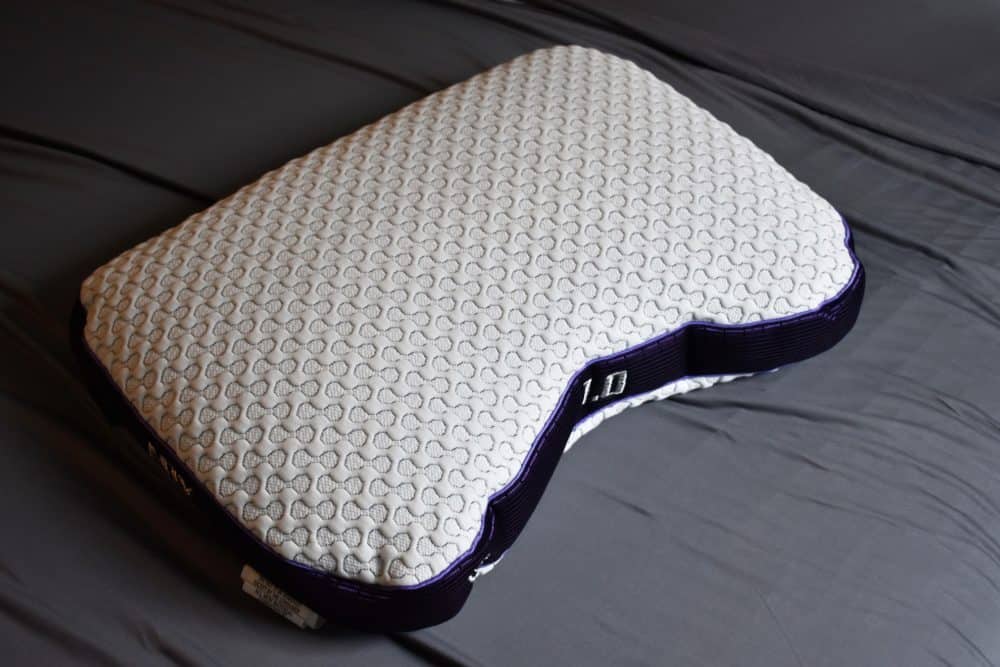 We also have our bed set up with bedgear's dri-tec moisture-wicking sheets. They feel so soft and smooth, and the material is very different from any other sheet set we've had. It's designed to allow more air flow and regulate body temperature compared to other sheets. My hubby has always struggled with waking up sweating, especially in the winter when the heat kicks on in the middle of the night. These sheets are changing that!
I definitely recommend finding the right sleep set-up for your body and seeing if that helps you to sleep better at night.
4. Experiment with short naps
If you find it helpful, a short 20 to 30-minute nap mid-day may feel restorative for your body. Don't nap too close to bed time though, or it could actually prevent you from falling asleep at night.
5. Avoid alcohol and caffeine
These substances make it harder to fall asleep and/or affect sleep quality when taken in the afternoon or evening.
6. Try a dawn simulating light
Try an alarm clock that uses light to simulate dawn. This may help you wake up in the morning.
7. Drink tart cherry juice
Tart cherry juice may be beneficial on two fronts for athletes – it's been shown in some studies to help with muscle recovery, and it also is a natural source of melatonin to help with sleep.
Now that you've got all the information, be sure to try these tips to help you sleep better and experience the benefits of sleep for athletes!
Share with me: Do you think there are benefits of sleep for athletes when it comes to performance and recovery? What are your tips for sleeping better? How much sleep do you get each night?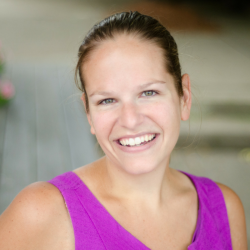 Latest posts by Chrissy Carroll
(see all)