While I'm not a regular coffee drinker, I fully appreciate a good dose of caffeine now and then – especially a cup of coffee before a run or race. So when my dietetic intern, Vee, offered to write up a post about caffeine for the blog – I was thrilled! Here's an excellent guest post from her on this topic…
Coffee, tea, soda and chocolate. They are the little bursts of caffeine that we use to get out the door in the morning or to overcome the afternoon yawns. So it seems only natural that caffeine has also been shown to give us the extra push on race day.
The only catch? It has been suggested that athletes need to choose between their daily cup of morning goodness and that desirable pre-race caffeine boost. This dreaded caffeine wean has become a headache for many, literally. But is it necessary? This is the question that a recent study set out to answer (and spoiler alert, I think you might like what they found!)
Before we dive into the nitty gritty, here are a few basic facts to set the scene:
Caffeine is widely accepted for a performance enhancer during endurance events.
While the exact mechanisms are still not fully understood, caffeine has been shown to decrease perceived exertion and potentially increase the ability of the body to metabolize fat for energy.
Taking 3-6mg/kg of caffeine about one hour before an event can improve performance. For a 150lb athlete, this would mean drinking about 2-4 cups of regular coffee before a run.
Previous research has suggested that habitual caffeine use (i.e that daily cup of coffee) in the week leading up to an event decreases the effectiveness of caffeine supplementation on race day.
And thus the need for the dreaded pre-race caffeine wean was born. Competitive athletes commonly avoid caffeine-containing products for 4-7 days leading up to a race in order to maximize the caffeine performance boost. What you might not know is that there has been little scientific evidence to support the necessity of this unpleasant process.
A recent study set out to put this practice to the test and hopefully provide some more concrete recommendations for athletes. The study, published in the Journal of Applied Physiology, included 40 trained cyclists. Each cyclist completed three time trials (about 30 minutes each) on separate days while taking either caffeine (6mg/kg dose), a placebo, or nothing an hour before the trial.
To investigate the impact of habitual caffeine use, the cyclists were divided into three groups based on average daily caffeine intake: low (<101mg/day), moderate (104-183mg/day) or high (190-583mg/day).
While there are a wide variety of caffeine containing products, such as coffee, tea, soda and energy drinks, let's stick with the coffee comparison to put this information in perspective. On average as part of their daily routine, the cyclists in the low group consumed one cup (or less) of coffee; the moderate group between one and two cups; and the high group more than 2 cups regularly.
The good news: As expected, the caffeine supplement boosted performance. Cyclists were able to ride about 2.5%-3.3% faster with caffeine supplementation compared to either the placebo or no-supplement trials. Bring on that coffee before a run!
The better news: There was no difference in performance benefits between the caffeine groups. This means that the high caffeine users were just as likely to see a performance boost as the moderate and low caffeine users even without the caffeine wean.
The other news: The only significant difference in the effectiveness of caffeine appeared to be related to individual variation. In other words, regardless of habitual caffeine consumption, some of the cyclists were lucky enough to experience a caffeine-induced performance boost above the expected 3%, while a small group of less lucky cyclists experienced a decrease in performance with pre-trial caffeine.
Whether or not the individual variations are due to genetic differences in caffeine metabolism or some other difference is still unknown. However, what we can take away from this study is that sports nutrition remains a highly individualized art.
With that being said, for those of you regular caffeine consumers, you may be able to drink your coffee before a run without any caffeine wean; no headaches or mood swings needed!
Share with me: Do you use any coffee before a run? What about other caffeine products? Do you find coffee or caffeine before a workout helps you perform better?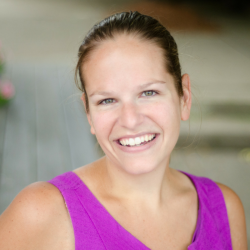 Latest posts by Chrissy Carroll
(see all)