Do you drink coffee before running? If so, you are not alone. Caffeine is the most widely consumed stimulant in the world and many runners feel it helps give them a morning energy boost. But does drinking coffee actually improve running performance?
Spoiler alert – yes, it does!
Let's break down the why caffeine can improve running, potential side effects, and helpful tips for using coffee to help power through you runs.
Disclaimer: This post was written and reviewed by Chrissy Carroll, Registered Dietitian and RRCA Running Coach. It is for informational purposes only and should not be considered individual nutrition or medical advice. Always consult your doctor or dietitian for questions related to nutrition and health.
Note: This post was originally written in 2017 and has been updated in 2021.
How coffee affects running performance
Coffee is brewed from roasted coffee beans, which naturally contain caffeine. It is the caffeine that acts as a performance enhancer.
At the recommended amounts (3-6 mg/kg), caffeine has been shown to increase performance by 2-4% across many studies (source). The research is strongest for endurance exercise, but there is also evidence of an ergogenic effect for enhancing velocity and power in strength training exercises. In addition, research suggests this effect may be present for both trained and untrained individuals (yay!).
These effects are likely due to one or more mechanisms, as described in the International society of sports nutrition position stand on caffeine and performance:
Caffeine can bind to adenosine receptors in the brain. Adenosine can make you feel tired, sleepy, or drowsy when it binds to its receptors. However, when caffeine blocks some of those receptors by binding to them instead, you become more alert and energized.
It may increase endorphin production or the production of other chemicals in the body, which may reduce pain perception and rate of perceived exertion during exercise.
There may be a mechanism related to improved skeletal muscle performance, either through enhancing strength and/or neuromuscular function. For example, caffeine may affect certain ion activity at the muscular level, which could enhance force production.
While it used to be postulated that caffeine might have caused improved fuel utilization, encouraging a greater reliance on fat oxidation compared to glycogen (carbohydrate) utilization, this has since been disproven (source).
Keep in mind, though, that good training and good everyday nutrition are the key to optimal performance though – much more so than some last-minute coffee. However, caffeine can be a tool you use to support the other aspects of your race preparation.
Side effects of coffee before running
While coffee can definitely act as a performance enhancer, you should also know it can cause some negative side effects too:
Gastrointestinal upset – Coffee can cause stomach upset and diarrhea in some people. This is why it's important to practice using coffee before runs near your home, rather than just on race day. You want to make sure you know what to expect. If you end up feeling like you need to poop on your run every time you drink a coffee, it's probably best to skip it!
Jitters – Coffee can make some people feel jittery, nervous, or anxious.
Frequent urination – The good news is that a cup or two of coffee doesn't increase the risk of dehydration, unlike what many people think. However, among those who are new to drinking coffee, research suggests may cause an increase in the frequency and urgency to urinate. Similarly, drinking large amounts of any fluids can lead to more trips to the restroom. Don't gulp down a big 'ol iced coffee right before your race, or you might risk heading to the porta potty mid-run.
Fast heart beat – Occasionally, high levels of caffeine may make people feel like their heart is racing or that they're having heart palpitations.
In addition, remember that caffeine should be limited if you are pregnant. Some research suggests high levels of caffeine may be connected to an increased risk of miscarriage, low birth weight babies, and premature births. The American Pregnancy Association recommends avoiding caffeine as much as possible during pregnancy, while the March of Dimes advises a 200mg limit each day.
How much coffee should you drink before a run?
The amount of caffeine that can improve endurance performance is in the range of 3 to 6 mg per kilogram of body weight. For a 150lb (68 kg) athlete, this would mean around 200 to 400 mg of caffeine – or 2-4 cups of regular coffee before a run. Considering the average U.S adult consumes around 200 mg per day (source), this is not a far jump from what many people are already drinking.
There's no benefit to drinking more than that, and excess caffeine will increase the risk of negative side effects.
Caffeine timing tips
It takes a little time for caffeine to have an effect, so it's recommended that you consume it about an hour before your run.
That said, keep in mind the rest of your day's schedule. If you run in the evenings, drinking coffee before bed may disrupt your sleep. The small performance enhancement associated with the caffeine will likely be cancelled out by the detrimental effect of poor sleep. (Sleep is key for athletic performance and overall health.) In this case, you can practice drinking coffee before a few training runs just to ensure your body tolerates it, and then save the serious pre-run coffee for race day.
In addition to an hour before your run or race, caffeine may be helpful during times where fatigue is kicking in – you know, like at the end of that tough marathon. Taking in some caffeine during an event may help with this (which you can find in caffeinated energy gels, blocks, or sports drink products).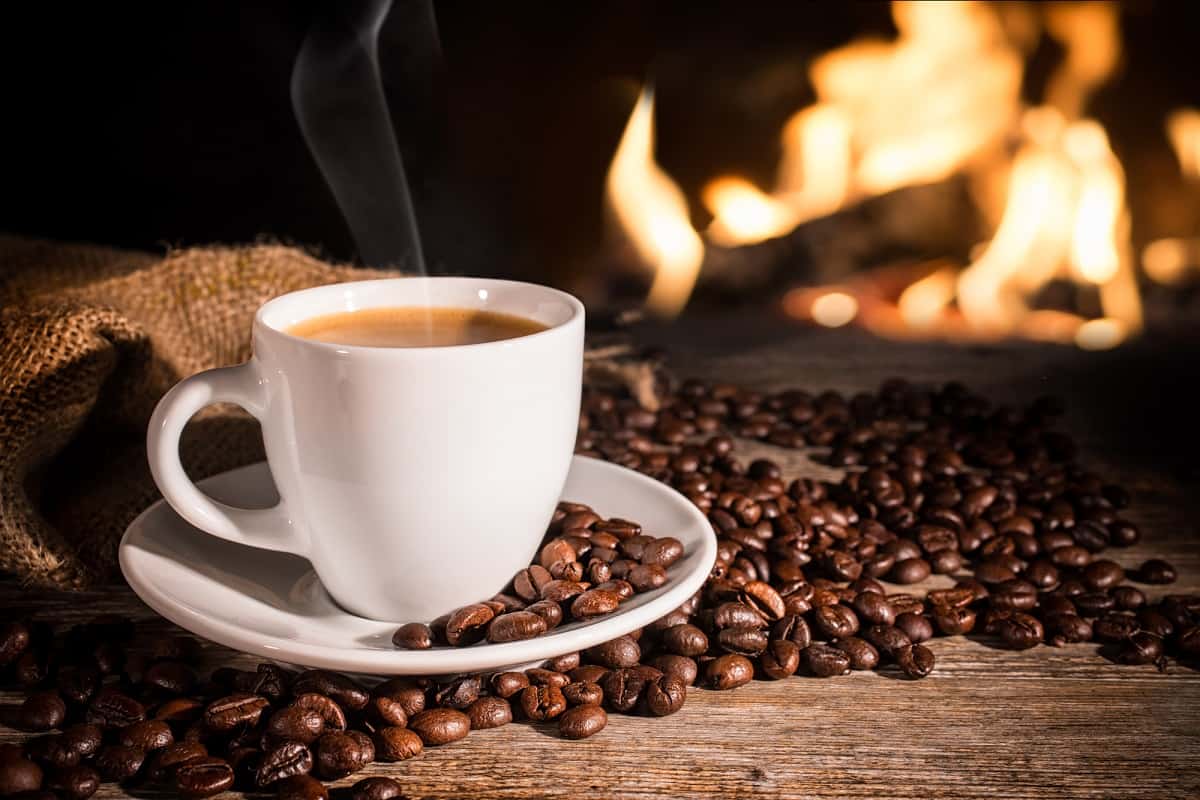 What about other sources of caffeine besides coffee?
What if you don't like coffee? There are other sources of caffeine out there, though many fall short in comparison to coffee (which has actually been linked to quite a few health benefits).
These alternate sources include the following. We'll compare them to coffee, which contains about 100 mg caffeine per cup.
Amounts of caffeine below are provided by Harvard School of Public Health or product websites (though note these can vary depending on the product, brewing method, etc):
Espresso – 1 shot, 65 mg
Soft drink – 12 oz, 40-50 mg
Energy drinks – 1 cup, 80 mg
Energy shots – 1 shot, 200 mg
Tea – 1 cup, 30-50 mg
Chocolate – 1 oz, 24 mg
Caffeinated gum – 50 to 100 mg
Pre-workouts – amount varies based on the product; check labels (read more about pre-workouts vs coffee)
Caffeine pills – amount varies based on the product, but often around 200 mg per pill
Caffeine powders (aka anhydrous caffeine) – not recommended unless working with a professional, as it is very easy to improperly measure these and cause significant health risks
Other supplements – amount varies; check label
As you can see, if you plan to use caffeine as a performance enhancer, it could be hard to get enough comfortably from certain options, like from tea or soda alone. In addition, energy drinks or shots may offer other undesirable ingredients. If you dislike coffee but want to use caffeine for performance, you might look for a supplement that provides the proper amount of caffeine – but please discuss with a doctor first and ensure the supplement comes from a reputable manufacturer.
Do you need a caffeine wean?
In the past, it was suggested that athletes needed to wean off their daily cup of joe in order to experience the performance-enhancing effects of caffeine on race day. Competitive athletes commonly avoided coffee for 4-7 days leading up to a race. This dreaded caffeine wean became a headache for many, quite literally.
Good news though – it turns out that's not necessary to ditch the coffee the week before your race if you're hoping for the race-day benefit.
Research published in the Journal of Applied Physiology put 40 trained cyclists through three time trials on separate days while taking either caffeine (6mg/kg dose), a placebo, or nothing an hour before the trial. (Yes, this is cycling and not running, but the sports nutrition field is small and this is a great example of important research.)
To investigate the impact of habitual caffeine use, the cyclists were divided into three groups based on average daily caffeine intake: low (<101mg/day), moderate (104-183mg/day) or high (190-583mg/day). On average as part of their daily routine, the cyclists in the low group consumed one cup (or less) of coffee; the moderate group between one and two cups; and the high group more than 2 cups regularly.
The good news: As expected, the caffeine supplement boosted performance. Cyclists were able to ride about 2.5%-3.3% faster with caffeine supplementation compared to either the placebo or no-supplement trials. Bring on that coffee before a run!
The better news: There was no difference in performance benefits between the caffeine groups. This means that the high caffeine users were just as likely to see a performance boost as the moderate and low caffeine users even without any caffeine wean.
The other news: The only significant difference in the effectiveness of caffeine appeared to be related to individual variation. In other words, regardless of habitual caffeine consumption, some of the cyclists were lucky enough to experience a caffeine-induced performance boost above the expected 3%, while a small group of less lucky cyclists experienced a decrease in performance with pre-trial caffeine.
Whether or not the individual variations are due to genetic differences in caffeine metabolism or some other difference is still unknown. However, what we can take away from this study is that sports nutrition remains a highly individualized art, and that you likely don't need to wean off coffee before your event.
What about genetic differences in caffeine metabolism?
The other thing to keep in mind is that caffeine's effects on performance may vary based on your genetic makeup.
Scientists know that differences in our genetic makeup affect how we metabolize caffeine. There are several genes involved, but the main one we look at is called the CYP1A2 gene. This gene is responsible for directing production of an enzyme in the liver that breaks down caffeine.
There are several variations in the CYP1A2 gene that can affect caffeine metabolism. None of them are particularly well studied when it comes to performance, but probably the most well studied is the rs762551 single nucleotide polymorphism (SNP). The genetic makeup here can be one of three types, made up of a combination of two different alleles (A and C). "A" is associated with faster caffeine metabolism while "C" is associated with slow metabolism. That means you can have one of the following combinations:
AA – fast metabolizer
AC – slow metabolizer
CC – slowest metabolizer
There are several studies on this particular genetic variation:
1. A 2016 study on 3km cycling performance among recreational cyclists looked at the effect of caffeine ingestion and as well as caffeine mouth rinsing on performance, among an AA vs an AC genotype. Ingesting caffeine before exercise plus the caffeine mouth rinse had a benefit on performance in both types. But when they looked at only caffeine beforehand (no mouth rinse during), that was only beneficial in the AC type.
2. Another cycling study looked at two 40km time trials among trained male cyclists. Participants were categorized into two groups: AA genotype vs. C allele carriers. Ingesting caffeine an hour before the time trial resulted in better performance in both groups, but this was more pronounced in the AA group.
3. A third cycling study broke down recreational athletes in a similar way – AA genotype vs. C allele carrier. In this study, caffeine did not impact performance, and there were no differences between genotypes.
4. In athletes participating in a 10K cycling time trial, those with the AA genotype experienced a 4.8% improvement with 2 mg/kg caffeine, and a 6.8% improvement at 4 mg/kg. However, those with the AC genotype didn't have any benefit, and those with the CC genotype actually experienced a 13.7% decrease in performance.
So interestingly, here we have four studies with different results when looking at caffeine before exercise: one that showed better performance with the C allele, two that showed better performance with the AA genotype, and one that showed no difference.
But there were some major differences between these studies. For example, the first study was a sprint (3km), the second was a measure of endurance performance (40km), and the third and fourth were in-between.
Many sports researchers believe that caffeine most likely has the best effect for performance in those with the AA genotype, but we still need more research to confirm. The International society of sports nutrition position stand: caffeine and exercise performance states "Although more research is warranted, there is a growing body of evidence to support the role of CYP1A2 in modifying the effects of caffeine ingestion on aerobic or muscular endurance-type exercise, which helps to determine which athletes are most likely to benefit from caffeine."
No firm conclusions can be drawn about this yet, but keep an eye out in the next few years for more research on this. In the meantime, pay attention to the impact of caffeine on your body. If you feel like coffee before running is not helping you or causing jitters and GI upset, don't feel like you need to use it in the name of performance.
The Final Word
Drinking coffee before your runs may help increase performance by around 2-4%. Be sure you practice during training, and never try anything new on race day. If coffee sits well for you, aim to have it about an hour before your race – and then consider some additional caffeine sources in your fuel during long events if desired. Remember that above all else though, a properly designed training plan, consistency in your running, and good everyday nutrition are the most important parts to good performance!
Share with me: Do you use any coffee before a run? What about other caffeine products? Do you find coffee or caffeine before a workout helps you perform better?
Feel free to pin this post to share with others! 🙂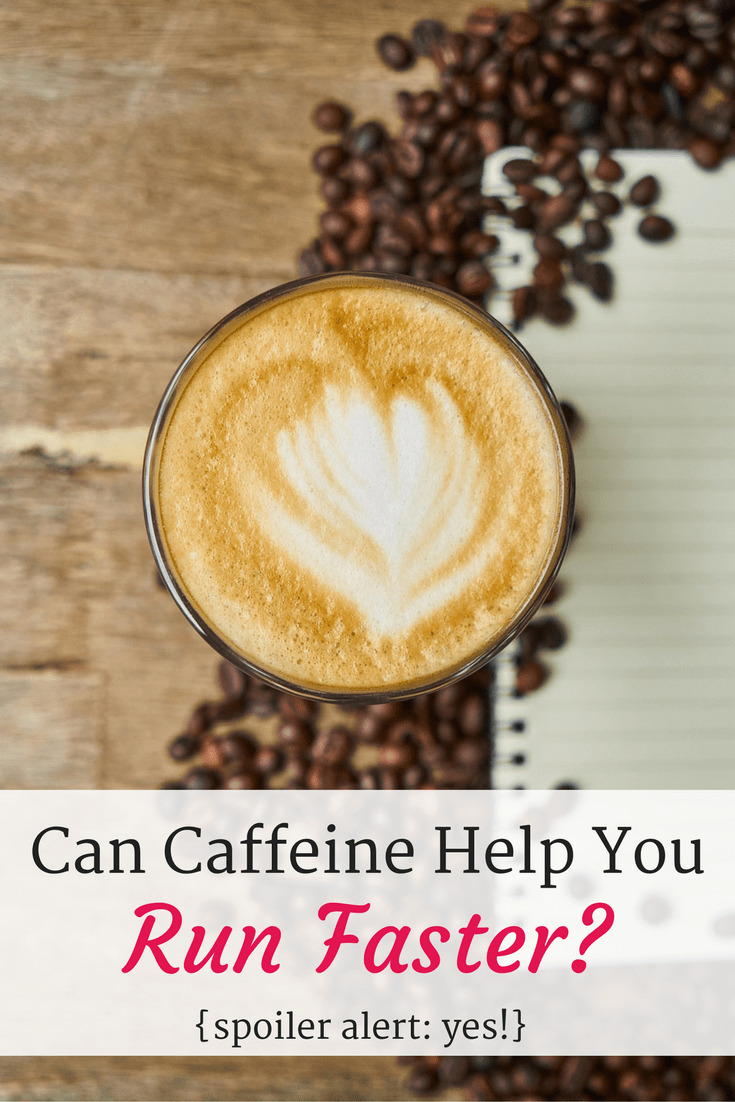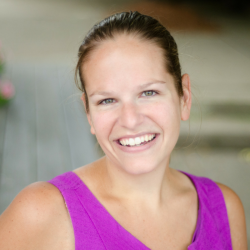 Latest posts by Chrissy Carroll
(see all)