Imagine the immense pride that you'll feel crossing the finish line of your first (or fifth!) marathon. Whether you just signed up for a race and are looking for a training plan, of you have stumbled across this post and are thinking "could I actually do this?" – I'm hoping this 6 month marathon training plan will give you confidence in yourself and help you cross the finish line of that race!
Training for a marathon in 6 months is nice because it gives you a slow, progressive increase in volume to reach your goals. You'll start with a total weekly mileage of just 9 miles in the first week, and peak around 34 miles a couple weeks out from race day.
[Tweet "Who wants to run a marathon with me? Check out this free 6 month training plan!"]
You'll find the full training plan and everything you need to prepare yourself for training down below – but if you haven't found a race yet, I just wanted to put in a quick plug for an upcoming event!
Recommended Race for This Training Plan: Big Beach Marathon
Disclosure: This post is in partnership with Gulf Shores & Orange Beach Tourism. As always, all opinions are my own!
Singing up for a race – i.e. putting the money down! – is the best way to get that running mojo flowing and encourage you to stick to a training plan. I know personally, I was feeling a little "bleh" the last two months with my running. We moved, I started two additional new websites, and training kind of fell off track for a little while. The best course of action to motivate me to was to plan out some new races.
I'll be using this plan as I train for the Big Beach Marathon in Gulf Shores, Alabama. Of course, you can use this plan for whatever race you'd like. But this event stood out to me for a few reasons:
It's a fast and flat course – YAY.
Options for full, half, and relay. Since this is going to be my first full in a few years – and I've struggled with a few injuries the last two years – I appreciate that the half option there in case I needed to drop down. (And I think my hubby will be doing the half!).
7-hour time limit for the full; 3.5-hour limit for the half. I'm a slow runner, so I really appreciate races that give decent time limits.
The weather should be ideal for this event – average temperatures in January for the region are highs of 63 and lows of 43. Anywhere in that range is a great running temp.
You can register for just $75 for the full marathon and $60 for the half marathon through 8/31. Of course you can register any time after that; the prices just increase incrementally.
Plus, Gulf Shores has been on my bucket list to visit for a while now! Think white sand beaches along the southern coast of Alabama, nature trails and parks, and delicious food.
If you want to join me for this race, start using this training plan next week – the week of August 13th. That will bring you right up to race day on January 27th, 2019!
Everything You Need to Know About This 6 Month Marathon Training Plan
Alright, let's get down to the good stuff – your training plan! Scroll to the bottom of the post for the plan image that you can print/pin – but be sure to also read all this info so you know exactly how to train for a marathon in 6 months.
Who is this training schedule for?
This plan is for any individual that would like to finish a marathon*. It's ideal for:
Beginner runners doing their first marathon
Experienced runners doing their first marathon (who do not have a specific time goal)
Experienced runners who want a simple training plan for a marathon, regardless of whether it's their first or fortieth race
If you're an experienced runner looking to PR in a marathon, you'll likely want a higher mileage and/or more customized plan. If you've already got a great base, you could try something like our 12 week intermediate marathon training plan.
*Disclaimer: I am not a physician; check with your doctor prior to starting any new exercise program.
What level of fitness do I need to start?
You should be healthy and able to comfortably run (or run/walk) 2 miles right now. You also shouldn't have any injuries or medical issues that would preclude training. Going from 2 to 26.2 miles in 6 months might seem overwhelming – but your body is amazing at how well it can adapt to training!
If you can't currently run (or run/walk) 2 miles, work on getting up to that point first before jumping into this plan. Or if you feel like a full marathon might be just a bit too much for you right now, check out my 20 week half marathon training plan.
Training Volume & Plan Length:
This plan is approximately 6 months – broken down into 24 weeks. Yes, I realize that might be a week or two shorter than 6 months, but let's roll with it. 😉 (If you're looking for a plan that's slightly shorter, you can check out a 20 week training plan here).
You'll run 4 days per week on this plan.
If life gets in the way, you can complete training on 3 days a week by removing "Day 2" from the schedule. In that case, you'll run Days 1, 3, and 4. However, this will reduce your overall mileage and make the race feel more challenging. (Though I've done it before!)
Pace:
This 6 month marathon training plan can be used for running, walking, or a combination of both. Just follow the distance according to your preferred modality. And adjust your specific pace based on the run descriptions below.
Your Weekly Schedule:
The four days of running are broken down as follows:
Day 1 is an easy short run.
Day 2 is variable, meaning it can be either another easy short run, a fartlek session, a marathon pace run, or a midweek long run. Descriptions of each are included below.
Day 3 is an easy short run.
Day 4 is your long run.
Workout Descriptions:
Here is a description of each type of run on this plan:
Easy Short Runs (ESR) – These make up the bulk of your training. You'll complete them on every Day 1 and Day 3, and on many of your Day 2's (especially at the beginning, when building a base). They are comfortably paced runs. You should finish these and feel fairly good – not overly tired, sore, or huffing/puffing. Depending on your current fitness level, you might also decide to incorporate some walking breaks into these (and that's fine!)
Long Runs – These are (like they sound) the longest run of your week. Complete them at a comfortable, steady pace. You may find that the pace feels more challenging as the runs progress and get longer, simply due to the fact that you're covering a longer distance. Try slowing down a bit for your long runs and/or adding in walking breaks as needed if you find yourself struggling with the distance. Aim to complete the distance as written, even if you need to walk.
Midweek Long Run (MWL) – A midweek long run is longer than your easy short runs, but shorter than your main long run. On this training plan, they range from 5-7 miles. Run this at a comfortable pace.
Fartlek – Fartlek is a Sweedish term for "speed play". For these runs, you'll include speed intervals – but keep them fun and playful. Warm up for about 10 minutes at an easy pace. For the rest of the run mileage listed, add in bursts of speedwork as you choose to make your run challenging and fun. For example, you might run fast for one song, then recover for the next. Or you might sprint to the next mailbox, then jog for three more before repeating it again. You can find more fartlek workout ideas here if you need inspiration.
Marathon Pace (X @ MP) – These runs are listed in your plan as X miles @ Marathon Pace (MP). For example, 4 @ MP = 4 miles at marathon pace. You should run the distance listed and pace yourself at the pace you'd like to run your race.
*Important – if you don't feel comfortable doing the speedwork (fartlek or marathon pace days), just do the mileage listed each day at an easy pace. That's fine!
Other Helpful Training Tips:
Warm Up, Cool Down, & Stretching:
Start each run with a few minutes of walking or easy jogging to warm up. Along the same lines, give yourself a few minutes of walking at the end of a run to cool down.
Stretch after your runs. If you struggle with tight muscles on a regular basis, consider adding foam rolling.
Strength & Cross Training:
Try to incorporate some body weight exercises like squats, lunges, push-ups, and bird-dogs 1-3 days a week. You can do these another time of day on the same day as a short run (i.e. run in AM, do these in PM), or you can do them on a day you don't run. They'll simply help maintain strength and balance out training.
I recommend adding at least 1 day of cross training to your week, whether that's a bike ride, yoga, swimming, or something else you enjoy. It will exercise different muscle groups and help prevent overuse injuries from running.
Soreness & Injury:
Soreness is generally normal after runs; pain that affects your stride is not. If you experience any injury that is affecting the way you run, be sure to see a doctor for an evaluation.
Your 6 Month Marathon Training Plan
Here's your 6 month plan broken down week by week!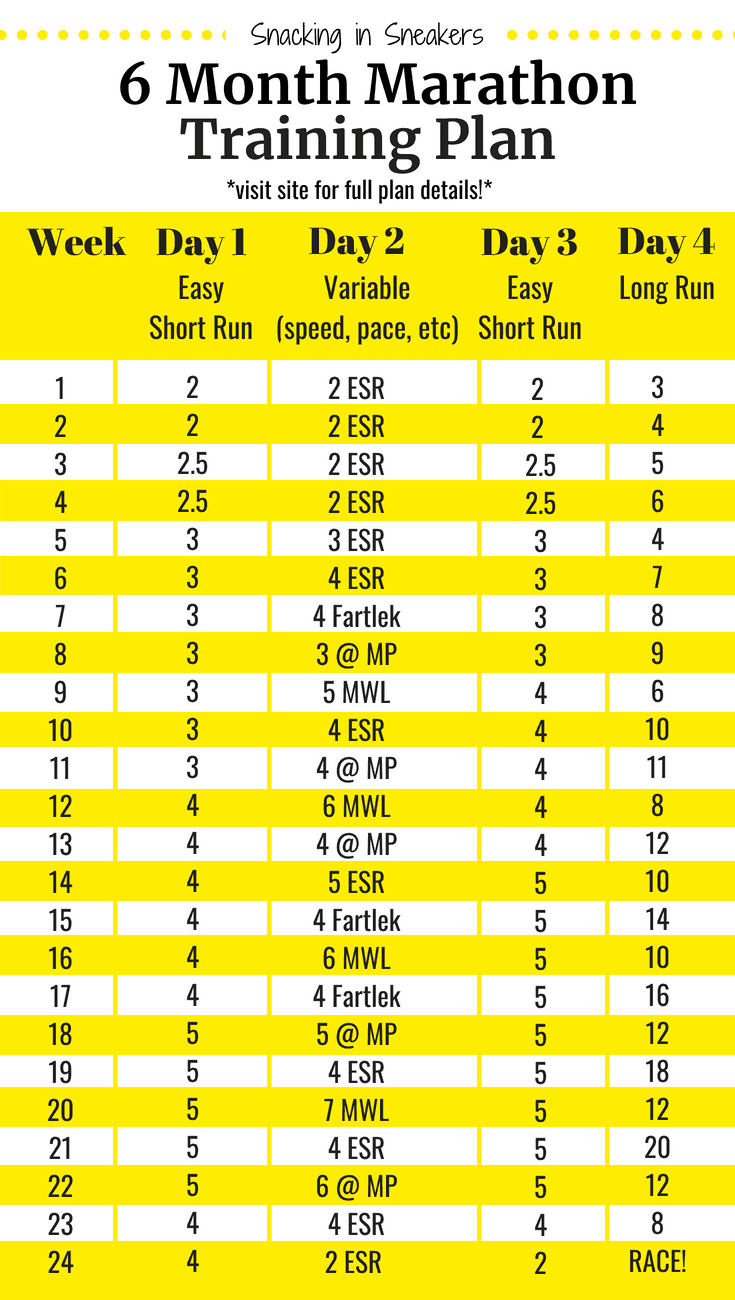 Share with me: Are you ready to tackle a marathon? What race would you love to complete? What do you think of this 6 month marathon training plan?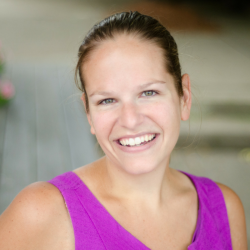 Latest posts by Chrissy Carroll
(see all)