Carving pumpkins for Halloween? Still have extra pumpkins on the porch leading up to Thanksgiving? Take out those seeds and cook them! These air fryer pumpkin seeds are a crave-worthy salty snack that the whole family will love. With just a few ingredients, they're easy to make and come together quickly in the air fryer.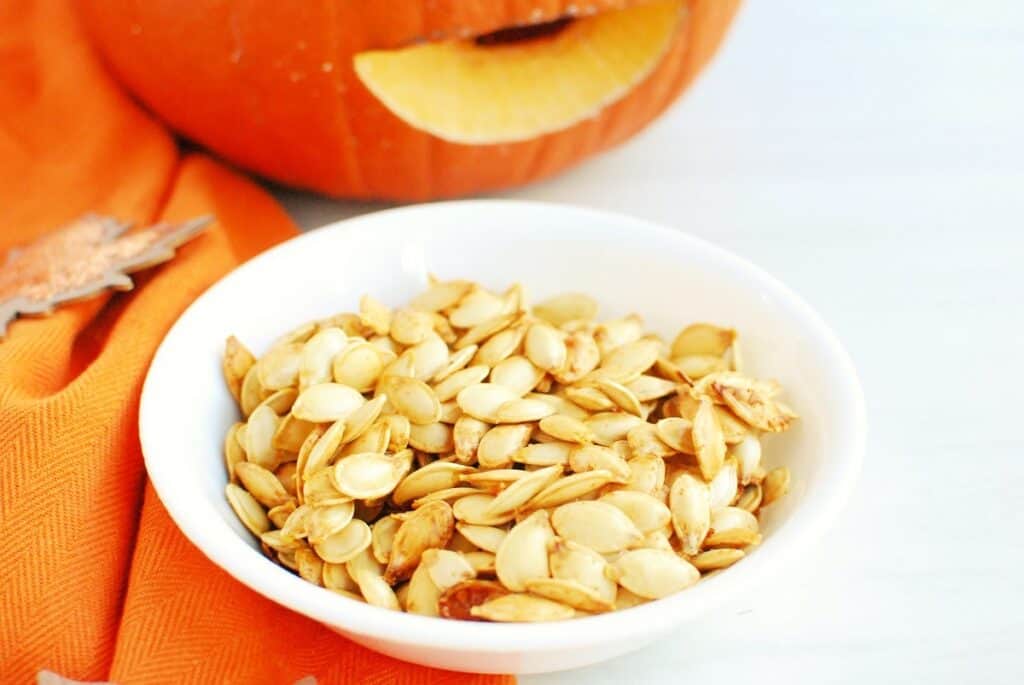 Ingredients
Here's an overview of what you'll need:
Pumpkin seeds – This recipe is made with 1 ¾ cups of seeds, which is around what you might get from a medium pumpkin.  If you have a lot less, you can halve the recipe; if you have a lot more, you can double the recipe.
Olive oil – This is a nutritious oil that will help the seeds to crisp up and help the seasonings to stick.
Salt and garlic powder – For seasoning, of course!
Step by Step Instructions
You'll find the full recipe amounts and instructions at the bottom of the post, but here's a helpful overview of how to make these air fryer pumpkin seeds:
Start by removing the seeds from the pumpkin. Some will be stuck to the orange stringy stuff from inside the pumpkin. I just toss it all into a bowl as I'm removing it from the pumpkin, like this: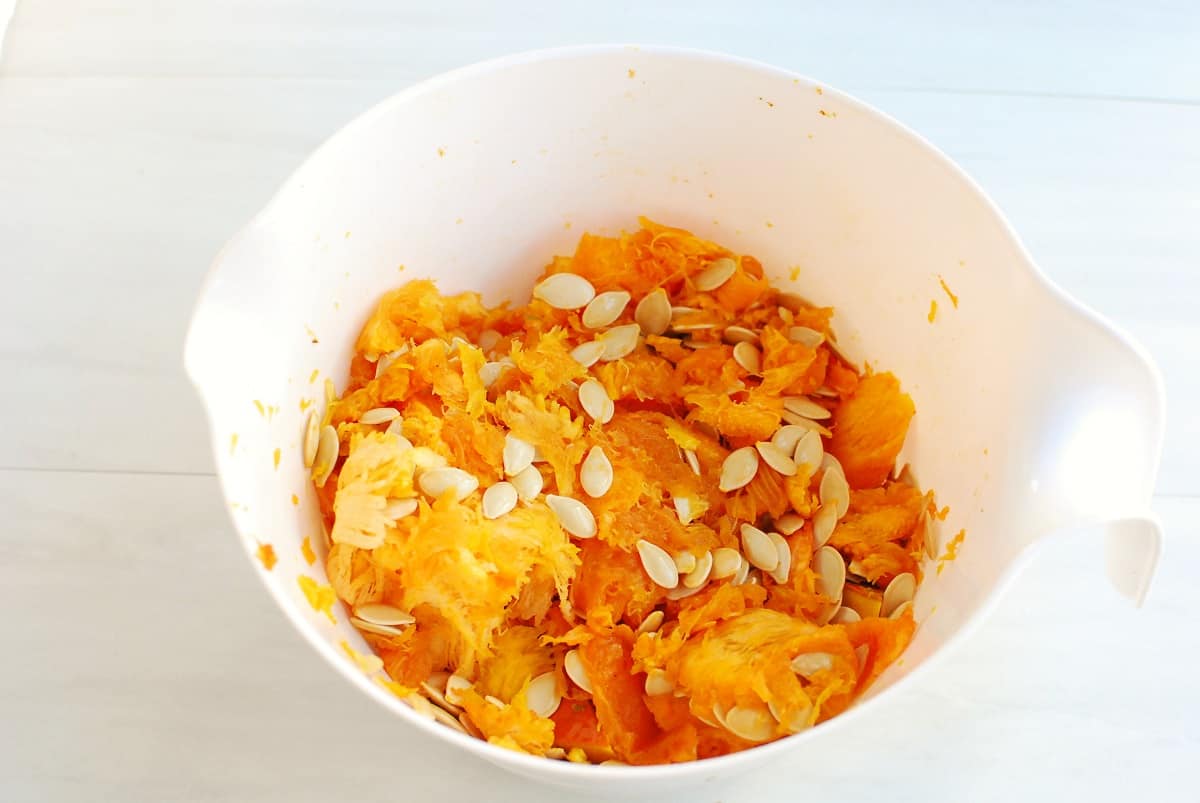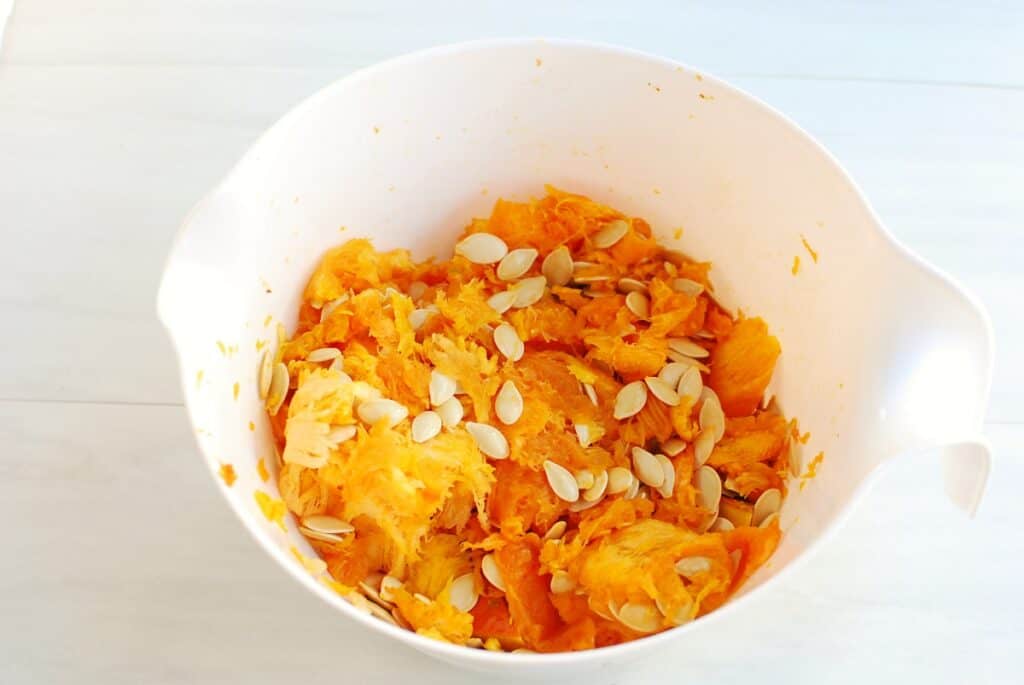 From there, remove any stringy stuff that's not attached to seeds, and toss it. Then put everything in a strainer, and run cool water over it. This will help the seeds separate from the stringy stuff, and you can toss any of the later. Try to get the seeds as clean as possible, but don't worry if there's still a little of the orange stuff stuck on a few.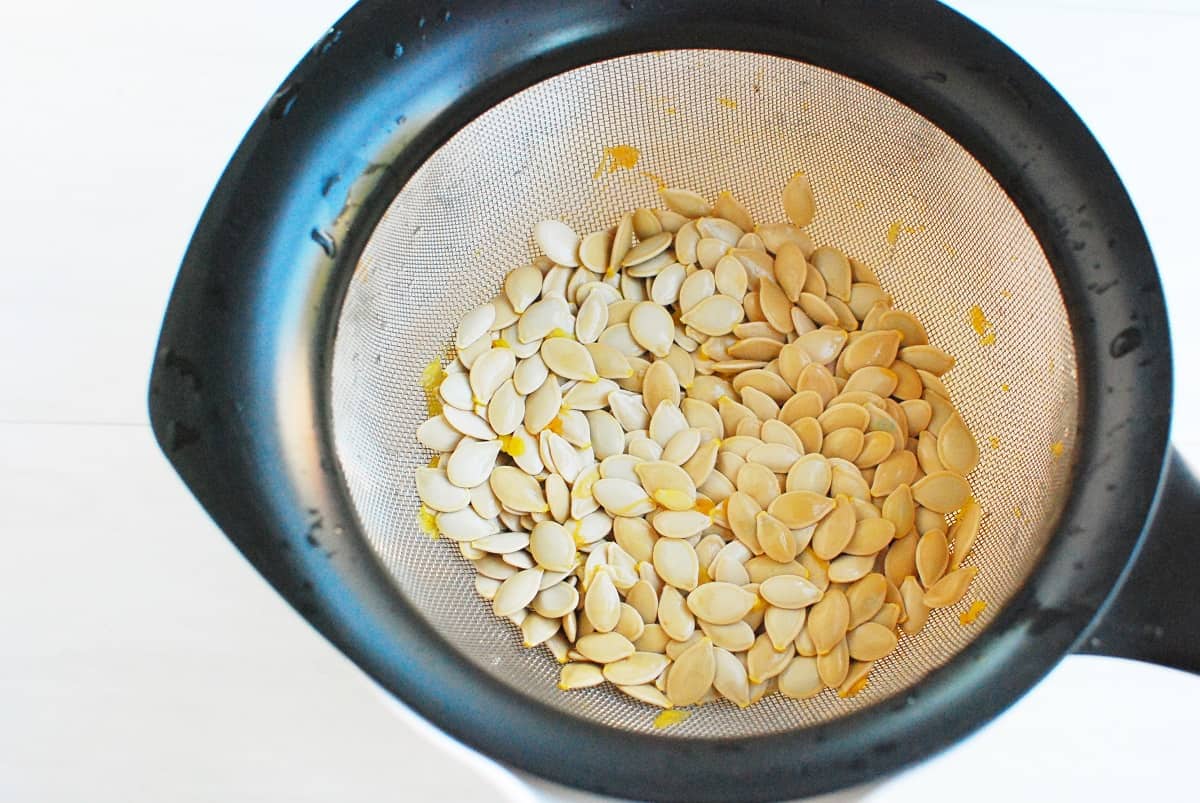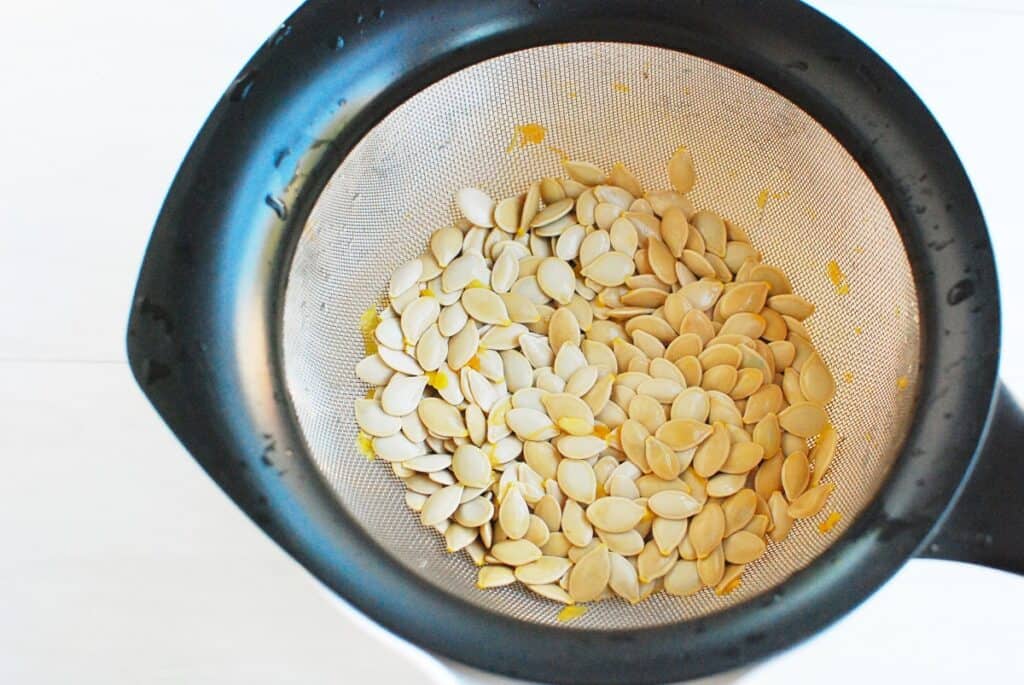 Place the seeds on two layers of paper towel, and place another two layers on top. Press down to dry as best as possible. If you have time, you can remove the top paper towel and let them sit out for a while to ensure they're extra dry, but I find quickly drying usually does a good enough job.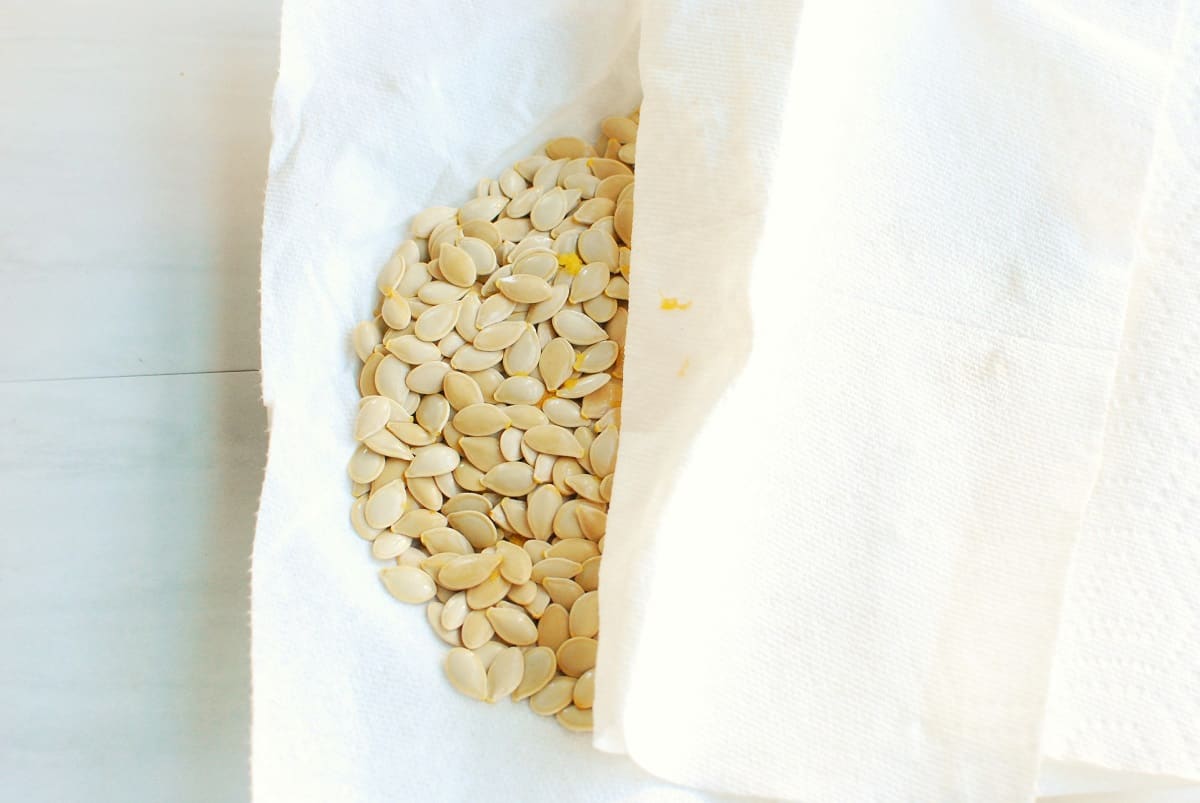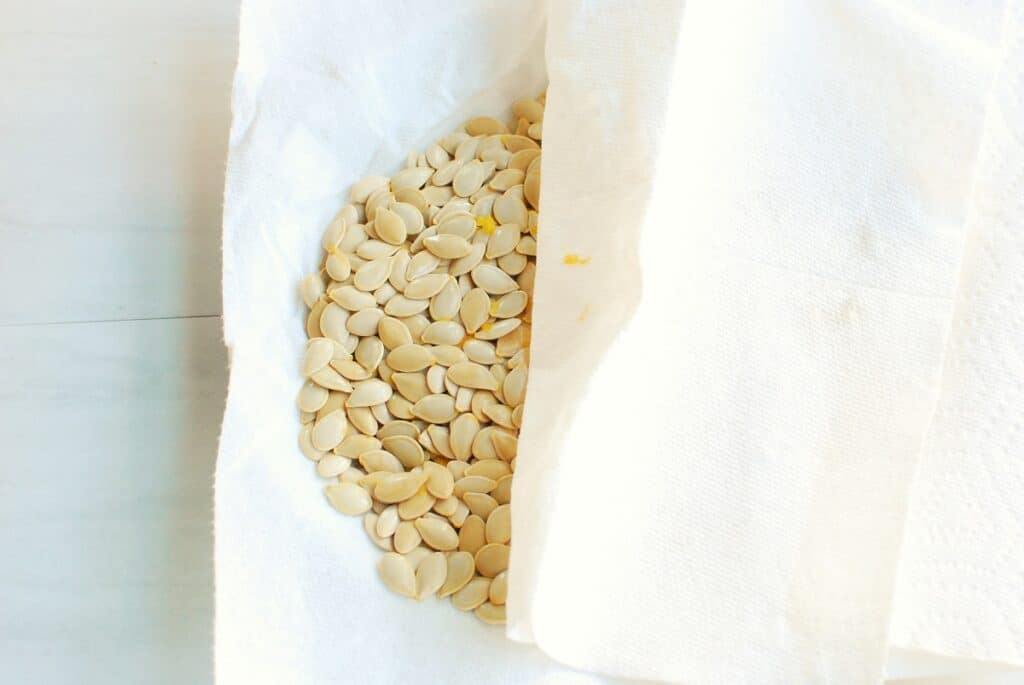 Pour the pumpkin seeds into a mixing bowl. You should have around 1 ¾ cups (give or take). If any are stuck to the paper towels, just shake 'em over the bowl.
Add the tablespoon of olive oil, ¼ teaspoon of salt, and ¼ teaspoon of garlic powder to the bowl. Give everything a good stir.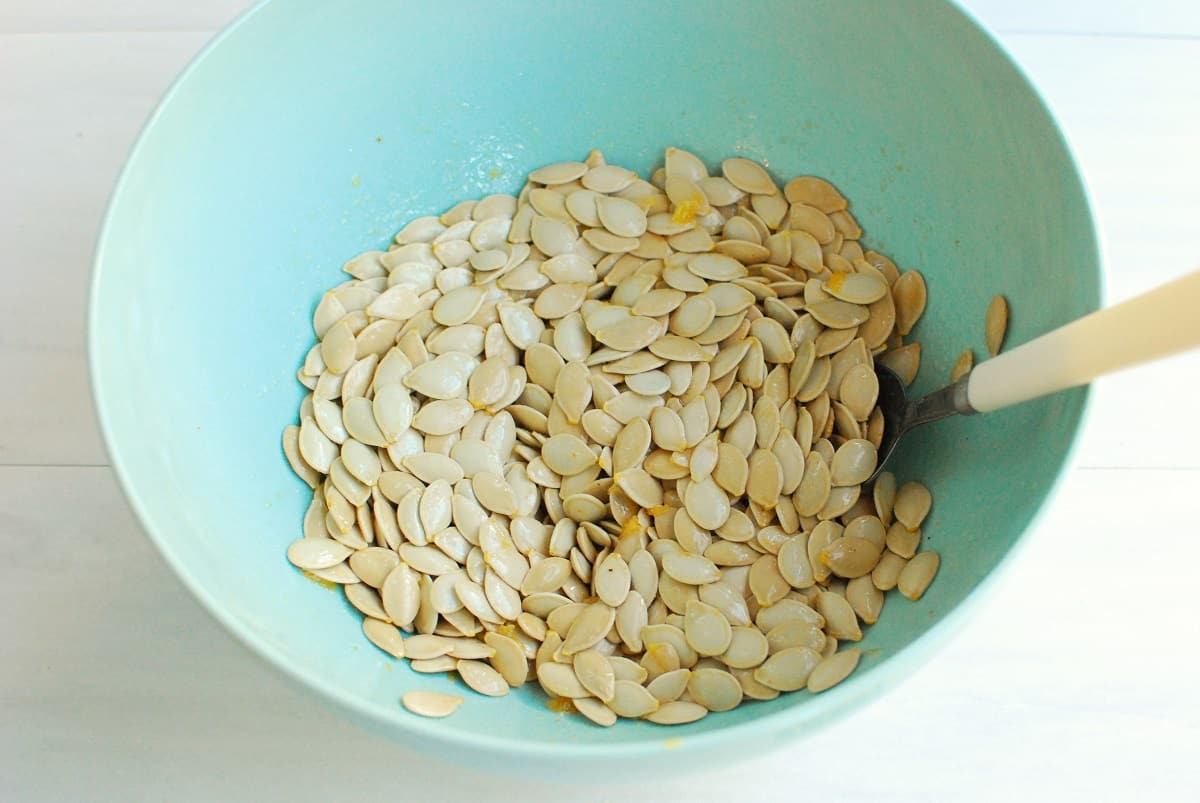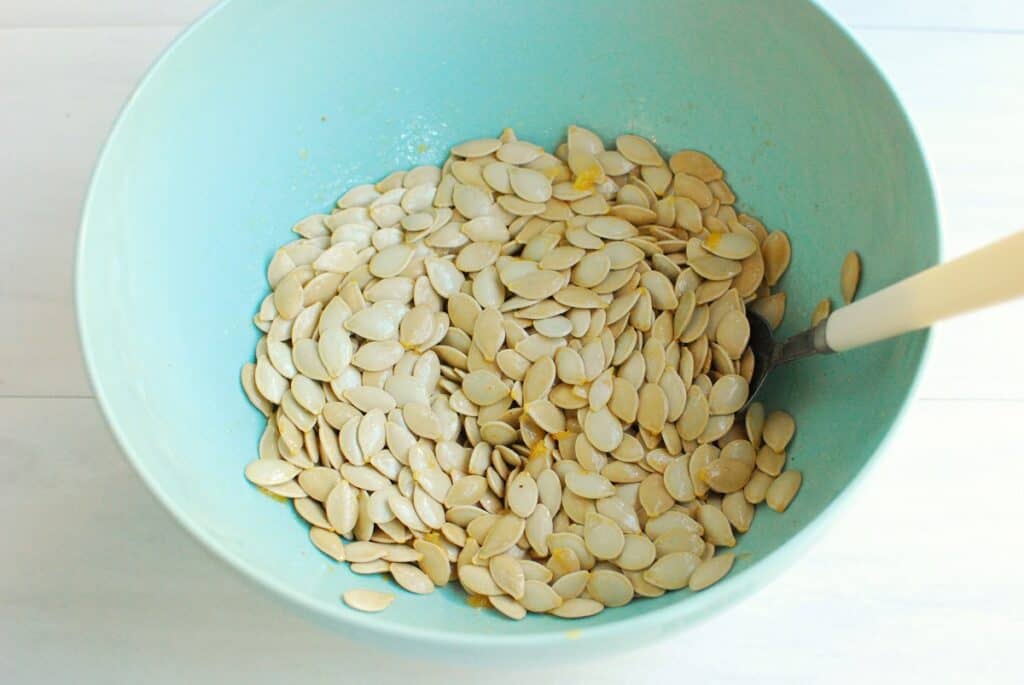 Now pour these into the air fryer.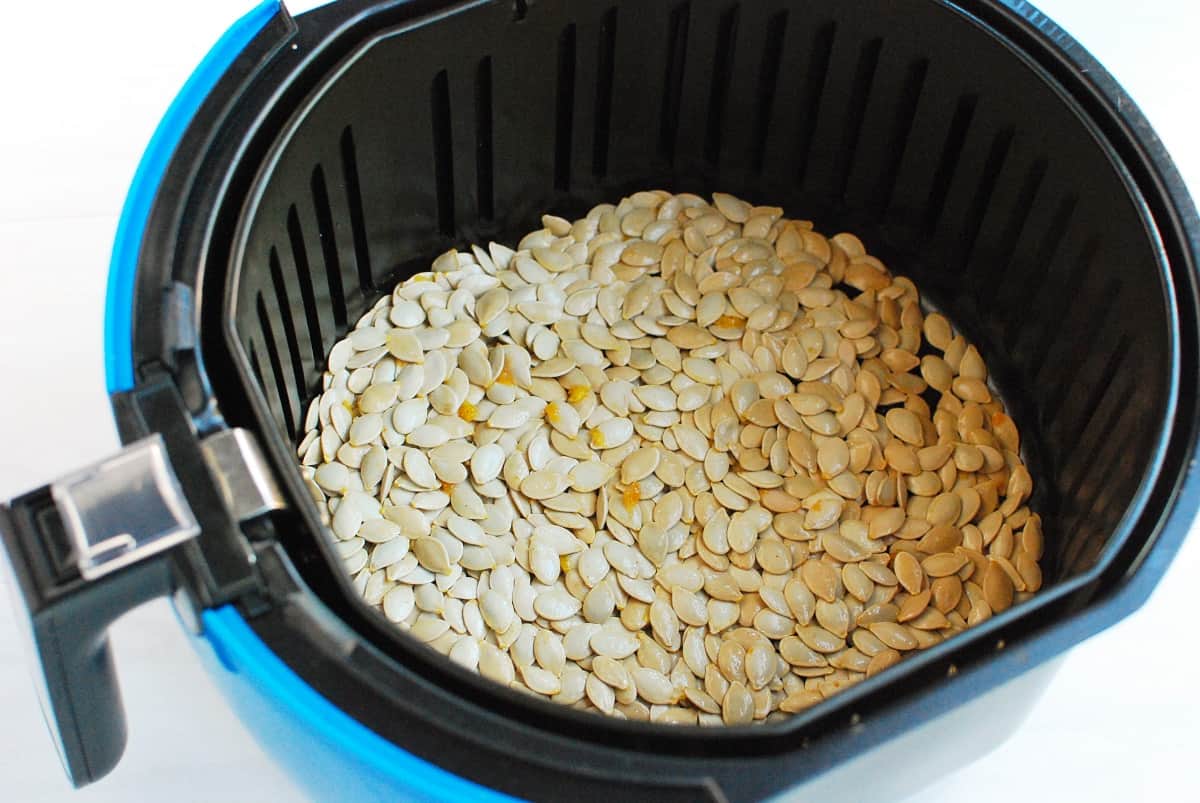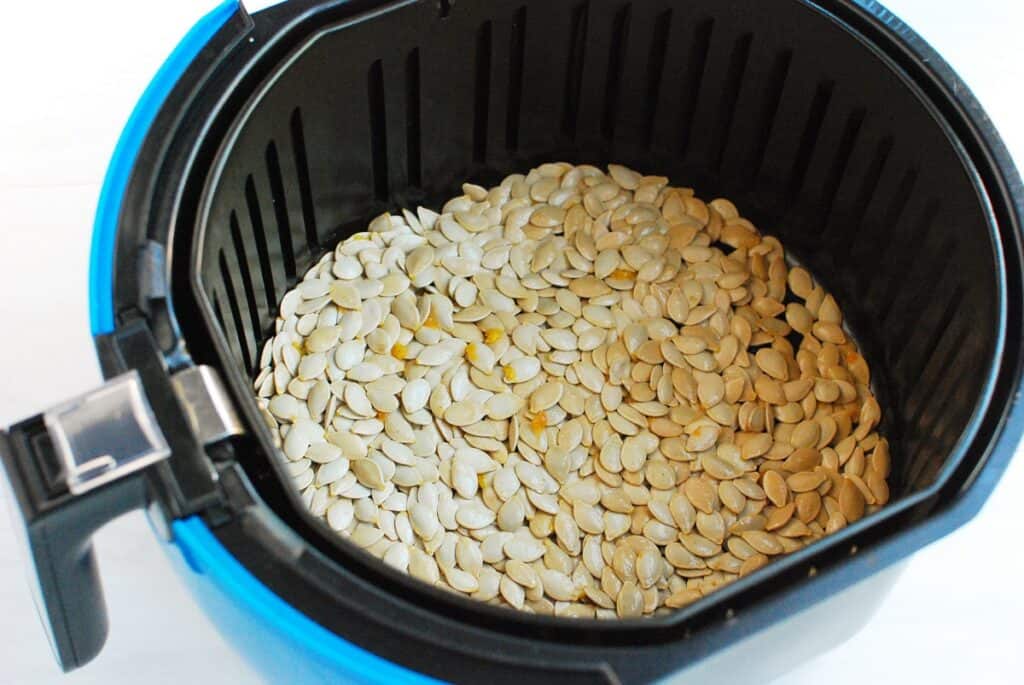 Air fry at 350 degrees for about 15 minutes, shaking once halfway through. You might notice a few seeds fall through the basket to the bottom; that's completely fine.
Once they're ready, you can pour them out on a plate to cool. The result will be a salty, crispy, oh-so-perfect snack!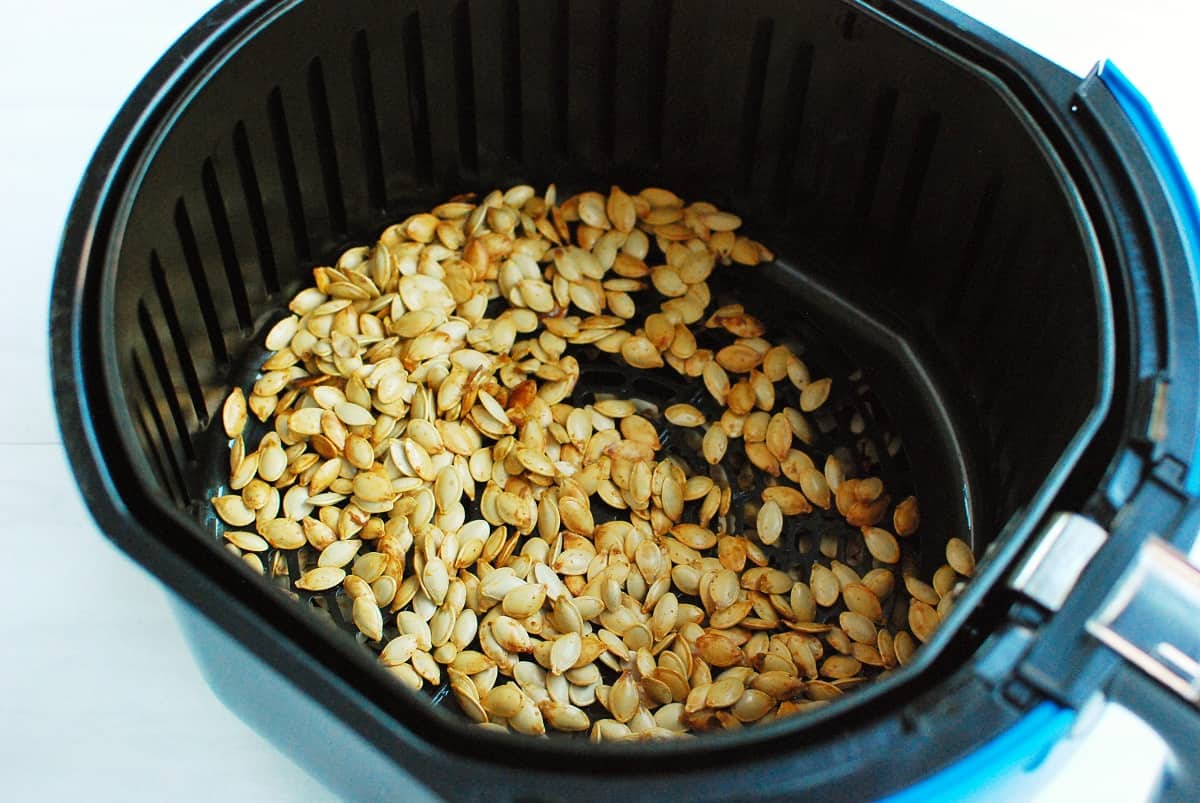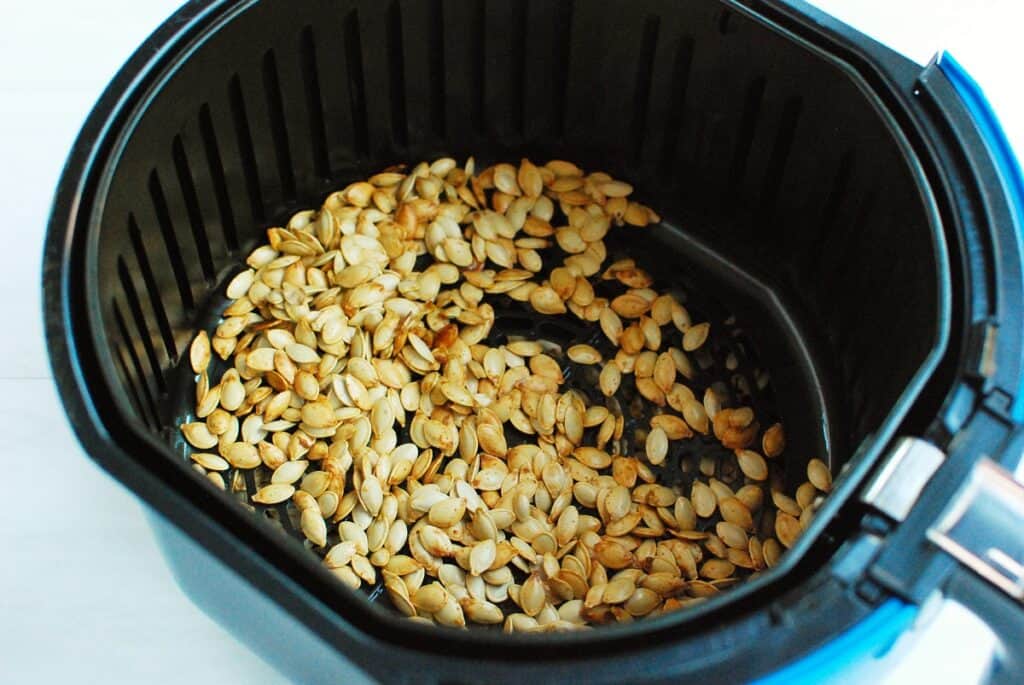 Recipe FAQ
Here are some common questions that may come up as you prepare this recipe:
Can you eat the entire pumpkin seed?
Yes!  You do not need to shell pumpkin seeds; the entire seed is edible.  In fact, eating the whole seed increases the fiber content, making for an even healthier snack.  (That said, people with certain digestive conditions – like those experiencing diverticulitis – may want to avoid seeds like this).
Do you need to preheat your air fryer? 
You don't need to preheat the air fryer for this recipe.
What if the pumpkin seeds aren't crispy after air frying? 
If your air fryer temperature is slightly off (as can happen with different machines and calibration over time), you may need a longer time to achieve optimal crispiness.  Try adding an extra 2 to 4 minutes to the cooking time in the recipe.
Can you make different flavor pumpkin seeds? 
Yes!  Start with the same base of seeds and olive oil, then mix it up with different flavor combos.  A few ideas:  ranch seasoning, a little pickle juice with dried dill, a little maple syrup with cinnamon, or chili powder with lime juice and zest.
Are pumpkin seeds good for you?
Yes.  Pumpkin seeds are a good source of iron, a mineral that's important for carrying oxygen in the blood to your muscles (essential for energy and athletic performance).  Roasted pumpkin seeds are also rich in healthy fats and contain some protein, helping you stay satisfied after your snack.
More Air Fryer Snack Recipes
If you want more delicious air fryer snacks, try one of these tasty options:
I hope you enjoy these simple and delicious roasted pumpkin seeds. If you get a chance to try them, please feel free to leave a recipe rating or comment below!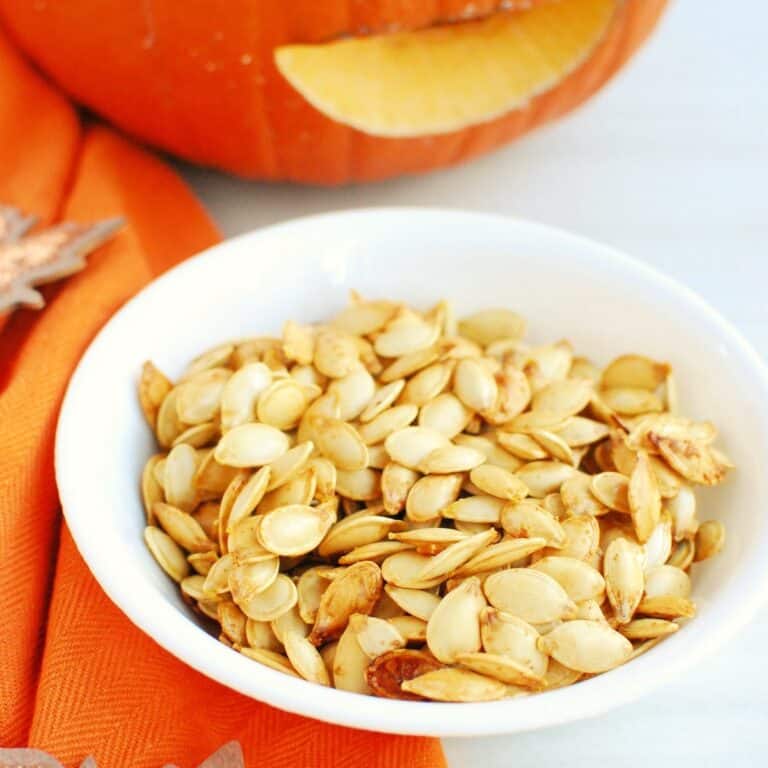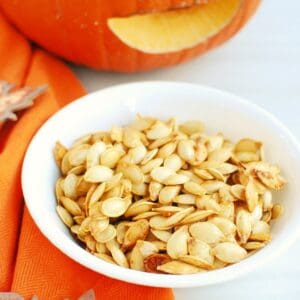 Air Fryer Pumpkin Seeds
These air fryer pumpkin seeds are the best snack! They're salty, crispy, and perfect for munching on anytime.
Ingredients
1 ¾

cup

whole raw pumpkin seeds

(from a pumpkin*)

1

tablespoon

olive oil

¼

teaspoon

salt

¼

teaspoon

garlic powder
Instructions
Remove the seeds from the pumpkin. Place in a strainer and run cold water over the seeds, removing any pieces of orange stringy stuff. (Run your hands through the seeds several times as this will help break up any orange stringy stuff so that you can remove it.)

Place the cleaned pumpkin seeds on a paper towel lined plate. Use another double-layered paper towel to press on top of the seeds, helping to dry them.

Once mostly dry, place the pumpkin seeds in a medium mixing bowl. Shake the paper towels over the bowl if needed to remove any seeds that have stuck to them.

Add the olive oil, salt, and garlic powder to the bowl with the pumpkin seeds. Give everything a good stir, then pour the seeds into the air fryer basket.

Air fry at 350 degrees F for 15 minutes, shaking the basket once halfway through. When done, the seeds should be a light golden-brown color and crispy. Let cool before eating.

Store roasted pumpkin seeds in an airtight container at room temperature for up to a week.
Notes
Measure out the seeds from your pumpkin to ensure it's close to 1 ¾ cups.  If you have a small pumpkin and get less seeds, you can halve this recipe.
This recipe makes about 1 ¾ cups of roasted pumpkin seeds, or approximately seven servings of ¼ cup each. The nutrition analysis below is based on a ¼ cup serving.
Nutrition analysis (approximate per serving): 187 calories, 16.5 g fat, 3 g saturated fat, 90 mg sodium, 4.5 g carbohydrate, 2 g fiber, 9 g protein, Vitamin D: 0%, Calcium: 1%, Iron: 13%, Potassium: 5%
Nutrition
Share:  What's your favorite seasoning for pumpkin seeds?  If you tried making them in the air fryer, what did you think?
Feel free to pin tis post to save for later!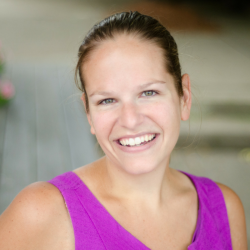 Latest posts by Chrissy Carroll
(see all)