When you need an indulgent snack for parties, game day, or just your average weekend afternoon – look no further than these air fryer potato skins. Stuffed with ham, cheddar cheese, and mushrooms, these have got delicious flavor made from just a few simple ingredients. When you make them with leftover baked potatoes, they come together quickly and easily!
Disclosure: This post is sponsored by Monterey Mushrooms. As always, all opinions are my own.
How to make air fryer potato skins
Here's what you'll need to gather up to make this recipe:
Olive oil
Garlic powder
Salt and pepper
Ham
Cheddar cheese
Leftover baked potatoes
You'll start by chopping the sliced mushrooms in half, then giving them a nice toss in the olive oil and seasonings. You're going to cook the mushrooms in the air fryer first to get them nice and tender.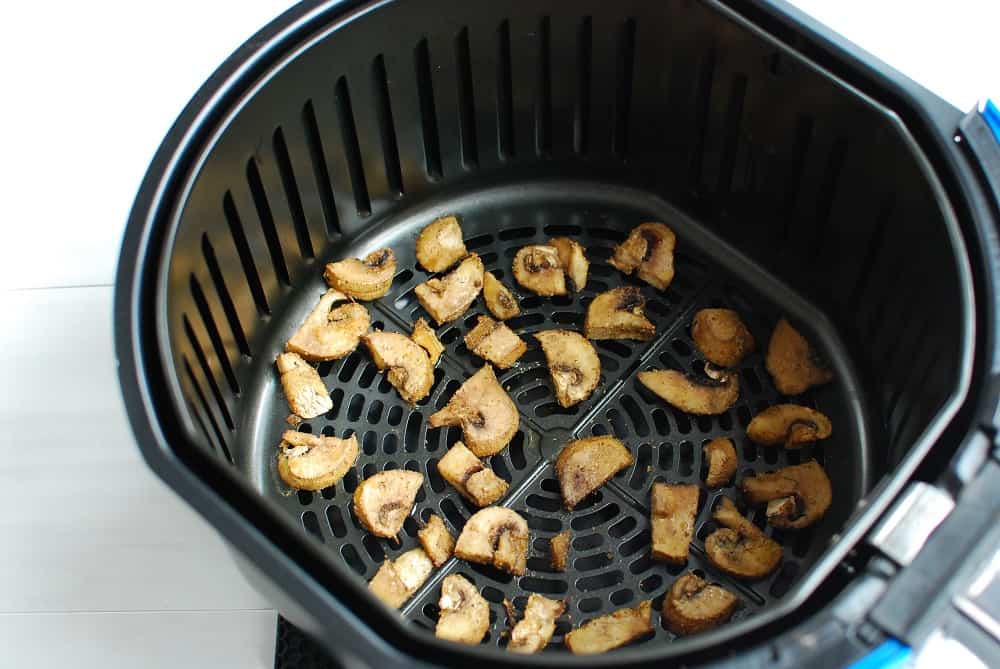 Once those are ready, mix 'em up in a bowl with some chopped ham.
Now, you'll take your potatoes and scoop out the inside. You want to leave about a quarter inch of potato layer around the outside, but no need to be exactly perfect. Here's what mine looked like: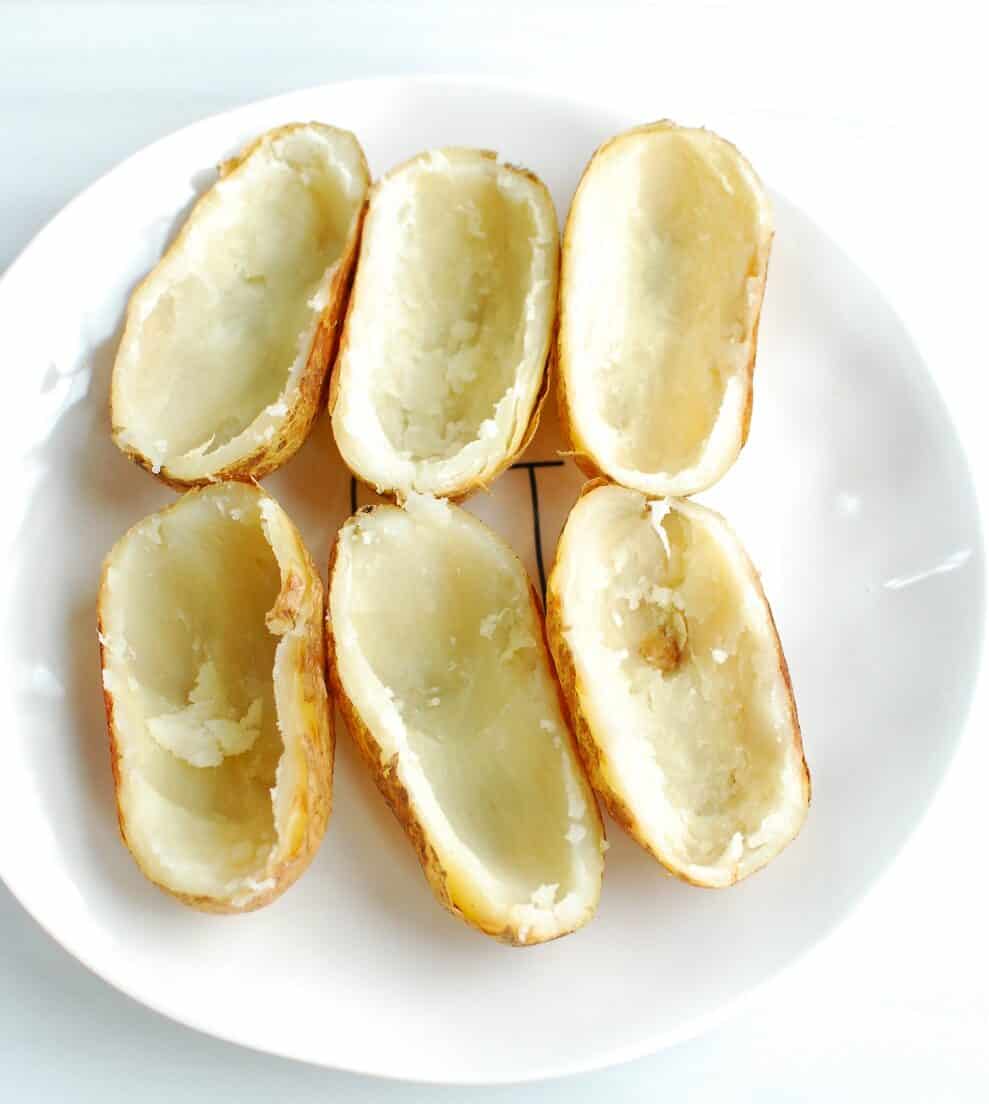 Next, you want to layer your fillings. Start with a little cheese: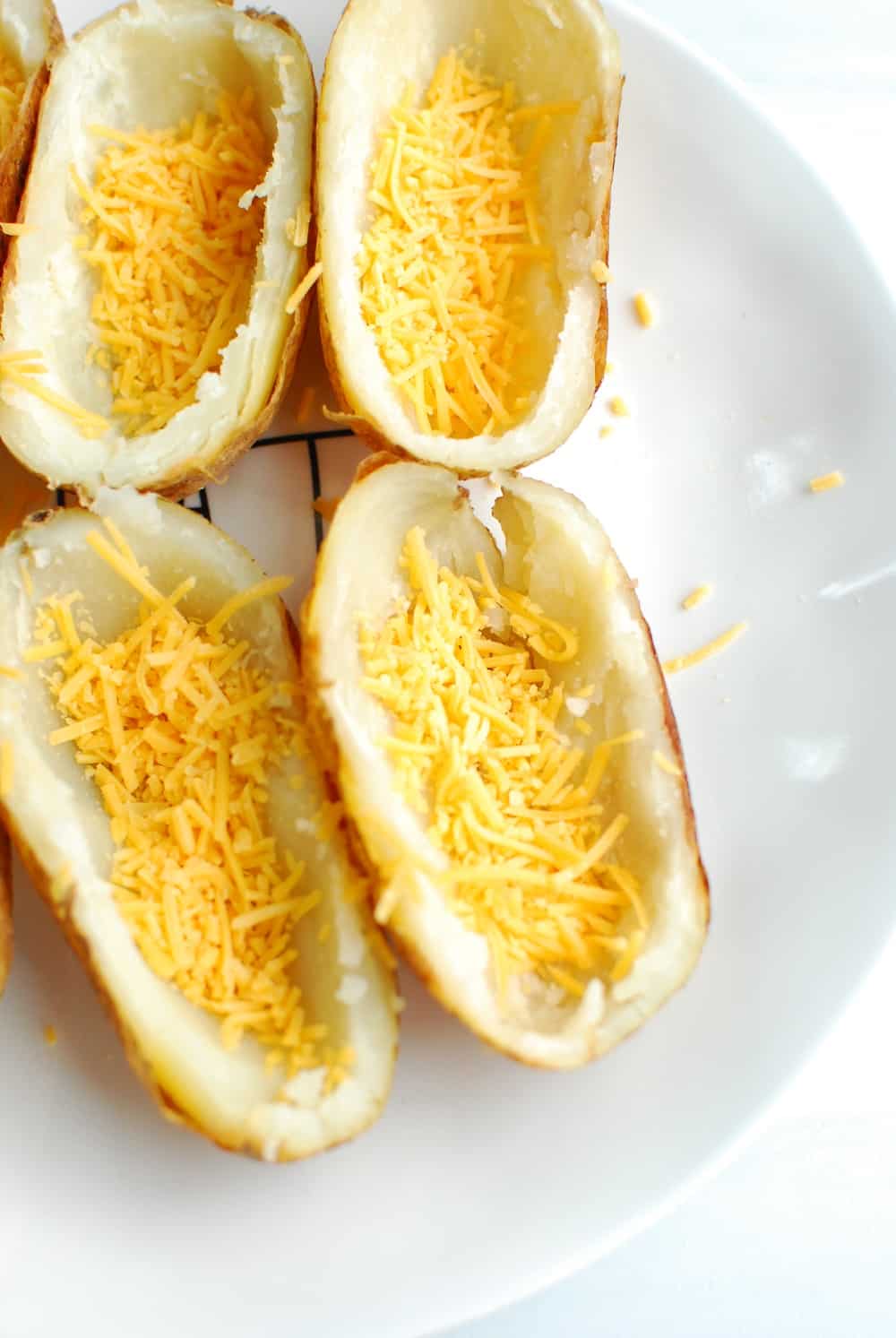 Then, add the ham and mushroom filling, and place the potato skins in the air fryer.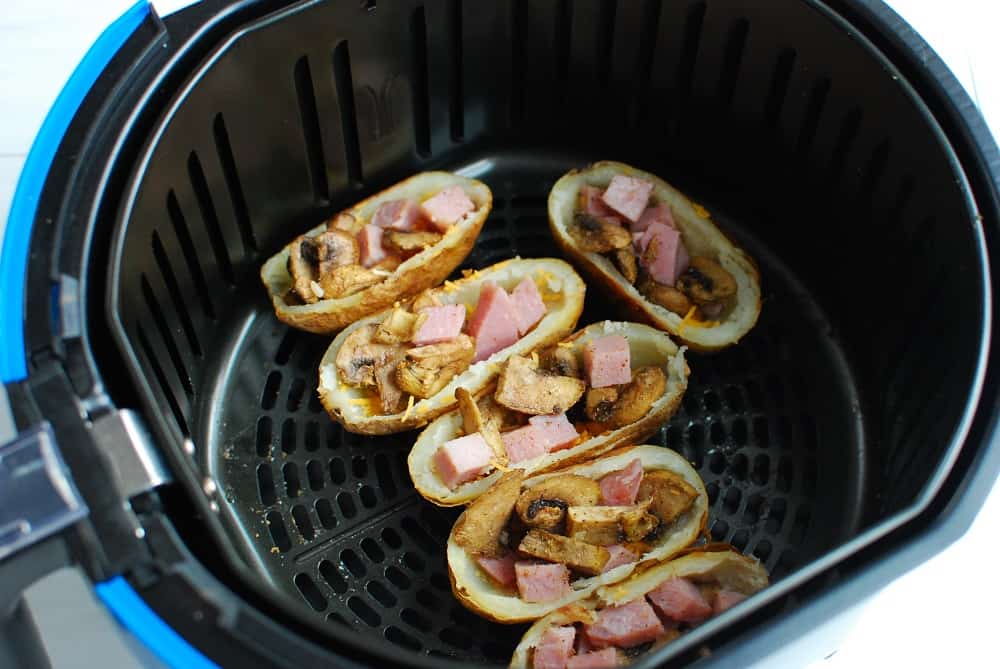 Lastly, you're going to add more shredded cheddar on top. Now air fry those babies and you've got a delicious cheesy potato skin calling your name!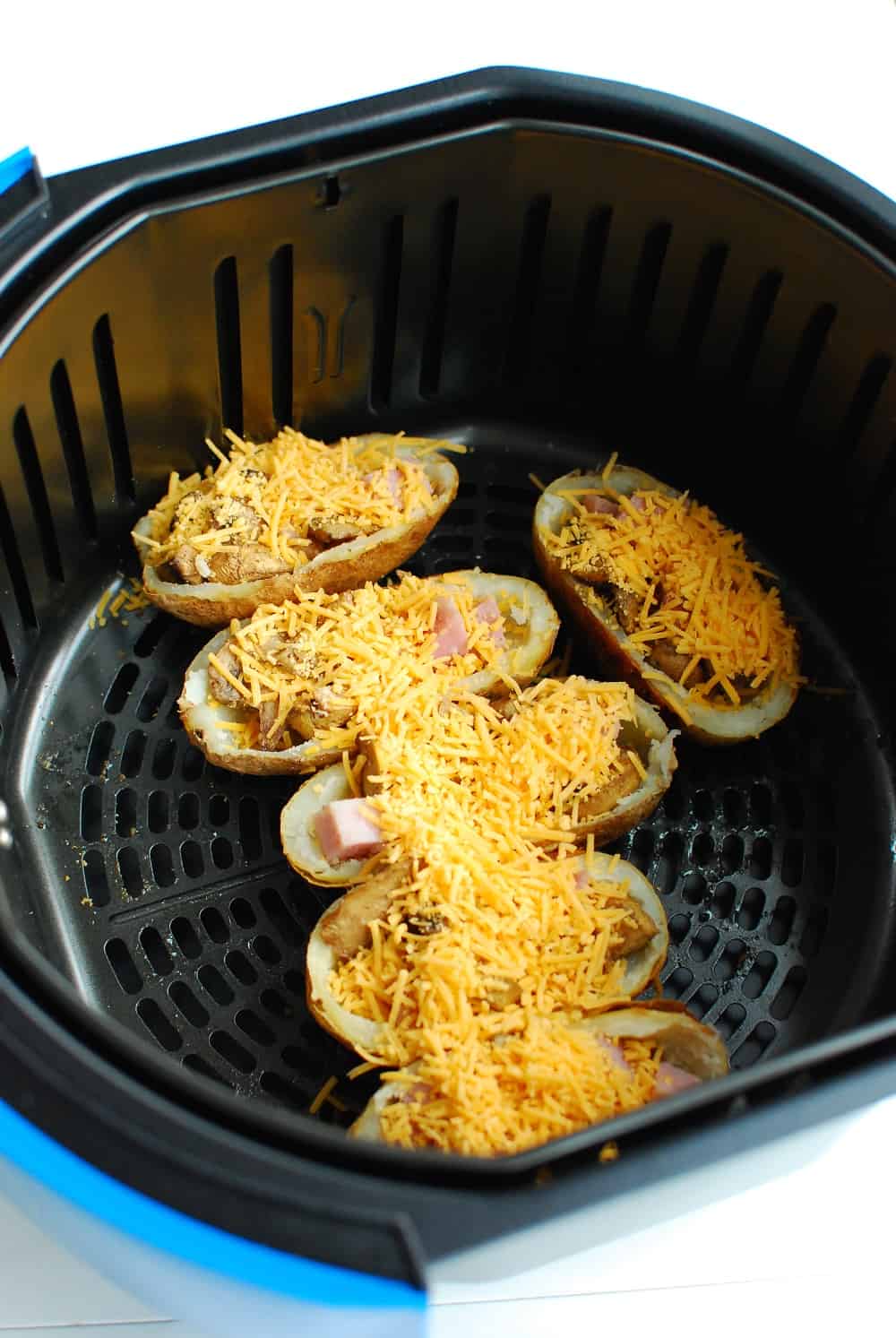 Using leftover potatoes vs. baking potatoes now
The key to making this recipe quickly is to use leftover baked or air fried potatoes. I usually toss an extra handful of potatoes on my tray anytime we're baking some for dinner, that way I have leftovers that I can use for this recipe (or for making home fries, baked potato soup, or any other recipe where having cooked potatoes on hand is helpful).
Of course, if you didn't think ahead to have some baked potatoes on hand, you can certainly prepare those now, before you start this recipe. There's two options for this – either traditional baking or using your air fryer to bake them:
Traditional oven: Just rub a little oil on the outside of them, poke a few holes, and pop them in a 400-degree oven for about an hour.
Air fryer: Follow those same steps as above, but put them in the air fryer at 400 degrees for about 30-45 minutes (timing depends on the size of the potato – you want them to be fork tender).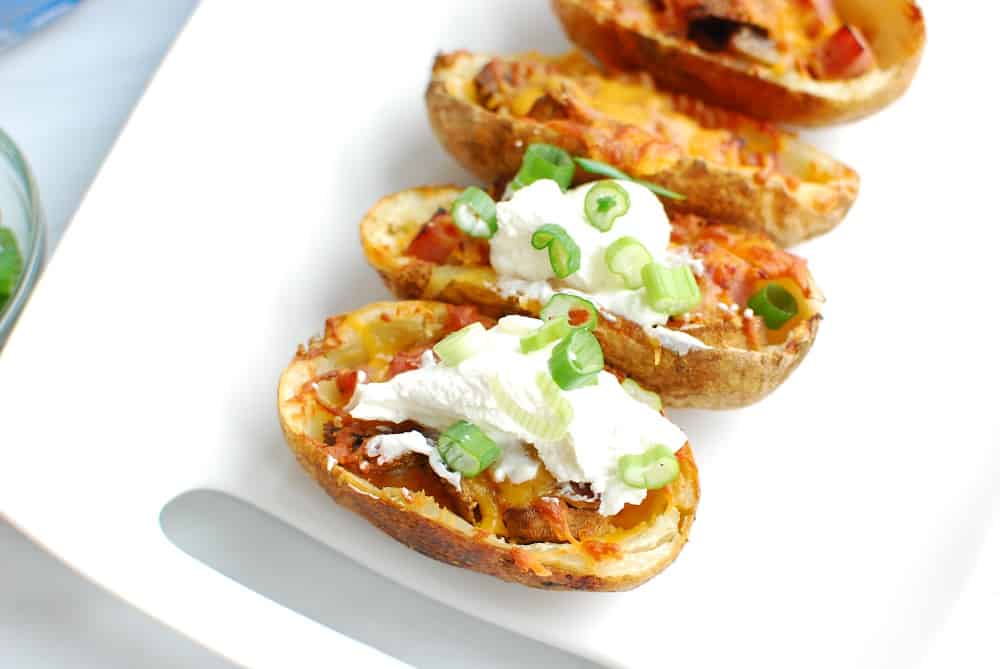 Why I love this recipe for active folks
Everyone has some classic pub food that they love, but know isn't the best option from a nutrition standpoint. With this recipe, you're still going to get all that classic potato skin flavor – but in a slightly healthier way.
Here's some of the differences between this recipe and classic potato skins:
While many restaurant potato skins are deep fried, these are air fried. This requires no additional oil but still gets that lovely crispness to the outside of the skin.
I've substituted bacon for ham, so you still get that classic salty pork flavor – but with a little more protein.
These potato skins come stuffed with mushrooms – meaning you're building extra veggies into this delicious snack.
And those mushrooms that we're using are high Vitamin D mushrooms, so just one of these potato skins actually clocks in at 20% of your daily Vitamin D needs.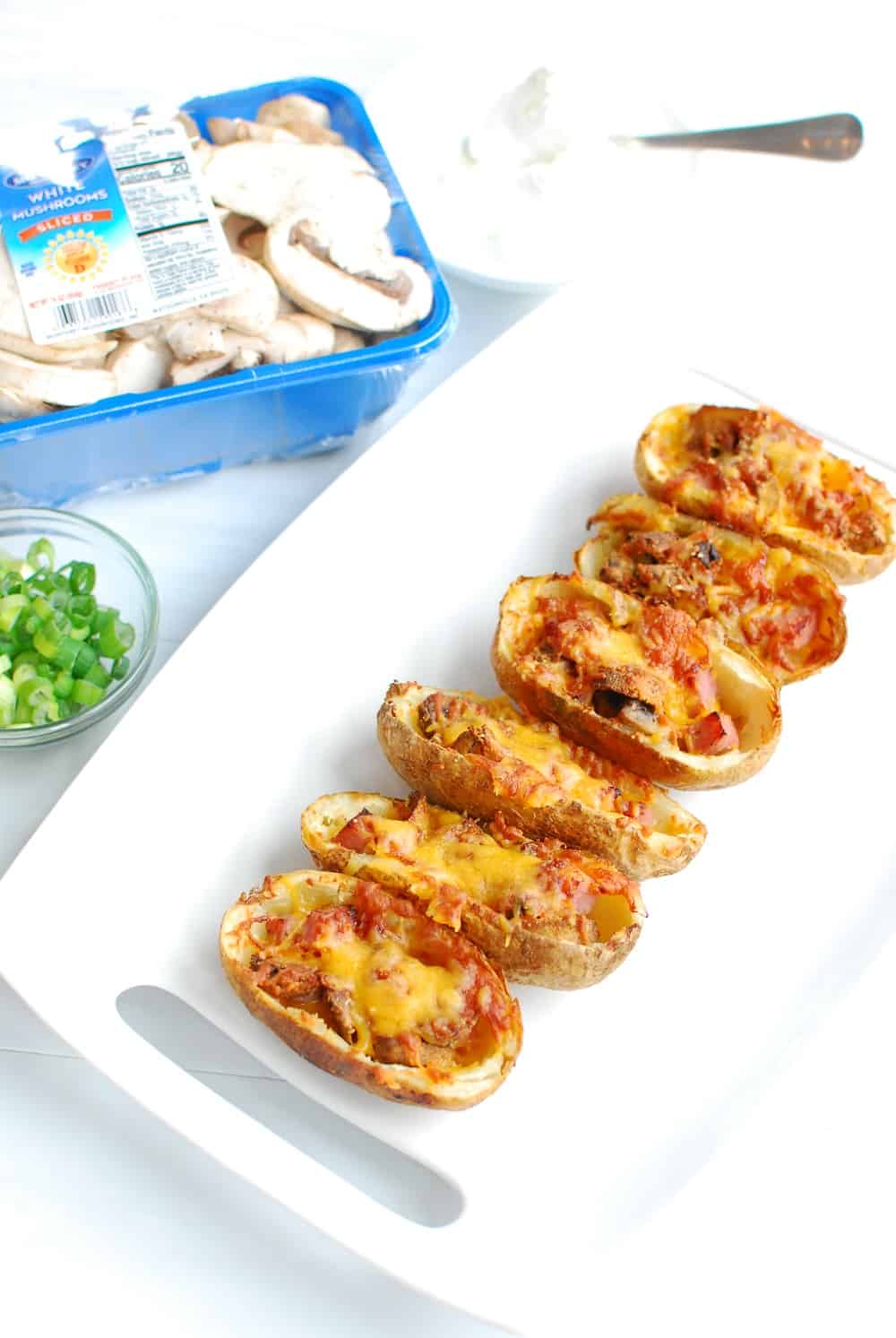 Using High Vitamin D Mushrooms
You might be wondering – what the heck are high Vitamin D mushrooms?! It's pretty cool – when mushrooms are exposed to UV light, they actually convert ergosterol (a natural component found in the mushroom) into vitamin D. For example, Monterey Mushrooms high Vitamin D white and baby bella mushrooms contain 50% of the recommended daily value for Vitamin D per serving.
This is awesome, because it can be tough to meet Vitamin D needs. The main sources in our diet are fatty fish, egg yolks, and certain fortified dairy products. When sunlight touches our skin, we can also covert that to Vitamin D – but that can be difficult up here in the Northeast in the winter, or even in the summer if you're wearing sunscreen.
That's why I love high Vitamin D mushrooms – they're the only option from the produce aisle that packs this kind of Vitamin D punch to help meet your needs. Vitamin D is super important for many health reasons, including bone health, immune health, and potentially exercise performance.
If you want to grab high Vitamin D mushrooms for this recipe or any other recipe (like my stuffed cabbage rolls!), you can use the store locator to find out where to buy them.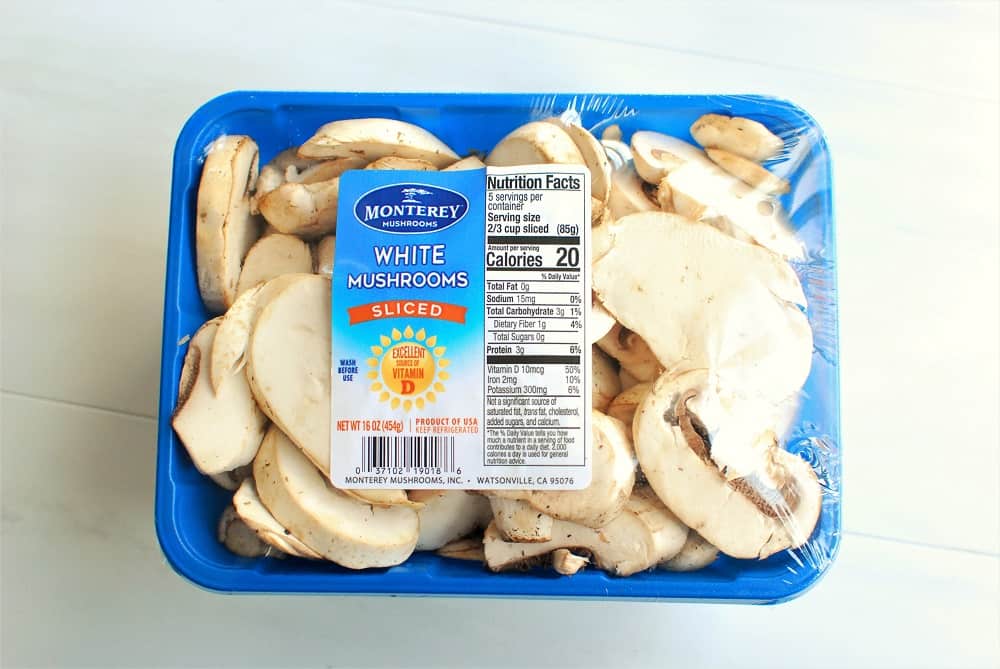 Alright, who's ready for some delicious loaded potato skins?! I hope you enjoy this recipe as much as I do – if you get a chance to try it, be sure to leave a recipe rating or comment below.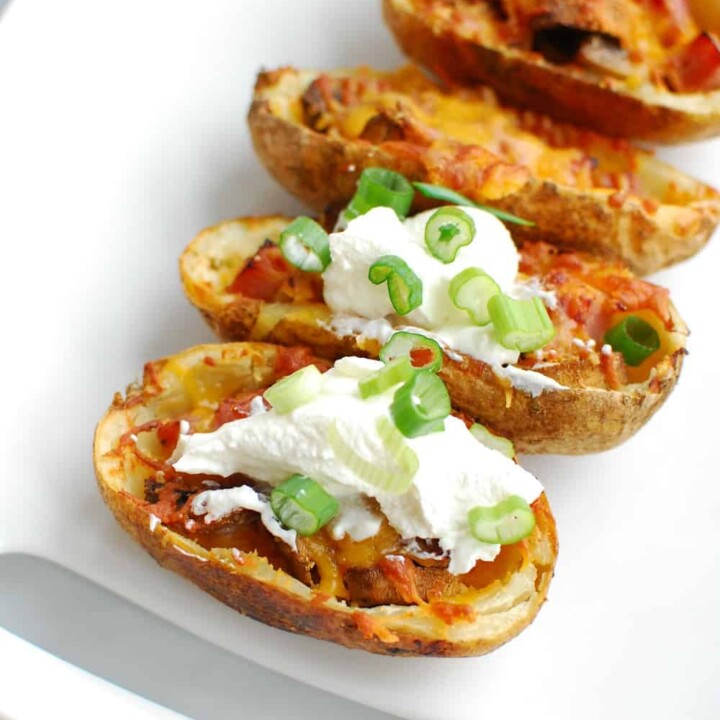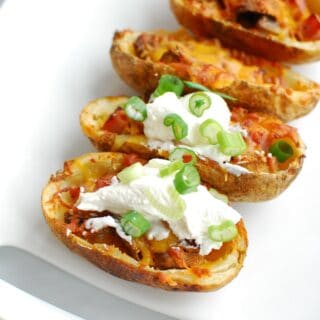 Air Fryer Potato Skins
These air fryer potato skins offer a healthier take on the traditional pub food classic appetizer.
Ingredients
Potato skins:
1 1/2

cups

Monterey Mushrooms high Vitamin D sliced mushrooms

1

tablespoon

olive oil

1/4

tsp

garlic powder

1/8

tsp

salt

1/8

tsp

pepper

3

leftover baked potatoes

1/2

cup

chopped ham

1

cup

finely shredded cheddar cheese
Optional for topping:
Plain Greek yogurt or sour cream

Green onions
Instructions
Chop the sliced mushrooms in half, then toss them in a small bowl with the olive oil, garlic powder, salt, and pepper.

Place the mushrooms in the air fryer and cook them at 300 degrees for 10 minutes. Remove them and place them back in the small bowl, along with the chopped ham.

Take the baked potatoes and cut each in half. Scoop out the flesh, leaving about a quarter inch to help maintain the shape of the potato skin.

Fill each potato skin with a little bit of the cheese, then some of the mushroom and ham mixture. Place each potato skin in your air fryer. Top with the rest of the shredded cheddar.

Cook the potato skins in the air fryer at 400 degrees for about 5 to 8 minutes, or until the cheese is melty and the outside of the potato feels crisp.
Notes
Nutrition analysis per potato skin, does not include any optional toppings:  157 calories, 9 g fat, 4 g saturated fat, 315 mg sodium, 11 g carbohydrate, 1 g fiber, 1 g sugar, 8.5 g protein, Vitamin A: 5%, Vitamin C: 7%, Calcium: 14%, Iron: 4%, Vitamin D: 20%
Nutrition
Share: What's your favorite way to eat mushrooms? If you tried these mushroom potato skins, what did you think?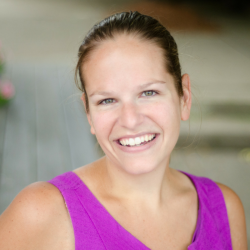 Latest posts by Chrissy Carroll
(see all)