If you need a tasty dish to make for New Year's Day this year – or maybe just a filling Sunday meal on a cold winter weekend – you'll want to try these delicious Hungarian stuffed cabbage rolls. Though it takes a few hours of stove-top simmering, the dish itself involves minimal ingredients and prep time, making it quite simple to whip up.
These Hungarian stuffed cabbage rolls are steeped in family tradition.  My great-grandmother made them, and my mom learned the recipe from her.  Growing up, I remember smelling the tomato sauce simmering on the stovetop as these cooked away for a Sunday dinner. To this day, that smell still brings back warm memories of lazy weekend days.
I'm excited to share the recipe with you, with a small twist!
Disclosure: This post is sponsored by Monterey Mushrooms. As always, all opinions are my own.
Ingredients
Here's what you need to make this recipe:
Cabbage
Brown rice
Monterey Mushrooms High Vitamin D white mushrooms
Onion
Butter (or plant-based butter spread)
Ground pork
Tomato sauce
Water
Salt
Two helpful notes about these ingredients:
I know many traditional Hungarian stuffed cabbage recipes also use sauerkraut.  My great grandmother never did, so I'm going with her version here.  But obviously if you feel you want to use sauerkraut for a truly traditional dish, feel free!
Most recipes do not include mushrooms, but that is the small twist I enjoy to make these in my own way.
Instructions
This recipe takes a little while to simmer, but is actually crazy simple to make. 
You'll start by removing the big leaves of cabbage.  You want about 10 of the big, outermost leaves that you can use to make your rolls.  Some people choose to steam these or quickly boil them to make rolling them easier, but I always just use them raw.  I've never had a problem.  Even if they crack a little, they always seem to hold together in the pot when cooking.
Next, you'll mix up your rice, mushrooms, onion, butter, and pork. Everything gets mixed together uncooked as it'll cook in the cabbage rolls – so your rice should be dry and pork should be raw.
Now that your filling is all mixed up, you'll spoon it into the cabbage leaves like this: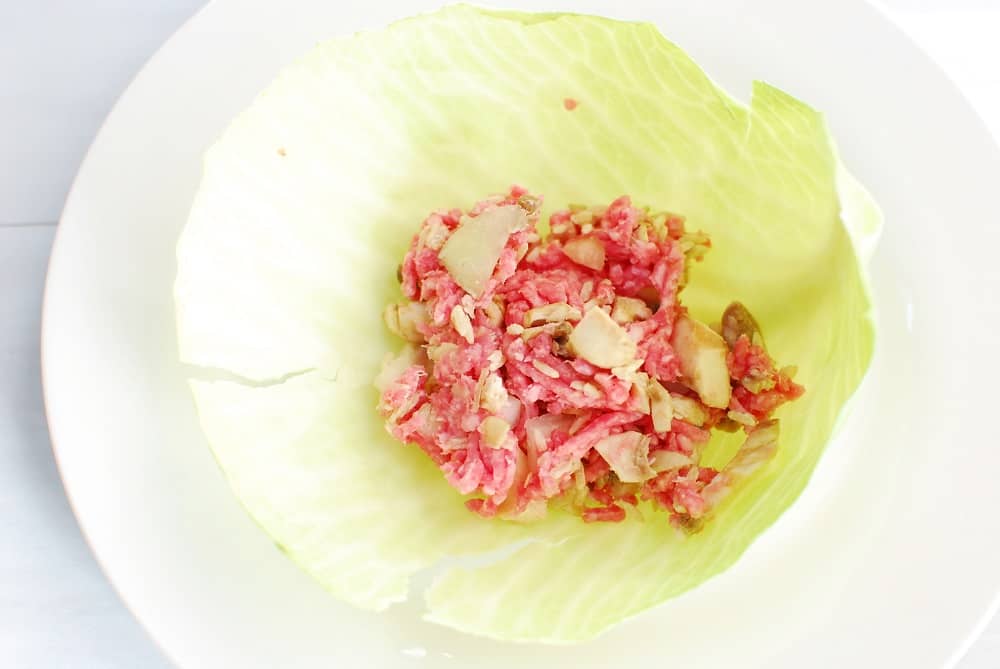 Then roll 'em up burrito style. You'll place all the rolls in a large pot like this: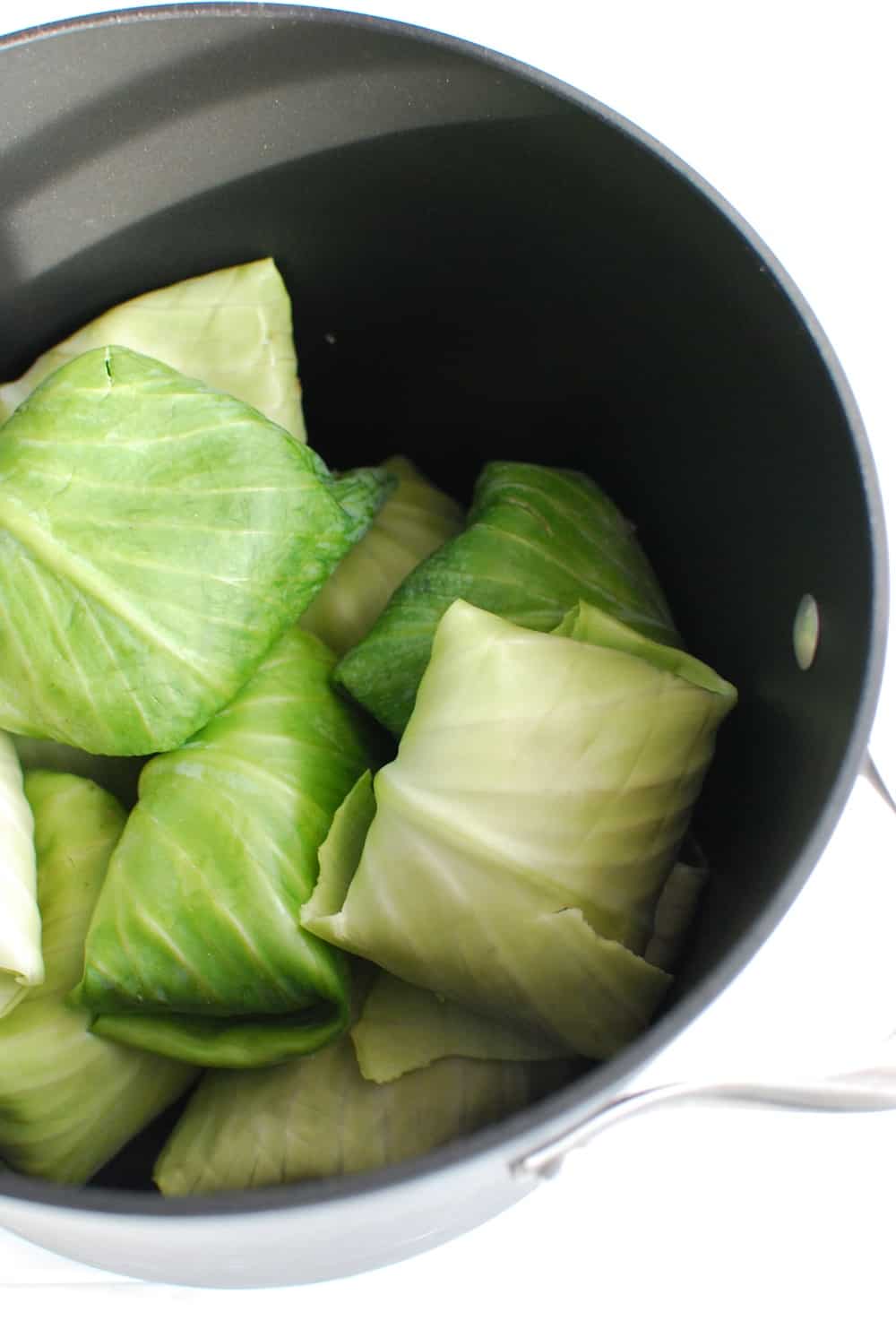 When you've got that done, pour in your big can of tomato sauce. Fill that same can back up with water and your salt, and pour that in too.
Bring it all to a boil, then turn the heat to low and cover, leaving the lid ever-so-slightly ajar so it lets a little steam escape. Let it simmer for 3 hours. (Yes, I know – 3 hours. But I promise you, the wait is well worth it!)
You'll want to check on it every hour or so. You don't need to worry about stirring it (and that can actually break apart the rolls). But if it looks like too much liquid is evaporating out, adjust the cover so it's fully on.
When it's done, you'll have amazing comfort food that the whole family will love.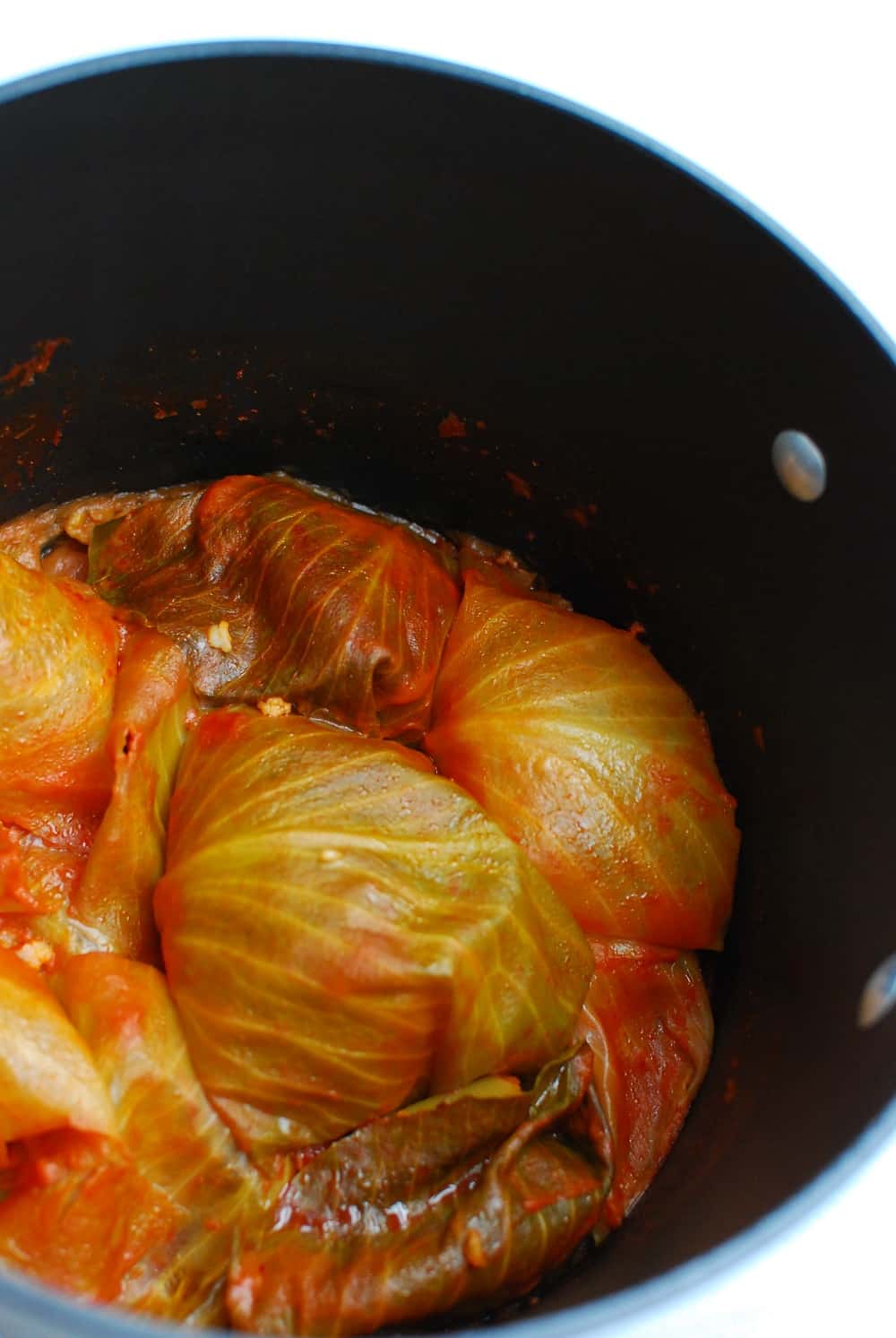 Why add mushrooms to stuffed cabbage rolls?
This recipe is almost exactly as my family used to make it, with one small exception – I've added in mushrooms. I love using Monterey Mushrooms to bulk up the filling in this Hungarian cabbage roll, adding extra veggies to round it out into a complete meal.
And since I make this meal pretty much every winter, I've recently starting using high Vitamin D mushrooms in the recipe!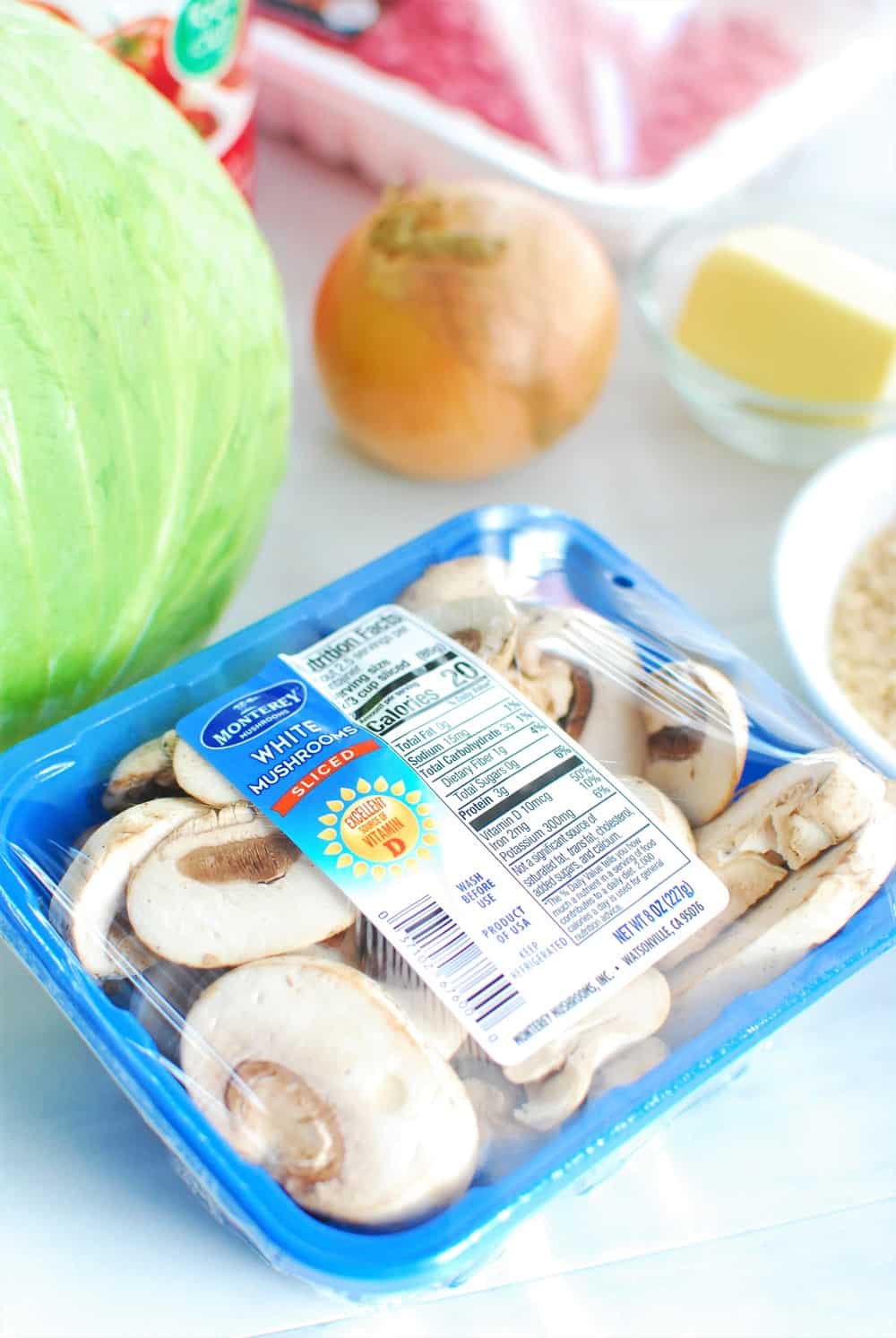 Up here in the Northeast, many of us are walking around deficient in Vitamin D in the winter. That's because one of the primary ways we get Vitamin D is through our skin, when it's exposed to sunlight. Since we're mostly indoors during the winter months, we miss out on that. (And even in the summer, you have to balance the potential Vitamin D with the risk of exposed skin without sunblock).
Why even worry about getting enough Vitamin D?  In addition to it's well-known role in bone health, Vitamin D may also play a role in exercise performance and immune health.
Since the main sources of Vitamin D in the diet are fatty fish, egg yolks, and fortified dairy products, it can be tough to meet your needs if you don't regularly eat those products.
That's why I love these high Vitamin D mushrooms! When mushrooms are exposed to UV light, they actually convert ergosterol (a natural component found in the mushroom) into vitamin D. Monterey Mushrooms high Vitamin D white and baby bella mushrooms contain 50% of the recommended daily value for Vitamin D per serving.
It turns these Hungarian stuffed cabbage rolls into an excellent source of Vitamin D, which is just an added benefit to this dish!
If you want to grab high Vitamin D mushrooms for this recipe or any other recipe, you can use the store locator to find out where to buy them.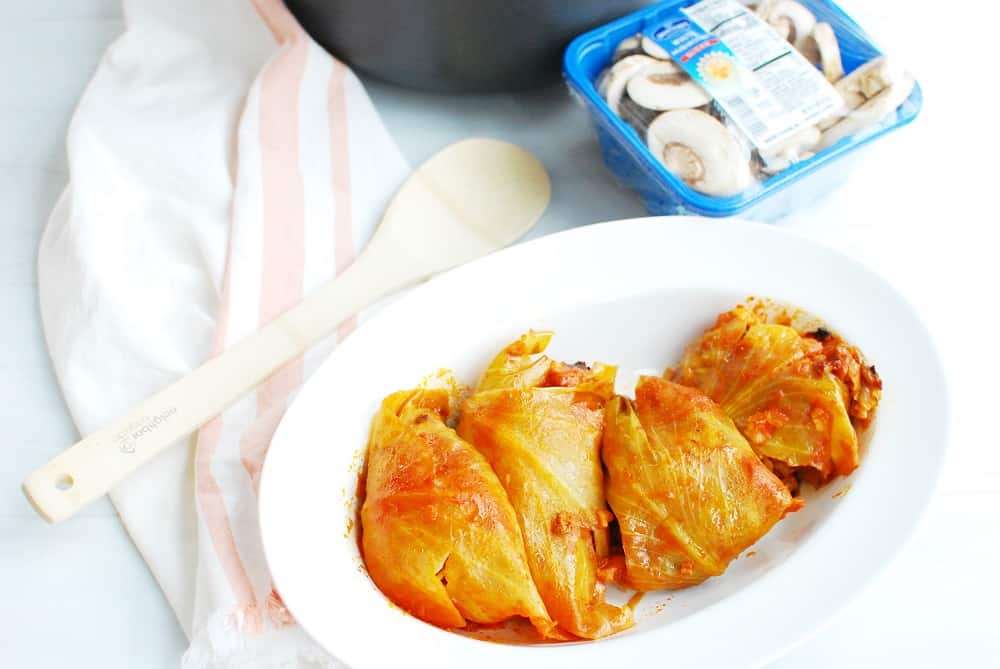 Is this a lucky New Year's meal?
One of the reasons I wanted to get this up on the blog in winter?  Apparently, stuffed cabbage rolls can be a lucky meal to eat on a New Year's Day!
Though I haven't found too much info to support this theory, a few articles from Cooking Channel TV and Serious Eats mention the New Year's connection.
There are a few theories that exist for why this became tradition in certain places. One is that the green cabbage resembles paper money. Another relates to simple food availability – in older times, pork may have been processed in late fall and families may have reserved such to enjoy on New Year's. Also, stuffing the cabbage with pork may symbolize a fullness and richness for the year ahead. The tomato sauce is also thought to signify health and transformation.
And of course, this is a nutritious dish – it's filling and has many vegetables, as well as gluten-free and added sugar-free. Perfect for any of you making healthy eating resolutions to kick off the new year.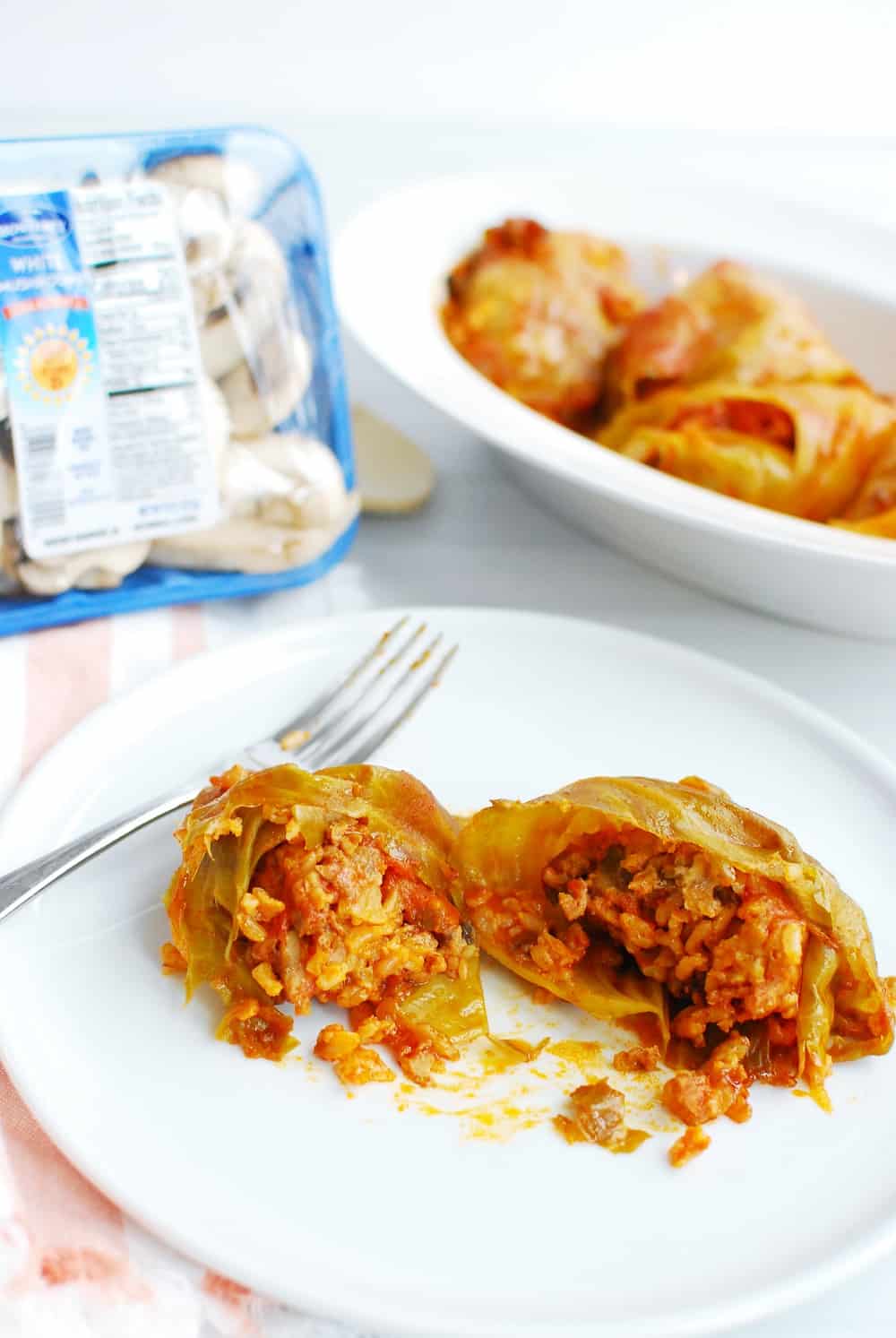 No matter why you decide to make these Hungarian stuffed cabbage rolls, I hope you love them – and wish you much joy and happiness in the New Year! If you try these, I'd love for you to leave a recipe rating or comment below.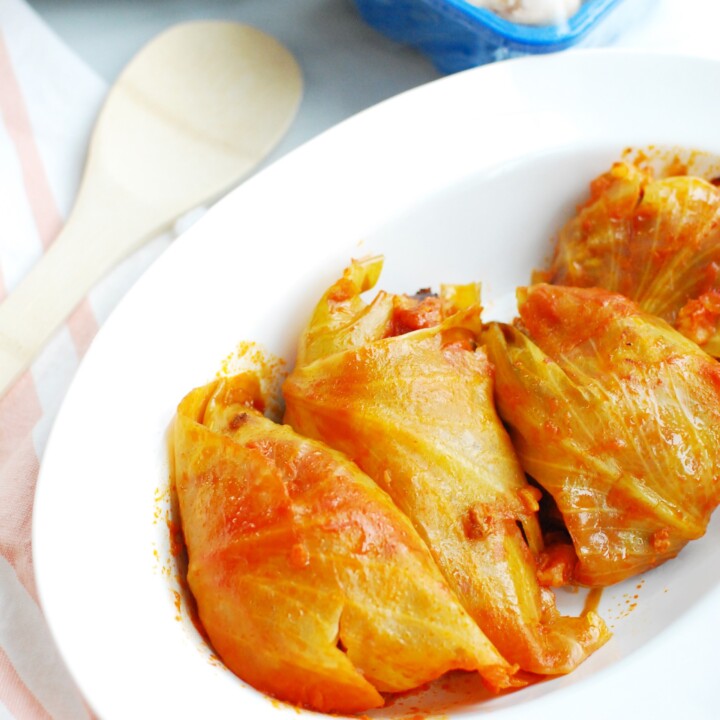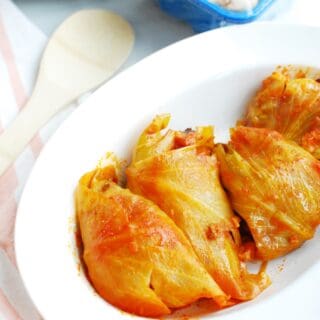 Hungarian Stuffed Cabbage Rolls
These Hungarian stuffed cabbage rolls take a little bit of time to cook, but the result is ultimate winter comfort food.
Ingredients
1

medium head of cabbage

3/4

cup

brown rice, dry

8

ounces

high Vitamin D white mushrooms, chopped

1

onion, chopped

chopped

4

tbsp

butter, melted

(or plant-based butter)

1

lb

ground pork

29

ounce

can of tomato sauce

1/2

tsp

salt

29

ounces

of water
Instructions
Remove 10 large cabbage leaves and set aside.

Combine the rice, mushrooms, onion, and butter in a large bowl. Add the ground pork and mix everything, ensuring it's all well combined.

Scoop some of the filling into a cabbage leave, then roll up like a burrito. Place in the pot. Continue to repeat with the remaining cabbage leaves.

Pour the can of tomato sauce in the pot. Add the salt to the empty can, then fill the can up with water, and pour that in the pot as well. Press down on the cabbage rolls a bit to try to ensure they're at least partially covered with the sauce.

Turn on medium heat and bring the sauce to a boil. Reduce to low, cover (leave the lid ever-so-slightly ajar), and let simmer for 3 hours, or until the internal temperature of the rolls reaches at least 160 degrees. Enjoy!
Notes
Notes:
When I simmer this, I cook it on the very lowest setting on my gas stove – and I don't have issues with the bottom rolls scorching. However, if you frequently have issues with your stovetop scorching the bottom portion of what you're cooking (like soups or sauces) – then here's how to modify your cooking method: slice of a thin round of the remaining head of cabbage and place this at the bottom of your pot to create a small buffer between the direct heat and the rolls.
If too much of the sauce is evaporating out, place the lid on tight instead of slightly ajar.
To make this dairy free, simply use a plant-based buttery spread or olive oil in place of the butter.
Nutrition analysis (approximate per cabbage roll):
265 calories, 15 g fat, 6.5 g saturated fat, 590 mg sodium, 18.5 g carbohydrate, 3 g fiber, 5 g sugar, 15.5 g protein, Vitamin A: 11%, Vitamin C: 32%, Calcium: 4%, Iron: 10%, Vitamin D: 18%
Nutrition
Share with me:  Do you have a lucky food to eat on New Year's?  If you tried these Hungarian stuffed cabbage rolls, what did you think?
Feel free to pin this post to save for later!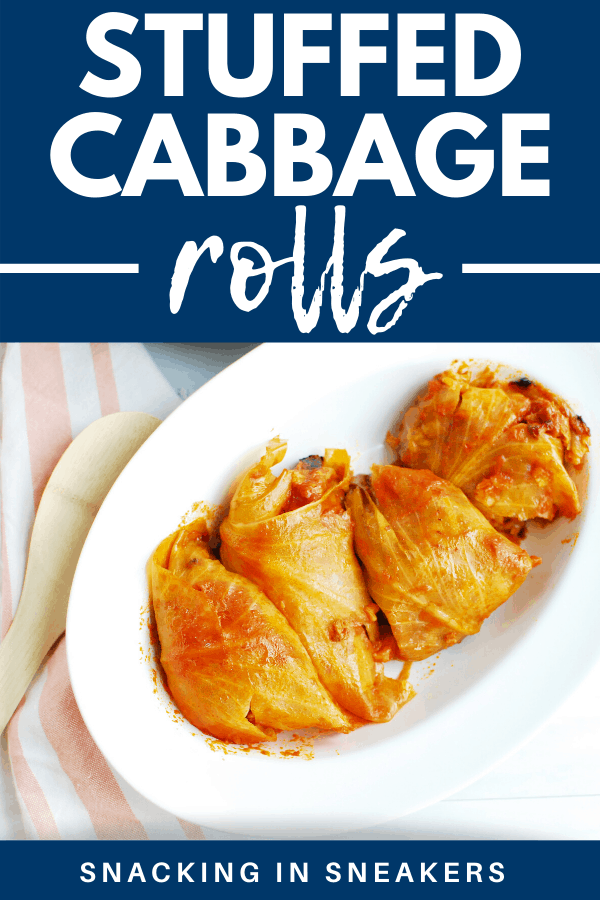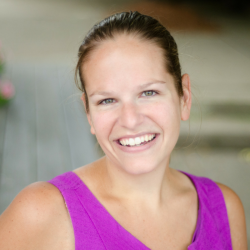 Latest posts by Chrissy Carroll
(see all)