If you're craving a sweet snack, look no further than this air fryer dehydrated pineapple! It's easy and relatively quick to remove the moisture from pineapple using an air fryer. The result is a chewy, sweet snack that reminds me of candy!
How to make dehydrated pineapple
There are a few ways you can make dehydrated fruit at home. The first is the most obvious answer – using a dehydrator. These are awesome for a fool proof way to get rid of moisture and make your fruit shelf-stable for a while. Generally, you'd dehydrate it around 135 degrees for a minimum of 12 hours, but some recipes call for more time.
The second way is using an oven set on a low temperature for a long period of time. You'd set your oven around as low as it can go – usually 175 degrees – and then dehydrate the pineapple in there for around 8 hours. It's similar to the way I cook homemade beef jerky in the oven (though beef has less moisture than pineapple, so it generally only takes 3-4 hours for the meat).
The third way – and the one I'm sharing with you today – is using the air fryer! The forced air and heat running through the air fryer make it easy and fast to dehydrate fruit. In fact, each batch that you cook in there only takes about 30-40 minutes.
Here's what you'll need to make air fryer pineapple:
Pineapple
Cinnamon (optional – I love the extra flavor it adds)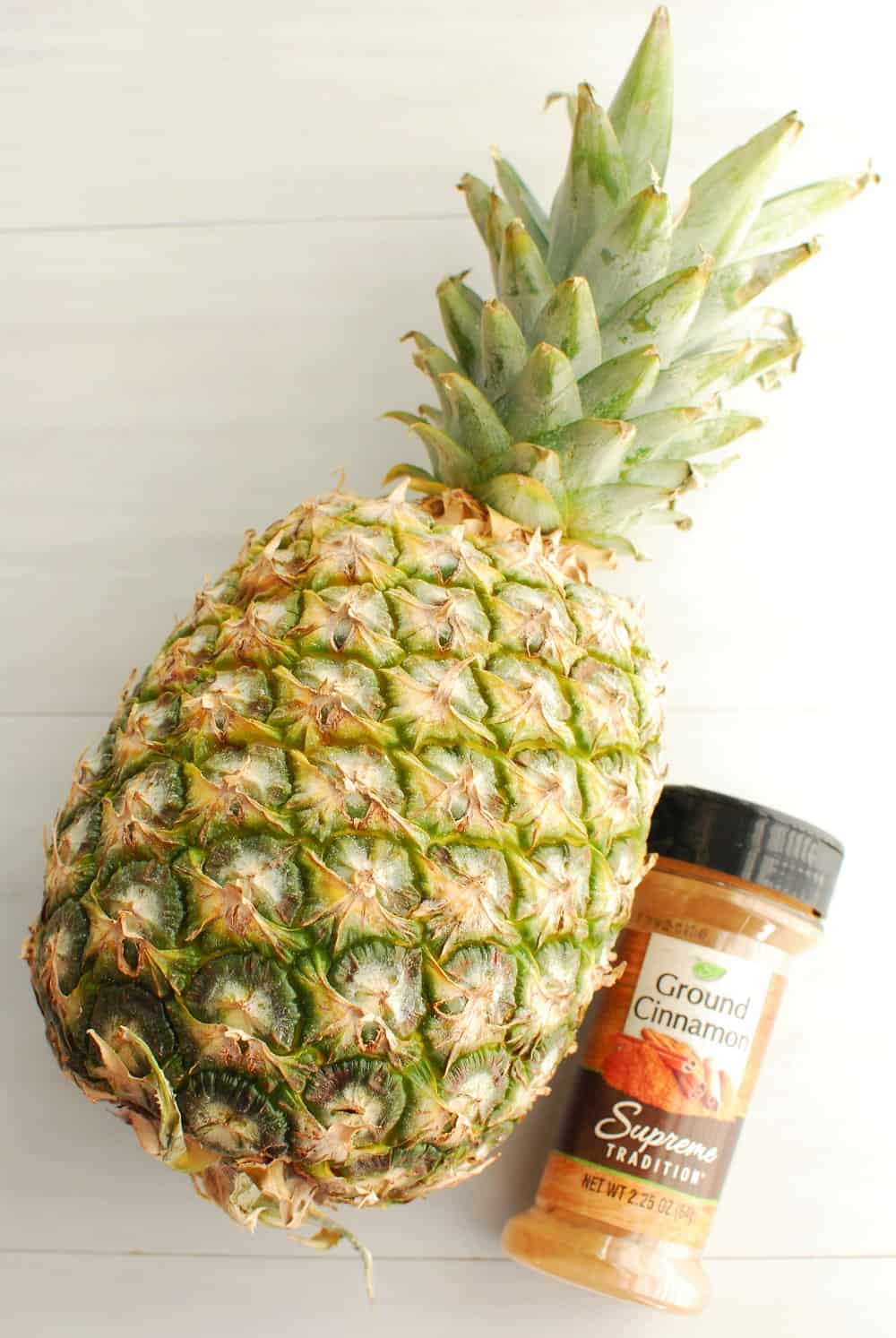 You'll start by peeling and coring your whole pineapple. I usually use about a third for this recipe, and then chop up the rest to store fresh in the fridge for other uses.
Now you'll take that third of the pineapple, and slice it pretty thin, around 1/8 to 1/4 of an inch. Thicker slices take a bit longer in the air fryer, and very thin slices may stick a bit to your air fryer basket – but don't get too bogged down in making this perfect. It's not a big deal if they're not all exactly the same thickness.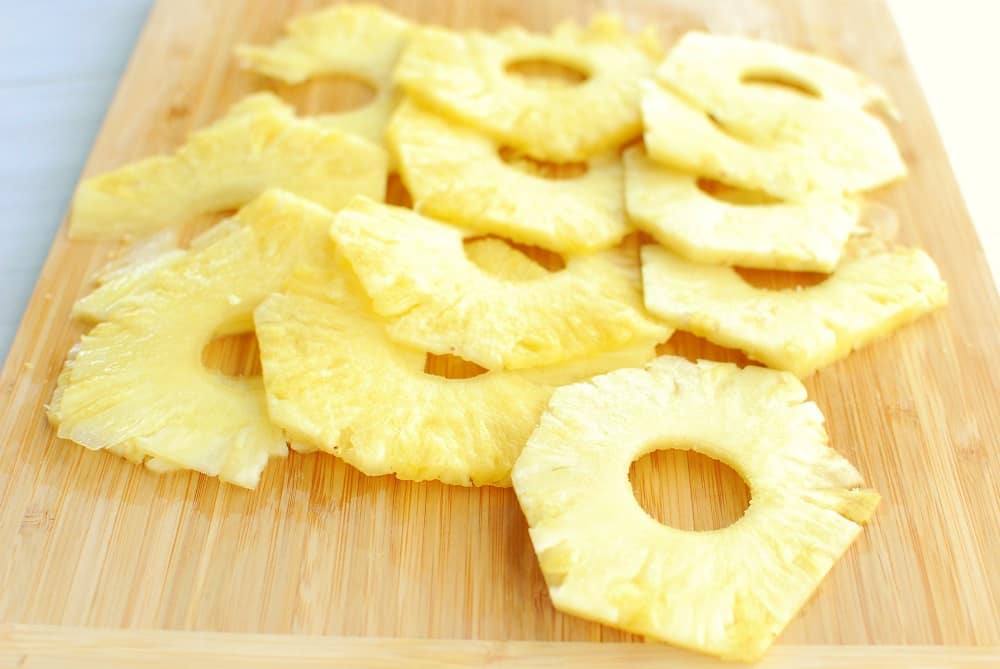 Next, sprinkle your cinnamon on them.
Now you're going to put them in the air fryer. Just place a layer in the basket. You'll probably want to split this into two batches for the best results. While I haven't tried tossing everything in and cooking at once, I imagine if they're layered on top of each other they may not dehydrate evenly.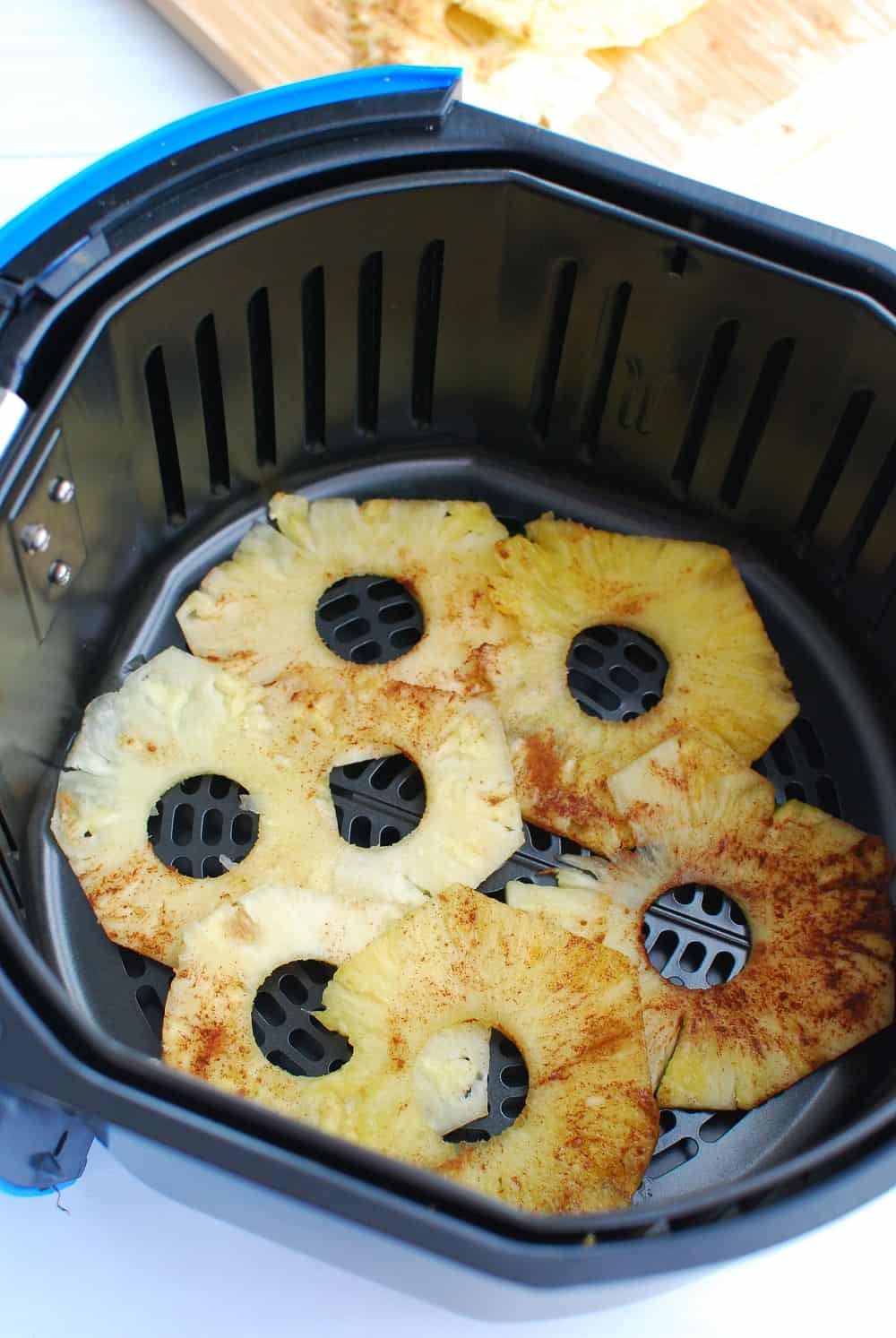 Then pop 'em in the air fryer at 250 degrees for 30-40 minutes, and boom – dried pineapple!!
Recipe FAQ:
Is dehydrated pineapple shelf stable? This is a hard question to answer over the internet, because it depends. If the moisture level has successfully been brought down to minimal levels, yes, they should theoretically be shelf stable. But if they still feel damp at all or you're not 100% sure, go ahead and just store them in the fridge for the safest results if you're not planning to eat them that day. Of course, this makes a small batch, and we've never had any last more than an hour after we make them, haha.
Can you cook them at a higher temperature to make it faster? Sorry, that's a no. Unfortunately, 250 is about as high as you can get where you're removing the moisture but not really cooking the fruit.
Do you need to spray the air fryer basket? It depends on the quality of your nonstick basket. For our model, I have not had to spray the basket at all when I've used it – the pineapple rings came right off when done. If your air fryer has a tendency to stick, there are two things I'd recommend: grease the basket with a tiny bit of oil prior to starting, and flip the pineapple rings about halfway through the cooking time.
Can you dehydrate other fruit in the air fryer? Yes, you can! I'm testing out some other recipes now and hope to share them with you soon. In the meantime, if there are any fruits you love to make in the air fryer, definitely share them in the comments below.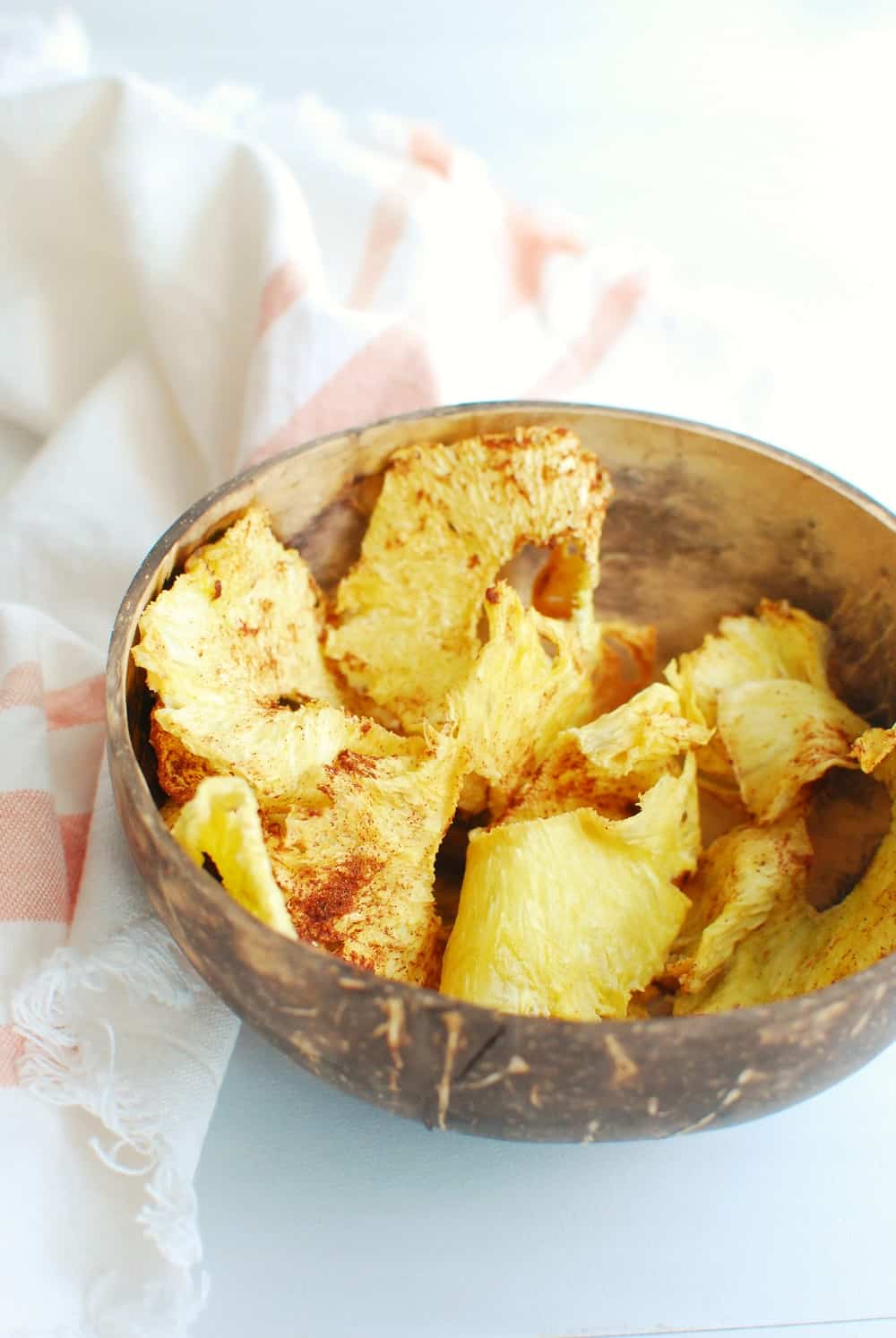 Nutrition Benefits
This is the kind of sweet treat that's perfect for active women. It's got healthy carbohydrates to fuel your workouts and tastes amazing. Plus, both ingredients in this recipe are helpful for your health:
Pineapple: This tropical fruit is rich in Vitamin C, helping support immune health. It also contains several different types of antioxidants, which help your body in a number of ways. Did you know that one experiment found that school-age kids eating more pineapple for two months had reduced infections compared to the kids not eating pineapple (1)?!
Cinnamon: This common spice is thought to support health. First off, it's rich in antioxidants and polyphenols. These compounds may play a role in anything from reducing inflammation to disease prevention (2, 3). There are also several studies out there which have linked cinnamon to better blood sugar control, theoretically via its ability to affect certain digestive processes and the ability of the cells to take up sugar (4, 5, 6, 7). That said, most research on that has been done with supplementation, so it's hard to link the same benefits to small amounts used in food. Regardless, though, cinnamon is delicious and nutritious to include!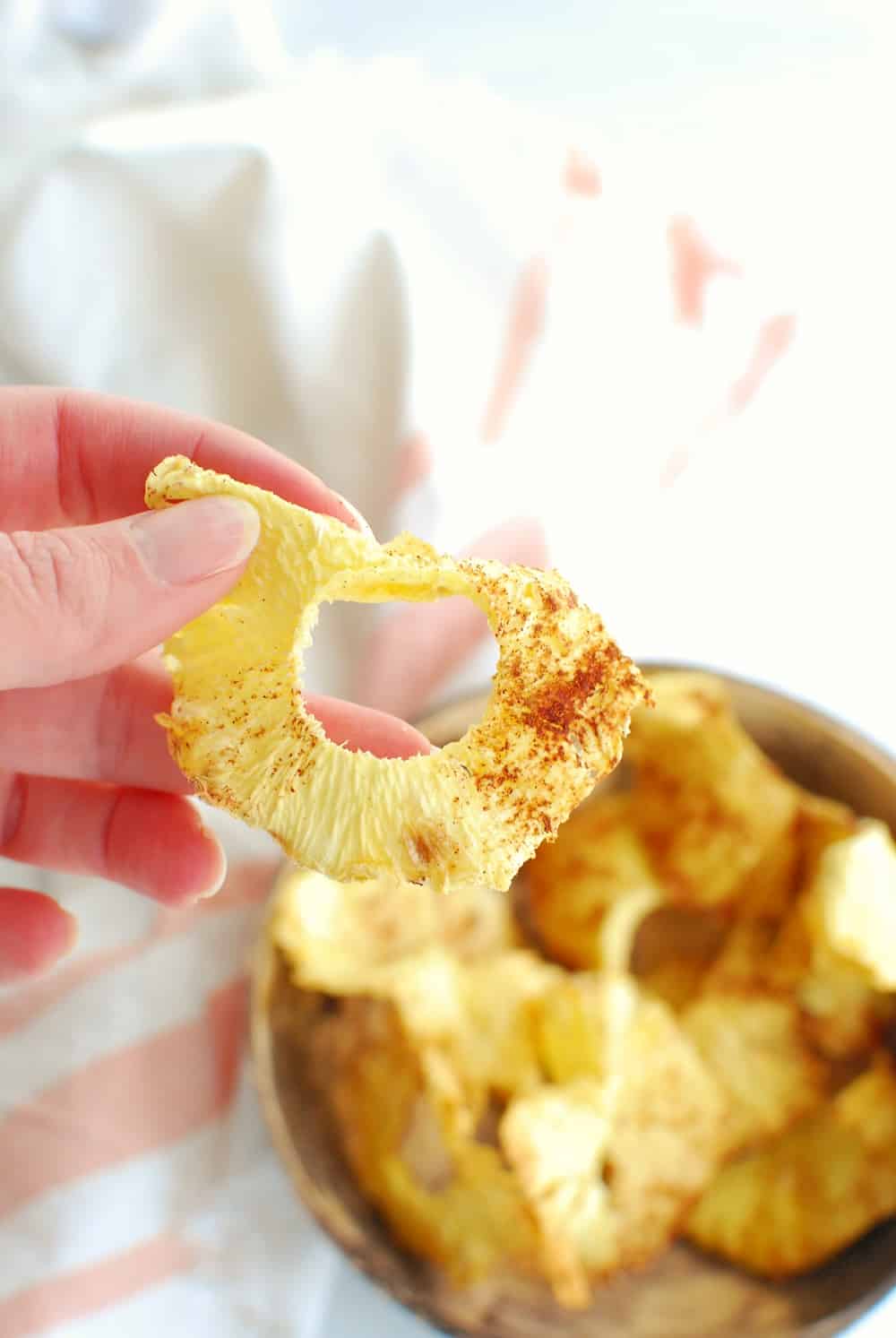 I hope you love this delicious snack. If you get a chance to try it, please do leave a recipe rating or comment below. And if you're looking for other ways to use the rest of your fresh pineapple, be sure to try this mango pineapple smoothie or cherry pineapple popsicles.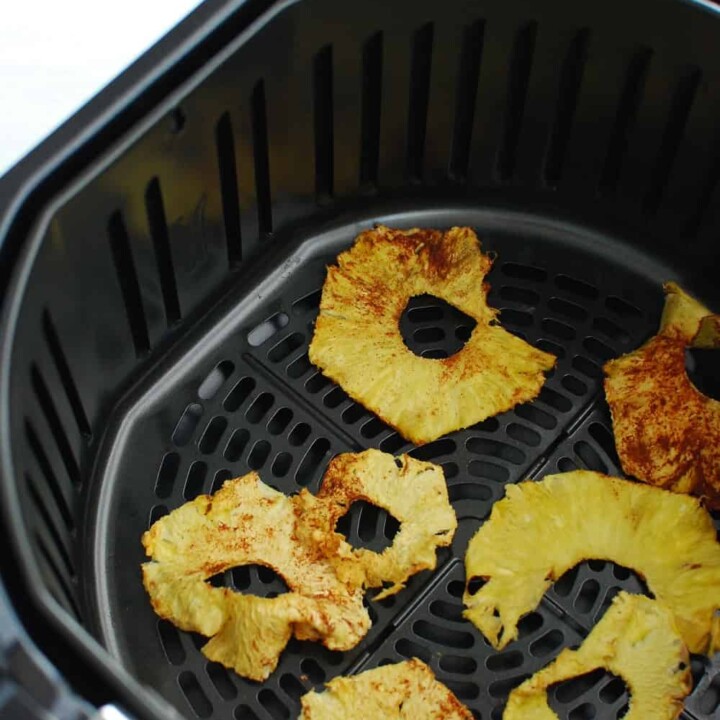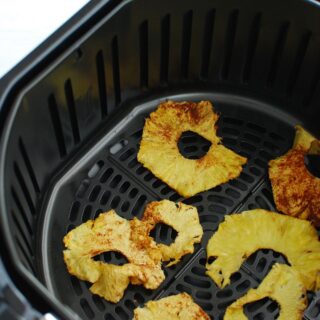 Air Fryer Dehydrated Pineapple
Make chewy dehydrated pineapple quickly and easily using an air fryer!
Ingredients
1/3

Whole Pineapple, peeled and cored

1/4

tsp

Cinnamon

(optional)
Instructions
After you peel and core your pineapple, cut off a third of it and slice it thin – about 1/4 to 1/8 of an inch. (Save the rest of the pineapple for other uses, or to make again tomorrow).

Sprinkle the sliced pineapple with the cinnamon, then place the slices in the air fryer basket. You will likely have to work in two batches so the pineapples aren't layered on top of each other.

Cook each batch in the air fryer on 250 degrees for 30 to 40 minutes, or until the pineapple is dry. You can feel it around 30 minutes and decide if it needs a little extra time. When done, remove and enjoy!
Notes
Notes:  If your air fryer basket has a tendency to stick, you can try to grease it with a tiny bit of oil prior to using, and flip the pineapple rings halfway through the cooking time.
Nutrition facts (approximate):  151 calories, 0.5 g fat, 0 g saturated fat, 5 mg sodium, 39.5 g carbohydrate, 4.5 g fiber, 29.5 g sugar, 1.5 g protein, Vitamin A: 4%, Vitamin C: 238%, Calcium: 5%, Iron: 5%
Nutrition
Share: Did you try this air fryer pineapple? If so, what did you think?!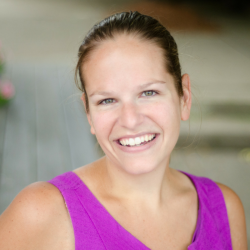 Latest posts by Chrissy Carroll
(see all)