Ready for the ultimate sweet and salty snack combination? Try these air fryer bacon wrapped watermelon bites! Juicy watermelon is wrapped in rich, salty bacon for a play on multiple flavor and texture sensations. This is a delicious option for a summer snack, party starter, or holiday appetizer.
Disclosure: This post is sponsored by the National Watermelon Promotion Board. As always, all opinions are my own.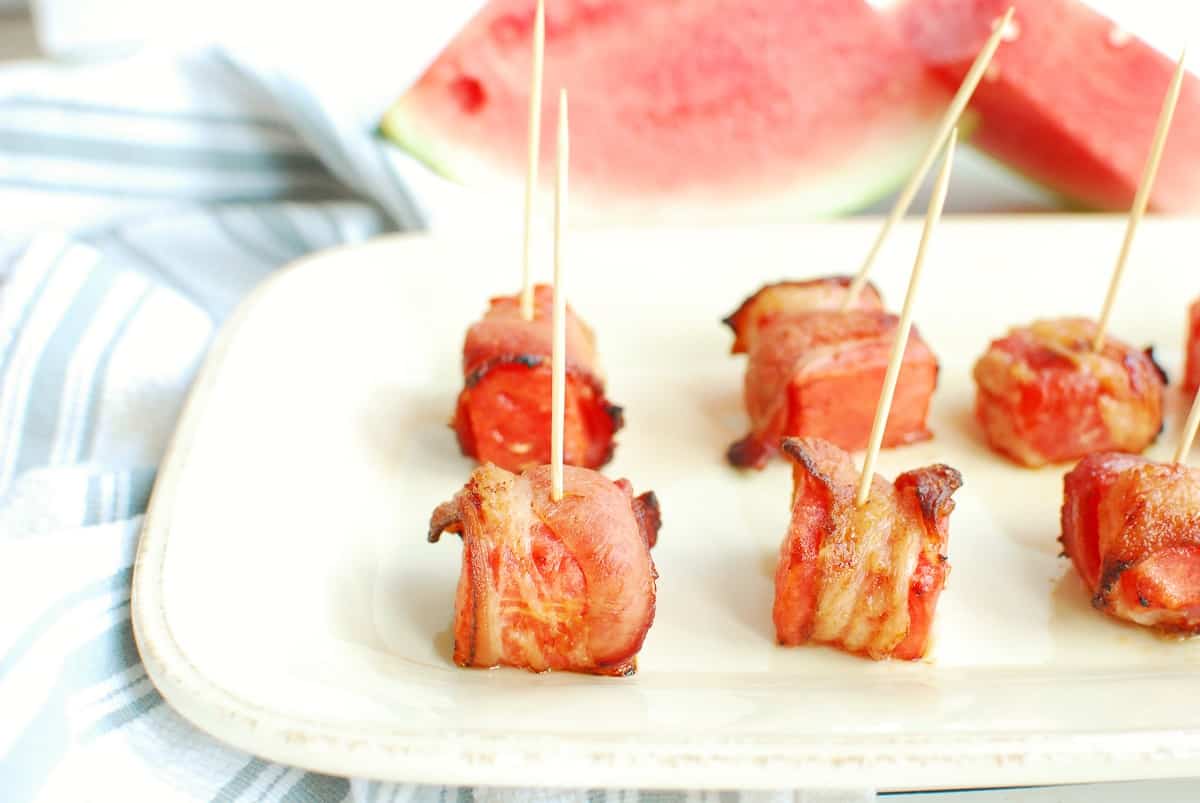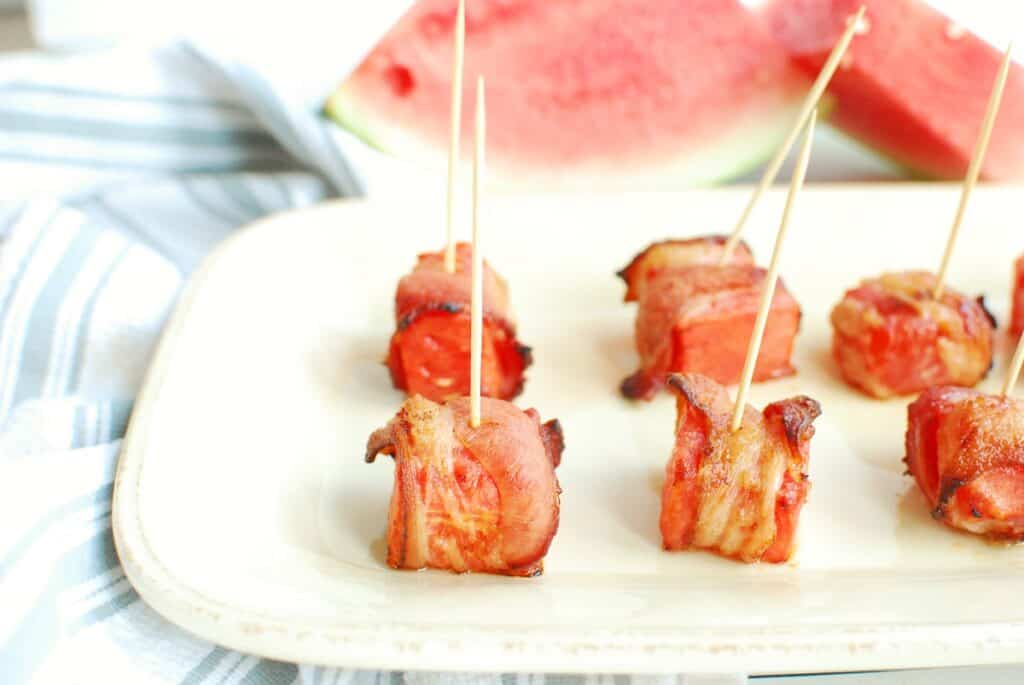 Ingredients
The best part about this recipe? You only need two ingredients – bacon and watermelon!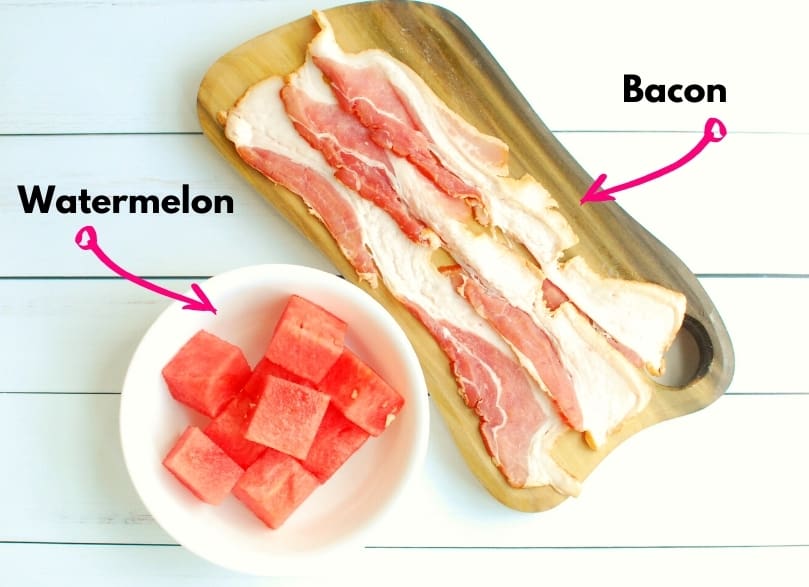 Here are some tips for choosing the best ingredients for this dish:
Watermelon – To choose the best watermelon, look for one that has no cuts or bruises, feels heavy for its size, and has a creamy yellow spot on the bottom. (PS – If you haven't listened to my song about how to choose a watermelon, you're in for a treat.)
Bacon – You want regular bacon for this recipe – not thick-sliced. Regular bacon is thinner and will wrap around the watermelon easier. If you're concerned about added nitrates in conventional bacon, you can look for options that have no-added-nitrates (but note that these still contain naturally-occurring nitrates from celery salt).
Step by Step Instructions
You'll find the full recipe amounts and instructions in the recipe card at the bottom of this post, but here's a helpful overview with photos.
You're going to start by cutting your watermelon into square cubes. They should be around 1.5 inches each. The watermelon will shrink slightly when cooked in the air fryer, so I've found that starting with this size gives you the perfect bite-size piece when they're done.
Next, take your bacon and cut it into thirds.
Stretch it out a bit, then wrap it tightly around the watermelon. Press down a bit where the bacon ends cross over. It should stick together pretty easily.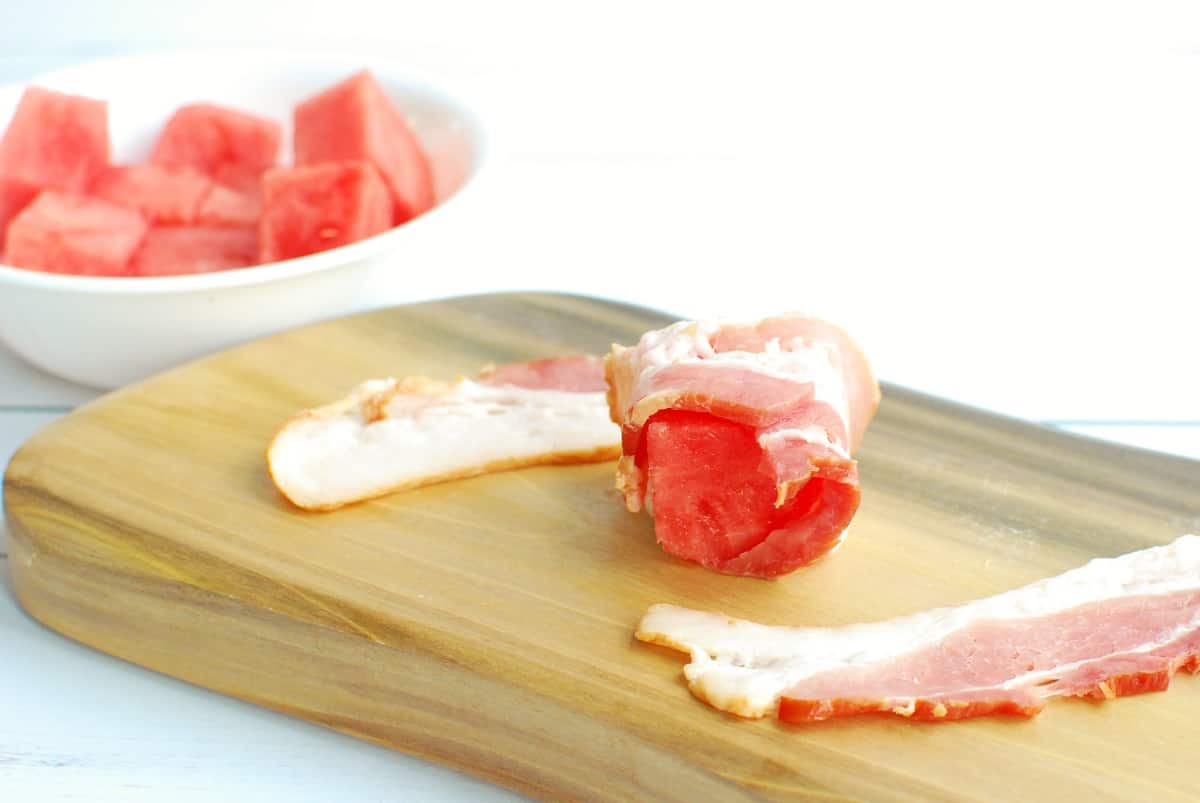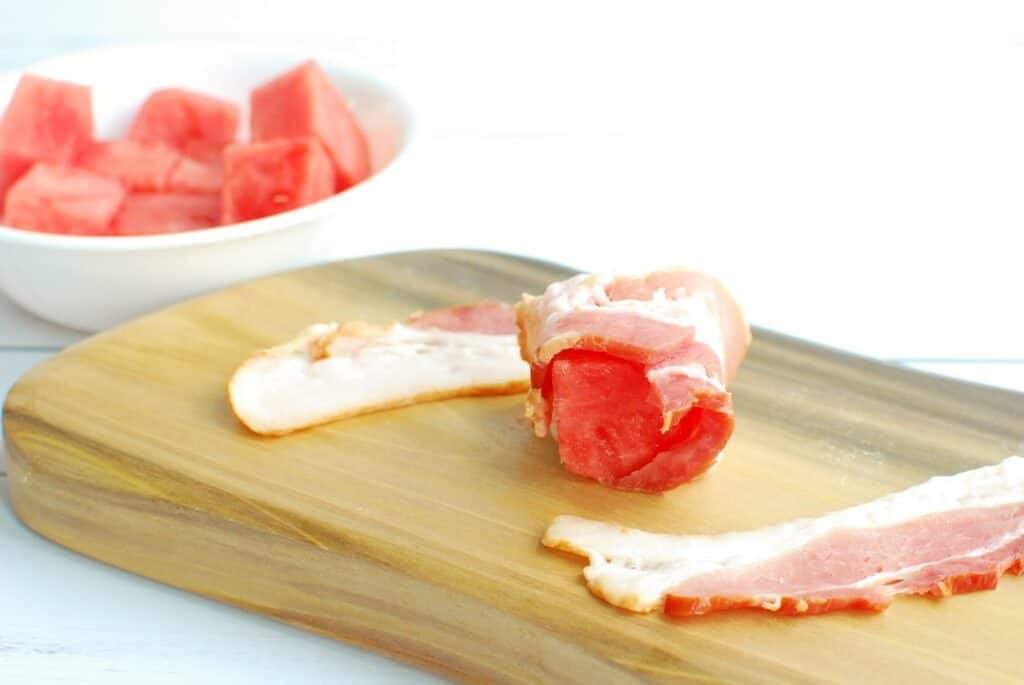 Put them in the air fryer basket with the cross-over point facing down.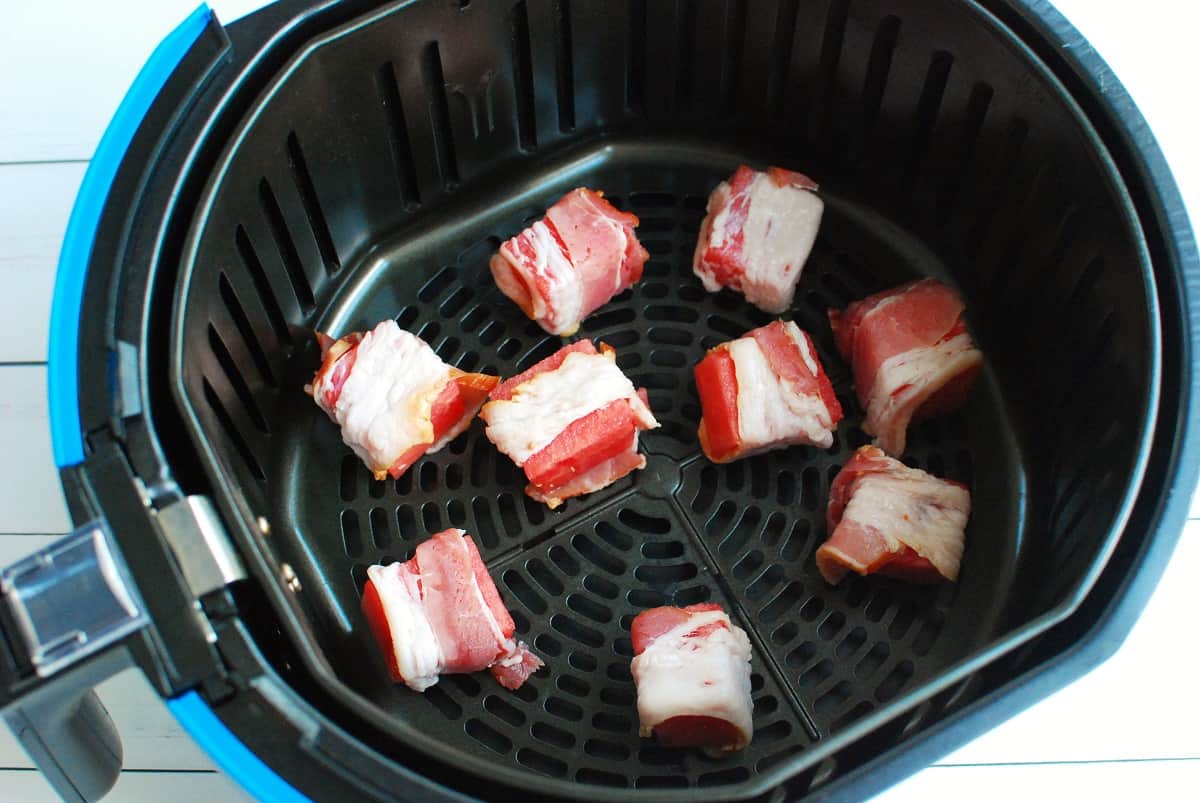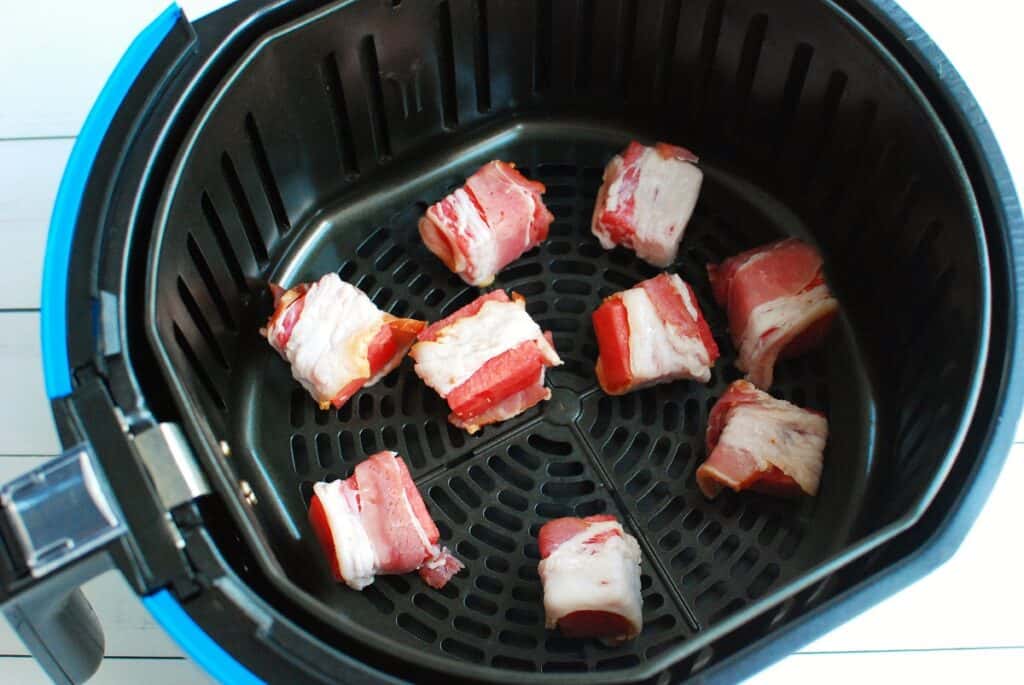 Note that for this version, we've made one batch, which has plenty of space in the air fryer. If you're making this for a crowd, you can double it and should be able to fit up to 18 in a large air fryer basket.
Once they're in the basket, just pop the air fryer on to 400 degrees F, and cook for 10-12 minutes.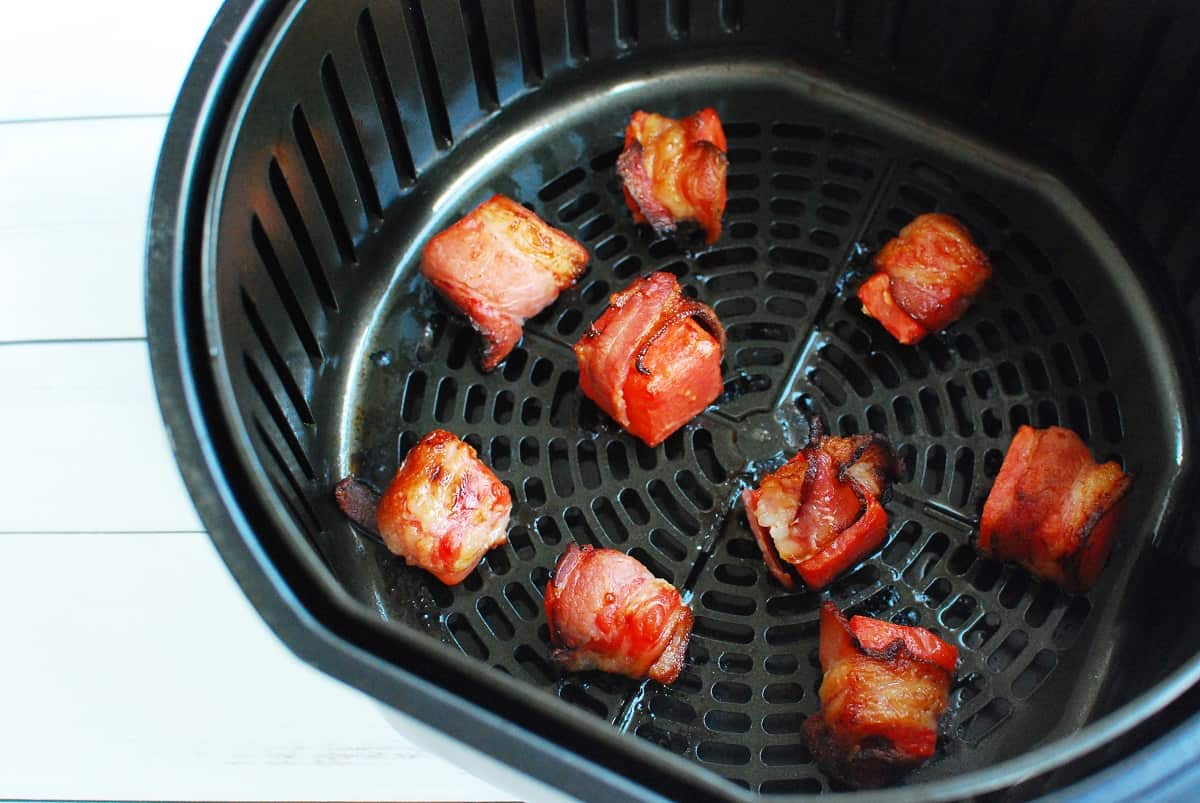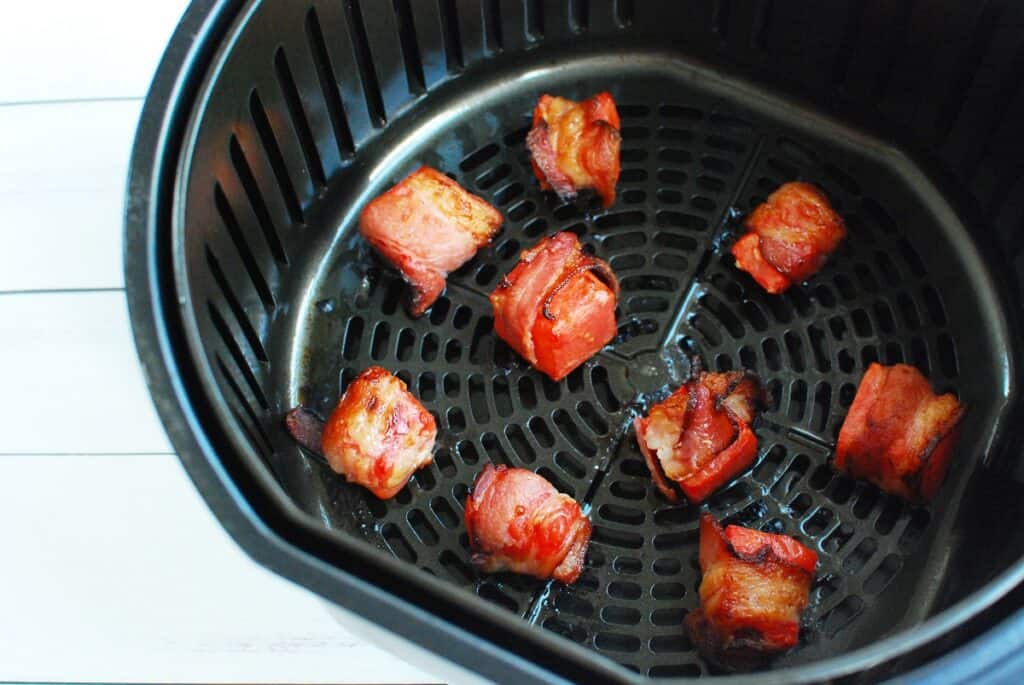 Let them sit for a few minutes after they've finished – the watermelon will be hot and you don't want to burn your mouth.
Then go ahead and dig in! You'll love the combo of sweet, juicy watermelon and warm, crispy bacon.
You can add toothpicks to each one if you're serving them for an event. I made this for a neighborhood party earlier this month, and everyone was shocked at how delicious they were!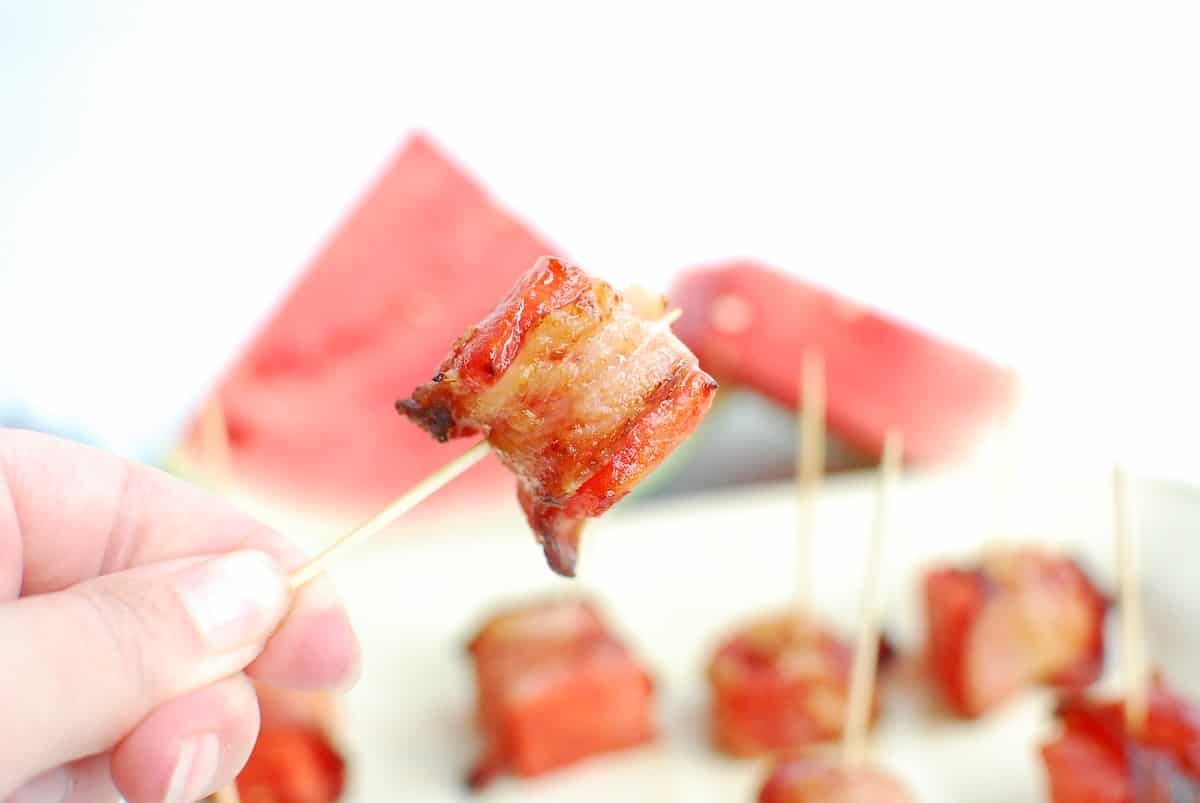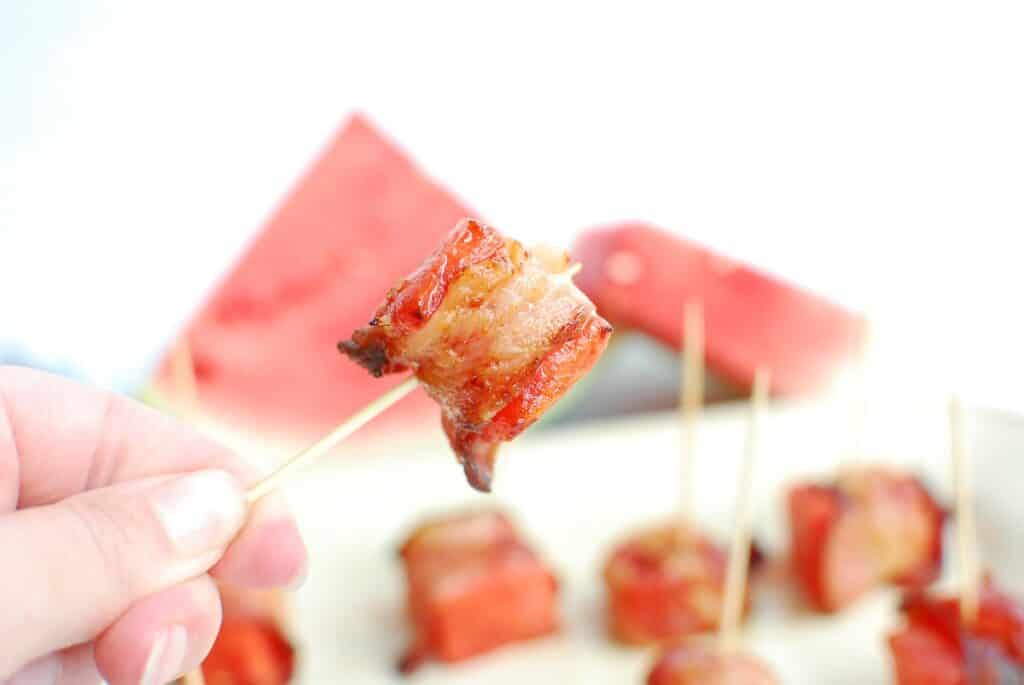 Recipe FAQ
Here are some common questions that may come up as you prepare this recipe:
Do you have to preheat your air fryer?
You shouldn't need to preheat your air fryer for this recipe.  The bacon cooks perfectly as written.  (However, if you have an older model air fryer that takes a while to heat up, feel free to preheat it.)
Can you make bacon wrapped watermelon in the oven?
Yes.  If you don't have an air fryer, heat a conventional oven to 400 degrees F.  Prep the watermelon the same way, wrap in the bacon, and place on a wire rack on a baking sheet.  Bake for about 14-20 minutes, or until the bacon is crispy.
What should you do with extra watermelon?
When you make this recipe, you'll have tons of extra watermelon leftover from your fruit.  You can eat it as-is through the week for snacks, or make delicious watermelon entrees or appetizers (see below for app ideas).  You can also freeze watermelon to use for smoothies.
More Watermelon Appetizers
Want even more watermelon at your next party or get together? Try one of these other delicious watermelon appetizers:
Watermelon feta skewers – Watermelon and feta is another classic sweet and salty pairing. These are easy to make and refreshing for a summer party.
Watermelon charcuterie board – Is anyone else loving how popular charcuterie boards have gotten?! They're one of my favorite things to make for a get together. This version combines sweet watermelon with other fruits, nuts, cheese, and cured meats. The best part is that you can customize a board based on what you love and/or have on hand.
Watermelon panzanella salad – Alright, this might be more of a starter salad than an appetizer, but it's one of my summertime go-to recipes. It's sweet, tangy, refreshing, and nutritious.
Watermelon rind bruschetta – In addition to the flesh, don't forget that you can also eat the rind! This bruschetta recipe is topped with creamy goat cheese and tangy pickled watermelon rind.
I hope you enjoy this bacon wrapped watermelon recipe. If you get a chance to try it, please leave a recipe rating or comment below!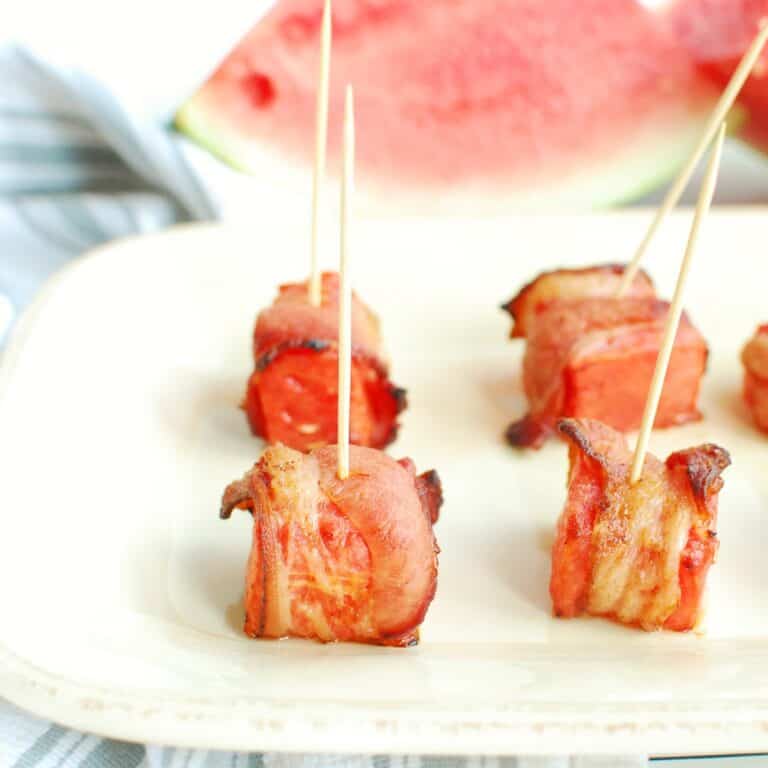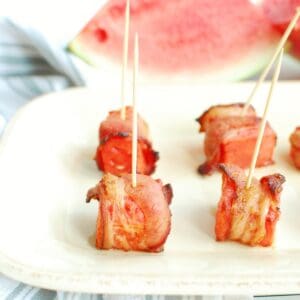 Air Fryer Bacon Wrapped Watermelon
These air fryer bacon wrapped watermelon bites are the perfect sweet and salty combo – ideal for serving at summer parties or just snacking at home.
Ingredients
9

square cubes of watermelon, about 1.5-inches each

(around 8-9 oz total)

3

slices

bacon
Instructions
Cut the bacon slices in thirds so that you have nine total pieces. Stretch out each piece a bit, then wrap each around a piece of watermelon. Press together the ends where the bacon crosses.

Place the bacon-wrapped watermelon in the air fryer basket, seam side down (i.e. place the side with the ends of the bacon face down in the air fryer basket).

Air fry at 400 degrees F for 10-12 minutes, or until the bacon is crisp. Let cool for a few minutes before eating, as it will be hot. Dig in!
Notes
Use regular bacon for this recipe, not thick-cut bacon. Regular bacon wraps better and crisps up easier in the air fryer.
Feel free to add toothpicks to each if serving them at an event.
Nutrition analysis (approximate per each piece of bacon-wrapped watermelon): 23 calories, 1 g fat, 0.5 g saturated fat, 60 mg sodium, 2 g carbohydrate, 0 g fiber, 1.5 g sugar, 1 g protein, Vitamin D: 0%, Calcium: 0%, Iron: 0%, Potassium: 1%
Nutrition
Share: What's your favorite way to enjoy watermelon in the summer? If you tried this recipe, what did you think?
Feel free to pin this post to share with others and save for later!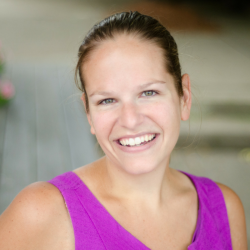 Latest posts by Chrissy Carroll
(see all)