Grab your salsa and whip up a batch of these air fryer tortilla chips this weekend! Made with just 3 ingredients, these homemade chips come together quickly and easily.
Why make your own chips?
If you've never had fresh tortilla chips, you're in for a treat! When they're warm and crisp and salty right out of the air fryer, they taste amazing.
I love this recipe since it allows me to make a batch of tortilla chips, but I don't have to keep a big 'ol bag of them sitting around the house. We always seem to have a ton of corn tortillas left after taco nights, so it's a great way to use up those leftovers.
Plus, air frying uses less oil used compared to pan frying, making these chips a lighter option. It's a nice way to satisfy a salty snack craving, and when you combine it with a veggie-packed salsa, you'll treat your body to some important phytonutrients.
Ingredients
You only need to gather up three things from your kitchen to make this recipe: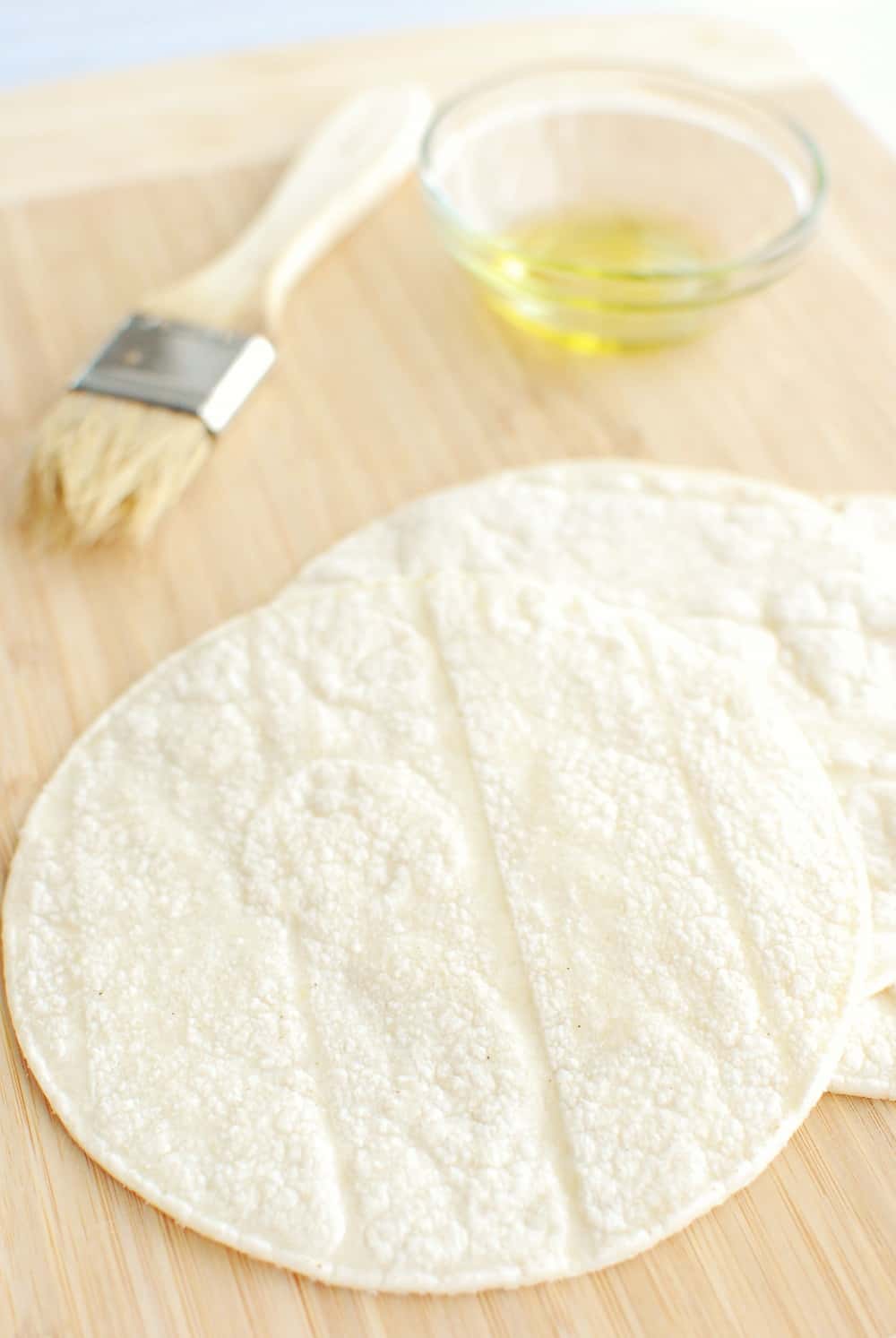 Corn tortillas – These are a staple in my house because they're so versatile! Homemade tacos, tortilla chips, tostadas, enchilada casserole, Texas lasagna…the list goes on and on. And they're cheap – you can usually grab a big package of them at the store for a buck or two.
Olive oil – I like the way olive oil tastes so I use it for a lot of my cooking, but you can use any oil of your choice here. Avocado oil, canola oil, vegetable oil – they'll all work.
Salt – Can't have tortilla chips without salt! Feel free to adjust the amount you use based on your preferences.
Step by Step Instructions
This recipe is so simple. You'll find full amounts and instructions in the recipe card below, but here's a helpful overview with photos.
You're going to start by cutting your tortillas in half, then cut each half in thirds. This will give you that triangle chip shape you're used to.
Then brush those chips with olive oil. If you want to make your life easier, you can brush the whole tortilla before you cut it into the chip shapes, but I always seem to forget to do that ahead of time. 😉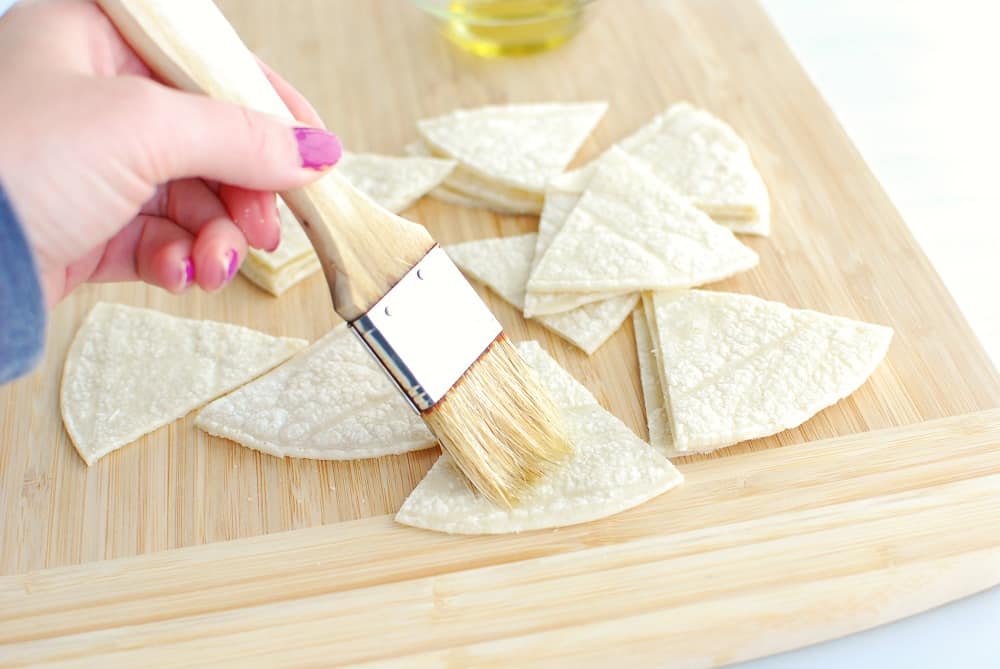 Now just pop 'em in your air fryer! They'll look like this before they're cooked…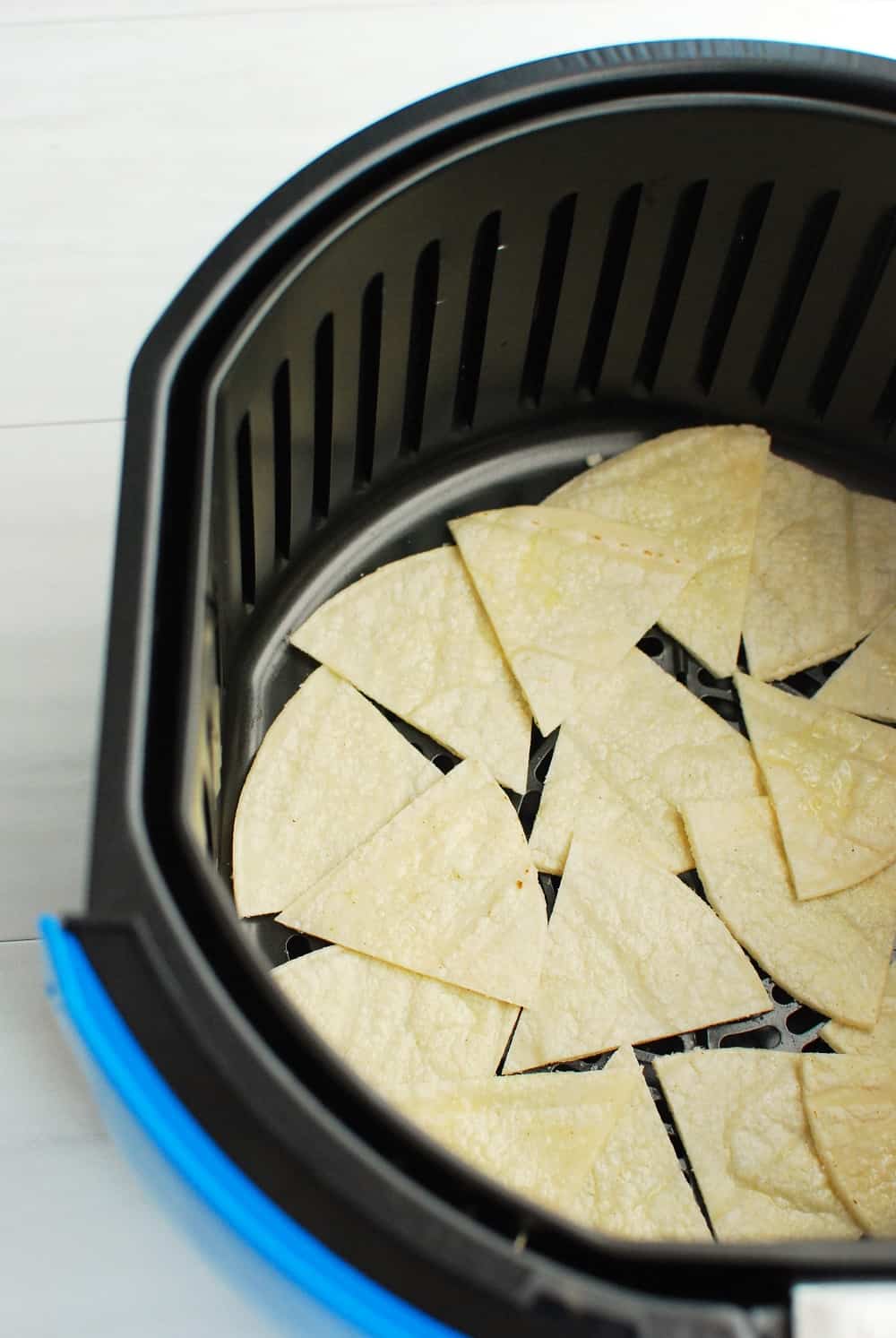 And they'll look like this after…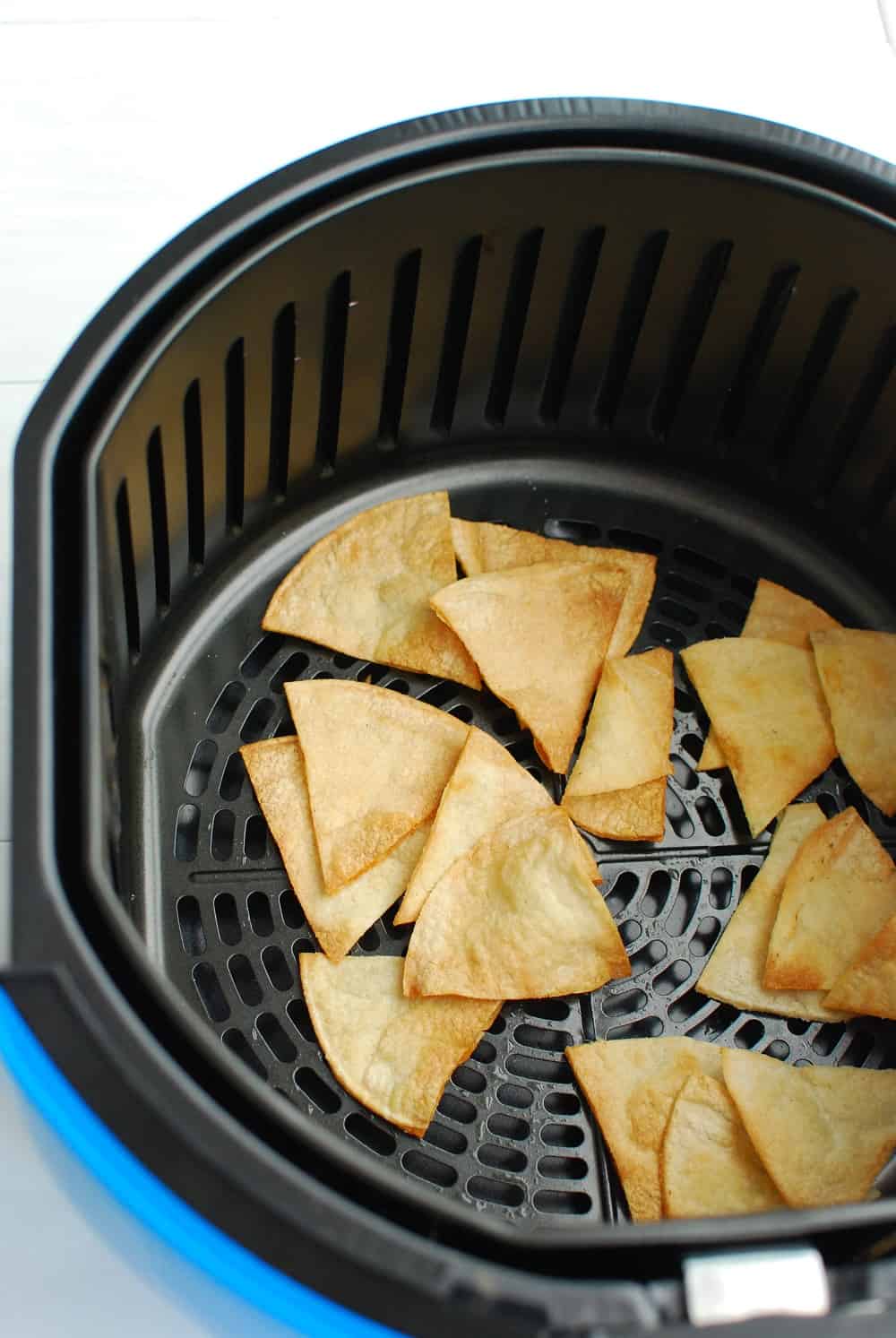 YUM!
Recipe FAQ
Here are some common questions that may come up as you prepare this recipe:
Do you have to preheat the air fryer? Nope! Just put the tortillas in, turn it on, and you're good.
Why are my chips chewy? If your chips are chewy, you may need to leave them in the air fryer longer and/or raise the temperature slightly. Some models may have less efficient forced air heating, or the temperature setting may not be calibrated, which can cause the recipe to cook incorrectly. In this case, try leaving the batch in for an extra 2 minutes, or try cooking the batch for the standard 8 minutes at 375 instead of 350.
Is this recipe gluten free? Vegan? This recipe should be gluten free, as corn is a grain that does not contain gluten. It should also be vegan, but double check the label of your tortillas. Occasionally they can be made with lard, which would be an animal product, but this isn't common in store-bought tortillas.
Serving Suggestions
After you make these air fryer tortilla chips, here's a few of my favorite salsa recipes to try with them:
Tomato tomatillo salsa – Kind of like half traditional, half salsa verde. A great summer salsa that let's you use up much of your garden bounty!
Mango tomatillo salsa – A little spicy, a little sweet, and a whole lot of deliciousness!
Mango habanero salsa – Kick up the heat a bit by using habaneros, which are far spicier than jalapenos. Pairing them with mango helps balance the dish, making this a fiery-but-feastable option.
You could also eat these chips with your favorite dip. This salmon dip is an easy recipe and a great way to get some extra omega-3 fatty acids into your day.
Or, try making these chips to pair with a bowl of chili or to add on top of a southwestern style salad.
I hope you enjoy this recipe! If you get a chance to try it, I'd love for you to leave a recipe rating or comment below.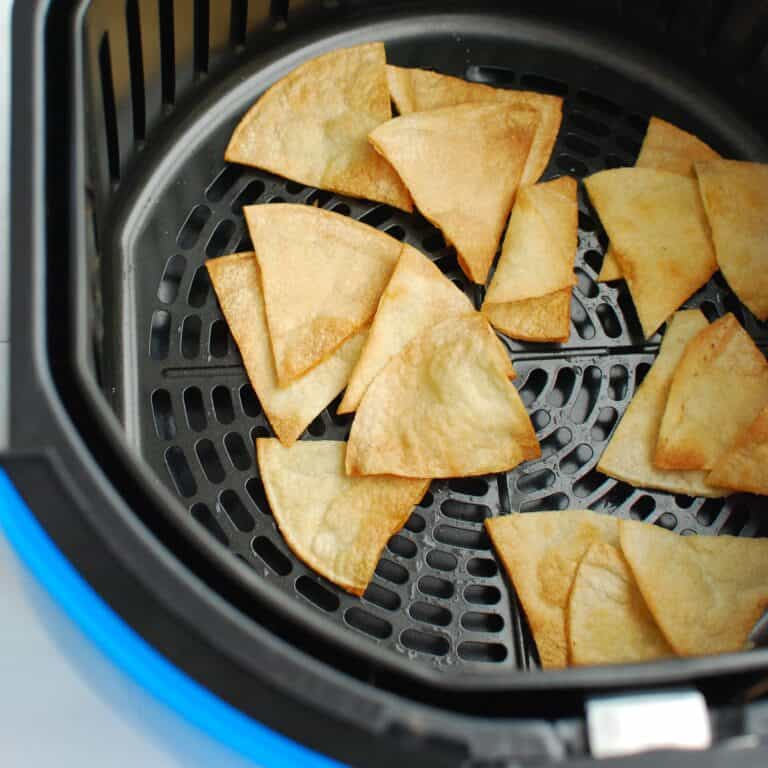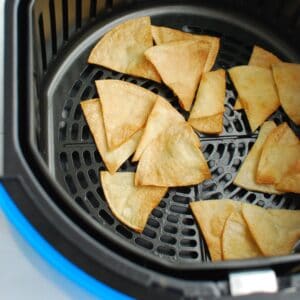 Air Fryer Tortilla Chips
These air fryer tortilla chips are warm, crispy, and salty - and make such a delicious snack when paired with salsa!
Ingredients
3

corn tortillas

1/2

tbsp

olive oil

1/8

tsp

salt
Instructions
Cut the tortillas in half, then cut each half into thirds (to make chip-sized pieces).

Brush each piece with olive oil.

Place the tortilla pieces in the air fryer basket. Try to avoid overlapping as much as possible. Air fry at 350 degrees F for 8 minutes.

Remove from the air fryer and immediately sprinkle with salt. Enjoy!
Notes
This recipe makes 18 chips, which could be 1-2 servings depending on your hunger level. The nutrition analysis below is for the entire recipe.
Nutrition analysis (approximate): 217 calories, 8.5 g fat, 1.5 g saturated fat, 330 mg sodium, 32 g carbohydrate, 4 g fiber, 0.5 g sugar, 4 g protein, Vitamin D: 0%, Calcium: 5%, Iron: 5%, Potassium: 3%
Nutrition
Share: What's your favorite salsa or dip for pairing for chips? If you tried these, what did you think?
Feel free to pin this to share with others!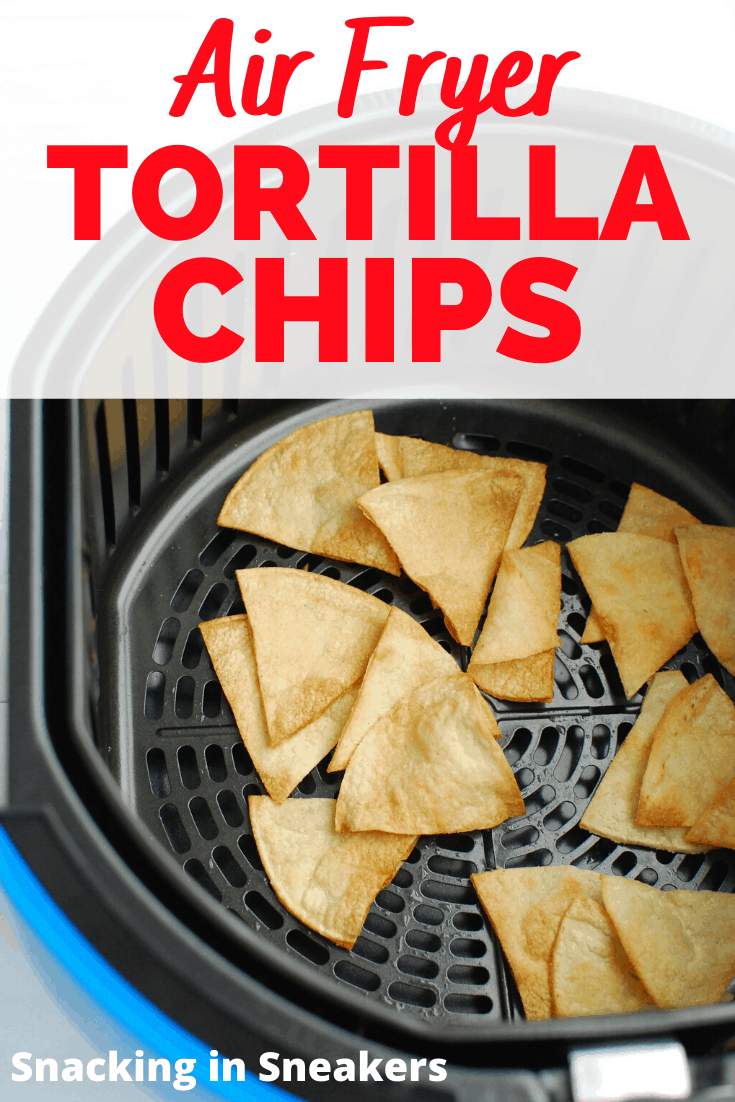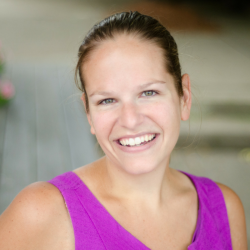 Latest posts by Chrissy Carroll
(see all)