When you're looking for a crazy delicious dinner that's also hearty and good for you, this healthy turkey chili is where it's at! Packed with an enticing combination of sweet, smoky, and slightly spicy flavor – it's one of my absolute favorite dishes.
Perhaps the best part of this recipe is the unconventional addition of apples, which is not an ingredient you see too often in chili. I even made this for a local chili competition, where people really enjoyed it. While it didn't win (womp womp – the winning chili was more traditional), the winner came up to me and the end of the competition and said she thought mine was the best one of the bunch. So that's gotta say something, right? 😉
How to make healthy turkey chili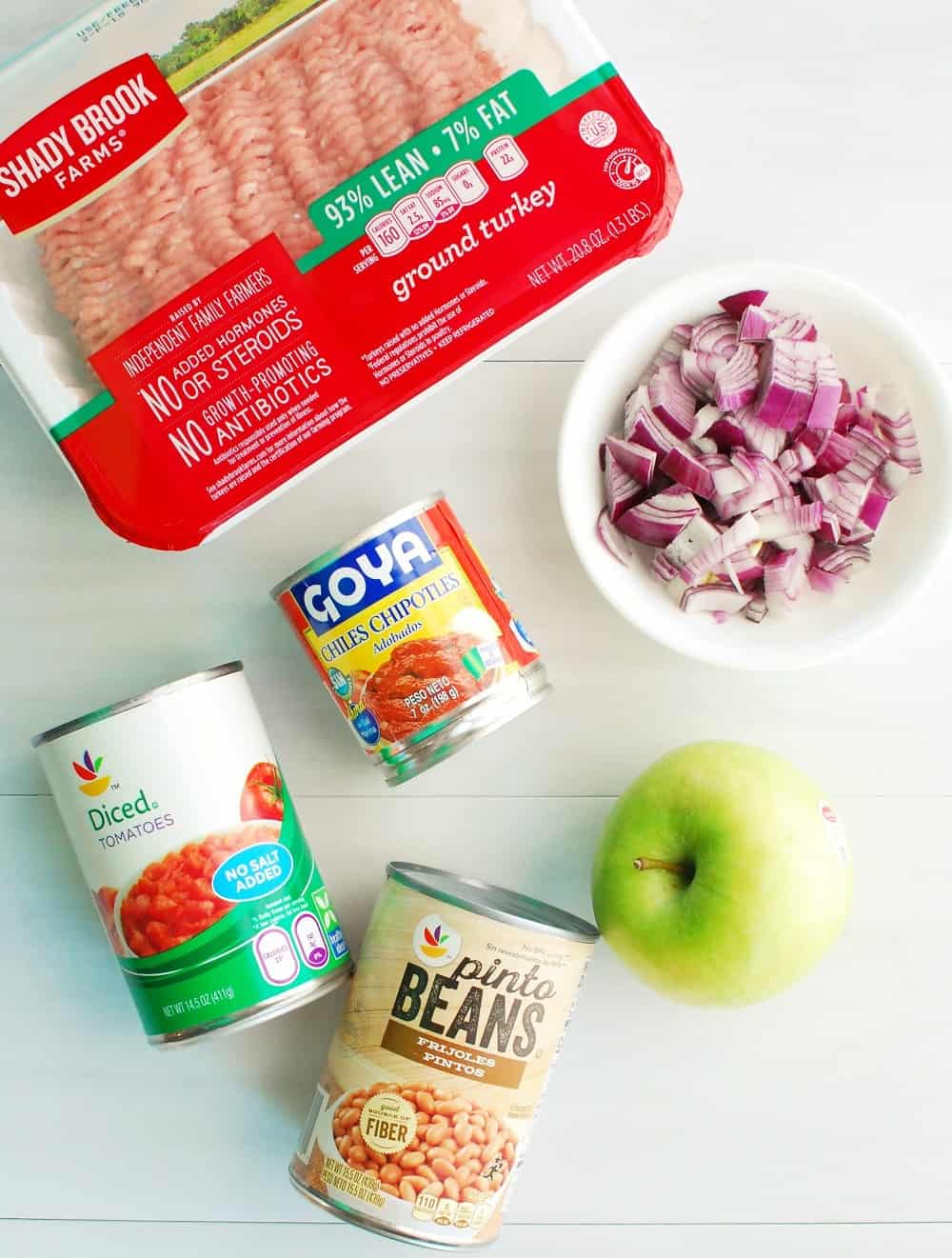 Please don't be intimidated by the long(ish) list of ingredients when you scroll down and see the recipe. Most are spices or canned goods from your pantry!
All you need to do to prep is gather all your ingredients and chop up a few things (really – all you need to chop is an onion, garlic, chipotles, and an apple).
Once those ingredients are chopped up, you'll set 'em aside for a minute. Cook up your ground turkey and onion. And then all you need to do from there is dump the rest of the stuff in the pot (spices, canned goods, and the rest of your prepped ingredients) and let it simmer!
Why this turkey apple chili is great for active women
There are so many reasons I love recommending this recipe for active women:
Contains 22 grams of protein to support muscle repair and recovery after your gym sessions.
Satisfies hunger! I'm going to guess a lot of us end up with increased hunger when we're sticking to that regular training schedule – be it training for a triathlon or regularly hitting up the gym. The combination of protein and fiber in this dish are the ultimate team for keeping you satisfied and full.
Packs in 25% of your daily iron needs. This is a nutrient that is really important for females in particular, as you lose some iron regularly as part of your monthly cycle. Not getting enough iron can cause problems with fatigue, training adaptations, and anemia.
Has 25% of your daily potassium needs! I'm sure you know that potassium is one of the electrolytes that plays a role in muscle health and cardiovascular heath, so it's important to eat potassium-rich foods daily.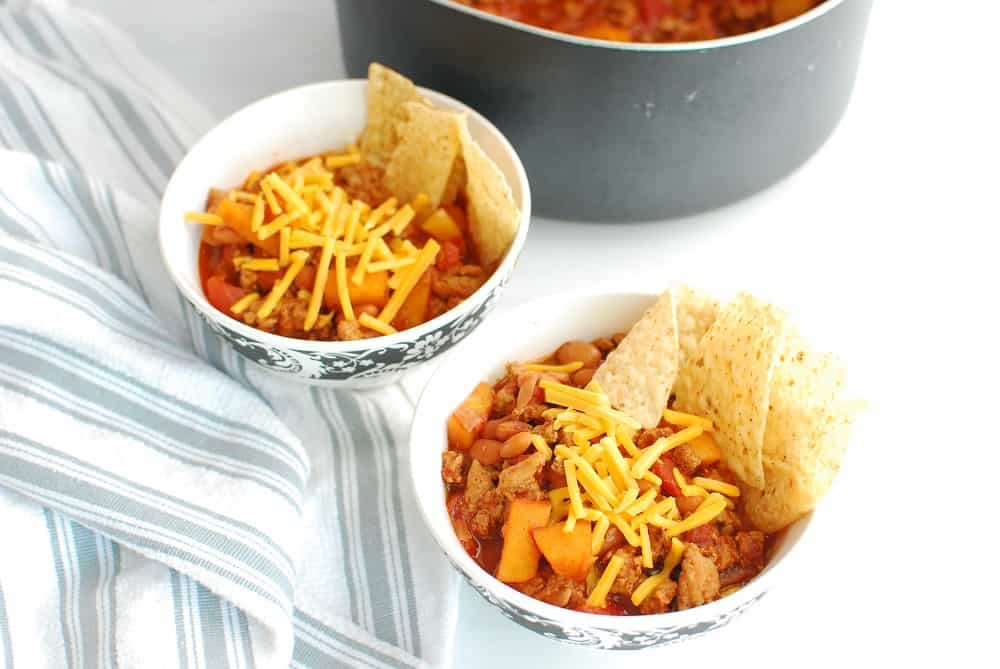 Can you make this in the crockpot?
Yes! While I've only listed the stovetop directions here, you can also easily modify this to be a crockpot recipe. In that case, you'll want to:
Sauté the ground turkey and onion first before putting them in the crockpot. Place this in the crockpot.
Add the rest of the ingredients but note that you'll likely want to reduce the liquids a bit since liquid doesn't evaporate out of the crockpot the same way it does on the stovetop. Because of this, I recommend using about 1 1/4 cups of chicken stock and 3/4 cup apple juice. If this is still too liquidy at the end, you can let it cook with the lid open for another hour or you can reduce it on the stovetop for about 15 minutes.
Modify the cooking time – cook on low for 6-8 hours or high for 3-4 hours.
Those are the only things you'll need to keep in mind! Otherwise, everything else is pretty much the same.
Can you make a vegetarian version of this chili?
You sure can! My pal Larisha modified this recipe into a delicious vegan version that you can find on her website. I'll link to it here as soon as it's posted!
Can you make a lower carb version of this chili?
You can definitely reduce the carb count a bit if you're following a lower carb diet (though ya'll know I think carbs are key for active ladies!).
To make a lower carb version, go with 1.5 pounds of turkey instead of 1 pound, and skip the pinto beans. That will bring down the carb count quite a bit. If you want to reduce the carbs even more, you can try skipping the apple and substituting additional stock for the juice – but these really add a lot of flavor and depth to this dish. I don't think it would taste quite as good that way!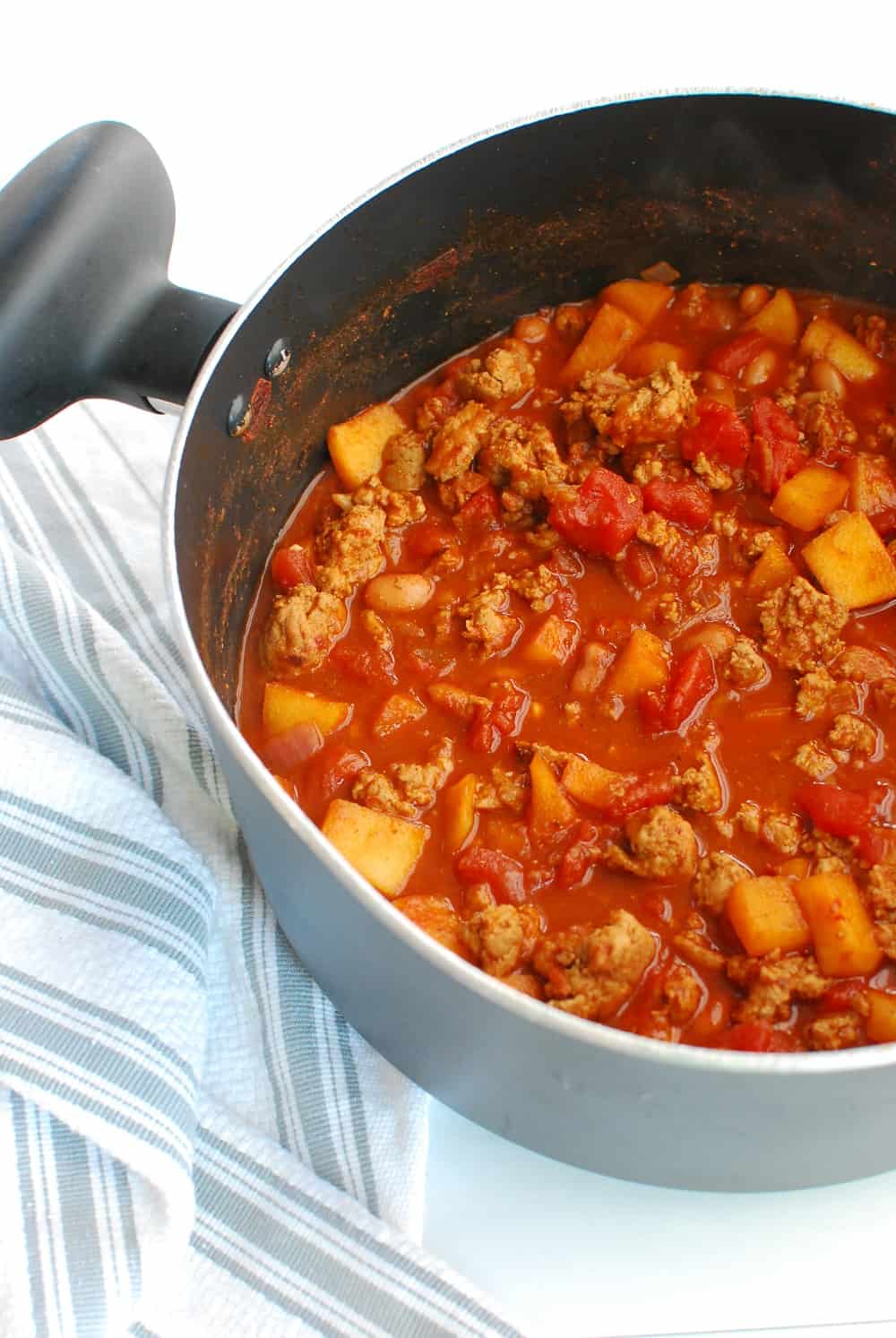 Looking for other ground turkey recipes?
Be sure to try these tasty southwestern turkey burgers or these hoisin turkey lettuce wraps.
I hope you enjoy this healthy turkey chili as much as my family does – it's always a hit around here! Be sure to leave a recipe rating or comment to let me know what you think.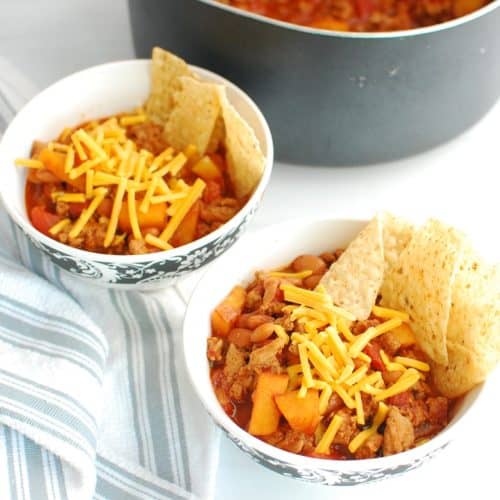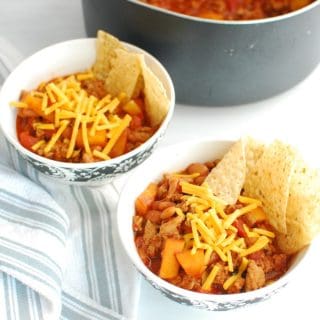 Healthy Turkey Chili with Chipotles and Apples
This healthy turkey chili with chipotles and apples is packed with an enticing combination of sweet, smoky, and slightly spicy flavor.
Ingredients
For chili:
1

tablespoon

olive oil

1

pound

ground turkey

1

small red onion, chopped

2

cloves

garlic, minced

2

chipotles plus 1/2 tbsp adobo sauce

3

tablespoons

tomato paste

1/2

tsp

salt

1/2

tsp

pepper

1/2

tbsp

ground cumin

1/2

tbsp

paprika

1/2

tbsp

chili powder

1/4

tsp

cinnamon

1

green apple, peeled and chopped

1 1/2

cups

chicken stock

1

cup

apple juice

14.5

ounce

can pinto beans, drained and rinsed

15

ounce

can diced tomatoes

(not drained)
For topping (optional):
Cheddar cheese

Tortilla chips
Instructions
Heat the olive oil over medium heat in a large pot. Add ground turkey and red onion, and cook for about 6-7 minutes or until browned, breaking it up with a wooden spoon as you're cooking it.

Stir in garlic and chipotles with adobo. Cook for 1 minute.

Add tomato paste, salt, pepper, cumin, paprika, chili powder, cinnamon. Give everything a good stir.

Add apple, chicken stock, apple juice, pinto beans, and diced tomatoes (with juices). Bring to a boil, then reduce heat and simmer for around 20-25 minutes. Enjoy topped with optional cheddar cheese and crushed tortilla chips.
Notes
Notes:
Chipotles in adobo sauce come canned, and can typically be found at the grocery store in the aisle where other Mexican food is found.
For this recipe, pull two of the chipotle peppers out of the can If the chili is still a bit too thin at the end of cooking, just turn up the heat and let some of the liquid evaporate out for a few minutes.
Nutrition analysis (approximate per serving):
311 calories, 11.5 g fat, 2.5 g sat fat, 872 mg sodium, 31 g carbohydrate, 7 g fiber, 12 g sugar, 22 g protein, Vitamin A: 17%, Vitamin C: 69%, Calcium: 10%, Iron: 25%, Potassium: 25%
Nutrition
Share with me: What's your favorite kind of chili recipe? Have you ever made an unconventional version like this one with chipotles and apples? If you tried this healthy turkey chili, what did you think?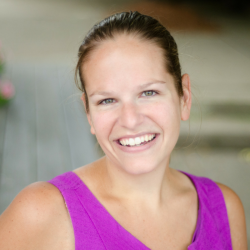 Latest posts by Chrissy Carroll
(see all)