These hoisin turkey lettuce wraps are a light, refreshing lunch or dinner – perfect for spring and summer! With minimal ingredients and less than 30 minutes to make, these are a great healthy option for busy families.
Ingredients
You'll love how easy it is to make this! You'll find the full ingredients and instructions at the bottom of this post in the recipe card, but here's some helpful notes about the ingredients you'll need:
Cabbage – I highly recommend buying pre-shredded cabbage to save time! It's often marketed as "coleslaw mix".
Carrots – Similar to above! Buying grated carrots saves time – or you can look for the mixes that combine both cabbage and carrots in one bag.
Apples – While any kind of apple will do, I prefer those that are crisp and have a bright flavor. Granny Smith work well.
Green onions – These add a mild onion flavor to the slaw.
Sesame oil – This oil has a nutty flavor to it, which works well in this dish. If you don't have any though, feel free to substitute olive oil.
Rice vinegar – Along with the oil, adding the rice wine vinegar allows you to toss the slaw together in a light dressing. You'll also use the vinegar to add a pop of acidity to the turkey filling.
Ground turkey – Lean ground turkey offers a lot of protein while minimizing unhealthy fats. It's also usually inexpensive!
Garlic – Aromatic and fragrant garlic adds extra flavor to the filling.
Hoisin sauce – This is a fragrant sauce that is frequently used in different types of Asian cuisine (especially Cantonese). It is a thick, fermented soybean paste that includes other ingredients like garlic, sesame, and chili. With elements of sweet, spice, and umami, it adds a ton of flavor to the dish.
Lettuce – I recommend Boston or Butter lettuce for making lettuce wraps or cups.
Instructions
When you're ready to make these wraps, you're going to start by preparing your slaw, which is a combination of the cabbage, carrots, apple, green onions, sesame oil, and rice vinegar.
Set that aside and let it sit for a bit while you cook the turkey. That'll allow the flavors to meld together.
To cook the turkey, you'll heat a little sesame oil in a skillet and then add the turkey and garlic. Once browned, you'll stir in the hoisin and rice vinegar.
Now you're ready to make your wraps! Take your lettuce and add a scoop of the turkey mixture, then top it with a scoop of the slaw.
Easy, fresh, healthy, delicious!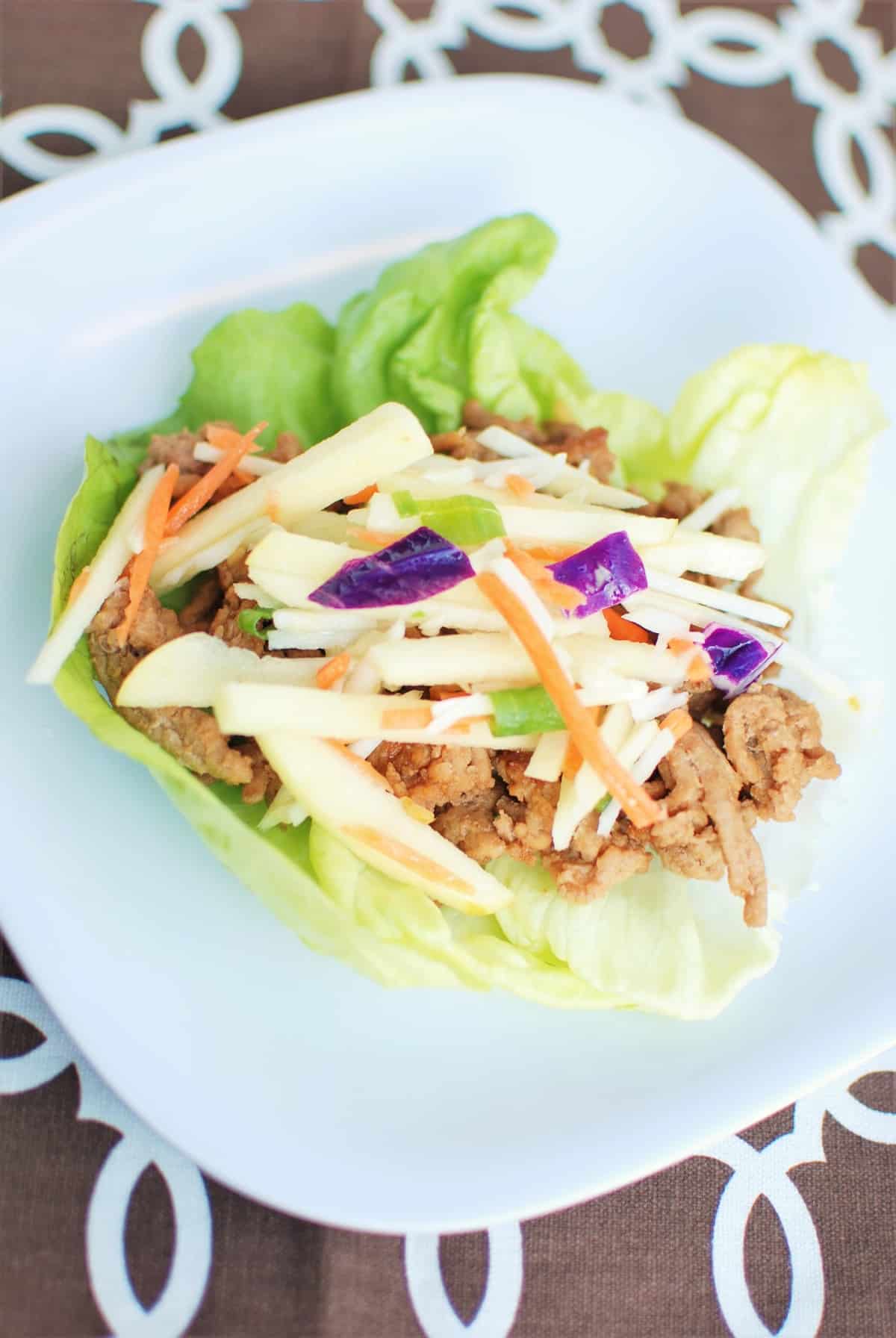 Recipe FAQ and Tips
Here are some common questions that may come up as you're preparing these hoisin turkey lettuce wraps, along with some helpful tips.
FAQ: Is there a substitute for hoisin sauce? Since hoisin really brings this dish together, I highly recommend it. If you don't have any on hand but have a little time, you could try making a version of homemade hoisin sauce. In a pinch, though, you can still get some of the same flavor elements by adding 1 ½ tbsp of soy sauce, 1 ½ tsp brown sugar, and a few shakes of crushed red pepper, instead of the hoisin.
FAQ: How should you store leftovers? For any leftovers, store the turkey mixture in one container, the slaw in another, and the lettuce in a third. Enjoy leftovers within 3 days. When you're ready to eat, reheat the turkey in the microwave and then build your wraps with the lettuce and slaw.
Tip: If you want to boost the veggies, add diced mushrooms to the filling. That's right, finely diced mushrooms can be cooked right with the ground turkey, helping to bulk up the dish and add even more veggies to it. (This is a common approach I use – you can find a mushroom-meat blend in my breakfast burgers and my mini mummy meatloaves).
Tip: Get creative with this recipe! This recipe is very flexible. If you don't have cabbage on hand, try making a slaw out of broccoli stems. You can also try adding in other accompaniments like peanuts or cashews. Or if you can't find lettuce that's the right size for a wrap, just make this into a salad instead.
Nutrition benefits
As a dietitian, I really appreciate meals that are light yet filling – and this strikes the perfect balance.
Two lettuce wraps clock in around 300 calories, making it a nice light lunch for those working on weight management. Of course, many people will need more calories in a meal, so feel free to add a side dish or an extra wrap to your plate – especially if you're active!
You'll get 21 grams of protein in those two wraps, which helps you to stay full longer and supports muscle repair and recovery.
These wraps are also an excellent source of Vitamins A and C, both of which are involved in supporting immune health.
I hope you enjoy them! If you get a chance to try, I'd love for you to leave a recipe rating or comment below.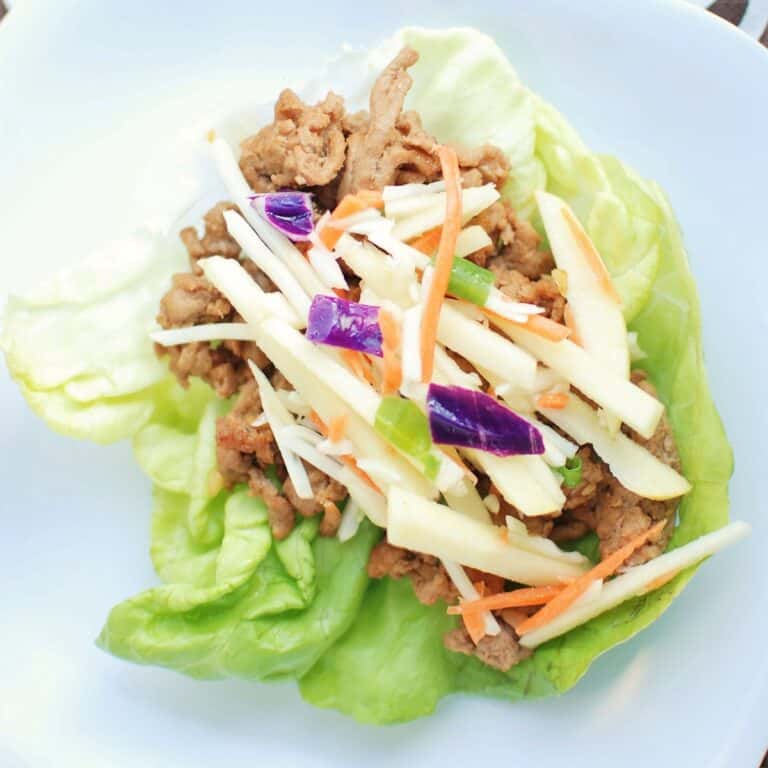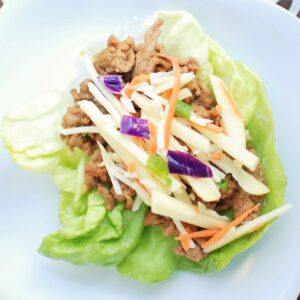 Hoisin Turkey Lettuce Wraps with Cabbage Apple Slaw
These hoisin turkey lettuce wraps with cabbage apple slaw are a light, refreshing, and delicious meal.
Ingredients
Slaw
1.5

cups

finely shredded cabbage

(I used a blend of green and red)

0.5

cups

grated carrots

1

apple, julienned

2

green onions, chopped thinly

1

tbsp

sesame oil

1

tbsp

rice wine vinegar
Filling
1

tbsp

sesame oil

1

lb

lean ground turkey

2

cloves

garlic, minced

2

tbsp

hoisin sauce

1

tsp

rice wine vinegar

salt and pepper, if desired, according to taste
Wrap
8

large leaves

Boston or Butter Lettuce
Instructions
Start by preparing the slaw. In a large mixing bowl, combine the cabbage, carrots, apple, and green onions in a large bowl. Toss with sesame oil and rice wine vinegar. Set aside for now.

Next, prepare the filling. Heat 1 tbsp sesame oil in a large skillet over medium-high heat. Add the ground turkey and cook until almost browned, about 5 minutes, breaking apart clumps of meat with a wooden spoon as it cooks.

Add the garlic and continue cooking another 1-2 minutes, until ground turkey is fully browned and garlic is fragrant.

Add hoisin sauce and rice wine vinegar; stir to combine well. Cook for 1 more minute then remove from heat. (If desired, season with salt and pepper - the hoisin generally adds enough saltiness though).

Set lettuce leaves on plates and fill with ground turkey mixture. Top with cabbage apple slaw and enjoy!
Notes
This recipe makes 8 lettuce wraps.  For the purposes of the nutrition analysis, one serving = 2 wraps.
Nutrition Analysis (for 2 lettuce wraps):
287 calories, 17 g fat (4 g sat fat), 253 mg sodium, 13 g carbohydrate, 2 g fiber, 8 g sugar, 21 g protein, Vitamin A: 68%, Vitamin C: 25%, Calcium: 5%, Iron: 12%
Nutrition
Share: What's your favorite kind of lettuce wrap? If you tried this recipe, what did you think?
Feel free to pin to refer to later!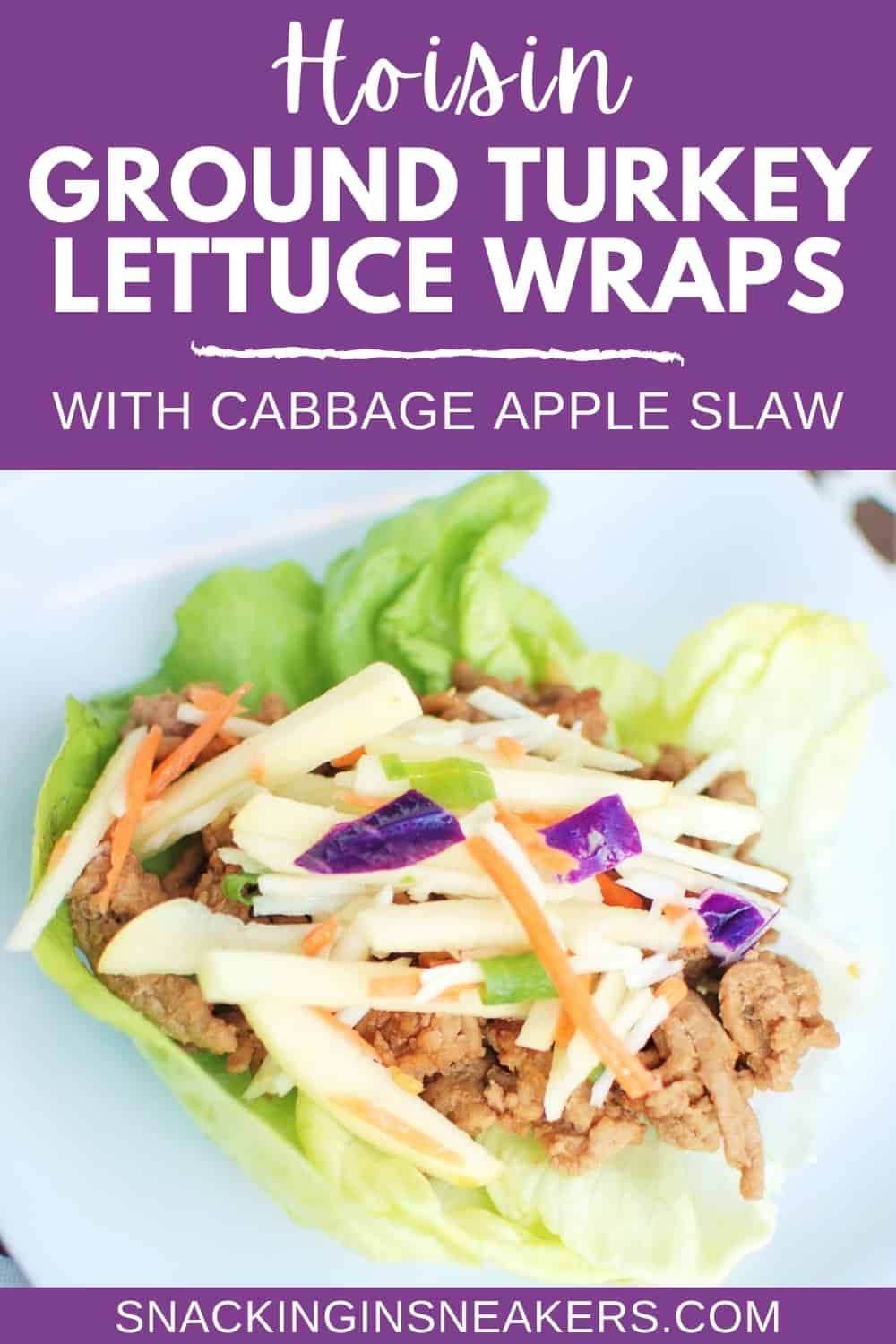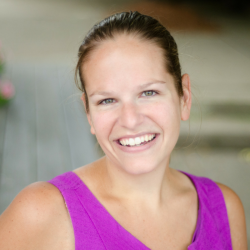 Latest posts by Chrissy Carroll
(see all)