This butternut squash and pumpkin pasta is rich, creamy, and healthy (and naturally dairy free for those of you who can't have dairy!).
I've seriously been on a comfort food kick lately. I love being in the kitchen on cold days whipping up a yummy warm meal. Something about it reminds me of being a kid and smelling my mom's cooking throughout the house. Since the weather's gotten cooler, I've been doing quite a bit of experimenting with "healthifying" a few of my favorite dishes. Between beef stew with homemade bread, butternut squash chili, and this butternut squash and pumpkin pasta dish – I think I've got my comfort food cravings covered now.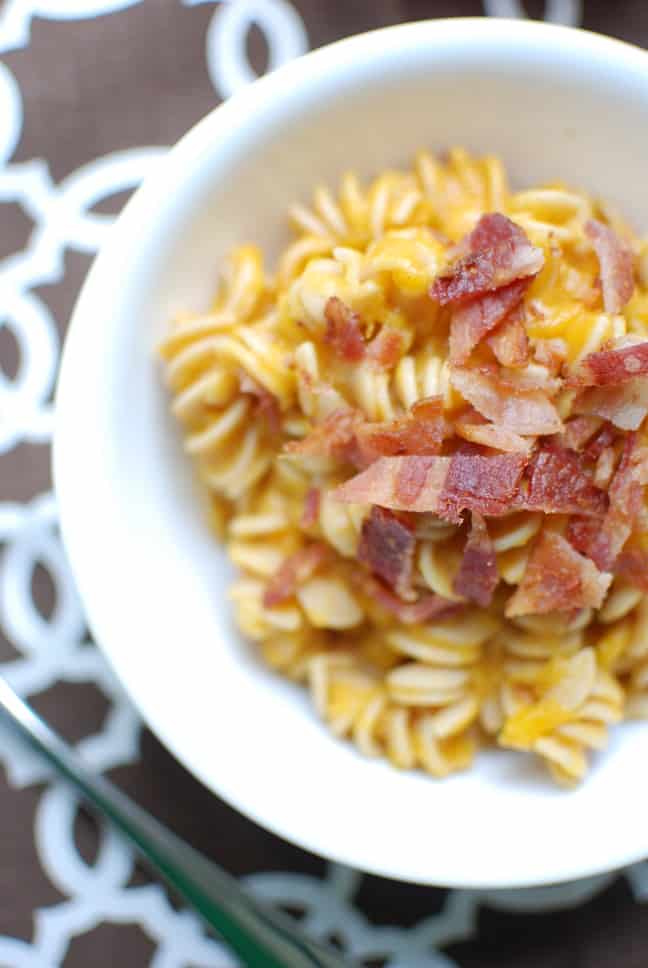 While this wouldn't be a dish I'd eat every day, it's definitely a healthier take on pasta when you're craving a creamy alfredo or a mac and cheese dish. The squash and pumpkin create a flavor-filled sauce (one that's packed with Vitamin A!), and the starch in the reserved pasta water helps it achieve the right consistency (with no cream necessary).
Athletes, take note – this is a great carb-rich dish to help fuel you and replenish those energy stores in your muscles. If you're eating it close to your event though (like the night before a morning race or at lunch before an evening long run), you may want to go for white pasta rather than whole wheat. The extra fiber content of whole wheat pasta can sometimes cause a little gastrointestinal upset during exercise. This is individualized, so find what works for you. For a meal outside of training though, definitely stick with the whole wheat pasta so you get that added fiber to help with digestive health and a slower, more gradual rise in blood sugar compared to refined (white) products.
Give it a whirl and let me know how you like it. I can tell you that my hubby and I gobbled it up the day it was made, and the leftovers the following day.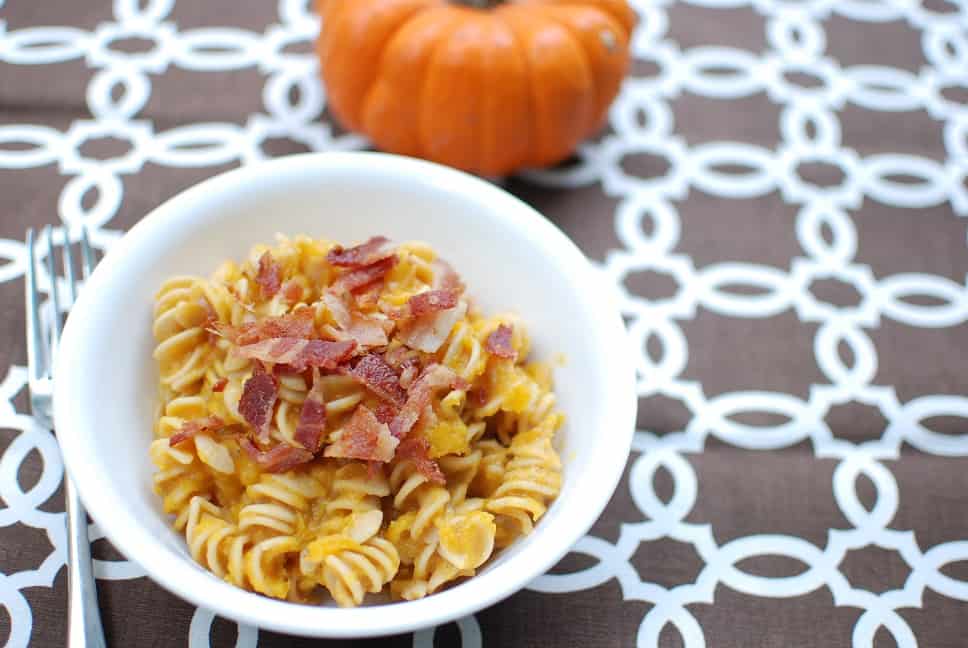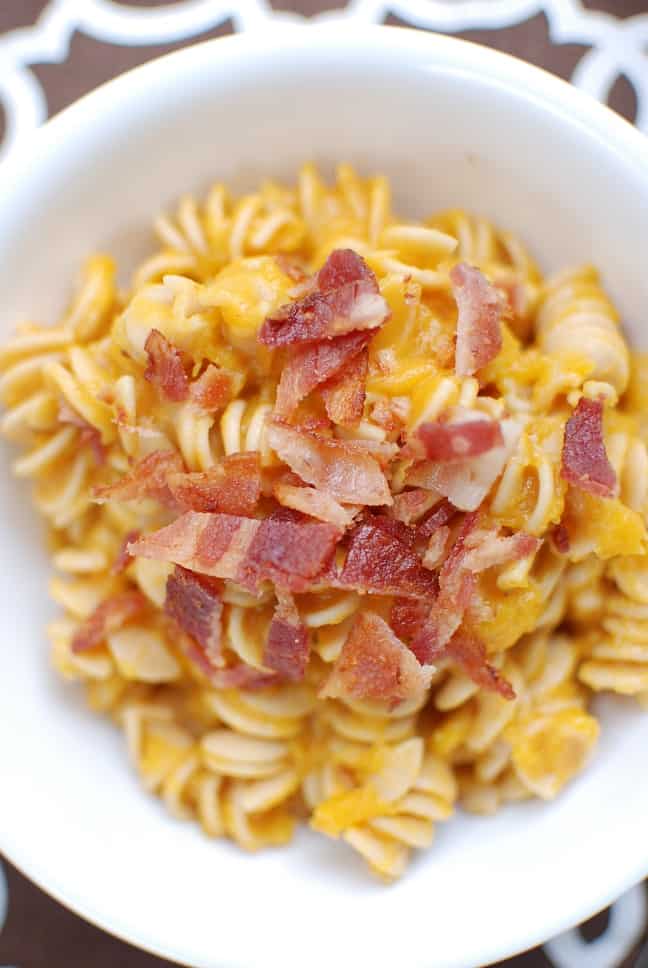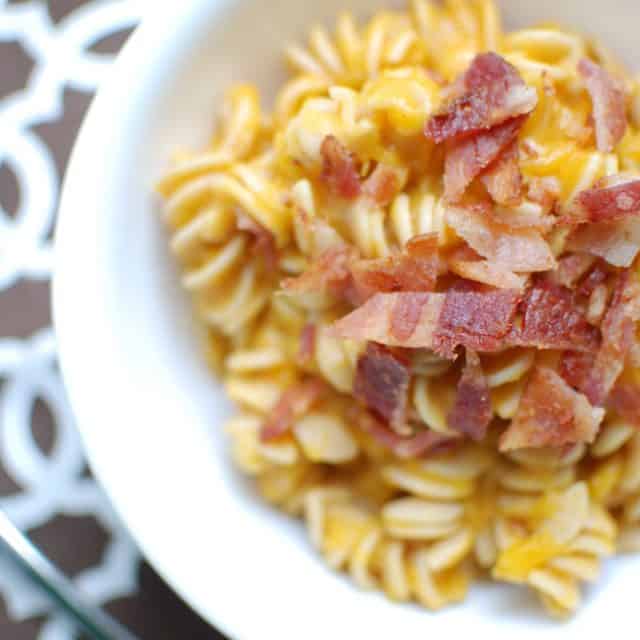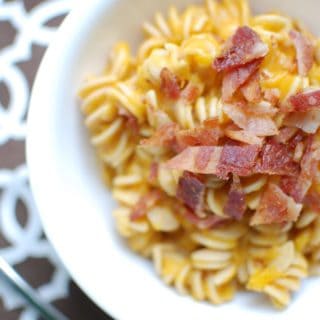 Butternut Squash and Pumpkin Pasta
Butternut squash and pumpkin pasta is a creamy, delicious dairy-free dish!
Ingredients
3

slices

of bacon

½

yellow onion

chopped

2

cloves

garlic

chopped

½

of a large butternut squash, peeled and chopped

(or 1 full small squash)

Pinch

of crushed red pepper flakes

2

cups

broth

(whatever you have on hand – vegetable or chicken)

½

cup

of canned pumpkin puree

(or fresh if you've just roasted a pumpkin)

3

cups

dry whole wheat pasta

(rotini or penne)

½

cup

reserved pasta water

Salt and pepper

to taste
Instructions
In a large pot, cook bacon until crisp. Remove and set aside. Crumble or chop when cooled.

Drain all but 1 to 2 tbsp of bacon grease from pot. Heat remaining bacon fat over medium heat.

Add onion, garlic, squash, and pinch of crushed red pepper. Cook for about 8-10 minutes then add broth. Cook for another 10-15 minutes until squash is tender. Use an immersion blender to puree.

Meanwhile, in another large pot, boil water and cook pasta according to package directions.

Stir the pumpkin into the pureed squash mixture. Gradually add ½ cup reserved pasta water until sauce reaches desired consistency.

Toss pasta in sauce and divide into four servings (approximately 1.5 cups each). Serve topped with crumbled bacon.
Notes
Dietary Notes:
Dairy Free
Can be made vegan by omitting the bacon and using vegetable broth
Can be made gluten free by using gluten free pasta
Share with me: What's your favorite way to make (or eat) pasta? Have you ever had butternut squash and pumpkin pasta?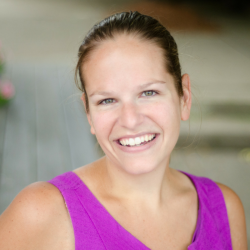 Latest posts by Chrissy Carroll
(see all)